From soaring mountain peaks to unreal turquoise lakes, discover the most beautiful places in Switzerland.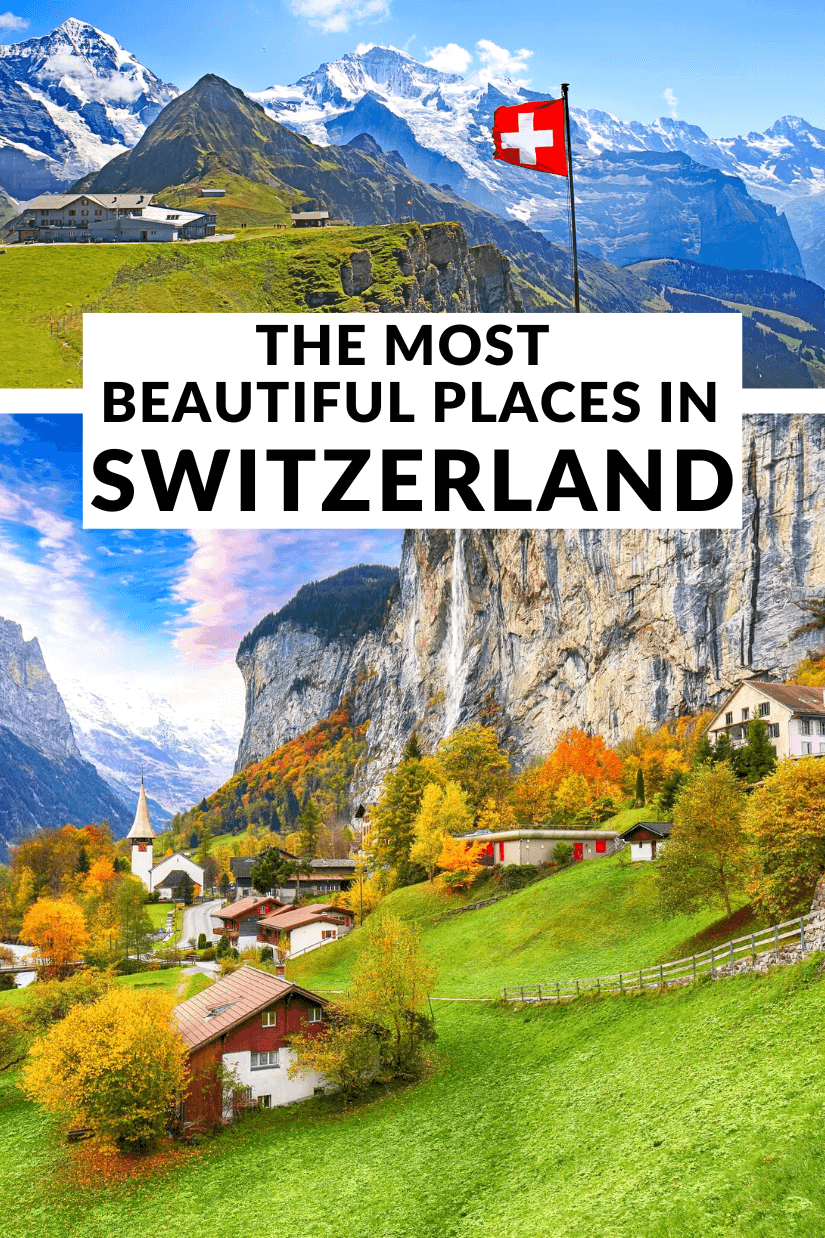 Switzerland being one of the most beautiful places in the world is the worst-kept secret. What Switzerland lacks in coastlines and skyscrapers it makes up for with snow-capped mountains, lush forests, beautiful lakes, and unique cultural attractions.
Narrowing down the most beautiful places in Switzerland is a challenge when the entire country is absolutely stunning. For starters, there's the beautiful scenery of the Swiss Alps which is a nature lovers' paradise.
These mountain peaks are packed with hiking trails, world-famous winter sports resorts, and epic vistas over beautiful landscapes. Switzerland's natural beauty cannot be mentioned without including the majestic Rhine Falls, the Swiss National Park, and Lake Geneva in the same breath.
Some of the most beautiful places in Switzerland are man-made, like the stunning architecture of Chateau de Chillon or the postcard-perfect Swiss Chalets. You're absolutely spoiled for choice!
I've had the opportunity to visit this incredible country several times and each time I go, I discover more and more beautiful places in Switzerland. Honestly, after visiting, you may be comparing every other place you go to Switzerland, and it's probably not going to measure up, sorry!
This is a detailed list of all the most beautiful places in Switzerland to help you plan your trip to one of the most beautiful countries in the world.
Don't have time to read a bunch of reviews and blog posts? Here are our top picks for visiting Switzerland:
Wanderlust Switzerland Guide
Need a quick day-by-day, open-and-go itinerary for Switzerland? Get my guide and let me do the work for you!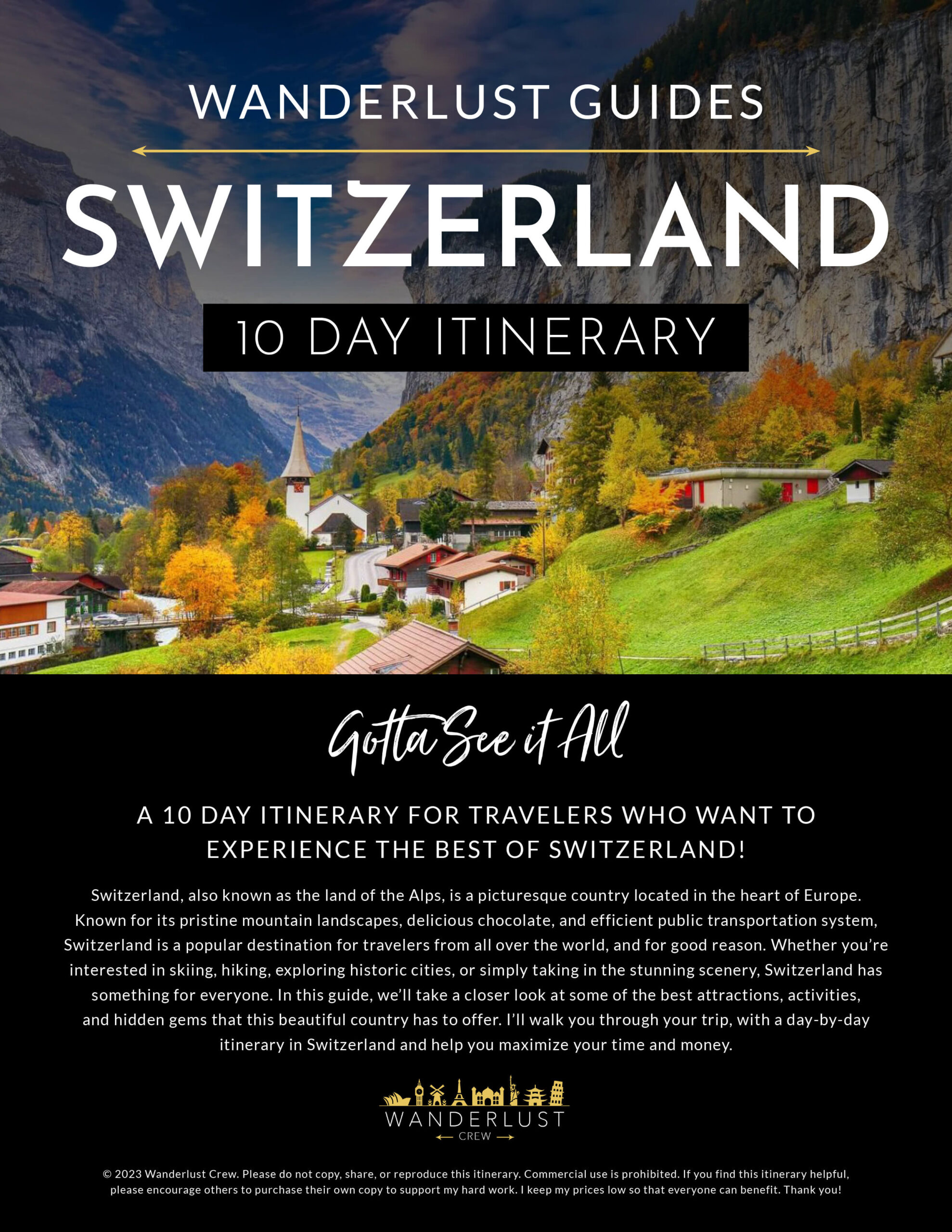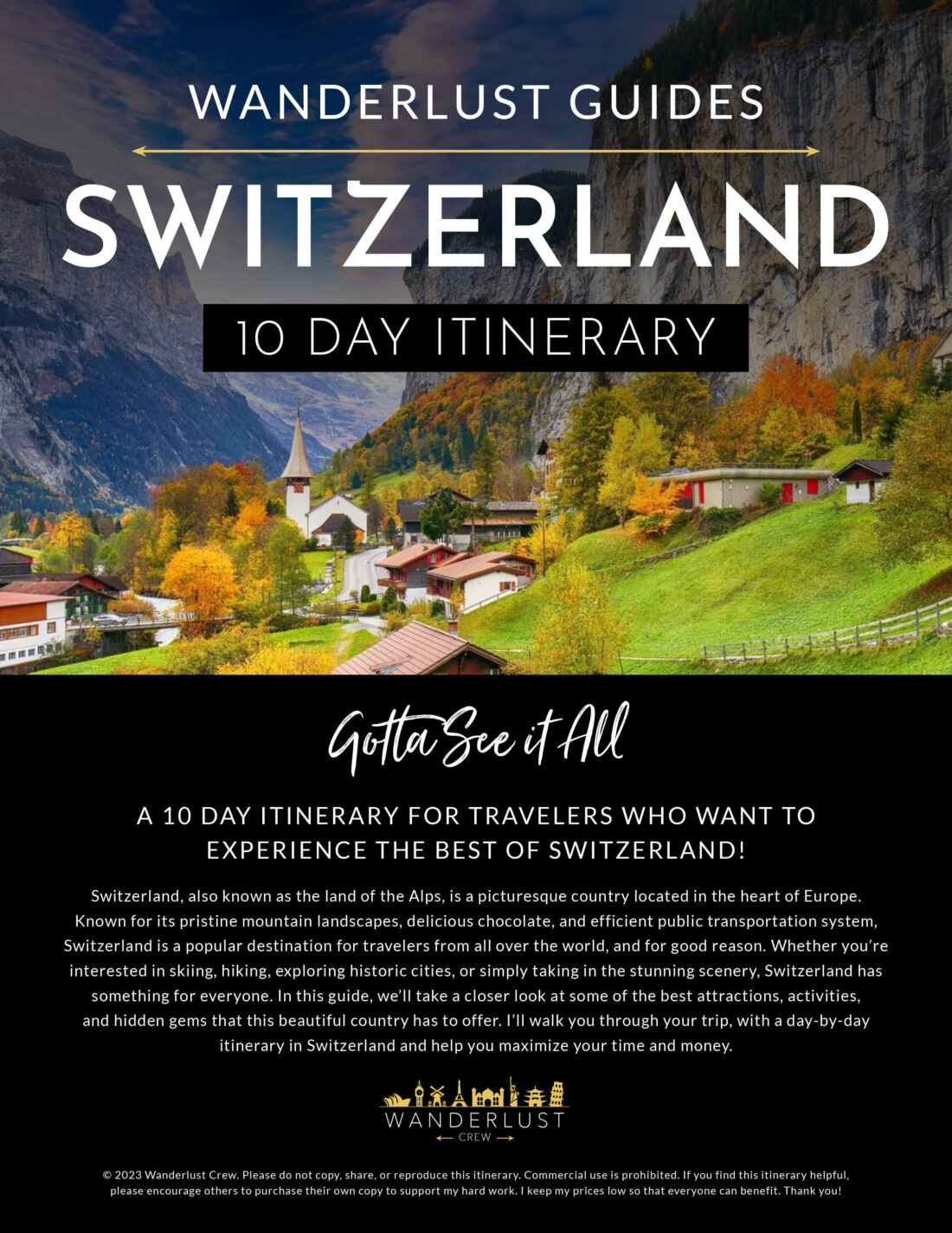 Our favorite Hotels in Switzerland
Getting Around Switzerland
Our favorite activities and tours in Switzerland
1. Geneva
Geneva is one of the most popular cities to visit in Switzerland because it really does have it all. It sits on the banks of the impressive Lake Geneva, the largest lake in Central Europe which straddles the border of Switzerland and France. Take a boat ride and sail along the calm waters with the surrounding mountains of the Swiss Alps creating the perfect backdrop.
Heading into the city's historic Old Town, walk along the cobbled streets and peak inside chocolate shops and art galleries. St Pierre Cathedral's towers offer panoramic views of this wonderful city.
Geneva is also where you'll find the headquarters of the United Nations and the impressive peace gate made up of 194 flags. The city is also home to one of the most beautiful places in Switzerland for performances, the Grand Theatre de Genève.
2. Chateau de Chillon
Chateau de Chillon, or Chillon Castle, is a must-visit in Switzerland if you're building an itinerary featuring all the most beautiful places. It's an island castle that rests on the eastern side of Lake Geneva next to the Gruyère Pays-d'Enhaut Regional Park (similar to a national park).
Dating back to the 11th century, it's one of the most well-preserved medieval castles in Europe. If you're visiting Switzerland in the summer, you can't miss exploring the turrets and underground of Chateau de Chillon. Afterward, you can follow the hiking trails around Lake Geneva and the surrounding landscape.
3. The Matterhorn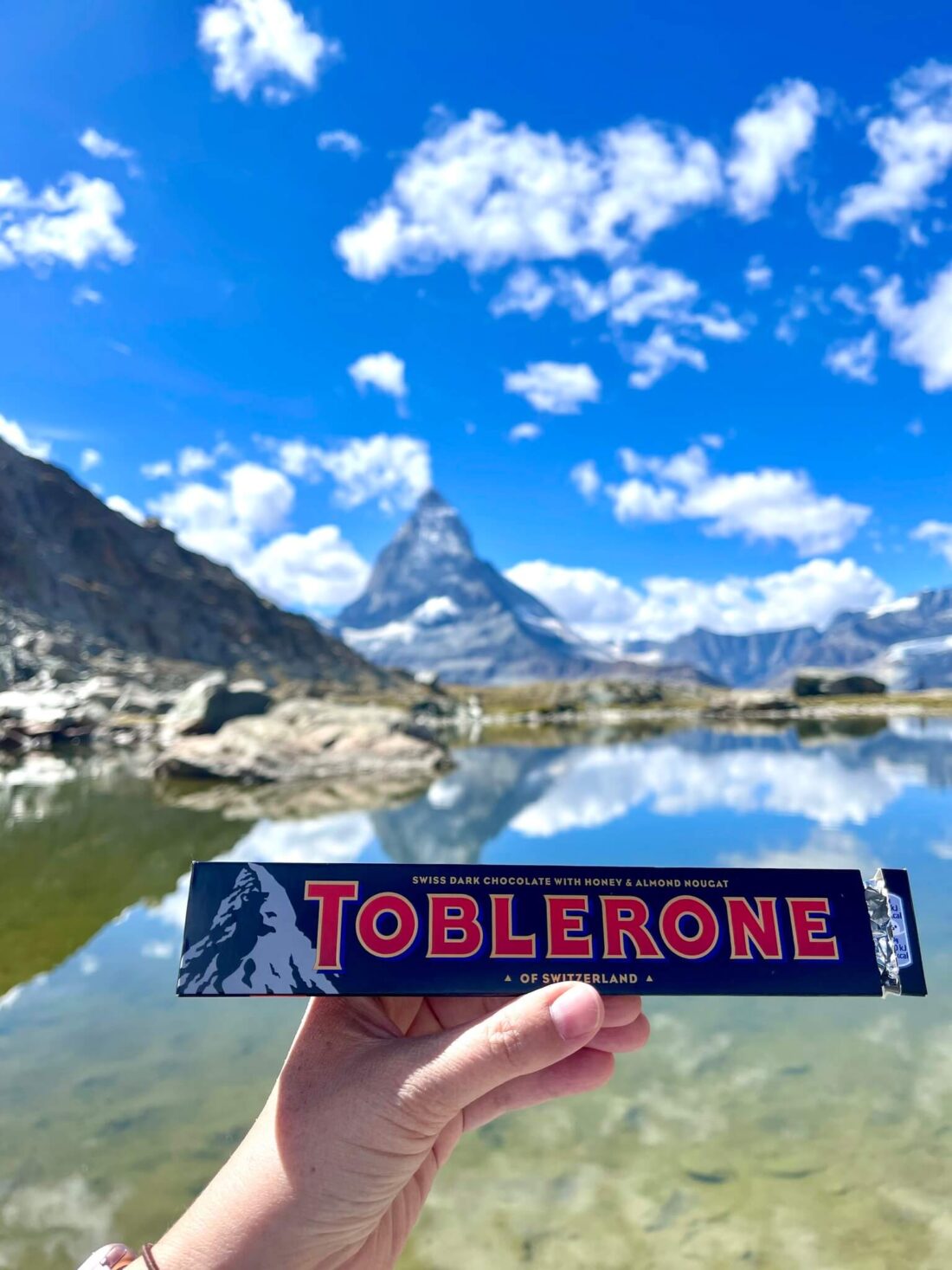 It's not just a drawing on the front of a Toblerone bar, the Matterhorn actually exists! This pyramid-shaped peak is one of the most famous places to visit in Switzerland and an icon of the Swiss Alps.
It rests on the border between Switzerland and Italy in the resort town of Zermatt in southern Switzerland. There are tons of snowcapped mountains in this region where you can go glacier skiing, snowshoeing, and much more.
Cross your fingers for a clear day so you can see one of the most beautiful places in Switzerland. Take lots of photographs of the Matterhorn that you're sure to treasure always.
4. St. Moritz
Are you ready to experience the high life? Not just one of the most beautiful places to visit in Switzerland, this alpine village way up in the Swiss Alps is one of the most expensive and luxurious.
St Moritz is the oldest winter vacation resort in the world. It hosted two winter Olympics, in 1928 and 1948, and hosts horse racing and polo games on a frozen lake.
You can take horse-drawn carriage rides past all the designer stores. Or, sip glühwein while strolling around the town and marveling at the diverse architecture.
5. The Rhine Falls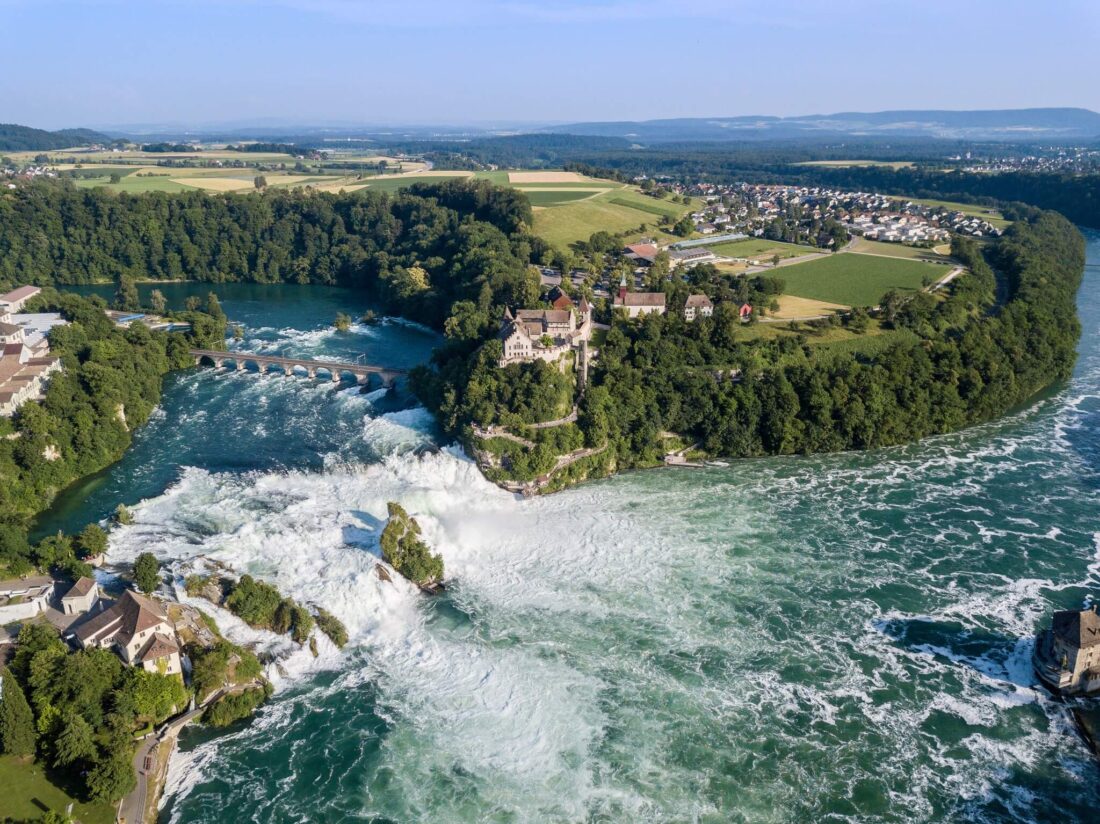 Close to the German border along the Rhine River just so happens to be Europe's largest plains waterfall. The Rhine Falls are 150m wide and 23m high and they are surrounded by the Schaffhausen Regional Nature Park.
Book a boat ride to get close to these powerful cascading waterfalls and don't forget to visit the Rhine Gorge. It's further downstream from the Rhine Falls between Reichenau and Ilanz.
It has the most stunning scenery with turquoise glacial water from the Rhine Falls and impossible horseshoe bends. They don't call it the 'Swiss Grand Canyon' for nothing!
6. Interlaken
Located between two emerald-colored lakes, Lake Brienz and Lake Thun, is the traditional winter resort town of Interlaken in the Jungfrau region. When you visit Switzerland, you'll realize that this beautiful country has an endless supply of gorgeous ski resort towns but Interlaken is one of the most beautiful places.
There are old traditional houses made of timber and luxurious resorts dotted around the town. In the distance, the mountains that make this breathtaking country famous stand majestic in the background.
Try skydiving or paragliding to witness one of the most beautiful places in Switzerland from above. Or, hop on the Jungfrau Railway to Jungfraujoch which is the highest-altitude railway in Europe.
7. Lauterbrunnen
Not too far away from Interlaken is Lauterbrunnen, the most charming quintessential Swiss town that exists today. Set in a valley surrounded by lush forests, it's one of the best places to visit in Switzerland during the warmer months.
Hike to the glacial waterfalls Trümmelbach Falls and Staubbach Falls. Take cable cars up Schilthorn mountain for impressive vistas of the surrounding mountains in this unspeakably beautiful country.
8. Bern
Though many people think it's Zurich, Bern is actually Switzerland's capital city. It also happens to be an incredibly beautiful city and one of the most beautiful places to visit in Switzerland!
Built across the Aare River, Bern's medieval Old Town is so historic that it's also a UNESCO World Heritage Site. In the Old Town, you'll find Switzerland's tallest cathedral and several cobbled streets with covered arches and fountains.
9. Abbey of Saint Gall
Speaking of UNESCO World Heritage Sites, there are 13 you can check out when you visit Switzerland. But if you want to know which is the most beautiful site to visit in Switzerland, it has to be the Abbey of Saint Gall.
This baroque monastery was built between 1755 and 1768 in the town of Saint Gallen. It has possibly the most important medieval libraries and links to two Catholic saints.
The ornate craftsmanship of the abbey's interior is complete with frescoes on the ceiling and dark wooden bookcases. Beautiful places and buildings like this abbey need to be seen in real life to be fully appreciated!
10. Lucerne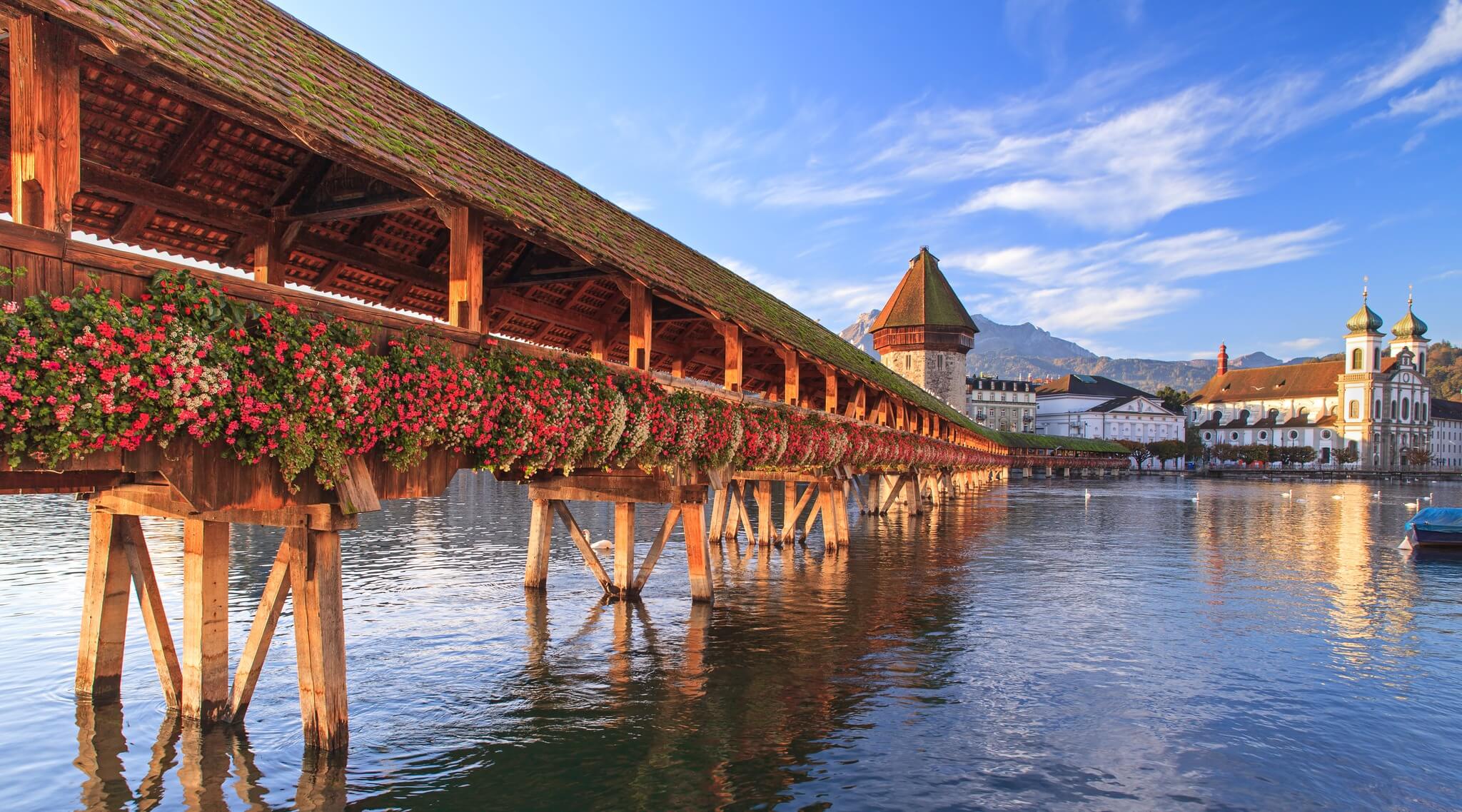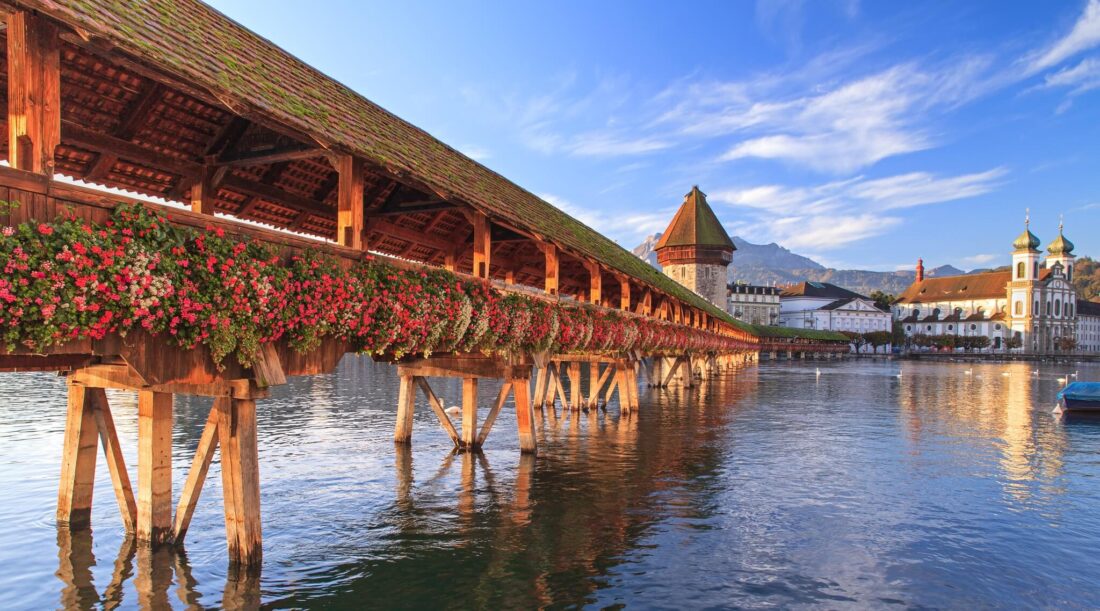 Around halfway between Zurich and Bern is the compact city of Lucerne. It's one of the most historic places in Switzerland with almost every street lined with medieval architecture.
Lucerne is a great place to visit in Switzerland for the Christmas market season. The whole city is transformed into a fairytale winter wonderland.
Crossing the Reiss River as it flows into Lake Lucerne is Chapel Bridge, a medieval wooden bridge. This covered walkway (known as kapellbrücke in German) dates back to the 1300s and is adorned with 17th-century artwork on the roof.
You won't be able to look where you're going as you cross this bridge. You'll either be looking up at the skilled artwork on the ceiling or out across Lucerne's skyline as it's just such a beautiful place to visit in Switzerland.
11. Lake Lugano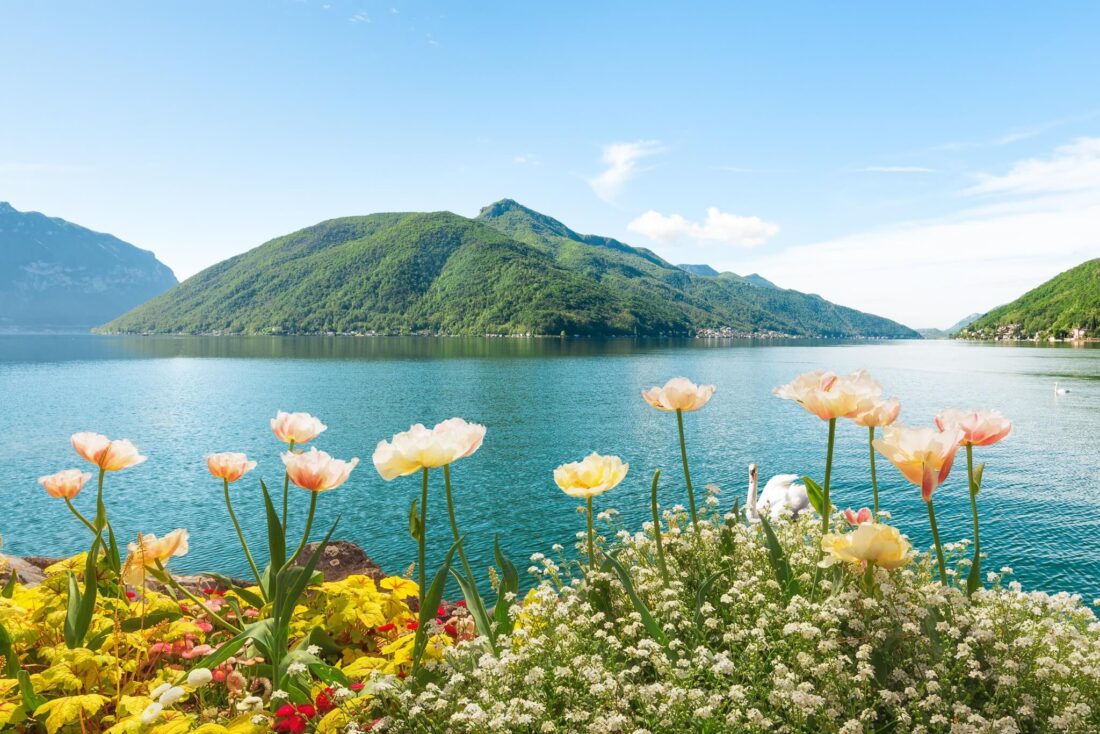 Lake Lugano isn't just another stunning Swiss lake, it's also a glacial lake and a pretty resort area. It's not too far west of Lake Como across the Italian border and is very underrated.
Surrounded by rugged mountains, it's one of the most perfect places in Switzerland to enjoy a lake cruise and a picnic of local Swiss cheese and chocolate in the summer. The town of Lugano itself has lots of beautiful pastel-colored villas, upmarket stores, and water features.
Take a stroll along the harbor and watch all the fancy yachts dock for the evening as the sun sets on this defacto Italian lakeside city. Even the ornate metal railing around the water's edge is covered with cute flower boxes this city is that beautiful!
12. Zurich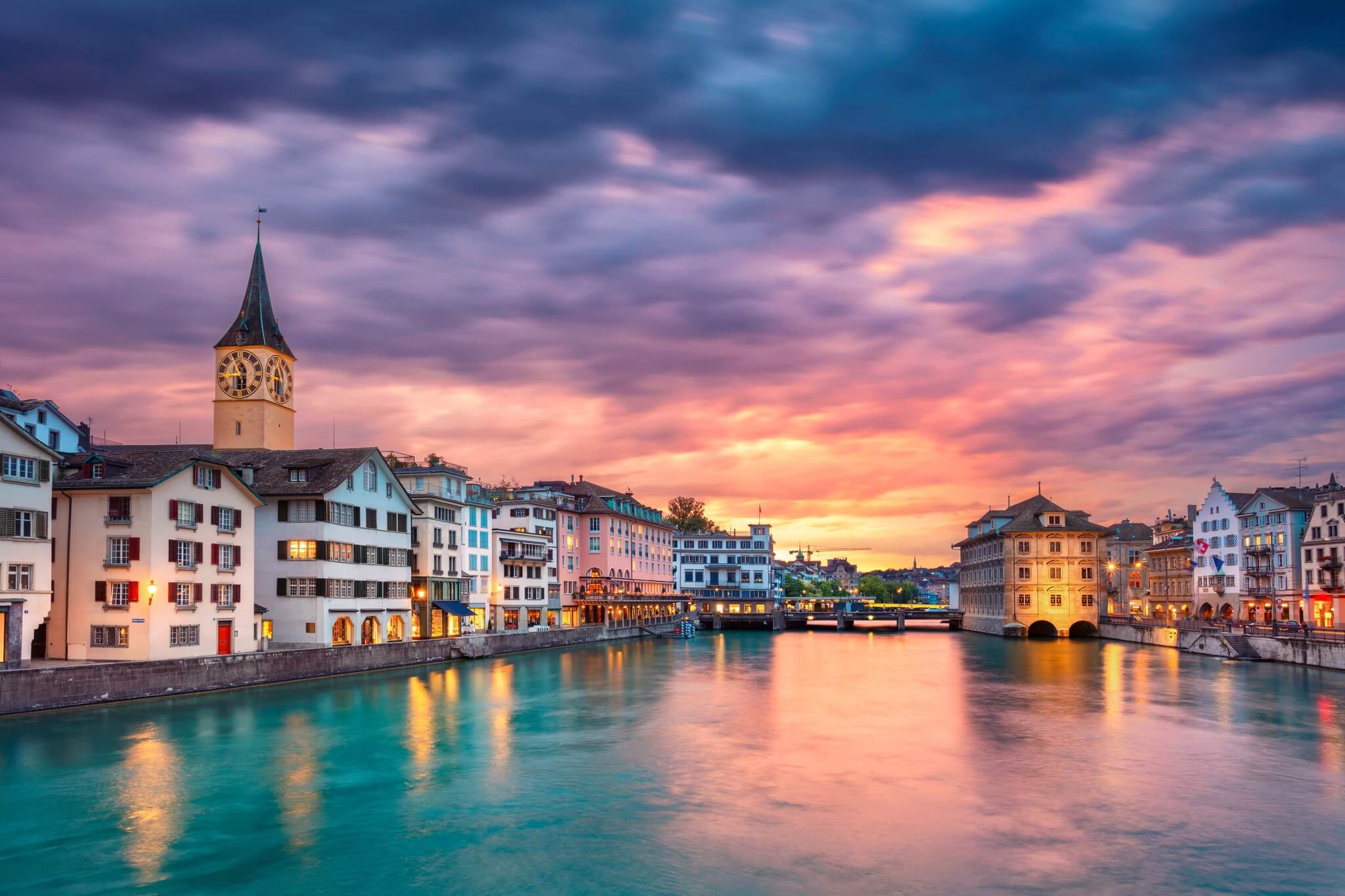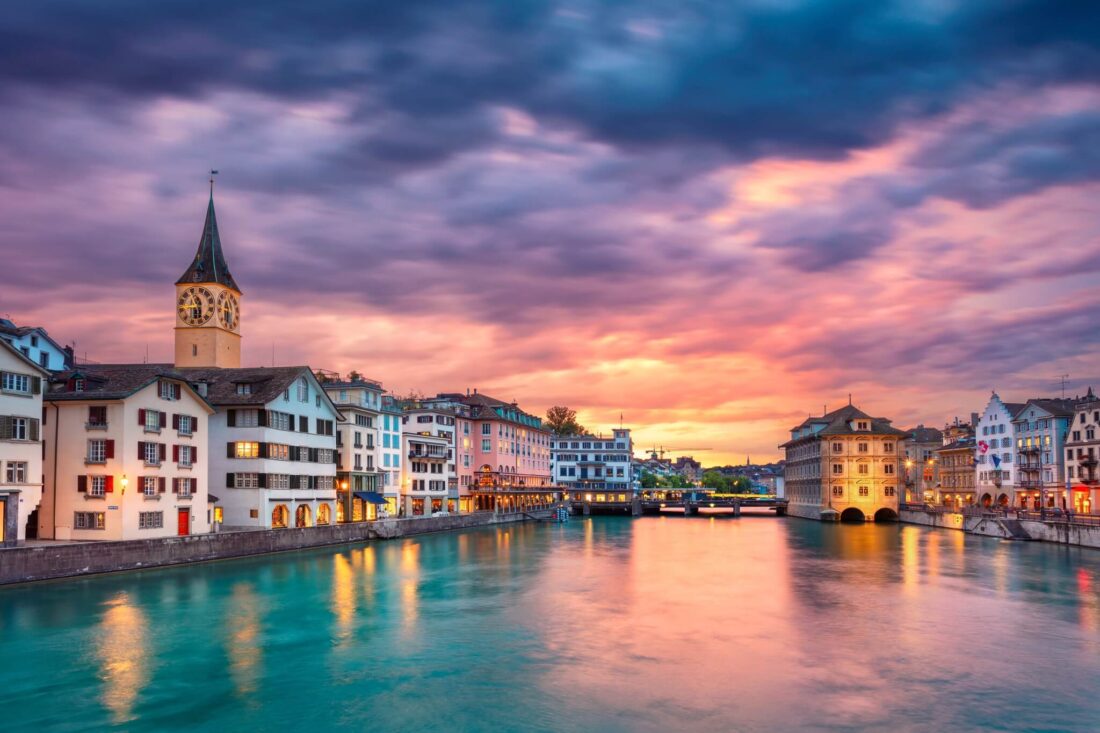 Switzerland's largest city is more widely known for its banks and cultural centers like the Swiss National Museum than its beauty. On the contrary, Zurich is one of the most picturesque places in Switzerland, particularly in the north of the country.
Sitting on the eastern banks of Lake Zurich, this sprawling city has a charming Old Town called Altstadt with labyrinthine lanes. The Zurich Opera House is a sight to behold, as is the Rathaus (Town Hall) which dates back to the 17th century.
If you love varied and historic architecture surrounded by lots of city parks pretty then you won't be disappointed by Zurich.
13. Bernina Express
The Bernina Express isn't just one place but a train journey that encompasses several of the most beautiful places to visit in Switzerland. Starting at the small border village of Tirano in Italy, this red train climbs to an elevation of 2,253m over 196 bridges to Chur in Switzerland.
Chur just so happens to be the oldest city in the country so it's an interesting place to visit. You can also hop off at St Moritz or one of the other winter resorts and glaciers on the way.
Its history, beauty, and feat of engineering are just some of the reasons why this train ride is a UNESCO World Heritage Site.
You will want to keep your camera handy throughout a journey like this. Luckily, the windows open so can take photographs of these stunning landscapes without any glare.
14. Lausanne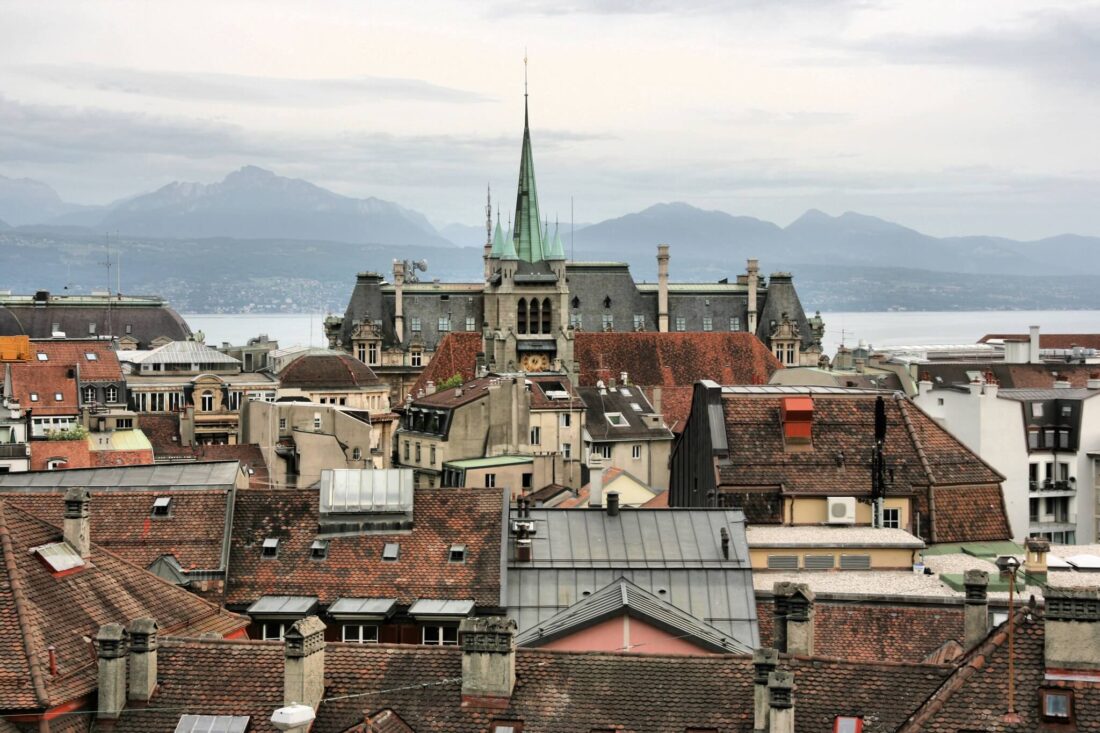 Geneva isn't the only beautiful city residing on the banks of Lake Geneva that you can visit in Switzerland. Lausanne is smaller but it's just as appealing to the eye.
Home to the International Olympic Committee, Lausanne has lots of stadiums, sports fields, and museums dedicated to this multi-sport event dotted around the city. Somehow, the city pairs its thriving sports centers with its medieval buildings, 12th-century Gothic cathedral, and lakeside green spaces so well.
One of the best places to witness the beauty of Lausanne is by climbing to the top of the Sauvabelin Tower. This 35m viewing platform is one of the highest points in the city.
15. Aletsch Glacier
Europe's highest railway, tallest waterfall, and now Europe's longest glacier. There really is so much outstanding natural and manmade beauty to visit in Switzerland! The Aletsch Glacier in the Swiss canton Valais is one of them.
It's not unique as there are around 1400 glaciers in Switzerland, most of them in this canton. This is by far one of the most beautiful and impressive glaciers covering 31.5 sq. miles of pure ice.
Hiking to the Aletsch Glacier is the best way to see it up close.
16. Naturpark Beverin
The Rhaetian Alps are often overlooked in favor of the Bernese Alps but there are lots of beautiful mountain peaks worth visiting here too. Naturpark Beverin in the Western Rhaetian Alps is just one of those places that you should visit in Switzerland!
This area isn't one of the top winter resorts but it's perfect in the warmer months. You can hire a car and enjoy stopping by the charming villages hidden in the valleys.
Whether you're a keen hiker or a complete beginner, there are lots of alpine hikes in Naturpark Beverin for you to explore. Waterfalls, mountain goats, gorges, and thick green forests will reward your hard work.
17. Basel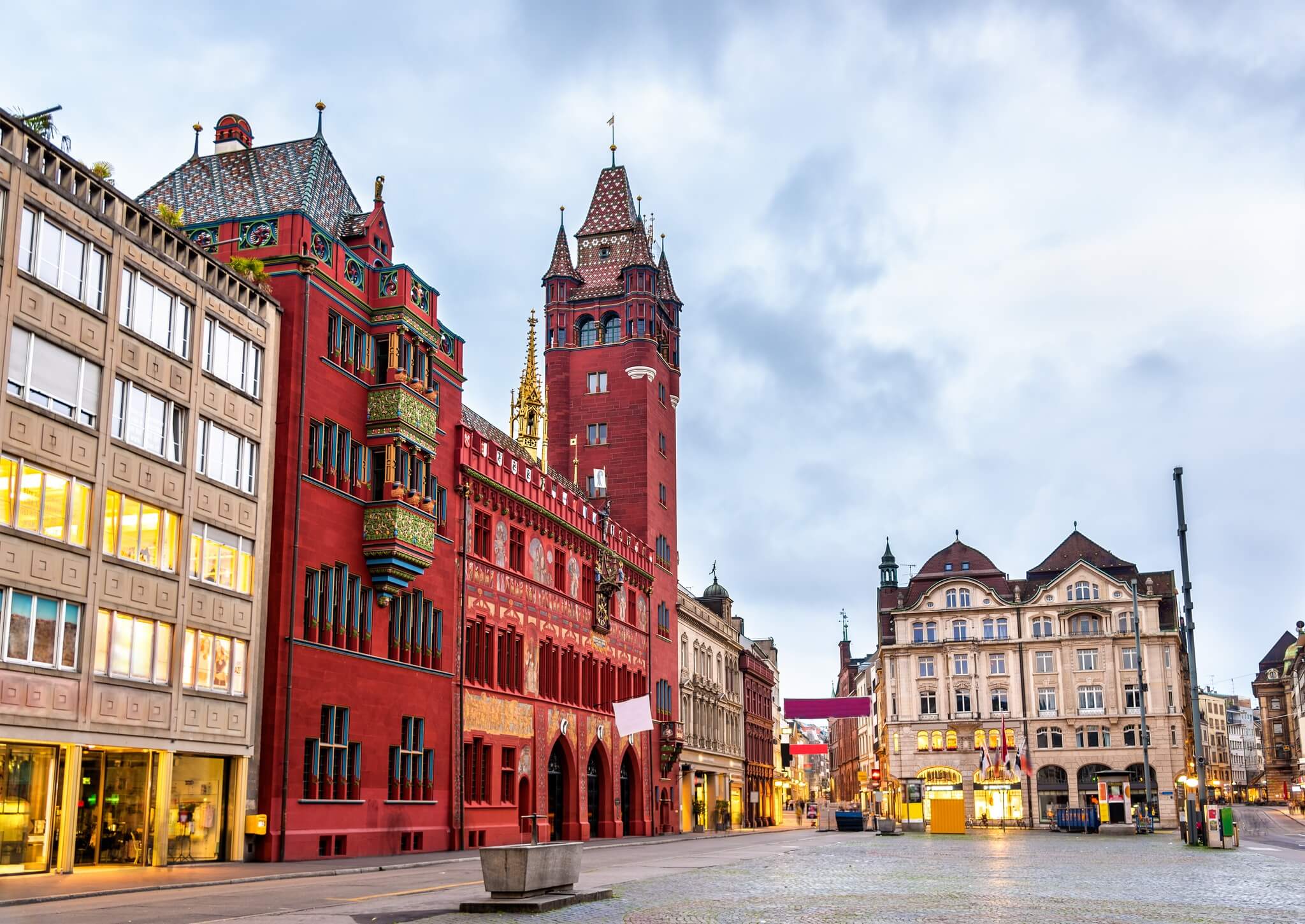 Basel is Switzerland's third largest city and one of the most multicultural cities to visit in Switzerland. Situated close to both the French and German borders, the influence of the three countries makes Basel a fascinating and incredibly pretty city.
Walk along the banks of the Rhine River past the Mittlere Brücke, a historic stone bridge. Wander inside the Basel Minster church and admire its geometric-patterned roof.
There's also the medieval Basel City Wall, city gates, museums, and other beautiful pieces of architecture in Basel that will stop you in your tracks.
18. Lavaux Vineyard Terraces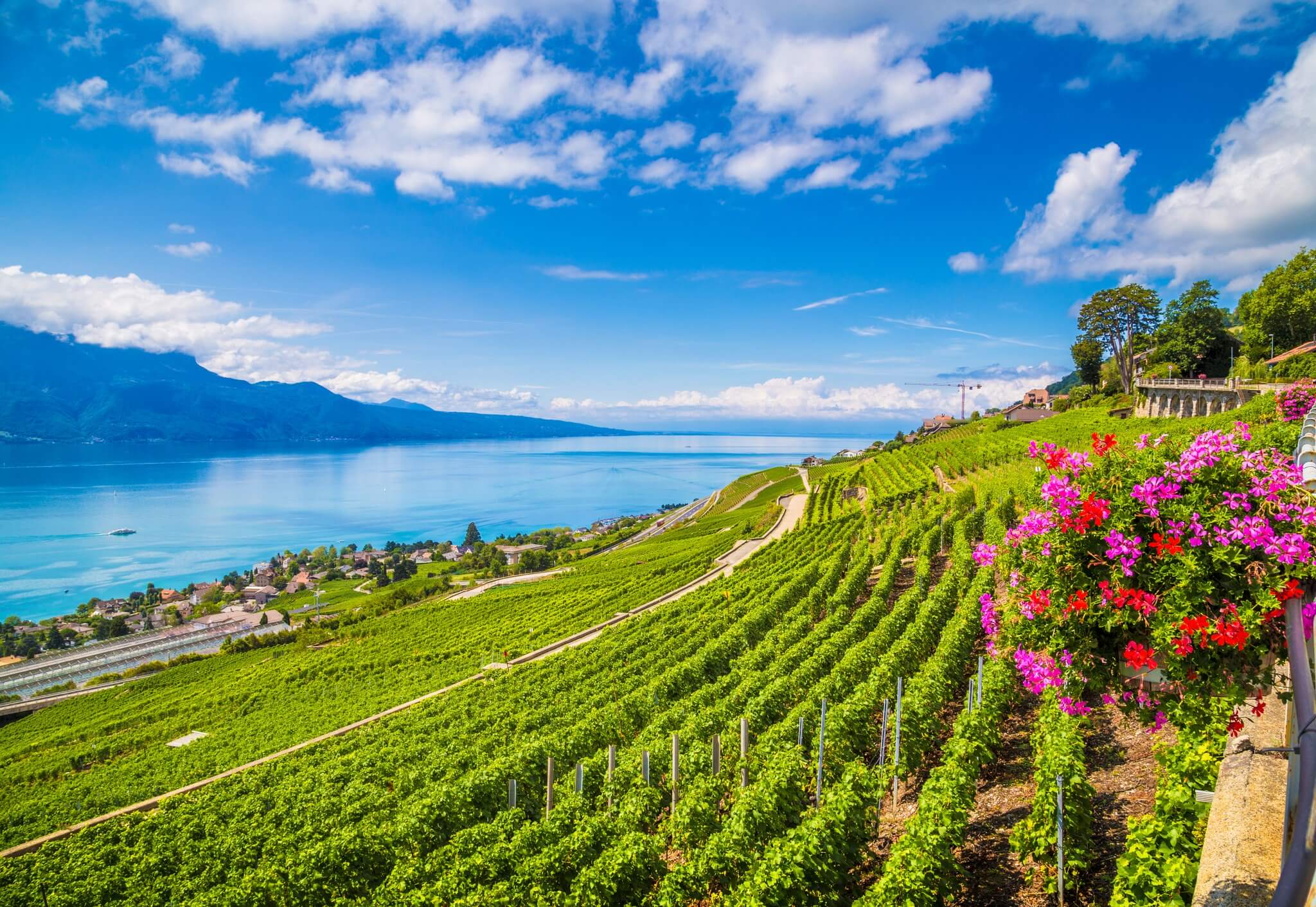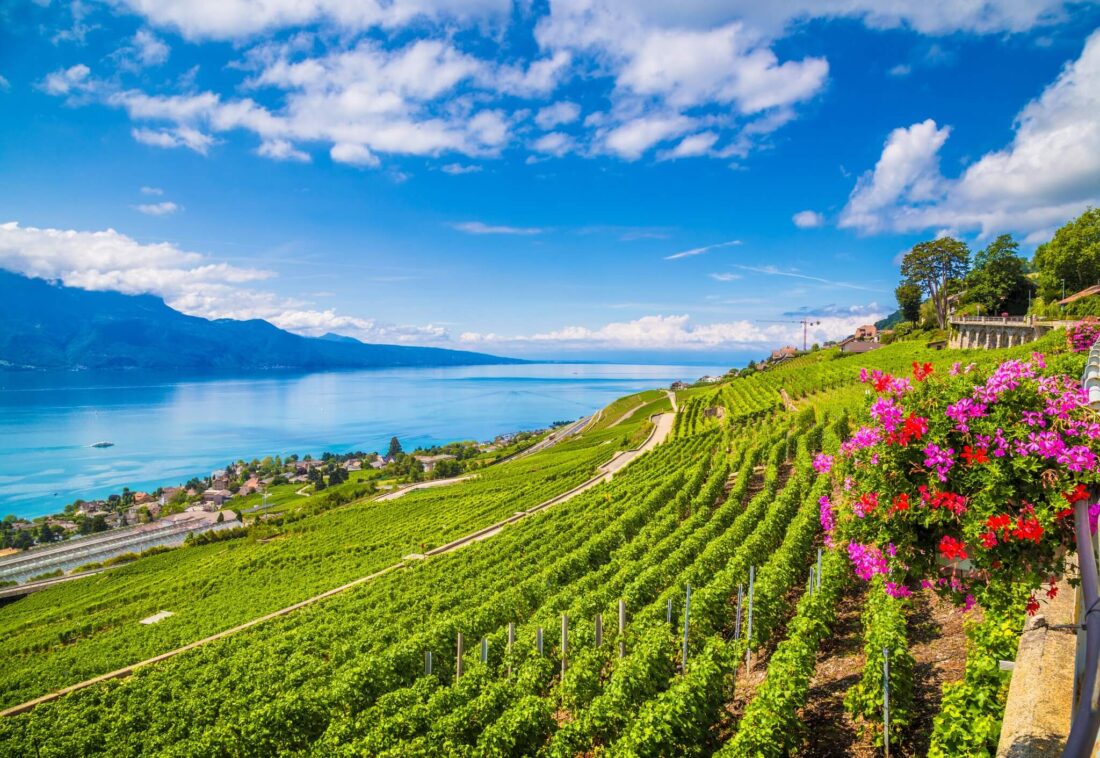 Have you already added Lausanne and Chateau de Chillon to your list of places to visit in Switzerland on your next trip? Then you should also add the vineyard terraces of Lavaux to your list. This petite wine region sits in the center of both of these places.
Some of the top wineries here include Domaine De La Crausaz, Terres De Lavaux, and Domaine Croix Duplex. All the wineries and vineyards in this region grow on sloped hills surrounding Lake Geneva so you can enjoy beautiful vistas whilst sipping delicious wine.
It won't surprise you to learn that this region is also on UNESCO's list. Winemaking is such a longstanding tradition in this part of Switzerland and an essential part of the culture.
19. Sion
There are many places you can visit in Switzerland that have their fair share of medieval structures. None are so beautiful and prolific as Sion, a city in the south of the country.
Sion is known for two medieval castles in particular, the 13th-century Tourbillon Castle and the 12th-century Romanesque Valère Castle. They both sit on hilltops overlooking the city with the Swiss Alps visible in the distance.
In the city below, the 15th-century Notre-Dame-du-Glarier Cathedral and several other medieval sandstone buildings help make Sion so beautiful.
20. Swiss National Park
It sounds crazy with all the natural beauty in this country, but Switzerland only has one national park! It's simply the Swiss National Park on the far eastern side of the country.
This unspoiled area in the Western Rhaetian Alps boasts 21 hiking routes and is part of a UNESCO Biosphere. You might find red deer, lynx, vultures, and even golden eagles in this part of Switzerland
Traditional Swiss mountain lodges are available to book all over the national park so you can enjoy a relaxing, secluded escape.
21. Stein am Rhein
This very small town next to the German border might not seem like anything special. You only have to walk 10 seconds down the main street in Stein am Rhein to discover that's far from the case and it's actually one of the most beautiful places in Switzerland!
The cobbled lanes of Understadt and Oberstadt are lined with half-timbered buildings with intricate paintings on their exteriors. They are truly something out of a fairytale and you could easily live out your Beauty and the Beast fantasies here.
If that weren't enough, Hohenklingen Castle overlooks the town from a nearby hill and it dates all the way back to the Middle Ages. St. George's Abbey is a former Benedictine monastery that you won't regret visiting either.
22. Soglio
Switzerland isn't short of magical hilltop villages. Drive for an hour around Switzerland and you'll pass at least 30. But if you want to visit the most beautiful Swiss hilltop village, Soglio might just snag the top spot.
It shares a border with Italy but it is undeniably a Swiss town. The centuries-old wooden chalets look like they belong in a museum and you could quite happily get lost wandering down the narrow lanes.
San Lorenzo church stands proud against the surrounding mountains. If you stick around for sunset, you'll be rewarded with a beautiful landscape.
23. Creux du Van
Not a city, town, or village but a natural landmark, Creaux du Van is an interesting rock formation in the northwest of Switzerland near Lake Neuchâtel. It sweeps around the hillside like a crater and it's such an impressive, awe-inspiring sight.
Creaux du Van is a great rest stop on a road trip around Switzerland. You can stretch your legs on a hike and, if you're lucky, spot some wildlife here too.
Don't worry about missing the most beautiful places in Switzerland – they're everywhere!
Whether you prefer mountain destinations, historical places like Chateau de Chillon, or natural wonders like the Swiss National Park and Rhine Falls, this beautiful country will deliver.