If you're looking for the best Yosemite Hotels for families, Tenaya Lodge at Yosemite is the perfect match. With it's proximity to Yosemite National Park, kid-focused activities, and great family accommodations, it's the perfect home base for you to explore! 

The Best Yosemite Hotels: Tenaya Lodge at Yosemite
Check out our video from our visit to Tenaya Lodge
Finding a place to stay in or near Yosemite National Park can be a challenge. Many visitors to the park will camp, which can be incredible, but we are just NOT campers. We had our first family camping trip in Idaho last summer, which was so much fun, but also took a lot of preparation and logistical planning on our part. We are last-minute planners so we knew we'd need a hotel that was close to Yosemite National Park and since it was the middle of winter, would provide some indoor entertainment as well.
We packed the car with our snow gear and headed out for our weekend trip to Yosemite and our stay at Tenaya Lodge! As we drove along the winding roads and through snow-capped trees and into the entrance, lit magically with fairy lights, we knew this was going to be a visit to remember.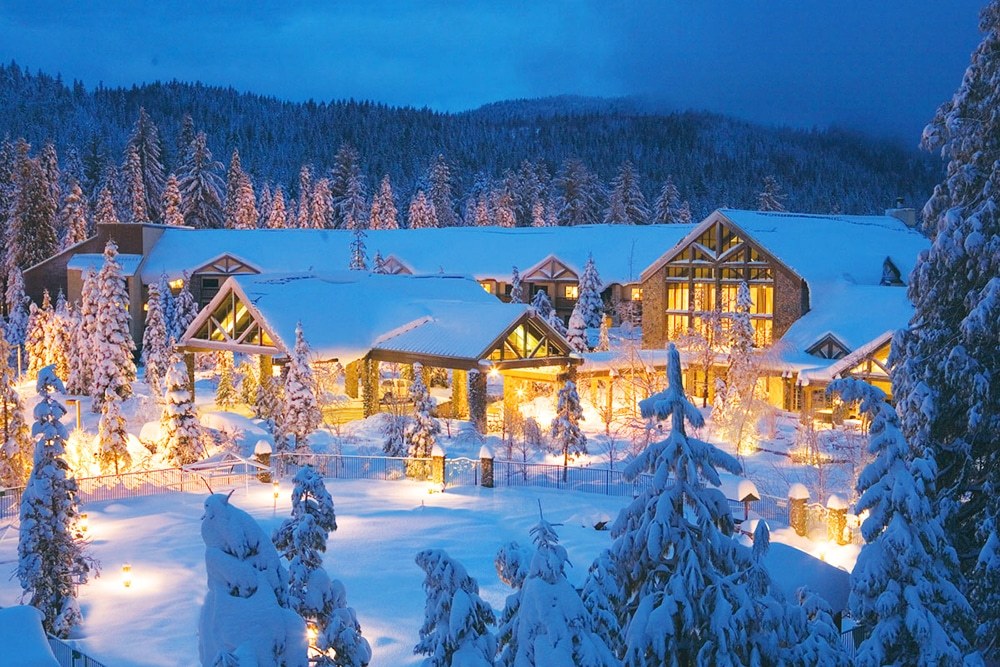 The outdoor fireplace greeted us as we wandered up to the front doors. Here's a fun story: They keep the automatic doors locked, so you have to walk through the side doors because they have had a BEAR wander into the lobby! How crazy cool is that?!
We picked Tenaya Lodge for two reasons:
Proximity to Yosemite National Park

Family Friendly
1. Tenaya Lodge is close to Yosemite National Park
The main draw for most people who visit Tenaya Lodge is the proximity to Yosemite National Park. Lying just several miles from the entrance to the park and about 45 minutes to the valley, Tenaya Lodge is the perfect location for families looking for lodging with easy access to the park entrance.
We loved being able to relax and be pampered at Tenaya Lodge while still being so close to nature and the national park that we could come back "home" anytime we needed to. 
2. Tenaya Lodge is the Most Family-Friendly Hotel Near Yosemite
I've been to several hotels near Yosemite and I've found Tenaya Lodge to be the most family-friendly hotel near the park! And it is MUCH more than just a place to sleep! Although, sleeping there is a delight, with the many rooms and cabin types they have to offer.
Family-Friendly Rooms
Tenaya Lodge offers many different room options for all family types. I'm always so happy to find hotels that sleep 6 or more as we usually have to squish into one tiny room or book two rooms.
We booked an extended double queen room and it was perfect for us! The room was spacious enough for us to have space to move around without feeling squished. We also took full advantage of their Great Indoors Package when we returned from Yosemite for the day, which included a movie, hot cocoa, cookies, and board games!
Tenaya Lodge offers many different options, including their cabin-style bungalows that are set apart from the main lodge but offer all the same amenities, while giving you the feeling of being out in the woods.
New Cabins
In 2019, Tenaya Lodge will be opening their brand new stand-alone family cabins which look absolutely incredible. Great for large families or even several families traveling together. I will definitely be back to try those out!
Winter Activities
After spending several days at the Tenaya Lodge and Yosemite National Park, I only had one regret. I regretted not scheduling more time to spend at the lodge. I would highly recommend reserving at least one or two FULL days for activities at Tenaya Lodge. I had no idea there was so much to do there.
These are some of the winter activities we did while at Tenaya Lodge:
Ice Skating: Tenaya Lodge has their very own private ice skating rink right on the property. It is covered and lighted and just a beautiful atmosphere. We rented skates and took a whirl around the rink. Which means I was mostly hobbling along the ice helping my kids not fall! Luckily they had skating aids of all sizes, which was so helpful! The kids skated for hours and I was so impressed with their determination. We had the rink all to ourselves for a little while, which helped! Much better than skating at the public rink where you have a good chance of being run over!
Sledding Hill: This was probably my kids' favorite activity at Tenaya Lodge. Can you tell from their faces?!  Just behind the skating rink, the sledding hill is ready to slide down. You can use sledding discs available at the lodge and a special helper will be there to make sure the kids stay safe and have fun! 
Snow Play: Being California natives who don't see much snow, it was really exciting for us to just play in the snow all around the hotel! We lucked out and got fantastic weather. Not too cold, but still a ton of snow! 
Indoor Pool:  I was surprised to find that Tenaya Lodge has an indoor as well as an outdoor pool! I'm glad I packed our swimsuits on a whim because there was no way my kids were leaving without a good swim. Let's just say after a full day of ice skating, sledding, hiking in the park and swimming…they slept VERY well that night!  
Arcade: Right next to the indoor pool is a fun arcade! We didn't spend too much time there because we were coming to unplug!
Other winter activities available at Tenaya Lodge:
Horse-drawn Sleigh Rides

Snowshoe Nature Hike

Snowshoe Flashlight Hike

Badger Pass Ski Area

Kids Snowmobiling
Like I said, I wish we would have scheduled more time to be here for these activities.
Summer Activities
We haven't visited Tenaya Lodge in the Spring, Fall or Summer, but it looks incredible! Here are the summer activities available:
Kids Camp

Tenaya Climbing Wall

Mountain Biking

Guided Hikes

Archery

Guided Rock Climbing Excursions

Fly-Fishing Excursion

Fishing

Yosemite Valley Tours

Steam Train Rides

Summerdale BBQ

Gold Panning

Bass Lake Water Sports

Golf

Horseback riding

White-water Rafting
So you can see why you should definitely plan at least a few days here! I can't wait to go back and visit in the summer!
Accent Spa
Again, another reason I wish we would have planned for more time at Tenaya Lodge! The spa is so serene and they offer pretty much everything, from massage, facials, and nails to complete full-day spa packages. It would be a perfect destination for a couple's getaway or a girls' weekend away! I'm seriously considering coming back for my annual sisters weekend!
Family-Friendly Dining
Tenaya Lodge offers several dining options, which I appreciate as a mom to a lot of kids! We dined at the Sierra Restaurant, which I found to be up-scale, with fresh, delicious food on offer, without feeling pretentious. I had the vegan jackfruit curry, which was seriously amazing, and the brussel sprouts (OMG)!
Also available are Embers, a cozy adult-only fine dining experience, Jackalope's Bar and a cute little deli where you can buy little, premade sack lunches to take into the park.
Dogs Welcome!
Dogs are welcome at Tenaya Lodge. We saw lots of furry friends there. You can even book a doggy massage! 
As you can see, Tenaya Lodge is the most family-friendly Yosemite hotel you will find. We loved our time there and can't wait to return next summer to try out their new cabins!
I'm happy to answer any questions you might have about Tenaya Lodge or Yosemite. It's one of the most beautiful places on earth and I hope you get to experience it!