Portugal is such an underrated country, which is a great thing for you, because it's not nearly as crowded with tourists as many other countries in Europe. You can find great outdoor activities, gorgeous natural views, quaint towns and busy cities, incredible beaches, and so many more things to do in Portugal!
Our family adores Portugal! We've visited several times and it's one of the few places we keep coming back to. It's a great mix of culture, nature, great food, and affordable prices. I wanted to share some of our favorite things to do in Portugal with you.
Portugal is a beautiful country of stunning natural landscapes, rich history, and a vibrant culture. From the picturesque streets of Lisbon to the sun-kissed beaches of the Algarve Coast, Portugal has something to offer every traveler. Whether you're a foodie, an outdoor enthusiast, or simply looking to relax, you're sure to find things to do in Portugal.
Below, you'll explore 5 essential things to do in Portugal that will help you make the most of your trip. I'll tell you about Lisbon and Portos, the vineyards of the Douro Valley, and the sandy beaches of the Algarve Coast. So get ready to discover the best of Portugal!
Need Help Planning a Trip to Portugal?
If you need some help planning your trip to Portugal, this day-by-day Portugal guide provides pages of advice and an open-and-go itinerary, so you don't have to stress about what to do.
What are the Top Things to Do in Portugal?
Portugal is a country that's full of amazing experiences and places to visit. There are seemingly endless things to do and see. To start, the country has a long and layered history, going back to the Iron Age.
Thanks to its unique location on the Iberian Peninsula in southwestern Europe, Portugal has been inhabited by various peoples over the centuries. They include the Celts and the Romans to the Moors and the Visigoths. The influence of these groups has left its mark on Portugal's architecture, art, and cuisine.
The country's position on the Atlantic Ocean also made the country a maritime leader in trade and colonization for centuries. Because of this, you'll find the culture of Portugal blended with the traditions of countries from Asia, Africa, South America, and the Caribbean! And all of this makes Portugal an ideal destination if you're interested in exploring the country's cultural heritage!
Portugal also boasts stunning natural beauty with towering seaside cliffs, sparkling beaches, rolling valleys, and lush forests. So, do you spend your days on scenic hikes or exploring ancient ruins in Lisbon? Do you focus on the major cities or take a tour of the Douro Valley?
It can be a challenge to fit it all on your Portugal itinerary. But you don't need to! The key to planning your dream Portuguese vacation? Narrow down your choices is to prioritize and focus on the experiences that you're most interested in! That's why I've put together a list of the 5 most essential things to do in Portugal that will give you a feel for this beautiful place.
In each section, you'll learn about the best things to do in Portugal under that activity. Are you a foodie? I've got you covered. Want to enjoy the beaches but don't know where to start? It's on my list. Keep reading to plan your dream trip to Portugal!
Book a Photoshoot
We always love to book a photoshoot when we're traveling. As a mom, it's tough to get in the photos since I'm always behind the camera. We love using Flytographer to capture our memories. You can get $25 off your shoot by booking with this link or using code WANDERLUST.
1. Tour the Portuguese Coast
Touring the coast of Portugal is one of the best things to do while visiting the country. Portugal has over 800 kilometers of coastline, which means there are endless opportunities for exploring! You can visit picturesque fishing villages, relax on beautiful beaches, discover hidden coves, and more.
Visit the Beaches of Portugal
If you choose to stay in Lisbon and want to go to the beach, you'll find a mix of urban beaches and wilder, more secluded spots. In the city, Praia da Torre is a family-friendly beach with great dining close by. Praia do Guincho, located just outside Lisbon, is a quality surf spot. And both Praia da Adraga and Praia da Ursa are ideal if you want to enjoy secluded sandy beaches with stunning rock formations.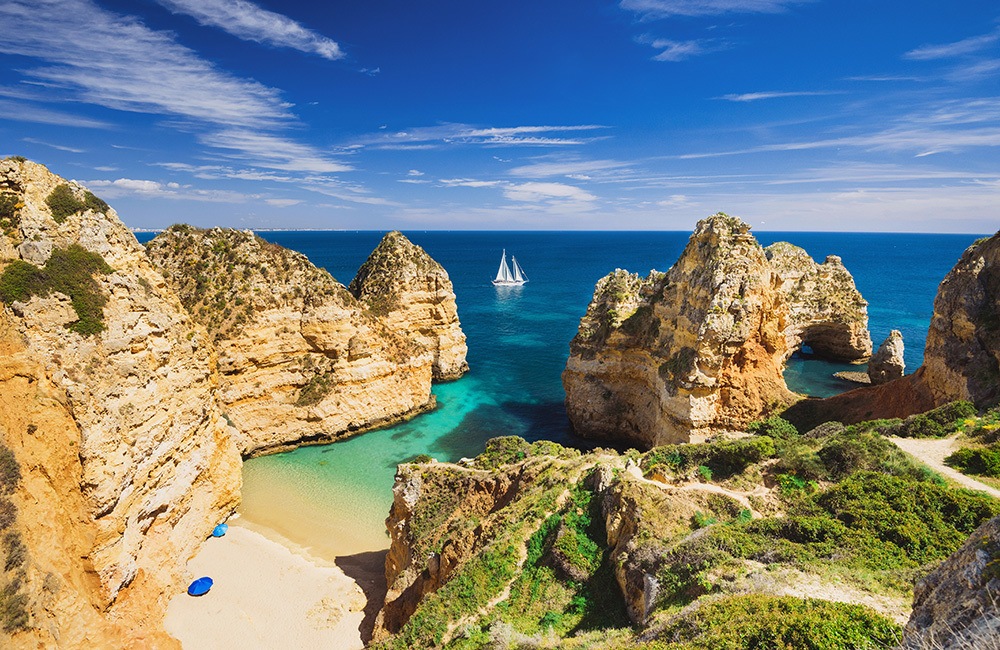 Porto doesn't have any beaches, but there are plenty of excellent beaches that are a short metro ride away! Matosinhos Beach is a long, sandy beach popular with surfers. And just 20 minutes south, Praia Azul Espinho is the perfect beach day destination, with miles of sandy swim beaches, restaurants, shops, and more.
And the Algarve Coast is known for having some of the best beaches in the world! During the summer months, the hotels and resorts fill up, as do the beaches. You can stay in a hotel in Cavacos right off the beach or find quiet cove beaches surrounded by seaside cliffs. Try exciting water sports or spread out on a stretch of sand to spend the day.
Tour the Algarve Coast
You could also literally tour the popular Algarve Coast. Covering 150 kilometers of the southernmost Portuguese coast, Algarve is known for its luxury resorts, beautiful beaches, blue waters, and unique rock formations.
Towns like Lagos, Portimão, and Albufeira offer a mix of historic landmarks, cultural attractions, and great nightlife. You can take a boat tour to explore sea caves, go snorkeling or scuba diving, or simply relax on the beach and soak up the sun.
2. Explore Countless Historical Sights
Portugal is a country built on layers of history with influences from different cultures. It should be no surprise that you'll find a wide range of historical sites, from ancient Roman ruins to medieval castles and monasteries.
Whether you're a history buff or just a casual tourist interested in sightseeing, Portugal has a wealth of cultural and historical treasures that are sure to delight. Here just a few of the top things to see in Portugal:
Torre de Belém
Located on the banks of the Tagus River in Lisbon, Torre de Belem is one of the most iconic historical sites in Portugal. Built in the 16th century as a fortress to protect the city, Belem Tower has become a symbol of Portugal's Age of Discovery.
For a small fee you can climb to the top of the tower to enjoy panoramic views of the river and the city. There's also a park you can enjoy for more views of the tower, as well as a beach that provide a different perspective of the tower from the water!
Moorish Castle
Sintra, not far from Lisbon, is where you'll find the famous Moorish Castle. Another must-see in Portugal, it's nestled in the hills above the charming town. This fascinating historical site dates back to the 8th century, originally built by the Moors as a strategic military outpost.
When you visit the Moorish Castle, it's a massive site with tons to see. Especially if you have kids, it's fun to walk along the castle's winding walls! Pro tip: wear a windbreaker and go when it's a bit warmer. The elevation is high and there tends to be a lot of wind. But it's worth it for the breathtaking views!
Roman Temple
For historic sites, the historic city of Evora cannot be missed! And in the heart of Evora's town center is the Roman Temple, one of the best-preserved Roman ruins in Portugal. Built in the 1st century AD, this impressive temple was dedicated to the goddess Diana.
Open to the public, the Roman Temple is free to visit and see the temple's impressive columns. Nearby, you can explore more of this town's amazing historic sites and enjoy local cafes.
Bom Jesus do Monte
Located just outside the city of Braga, you'll find Bom Jesus. It's a magnificent 18th-century baroque church and hands down one of the most impressive historical sites in the country. Built on a hilltop overlooking the city, the church is famous for its ornate façade and grand staircase.
The grounds are free to visit. You can climb the staircase to the church and enjoy stunning views of the surrounding countryside. If the stairs are too much for you, there are also beautiful gardens with topiaries, sculptures, and fountains to see.
Coimbra University
Founded in 1290, Coimbra University is one of the oldest universities in Europe. The university's impressive baroque buildings and libraries are popular with visitors. It's fascinating to hear about the school's long history, including how the first Portuguese royalty resided there!
You can take a variety of different guided tours, including of the Royal Palace, the Chapel, the library, and the gardens. Try to book your tours well in advance, because this is a very popular landmark.
More Sights to See in Portugal
In addition to these top historical sites, Portugal has many more worth visiting. There's the Monastery of Jeronimos in Lisbon and the Castle of Guimaraes in the north of Portugal. The Chapel of Bones in Evora is unforgettable, decorated with the bones of over 5,000 monks. And the Mafra National Palace is an impressive baroque palace and one of the largest palaces in Europe.
3. Enjoy the Food of Portugal
One of the best ways to learn about Portugal is through the country's diverse cuisine! Portuguese food is influenced by its history and by its unique location next to Spain and in the Mediterranean basin. Then combine that with the influence of its former colonies in Africa, Asia, and South America!
The food culture in Portugal values fresh, seasonal ingredients and simple, rustic preparations. Seafood is a big part of the Portuguese diet, and you're going to eat a lot of it! Especially bacalhau, or salted, dried codfish. Other seafood dishes include grilled sardines and octopus salad.
Meat dishes are also popular, with grilled meats, stews, and roasts being common. One interesting meat dish is alheira sausage, which has its roots in the Spanish Inquisition. Today, it's a comfort food in Portugal, but it was once a way Portuguese Jews protected themselves from persecution!
Bread is a staple in Portuguese fare, and you'll find it at most meals. Breakfast is often toast with butter or cheese sandwiches. One of the most famous breads is broa, a dense cornbread. And cheese is another staple you'll find in meals throughout the day.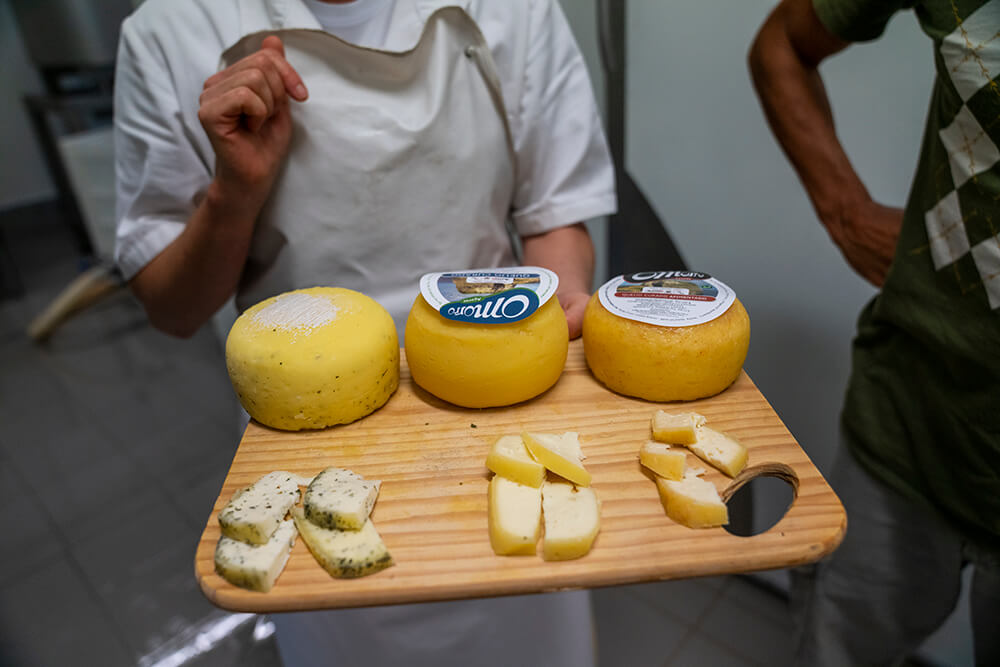 When it comes to sweets, you can take your pick. The most famous is pastel de nata, a creamy custard tart. Other desserts include rice pudding, caramel flan, and queijadas de Sintra, a sweet pastry made with cheese.
Best Food by Region
What makes sampling local cuisine one of the best things to do in Portugal is that it's different everywhere you go! For example, you'll find the food scene in Porto is very different than the food scene in Algarve.
Lisbon
Though you can find it across the country these days, you should get your hands on pastel de nata in Lisbon! That's because the iconic Portuguese pastry originated in the Belém district of Lisbon in the 19th century.
It consists of a flaky, buttery crust filled with a creamy, sweet custard that is often dusted with cinnamon or powdered sugar. Today, there are many pastry shops and bakeries throughout the city that make it, but for the original, go to Pastéis de Belém!
Porto
A must-do in Porto is sampling francesinha, a hearty sandwich and a local specialty. Francesinha consists of several layers of bread, and usually ham, linguiça (Portuguese sausage), and steak, all covered in melted cheese and a rich tomato-based sauce. It's often served with fries and a cold beer.
No one quite knows how francesinha originated. Restaurants, cafes, and bars across Porto offer their own version. You can find versions with seafood and even vegan interpretations! But everyone agrees that francesinha is a delicious and filling dish that's perfect for a satisfying lunch or dinner.
Algarve Coast
The Algarve Coast has many African-inspired dishes due to its historical ties to the African continent and its close vicinity to the continent. The use of spices ingredients like coconut milk and peanuts are examples of the African influences on Algarve cuisine.
To taste these unique flavors, get your hands on piri-piri chicken while on Portugal's southern coast. The dish consists of grilled chicken that's been marinated in a spicy sauce made with piri-piri chili peppers, garlic, and other seasonings.
Madeira
For a delicious and easy lunch in Madeira, try espetada. It's grilled, skewered meat often served with bolo de caco, a Portuguese flatbread. You can find different versions in restaurants or on street corners in Madeira.
Traditionally, it's made with beef, but you can find beef, pork, and seafood versions. The meat is marinated in garlic, wine, and bay leaves, then skewered and grilled over an open flame.
The Azores
One unique food that you can only eat in the Azores is Cozido das Furnas. This traditional meat and vegetable stew is cooked underground using volcanic heat! Everything's combined in a large pot and buried it in the volcanic soil near the Furnas hot springs. The stew is then slow-cooked for several hours.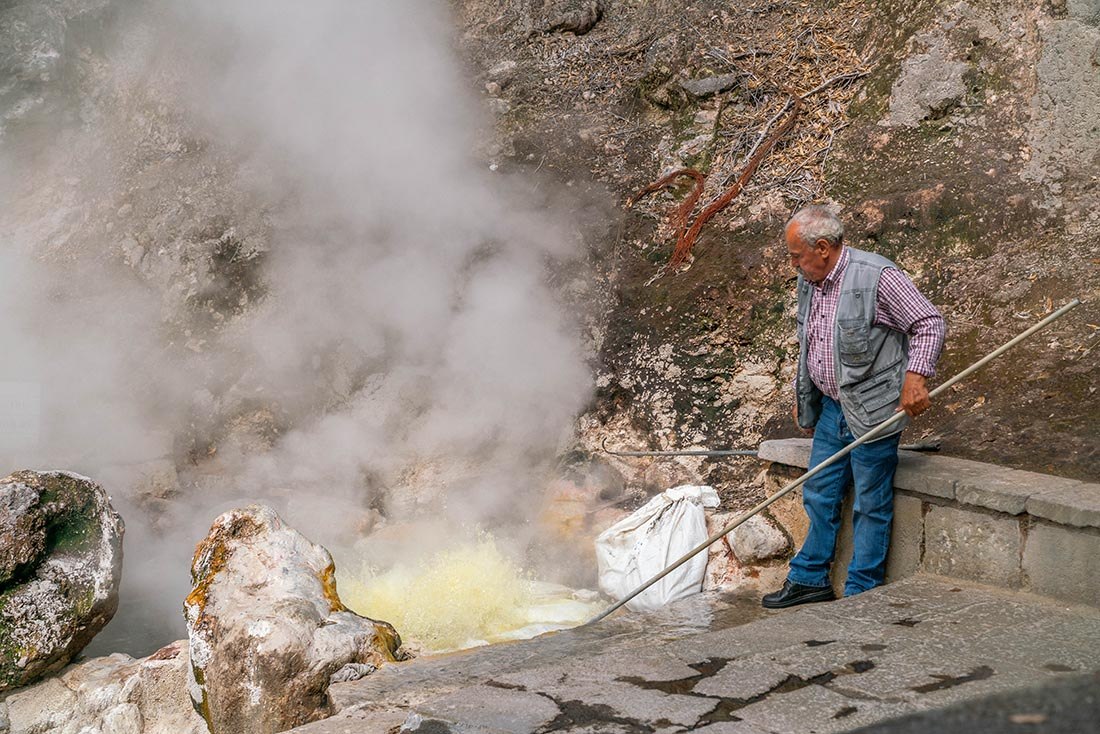 This method results in a flavorful and tender dish that's infused with the natural minerals and flavors of the volcanic soil. Cozido das Furnas is a unique culinary experience that you'll want to check out off your Portugal bucket list. Check out our Azores Food Guide.
4. Enjoy the Great Outdoors
Portugal is a great destination if you want to spend time outdoors. Especially during the summer months, you'll enjoy fabulous views, a sunny climate, and a wide range of activities.
The country's stunning coastline offers fantastic opportunities for water sports like surfing, kiteboarding, and kayaking. And inland, there are stunning national parks with hiking trails and mountain biking routes. Take a closer look at these options and more below!
Try All the Water Sports
Portugal is a top destination for water sports enthusiasts of all skill levels. Surfing is undoubtedly the most popular water sport in Portugal. Some of the world's best waves found along the coastline, particularly in the Algarve and around Nazaré. Kitesurfing, windsurfing, and stand-up paddleboarding are also popular close to the cities.
For those seeking a more leisurely experience, kayaking and canoeing are great options. This is a great way explore the coastline's hidden coves and caves. Portugal's pristine waters are also perfect for snorkeling and diving, with colorful marine life and underwater landscapes to discover.
Visit a Nature Park
Hiking or cycling through Portugal's natural parks is a fantastic way to experience the country's stunning landscapes and diverse wildlife. One of the most popular parks for hiking is the Peneda-Gerês National Park in the north, which boasts breathtaking terrain and a diverse range of trails.
You'll find more great hiking at Arrábida Natural Park, just south of Lisbon. This park features beautiful beaches, towering cliffs, and lush forests that have to be seen in person. And Douro International Natural Park is very popular with cyclists. Located in the Douro Valley, you can take your time and stop at orchards and vineyards along the way.
Coastal Hikes
While I've touched on hiking in Portugal, coastal hikes deserve their own spotlight! One of the top Portugal things to do, coastal hikes are the best way to experience the country's extensive coastline. Here are a few to add to your list!
Rota Vicentina – This long-distance trail follows the southwest coast of Portugal. It passes through several natural parks and offering breathtaking views of the Atlantic Ocean. The trail is divided into several sections, ranging from easy walks to challenging treks.
Seven Hanging Valleys Trail – This trail is located in the Algarve and offers sweeping views of the rugged coastline and crystal-clear waters. It's a day hike that takes you through 7 unique valleys. At the end, you'll reach the famous Praia da Marinha beach.
Arrábida Convent Route – This moderate 3-mile out-and-back trail is located just south of Lisbon in the Arrábida Natural Park. The trail takes you along the park's breezy coastline, past ruins of an old convent to a secluded beach at the end.
These are just a few of the amazing coastal hikes you'll find in Portugal. They're a great way to enjoy the country's wild coastline, see historic sites, and maybe even enjoy a few beaches!
Visit the Archipelagos
when you're tired of Mainland Portugal, head to the country's archipelagos. Portugal has 2 archipelagos, the Azores and Madeira, both which are located quite a way out in the Atlantic Ocean. Both are accessible by direct flights from the larger cities in Portugal.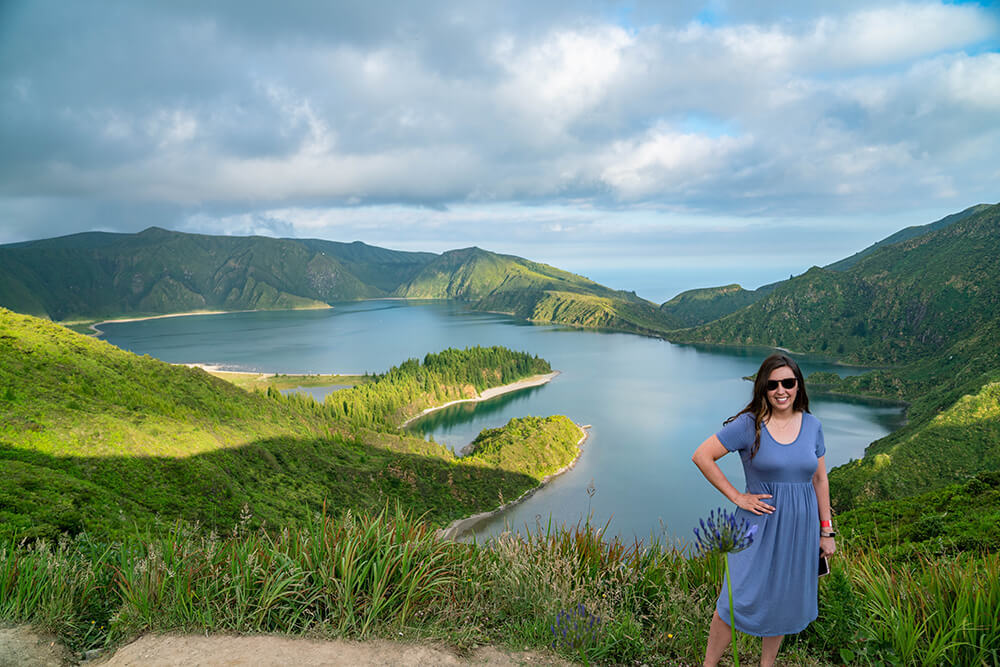 The Azores is a group of 9 islands that are known for their volcanic landscapes, lakes, waterfalls, and hot springs. The islands offer plenty of opportunities for outdoor activities such as hiking, whale watching, diving, and surfing. Check out our Azores guide here.
And Madeira is a group of 4 islands known for their lush greenery, subtropical climate, and beautiful scenery. The islands boast several botanical gardens, parks, and nature reserves. Plus, Madeira's a great destination for hiking and other outdoor activities.
5. Explore Portugal's Cities and Towns
Exploring Portugal's major cities and small towns is a must-do for anyone seeking to experience and understand the country's unique character. Each location has its own personality and charm, with different traditions and points of interest. And the people of Portugal are warm and welcoming. They'll make you feel at home and provide a glimpse into Portuguese culture and way of life.
The colorful cities and towns of Portugal the perfect base to explore the country's food culture, complex history, and more. Below, you'll take a look at Lisbon and Porto, Portugal's largest cities. Then I'll share some of my favorite towns scattered throughout the mainland.
Lisbon
Most people who visit Portugal from the US arrive at the Lisbon Airport. Plus, it has a convenient central location on the west coast, so it's a natural place to find things to do. Lisbon is the capital city of Portugal, and it's a captivating destination with both ancient historical sites and modern attractions.
One of the city's main attractions is its stunning architecture, which can be seen throughout its colorful streets and historic landmarks. You can wander through the winding streets of Alfama, one of the oldest neighborhoods in Lisbon. Explore the cloisters of Mosteiro dos Jeronimos or take in the views from the Belem Tower, both UNESCO World Heritage Sites that played a significant role in Portugal's maritime past.
A great way to see Lisbon is by taking a historic tram! Both Tram 28 and 24 are popular with tourists for their scenic routes. They wind their way through the narrow streets of the Portuguese capital, offering a fun experience and a decent tour of the city. The darling yellow trams are used by tourists and locals like to get around, but they are also an important part of Lisbon's history.
Lisbon is also known for its knock-out food culture. The city boasts a vibrant culinary scene, and its traditional Portuguese dishes, like bacalhau and pastel de nata, are a must-try for any food lover. The city's many food markets, cafes, and restaurants offer a wide range of cuisine, from traditional dishes to international flavors.
If you're looking for fun things to do in Portugal with kids, take them to the Oceanario de Lisboa, or the Lisbon Oceanarium. The largest aquarium in Europe, it's located in Parque das Nações and was developed for the 1998 World Expo. It features an enormous central tank that provides guests with a 180-degree view of the marine life within!
For more unique things to do in Portugal, you could explore Lisbon's diverse street art, listen to Fado music in a local bar, or explore the rolling landscape of the City of Seven Hills. Needless to say, Lisbon is a city that's sure to capture your heart and leave you with unforgettable memories. Check out our favorite things to do in Lisbon.
Porto
After Lisbon, Porto is the second-largest city in Portugal and is located in the northwestern region of the country, along the Atlantic coast. It's a beautiful city filled with history, architecture, and great food and wine.
If you're a history buff looking for what to do in Portugal, you'll definitely want to plan a few days in Porto. One of the city's main attractions is the historic Ribeira district, which is a UNESCO World Heritage Site. The district is full of colorful houses, winding cobbled streets, and intimate cafes. And it's a great place to find stunning views of the Douro River. You can explore the area's many historic landmarks, including the 12th-century Porto Cathedral and the beautiful Church of Saint Francis.
If you're visiting Portugal with plans to indulge in the country's food and wine culture, plan at least a day here! The city is home to numerous restaurants, cafes, port houses, and bars that serve traditional Portuguese dishes like francesinha.
The city is also known for its production of port wine, and visitors can take a tour of the many wineries located nearby along the Douro River. You can enjoy a wine tasting while you learn about the history and production of this iconic wine.
Finally, Porto is also a city of stunning architecture, and you'll want to explore the many ornate buildings and landmarks that make the city so unique. One great example is the Lello Bookstore. It's considered one of the most beautiful bookstores in the world. And it's said to be the inspiration for the aesthetic of Hogwart's in Harry Potter!
Explore the Small Towns
If you want to truly experience local culture, get away from the crowds, or just get in more UNESCO World Heritage Sites, head to the small towns of Portugal. Here are just a few you should consider:
Sintra: If you like historical castles, Sintra should be on your list! You can tour the National Palace, Pena Palace, the Moorish Castle, and more. Or take a stroll through the beautiful gardens of the Quinta da Regaleira.
Aveiro: Known as the "Venice of Portugal," Aveiro is a quaint town with Art Nouveau architecture and scenic canals. And there are historic sites like the Aveiro Cathedral and the Santa Joana Museum.
Tavira: Tavira is known for its cobbled streets, whitewashed houses, and ancient churches. Some main attractions here include the 2000-year-old Roman Bridge, the Islamic-era Tavira Tower, and the nearby Ria Formosa Natural Park.
Coimbra: Home to one of Europe's oldest universities, Coimbra is a lively town with great museums. You can explore the university's stunning library, visit the Old Cathedral, or stroll through the botanical gardens.
Braga: Considered Portugal's religious capital, Braga is also one of the oldest cities in the country. There are numerous churches and religious sites to visit. There's the Bom Jesus do Monte Sanctuary, the oldest cathedral in Portugal, as well as the Chapel of São Frutuoso.
Sagres: Sagres is a small town located at the southwestern tip of Portugal. It's a great destination if you're looking for a more rugged, list touristy experience. You'll spend your days on bleached beaches, surfing, and exploring historic sites like the Fortaleza de Sagres.
Evora: A UNESCO World Heritage Site, Evora is a stunning town filled with ancient ruins and fascinating landmarks. Make sure to visit the Roman Temple and the Cathedral of Evora. And the Chapel of Bones is a must-see!
Viana do Castelo: This is a sleepy coastal town with stunning beaches. Viana do Castelo is also home to the Sanctuary of Santa Luzia, a stunning hilltop church with panoramic views of the whole city and the ocean beyond it.
If you're interested in a day trip from Lisbon, this is a great small group tour to Sintra and nearby sites. Or take advantage of your northern locale in Porto and take a day trip to Braga and Guimarães. And even if you're staying at a luxurious resort on the Algarve Coast, you might want to switch things up and explore Tavira or Sagres.
FAQ about Portugal Activities
What is Portugal famous for?
Portugal is a cultural powerhouse with lots of things it's famous for! At the top of the list, Portugal is known for its wine, as well as its food scene. The country is also synonymous with breathtaking architecture, fabulous beaches, and soccer. Also, don't forget about Fado music, one of the most unique things about this beautiful country.
Is 5 days in Portugal enough?
You could easily spend a month in Portugal and not see everything. But, if you're limited to 5 days, that's certainly enough time for some good sightseeing! For a 5-day trip, I suggest focusing on either Porto or Lisbon. Plan to explore one of those cities with a few beach days and a day trip or 2 out of the city thrown in.
What is the best time of year to go to Portugal?
If you want amazing weather but maybe want to avoid the high prices and crowds of the peak season, go May through June or in September. Spring is also great times to visit, when the weather is very mild. Plus, you can experience lots of cultural events and festivals, like Holy Week in April.
Is there a dress code in Portugal?
In most settings, it's best to lean towards modesty. It's important to remember that Portugal, as a culture, has very strong religious roots. While swimwear and sandals are fine for the beach, it's considered rude and inappropriate to wear such things in a more formal setting. As a tourist attending dinner or even sightseeing at a church, go with casual but covered. Special events should be more elegant, even if things are casual.
What should I eat in Portugal?
Portugal has so many amazing dishes it's known for! A must-try are pastel de nata, or Portuguese egg tarts. They're a sweet custard-filled pastry and they're absolutely delicious. And while you're here, you should try the seafood! Especially bacalhau, which is dried, salted cod. It's served dozens of different ways, as street food, main courses, soups, and more. So, you're sure to find a bacalhau dish you like.
Check Out These Essential Things to Do in Portugal
Narrow down your sightseeing in Portugal to the most essential and high-quality experiences. This will allow you to make the most of your limited time in the country. With so much to see and do, it can be tempting to try to fit everything into your schedule! But spreading yourself too thin might mean missing out on significant and memorable experiences.
I've shared what I think are the 5 best things to do in Portugal. Focusing on these high-quality experiences allows you to fully immerse yourself in the culture and history of Portugal. Using my list, you're sure to have an unforgettable trip!