If you're visiting for only a few days, this Israel itinerary will allow you to see as much as possible in the time you have.
What to do in Israel in 5 Days – Israel Itinerary for Travelers in a Hurry
From the lowest point on Earth in the middle of a vast desert to the lush peaks of the Carmel Mountains, from one of the most ancient cities in the world to a glittering seaside cosmopolitan hub… Israel takes it all and crams it into a tiny strip of land. I'll tell you all of the best things to do in Israel during your time in this incredible country.
You can't drive more than four hours in any direction from the airport without leaving the country, yet Israel offers enough to keep visitors' itineraries jam-packed – whether you're staying for five days or five weeks.
This five day Israel itinerary is enough to whet your appetite and leave you wanting more. To get a deeper sense of the country and explore more, I encourage you to consider a 10 day trip to Israel – this itinerary has all the details you need to plan your entire trip, and you can even use it as the foundation for a shorter trip by just picking the days you're most excited about.
Israel Itinerary Map
Day 1: Exploring Tel Aviv – An Israel Must See
Shalom, and welcome to Israel! You'll start your short visit to Israel in the bustling modern city of Tel Aviv, perched on miles of a gorgeous Mediterranean coastline. It's a must on your any Israel Itinerary. Tel Aviv is a fascinatingly diverse city of neighborhoods and today you'll get to explore a few of them.
If you want to know what to do in Israel to relax, Tel Aviv is a great choice. Start off recovering from your flight with a relaxing stroll south along the beachside promenade, the tayelet. You'll take it all the way to Old Jaffa, which has origins as a port city dating back to the days of Jonah in the Bible!
Start off by wandering up to the lovely Gan HaPisga, one of the most incredible places to see in Tel Aviv, where you'll enjoy the lovely flowers and great coastal views. Next spend some time exploring the narrow, winding alleys filled with art galleries and studios. You'll finally make your way down to the port itself, which has recently been revitalized into industrial-style galleries and is one of Tel Aviv's new hot spots.
For lunch in Jaffa you have two excellent options:
The Old Man and the Sea: If you want a hearty traditional dining experience, head to The Old Man and the Sea. Your meal will start with a course of salatim, small dishes of various types of salad that are typical of Israeli cuisine. Thanks to its location in the Jaffa Port, The Old Man and the Sea is known for excellent, fresh fish entrees – you can't go wrong with those!
Abu Hassan: If you're looking for a meal on a budget or you want a different kind of traditional experience, head to nearby Abu Hassan. There's very little disagreement: Abu Hassan serves up the best hummus in Israel. My personal recommendation is to order the masabacha, a mix of hummus, tehina and whole chickpeas. It's served warm with a basket of fluffy pita. You may not think of a bowl of hummus as an entire meal, but that's how it's treated by Tel Avivians in the know.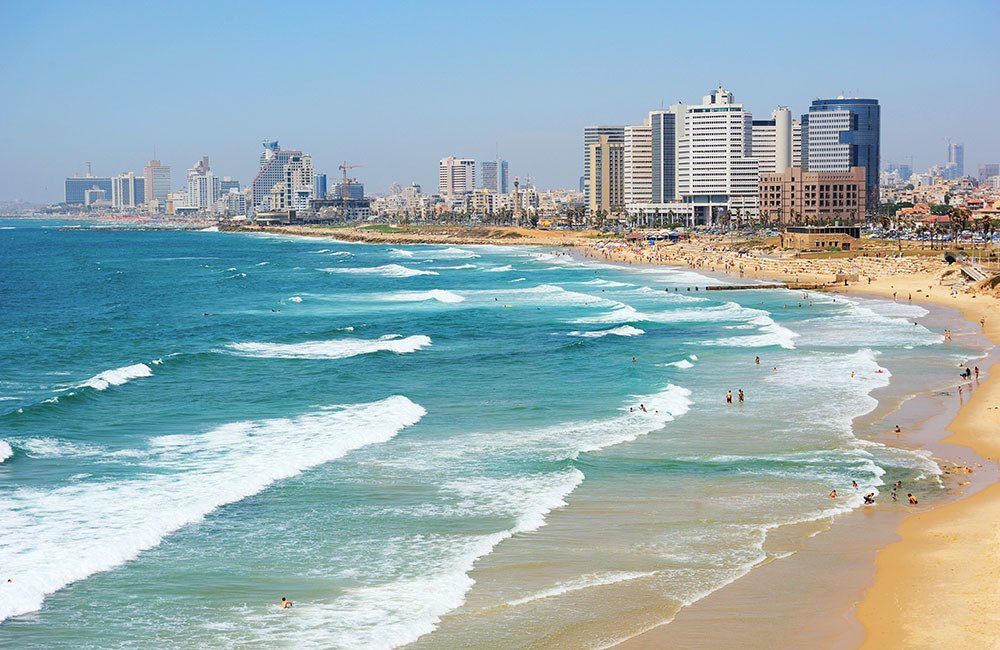 The afternoon is a great opportunity to head back north and see some of Tel Aviv's oldest – and most unique – neighborhoods. To see some fantastic spots with the context of expert explanation, grab this self-guided audio tour. It covers the Levinsky Market – one of the most authentic markets you'll see when you visit Israel – and the diverse Florentine, where you'll see fantastic Tel Aviv street art. The fee you pay for the tour includes samples at some of the market's best shops, so you'll have plenty of delicious sustenance for your exploration!
Walk just a few more blocks to the lovely, refined neighborhood of Neve Tzedek. This was the first Jewish neighborhood outside of Jaffa, and now it's home to cafes, art galleries, book stores and more.
When it's time for sunset, be sure to head back to the coast and find a lovely perch to enjoy it. Mediterranean sunsets can't be beaten!
For dinner, you'll head back toward Jaffa but this time to the Flea Market district. At night it comes alive as a vibrant scene for restaurants and bars. Your destination is Onza, one of the city's best restaurants. It offers a contemporary twist on traditional Turkish cuisine and is one of my personal favorites.
Highlights in Tel Aviv:
Tayelet- Beach Promenade
Old Jaffa
Gan HaPisga
The Old Man and the Sea
Abi Hassan
Levinsky Market
Neve Tzedek
Flea Market district
Beach Time
Onza
Day 2: Day trip in Coastal Israel
One of the prettiest areas of Israel is its lush northern coastline. The coast is one of the best places to visit in Israel. Today on your Israel itinerary you'll spend the entire day exploring it! There are two ways you can manage the logistics, each with pros and cons. If you want the flexibility to move at your own pace or you're traveling with a family, it might be worth renting a car (in downtown Tel Aviv, not at the airport). If you're visiting solo or you'd rather have everything planned for you, you can hop on a guided day trip to take you up and down the coast.
Regardless of how you opt to handle the logistics, you'll see beautiful, interesting places. On a longer itinerary, you'd probably want to spend the night in the north to see everything, but with just one day you may need to prioritize just a few of these spots to visit. Here are some of the best places to visit in Israel along the Carmel coast, from south to north:
Caesarea National Park
This ancient Roman settlement was established as a port for the newly-expanded empire around 25 BCE and used as such for over 1500 years. The city is still remarkably well-preserved and includes residential buildings, a commercial area, an amphitheater and a chariot racing arena. The site is very large, so plan to spend about two hours exploring. There are several on-site restaurants to grab a lovely lunch with a view.
Ba'hai Gardens
This is known as one of the most amazing things to see in Israel. The diverse coastal city of Haifa is home to the Ba'hai World Center and its famous gardens. If you have just a few minutes, stop at the top of the garden to sneak a peek from the top level (this is what the day trip options do). With more time, you can take a guided tour all the way down through the garden – just be sure to check the English time slots in advance as they're limited. If you plan to enter the garden, be sure to wear modest clothing that covers you knees and shoulders.
Akko
The ancient city of Akko is a fascinating look at Israel's layers of history. You can explore the old Ottoman city, the Crusader fort, underground tunnels and more. The traditional market is a fun place to wander and sample delicious traditional food.
Rosh Hanikra
We love the limestone cliffs and grottoes of Rosh Hanikra, right on the border with Lebanon. The world's steepest cable car takes you from the top to the bottom, where you can wind through the caverns and explore the fascinating nooks and crannies. There's also an interesting historical movie shown in one of the caves that explains the history of the railway that once ran right next to the grottoes and in to Lebanon.
For dinner nearby, try Michael Local Bistro – famous for its Israeli take on the farm-to-table movement.
At the end of the day, head back to Tel Aviv for the night. If you've rented a car, you can either keep it to do more self-guided exploration for days 4 and 5 or return it if you plan to use public transportation and/or guided tours for those days.
Day 3: Jerusalem's Holy Sites and the Shuk
On day 3 of your Israel itinerary, you'll visit the famous Holy Sites of Jerusalem. No matter your religious affiliation, visiting Jerusalem's holy sites is one of the best things to do in Israel and an absolute must. Religion and history are all intertwined and it's fascinating learning about both in this country, both of which are at the heart of many ancient and modern religions today.
One of the great things about traveling in Israel is just how close much of the country is. This morning you'll leave early to go from Tel Aviv to Jerusalem, which should take about an hour.
If you've already returned your rental car you can take either the bus or the newly-completed fast train. If you choose public transportation, you may need to take either a local bus or a taxi to your hotel to drop your bags depending on where you're staying.
You'll want to be done dropping your bags in time to arrive at Jaffa Gate for your 11 am tour of Jerusalem's holy sites in the Old City. This excellent free tour lasts around 2 hours (but could go a bit longer) and visit all four quarters to give a brief introduction to the main sites of the Old City.
When your tour is done, grab lunch at Tala Hummus in the Old City (you'll even get a discount from your tour guide). Even though it's a restaurant frequented by tour groups, it's quite good and hits the spot in a convenient location!
Due to the limited time available on the tour, you won't go inside the Old City's various holy sites. After lunch, you can opt to return to the Western Wall or the Church of the Holy Sepulchre if those are of special interest to you. If you choose to go to the Western Wall, you can even take a tour underneath to see various levels of excavation of the original Temple walls!
After you've had your fill of the Old City you'll walk along the modern Jaffa Street to Jerusalem's famous Machne Yehuda market (also called "the shuk"). If you're feeling tired or the heat is extreme, you can also hop aboard the light rail that runs through the middle of the street and stops right outside the market entrance.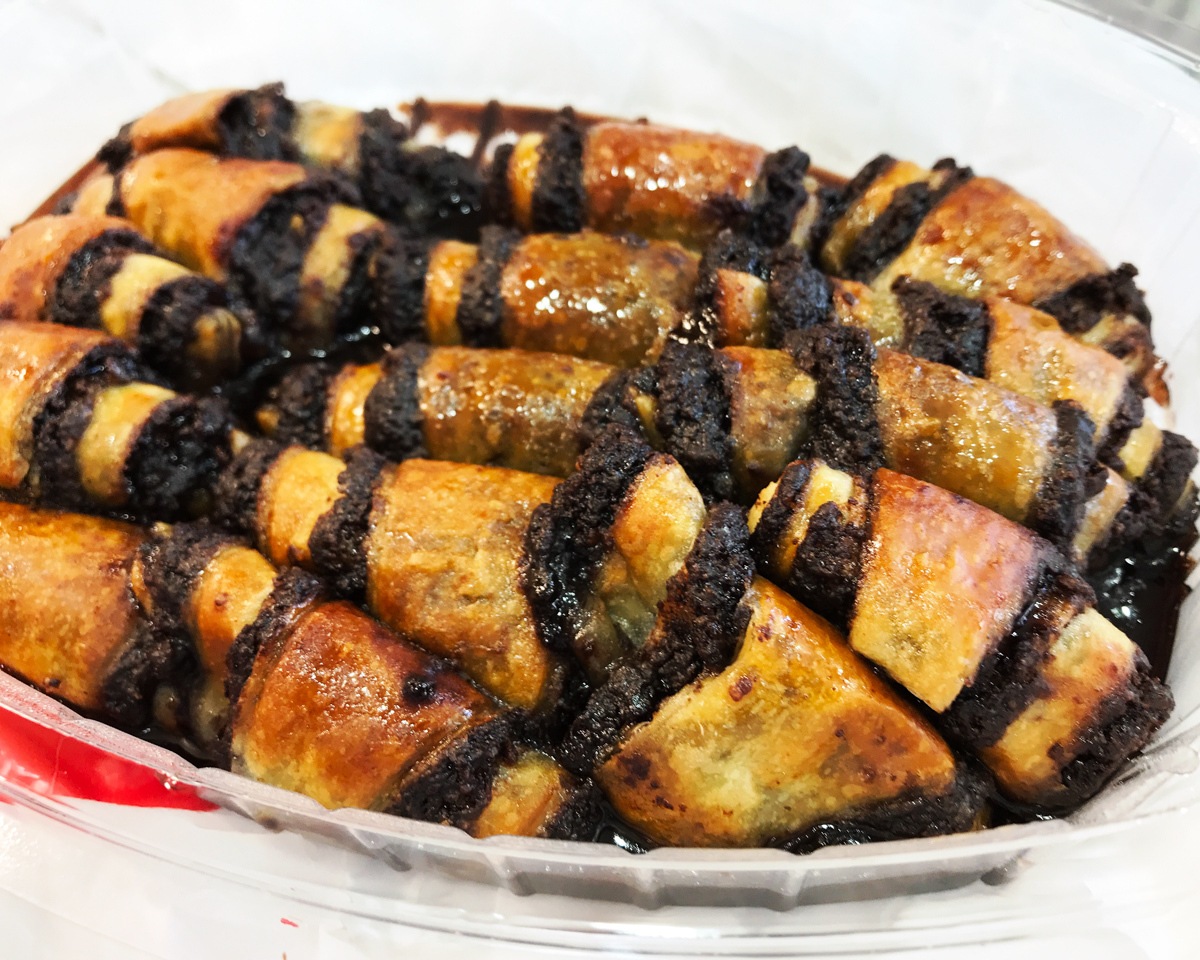 Wander the market, take in the sights and smells, ask for samples. It's an experience you can't miss! Be sure to stop my favorite bakery, Marzipan, for some of their world-renowned ruggalah. It's absolutely incredible, so make sure you buy a few extra to send my way.
After you've filled up at the market, you can enjoy more strolling time along Jaffa Street and its many off-shoots until it's time for dinner. You'll head back to the shuk, which transforms after dark into one of Jerusalem's evening hot spots! Enjoy dinner at Machneyuda, often regarded as one of the country's best and most creative restaurants – just be sure to make a reservation in advance (sometimes a month or more).
If you still have energy, head back to the Old City for one of the stunning "sound and light" shows put on by the Tower of David. They project images directly on to the city walls taking you on an amazing journey through history.
Day 4: Day Trip to the Dead Sea
Swimming in the Dead Sea is one of those can't-miss once-in-a-lifetime experiences on any Israel itinerary, so we've gotta make it happen even with a short time in Israel! The good news is that you can be at the most beautiful part of the Dead Sea in just under two hours from Jerusalem.
The better news is that there are some absolutely fantastic places to visit along the way to make a complete day trip. You can either spend this day exploring on your own if you have a rental car or take a guided tour like this one.
I recommend eating breakfast before you leave Jerusalem and bringing a picnic lunch with you, as food options are slim (and generally not great).
Masada
Masada is one of the best outdoor attractions in Israel. Visit the mountain-top fortress where 1st-century Jews took refuge from Roman rule. If you arrive early enough in the day (in the summer, often before 8 AM) and you're in very good shape, you can hike up the "snake path". It takes 1-1.5 hours as you ascend 1300 feet.
The snake path is the only way to see the sunrise at Masada, which is very popular but requires you to leave from Jerusalem extremely early – potentially around 4 am in summer. Most people choose to ascend and descend via cable car, which you can do at any time of day.
Dead Sea
Earth's lowest point is the Dead Sea, the shrinking extremely salty sea in the middle of the desert. It's called "Dead" because it's so salty that nothing can survive. I recommend visiting the southern section near Ein Bokek. It doesn't have the mud you'll find in the northern section, but the water is prettier, the floating is better and the beach access is free.
Ein Gedi
The final stop of the day is one of the best places in Israel, Ein Gedi. This oasis in the desert provides some great easy hiking and lovely freshwater springs perfect for a swim after a hot day of exploring.
After your day in the desert, head back to Jerusalem for dinner and the evening. If it happens to be a Tuesday, this is a great time to head to The Israel Museum while it's open later (more info on The Israel Museum for day 5 below). Otherwise head to the Jerusalem First Station (HaTachana), the old train station that has been converted into a wonderful public space that includes plenty of restaurants, boutiques, arcade games, fun events, and more.
Day 5: Discover Israel your way
On the final day of your Israel itinerary, choose your activities based on your own interests.
If Jewish and Israeli history is your main interest, this is a good day to split between The Israel Museum and Yad Vashem. The Israel Museum has a world-class collection that includes the Dead Sea Scrolls, thousands of years of archeological sites from the region, unique synagogue interiors from around the world and much more. There are also several restaurants on-site where you can grab a delicious lunch.
In the afternoon pay respects to victims of the Holocaust at Yad Vashem, the World Holocaust Remembrance Center. There are numerous memorials on the site and you'll want to take your time to go through them and also process what you're seeing.
Christian pilgrims to the Holy Land should spend the final day visiting two important sites: Bethlehem and the Mount of Olives. A visit to Bethlehem, located in the West Bank, will take you to the Church of the Nativity, the Franciscan Grotto of Lady Mary and the Shepherd's fields.
The walking tour will return you to Jerusalem, where you can grab a quick lunch. You'll continue your spiritual journey in the afternoon with a guided visit to the Mount of Olives. The tour will include churches, the Mosque of Ascension, Mary's Tomb, the Jewish cemetery, and iconic views of the Old City.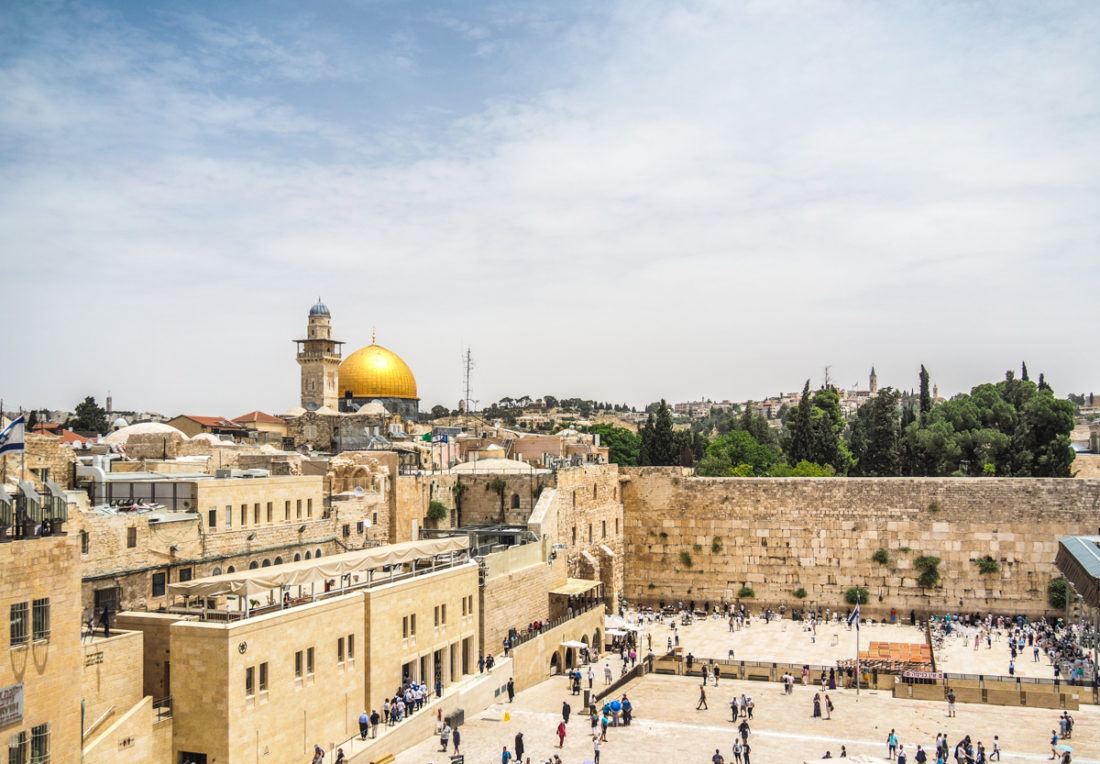 If you are interested in diving deeper into the Israeli-Arab conflict, sign up for the excellent Hebron dual-narrative tour offered by Abraham Tours. The tour includes both an Israeli guide and an Arab guide, each explaining their side's view of the conflict as you explore the sites of Hebron that are holy to Judaism, Christianity and Islam.
Combining a Trip to Jordan and Israel
Many visitors coming to Israel choose to combine their trip and do a Jordan and Israel combination trip. Crossing from Israel to Jordan on land is fairly easy for most tourists. It might take some time, so be patient. There are three land border crossings between Jordan and Israel:
You may want to consider getting your Israel Passport Entry Stamp on a separate paper instead of on your passport. Having an Israel stamp won't restrict your entrance to Jordan, it's quite common, but it may impact your ability to enter other Muslim countries in the future, so it's better safe than sorry, unless you know you won't be visiting them.
Jordan Guide
If you decide to combine your Israel itinerary with a trip to Jordan, be sure to check out my Jordan Itinerary. It's one of my favorite places in the middle east.
Want to Make your Trip Planning Easier?
If you want to make your trip to Israel and/or Jordan memorable, but want to skip the stress of planning, these guides are the perfect open-and-go solution. They provide day-by-day itineraries, interactive maps, tour and accommodation recommendations, and more insider tips!
I hope this Israel itinerary has given you a taste of what you'll find in Israel! For even more details to plan your entire trip or to extend your visit longer, check out this detailed itinerary and more helpful resources like where to stay in Israel, what to pack and more!
This itinerary was written by Melissa from The Family Voyage, who is my Israel Expert!
Israel Itinerary FAQ
How many days is enough for Israel?
If you're traveling to Israel, around seven days is usually enough, though it depends on your preference and interests. You could easily spend a week in Jerusalem alone or take a more leisurely approach and spend a couple of days in each of the main cities.
Is 7 days in Israel enough?
Yup, if you want a jam-packed adventure to Israel, might as well consider going on tours so you can cover more ground. With 7 days in Israel, you'll be able to explore the country's key cities and attractions, including Jerusalem, Tel Aviv, and the Dead Sea.
Can you see Israel in 5 days?
Yes, depending on the itinerary you follow, it is possible to cover the main attractions within Israel in a 5-day period. However, if you want to experience as much of the country as possible, it's best to give yourself a week or two.
What are the best months to visit Israel?
It's best to go here from April to October when the weather is mostly sunny and dry. December to March can be colder and wetter but, depending on your preference, this might still be a great time to visit as the country isn't as crowded and you can experience Israel's winter charm.