Portugal is a relatively small country compared to other, more popular, European countries. But for such a small area, this amazing country sure packs a big punch! This Portugal itinerary will help you navigate with ease and find the best things to do in Portugal.
Your Perfect Portugal Road Trip Itinerary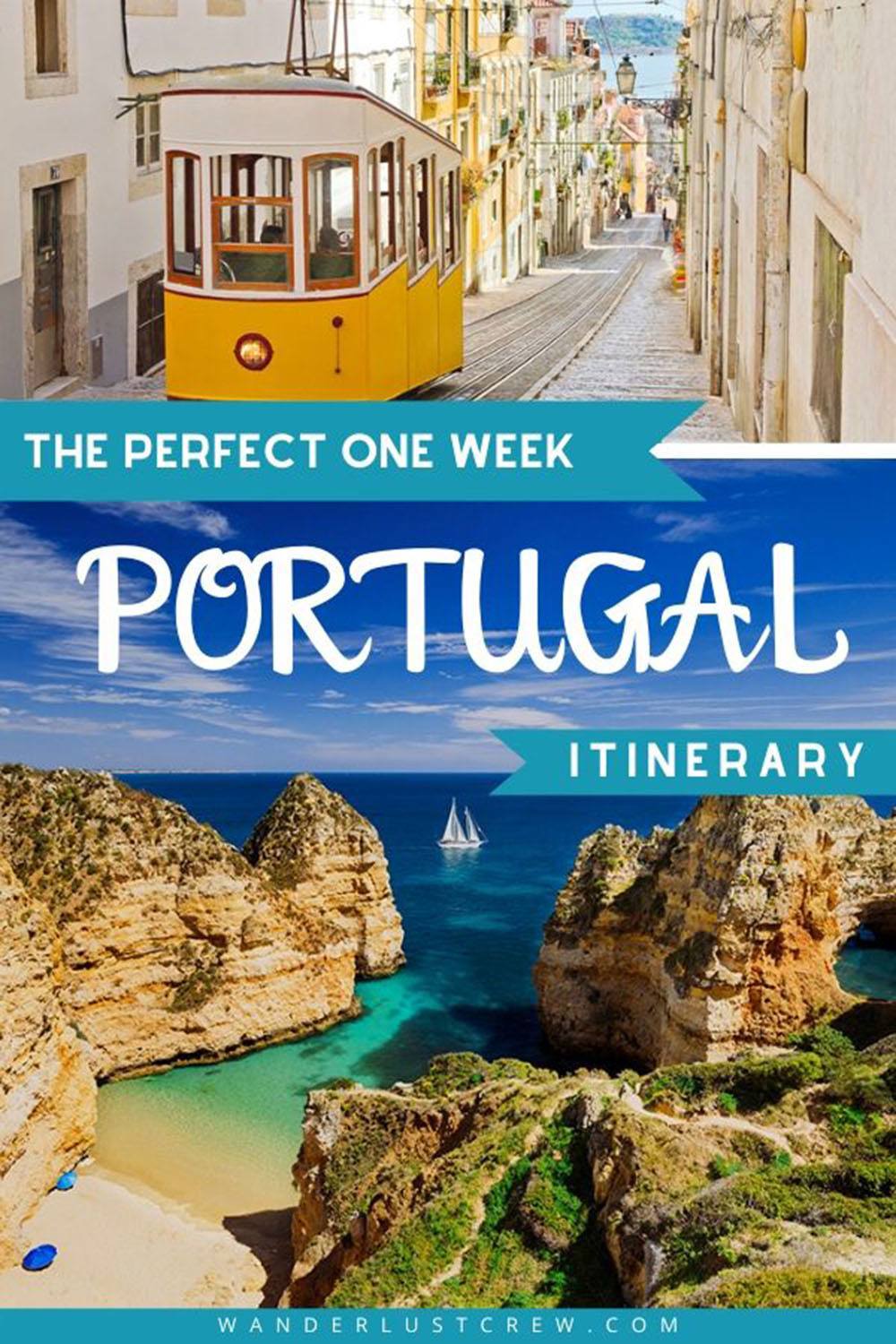 If you are planning a trip to Portugal, I'm so jealous! I love it there and can't wait to go back. Our first introduction to Portugal was in the Azores last summer and we totally fell in love. It inspired us to go to mainland Portugal in the winter.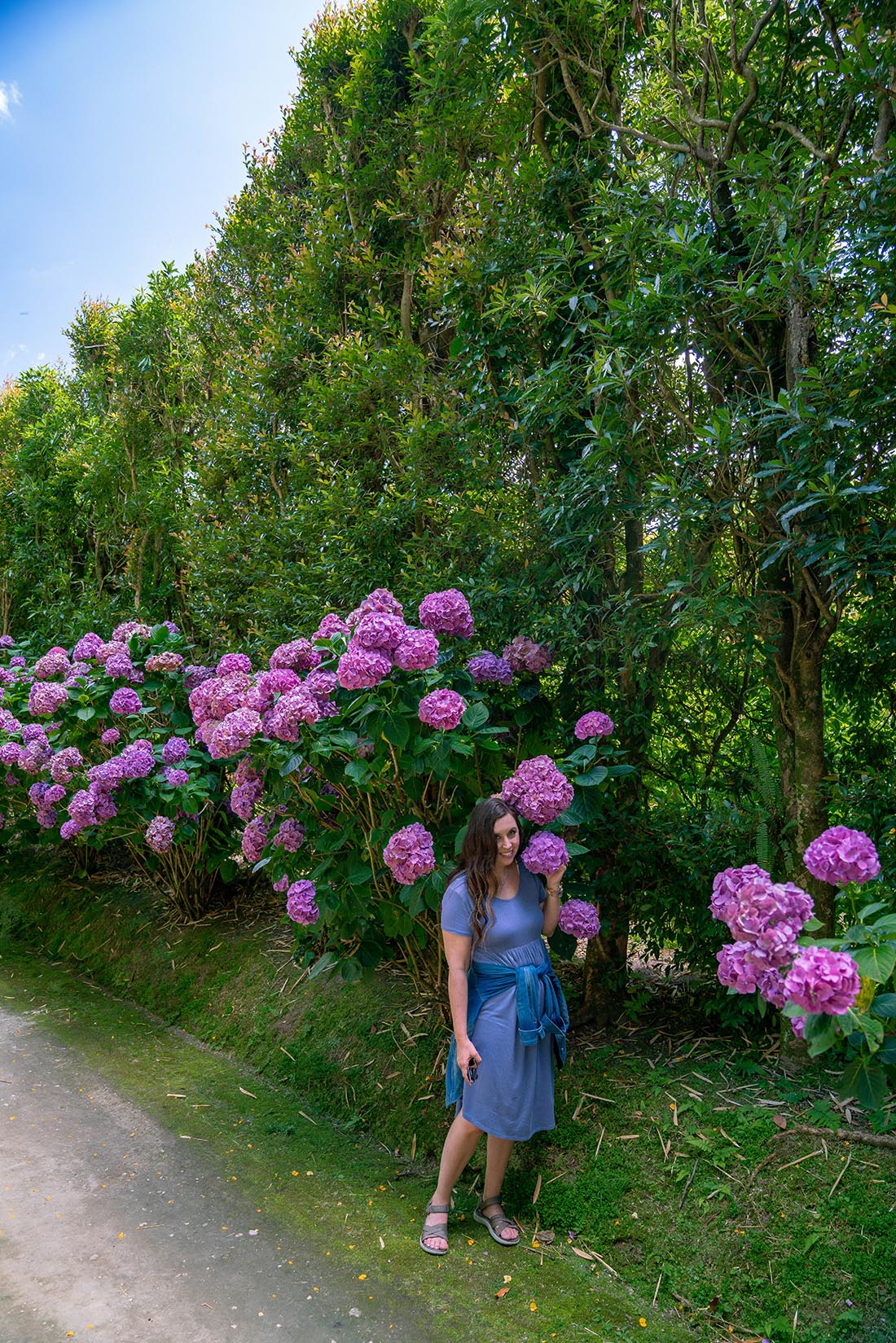 Portugal is affordable both to get to and for travel expenses. For example, a friend of mine rented a 4 bedroom/2 bath Airbnb with a giant patio in the seaside town of Nazaré for $450 USD for a whole week!
The more popular cities are obviously priced accordingly, but I know I like to know my options as far as cost goes and Portugal doesn't disappoint. Couple this with welcoming locals, fairytale castles and miles of stunning coastline, and Portugal has the best Europe has to offer without the sometimes spendy price tag.
Getting To Portugal
Since our itinerary begins on the Southern Coast of Portugal, the Algarve, you have two airport choices. One is Lisbon (LIS) and the drive from the Lisbon airport to the Algarve is about 2.5 hours.
It is also possible to fly into Faro (FAO). Ryanair serves all the airports in Portugal, so you are sure to find a deal. No matter where you start, you can finish your road trip and fly out of the northern city of Porto (OPO). Or, if you'd rather, you can do this itinerary backward by flying into Porto and out of Faro.
Driving In Portugal
Driving in Portugal on highways in Portugal is pretty straightforward. They drive on the right, and the roads we experienced were good, especially on the main highways. Petrol stations are easily found and straightforward.
However, driving around Lisbon and Porto is more challenging simply due to how steep and narrow many streets are downtown- think San Francisco for an apt comparison. There are many one-ways and you need to be aware of trams. As a result, if you can avoid leaving or entering the city during rush hours or holidays, that will save your sanity!
I personally recommend getting to your location, parking, and then taking public transit, or your own two feet. The exception to this would be in the Algarve where you will be wanting to hop from town to town and explore the whole area.
Where To Stay When You Visit Portugal
Albufeira
We stayed in Olhão, which has a lovely market and fantastic fish restaurants. However, it's not central, so I recommend basing in Albufeira or a nearby town in the center of the Algarve and then exploring the east and west from there.
Lisbon
To get a good feel for Lisbon's charm, try the Alfama neighborhood. We hear it's quite the happening place to be during the summer! The area around the Rua Forno Tijolo stop for the famous Tram 28 has a local feel and is well away from the hoards that are vying for photos on more popular parts of the tram route. You can discover where to stay in Lisbon here.
Sintra
The most convenient place to stay in Sintra would be in the area near Palácio Nacional de Sintra. From this area, you can even walk to some of the best sites.
Porto
The Ribeira Neighborhood- named after the Portuguese word for river- will be near many highlights and for the farther ones, take the Metro!
The Best Time to go to Portugal
The best time to go to Portugal depends on your preferences. I definitely consider it a year-round destination due to the lovely temps we experienced in the Algarve in January. Summertime is the high season for the Europeans in sun-starved countries to head to Portugal. I'm looking at you, England!
My tip for visiting Portugal in the summer would be to go in June before all the Europeans go on their holiday. England, for instance, has school until the end of June, so that is a sweet spot to travel Europe in summer.
There are some fun festivals in June, as well. The whole month has Festas de Lisboa activities. In particular, Lisbon is a flurry of excitement during the Festas de Santo Antonio, where the whole city takes to the streets to celebrate its patron saint with food trucks, sangria, and enjoying dinner and music at outdoor tables through the city.
For a mid-Winter escape from colder climates, Portugal is not a tropical vacation, but it's quite comfortable for getting some fresh air without freezing your butt off! Beaches, castles, and forests will be enjoyable this time of year with average highs in the Algarve around 60*F and Porto around 55*F.
One incredible thing about Portugal in winter is surfing! Nazaré, on the central coast, is known for record-setting 100 ft waves. I don't recommend YOU surf, but watching the surfing this time of year would be unlike anything you've ever seen.
Another bonus of coming to Portugal in January or February is that it's certainly not the tourist season. The drawback would be that opening hours are likely shorter than in the summer season.
So the best time of year to go to Portugal is up to you!
The
Perfect Portugal Itinerary
If you want to save some time and energy, we have an amazing open-and-go Portugal itinerary that will walk you through each day in Portugal, sharing the best places to go, see, and stay, the best tours and attractions, and how to get around.
One week in Portugal is not quuuiiiiitttteeee enough. For a perfect Portugal itinerary, at least 8 days is the way to go. Though if you must only spend 1 week in Portugal, I would cut Lisbon/Sintra to 2 days. 
If you are lucky and get 10 days in Portugal, I recommend adding in a charming beach town on the drive from Lisbon to Porto, like Nazaré. Places to see in Portugal are plentiful, and you are going to want more time no matter which way you break it up.
I highly recommend starting your Portugal vacation itinerary (or any itinerary?!) by chilling at the beach. I find that it's nice to start off a trip by giving yourself a few days to wind down and get into holiday mode. This also helps a lot with jet lag and the beach is a great place to help your body readjust to different daylight hours. Here is what to see in Portugal during your time there.
Day 1-3: Algarve Region
I have you beginning your Portugal travel itinerary in the beautiful Algarve. The Algarve is full of beautiful beaches that would take months to explore! Despite this being a summer vacation destination, we found it amazing in January with temps around 60*F. It was just warm enough to play at the beach all day without sweating or getting too burnt!
After 2 weeks in England, it felt like paradise. The people here are so kind and most of them speak English, which is great because the only Portuguese we know is "obrigado/a" (thank you)!
* Hot Tip: For the record, I recently learned the very fun way to ask for two Portuguese coffees, which are similar to a latte. The word for two is "dois" (doy-sh). The word for a coffee is "galão" (guhl-OW) and when pluralized is "galões" (ga-loysh). Put them together and you have "dois galões" (doysh galoysh)! I'm pretty sure I will find this endlessly entertaining. Too bad I don't drink coffee!
Day 1: Getting to Algarve
Either fly into Faro or, if you're coming from the US, you'll most likely fly to Lisbon. If that is the case, drive from Lisbon to Algarve, which takes about 2.5 hours. If you started at the Faro airport, congratulations! You are almost there.
If you get in during the morning, I recommend trying to adjust to the local time by staying awake! If this is the case, head to Olhão to wander the whitewashed harbor town, pick up some produce at the famous market (it closes early in the afternoon), then find a coffee shop and order dois galões to stay awake!
Olhão is famous for their fresh seafood restaurants. Grab some lunch here. After checking out this seaside town, drive to your base in Albufeira and check out the BEACH.
Day 2: Beach Day
Spend the day beach-hopping or the whole day at our favorite beach, Praio do Carvoeiro. We were in Portugal in winter and it was still stunning. In the summer, though, this beach is the happening place to be where you can rent sunbeds and umbrellas and lounge for the day.
If you get bored of lounging around and soaking up the sun, take a boat tour to the amazing caves along the Algarve Coast.
There are also some fantastic hiking trails along the cliffs.
If you're looking for some adventure in the Algarve, we loved taking this Jeep safari tour.
Day 3: Road Trip North
Once you check out, a gorgeous drive starts at the beautiful cliffs of Sagres and heads up the Atlantic coast through the Parque Natural do Sudoeste Alentejano e Costa Vicentina.
Day 4-6: Lisbon or Sintra
Since packing up every night is for the birds, I recommend basing in one of these two cities and doing a day trip to the other.
Where you base yourself in this area of the country depends on what makes your heart sing. Lisbon obviously has the big city feel, the famous yellow trams, loads of restaurants, festivals, street art and parks.
Sintra, on the other hand, is absolutely gorgeous with foliage and palaces all over the hills! This area is a UNESCO World Heritage Site, not because of the amazing palaces, but because there are over 500 different types of trees.
To sum up, I would say that if you are into nightlife and big-city energy, base in Lisbon, and if you are into fairy tale charm, choose Sintra for sure.
Day 4: Lisbon
Oh LISBOA…Lovely, Inspiring, Sincere, Beautiful, Old, Artistic! I love this amazing city. It feels like the San Francisco of Europe with a big beautiful bridge, trolleys, hills, and lots to do! It's a great city to tackle if you're not feeling up to the enormity of Paris, London, or Rome, but still offers plenty of charm!
Your Lisbon Portugal vacation will provide lots of opportunities for lovely photos. I was crazy about the tiles everywhere. I haven't seen anything quite like it. Not just one color of tiles, either- I'm pretty sure there are tiles in Lisbon for every color in the rainbow.
In Lisbon, don't miss:
Tram 28
Castelo de Jorge
Miradouro de Santa Luzia
Parque Eduardo VII
Jerónimos Monastery
Day 5: Sintra
If you're looking for the best day trips from Lisbon Portugal, there is no better than Sintra. Obviously this works in reverse, as well. Sintra is a beautiful area just outside Lisbon that was the summer home of the Royal family and nobles. You can see why they chose this area.
The story goes that the king of Portugal gathered seeds from all over the world to create a romantic garden for his mistress. We visited this fairytale garden in the Quinta da Regaleira and the kids were in heaven!
For getting around, you can do some walking via sidewalks and even trails. Find information about hiking trails at the tourism info center. When you get tired, there is a hop-on-hop-off bus and you can buy an all-day pass.
While Sintra is famous for its amazing castles and palaces, be sure to take time to visit the beautiful nature that lies in this area. The beaches and forests are absolutely beautiful
In Sintra, don't miss:
Palacio Nacional de Sintra
Day 6: Driving Day
The distance between Lisbon and Porto is not too long, just 3 hours by car. It is a beautiful drive with opportunities for unique stops along the way. If you do have more than 8 days to work with, this is where I recommend stopping for a few days roughly halfway on your travel from Lisbon to Porto.
The fishing (and surfing) villages of Peniche and Nazaré are scenic and charming places to stop in for lunch or base for a few days.
As an alternate place to stop on your drive to Porto, if you don't want to head to the sea, Batalha Monastery is simply stunning and shouldn't be missed. This makes a good stop to break up your drive because around the corner from the monastery, there is Jardim do Lena to stretch your legs and have a picnic or Jardim dos Infantes for letting little ones burn off steam before having to be quiet in the monastery.
Day 7-8: Porto
Day 7: Catch the best views in Porto
What to see in Porto? Porto is a remarkably beautiful city set on the beautiful Douro River; the gorgeous Douro Wine Region is farther inland on the river. A great way to spend your first day in Porto to go on a view-finding mission.
Don't miss these viewpoints
Crystal Palace Garden
Gaia Cable Car
Funicular Dos Guindais
Ponte Luis Bridge
Day 8: Soak in your last day
Porto ends your trip to Portugal on a lovely note. For your last day, perhaps consider some of the things you found most delightful about Portugal and get a last taste of those.
Here are some ideas to get you going. Do you love:
Coffee? While you will want to peek in Majestic Cafe for the beauty, you will find another lovely coffee shop with better coffee at C'Alma Specialty Coffee Room
The Beach? Praio do Carneiro
Iconic tiles? Capela Das Almas
Seafood? You will be positively spoiled for choice of restaurants at Matosinhos Beach
Pastries? Padeirinha Doce
I hope I helped you envision what beauty waits for you in Portugal! If you stay around Portugal for a while, I also loved the Azores.