Lisbon is one of the most beautiful and most underrated cities in Europe. Discover all the unforgettable things to do in Lisbon and you'll be convinced to visit too!
Lisbon is one of the most underrated cities in Europe. We've visited Portugal several times and have fallen in love with this beautiful and unique capital city. Being from Northern California, it feels a lot like the San Frnacisco of Europe. There is even a nearly-identical Golden Gate Bridge!
Once you see pictures of this gorgeous coastal city, you'll have to agree with me. The nice thing about Lisbon, is that many cheap flights to Europe are routed through here, so it's a great city for a short (or long) layover.
Many travelers used to overlook visiting Lisbon in favor of the big cities like Madrid and Barcelona in Spain, Portugal's next-door neighbor. At some point, drawn possibly by the cheaper prices and pictures of eye-catching tiled architecture on social media, more people started traveling to Lisbon.
They didn't just like the Portuguese capital city, they loved it. And it's easy to see why so many now call it their favorite European capital city above heavy hitters like Rome or Paris!
For a major capital city, Lisbon is mostly walkable and compact. Some of the best things to do in Lisbon, Portugal are to munch on a delicious pastry while strolling down one of the seven hills (not an ideal city for bike tours!) to the Tagus River.
It has medieval castles like Castelo de São Jorge and charming museums like the National Tile Museum, sure, but checking out these cool Lisbon things to do never feels like ticking off a list in a guidebook. With it being a hilly city with cobblestone lanes, you'll enjoy slowing down to explore all the top things to see in Lisbon, Portugal at your own pace.
If you're visiting Lisbon on your next trip to Europe, this is a comprehensive guide to all the best things to do in Lisbon, Portugal. There is such a huge variety of Lisbon things to do and see with your family, partner, or solo. Whether you're a foodie or a history buff, you'll find recommendations of all the best and most popular Lisbon attractions right here including ideas for day trips.
Before you go – Lisboa Card
Planning to visit lots of museums and historic sites in Lisbon? Check out the Lisboa card. There are 24, 48, and 72-hour versions that give you unlimited free access (after you pay for the card, of course!) to Lisbon's transport and most popular tourist attractions, helping you save money.
This card also includes unlimited free access to trains traveling to places like Sintra and Cascais. You might not save money if you don't plan on spending a lot of time on trains or trams, but prices for the card start from only €21.
1. Take a Tuk Tuk Tour of Lisbon
You might be surprised that Lisbon is very hilly! Exploring the city on foot can be a little challenging, especially if you're visiting with kids. A great way to see the city and save your legs is to take a tuk tuk tour of Lisbon. You will notice these all over the city, but book yours in advance, especially if you're traveling during high season.
2. Take a Food Tour of Lisbon
One of my favorite ways to explore a new city is through food! Discover the historical heart of Lisbon through Portuguese cuisine. Let a local guide you through taverns, shops and local restaurants and introduce you to some delicious food on this small group food tour.
3. Book a Lisbon Photoshoot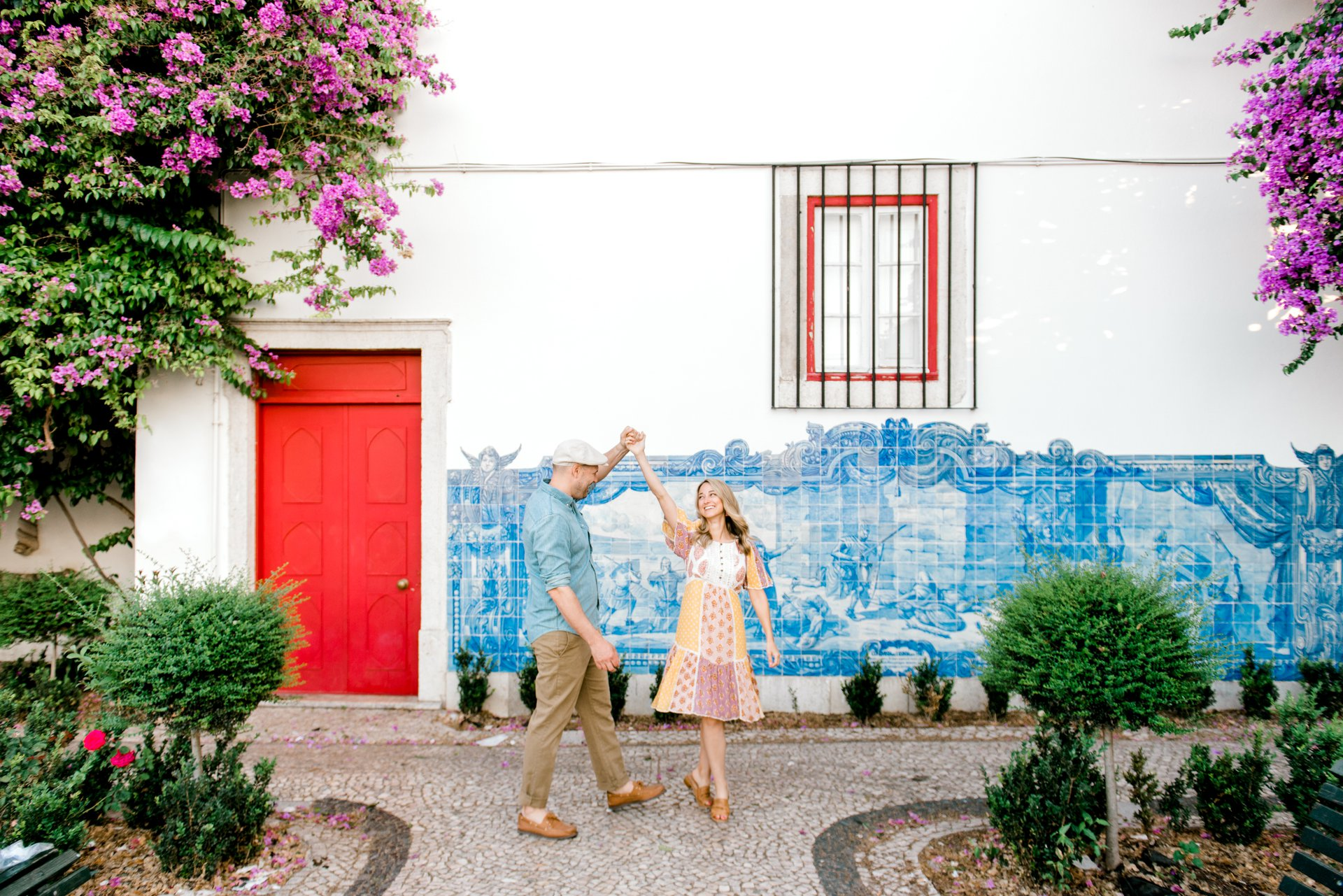 We always love to book a photoshoot when we're traveling. As a mom, it's tough to get in the photos since I'm always behind the camera. We love using Flytographer to capture our memories. You can get $25 off your shoot by booking with this link or using code WANDERLUST.
4. Belém Tower
Lisbon boasts two UNESCO World Heritage Sites and they're both in Lisbon's Belém district outside of the city center. It's a 20-minute journey on public transport and you'll only need to set aside a few hours to explore this beautiful, compact coastal town.
The highlight of this district is the Belém Tower or Torre de Belém in Portuguese. This medieval fortress stands on the coastline where the Tagus River meets the Atlantic Ocean. It's made out of limestone in a Manueline/Portuguese late Gothic architectural style.
Torre de Belém dates back to the 16th century when it would act as a ceremonial gateway for when explorers embarked and returned to Portugal. This was during the Age of Discoveries when Portugal was at the height of its power. You can see why UNESCO thought the Belém Tower deserved recognition and why it's easily one of the top 10 things to do in Lisbon!
The Belém Tower is only 100 ft/30 m tall, but it's well worth buying a ticket as you can explore all the nooks and crannies of this well-preserved historic building. The views of the coastline and the bridges across the Tagus River are also stunning on a sunny day.
Arrive early at the Belém Tower ticket office as this is one of the most popular Lisbon things to do. Or book your ticket in advance here. One insider tip is to get a dual ticket for this attraction and the Jerónimos Monastery. This will allow you can skip the queue for the monastery which is often longer.
Booking a guided tour of both attractions during the popular summer months (June – August) might also be a good investment. You'll be able to skip all queues, learn more about both sites and avoid your kids becoming bored waiting in line if you're traveling with your family!
5. Jerónimos Monastery
One of the other top things to do in Lisbon, Portugal in this part of the city alongside Torre de Belém is Jerónimos Monastery. You might also see it written as 'Hieronymites Monastery' and it's part of the same UNESCO World Heritage Site as Belém Tower. It also dates back to the 16th century and is an incredibly well-preserved late Portuguese Gothic complex.
This monastery is just so ornate with carvings and intricate patterns on every tower, doorway, and courtyard. There are also examples of tile patterns that the Portuguese capital is famous for, stained glass windows, and water fountains. You'd be forgiven for thinking this building was a royal palace and not a religious building!
Jerónimos Monastery is also the final resting place of many Portuguese kings and home to the Igreja Santa Maria de Belém church. You'll find a maritime and Navy museum within the sprawling complex too.
6. Pastéis de Belém Pastry Shop
Exploring lots of important and historic buildings is hungry work. Luckily, one of the top pastry shops and one of the best things to do in Lisbon, Portugal is also in the district of Belém. You simply can't say you've visited Lisbon if you haven't tasted one of their pastries!
The pastel de nata is a classic tart (the plural is pastéis de nata) from Portugal. It's baked with a flaky puff pastry base, an egg custard and vanilla filling, and a sprinkling of cinnamon and dusted sugar. The pastel de nata isn't a fancy pastry but it's delicious and easy to eat on the go. They're made fresh in the bakery and you'll love the cute blue and white interior design of the shop too.
Pastéis de Belém always has long lines outside of their shop but don't be discouraged because it moves quickly. Head there before you explore Belém so that you have some tasty treats to eat in the line to buy your tickets.
7. Padrão dos Descobrimentos
Some of the top free things to do in Lisbon are the many wonderful monuments and statues there are dotted around this city. In Belém, one of the best is the Padrão dos Descobrimentos monument. It means 'The Monument to the Discoveries' and it's just a short walk along the Tagus River from Belém Tower.
This monument was built in the 1960s to commemorate 500 years since Henry the Navigator's death. He was a younger son of King John I of Portugal and a crucial figure when the Portuguese Empire was at full strength. The monument features a total of 33 figures who played a significant role in Portugal's history at this time.
It's a brilliant, bright white structure made from steel. It will take you a few minutes to walk around the entire monument to take in all the detail. There's also a wonderful blue tile pattern on the ground to represent waves as the monument takes the form of a ship.
8. Ponte 25 de Abril Bridge
No, you didn't teleport to San Francisco but it might seem it whilst looking out at the Ponte 25 de Abril Bridge. It looks exactly like the Golden Gate Bridge! It's one of the top things to see in Lisbon, Portugal while you are still in the Belém district as it's closer to this part of town than the city center.
Ponte 25 de Abril is named after the Carnation Revolution which successfully ousted Portugal's dictator, Dr. António de Oliveira Salazar, in 1974. It was called Ponte Salazar, but the country later renamed the bridge after the date of this revolution.
This 1.2-mile/2 km red suspension bridge connects Lisbon with Almada across the Tagus River. And no, you didn't teleport to Rio de Janeiro either. Despite the fact that the Christ the Redeemer statue appears to be standing on the other side!
Sanctuary of Christ the King is the name of Portugal's version and was inspired by Brazil's Seventh Wonder of the Modern World. When you consider the connections between these two countries, it's not unusual that Lisbon would have its own version. In fact, this monument faces Christ the Redeemer thousands of miles across the Atlantic Ocean.
If you have plenty of time in Lisbon then it's worth traveling over the bridge to see the Sanctuary of Christ the King statue in person. But if not, you can still admire the magnificence of it from across the Tagus River.
9. Castelo de São Jorge and Lisbon City Walls
Let's head back into the city center and check out a Moorish castle, one of the absolute best things to do in Lisbon, Portugal. Castelo de São Jorge sits on top of one of Lisbon's seven hills in the historic Alfama district.
This fortress dates back to the 11th century and was once a royal residence of many Portuguese kings. Today, much of the old Moorish castle is still intact as is a large section of the old city walls and bridges. There's an on-site archeological museum too.
Though you can see Castelo de São Jorge from virtually anywhere in the city, you should make the effort to explore the castle during your trip. You will only need about an hour to walk around the site but the views of the Old Town and the rest of the city are alone worth the effort.
It's one of the top attractions in Lisbon so arrive early at the ticket office early to avoid the busier periods in the afternoons. If you're interested in learning more about Portuguese history then there is a guided tour you can join.
10. National Tile Museum
Only Lisbon could have a national museum of tiles and it become one of the city's top attractions. Seriously, it's one of the top things to do in Lisbon, Portugal and you should 100% make room for it on your itinerary.
The National Tile Museum is housed in a former 16th-century monastery with a gold-plated chapel. Inside, you'll find a permanent collection displaying wall after wall of countless beautiful azulejo tiles which you will see on houses all over the city center of Lisbon.
Tiles were brought to Portugal by the Moors in the 13th century and they are a national symbol. Hence, the National Tile Museum!
It's a little outside of the city center so you will need to take the metro there. If you have the Lisboa card, you will get free admission to this national museum. Take note that the National Tile Museum is closed on Mondays and also shuts for lunch between 12:30 pm and 2 pm, which is quite unusual.
11. Santa Justa Elevator
Lisbon only claims to have seven hills, but as you're strolling around Lisbon city centre, it can often feel like more! It's no wonder one of the best things to do in Lisbon, Portugal is to ride a historic elevator to avoid climbing up yet another staircase.
The Santa Justa Elevator (or Elevador de Santa Justa) is exactly that. It's a cast iron elevator dating back to 1902 that was built to connect Carmo Square with the streets down below.
You won't need to spend much time at Elevador de Santa Justa, but there are beautiful views across the city at the top and it's a fun experience. Elevador de Santa Justa even has a conductor who operates the elevator from inside the lift like at a fancy hotel!
12. LxFactory
The history of LxFactory stretches back to 1846 when it was a textile factory. Today, it's one of Lisbon's coolest and trendiest complexes and one of the top things to do in Lisbon, Portugal.
LxFactory has transformed its warehouses into artsy, boutique shops and top eateries covered in street art murals and lots of outdoor seating. You've no doubt seen the Ler Devagar Bookstore on Instagram with the white silhouette of a woman riding a bike hanging in the atrium. LxMarket, a Sunday market full of eclectic vintage clothing and homeware, is a big draw for locals and tourists alike.
It's a little too far out of the city center of Lisbon to walk, but LxFactory is easily accessible via public transport. If you want to buy some cool souvenirs or taste some great street food then LxFactory is worth the small effort it takes to get there.
13. Vasco da Gama Bridge
Lisbon's other main bridge that crosses the Tagus River as it flows into the North Atlantic Ocean is the Vasco da Gama Bridge. It's a little harder to see from the center of Lisbon but more visible when you visit places like the Lisbon Oceanarium and the National Tile Museum further up the coast.
The Vasco da Gama bridge is one of the top must-see Lisbon attractions because it's just so awe-inspiring and is an incredible feat of engineering. To put it into perspective, the Ponte 22 de Abril bridge is 1.2 miles/2 km long and the Vasco da Gama is 10.5 miles/17 km in length.
This is a cable-stayed bridge that opened in 1998 and there is a pier off the park by the bridge called Parque Tejo that will allow you to take a closer look at Vasco da Gama. Though Lisbon has many viewpoints from which to enjoy a sunrise or sunset, this bridge would also be beautiful during the light at those times of the day.
14. Lisbon Cathedral
Over the centuries, Lisbon has suffered many earthquakes with the last one happening only in a few decades ago in 1969. City walls and historic buildings like Lisbon Cathedral have crumbled time and again.
Nevertheless, locals have rebuilt the city, including the cathedral. It's one of the top things to do in Lisbon, Portugal, and will no doubt be included in any guided tour of central Lisbon and the historic district of Alfama.
Originally, Lisbon Cathedral was built in the 12th century and is the oldest church in the city. It comprises Baroque, Romanesque, and Gothic designs with a large rose window and very high vaulted ceilings.
Lisbon Cathedral might not be as ornate or lavish as other cathedrals in big European capitals but considering its track record, you can understand why it isn't. It's still a beautiful blend of different materials and architectural styles that gives Lisbon Cathedral its own unique charm.
15. Praça do Comércio
If you want to know where the true Lisbon city center is located, any local will tell you that it is Praça do Comércio. Strolling around this square is one of the best free things to do in Lisbon because there is so much to see.
First, the square is right on the waterfront and offers wonderful views of Lisbon's bridges, river, and out to the Atlantic Ocean. It's also where you'll find Arco da Rua Augusta, an 18th-century triumphal arch that is one of the most Instagrammable and popular Lisbon attractions.
In the center of the square is a bronze equestrian statue of King Dom José I. He was the monarch in the mid to late 18th century and was known as the 'Reformer'. This truly is the grandest statue in the entire city center and surely the most photographed. It's a popular meeting point for walking tours too.
You'll find the Lisboa Story Center in this square and it's one of the most underrated Lisbon museums. Using lots of different multimedia and models, the Story Center literally tells Lisbon's story. It puts a lot of Lisbon's architecture and city planning into context in a fun and memorable exhibit.
16. Alfama District Street Art
Lisbon's historic Alfama district is perhaps the oldest neighborhood in the city. It's a labyrinth of hilly streets and you could easily get lost down these cobblestoned, narrow streets if you didn't know where you were going. There are lots of traditional houses with geometric tiles, plus, a ton of street art.
There's street art all over Lisbon but the Old Town seems to have the best murals. Two of the top spots are the Tami Hopf mural near Calçadinha da Figueira 10 and the pop art Fado mural near Escadinhas de São Cristóvão 14.
It's well worth your time to walk through the narrow streets of the Old Town at your own pace to see if you stumble across any hidden gems. Seeking out the city's best street art murals is one of the cool things to do in Lisbon.
17. National Coach Museum
The what national museum?! Yes, the National Coach Museum is one of Lisbon's more unusual national museums and it also happens to be one of the top Lisbon things to do. Visitors love it!
Housed in an 18th-century riding arena are dozens of stagecoaches or royal horse carriages from the 16th to the 19th centuries. Queen D. Amélia of Orleães and Bragança created the museum as a way to preserve the huge collection of coaches belonging to the royal house.
There are gold-plated coaches, carriages made from carved wood, racing coaches, and so much more. You can get free admission to this national museum, like the others, if you have a Lisboa card.
18. Fado Music at Café Luso
Fado music is to Portugal as dancing the waltz is to Austria. No other country can claim ownership of Fado as it is distinctly Portuguese.
It's characterized by a type of singing that originated in pubs and cafés as early as the 1820s in Lisbon. This music sounds mournful with sorrowful lyrics and is typically accompanied by a viola or guitar.
It doesn't sound much like the kind of music you want to listen to on vacation! But if you're in the city with your partner, going out and listening to fado music really is one of the most romantic things to do in Lisbon.
There are lots of restaurants that hire performers to sing fado to their customers and there are pubs and bars that book fado musicians every night too. Café Luso is a great option, as is Parreirinha de Alfama.
Get there earlier in the evening to snag a table to avoid disappointment. Better yet, book ahead!
19. Church of São Vicente de Fora
Lisbon's Alfama neighborhood receives most of the attention from visitors because it's the historic center. São Vicente de Fora, the neighborhood just to the east of Alfama, deserves some love too. In particular, the Church of São Vicente de Fora is one of the top things to see in Lisbon.
This church dates back to the 16th century and was expanded to include a monastery in the 18th century. It has Baroque, Romanesque, and Mannerist (high Renaissance) architectural styles. But the Church of São Vicente de Fora is less famous for the intricate details of its exterior than it is for what's inside.
Stroll through the Church of São Vicente de Fora and you'll notice it has an extensive and impressive art collection. Many parts of this church resemble a palace more than they do a church. It's also the key burial place of monarchs from the Royal House of Braganza from around the 19th century.
What would one of the best things to do in Lisbon be without a killer view?! Yes, the roof is open to visitors so you can indulge in 360-degree views across the São Vicente de Fora district and out to the Atlantic Ocean.
20. National Ancient Art Museum
If tiles and coaches aren't your cup of tea, how about a national museum dedicated to a slightly different type of decoration? The National Ancient Art Museum rounds off the top three most-visited national museums and top things to see in Lisbon, Portugal.
While 'ancient' implies that the works displayed in this museum are thousands of years old, most of the top works are far more recent. Housed in a completely renovated, modernized 17th-century palace, the highlights of this museum are 15th to 18th-century sculptures and paintings from Portugal's Golden Age. There are many other artworks from all over Europe here too.
As well as the three national museums on this list, you'll also find six others in Lisbon. These are the National Museum of Contemporary Art, the National Museum of Costume, the National Museum of Ethnology, the National Museum of Natural History and Science, the National Museum of Music, and the National Museum of Theatre and Dance.
The national museums of Sport and Railway exist, but they aren't located in the Portuguese capital. Entrance to the National Ancient Art Museum is included in the Lisboa card.
21. Lisbon Oceanarium
Looking for fun things to do in Lisbon with kids? You absolutely have to visit the Lisbon Oceanarium.
It's the second-largest aquarium in Europe (Valencia in Spain takes the top spot) in a purpose-built center on the waterfront. It's outside of the town of Lisbon so you'll need to take public transport to get here but it's only a short metro ride away from the center.
Some of the top things to see in Lisbon Oceanarium include otters, sharks, rays, penguins, and hundreds of species of tropical fish. There's a whole section of the aquarium built to replicate a tropical Indian Ocean environment.
This aquarium is constantly praised for its conversation and breeding efforts. It is such a large aquarium, there's lots of space for the sea life to live and thrive. It's a great attraction for the whole family of every age!
Arrive early because this is a popular place. Many visitors think they will only spend about an hour here but it's a huge complex that your whole morning or afternoon here will fly by.
22. City Center Tram No. 28
Lisbon might be a walkable, compact city for the most part but it's also a hilly city. It's not surprising that trams are vital to navigating Lisbon's steep, narrow streets that you can't avoid when navigating your way through the entire city.
These yellow trams are not just public transport, they're also one of the best things to do in Lisbon, Portugal. There's one famous tram, in particular, which is No. 28. It starts in Martim Moniz and passes through the narrow streets of the picturesque Alfama, Baixa, Estrela, and Graca neighborhoods.
Even if you don't ride the tram, it's one of the top must-see Lisbon attractions. Trams are literally one of the most popular public transport options so luckily, they aren't difficult to spot!
Another famous tram in Lisbon is the Ascensor da Bica. This is more of a funicular than a tram as it climbs and descends the same incredibly steep hill all day, every day. The Ascensor still makes for a wonderful photo as you can see all the way down this steep hill to the Tagus River and beyond to the Atlantic Ocean bookended by pretty pastel houses.
23. Shopping on Avenida da Liberdade
Do you love shopping when you travel? The Avenida da Liberdade street in Downtown Lisbon is the place you need to visit. This is where you'll find the Av. Liberdade Shopping Center as well as several boutique shops selling ladieswear, accessories, designer goods, and more.
Several upmarket hotels and cute cafés on this street make shopping here one of the best things to do in Lisbon, Portugal. In fact, it's one of the most expensive streets to rent or buy property on in Lisbon so you know you're in the nice part of town!
24. Berardo Collection Museum
If you prefer modern art museums to historic art, the Berardo Collection Museum is one of the top things to see in Lisbon, Portugal for you. It's located back in the Belém district so make room in your schedule to visit when you're in that neighborhood!
José Manuel Rodrigues Berardo is a businessman who simply loves beauty, art, and sharing his acquisitions with the world. In the permanent collection of the Berardo Collection Museum, you'll find works by popular modern artists like Pablo Picasso, Andy Warhol, and Francis Bacon.
Note that the Berardo Collection Museum recently changed its name to the Contemporary Art Museum – Centro Cultural de Belém in January 2023. Most people still refer to it as the Berardo Collection Museum as the owner is still very much involved in the curation of the exhibits.
25. Carmo Convent
The Santa Justa Elevator transports you from the streets of Downtown Lisbon to the entrance of the Carmo Convent. Why not visit these old church ruins while you're there? It's one of the best things to do in Lisbon, Portugal.
Though it is a ruined Gothic church with no roof to speak of, it's remarkably still intact. This convent dates back to the 15th century but it was badly destroyed in the 1755 earthquake. Today, it has lots of lovely tile decor on its walls and a small museum.
26. Lisbon's Many Viewpoints
If you want to know what to see in Lisbon then the best answer anyone can give you is to see Lisbon from above. Downtown Lisbon, with its terracotta roofs and pastel houses adorned with mosaics, it's a ridiculously pretty place. Because it's a hilly city, it also has an endless list of panoramic viewpoints!
Some of the best are the roofs and towers of churches and castles but there are lots of others that are completely free to visit. Check out Miradouro de Santa Luzia, Viewpoint of Senhora do Monte, or Graça Viewpoint. Head to one of these places at sunrise or sunset to truly appreciate the beauty of Lisbon.
27. Church of Sao Roque
Despite its resilience over the centuries, Lisbon's cathedral can seem disappointing to some who were expecting a more opulent and lavish house of worship. It's understandable, considering it's supposed to be the city's main church!
Luckily, one of the best things to do in Lisbon Portugal is to visit the Church of Sao Roque. It can only be described as one of the most extravagant displays of opulence.
The Church of Sao Roque was built in the 16th century and is one of the earliest examples of a Jesuit church. Built with a Baroque architectural style, this church looks simple and bare from the outside but the interior tells a different story.
Everywhere from the altar to the alcoves is dripping in gold, ivory, gemstones, and other incredibly expensive materials. The artwork inside this church looks like paintings but they're actually mosaics. Not only is this one of the more unusual things to do in Lisbon, but this church is also perhaps the most exquisite in the entire country.
But you would never know from the outside! It just goes to show you that there's more to Lisbon than meets the eye.
28. Parque Eduardo VII
City parks are great places to escape crowds during the peak tourist seasons. They're especially helpful if you have young kids who are starting to get fussy and need somewhere to blow off steam.
Parque Eduardo VII is a large, manicured park with lots of open green space. There's even a small botanic garden, a pond, and a few sculptures to look at too. It's a little north of central Lisbon but there's a metro stop right next to the park so it's super easy to reach.
29. National Pantheon
Once a Baroque church, the National Pantheon is now a mausoleum and acts as the final burial place for many Portuguese kings and national celebrities. You'll find the pantheon in the São Vicente de Fora neighborhood and it's one of the best things to do in Lisbon, Portugal.
Portuguese presidents like Manuel de Arriaga and Oscar Carmona are buried here, as well as writer João de Deus and footballer Eusébio da Silva Ferreira. It's one of the lesser-touristed things to see in Lisbon and there is, of course, a roof you can access with a close-up view of the local neighborhood.
30. Lisbon Zoo
Walking around the town of Lisbon admiring mosaics and tiles is only going to occupy young kids for so long. Luckily, Lisbon Zoo is a large zoo with over 300 species and one of the top things to do in Lisbon with kids.
Lisbon Zoo opened at its current site in 1904 and there are lots to occupy children of all ages with playgrounds, a children's farm, and lots of exciting animals. They have elephants and giraffes from the African savannah, crocodiles and hippos, ostriches and vultures, and everything besides.
Not only is it a fun place to visit but they have an amazing conservation program that your kids can learn all about as they stroll through the different sections of the park.
31. Parque Florestal de Monsanto
Not only does Lisbon boast a coastline and beaches right on its doorstep, but it also has a national forest just a metro ride away from the historic center. If you love hiking and being active on vacation, visiting the Parque Florestal de Monsanto is one of the best things to do in Lisbon.
This protected green space covers around 2,500 acres of land in the city. There are hiking trails, mountain biking trails, picnic areas, and sports facilities like tennis courts and soccer fields.
Jardim Zoológico is one of the closest metro stations to the park. You can also take several trams or buses to various park entrances.
32. Praça Luís de Camões
Lisbon has many grand city squares, but some of the best things to see in Lisbon, Portugal are a little more modest and hidden. As you walk around Lisbon, be sure to check out Praça Luís de Camões in the Bairro Alto district.
At the center, it has a beautiful stone-carved statue of the 16th-century poet from which the square takes its name. Luís de Camões is to Portugal what Shakespeare is to England and Dante is to Italy so he's quite an important literary figure.
33. Mercado da Ribeira (Time Out Market)
Though its official name is the Mercado da Ribeira, most tourists know this food hall at the Time Out Market. Like a food court, there are dozens of different vendors with kitchens around the perimeter of the market with lots of seating in the center of the hall. Upmarket food halls are becoming more and more popular in Europe but Mercado da Ribeira was one of the first.
Many food tours will stop at the Time Out Market. It's a great place to sample lots of different traditional Portuguese dishes as well as international cuisines too.
There are also souvenir shops and gourmet food stores where you can take home some of your favorite Portuguese foods, as long as it's dried or canned, of course. This market is a must-do in Lisbon because it's great for travelers who are traveling with their family or friends who are in the mood to eat different cuisines. It's a win-win!
The Time Out Market is right by Lisbon's central train station so it's a great place to grab a bite before taking public transport to the airport or after returning from a day exploring Belém.
34. Day Trip to Sintra (UNESCO World Heritage Site)
Taking a day trip to Sintra is one of the best things to see in Lisbon. It's almost like you haven't visited Lisbon if you haven't ventured on a Sintra day trip!
Sintra is around 18 miles/30 km west of Lisbon. It's partly a town, partly a national park and it's an utterly beautiful place to visit.
Sintra National Palace is a stunning 11th-century Moorish castle with a fabulous tile collection, and even it can't compare to the Royal Palace of Pena. Pena Palace is a 19th-century Romanticist palace on the site of a former monastery. Its striking red and yellow facade, surrounded by palm trees, looks like it was painted in a fairytale storybook.
Those are literally just two of the historical castles, statues, and ruins that you can find on a day trip to Sintra. The cultural landscape of this area is one of the country's UNESCO World Heritage Sites and one of the top Portugal tourist attractions.
It's super easy to take a day trip to Sintra from Lisbon by train. While you're in the town, don't forget to stop by Piriquita for more delicious traditional Portuguese pastries. Piriquitas is a type of puff pastry with almond cream inside and these are a delicacy of Sintra.
If you don't want to worry about getting yourself to Sintra, you can book a private day trip here. I've been to Sintra 3 times now and have used a private guide each time. It's great because they can drive you around to places that you just can't walk to and get you into places that only locals know about. I highly recommend this!
35. Noobai Rooftop Bar and Restaurant
One place you will be able to agree on for dinner is the Noobai Rooftop Bar and Restaurant. It's a super relaxed restaurant that serves affordable yet delicious traditional Portuguese dishes and classic Mediterranean meals. This restaurant is family-friendly (if you don't have super young kids) and there is a beautiful outdoor terrace with views across the sea.
It's also perfect if you just want a few light bites and some drinks too. It's an unpretentious, welcoming place for locals and tourists off the main restaurant strip.
36. STŌ Mercearia Restaurant
One of the top restaurants in Lisbon that is in the center is STŌ Mercearia. Every dish they serve is made with 100% Portuguese ingredients and part of their business is an upmarket grocery store with produce from the best Portuguese farmers and chefs.
This is a great place to stop by if you are staying in an apartment with a kitchen and don't want to eat out for every meal. If you are traveling with your kids, eating out every day will be the last thing you'll want to do!
You could pick up some ingredients from STŌ Mercearia's store to cook in your short-term rental. You're still eating local Portuguese food and having a cultural experience that you wouldn't get at home.
37. Nannarella Ice Cream and Sorbet
If you're visiting Europe in the summer then you have to eat at least one scoop of ice cream every day. It doesn't matter that you're in Portugal, not in Italy! If you're wondering what to do in Lisbon, Portugal to find the best shop, wonder no more.
Nannarella is a highly-rated ice cream and sorbet shop in Lisbon's Bairro Alto neighborhood. They serve both creative and classic flavors of ice cream made fresh in their on-site kitchen. Both locals and tourists love this place so you know it's good!
38. Croissant Gigante
No, croissants aren't associated with Lisbon or Portugal. In fact, they're famously associated with a different European country, so eating one isn't one of the best things to do Lisbon, Portugal. But what about giant croissants?!
Yes, Croissant Gigante literally sells incredibly huge croissants (you need two hands to eat one!) with a variety of sweet and savory fillings. They're more like a sandwich than a pastry.
It's a fun, easy place to visit for lunch. If you're traveling with your family, your kids will enjoy the novelty of eating such ridiculously huge croissants. They serve lots of other types of sandwiches too.
39. Sky Bar Rooftop Terrace
One of the only things that would make a view over Lisbon at sunset even better would be if you were sipping on a glass of local Portuguese wine on a rooftop terrace at the same time. You can do exactly that at the Sky Bar!
It's located on the ninth floor of the Tivoli Avenida Liberdade Hotel. The Sky Bar is a little on the pricey side but this is a Lisbon must-see if you are traveling with a friend or partner. And you only have to order one cocktail and stay just long enough to take some photos and head to a more affordable, street-level bar.
40. A Ginjinha Bar
Sampling Portuguese wine is essential when you travel to Lisbon, but so is tasting ginjinha. This is a cherry-flavored Portuguese liqueur made by infusing ginja berries with sugar. Visiting this specific bar, A Ginjinha bar, is a staple on many drink and food tours and is one of the best things to do in Lisboa, Portugal.
It's a hole-in-the-wall bar where customers take their small glass of ginjinha and sip on it in the sunlight on the street. You only stick around for as long as it takes you to finish your drink!
It's a historic bar that serves every glass of ginjinha with two small ginja berries. You're supposed to chew them and then spit out the pit onto the street, but you can feel free to leave them untouched.
41. Pensão Amor Cocktail Bar
There are many cocktail bars and places to visit in Lisbon for drinks, but Pensão Amor is one of the best. Many, many years ago it was a House of Ill Repute (AKA a brothel) but thankfully all that's left of its former life are some kitschy decor choices.
Its yellow velvet curtains, fringed furniture, and mood lighting make this a fun place to hang out if you're traveling as a couple. The cocktail menu list is simple and classic and totally delicious.
42. Day Trip to Mafra (UNESCO World Heritage Site)
If Sintra is too mainstream and crowded (which it can be during the summer) and you want to take a day trip to somewhere a little more obscure, Mafra is a fantastic choice. It's home to the last of Portugal's UNESCO World Heritage Sites and it's still super easy to reach from Lisbon.
Mafra is 26.5 miles/42.5 km northwest of Lisbon which is only around one hour on the train. While most of the town won't be very interesting to you, the Mafra National Palace is one of the top Portugal highlights and a jewel in the country's crown.
This Baroque Palace was built during the 18th century under the orders of King John V of Portugal. It has its own monastery and library and today it looks exactly as it did hundreds of years ago. Mafra will be a much quieter, more relaxed day trip from Lisbon but you're still getting a healthy dose of history.
43. Day Trip to Costa da Caparica
Have you had your fill of history in Lisbon and are you desperate for a relaxing day trip on the beach? Costa da Caparica is a perfect choice. This small coastal town is not far from the Lisbon coastline. It's just across the Tagus River and takes roughly 30 minutes to drive here or a 50-minute bus journey.
Costa da Caparica is home to tons of small, sandy beaches along one, long coastline. Praia da Mata is the main beach but if it's too busy then you can check out Praia da Morena, Praia da Saúde, or Praia de São João. If you want to be more active on a day trip from Lisbon, this coastline is also a designated hiking area.
Stick around to witness one of the best sunsets you'll ever see in your life from the beaches here. It's one of the Portugal attractions you really don't want to miss! There are lots of restaurants, cafes, and other amenities here so will have everything you need when traveling with your family.
Even if you don't have enough room in your itinerary for a full-day trip, visiting the beach for a half-day trip is totally doable and a great way to unwind for a couple of hours.
Things To Do in Lisbon FAQs
Where is Lisbon?
If you'd like to visit Lisbon, it's in Portugal. This is a country in Western Europe's Iberian peninsula on the Atlantic Ocean. Portugal shares its eastern border with Spain.
Lisbon is on Portugal's west coast on a ledge in the country's coastline. It's situated on the Tagus River.
Is Lisbon, Portugal worth visiting?
Lisbon is absolutely worth visiting. It has a beautiful historic center, colorful tiled buildings, and delicious cuisine. As it's a city with many hills, it also has lots of wonderful viewpoints from which to admire this charming city.
Some of the top things to do in Lisbon, Portugal include visiting UNESCO sites, castles, churches, eating pastries, and visiting a national museum or two. Lisbon is a city on the coast so it also has picturesque ocean views and is close to some sandy beaches too.
Can you do Lisbon in 3 days?
Three full days in Lisbon is the minimum amount of time you should spend in this city. Lisbon's Belém neighborhood deserves at least half to one full day of your trip. You can probably see the highlights of the rest of the best things to do in Lisbon, Portugal in two days.
If you want to take a day trip when you visit Lisbon (and you should!) then you should visit Lisbon for four days. Some day trip ideas include Sintra, Mafra, and Costa da Caparica beach.
What is Lisbon famous for?
Lisbon is famous for being at the epicenter of the 'Age of Discoveries' in Portuguese history. During the 1400s to the 1600s, Portugal 'discovered' and colonized many countries around the world. Many of Lisbon's popular tourist attractions relate to this part of Lisbon's past.
Lisbon also is famous for its historic architecture and colorful azulejos (ceramic tiles) on its buildings. Some things to do in Portugal – Lisbon, specifically – are to listen to fado songs, hop on yellow trams, and eat pastel de nata pastries. These activities are synonymous with the more modern Lisbon as it exists today.
Discover the Best Things to do in Lisbon, Portugal on Your Next Trip
From castles to churches and pastel de nata to praças, there are tons of things to see in Lisbon and cultural experiences to be had in this unique, vibrant (literally) place.
Visiting Lisbon will be a relaxed city break in a walkable, beautiful city. Despite it being laid-back for a capital city, now that you have this extensive list of all the top things to do in Lisbon, Portugal, there's no chance you will get bored. It's sure to become your new favorite European capital city too!