This Azores Food Guide will help you find the best food on these incredible islands in Portugal!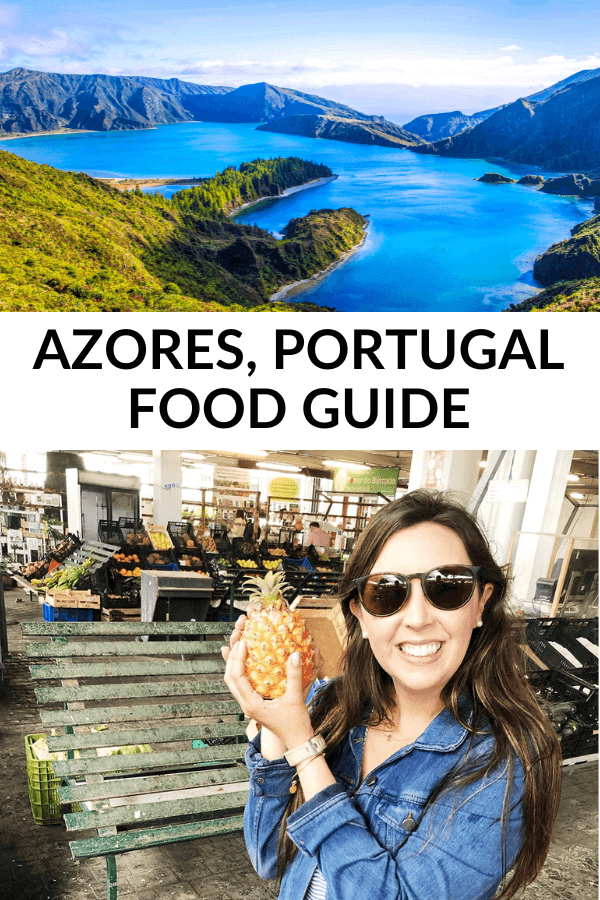 The Azores Food Guide
This post contains affiliate links.
The tiny islands of the Azores Portugal may be small in size, but they pack a lot of good food in a small space! If you're heading to the Azores islands, be prepared to be surprised by the amazing food found across all the islands. This Azores food guide will help you know which foods not to miss.
If you're a total foodie like I am, you can take a guided foodie tour of Ponta Delgada! You can book that here.
Bolos Lêvedos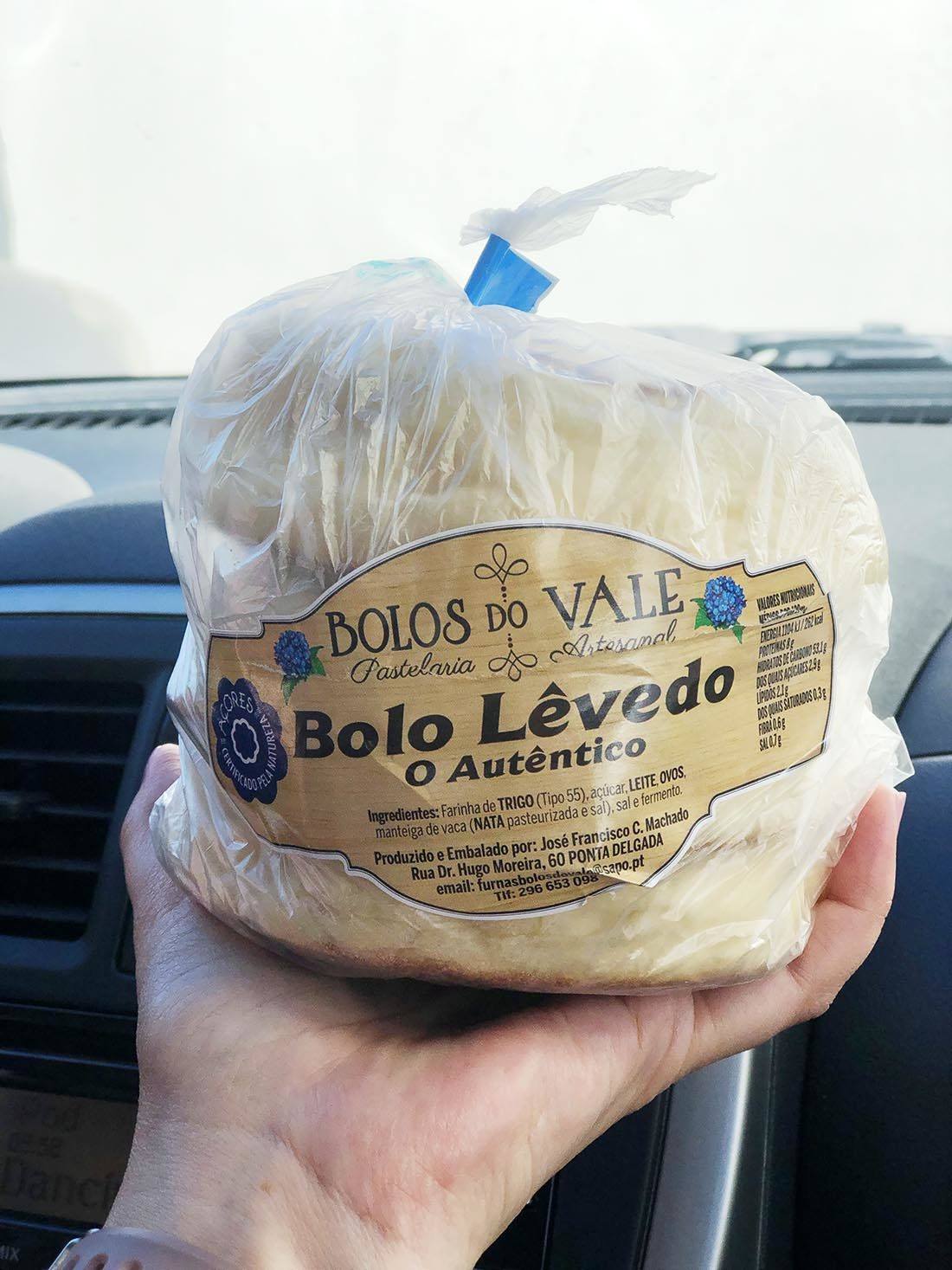 These amazing English-muffin-looking breads are a must when you visit the Azores. It originated in São Miguel island, but can generally be found across all the islands. The dough is made very similarly to a sweet dinner roll in the US, but instead of being baked, it is cooked on a griddle. The bolos lêvedos are super soft and sweet. They taste amazing stuffed with cheese or meat. You can also find them sold with a burger inside. Our daily lunch was some amazing Azorean cheese inside the bolos along with some fresh tropical fruit!
Cheese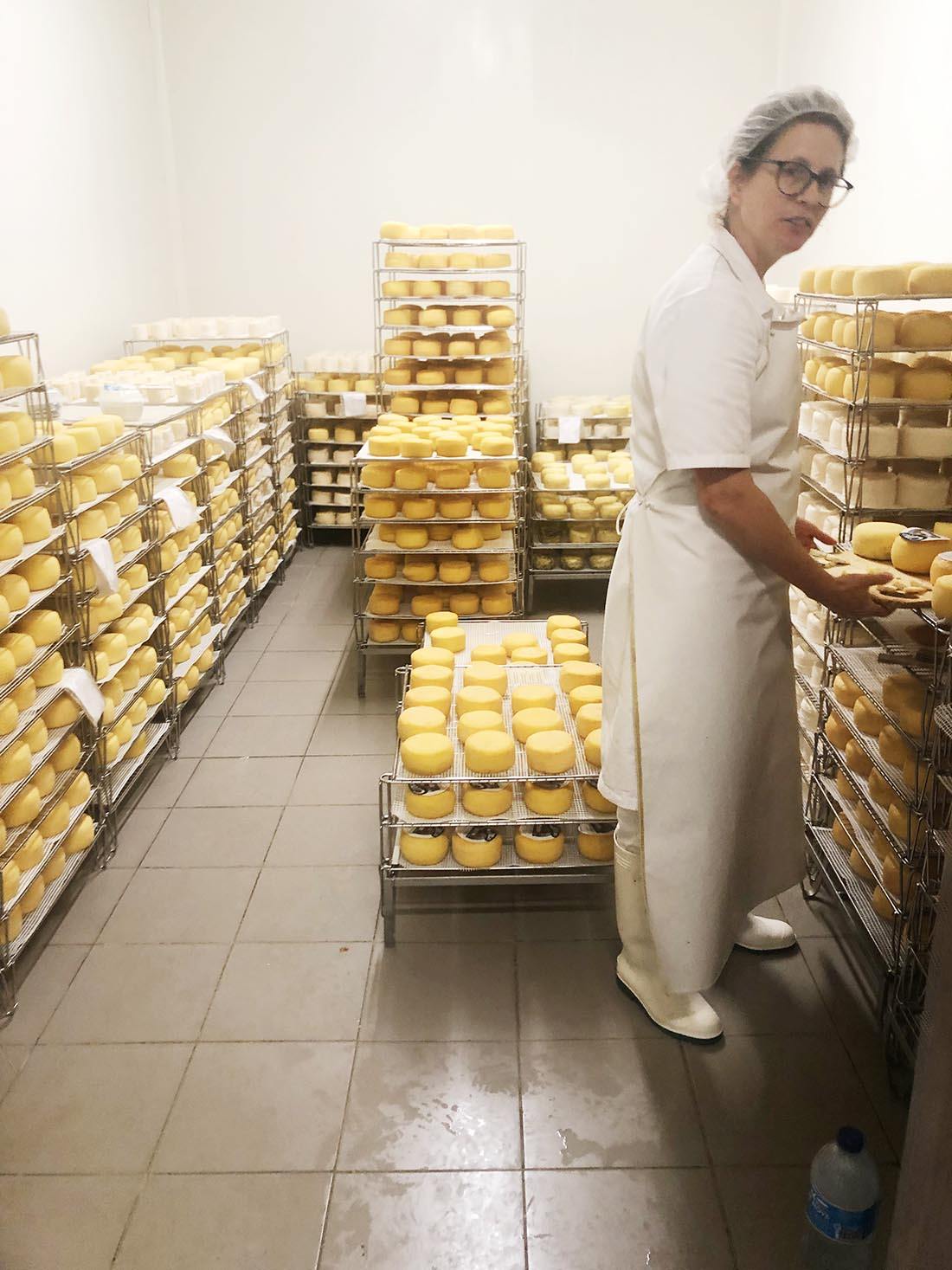 The cheese from the Azores is famous. Each island produces several different cheeses and they are all so good. If you're only visiting Sao Miguel island, visit Rei do Queijos (Kind of Cheeses) in Ponta Delgada to try any that you like. Our personal favorite cheese from the islands (and trust me, we tried almost all of them) is the O Morro brand from Faial island. We had the opportunity to visit their tiny factory on top of a cliff (morro) and see the cheese making in action. The Pasta Mole (soft paste) was our favorite. We may or may not have eaten an entire wheel in one sitting. Don't judge, I'm on vacation!
Marmalade – Quince Jam
I wasn't really sure what this was, but it was amazing with the cheese. I took a poll on social media and everyone decided that it was quince jam, so I'm going with that! The label just said "Marmalade," but it was amazing!
Soup
Soup is a big part of island life here. You can find many traditional soups across the island and each island seems to have their own version of traditional soup. One of our favorites was Sopa do Sagra, which means Mother in Law Soup.
Cozido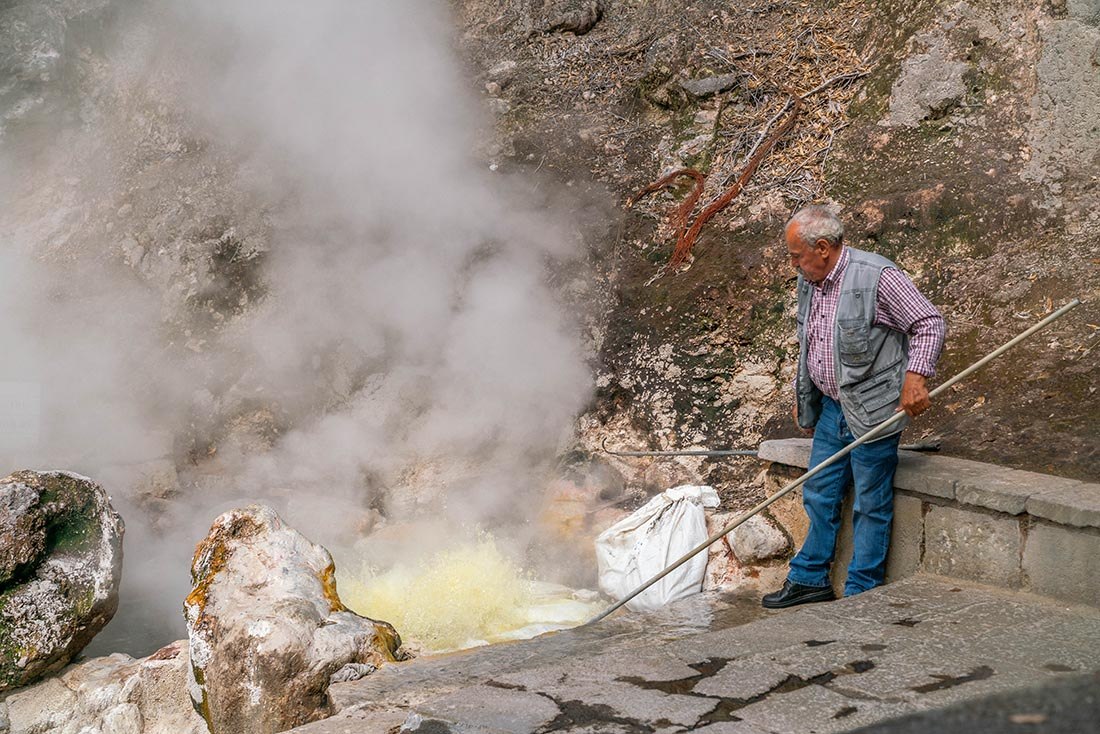 If you visit the town of Furnas on Sao Miguel island, you'll notice a distinct sulfur smell. This is because the entire town surrounds natural caldeiras, or geysers. You will see steam billowing up from the ground and hot water bubbling up through each hole in the ground. The Azoreans are nothing if not resourceful. They use these caldeiras to cook cozido, which is a delicious stew of eat and vegetables sealed in a pot. These pots are placed in the ground early in the morning and stewed throughout the day. Come to Furnas around noon to watch the pots pulled from the ground. The nearby restaurants serve cozido, but some require 24 hour notice, so it might be worth booking your meal in advance.
Caldeira Cooked Corn
If you're not feeling like meat, or you're a vegetarian, you can also buy Caldeira corn cooked in the same way. It's amazingly fresh and tasty. And don't worry, nothing cooked in the caldeiras tastes like sulfur.
Fish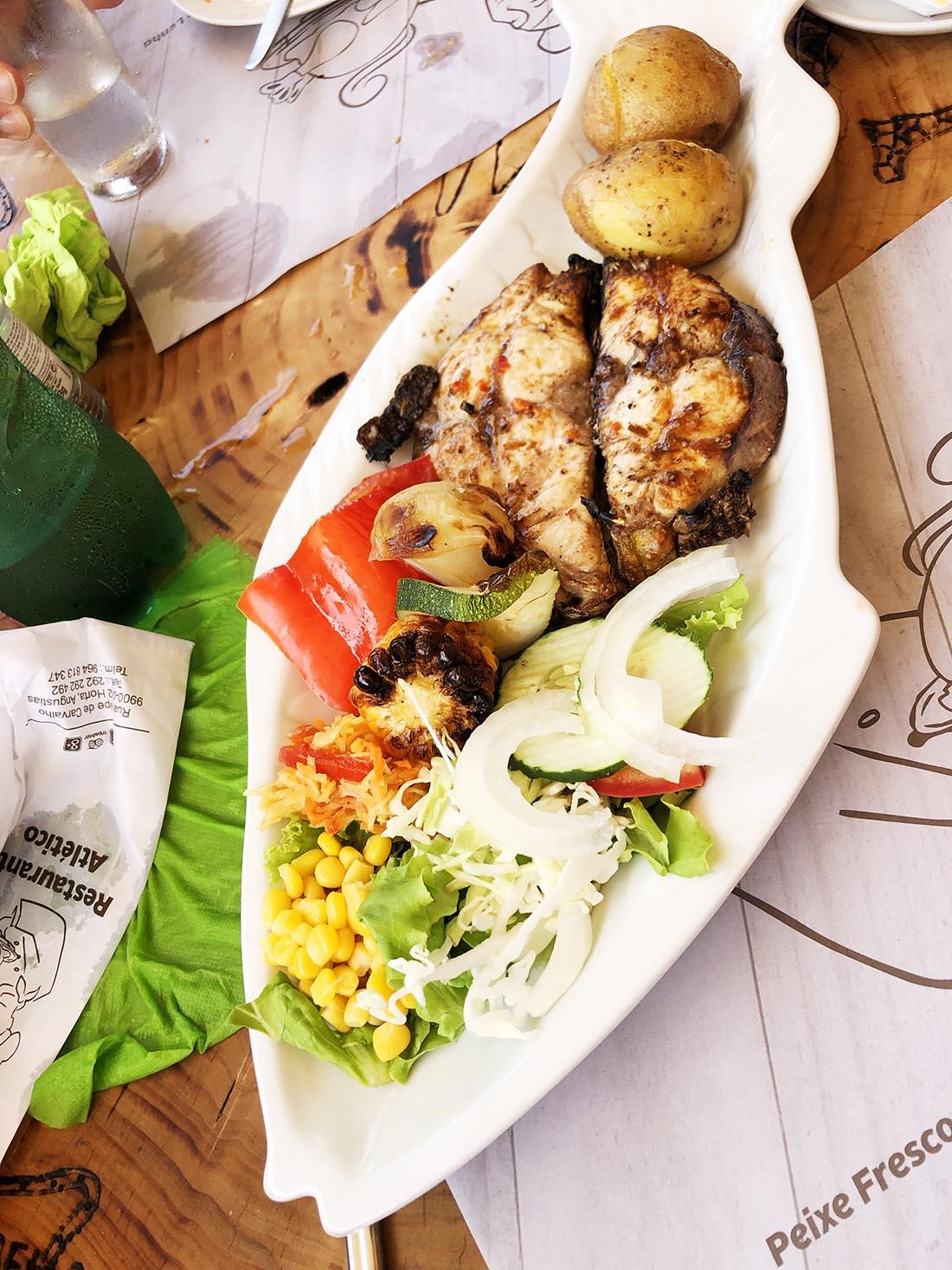 The Azores are islands surrounded by nothing but the plentiful waters of the Atlantic Ocean. It's not surprising that a staple food here is fish and other seafood. We had some of the best fish of our lives in the Azores. They have all sorts of varieties that I've never heard of before like Skipjack, Wreckfish, Gulley jack, Amberjack, and Emperador, along with some old friends like Tuna. They were all equally amazing and perfectly cooked. My favorite was the grilled fish, skin on and everything.
Cracas
This was a local delicacy that was recommended to us by several people in the Azores. We weren't sure what they were, not knowing Portuguese, but soon found out that they are barnacles! Yes, barnacles! Yes, you can eat barnacles! Are they tasty? I didn't think so but to each their own. Paul liked them, so there ya go! They tasted like swallowing saltwater to me.
Lapas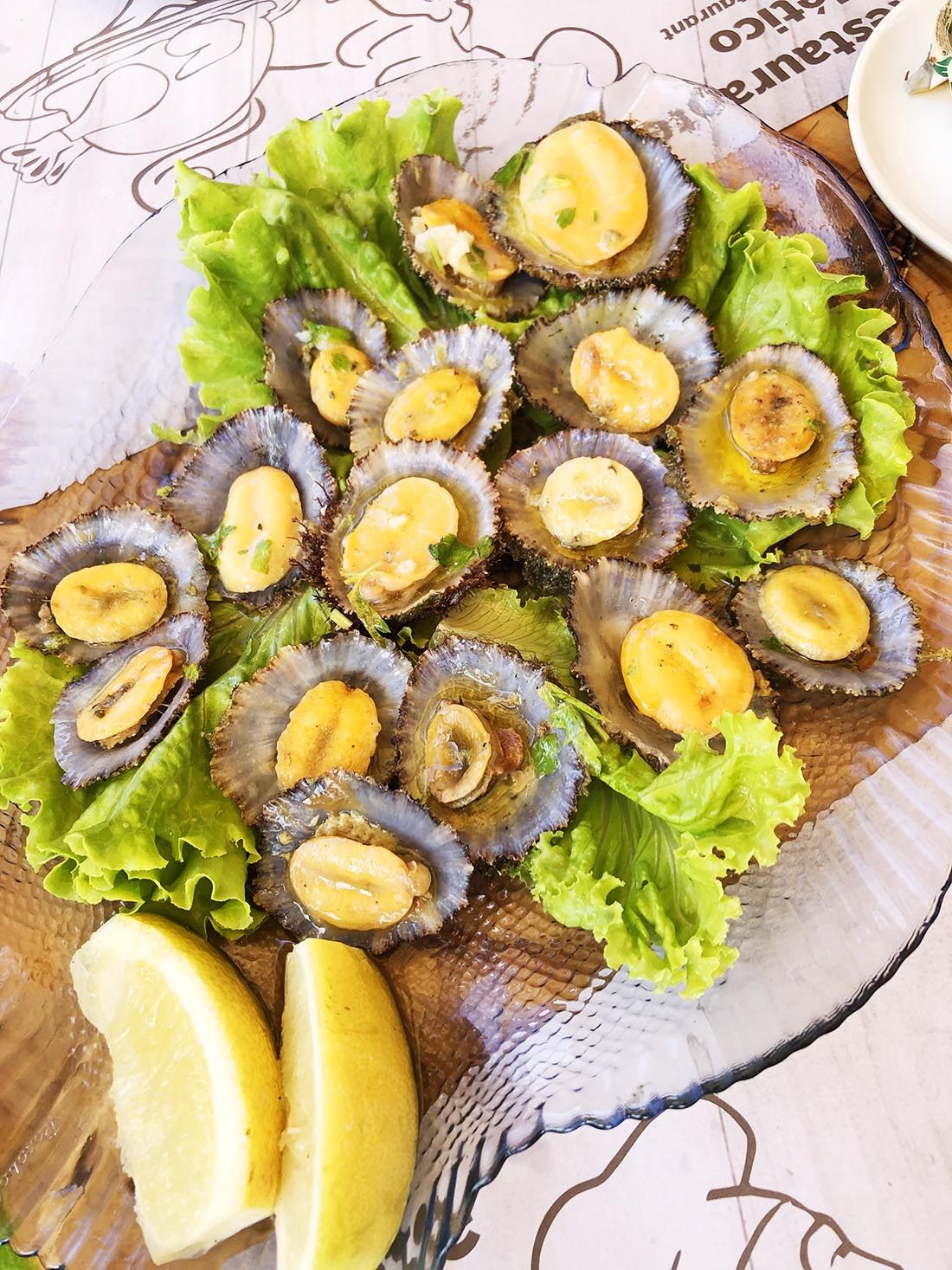 Lapas are another Azorean cuisine, and one I actually enjoyed. They are Limpets. I didn't know what those were either, but apparently, they are like sea snails. Kind of somewhere between a clam and an oyster. They are cooked and served with garlic and butter which means I instantly liked them. They're a bit chewy, but pretty tasty.
Beef
The beef in the Azores is delicious and plentiful. If you come here, you will see why immediately. There are so many cows! Dairy cows and beef cows. We had some great steaks and really good burgers. If you get a burger, ask for Bolo Lêvedo for the bun. So good!
Alcatra
Alcatra is a braised beef that we really enjoyed. It is cooked for hours and falls apart when you touch it. It's served with a sweet bread, rice, and potatos, and is so tasty!
Azorean Hot Dogs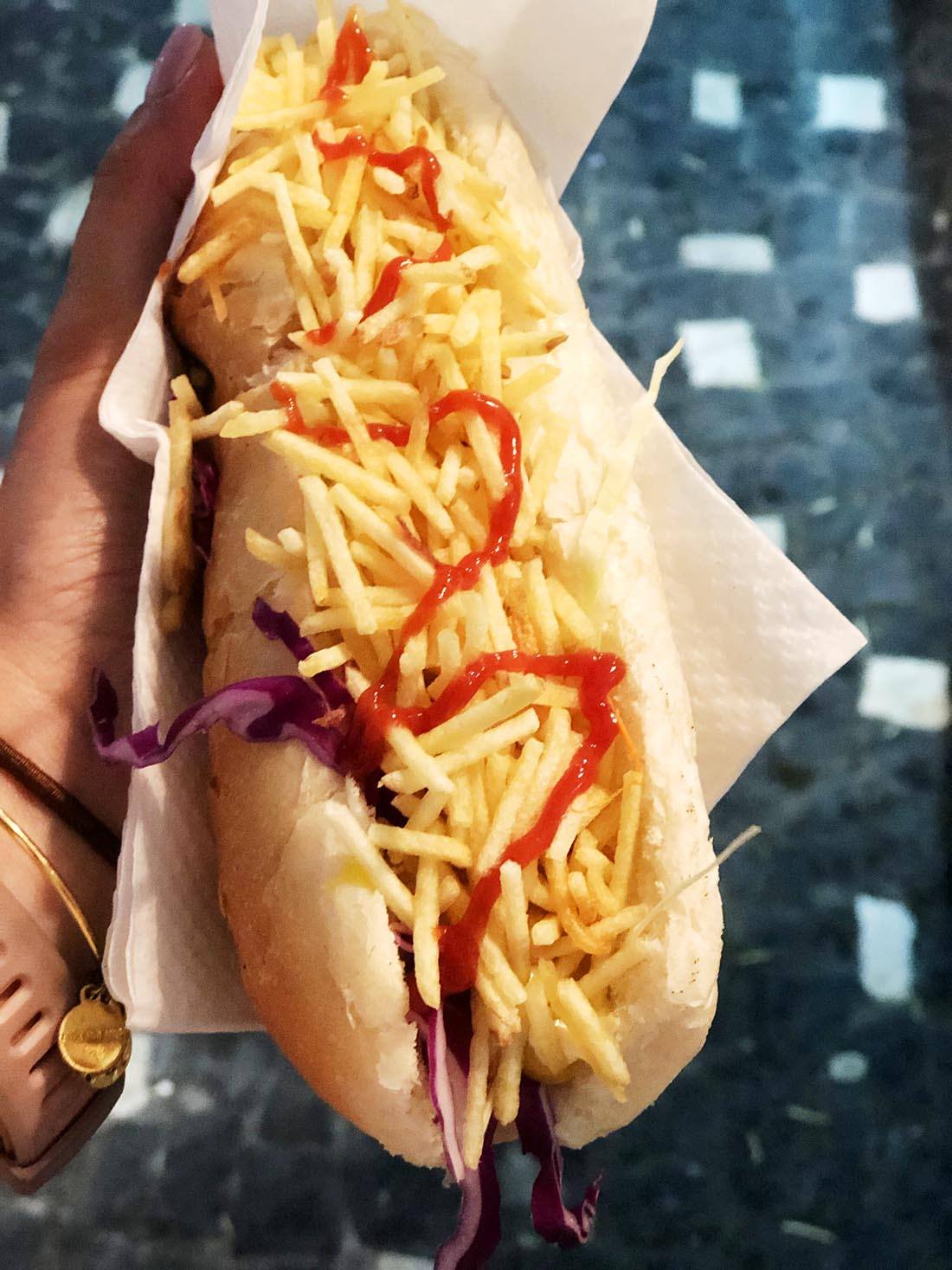 While I don't think these even hold a candle to Icelandic hot dogs, the Azorean hot dogs are pretty tasty. They come fully loaded with hot sauce, mayonnaise, coleslaw, and tiny crunchy french fries. Yum!
Red Bean Cake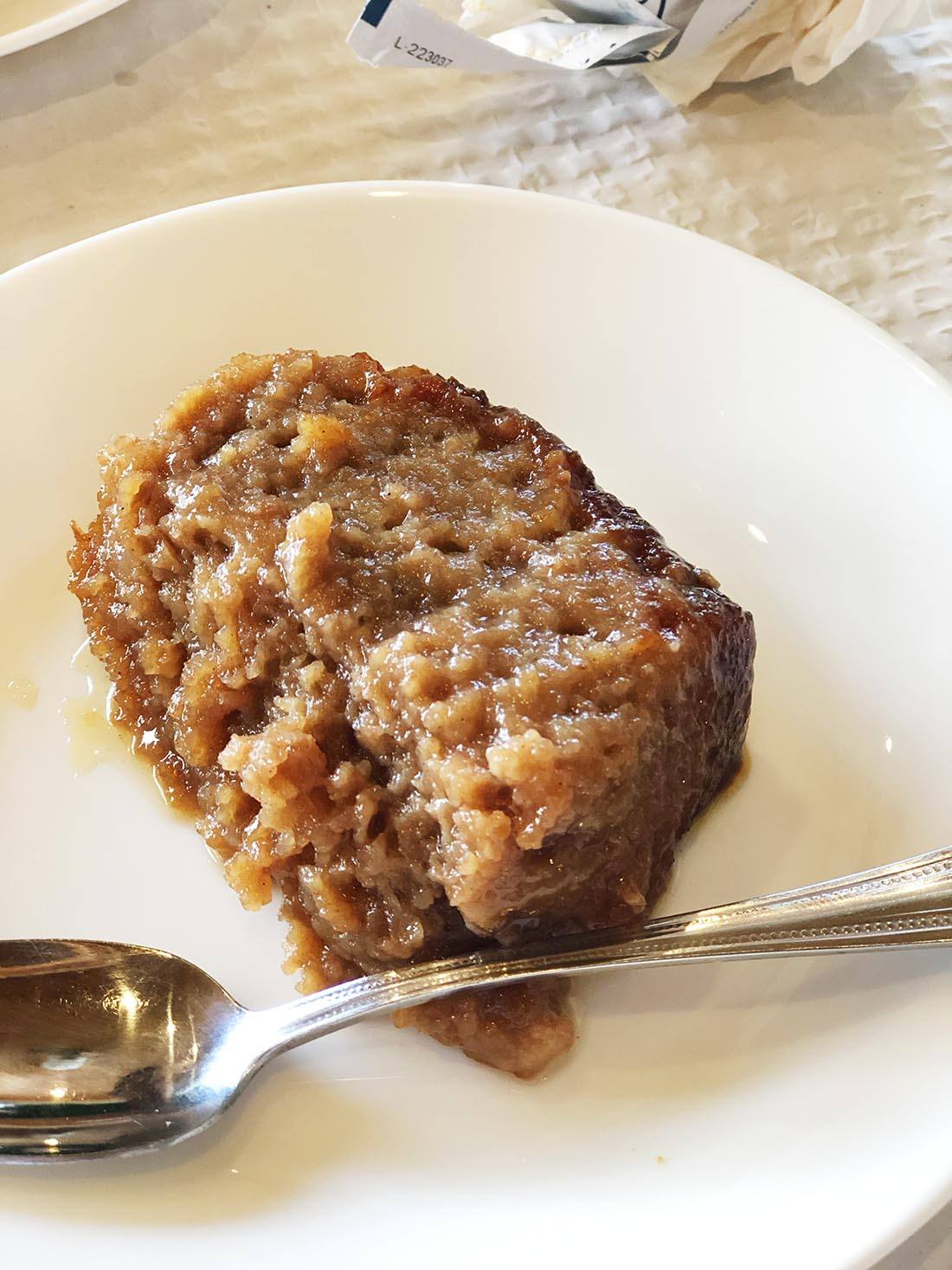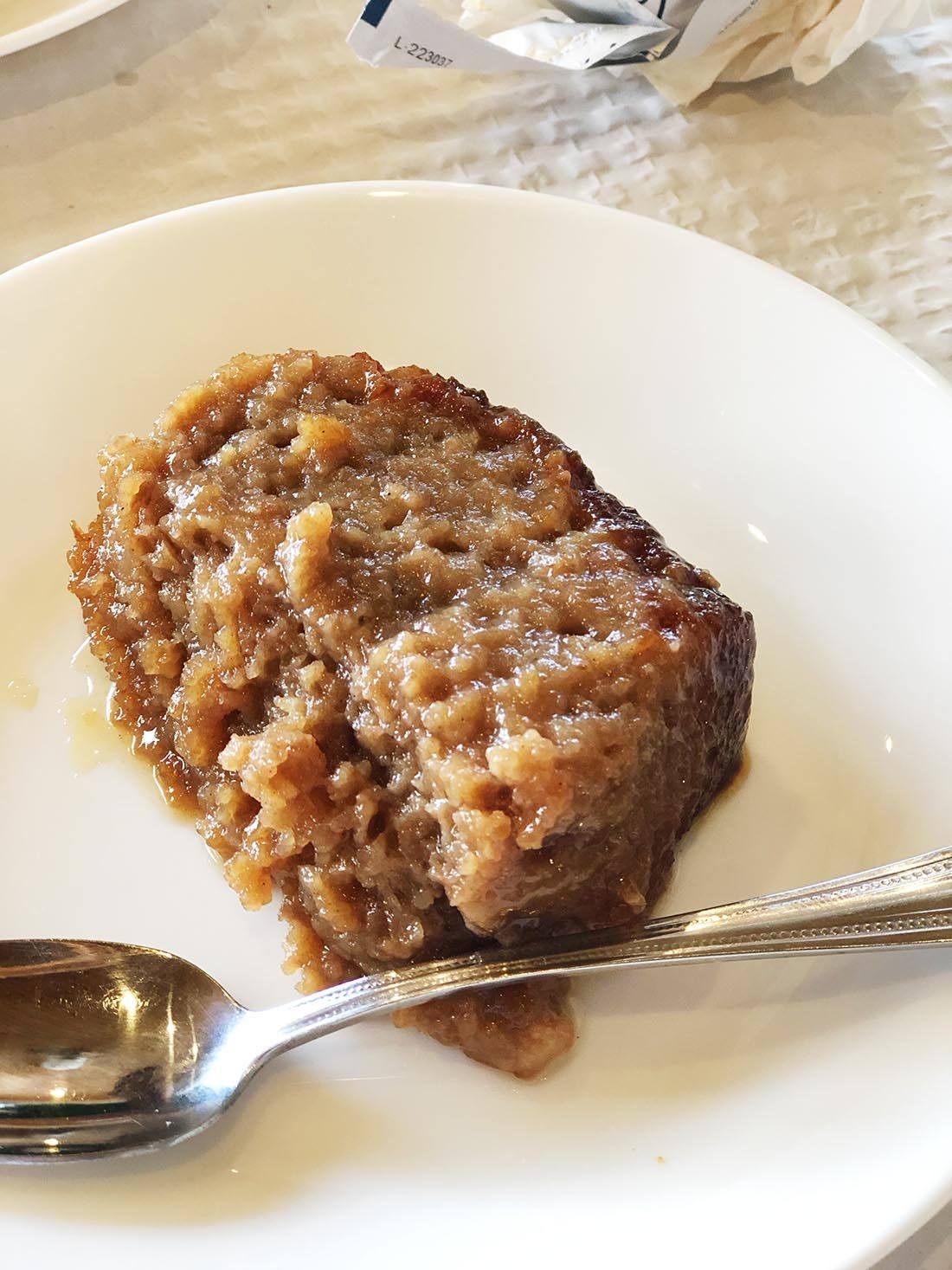 This yummy cake is made from beans, but you'd never know it. It's moist and super tasty.
Malasadas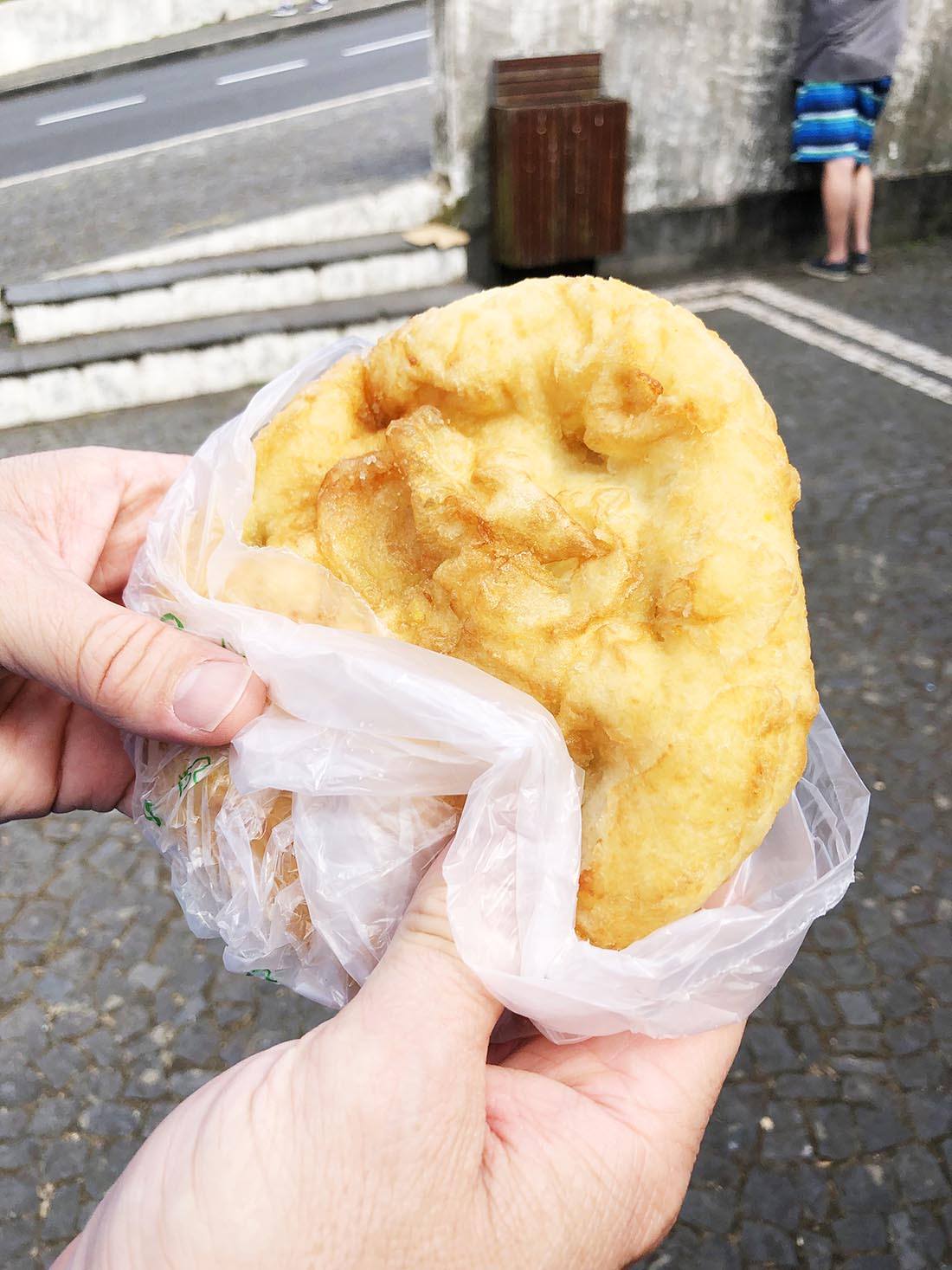 Malasadas are a delicious fried dough that have spread across the world all the way to Hawaii. However, these Portuguese Malasadas are quite different from the overstuffed and oversugared version you might be used to. These are light and fluffy and can be sliced open and filled with passionfruit, pineapple, chocolate, carmel, or other yummy things.
Malasadas originated on the island of Sao Miguel. They are part of a preparation ritual for Lent, using flour, lard, and sugar from the previous year to give new enthusiasm to the coming year. In the olden days, people used sugar cane treacle instead of granulated sugar, hence the correct name would be "Melacadas" (melaco=treacle). Every Tuesday of Carnival is Malasada Day.
Pastela da Nata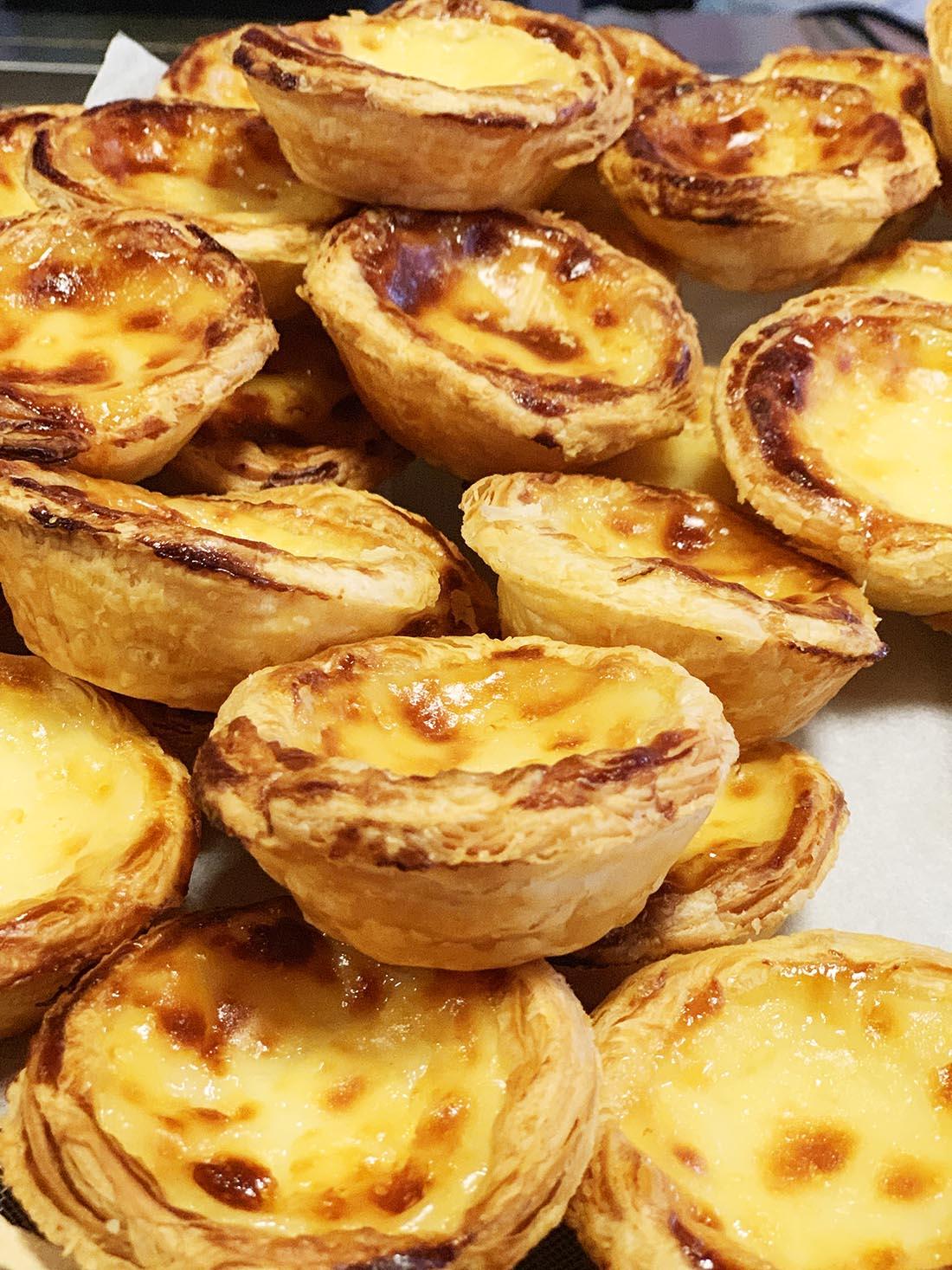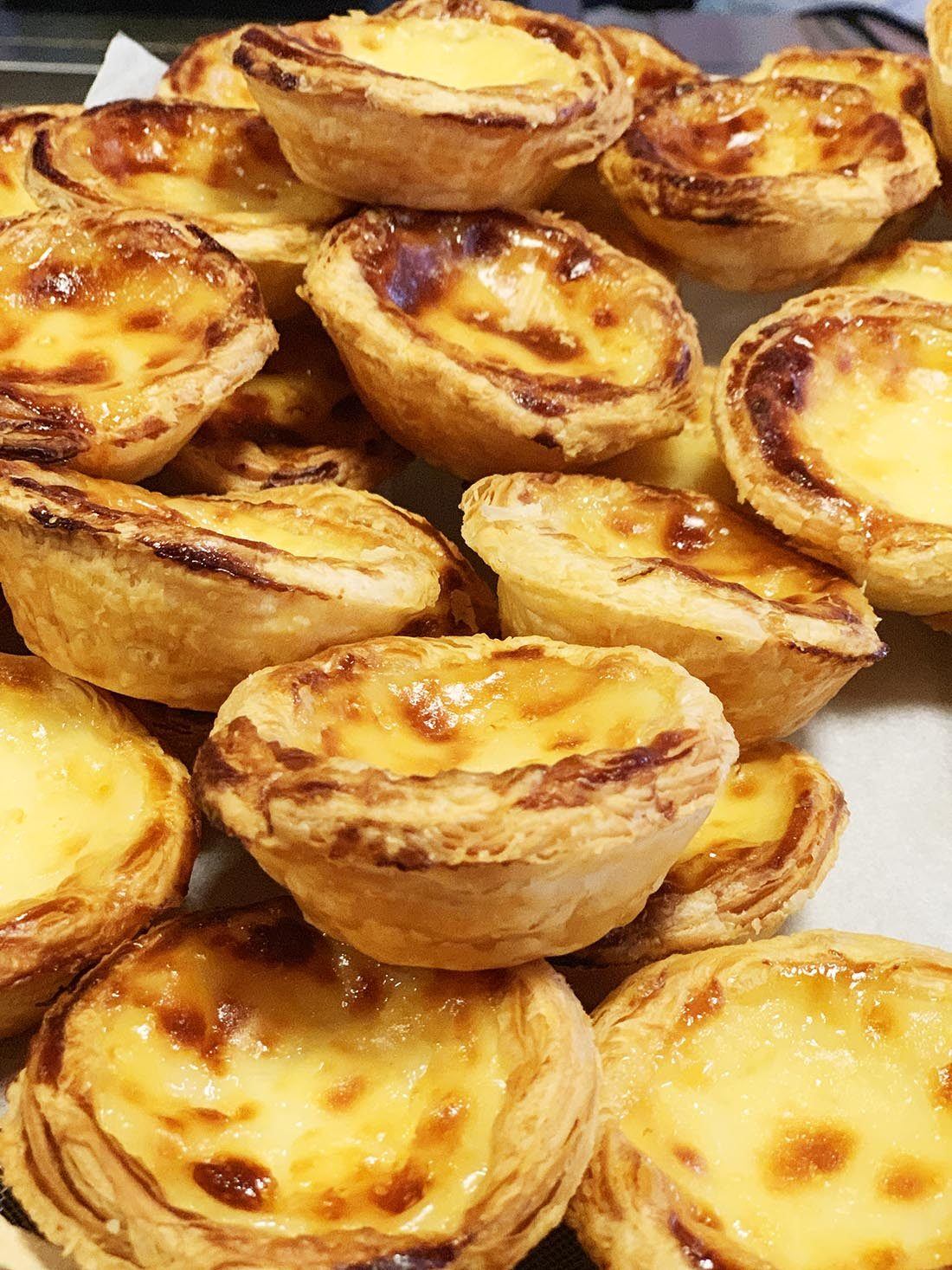 These beauties can be found all across the islands and are made from a phyllo dough filled with an eggy custard. Sprinkle them with cinnamon if its available. Azoreans love cinnamon.
Bolos D. Amelia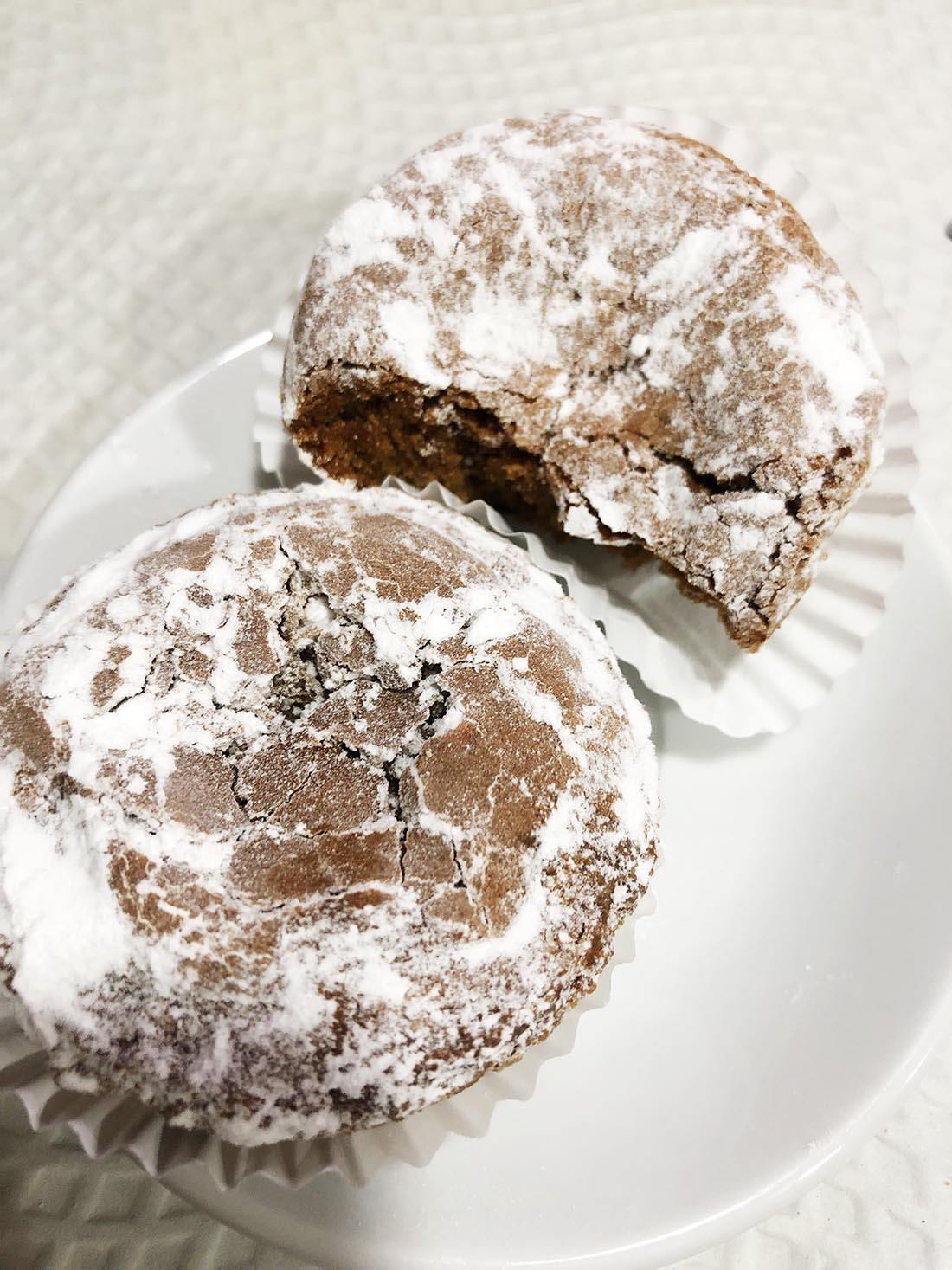 Bolo D. Amelie or Amelia Cakes are a tasty little tart sized cakes found mainly on the island of Terceira. They are made with ginger and cinnamon and covered in powdered sugar. These cakes were created when Queen Amelia, the last queen of Portugal, visited the island. I can't even tell you how many of these cakes we had in Terceira. They are delicious! There are also lots of other little cakes that are delicious, like Feiticeros, P Conde da Praia, and Queijedo Villa Franco, just to name a few.
Other Tasty Pastries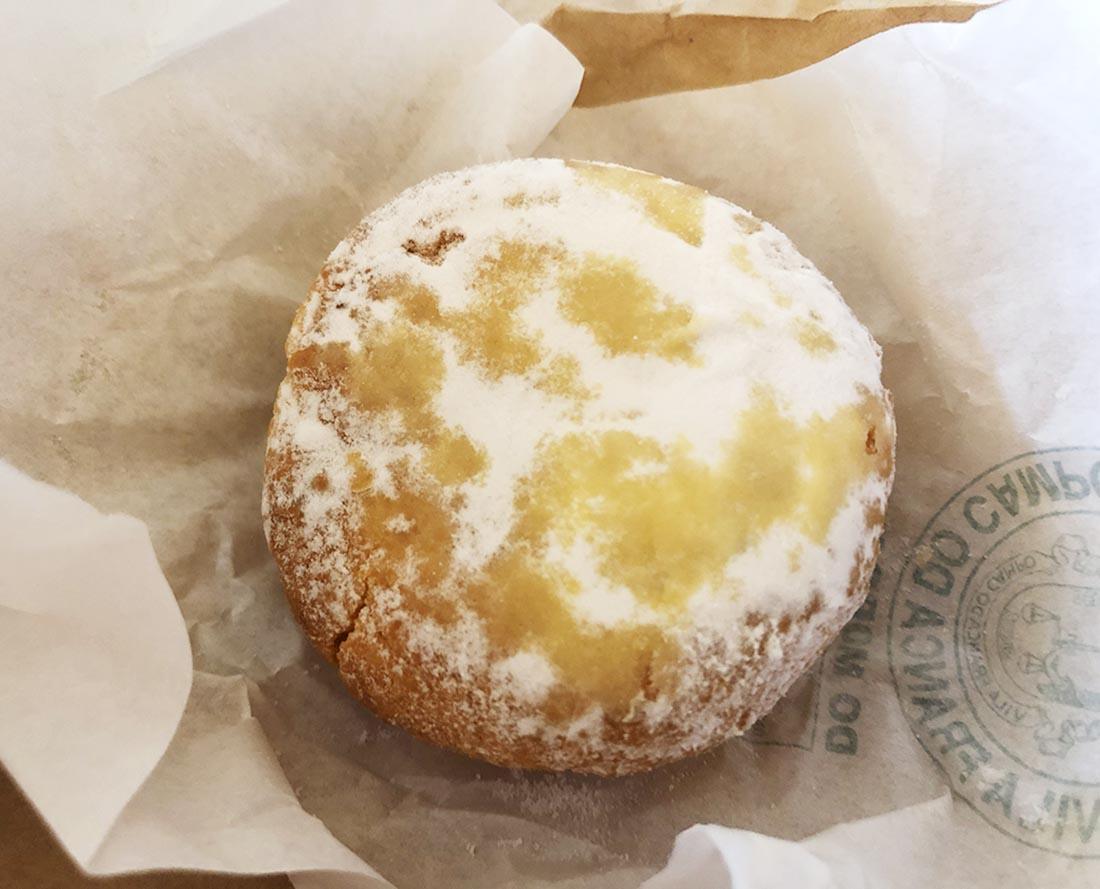 Fruit
The Azores grows most of its own fruit supply and it is plentiful and affordable. The islands are especially known for their deliciously sweet pineapples, passion fruit, and bananas. If you visit the island of Sao Miguel, stop by the Market in Ponta Delgada to stock up on local fruit sold by farmers.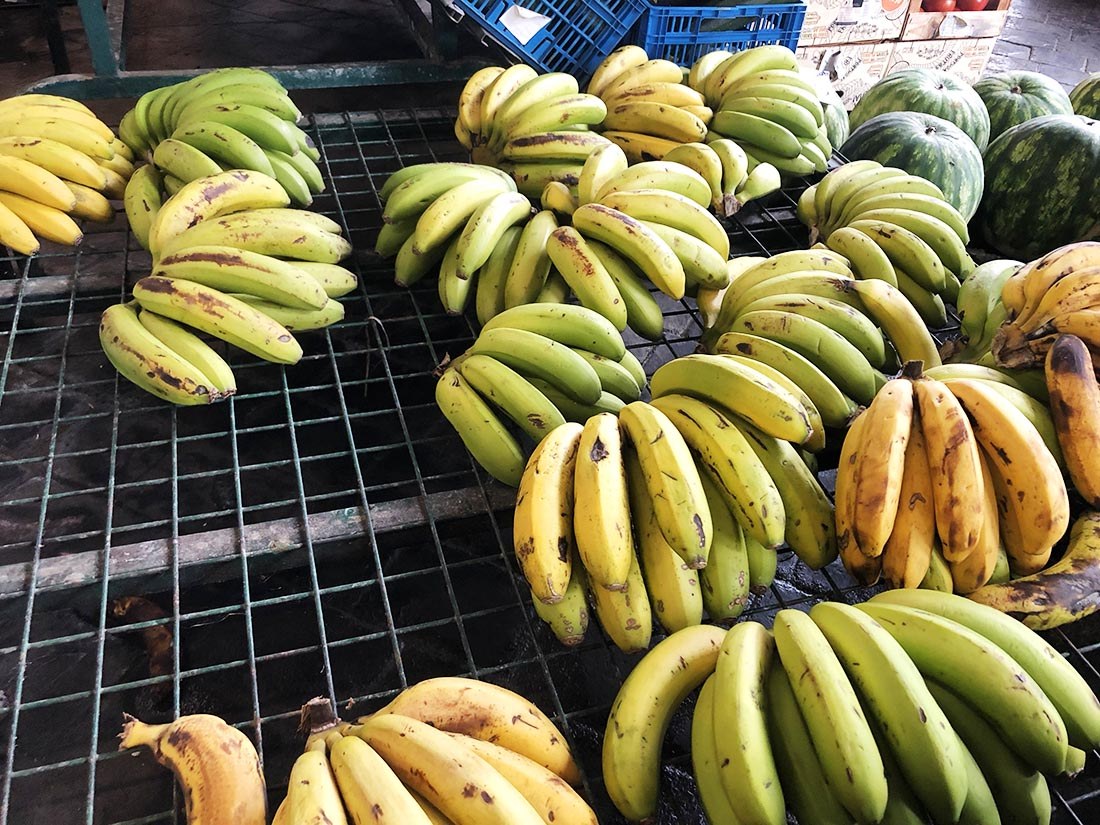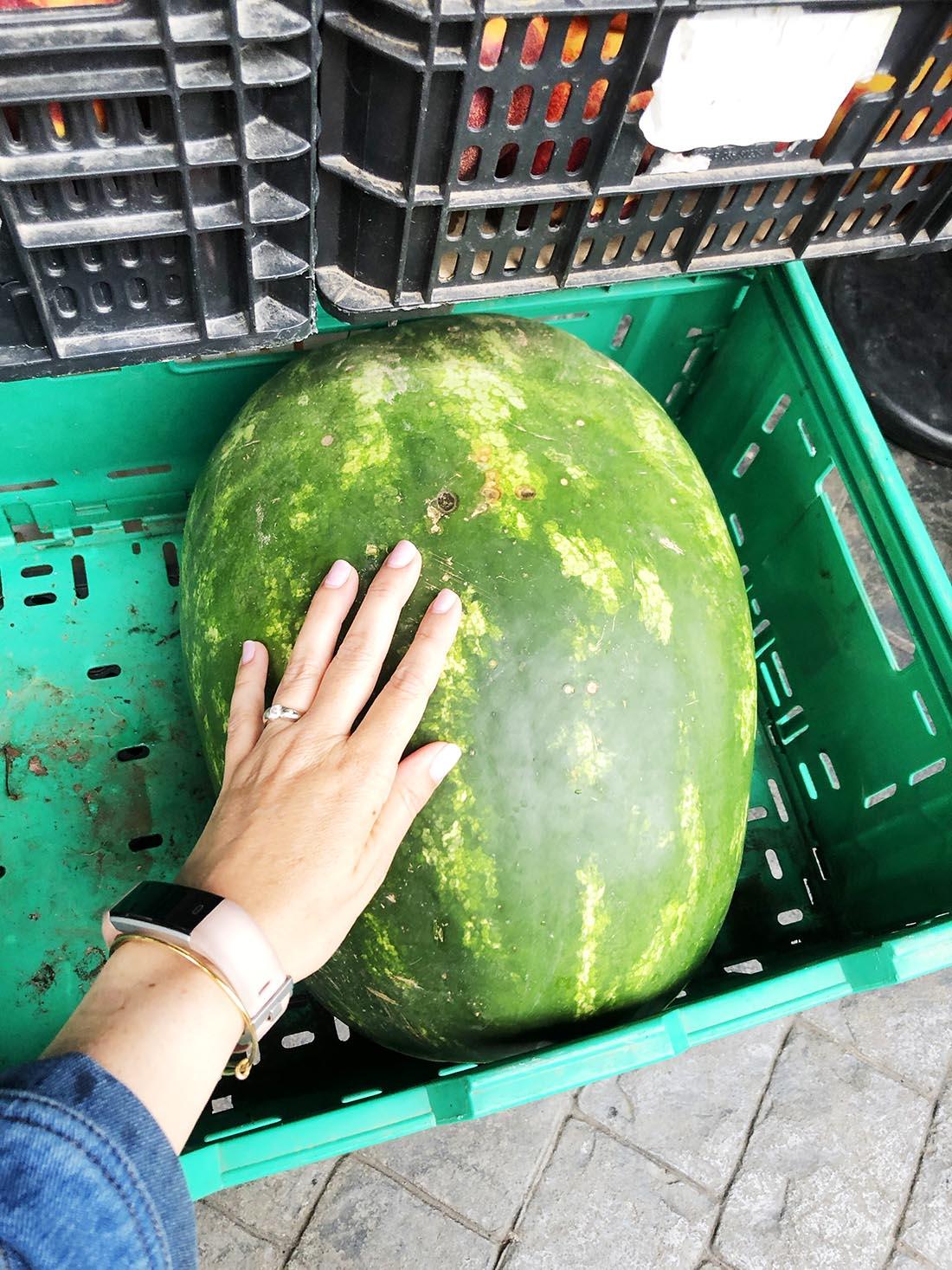 Vegetables
I was so impressed with the abundance of fresh vegetables on the islands. The Azores are known as the most self-sustaining islands in the world, and it's easy to see why. They grow almost all their own fruits and vegetables, raise their own meat, make their own dairy products (in fact most cheese in mainland Portugal come from the Azores), and have plenty of water.
Every single dish we ordered, even a hamburger, came with some sort of vegetable or salad. The potatoes are the best I've had in my life. Roasted potatoes will come with almost all fish dishes so be sure to eat them!
Restaurant Recommendations
There are lots of amazing restaurants in the Azores ranging from really fancy to homecooked meals from a local kitchen. I'm not kidding when I say that ALL the food we ate in the Azores was delicious. I didn't have one meal that we were disappointed with. Eating out in the Azores was very affordable. Our dinners averaged around $30 total for an appetizer, 2 mains, a dessert, and a large bottle of sparkling water.
I'm sharing our favorite restaurants on each island we visited.
Restaurant Recommendations on Sao Miguel Island
Sao Miguel is the largest island of the Azores. The main town is Ponta Delgada. There are lots of great restaurants in the city and outside.
Tasquinha Vieira in Ponta Delgada
Everything we had here was amazing. This was our last meal in the Azores and it did not disappoint! We were lucky enough to walk in without reservations, but we saw them turn away about 50 people after we sat down, so I recommend making reservations. You can book here.
Tuna Tartare (omg!)
Carrott Ginger Soup
Ceviche
Grilled fish
Orange Carmel pudding made by monks (I wasn't really sure what that meant, but it was amazing)
Rotas da Ilha Verda in Ponta Delgada
Amazing vegetarian food, pasta, desserts. All very healthy. They only have 2 seatings, at 7 and 9, so you will need a reservation in advance. You can book here.
Colmeia in Ponta Delgada
This was a really great place along the waterfront in Ponta Delgada. They serve those amazing burgers I was telling you about on the Bolos Lêvedos! They are also a pasteleria (bakery) and have a great selection of Azorean pastries!
Terra Nostra Garden Restaurant in Furnas
Have lunch at this beautiful hotel and you'll also get treated to free entrance into the gardens and hot springs. Be sure to make a reservation and bring a swimsuit. They have towels that you can rent. You can even stay at the hotel and also have unlimited access to the hot springs and amazing gardens.
Caldeiras & Vulcoes in Furnas
A great nice restaurant to try Cozida straight from the Caldeiras! Also, order the fish & chips for something different! The fresh cheese (which is served with almost every meal in the Azores) was my favorite here.
Cozido
Fish & Chips
Fresh Cheese
Á Terra in Furnas
This lovely restaurant was located in our hotel, the Furnas Boutique Hotel, and we were able to eat breakfast here every morning, which was amazing. The food is fresh and the outdoor seating was beautiful! Even if you're not staying here, I highly recommend stopping in for a meal! But if you do stay you'll have access to their beautifully maintained hot springs which include an indoor natural pool, outdoor natural pool, hot pool, and cold pool, as well as wet saunas, dry saunas, and an amazing spa! I could have spent the entire week here. Book your stay here.
Restaurant Recommendations on Terceira Island
Terceira is smaller than Sao Miguel, but still probably the next most popular island to visit. It is considered the "cultural" island and I'm still not really sure what that means. Things on this island did feel older. I was surprised to find that each island we visited had its own distinct feel, culture, and even accent! And of course, the food was different on each island. We asked a local for restaurant recommendations and she gave us a whole list! We were able to make our way through almost all of them in just 2 days!

Comida do Tacho in Angra do Heroísmo
This was our first experience with food on the island of Terceira. It was not on the local's recommendation list, but I also think it was new. It was almost midnight and they were closed, but they were so nice and let us in and we just asked for whatever was good. So they grilled us up the BEST fish I've had in my life! I'm not kidding! I asked what kind of fish it was and the language barrier was too much, but the cook typed it into Google Translate as "Emperador" or "Emperor." I've never heard of it, but it was amazing! Don't let the look of it scare you lol!
Os Moinhos in São Sabastião
This was recommended to us from our local and also TripAdvisor. It is family owned and set in an old Millhouse, which was super charming. Despite the interior being decorated like it was a Michelin Star restaurant (and the food was that good), our meal was only $30! The famous dish here is the Alcatra, a wonderful braised beef that melts in your mouth! The fish was also excellent! We also had the Sopa da Sagra (Mother in Law Soup) which came in a cute cauldron and was enough for 4! We went for lunch and it was not busy at all, but if you go for dinner you'll need a reservation.

Beira Mar
This was another local recommendation! It's a great seafood place right on the water. The locals raved about the "cracas" that we just "had to try!" Our local friend described them as "rocks with things in them." Um, ok! So we gave them a shot. When they came out we realized they were BARNACLES! I tried to like them, I really did! The rest of the seafood at Beira Mar was amazing though!
Restaurant Recommendations on Faial Island

Restaurante Atletico
We were only on Faial for one day, but we ate some great food, including passion fruit from our guide's backyard. So good! He then took us to a great restaurant that specializes on grilling fresh catches on a wood fire. It did not disappoint! He did warn us that the dessert here was not good. So we didn't try it. The fish was amazing though. While they have a large fish menu, they only sell what they have fresh. The fish market is only open Monday-Friday, so go on a weekday for the freshes fish!
Azores Food Guide Tours
Experience the flavors of Ponta Delgada with a guided food tour. You'll get to try local delicacies and learn about the history of Azorean cuisine.
If it's the local experience with all the tastings and drinks you're looking for, then this tour is for you.
Here are some of the highlights of this tour:
Discover Ponta Delgada through its food on a guided food tour
Learn the secrets and stories behind each tasting from your guide
Try a variety of dishes from traditional tea to an artisanal dessert
Immerse yourself in the bustling atmosphere of a local food market
Hear more about historical landmarks, including St. Sebastien church
Have you ever heard of volcanic wine? On this tour, you'll get a chance to taste it and learn all about the process of making it.
This is a personal experience where you'll be visiting an Azonrean family providing Azorean volcanic wine and typical food tastings.
These are some of the highlights you'll get to enjoy on this tour:
Try rare volcanic wines that were produced in a volcanic terroir
Visit an Azorean family that will share amazing wine, food, and a relaxed party environment with you
Learn about our culture, traditions, gastronomy and history.
What a great way to enjoy food with some company! This 3-hour and 30-minute tour will bring you to explore Ponta Delgada's rich culinary offerings on this guided excursion. Visiting some of the local markets and eateries such as Mercado da Graca, Louvre Michaelense, and O Principe dos Queijos.
Here's everything you can expect on this guided tour:
Indulge your love of Azorean cuisine on this guided foodie experience Learn about the region's food culture from an informative local guide Enjoy complimentary tastings of meats, jams, fruit, and other local products Visit a variety of food spots while getting some exercise on a walking tour
Read more about Small-Group Ponta Delgada Food Tour in Azores
Indulge your love of Azorean cuisine on this guided foodie experience
Learn about the region's food culture from an informative local guide
Enjoy complimentary tastings of meats, jams, fruit, and other local products
Visit a variety of food spots while getting some exercise on a walking tour
That's all I've got for you! We obviously loved the food in the Azores. Did we miss anything? Get in touch if we did!
xo
Vanessa
Azores Food Guide FAQ
What food is popular in the Azores?
When you visit the Azores, some of the popular foods are Bolos Lêvedos, Chicharros, Cozido das Furnas, Morcela (blood sausage), and seafood dishes.
What is traditional Azorean food?
The traditional Azorean cuisines are a mix of Portuguese and local ingredients, such as corn, seafood, spicy stews, sweet desserts, and dairy-rich products.
What is the national dish of the Azores?
The cozido das Furnas (boiled stew), is the Azores' national dish. It is a hearty stew of potatoes, carrots, cabbage, and meats cooked in a geothermal spring. It is usually served with bread and white wine.
Is food in the Azores expensive?
One thing I loved while exploring the Azores is how affordable the food is. Eating out and trying local dishes won't cost you much, as most restaurants have inexpensive menu options.