The Pacific Coast Highway Road Trip is one of the most iconic road trips in the world. Growing up in California, it was sort of a right of passage to drive the PCH. This beautiful stretch of road along the California Coast will not disappoint! Keep reading for some amazing Pacific Coast Highway stops.
The Best Pacific Coast Highway Road Trip Itinerary
Feeling stuck? Me, too. Sigh. I know a lot of us travelers have set our sights a bit closer to our own backyards these days. Literally… that is where we spend most of our time- our backyard. And oh boy, are we thankful to have it!
Soon enough, I hope we can all get out to regain our sanity and travel in some healthy and responsible ways. I'm looking forward to exploring some of the National Parks in California and beyond.
One of the best ways for us to do that in the United States is the tried and true road trip! Since road trips are perhaps the most feasible option for traveling these days, (and the most affordable since gas is cheap right now), I will be highlighting some of our favorites over the next couple of months.
One favorite road trip we have taken is driving the Pacific Coast Highway in California. It's one of my favorite stretches of our epic USA West Coast Road Trip Itinerary. Planning and then going on a Pacific Coast Road Trip may be the literal breath of fresh air your family needs this season. 
Other than Route 66, the west coast road trip on Pacific Highway 1 is one of the most iconic road trips you can take in the USA. I'll highlight the best places to stop on Pacific Coast Highway 1. I decided to do this post list-style so you can pick and choose what interests you and fits your timeframe.
For our purposes, I will lay out the Pacific Coast Highway road trip North to South. The great thing about this is that the weather will get nicer and nicer as you go and the passenger (me, with camera in hand!) gets all the great views while you travel.
The Best Pacific Coast Highway Stops
When you start your Pacific Coast Highway Road Trip from San Francisco, you will be near my old stomping grounds in Sacramento. California definitely feels like home and I'm so happy to share some of its gems with you in this Pacific Coast Highway itinerary with the best stops on highway 1.
Point Reyes National Seashore
We are going to start this trip a bit north of San Francisco in a place that can't be missed- Point Reyes National Seashore. This gem is definitely one of the best stops on the Pacific Coast Highway. Some parts are windswept and beautiful.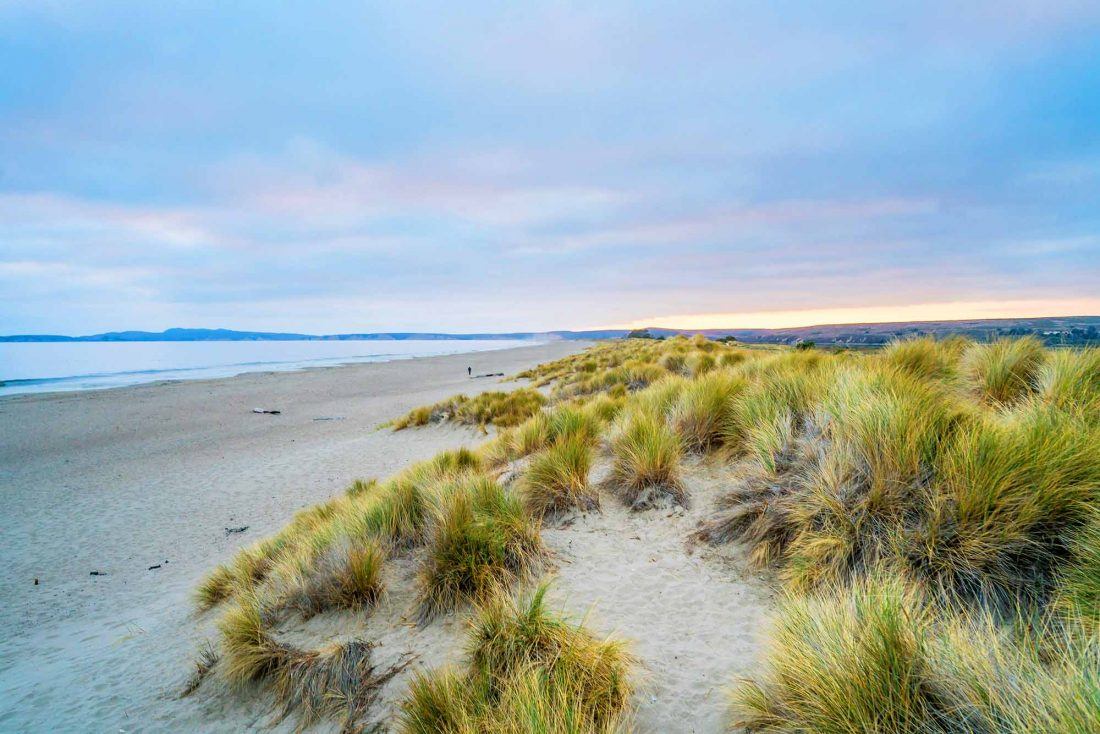 Other parts are simply CUTE, like its gorgeous lighthouse and darling shops in the small beachside town, Point Reyes Station. The feel of this place is unlike much of the California coast because it's a slower vibe with tons of unspoiled beaches due to it being a protected National Seashore.
Be sure to see the Cypress Tree Tunnel on the way to the lighthouse. In my opinion, it's even more impressive than the Dark Hedges in Ireland!
San Francisco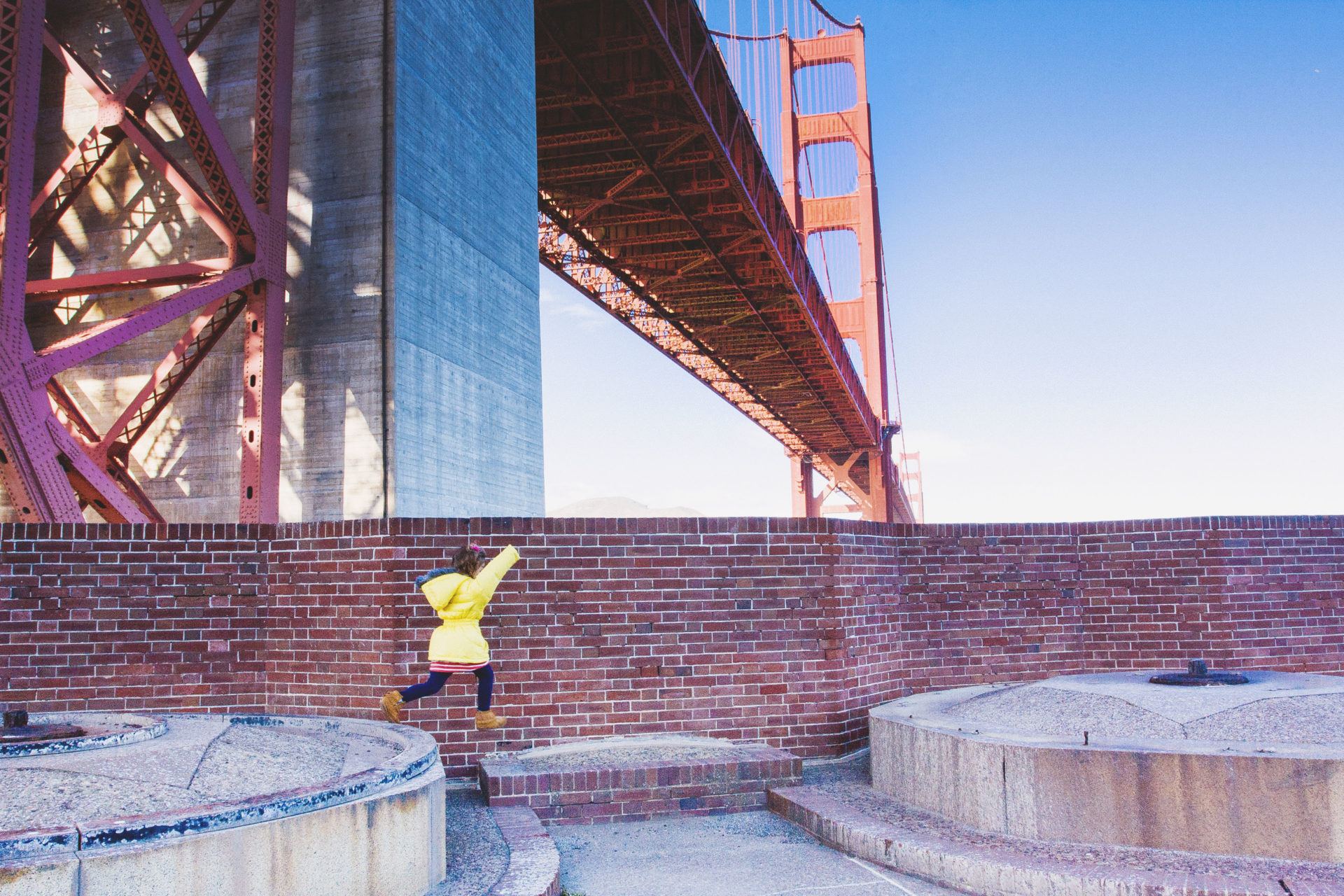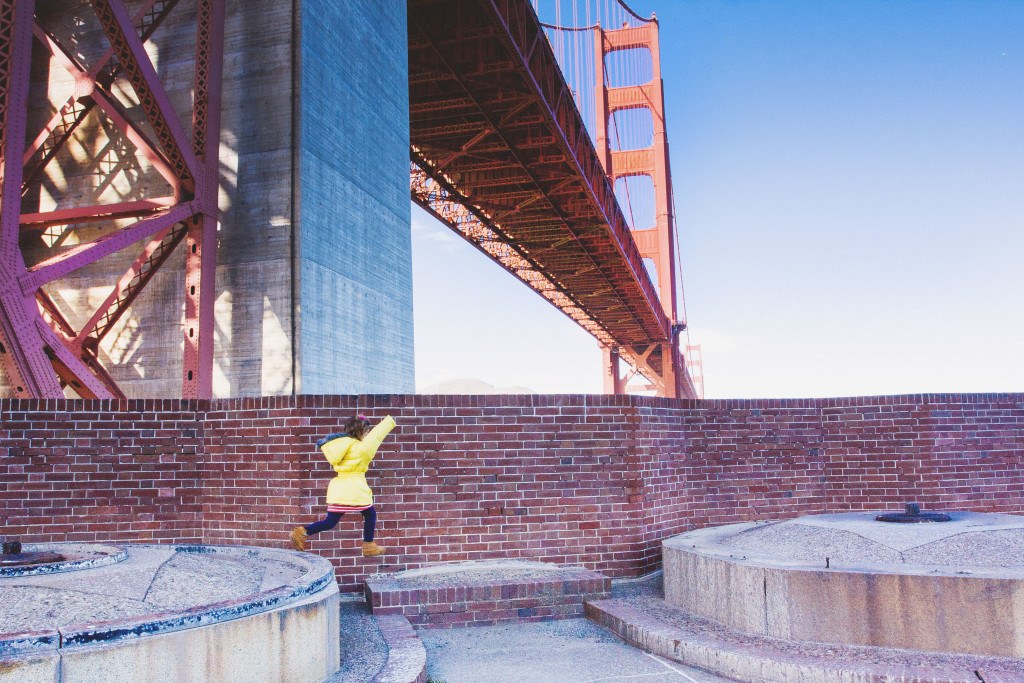 In a normal year, I would suggest spending a day or two in San Francisco. Here's a post I have written on Adventures for Kids in San Francisco just in case you are reading this in a less social-distancy kinda time.
For now, this is no normal year! I will focus on lots-of-space-between-people outdoorsy stops on the PCH. There is certainly no shortage of jaw-dropping outdoor spaces along this route.
Golden Gate Bridge Picnic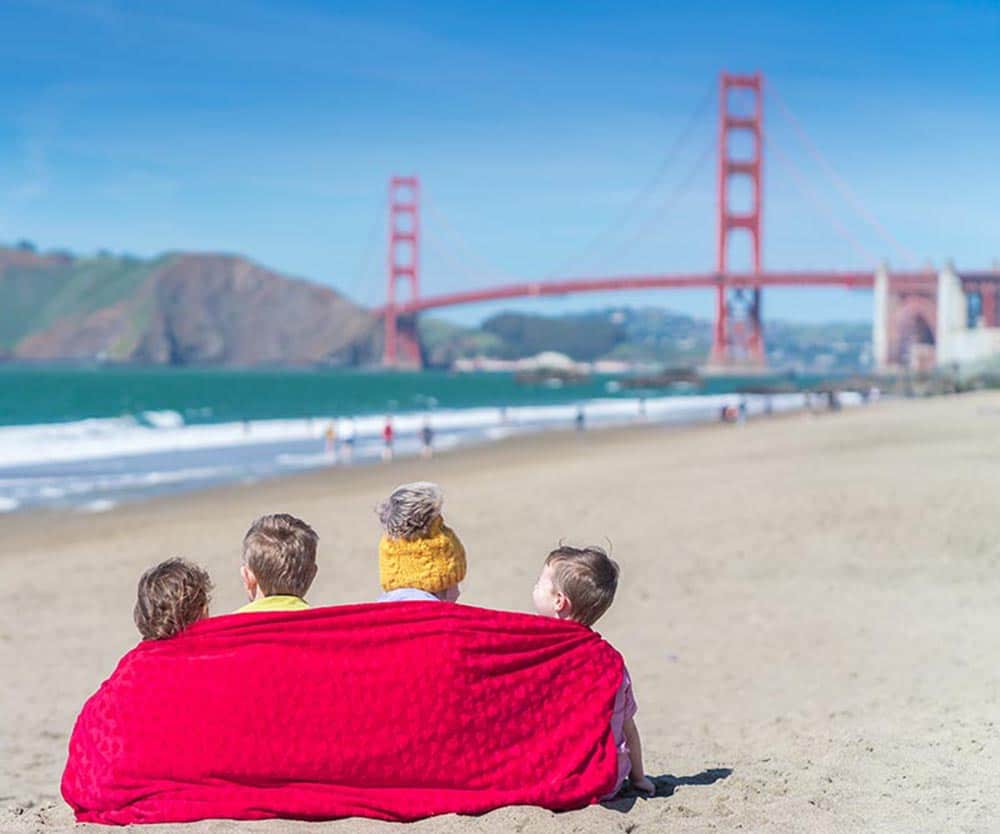 While you will indeed start at the beginning of the PCH in San Fran, I recommend picking up some groceries, parking at Golden Gate Bridge Park and having a picnic lunch to start your drive. Bring your windbreakers! It's California, but San Francisco weather is unpredictable.
After your picnic, and taking some iconic photos with the Golden Gate Bridge in the background, it's time to make the 2 hour drive to Monterey. As you don't want to miss any views, make an effort to get to Monterey before dark.
Monterey
First of all, Monterey totally deserves its own post and has one! For more of what to do in Monterey, check it out. One of my favorite highlights was watching seals at Fisherman's Wharf while we grabbed some food. There are some great restaurants for clam chowder, especially. Café Fina has a toasted clam chowder bowl and Loulou's Griddle in the Middle is rumored to have the best chowder around.
If it's open at the time you're reading this, be sure to stop by the Monterey Bay Aquarium (considered one of the best in the world), and if you're traveling with kids, you need to play at Denis the Menace Park (closed as of 6/25/2020).
17 Mile Drive Monterey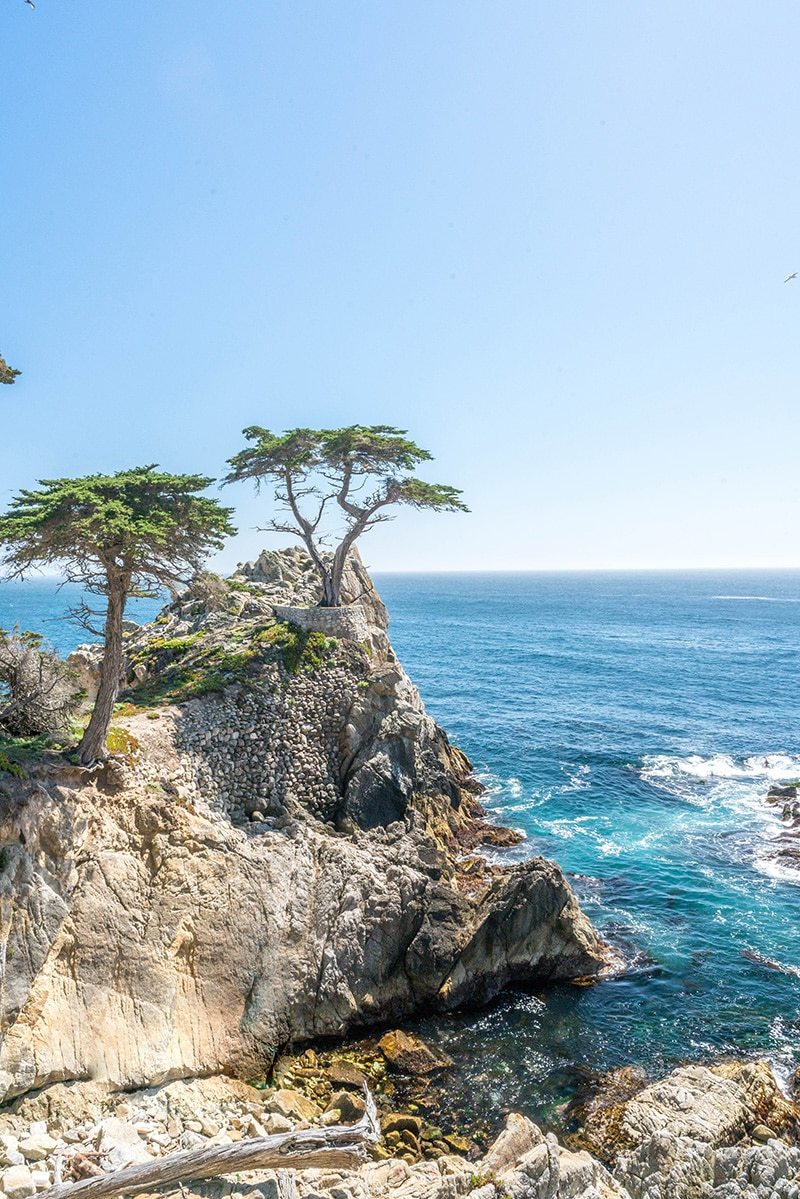 This is SUCH a great way to spend an afternoon or a whole day. For $10.50 per vehicle, you will have all-day access to pristine beaches and eye-popping cliff views. The earlier you get to one of the entrance points, the better as there is usually a line.
I loved seeing the famed Lone Cyprus, which has seen 250 years of the Pacific Coast while precariously perched on a cliff! I have to be honest, it was also fun to gawk at the crazy gazillion dollar mansions along the route, too.
Point Lobos State Park
Just south of Monterey is Carmel-by-the-Sea, where you will find Point Lobos State Natural Reserve. The color of the water here, it is just an unbelievable shade of turquoise and will make your heart sing.
On top of the jaw-dropping beauty of this relatively small park, you may run into some wildlife while you explore. It is pretty common to spy walruses lounging or even pods of whales off the coast. On the smaller end of the wildlife spectrum, at low tide there are all manner of little creatures in the tide pools.
Pfieffer Big Sur State Park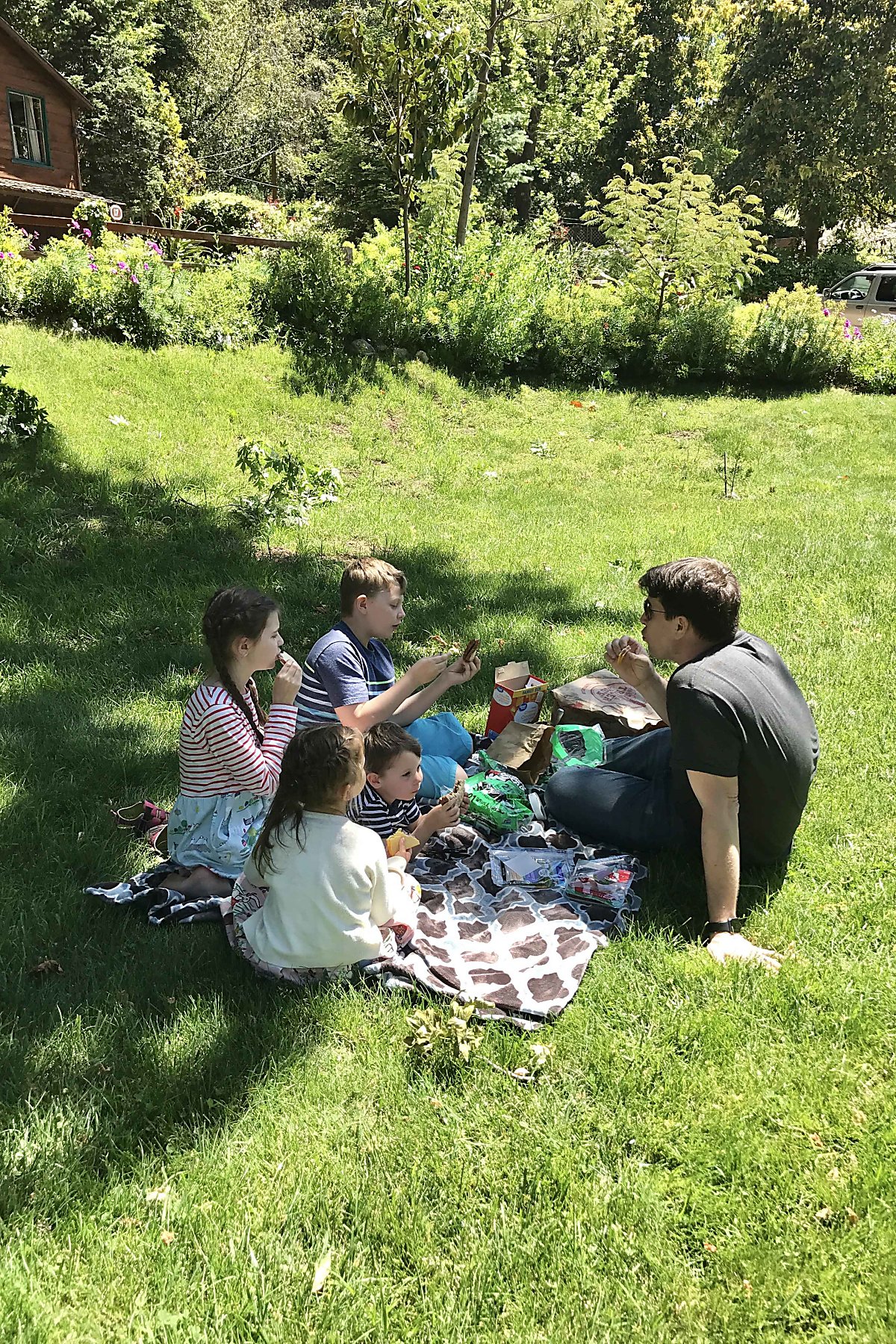 I recommend driving the stretch around Big Sur at a time of day when you are still feeling perky, as there is usually fog combined with curvy roads. Be careful! But also be sure to spend a morning exploring Big Sur State Park because it is the southernmost point where you can see the famous gargantuan Redwoods. Redwood trees are definitely a must when you visit Cali.
Dinosaur Caves Park
The picnic tables in this cliffside park make it a great option for having a meal al fresco. If you are tired of road trip sandwiches, Pismo Fish & Chips is nearby and a great option for takeout nearby.
There are bathrooms, free parking, and dogs are allowed. It is the perfect place to stretch your legs and let the kids run around the grounds or the fun playground while you take in some views.
Pismo Beach
Pismo Beach is one of the top small beach towns in California. What makes the Pismo beach area a special part of the PCH highway is that it has a bit of something for everyone. It's near the central coast wine region so it has fabulous wine bars. For those of you who don't drink like me, maybe you'd fancy a soak in some hot springs. There are several resorts around where you can take advantage of these naturally mineral-rich waters.
The Monarch Butterfly Grove is a nature preserve where you can surround yourself with thousands of monarchs dancing around you between the months of October and February. Oceano Dunes is another nature preserve filled with a wide expanse of beautiful sand dunes right along the coast. Or you can just grab an ice cream and wander along the fishing pier in town.
While you're there, be sure to check out outdoor photographer Chris Burkard's studio!
How could I forget the main attraction in Pismo beach? The beach itself! If you want to walk on a beautiful sandy beach in this area, there are several options. Elwayden Ocean Park and Spyglass Park are good choices with grassy areas and stairs to the beach. Then there is Pismo State Beach itself, with miles of flat sandy shore to enjoy.
Los Angeles & Hollywood
Dip into Los Angeles and Hollywood and explore all that this huge city has to offer. You could spend weeks here, so it might be good for a separate trip. There is so much to do and see here.
Crystal Cove State Park
I love this beach in Orange County and I think it's the most beautiful one. More than 3 miles of sandy beaches leave you plenty of room to spread out. At low tide you can explore the tide pools, which is always a win with curious kids (and adults)!
Heisler Park
Lawn bowling, Tide Pools and Gardens by the ocean with oh-so-California palm tree ocean views? Check, Check, Check. Want a budget dinner with 5 star views? Grab some fish tacos from Taco Loco to go on Hwy 1 in Laguna Beach. Then backtrack half a mile to a Heisler Park picnic table to enjoy. Don't forget the baby wipes because…. tacos.
Table Rock Beach
With water so turquoise it brings tears to the eyes, this beach is less crowded than others in the area. Perhaps it's the 100+ steps down to the beach… and back up? Honestly, after all the tacos, built-in cardio for a break from the crowds is not a bad idea.
Pacific Coast Highway Map
Here's a Pacific coast highway road trip map with the best things to do on Pacific Coast Highway 1.
Where to Stay Along the Pacific Coast Highway
Camping-
For Camping by RV or tent, the California Parks website will be one of your best resources. If you'd like a spot in one of these beach campgrounds, do your planning early.
Spots open up for reservations 6 months ahead at 8 AM Pacific Time. I'm not kidding that you should set an alarm. All spots go quickly but the ocean view ones go in minutes and are worth the trouble and cost.
Make a list of your preferred sites ahead of time by using campground maps for each location and this awesome website with photos of each spot. You can even use their search tool to see if they have already highlighted the best spots in the campground you like.
Henry Cowell Redwoods State Park- South of San Jose and while it's not on the beach or on Hwy 1, it's only 10 min north of Hwy 1 in Santa Cruz. And… Redwoods!!
Pfieffer Big Sur State Park- 26 miles south of Carmel. While it's not on the beach, this campground is in one of the most popular parks along the PCH. It's a 15-minute drive inland from the coast.
Point Mugu State Park- This park north of Malibu has a couple campgrounds, Thornhill Broome State Beach is right by the ocean. Sycamore Canyon Campground is only ½ a mile from the water.
Moro Campground at Crystal Cove State Park- Make it through LA and the most beautiful beach in Orange County that I mentioned as a must-see stop is your reward!
South Carlsbad State Beach – Beautiful views, reserve as soon as they open reservations to get one of the cliffside spots. This beach is not far from Legoland, if you want to combine your trip with a theme park.
Airbnbs or Hotels
There are some places I would recommend basing for a night or two on a road trip due to the broad range of Airbnbs & hotels (yay for competitive pricing!) and the proximity to other great places on the Pacific Coast Highway.
San Francisco
Though this is meant to be a more outdoorsy itinerary, if you simply can't resist San Francisco, with some planning you could focus on the less-crowded outdoor spaces. Obviously there will be tons of accommodation options.
Monterey/Carmel-by-the-Sea
This area has tons of Airbnbs & hotels and is definitely a destination in its own right. When we lived in California, we loved exploring this area!
Cambria
There is a total lack of accommodations from Big Sur for a couple of hours drive. But there is an area one hour north of Pismo Beach called Cambria that has tons of accomodations right on the coast.
Santa Barbara
The next concentration of accommodations is in Santa Barbara. This area is the last real place to base before you reach the chaos of Los Angeles.
Carlsbad
A bit more than halfway between Los Angeles and San Diego, you will find the city of Carlsbad. It's a pretty area and it's convenient to stay in with plenty of hotels and Airbnbs.
San Diego
You'll find any hotel chain you fancy in San Diego and the beach communities just north. I really like the Oceanside area.
Well, that's a wrap on your Pacific Coast Highway Road Trip. It's one I know you won't regret.