Perfect West Coast Road Trip Itinerary with Hum by Verizon
This post was written in partnership and paid for by Hum by Verizon. All opinions are my own.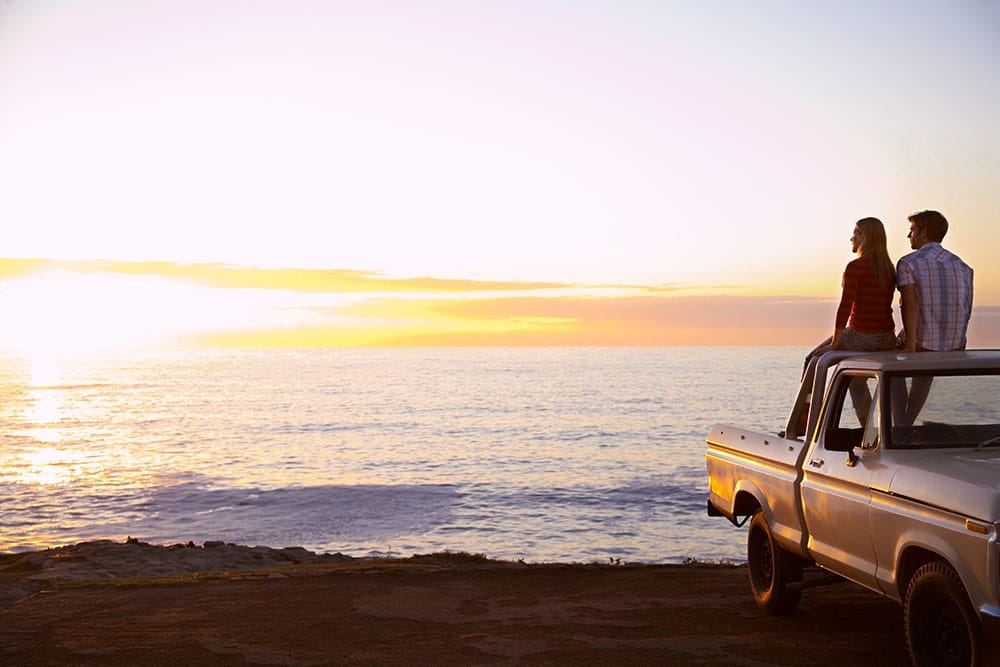 There's nothing more American than a road trip! In fact, there are at least 25 American Road Trips that I think are essential to do before you die! One of them is the great west coast road trip.
If you've got a few weeks to cruise the western coast of the United States, you've made a good choice. This is some of the most stunning scenery in the world. You'll spend time in the famous PNW (pacific northwest) and be venturing into the beautiful diversity that is California.
A west coast trip is a must, especially if you're visiting the US for the first time. It's so unique and classic, and something I hope everyone gets a chance to do in their lifetime! I hope that these west coast road trip ideas will help you when planning your trip and give you the confidence to drive the entire coast!
This west coast trip loop ensures that you see all the most popular sites, while also getting off the beaten path and exploring hidden gems in each western state.
Preparing for your West Coast Road Trip
Safety First
Before heading out on your west coast road trip, be sure your car has been serviced, you have enough insurance, and everything is working properly.
Use Hum by Verizon
Hum by Verizon is campaigning to make the days between Memorial Day and Labor Day the "100 Safer Days of Summer." During these 100 Days, you can find helpful tips for safer driving here.
According to a survey from Hum by Verizon and Wakefield Research that surveyed 1,000 U.S. adult drivers ages 20 and older, 80% of participants think that drivers are more likely to speed during the summer months. The survey also found that 61% of millennial drivers struggle to focus while driving during the summer, and one in five drivers have received at least one speeding ticket within the past five years.
Hum by Verizon wants to change that, by helping us practice important road safety with "100 Safer Days of Summer."
We use HumX in our car. HumX is a little device that is easily installed in your car and takes the guesswork out of driving by using connected car technology. It allows you to have quick access to emergency services and loved ones while on a road trip, or any time on the road.
If you have an accident or emergency, Hum by Verizon can send assistance to help you get back on the road.
HumX also runs diagnostics on your vehicle to make sure that everything is running smoothly so you can road trip worry-free.
I love that HumX helps you keep track of general maintenance like oil changes and tire rotation, and you can set up alerts to remind you when it's time for service.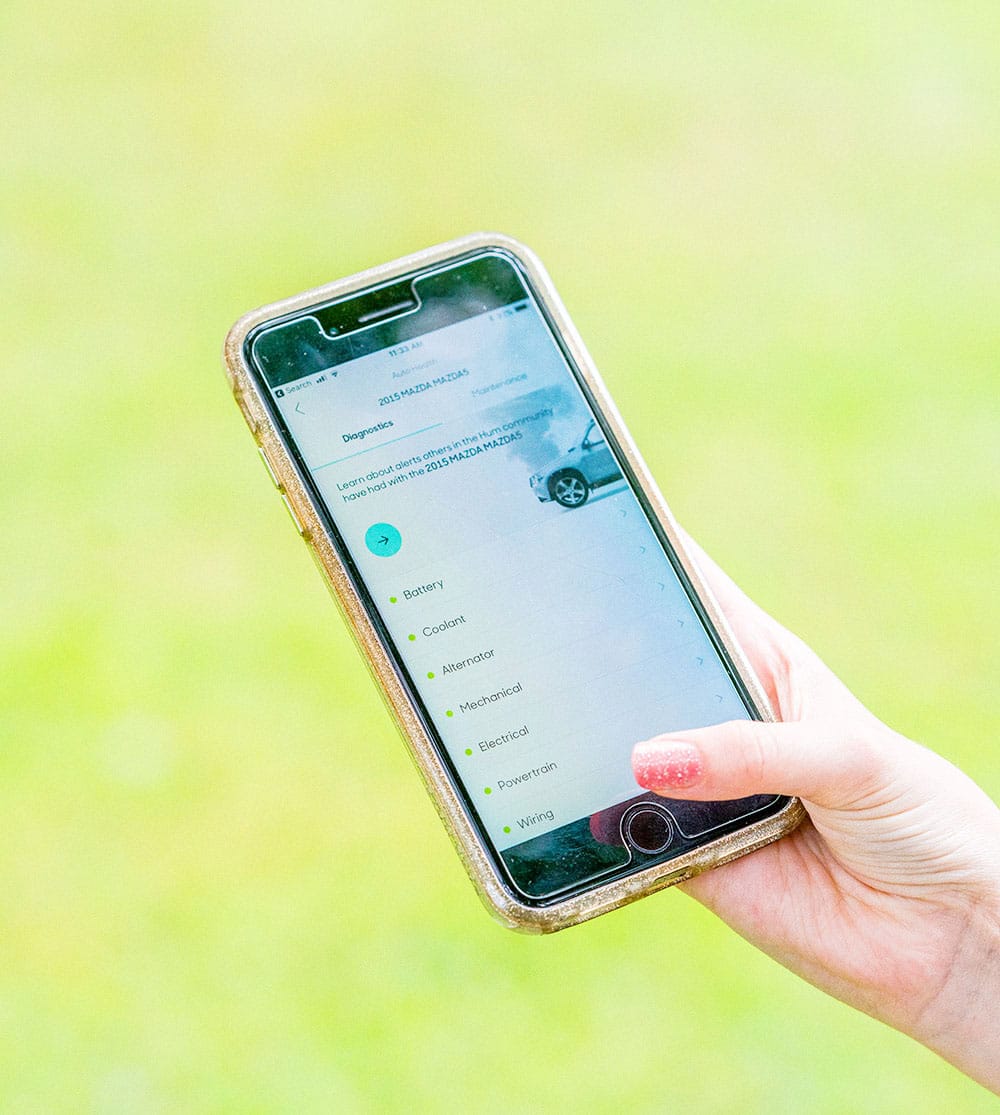 All the Hum by Verizon services can be accessed on your smartphone from the Hum App which you can find in the App Store or Google Play. HumX also comes with a Bluetooth speaker that clips to your visor. This will give you access to roadside assistance with the touch of a button and can also be used as a speaker for your phone and be connected to your contacts.
I'm also really excited to have this service when my kids start driving, which is only in 3 more years (HELP)! It provides a safety score, boundary alerts, and records speed, so you can monitor your teen's driving.
You can also track your fuel and mileage using HumX, which is great if you're taking road trips that are for work and need to track mileage for expenses or tax purposes.
Safety Supplies for your West Coast USA Road Trip
When you're preparing for west coast travel, it's always a good idea to keep a road safety kit in your car, in case of break-downs, accidents, or other emergencies. Even when my boys have to get out and "go" on the side of the road, I like to put up reflective warning road safety triangles like these ones, especially at night!
I always like to have a good first aid kit on hand as well, not only when we road trip, but when we travel anywhere. You never know when it could be a literal life-saver!
Preparing for Your West Coast Road Trip
To prepare for your west coast road trip be sure to follow these tips that I've shared in How to Plan a Road Trip. I share all my best tips on how to plan the perfect road trip, including safety tips, ideas on how to keep kids entertained during a road trip, and the best apps to use for roadtripping!
If you've ever considered doing a west coast road trip in an camper, check out these RV rentals in California.
West Coast Road Trip
Now that you are all prepared for your western road trip and hopefully have Hum by Verizon installed in your car, you're ready for your epic west coast road trip!
I've divided the west coast up into two routes so that you can drive in a loop. There is a coastal route, stopping at some of the most stunning beaches in the U.S., and an inland route, where you'll visit famous national parks and mountainous roads. In my opinion, this is the best west coast road trip and will allow you to see some of the most incredible sites in the region.
You can drive this West Coast Road Trip Itinerary either way you like. You can even start in the middle and only do parts of this itinerary, but I prefer to drive from north to south if I can. The weather becomes more temperate the farther down you go, and when you're driving south along the coast, the passenger (usually me with the camera) gets all those gorgeous views out their window.
Driving south will also allow you to take the longer route down first, saving the faster route for the end.
This interactive map will help you plan your west coast road trip.
Western US Road Trip Driving Map
Washington
You can begin or end your west coast road trip in Washington state. From the majestic, snow-capped Cascade Mountains, the bustling and hip town of Seattle, to the forested islands of the Puget Sound, Washington has beauty and variety that should not be missed.
Seattle
Starting your west coast road trip off in Seattle is a great idea. Visit the Space Needle, a futuristic remnant from the 1962 World's Fair, head to the century-old Pike's Place Market, watch the fishmongers toss fish, grab a drink at the original Starbucks, and stock up on snacks for your epic journey! If you're feeling brave you can make a visit to Mel's Hole in Ellensburg before heading south.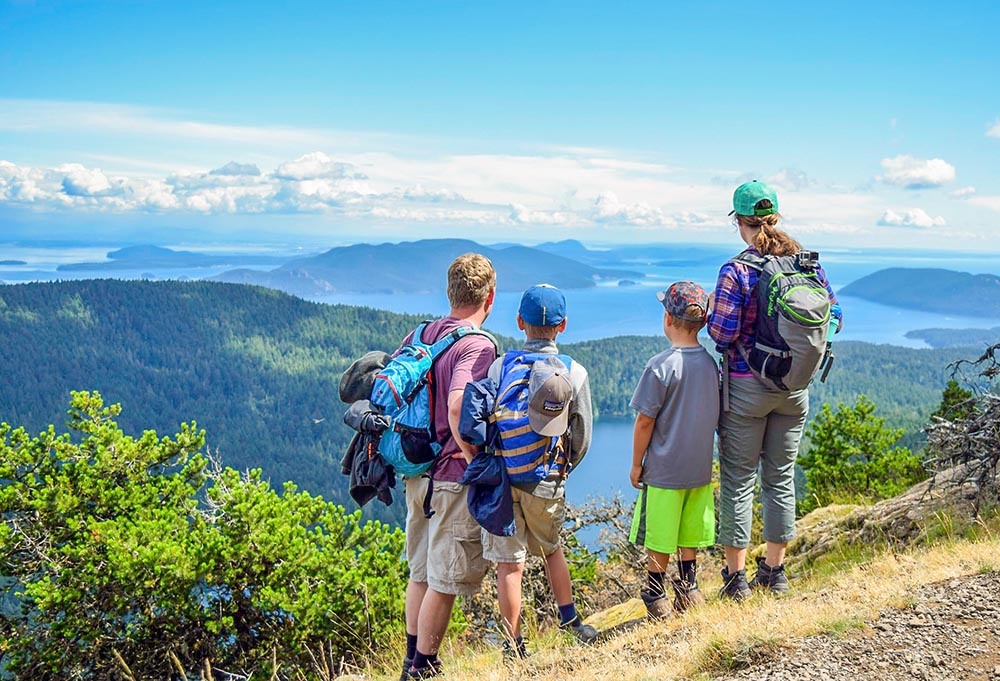 San Juan Islands
From Seattle, grab a ferry to the San Juan Islands and enjoy a day or two of these stunning forested islands, where you can camp or stay in one of the Bed and Breakfasts along the islands. See wildlife, hike, swim, bike, kayak or just enjoy the scenery as you drive along the scenic byway of the San Juan Islands.
Download and follow this map of the scenic byway in the San Juan.
Olympic National Park
Spanning several different ecosystems, from the Olympic mountain range to the old-growth forests. Drive through the majestic national park and take it all in. Stop and hike, climb, picnic or just enjoy the ride!
Along these stunning beaches you'll find sand dollars, driftwood, anemones, and if you're lucky, you might even spot eagles, whales, dolphins and other coastal wildlife.
Be sure to visit these beaches in the Olympic National Park:
Shi Shi Beach
La Push Beach
Rialto Beach where you can see the Hole-in-the-Wall rock arch during low tide
Ruby Beach
Long Beach Peninsula
The Long Beach Peninsula is a 30 mile stretch of land with gorgeous white beaches just before the Oregon border. Visit the World Kite Museum and brave the winds by flying your own kite. If you're making this west coast road trip in August, you'll be just in time for the International Kite Festival.
Now it's time to head south towards Oregon.
Oregon
Welcome to Oregon! Home to more mountains, beaches, and some of the most incredible waterfalls in the world. It is a foodie mecca and home to more breweries than Scotland and the Czech Republic combined!
Don't miss these incredible stops along the Oregon coast:
Astoria
Home to the '80s classic movie Goonies. Be sure to watch it before visiting, then you can see all the iconic scenes from the movie, including the infamous Goonies House.
Seaside
A charming little town and beach.

Cannon Beach
Another iconic scene from Goonies where you can see haystack rock.
Tillamook
Take a tour of the Tillamook Dairy Factory and learn where all that delicious, milk, cheese, butter, ice cream, and yogurt come from. Grab a giant ice cream cone and stock up on snacks for the next leg of your trip.
Portland
You can choose to visit Portland on either route, north or south, or hit it twice, I don't think you'll mind. Be sure to eat everything in Portland, especially Blue Star Donuts and Salt & Straw Ice Cream.
Bandon Beaches
There are several beaches in Bandon, Oregon, all amazing. Visit the lighthouse at Bullard's Beach, and Face Rock to look for the famous Tufted Puffins. The beaches in Bandon are said to be one of the best places in the world for storm watching.
Explore more from this Oregon bucket list.
Once you've had your fill of Oregon beaches, you can continue your west coast road trip down into California.
California
Welcome to the Golden State. Be prepared for some more gorgeous views and stops. If you're traveling with kids, be sure to check out these California road trip stops.
Redwoods National Park
These protected forests and beaches along the northernmost coast of California are not to be missed. Spend time hiking or driving through the parks and taking in the trees, some of which are over 5,000 years old! Read more about visiting Redwood National Park with Kids.
Fort Bragg
Located along the stunning Mendocino coast, Fort Bragg is known for its Glass Beach where you can see millions of colorful stones scattered along the shores.
Point Reyes National Seashore
These protected lands offer seashores, hiking trails, forests and a beautiful historic lighthouse. Stop into Point Reyes Station to wander the shops, eat some lunch, stay the night, and grab more snacks for your drive. Read more about Point Reyes here.
Napa Valley
Visit the Napa Valley wine region, where you can tour local wineries and do taste testing.
San Francisco
There is so much to do in this beautiful city, that it has its own post. Read more about it here. It's time to start your trip down the iconic Pacific Coast Highway!
Monterey
Monterey is another area of California that requires its own post. There is so much to do here, but if you only do one thing, take the 17-mile drive for the most breathtaking coastal views. There's so much to see in Monterey with kids.

Big Sur
This rugged stretch of California's coast can be a little tricky to drive, with winding curves and nearly constant fog. Be careful while taking in the views.
Pismo Beach
This classic Central California surf town has great beaches. Be sure to check out the Dinosaur Caves Park for stunning views of the Pacific.
Los Angeles
Wind your way down to LA, visit Venice Beach, climb to the Hollywood sign, drive through Beverly Hills, then skip town, trying not to hit too much traffic.
Disneyland
I mean, what's a trip to California without visiting your favorite mouse?
Crystal Cove State Park
One of the most beautiful beaches in Orange County, Crystal Cove State Park is worth the parking fee.

San Diego
There is so much to do in San Diego that is also deserves its own post. Check out this San Diego itinerary.
This is also a great California road trip itinerary!
Congratulations, you've now hit the southernmost tip of your West Coast road trip itinerary and it's now time to head north!
Northern Route
Palm Springs
If you're ready for some desert R&R, this is the place. Take a step back in time and book a room at one of Palm Spring's trendy retro hotels, soak up some rays and hang by the pool.
Joshua Tree National Park
Take a day trip or camp at Joshua Tree National Park where you can find rugged rock formations and twisted other-worldly Joshua trees.
Death Valley National Park
Move from one desert park to the next and visit Death Valley's ghost town and see North America's lowest point.
Sequoia National Park
Located in the Sierra Nevada Mountains, Sequoia National Park is home to huge sequoia trees and underground Crystal Cave. Be sure to drive through the Tunnel Tree. Read more about Sequoia National Park here.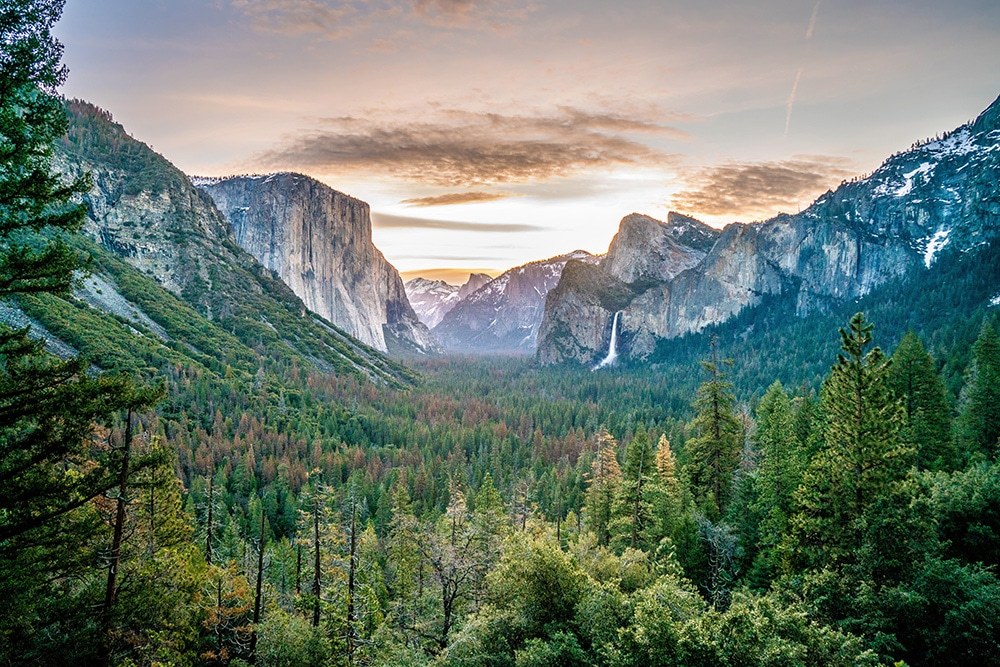 Yosemite National Park
Famed for its iconic vistas and epic granite cliffs, Yosemite offers hundreds of hiking trails. Read more about Yosemite here.
Lake Tahoe
Bordering the California and Nevada state line, Lake Tahoe is a deep blue lake nestled in the Sierra Nevada Mountains. The beaches, hikes and ski resorts are some of the best in the world. Take in the clear blue waters of the second deepest lake in the United States.
Lassen Volcanic National Park
Lassen Volcanic National park is rich in hydrothermal sites like Bumpass Hell and has acres of bubbling mud pots. Lassen Peak Volcano offers views of the nearby area.
Ashland Oregon
Home to the world-famous Oregon Shakespeare Festival, Ashland is a charming mountain town, with trendy vibe, offering museums, restaurants, and parks that make this a great road trip stop to stock up on snacks again, especially after visiting all those national parks and hopefully doing a lot of hiking!
Crater Lake National Park
Known for the famous Crater Lake, formed by Mount Mazama, the now-collapsed volcano, Crater Lake National Park offers hiking trails and a rim road, which circles the famous lake.
Multnomah Falls
These famous falls just outside of Portland can get busy, so be sure to go early to find a good parking spot and beat the crowds. Take the short hike up to the bridge which bisects the two sections of the waterfall. If you visit during the spring you're likely to get wet!
Portland
Visit Portland again! You'll need some more good food by now!
Seattle
Congratulations, you've made it back to Seattle!
I hope this west coast road trip planner has been helpful!
Phew! What an epic West Coast road trip! I hope you've enjoyed some of the most iconic scenes and locations on the West Coast. I would love to know what your favorite was. If you've driven the West Coast, I'd also love to know what I've missed. Any hidden gems that you recommend?
I know that this is a massive trip and should not be attempted in a week!
It is a lot of driving, so be sure to prepare your car for this epic road trip and install a HumX in your vehicle to take the worry out of your journey and to get you on the road!