25 Foods You MUST Eat in Paris
Pack your bags and leave room in your stomach! If you're going to Paris, you MUST try these 25 foods!
For me, the best part of visiting Paris is, by far, the food. It's honestly hard to have a really bad meal in Paris.
I grew up on a very cultural diet, French food being a big part of it. Crepes were always a standard meal in our house along with duck and bread. So it sometimes feels like coming home when I eat in Paris.
If you've ever read one of my favorite books, My Life in France, which documents Julia Child's years in France before she became a famous cookbook author and cooking show host, you will understand this deep connection to French food and why it is just so captivating.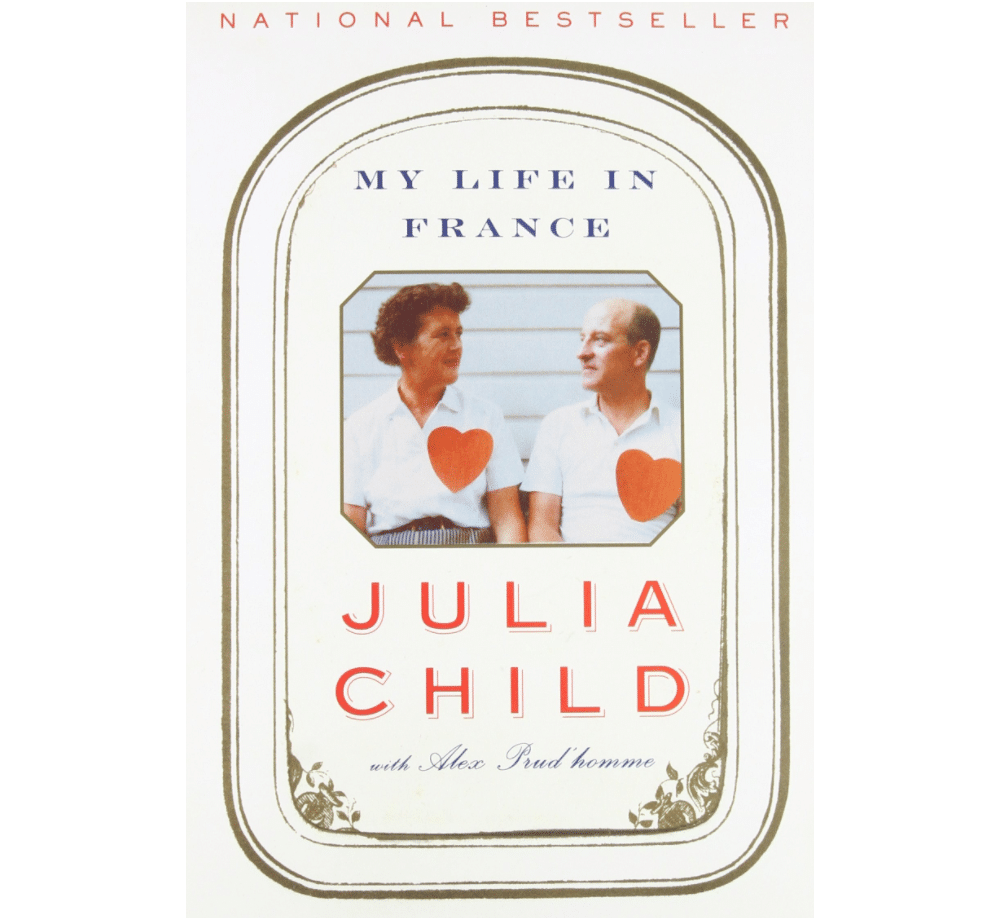 Please do me and yourself a favor and just throw the diet out the window while you're in Paris! Some of your best memories in Paris will come from eating and rest assured, you will burn it off with all the walking around the city you'll be doing!
Every time I go to Paris, I end up leaving feeling super healthy. I don't know if it's the walking or the abundance of fresh fruit, vegetables, and fish or WHAT, but French food just makes me happy!
If you need more inspiration, see my Paris Walking Guide.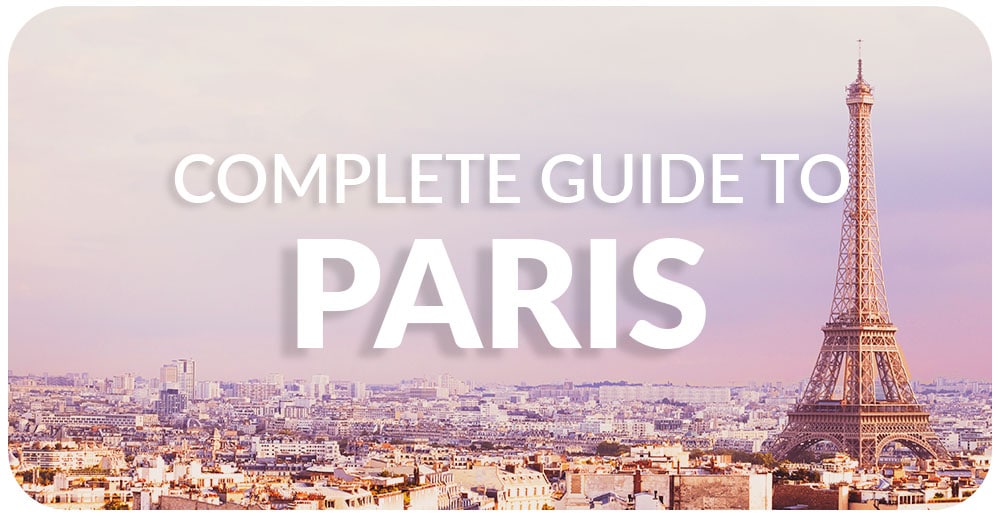 25 Foods You Must Eat in Paris
1. Inhale Fresh Bread from the Boulangerie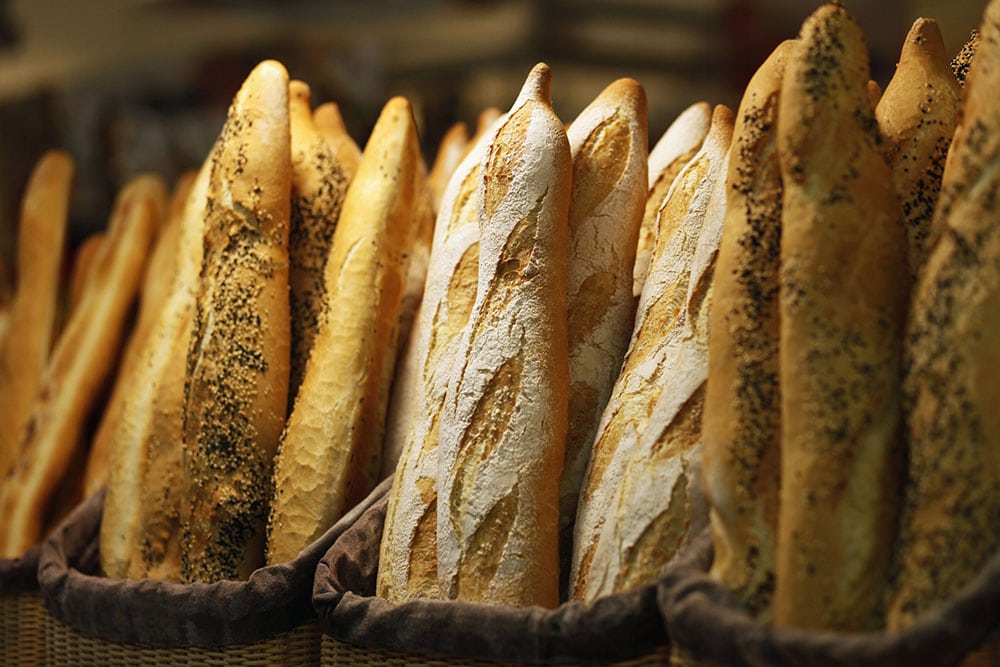 There's nothing better than crunching on a baguette fresh out of the oven! Wandering the streets of Paris with a baguette in hand is essential! Read about how to pick the best baguette here.
2. Have Chocolate for Breakfast
Go ahead and give yourself a pass on this trip. Have that chocolate croissant for breakfast. Once you take your first bite, you won't regret it! Any boulangerie or patisserie in town will have "pain au chocolat," especially in the morning.
3. Try as Much Cheese as Physically Possible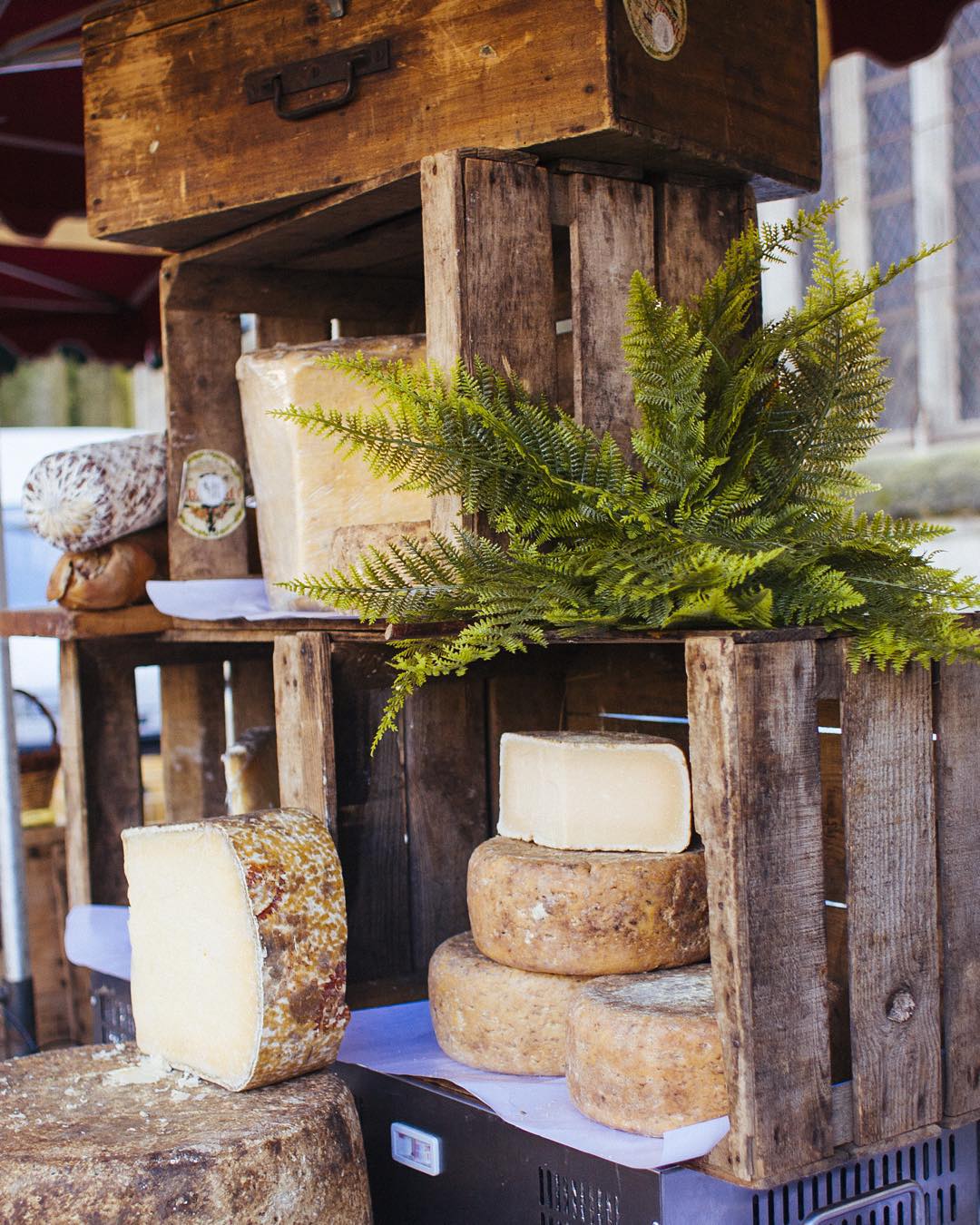 The best part about eating cheese in Paris is how CHEAP it is! Most cheese is at least half the price of what you find in the United States, so eat it up!
4. Steak and Frites
This is a French classic and most people are surprised to find that french fries really ARE French! Stop into any bistro for this hearty meal.
5. Eat the Tastiest Cookies on Earth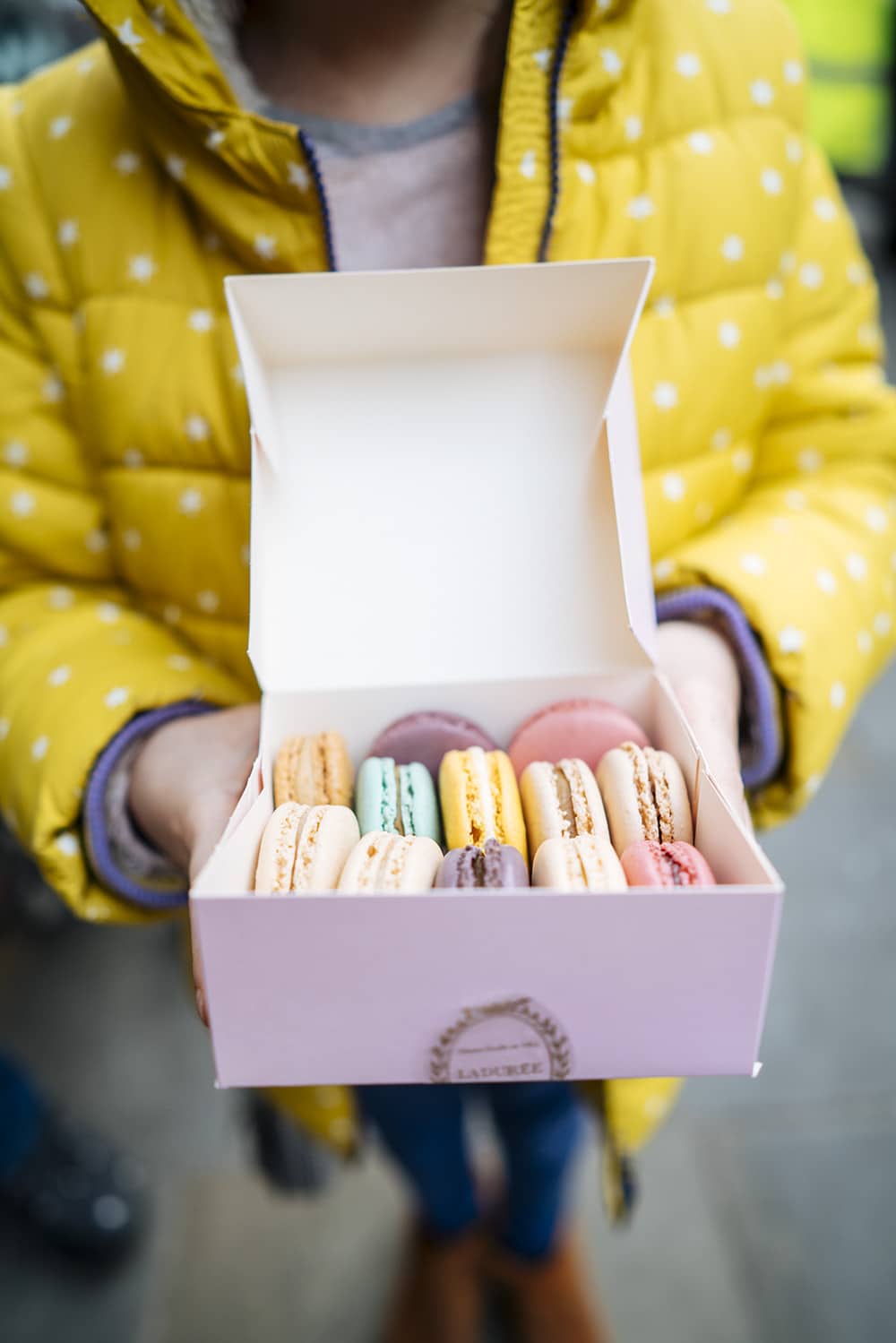 Macarons are like eating cookies on a cloud! These little morsels of goodness are made from sugar and almond flour and are gluten-free. You can find them in all sorts of flavors and all around Paris. Laudree and Pierre Herme are some of my favorite macaron shops in Paris.
6. Hot Chocolate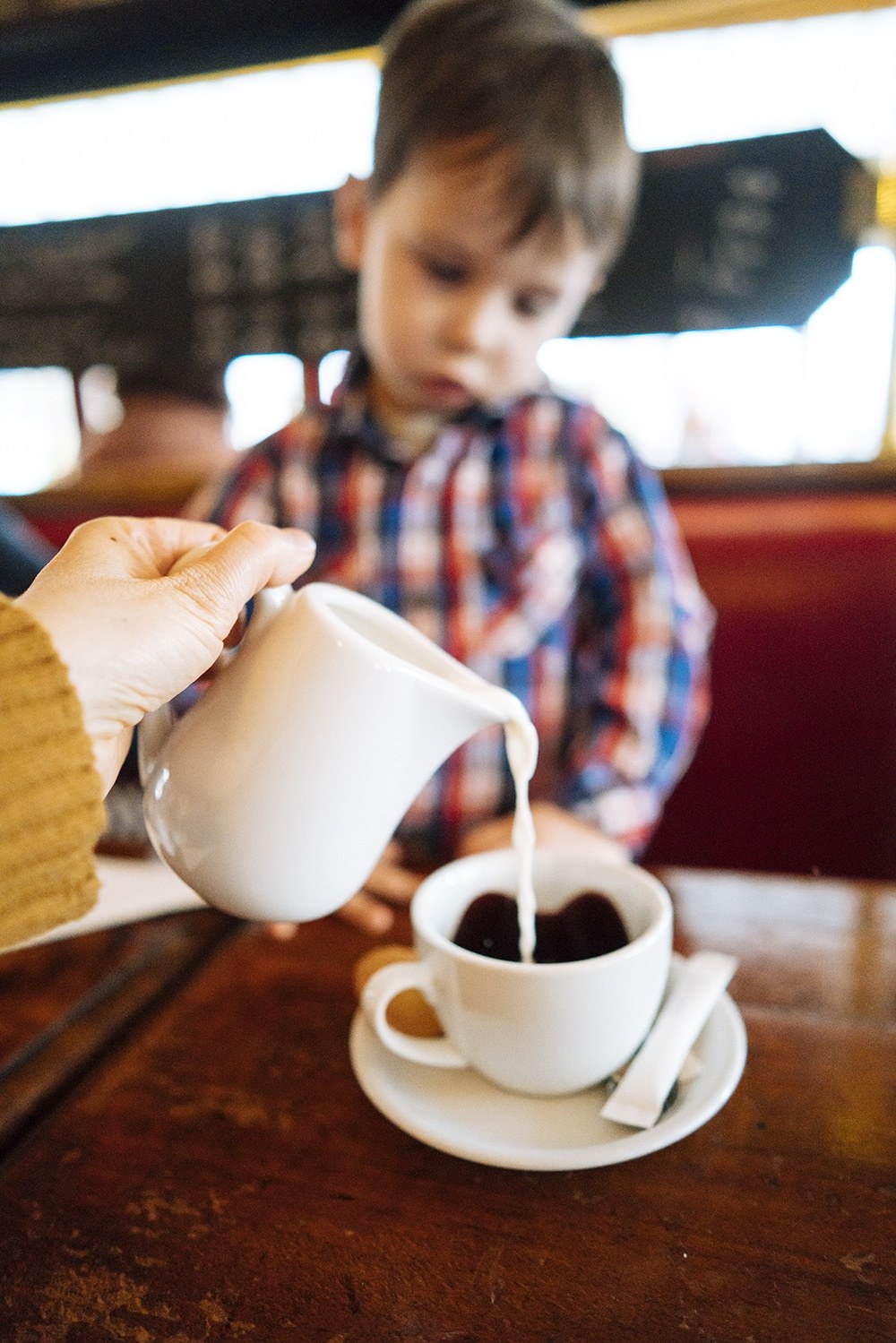 Be sure to try some "chocolat chaud" while in Paris. Thick, rich and creamy, it's unlike anything you've had at home.
7. Crepes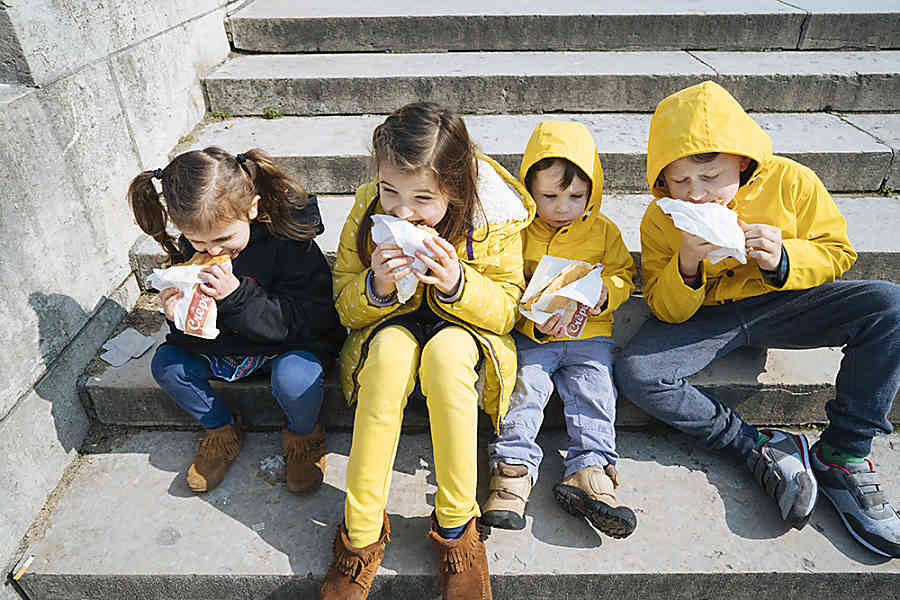 Crepes! My kids LIVE for crepes! The best part…you can find them on many street corners in Paris and they're portable, so you can eat while you walk. Get a classic Banana Nutella crepe or a savory ham and cheese crepe.
Our favorite creperie is actually the one across the street from the Eiffel Tower, next to the carousel. They are basic, but the crepes are huge and delicious!
8. Creme Brulee
This French classic tastes even better as a dessert after dining in a Parisian restaurant. Delicious eggy custard with a crunchy brulee top is pure heaven in your mouth!
9. Eclaires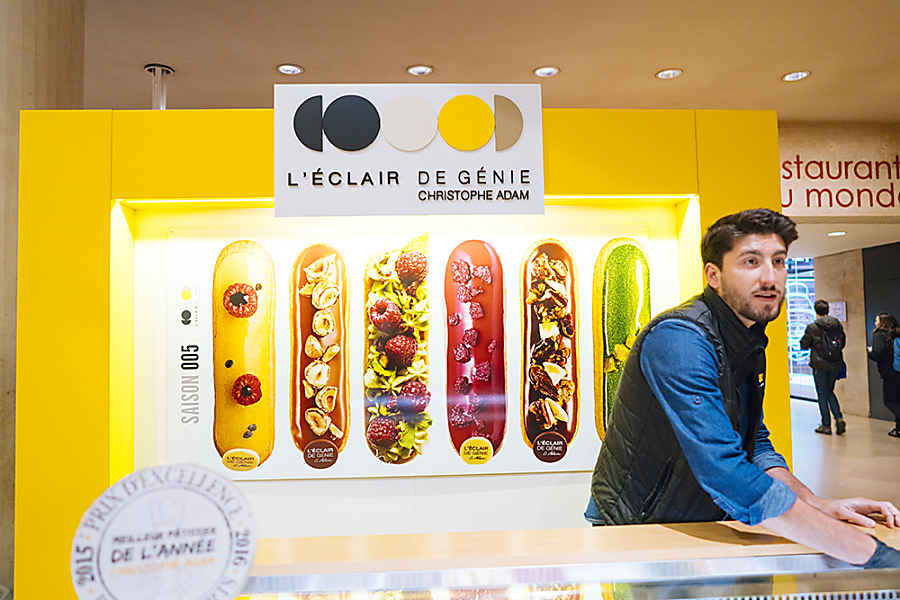 I've never really been an eclaire fan until I had these from L'eclaire de Genie. Ah-ma-zing! Mascarpone is my favorite, but we've tried almost all of them and they are to die for! I accidentally sat down and ate three one time. Whoops!
10. Gelato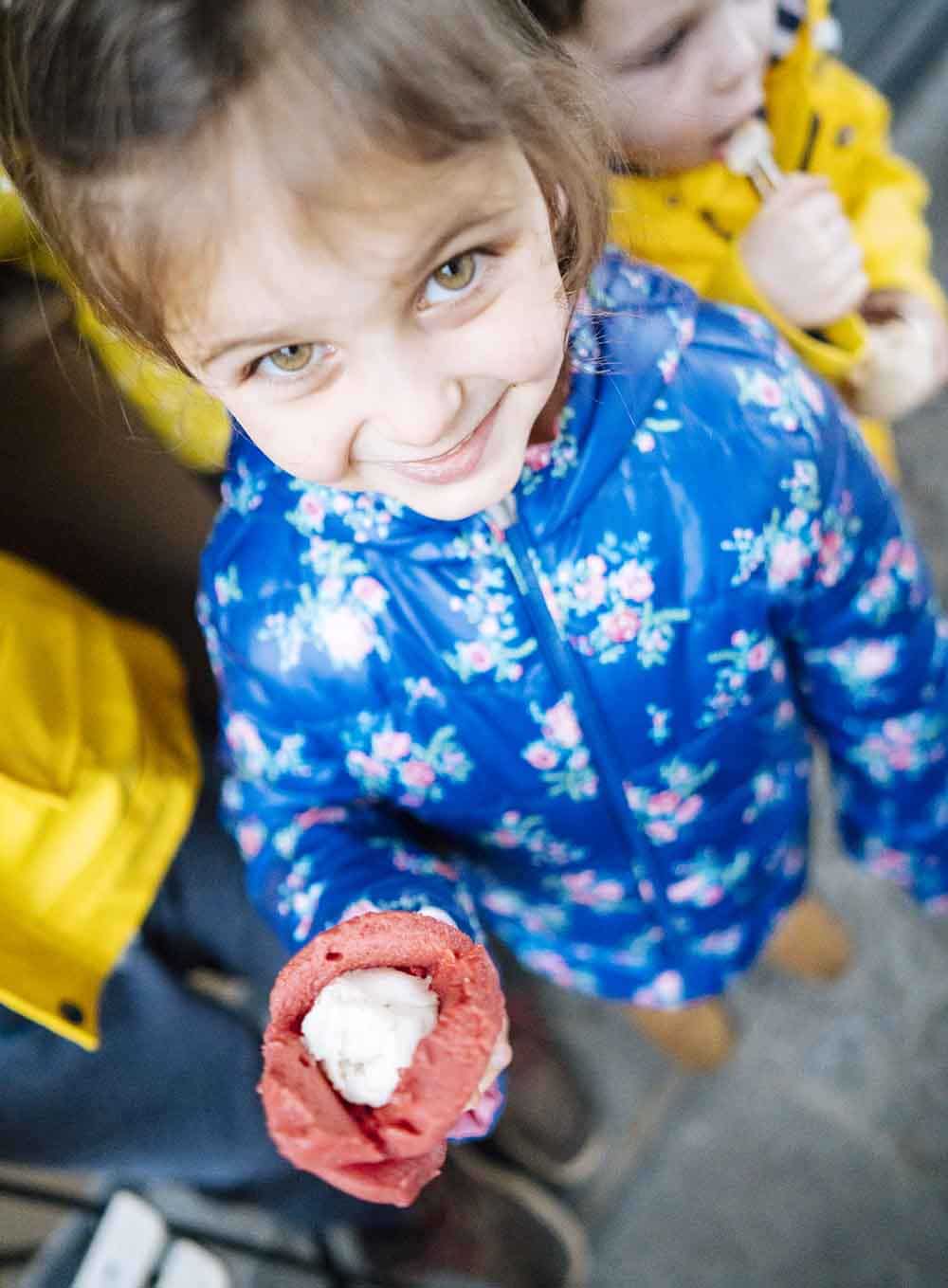 A visit to Amorino for some fancy flower shaped gelato is a must in Paris. You can find these shops all over town. We even like to brave it on a cold day. #worthit
11. Chocolate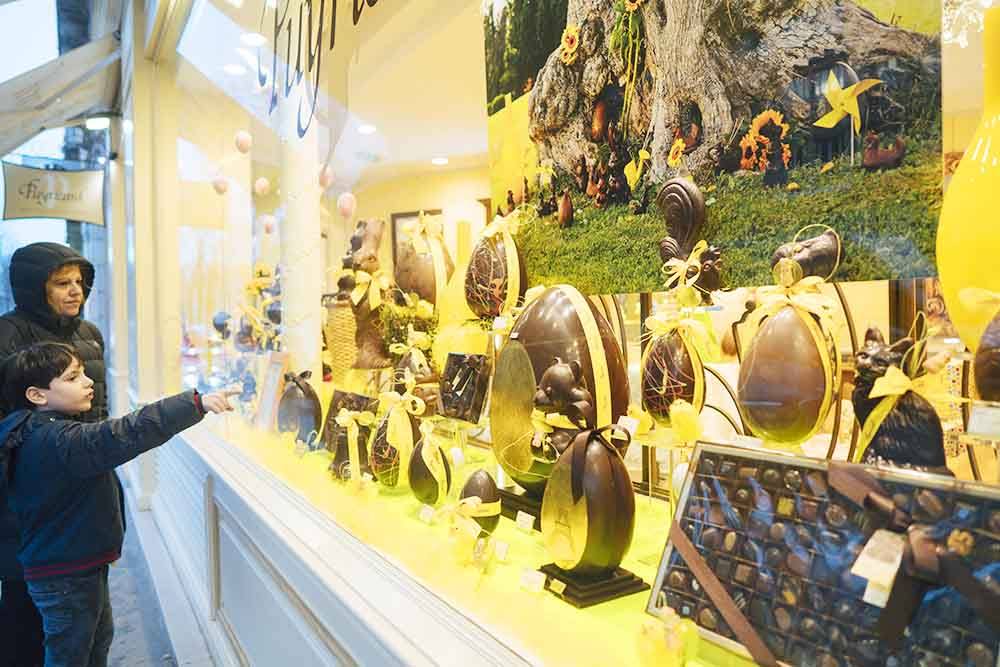 12. Duck
Be sure to order Duck while in Paris. Look for the word "canard" on the menu, you won't be disappointed!
13. Croissant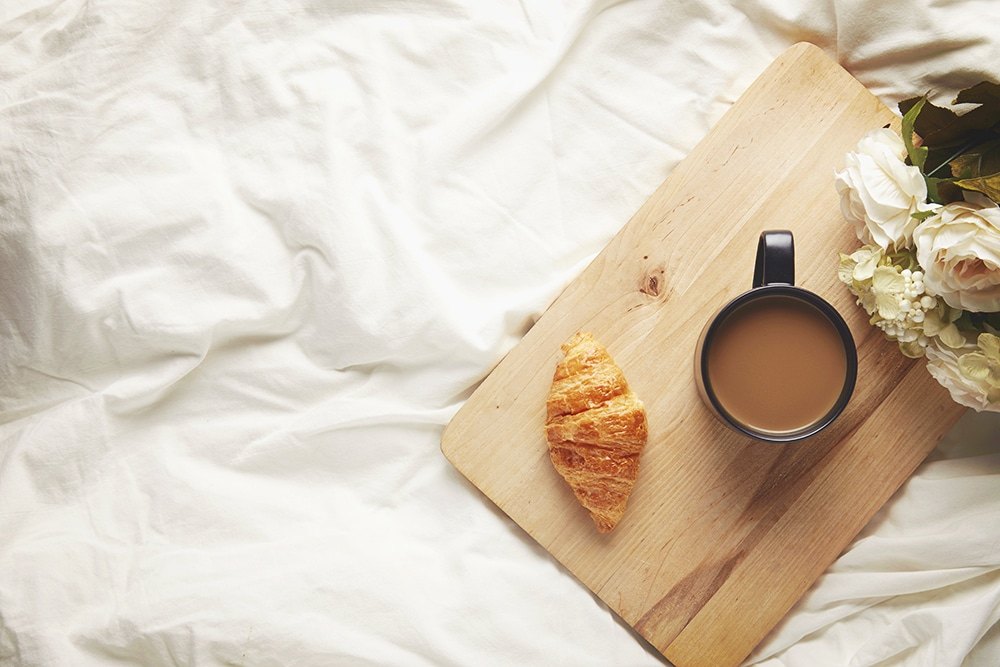 Croissants taste best in Paris. I don't know if it's the French butter, or just the extra French love they put into the sigh-worthy layers, but they're just better!
Eat at least one a day for the full Parisian experience. Most Parisian "breakfasts" will consist of a croissant and coffee. Good luck finding pancakes and eggs!
14. Oysters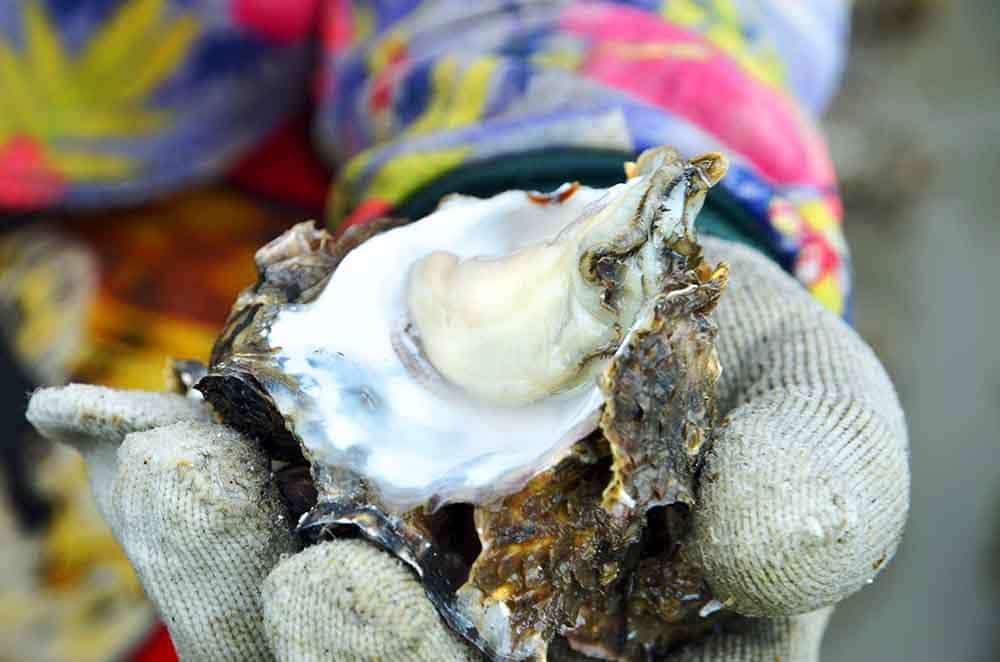 Not my favorite, but there are some seriously tasty oysters in Paris. And by oysters, I mean the garlic and butter that they're traditionally drenched in.
15. Profiteroles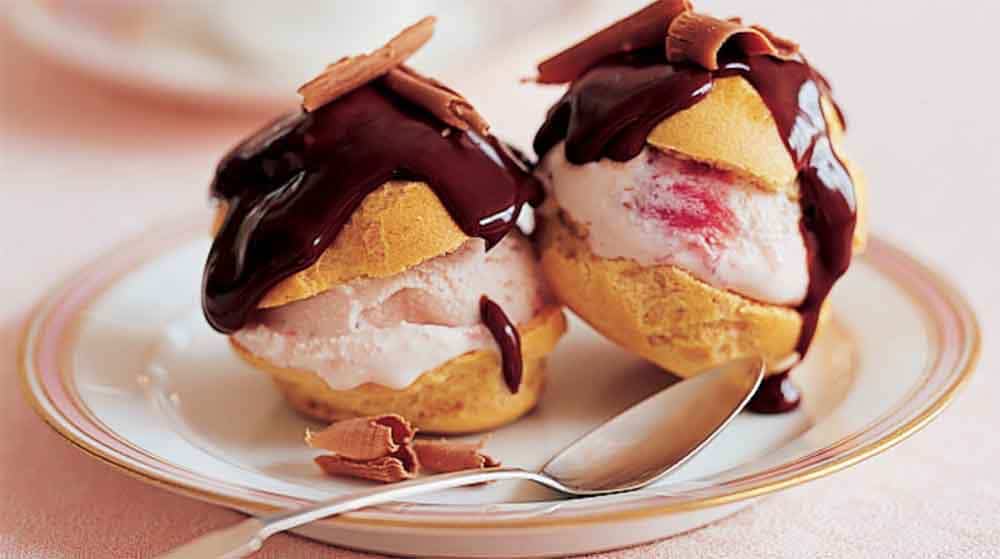 Ok, so "profiteroles" are really just a fancy name for cream puffs, but they're still amazing! Profiterole Cherie has a delicious and unique range of freshly baked and filled pastries that are sure to knock your socks off!
16. Coq Au Vin
Ok so this is basically a chicken stew, but waaaaay better! Just take my word for it!
17. Meringues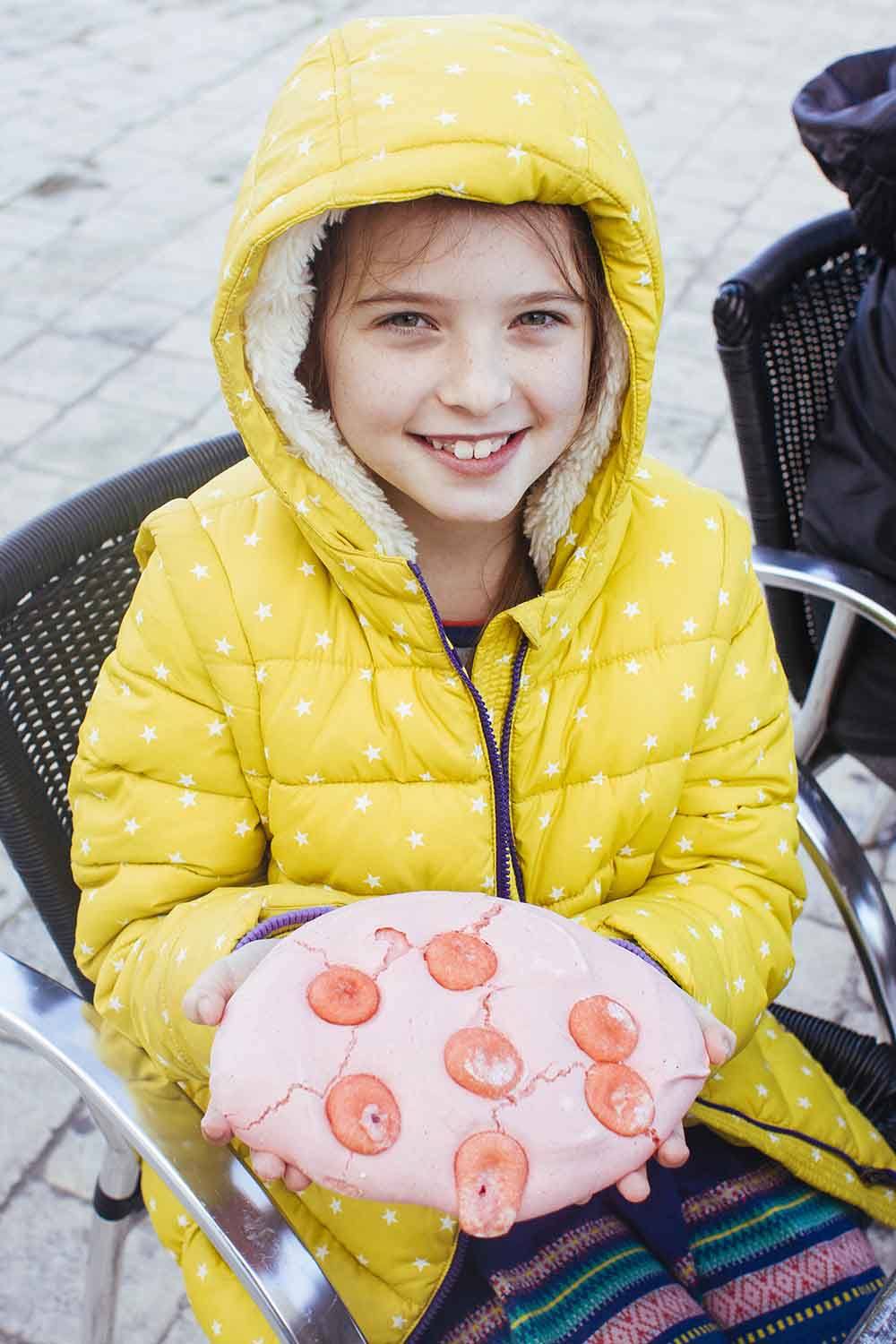 These are a bit hard to describe. You just have to try one for yourself. Beware, they are usually huge and MESSY. So basically when I'm with my kids, I hate them! But when in Rome, er, Paris…
18. French Onion Soup
You've probably had this at home, but there's nothing better to warm you up on a cold Paris night than a steaming cup of beef broth, onions, cheese and bread!
19. Foie Gras
I'm not a fan of foie gras, but Paul loves it. It tastes fine to me, but I don't like to think about how it's made. Google at your own risk! 
20. Croque Monsieur or Croque Madame
Another family favorite, these grab and go sandwiches are stuffed with ham and cheese and then fried with cheese on the outside, because….France! You can also order a Croque Madame which has an egg on top. My personal favorite, but generally needs to be eaten while seated.
21. Fish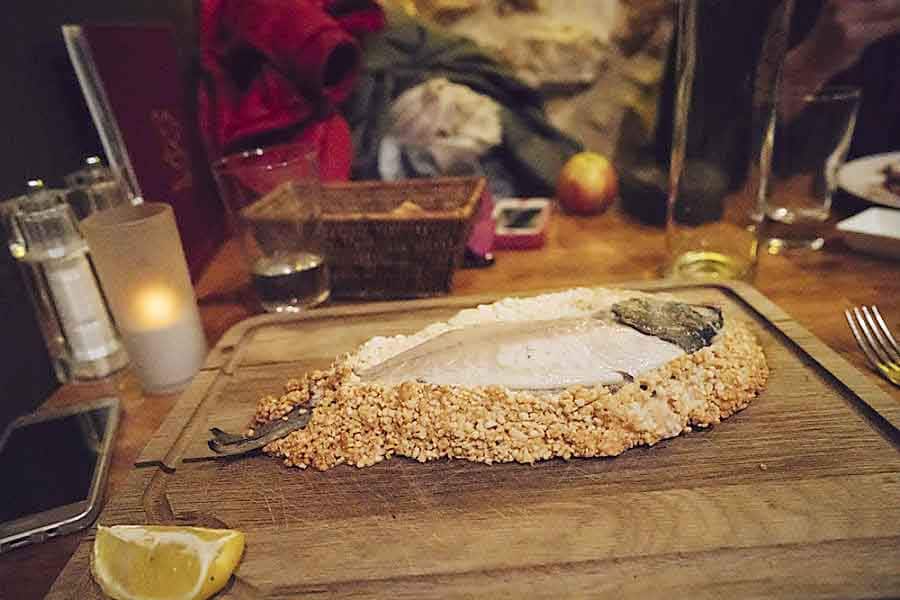 In my opinion, no one cooks fish as deliciously as the French. Drooling just thinking about all the amazing fish I've had in Paris! Try the Sole Meunière wherever you can find it. It's my favorite and the first food that Julia Child had in Paris that made her fall in love with French food. 
22. Boef Borgonion
Basically a beef stew, but BETTER because it's French ya know? Also a Julia Child favorite.
23. Quick Burger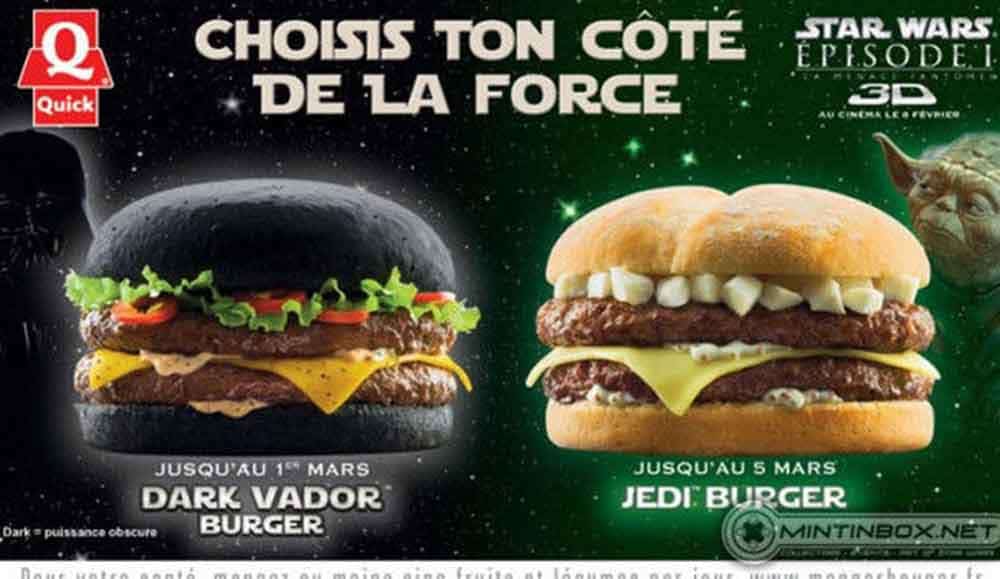 Ok, please don't laugh! Quick Burger is like the McDonalds of France, so you just gotta try it ok? Plus, who could resist these awesome Dark Vador and Jedi Burgers!? Genius advertizing!
24. Escargot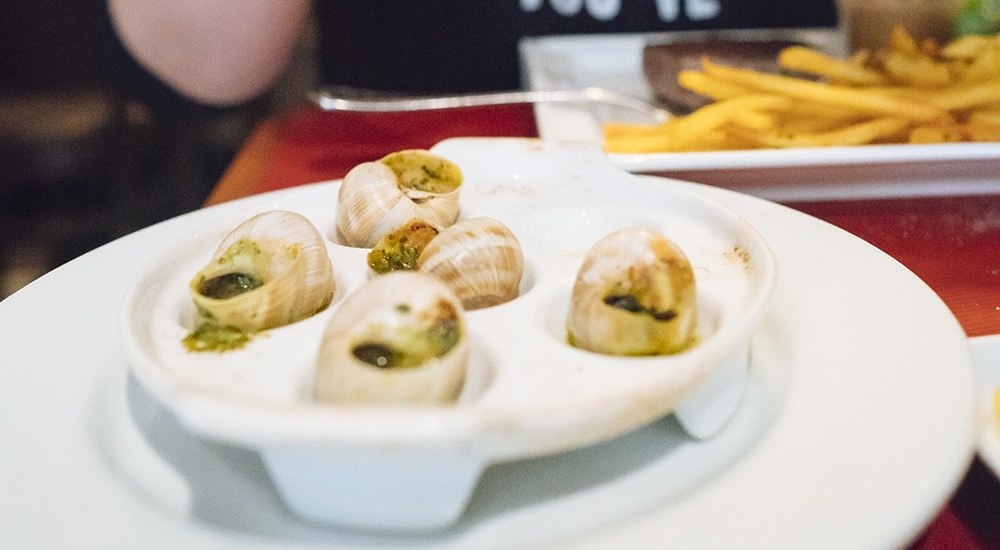 Escargot…a fancy French name for snails. Similar to oysters, they pretty much taste like whatever they're drenched in. Just slide them down your gullet so you can say you did it!
25. Frog Legs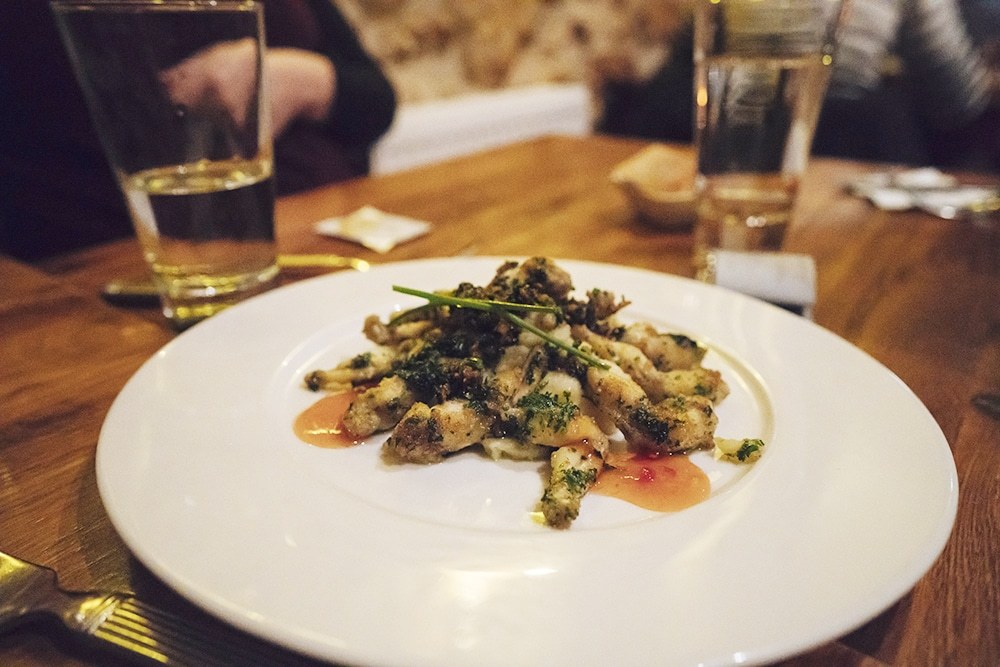 Tastes like chicken! No really, it does. Except I think I'd rather be eating chicken. These legs from Sacre Fleur were pretty amazing though!
How to Pick a Parisian Restaurant
You are going to have your pick of amazing restaurants to choose from in Paris. 99% of the time you will walk away feeling satisfied, but here are some tips for choosing local hidden gems over tourist traps:
Find a main tourist attraction (Notre Dame, Eiffel Tower, Louvre, etc.)
Walk AWAY from said attraction at least 3 blocks or so.
Find somewhere SMALL. Parisian restaurants are known for their tight fits and sharing tables with strangers. I've met many lovely strangers just by dining with them out of necessity.
Look for French menus on display. This means that locals usually frequent this spot.
Look for small menus without pictures.
Look for a crowd of French people. Use your ears…is everyone seated speaking French? Then you're good to go. If it looks like 100 Americans, then walk away.
Read Trip Advisor Reviews
Our Favorite Parisian Restaurants
Les Papilles
Les Papilles was definitely our favorite. It is strictly reservation only at least weeks in advance and there is no Menu.
You get what the chef cooks that night, which is always incredible and consists of a 5 course meal which is eye wateringly beautiful! Seriously, tears coming to my eyes thinking about it. If you have dietary restrictions or picky eaters, this isn't the place, but it is amazing!
Sacree Fleur
Sacree Fleur is another amazing restaurant that we made reservations at last minute. Amazing meats, vegetables, fish, and desserts! And the owner is so nice and loves to practice his sarcasm on Americans.
There are plenty of amazing restaurants in Paris and I couldn't fit them all here.  Follow the above steps and you won't go wrong.
I hope you get a chance to try all the amazing food the Paris has to offer.