25+ Foods You HAVE To Try In Paris and Where to Find Them
This post contains affiliate links
Pack your bags and leave room in your stomach! If you're going to Paris, you MUST try these 25 foods!
25+ Foods You MUST Eat In Paris And Where To Eat In Paris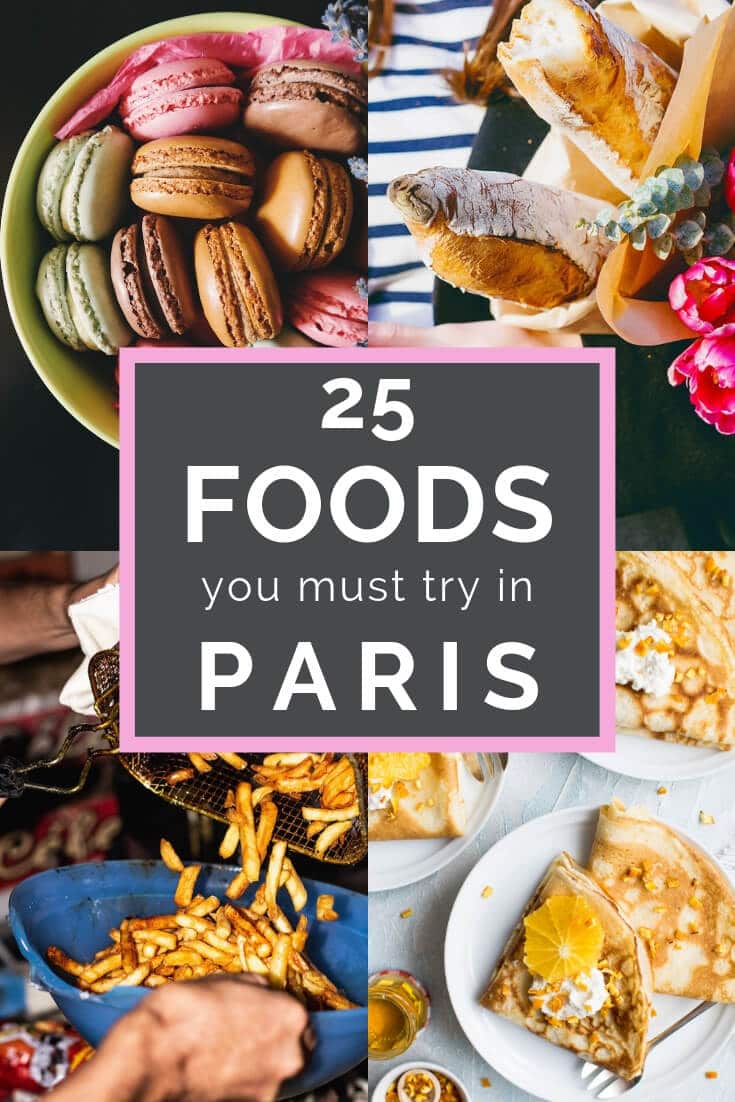 For me, the best part of visiting Paris is, by far, the food. It's honestly hard to have a really bad meal in Paris. Believe me, I've eaten enough that the odds are pretty good that you'll have some incredible French cuisine without even trying. French culture really prioritizes the appreciation of quality food, and that shows as you're eating around the city.
I grew up on a very cultural diet, French food being a big part of it. Crepes were always a standard meal in our house along with duck and French bread. So it sometimes feels like coming home when I eat in Paris.
If you've ever read one of my favorite books, My Life in France, which documents Julia Child's years in France before she became a famous cookbook author and cooking show host, you will understand this deep connection to French food and why it is just so captivating.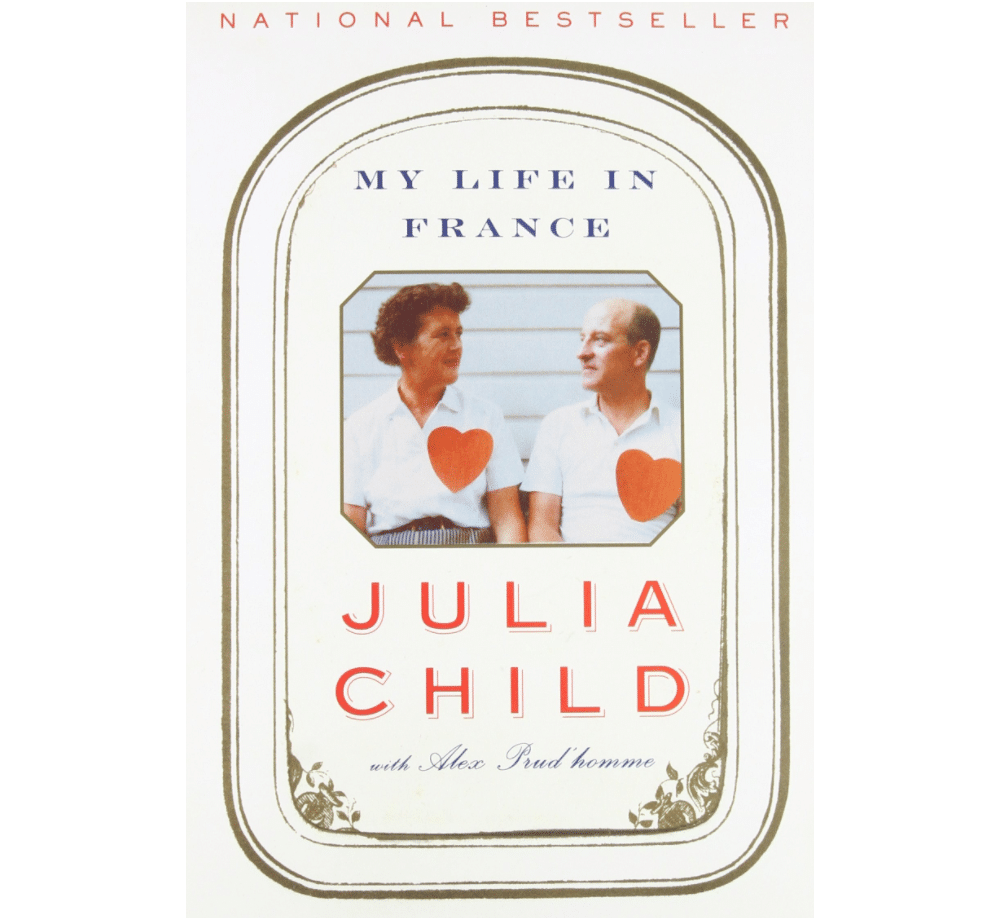 Please do me and yourself a favor and just throw the diet out the window while you're in the French capital! Some of your best memories in Paris will come from eating and rest assured, you will burn it off with all the walking around the city you'll be doing!
Every time I go to Paris, I end up leaving feeling super healthy. I don't know if it's the walking or the abundance of fresh fruit, vegetables, and fish or WHAT, but French food just makes me happy!
Whether you're grabbing a crepe on the street or eating at a Michelin starred restaurant, I hope this Paris food guide helps you decide which food you want to prioritize and where to find it.
Take A Food Tour In Paris
If you're worried about being able to fit all of this delicious Parisian cuisine into your trip, I highly recommend taking one or more Paris food tours! It's a great way to try local food in Paris while getting to know all the ins and outs from a pro! This 3-hour Paris food tour is great and will take you through several Paris food markets where you'll get to try some of the best cheese, bread, chocolate, and other local foods.
I also love this tour because it involves two of my favorite things: food and history! Does it get any better than that? You'll learn all about the famous food in Paris and also some unique surprises you may not have thought of.
Take A Cooking Class In Paris
If you're loving all the food in Paris, consider learning how to make it yourself at one of these amazing cooking classes:
If you need more inspiration, see my Paris Walking Guide.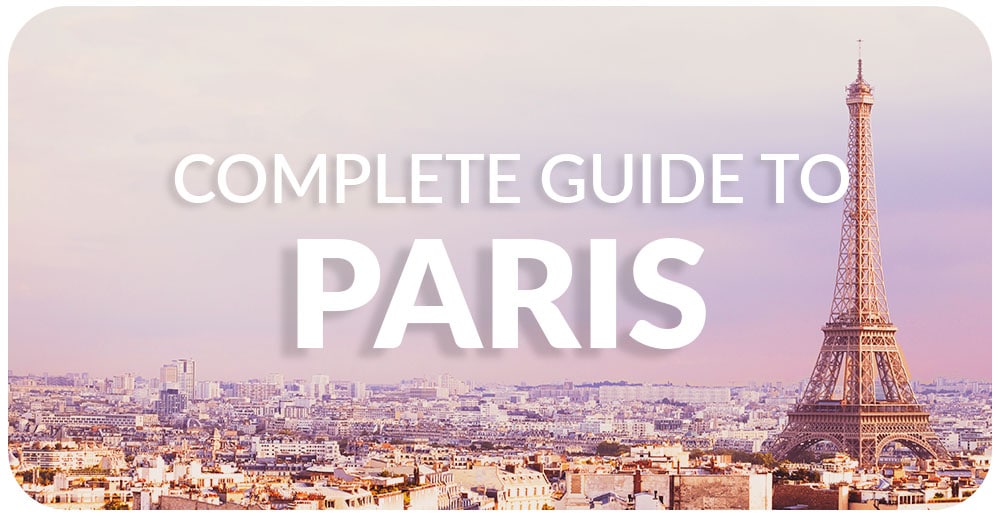 If you're wondering what to eat in Paris, this list of French food list will help you decide what and where to eat.
25+ Foods You MUST Try In Paris and Where to Find Them
All of the famous French food in Paris will have you drooling just reading about it, but wait until you arrive and smell the amazing aromas of the city! These are the 25 Paris foods that you must try when you visit!
1. Inhale Fresh Bread From The Boulangerie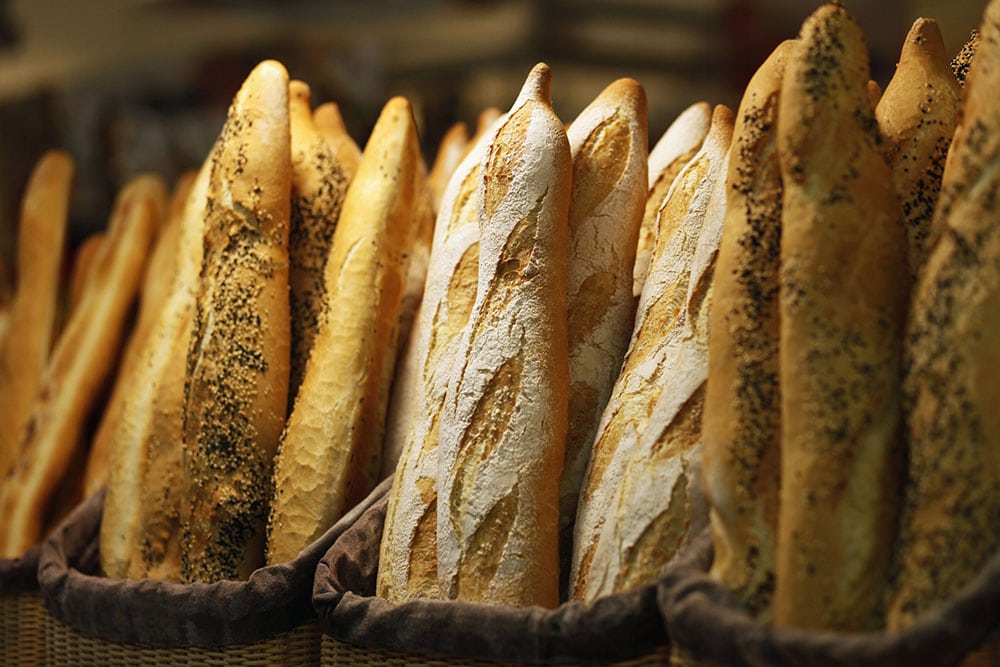 This famous Paris food is not to be missed! There's nothing better than crunching on a baguette fresh out of the oven! Wandering the streets of Paris with a baguette in hand is essential!
Read about how to pick the best baguette here. My stomach generally does not do well with bread or gluten in the US, but for some reason, I can eat bread in France all day long with no problems! I'm not sure if it's the different ingredients or maybe just all the walking that is required in Paris, but it's great!
Any boulangerie (bakery) will have baguettes you can choose from. My recommendation is just to buy whatever baguette the local in front of you does. You may be surprised, but I don't think you can go wrong! Bread is definitely the most famous food in Paris and should not be missed if you can eat it.
Where to Find Baguettes in Paris: Literally on every corner of Paris. Ask your hotelier where their favorite boulangerie nearby is. I personally love Eric Kayser, which is a Parisian bread chain and can be found in several locations in Paris.
2. Have Chocolate For Breakfast – Pain au Chocolate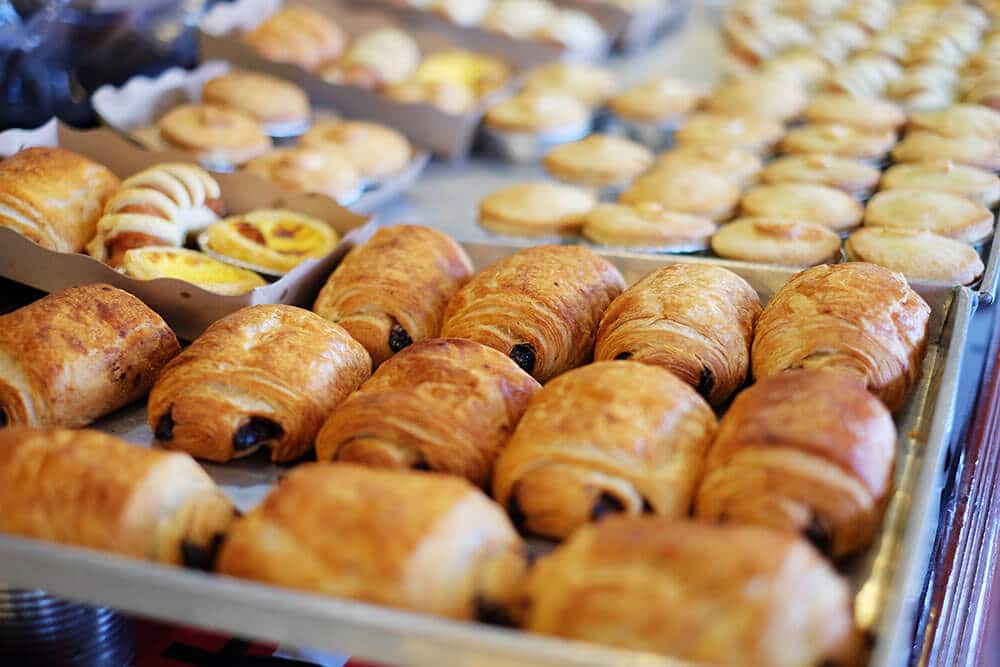 Go ahead and give yourself a pass on this trip. Have that chocolate croissant for breakfast. Once you take your first bite, you won't regret it! Any boulangerie (bakery) or patisseries (pastry shops) in town will have "pain au chocolat,", especially in the morning. Try to get there right at opening to get them as fresh as possible, that's when they're the best!
Where to Find Pain au Chocolat in Paris: Again, any boulangerie will carry pain au chocolate. Just ask your hotelier where the nearest boulangerie that they like is located. It will likely only be a block away from your hotel. You can probably just follow your nose in the morning and find one yourself!
3. Try as Much French Cheese as Physically Possible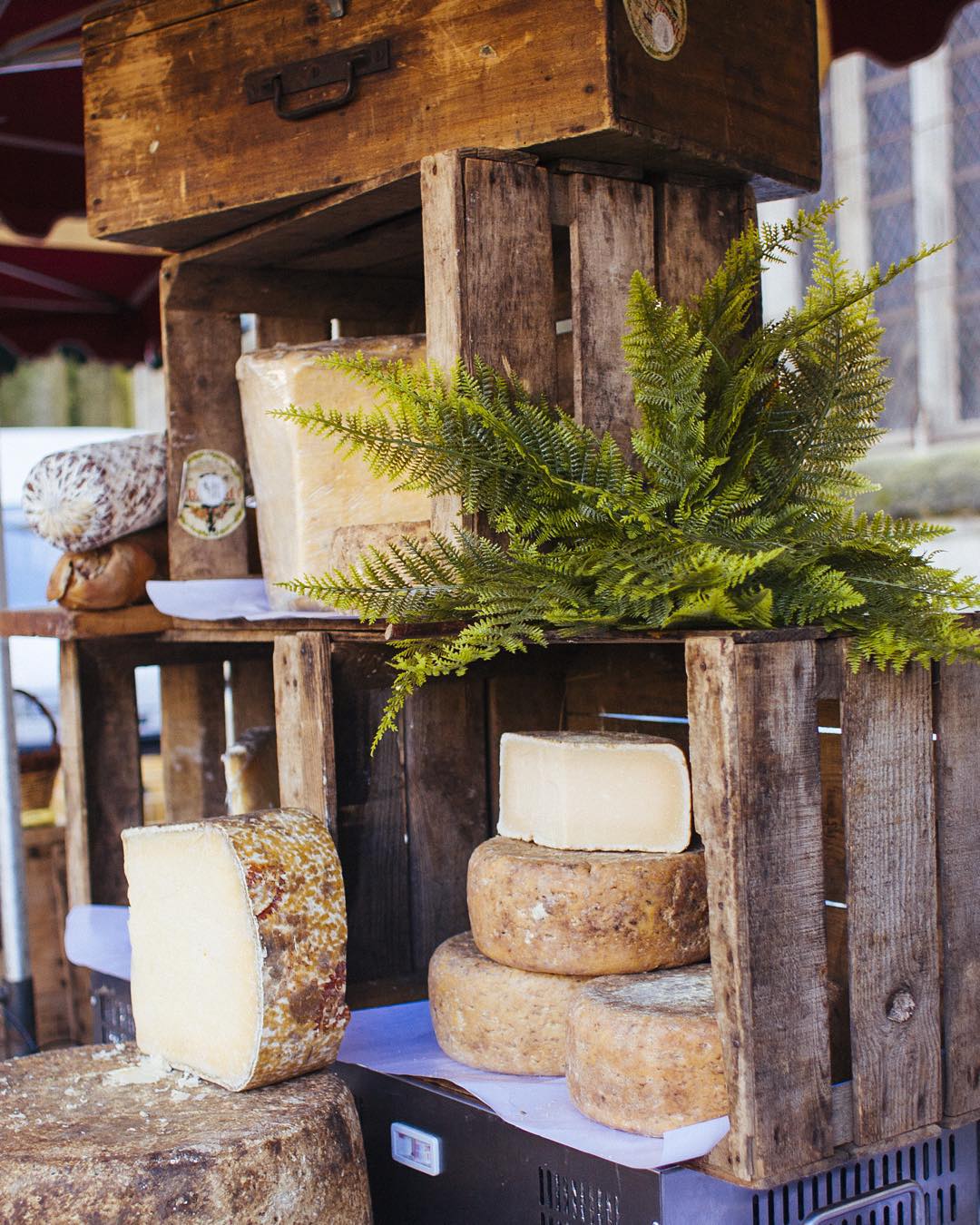 The best part about eating French cheese in Paris is how CHEAP it is! Most cheese is at least half the price of what you find in the United States, so eat it up! At €2 how can you pass up a big slab of delicious brie?
Taking a food tour is a great way to be able to try many types of French cheeses and also to learn about cheese making and which cheeses are the best in Paris. Or stop into one of the many cheese shops in the city and buy a few to take back to your hotel and do some private sampling. No shame!
You can also find French cheese at almost any Paris restaurant. In France, cheese is generally served as a dessert course, not a snack.
Cheese is one of the best cheap eats in Paris. I am always baffled by how cheap cheese is in Paris!
Where to Find Cheese in Paris: You can find cheese anywhere, from the supermarkets to small cheese shops. Some of my favorites are:
Tako & Vermo
Fromagerie Sanders.
4. Eat A Hearty Meal Of Steak Frites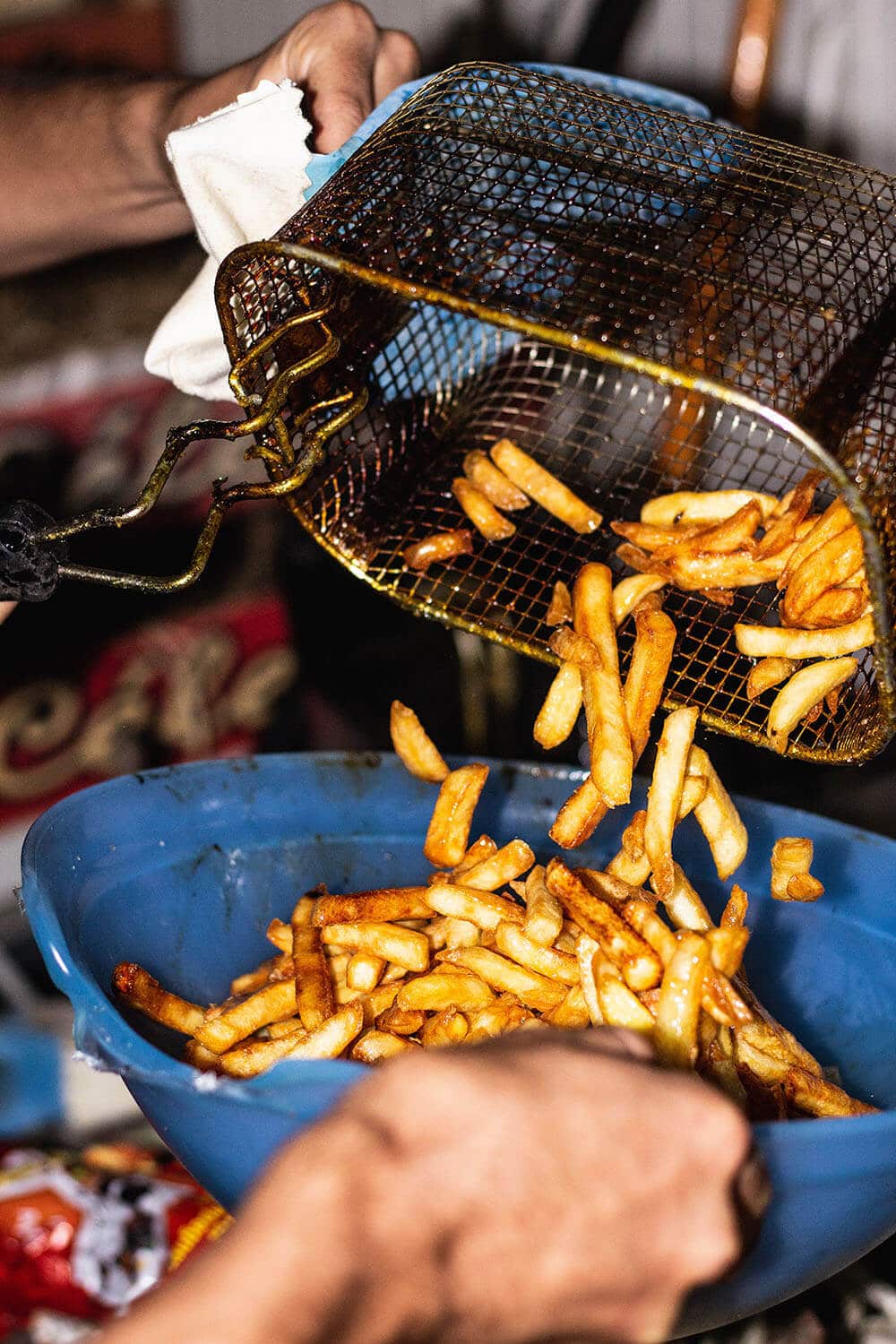 This is a French classic and most people are surprised to find that french fries really ARE French! This was the most shocking French food fact when I first came to Paris. Stop into any bistro for this hearty meal after a long day of walking around Paris!
Where to Find Steak frites in Paris:
Le Relais De L'Entrecôte
Au Bœuf Couronné
Sur La Braise
5. Eat The Tastiest Cookies On Earth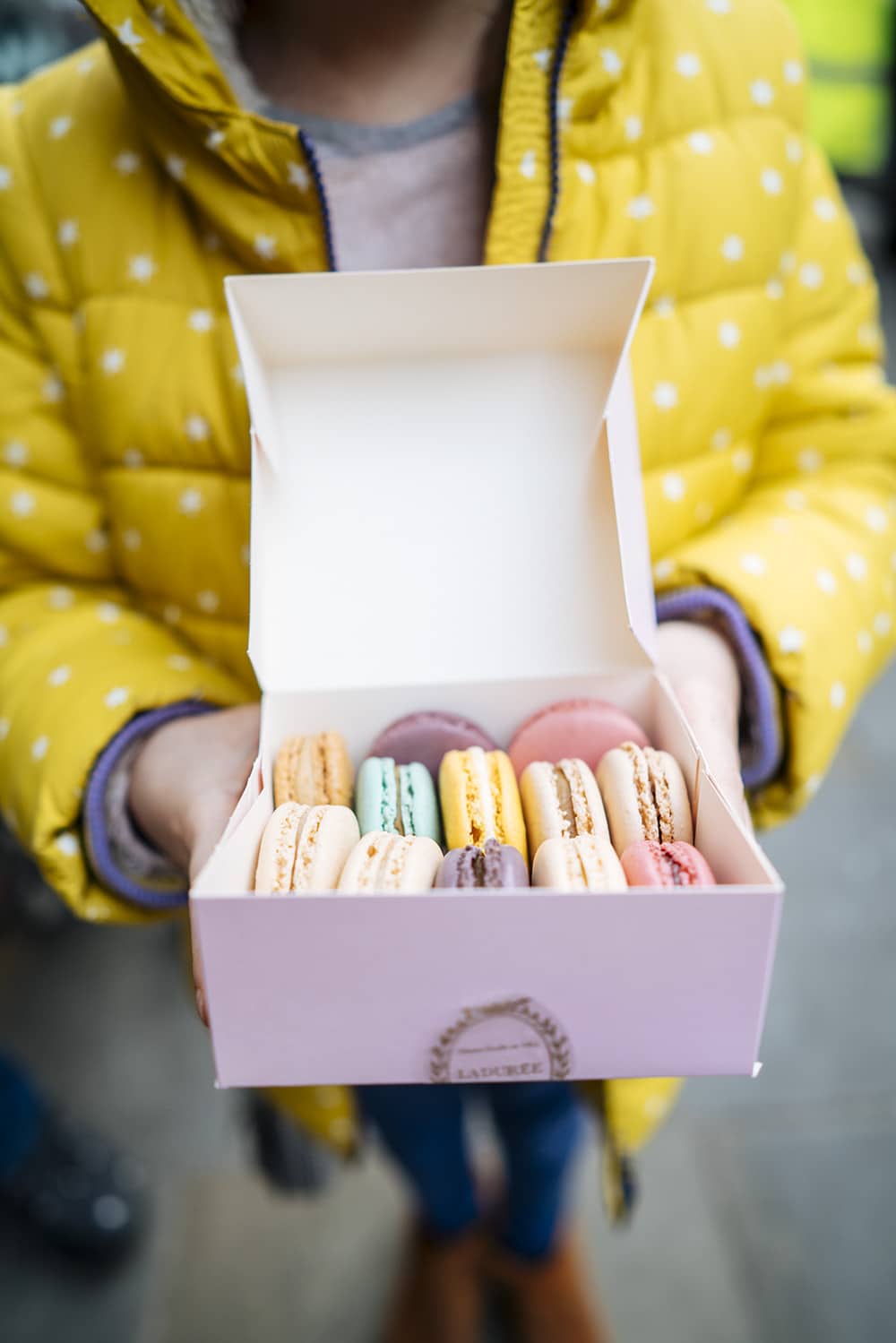 We can't talk about Parisian food without mentioning macarons, one of the city's most famous foods! Macarons are like eating cookies on a cloud while riding on a unicorn! These little morsels of goodness are made from sugar and almond flour and are gluten-free. You can find them in all sorts of flavors and all around Paris.
Ladurée and Pierre Herme are some of my favorite macaron shops in Paris.
Take a Pastry Tour in Paris to try the best Macarons and other pastries all around the city!
Where to Find Macarons in Paris:
6. Sip On Real Hot Chocolate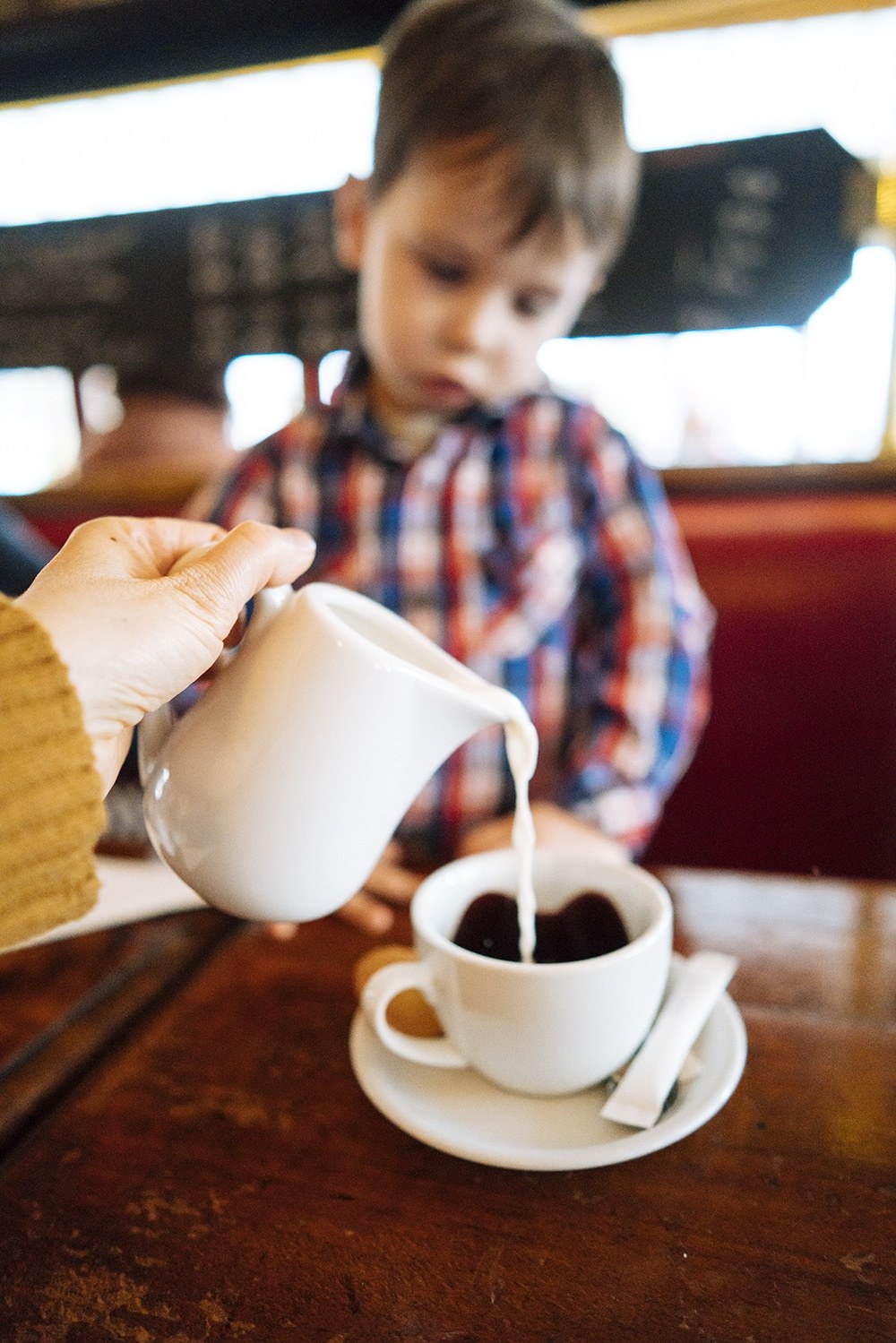 Be sure to try some "chocolat chaud" while in Paris. Thick, rich and creamy, it's unlike anything you've had at home. Unlike American hot chocolate, which is usually made with a sugary powder, French hot chocolate is made with actual hard chocolate, melted with milk, and way less sweet!
There are so many places in Paris to get hot chocolate including small cafes, restaurants, and chocolate shops. The best hot chocolate in Paris is up for debate, but I'll share some of my favorites with you.
Where to Find the Best Hot Chocolate in Paris:
Angelina Paris – Often touted as the best hot chocolate in Paris, this thick, dark drink is for serious chocolate lovers who feel like drinking a chocolate bar. I'm not complaining!
Ladurée – While Ladurée is generally famous for its macarons, they also have excellent hot chocolate.

Jacques Genin

– This master chocolatier has got it right! You won't be sorry. You can also enjoy your hot chocolate in their lovely tea room.

Un Dimanche à Paris – This thick and smooth chocolate can be found near Odean and be sure to check out their chocolate shops as well.
7. Indulge In Crêpes: The Tastiest Street Food Ever!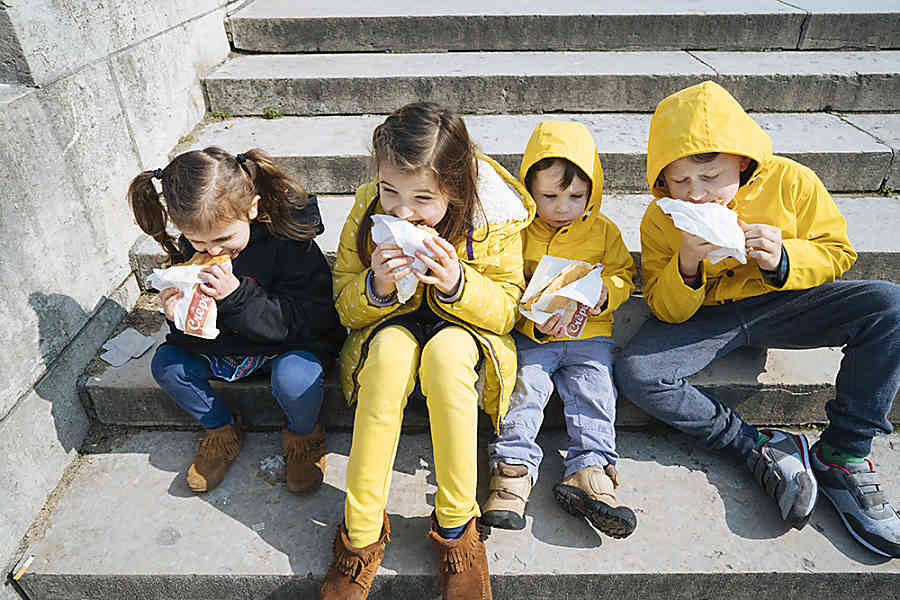 Another one of the most famous foods in Paris: crêpes! My kids LIVE for crêpes! The best part…you can find them on many street corners in Paris and they're portable, so you can eat while you walk. Get a classic Banana Nutella crêpes or a savory ham and cheese crêpes. This is one of the best Paris food to grab if you're in a hurry.
Our favorite crêpeerie is actually the one across the street from the Eiffel Tower, next to the carousel. They are basic, but the crêpes are huge and delicious!
Where to Find the Best Crêpes in Paris: Crêpes can be found at most brassieres and restaurants, but there are also many crêpes that you can grab and go. Here are a few of my favorites:
Breizh Cafe
Bretons
The stand by the Eiffel Tower carousel (they're huge)
8. Let The Créme Brûlée Melt In Your Mouth!
This French cooking classic tastes even better as a dessert after dining in a Parisian restaurant. Delicious eggy custard with a crunchy brûlée (burnt) top is pure heaven in your mouth! I've learned how to make my own Créme Brûlée and it may just be the undoing of me! This dessert can be found in most Parisian restaurants around the city.
Where to Find the Best Créme Brûlée in Paris:
Le Soufflé
Chez Janou
La Fontaine de Mars
Au Petit Riche
9. Try An Eclair Or Two Or Three…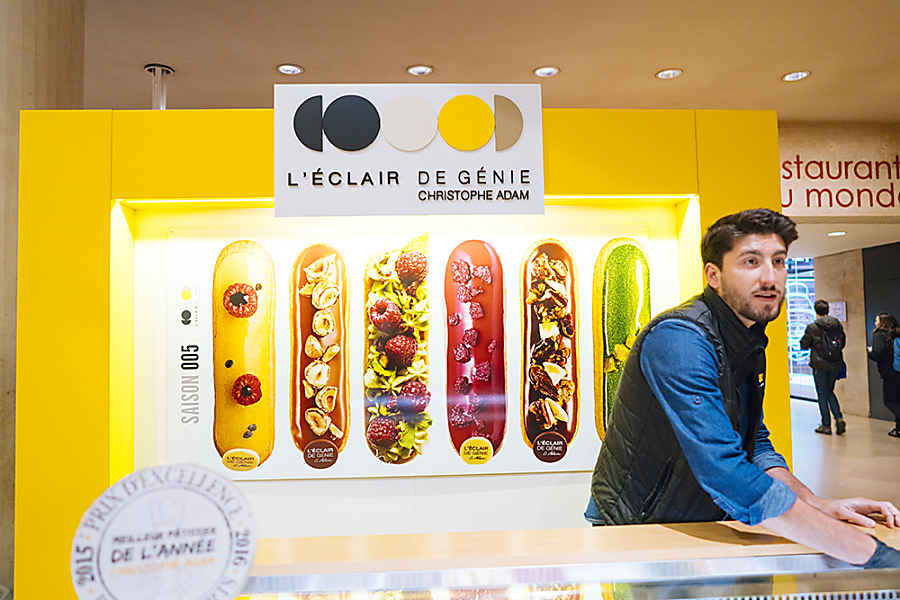 I've never really been an eclair fan until I had these from L'éclaire de Genie. Ah-ma-zing! Mascarpone and passion fruit are my favorite flavors, but we've tried almost all of them and they are to die for! I accidentally sat down and ate three one time. Whoops!
This photo is from the basement of the Louvre, but the kiosk is no longer there. You can find them all over Paris though.
Where to Find the Best Eclairs in Paris: L'éclaire de Genie, hands down, I've never had a better one!
10. Try The Prettiest Gelato In Town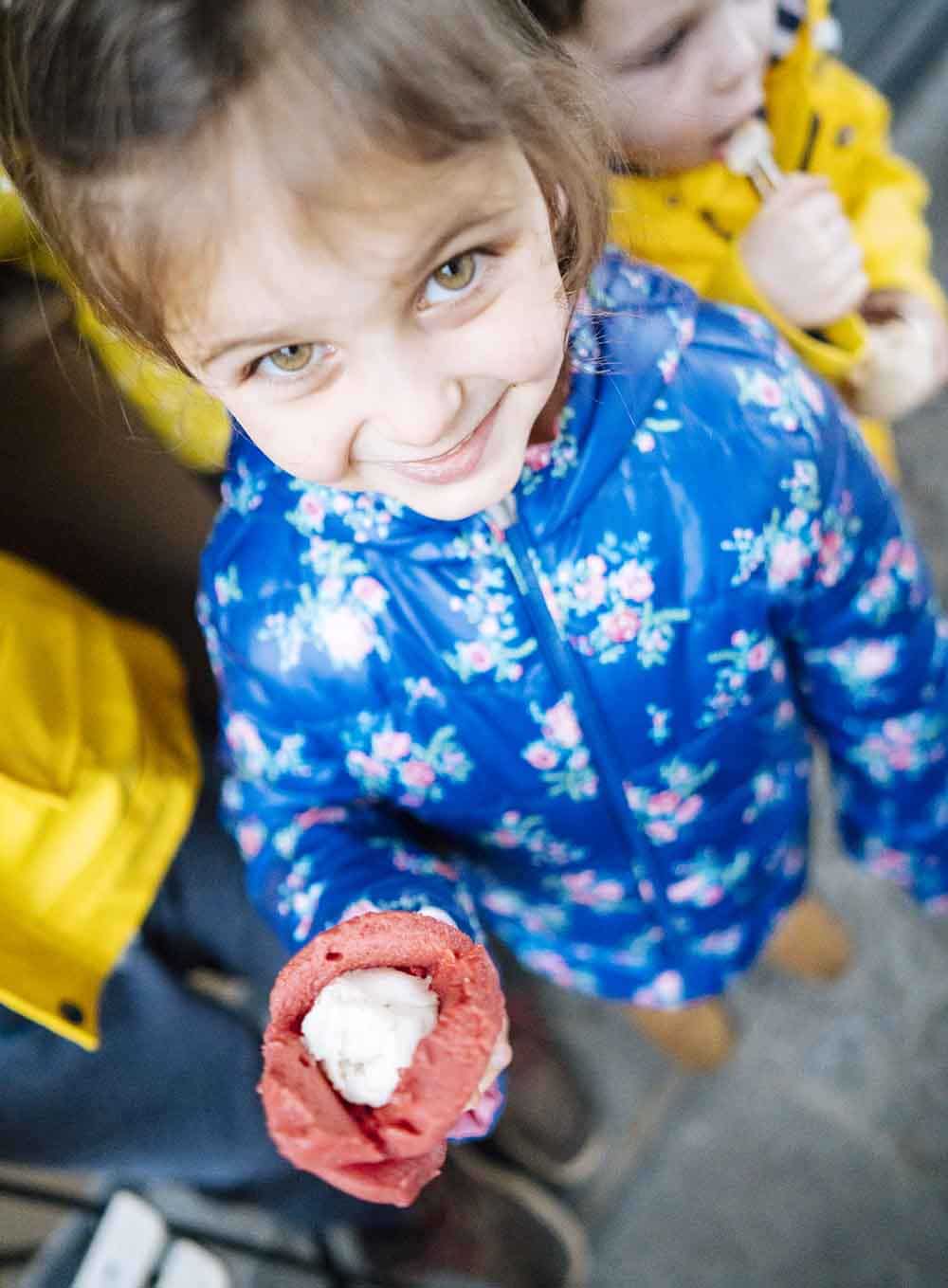 A visit to Amorino for some fancy flower-shaped gelato is a must in Paris. You can find these shops all over town. We even like to brave it on a cold day. #worthit
11. Drool Over The Prettiest Chocolate Displays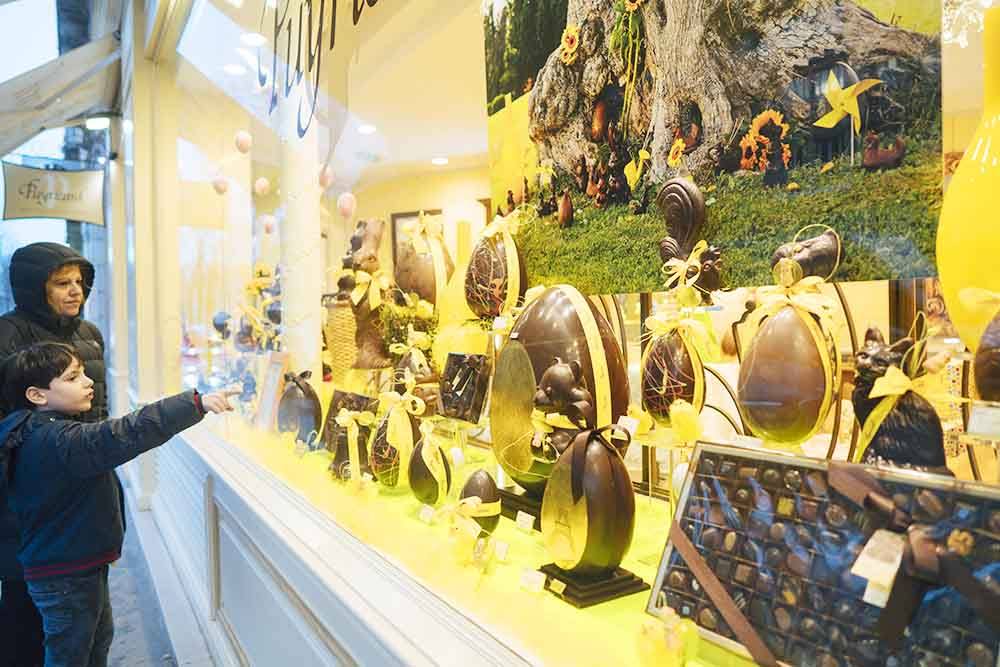 Not only does Paris do hot chocolate shops right, they are also pros at chocolate confections, boasting the most beautiful displays in shop windows, especially during Easter and Christmas! You can take a Paris Chocolate Tour which is an amazing way to try different chocolates around the city!
Where to Find the Best Chocolate Shops in Paris:
Edwart Chocolatier
Jaques Genin
Pierre Herme
La Maison du Chocolat
12. Don't Skip The Duck
Be sure to order Duck while in Paris. Look for the word "canard" on the menu, you won't be disappointed! The French know how to cook this bird right! I had previously only had duck from Chinese restaurants and wasn't really a fan, but French duck? It's a poultry-lover's dream come true!
13. Eat Your Daily Croissant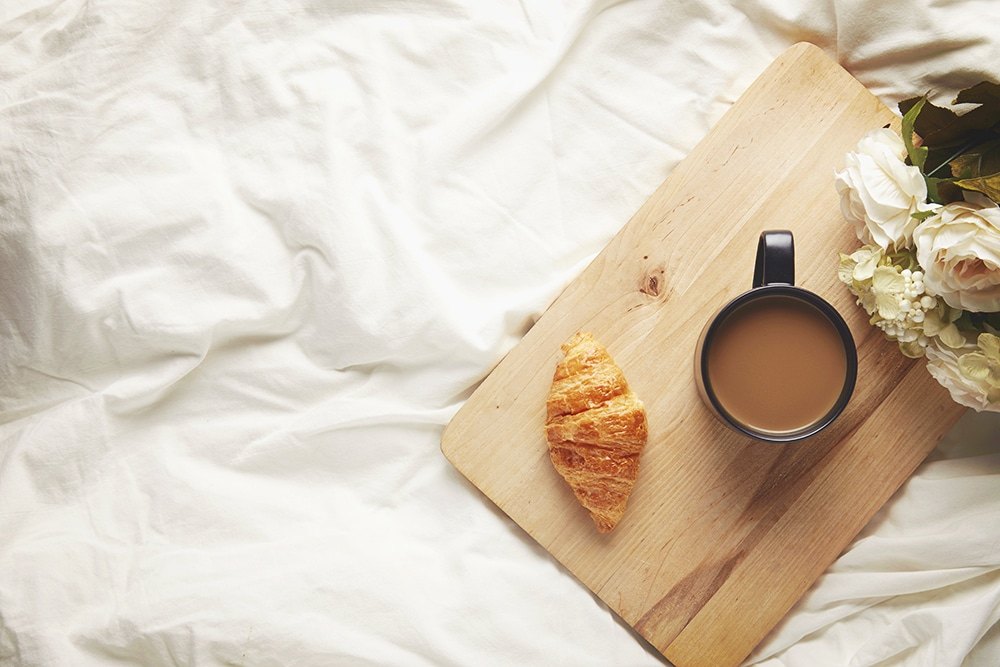 Croissants taste best in Paris. I don't know if it's the French butter or just the extra French love they put into the sigh-worthy layers, but they're just better!
Eat at least one a day for the full Parisian experience. Most Parisian "breakfasts" will consist of a croissant and coffee. Good luck finding pancakes and eggs or a more hearty breakfast in Paris!
Where to Find the Best Croissants in Paris:
Maison Pichard
Laurent Duchêne
La Maison d'Isabelle
14. Try The Oysters Or At Least The Butter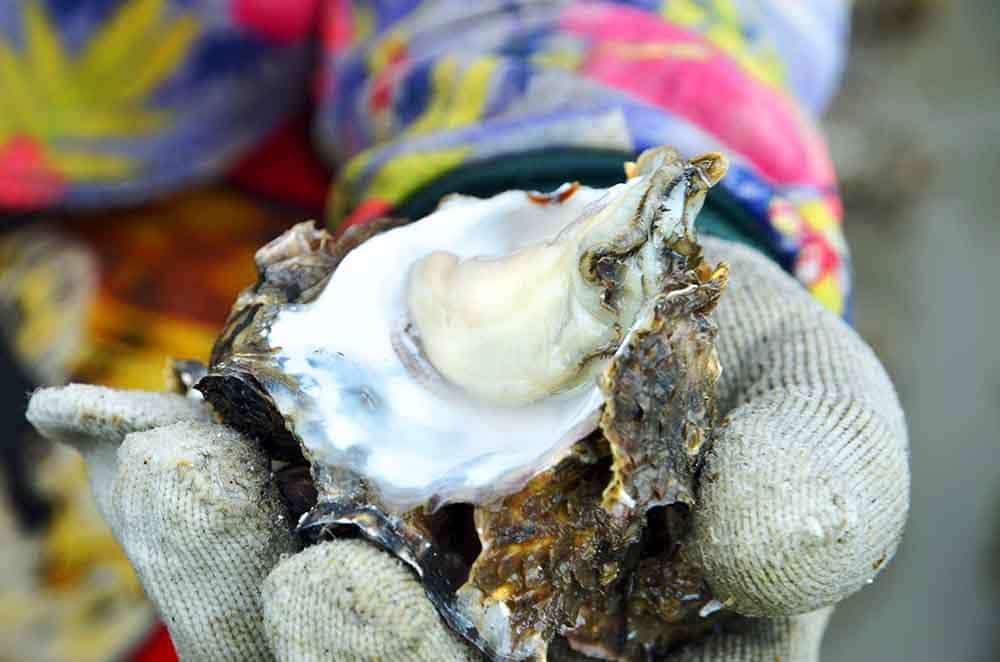 Not my favorite, but there are some seriously tasty oysters in Paris. And by oysters, I mean the garlic and butter that they're traditionally drenched in.
Where to Find the Best Oysters in Paris:
Au Cancale de Rocher
Le Mary Celeste
Le Dôme
15. See The Pro For Profiteroles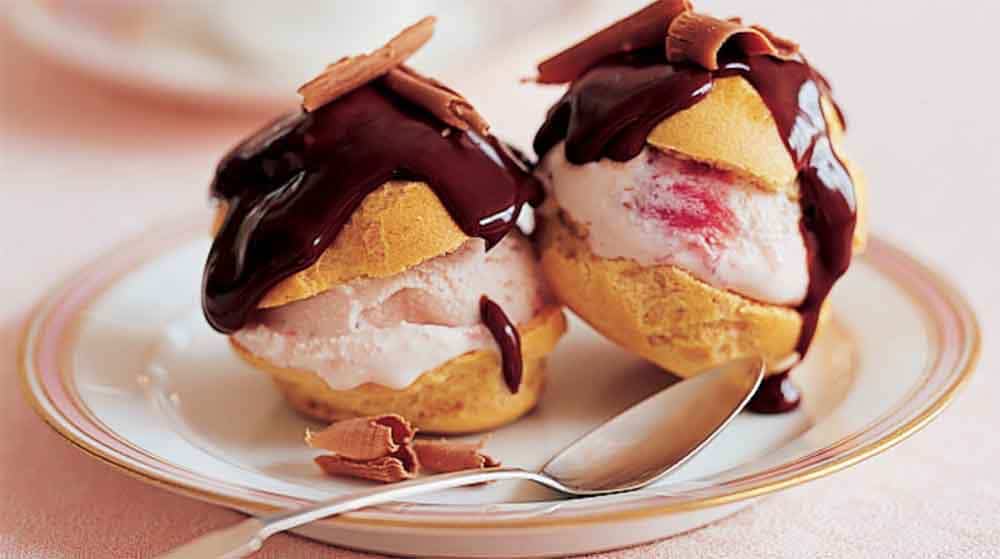 Ok, so "profiteroles" are really just a fancy French name for cream puffs, but they're still amazing! Profiterole Cherie has a delicious and unique range of freshly baked and filled pastries that are sure to knock your socks off!
Where to Find the Best Profiteroles in Paris:
Le Relais de l'Entrecote
L'Encrier
Benoir
Profiterole Cherie
16. Try Coq Au Vin On A Cold Night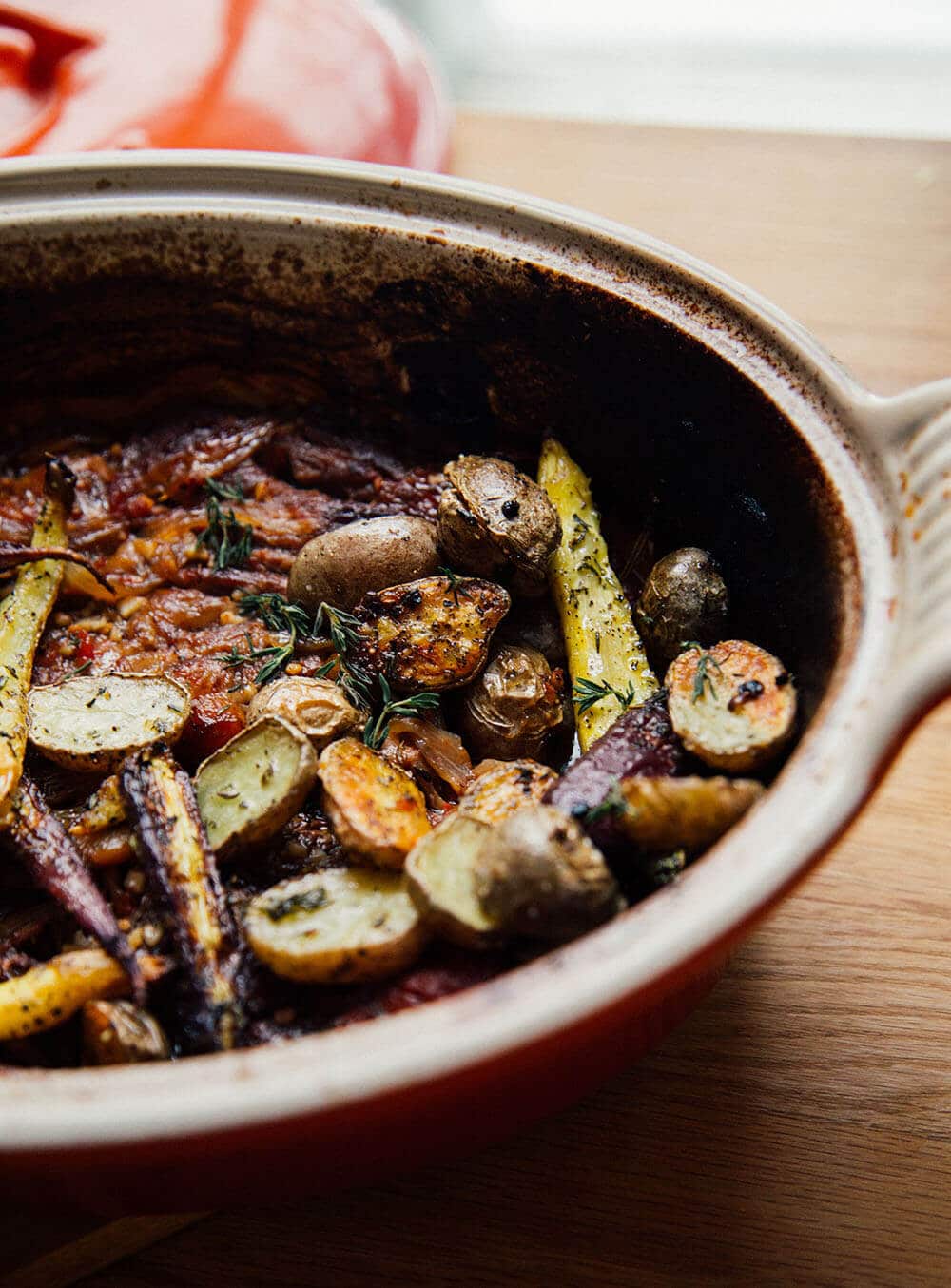 Ok so this is basically a chicken stew, but waaaaay better! Just take my word for it! I didn't have an oven when we lived in France, so I became the master of cooking this in an old school pressure cooker! It's one of my family's favorite dishes now and I make it every Holiday season!
Where to Find the Best Coq Au Vin in Paris:
Le Coq Rico
Le Precope
Auberge Bresane
17. Satisfy Your Sweet Tooth With Meringues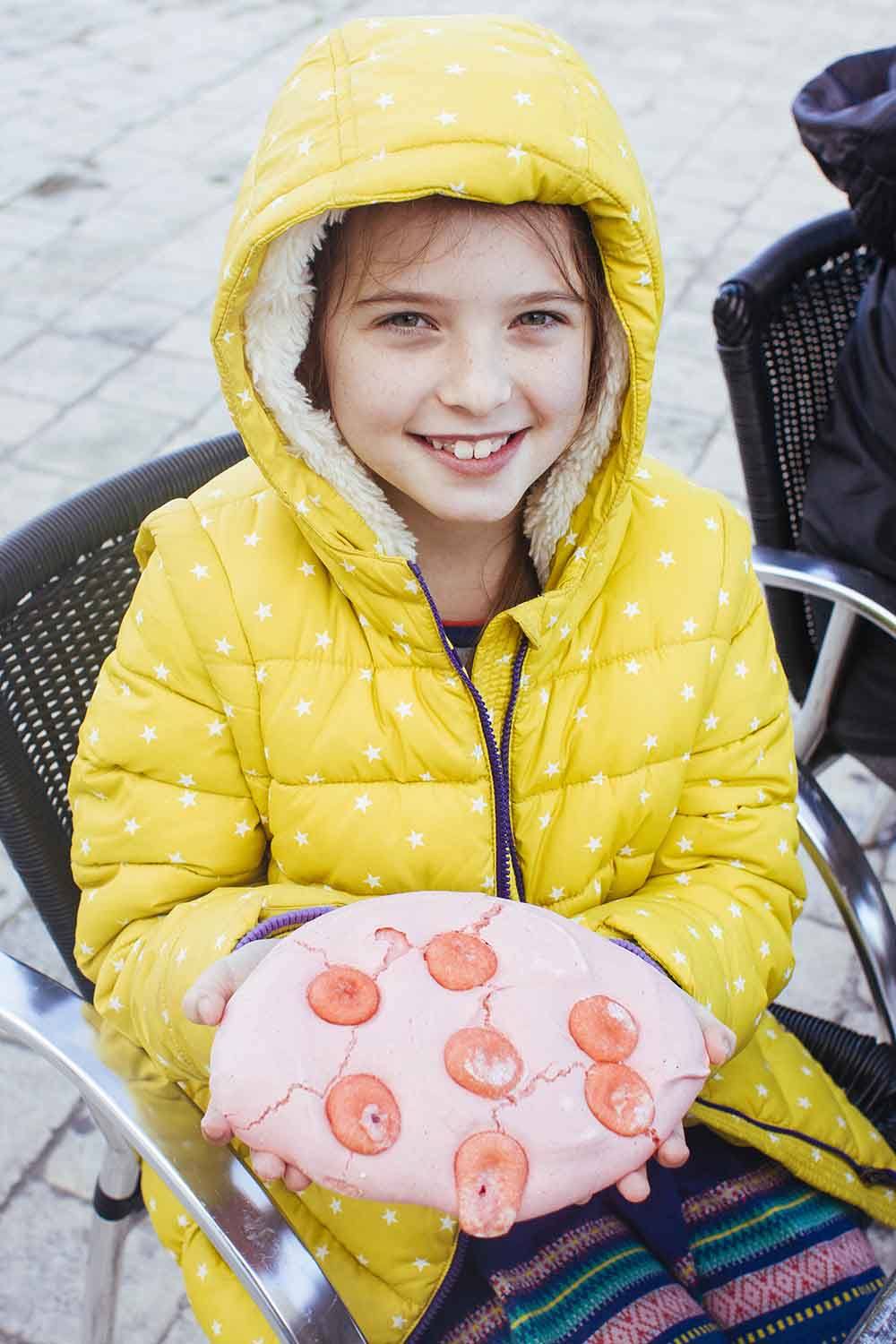 Meringues are a bit hard to describe. You just have to try one for yourself. Beware, they are usually huge and MESSY. So basically when I'm with my kids in Paris, I hate them! But "when in Rome", er, Paris…
Where to Find the Best Meringues in Paris:
Aux Merveilleux de Fred
Le Loir dans la Théière
18. Try Real French Onion Soup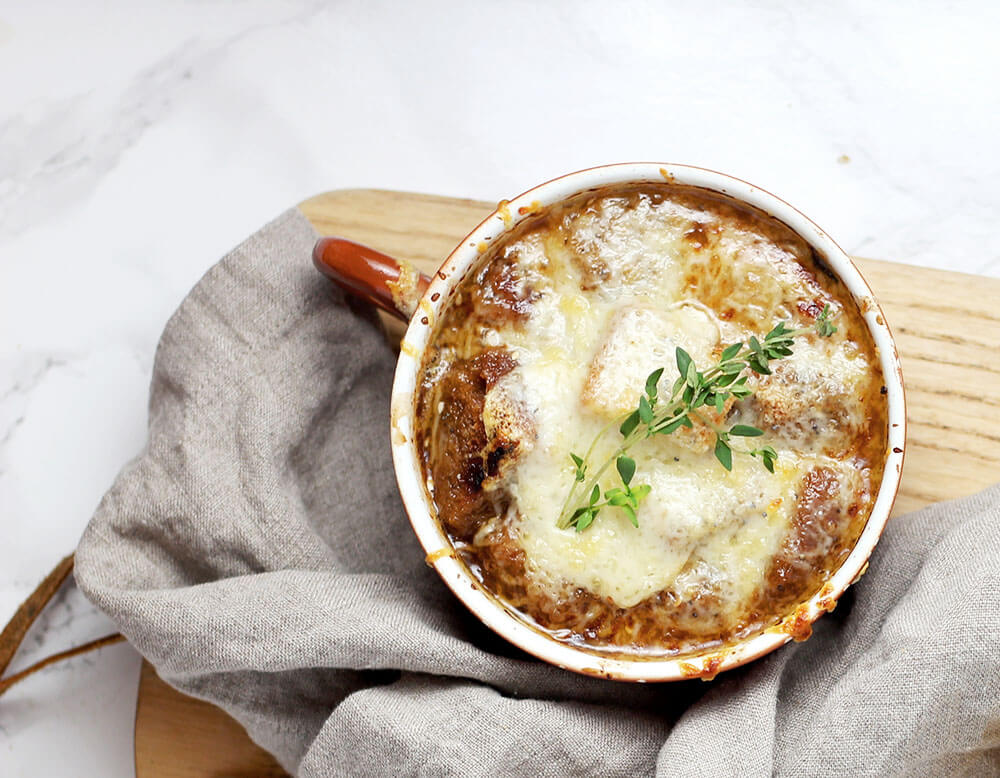 You've probably had this at home, but there's nothing better to warm you up on a cold Paris night than a steaming cup of beef broth, onions, cheese, and real French bread! French onion soup is a must!
Where to Find the Best French Onion Soup in Paris:
La Jacobine
Les Philosophes
Flottes
19. Foie Gras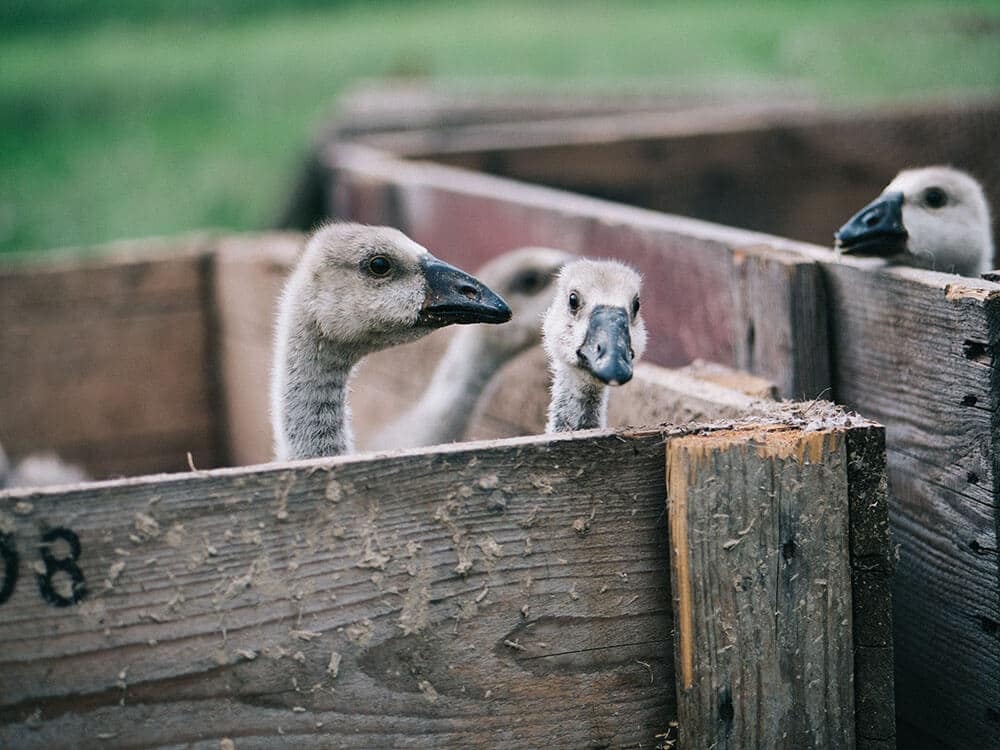 I'm not a fan of foie gras, but Paul loves it. It tastes fine to me, but I don't like to think about how it's made. Google at your own risk!
20. Croque Monsieur Or Croque Madame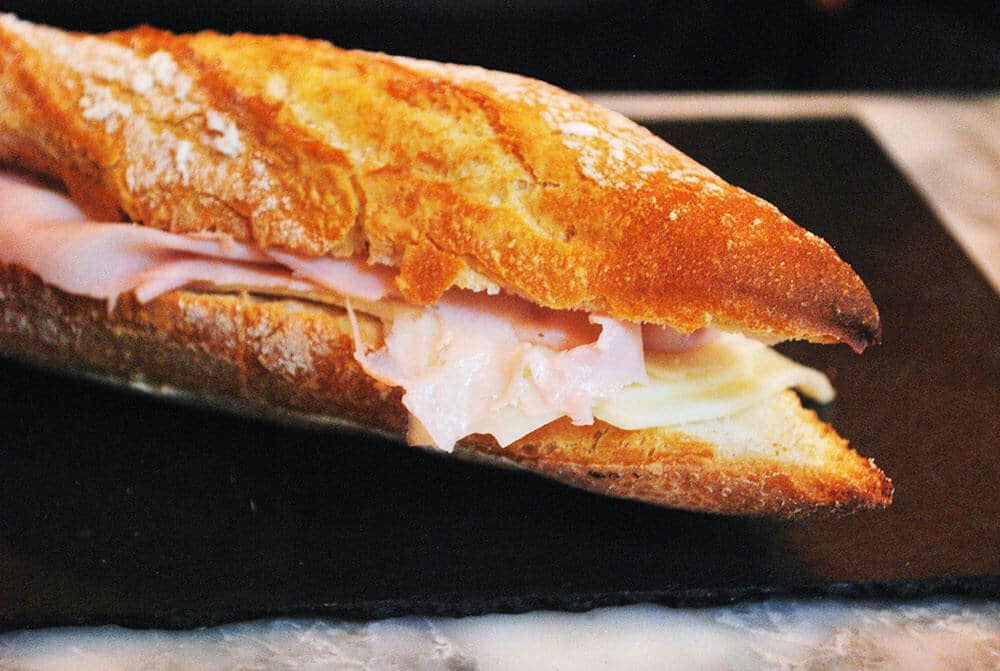 Another family favorite, these grab-and-go sandwiches are stuffed with ham and cheese and then fried with cheese on the outside, because….France! You can also order a Croque Madame which has a fried egg on top. My personal favorite, but generally needs to be eaten while seated.
Where to Find Croque madame and Croque monsieur in Paris: These can be found at almost any cafe, brasserie, restaurant, and even some boulangerie. Some of my favorites can be found at:
Le Petit Cler
Les Deux Magots (they also have great hot chocolate)
La Fontaine de Belleville
21. Fish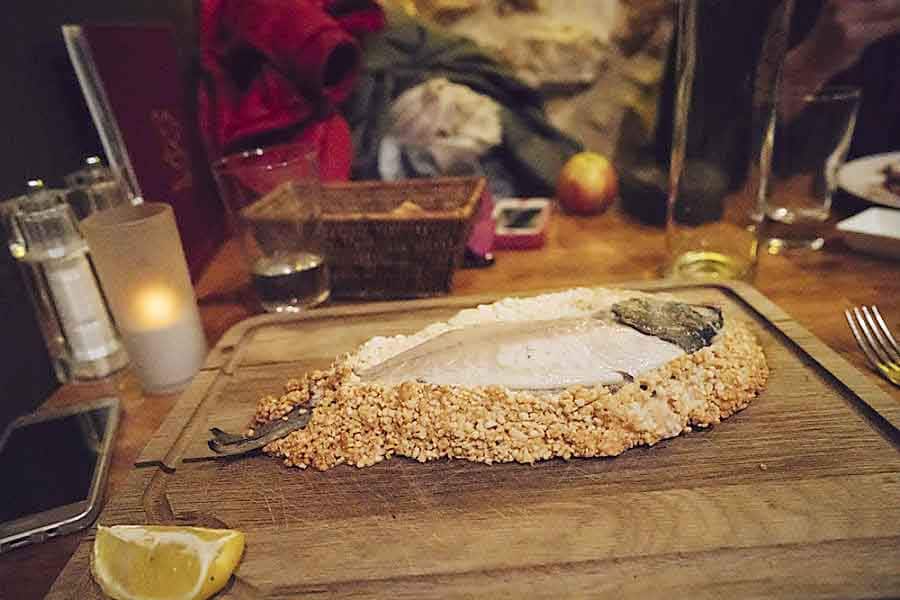 In my opinion, no one cooks fish as deliciously as the French. Drooling just thinking about all the amazing fish I've had in Paris! Try the Sole Meunière wherever you can find it. It's my favorite and the first food that Julia Child had in Paris that made her fall in love with French food.
22. Boeuf Bourguignon
This popular French food is basically a beef stew, but BETTER because it's French ya know? Also a Julia Child favorite.
Where to find the best Boeuf Bourguignon:
Le Cabanon de la Butte
Le Volant Basque
Le Bourguignon du Marais
23. Quick Burger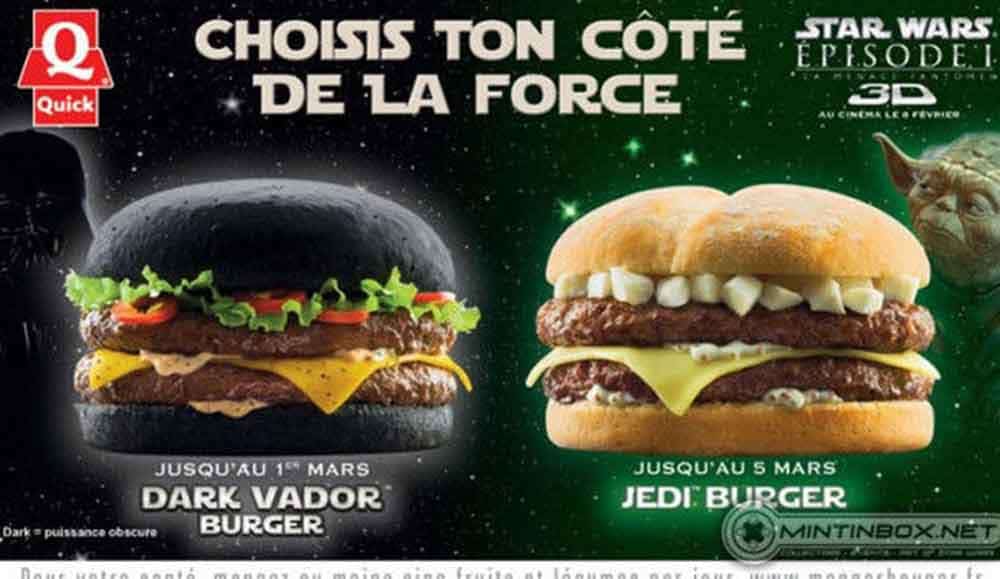 Ok, please don't laugh! Quick Burger is like the McDonalds of France, so you just gotta try it ok? Plus, who could resist these awesome Dark Vador and Jedi Burgers!? Genius advertizing!
24. Escargot – Don't be scared!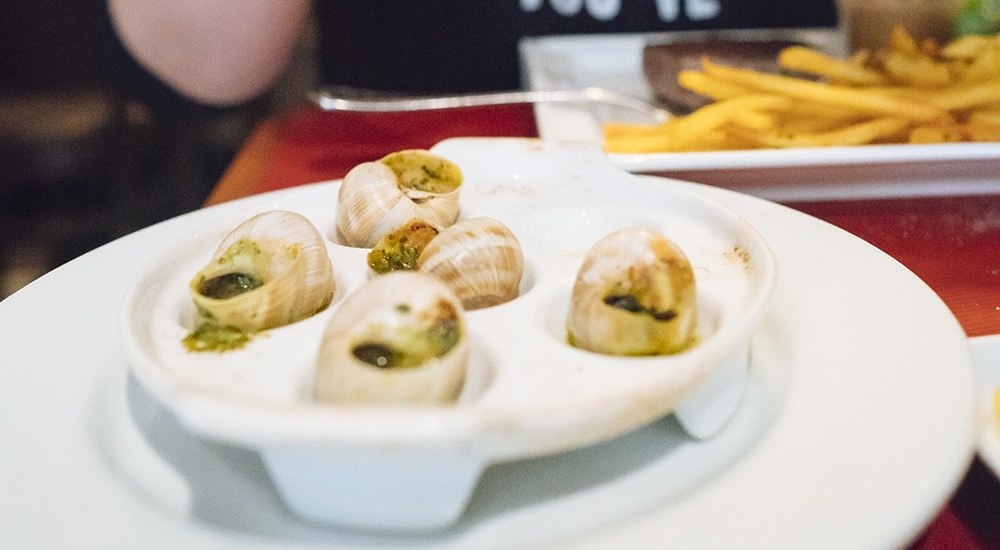 Escargot…a fancy French name for snails. Similar to oysters, they pretty much taste like whatever they're drenched in. Just slide them down your gullet so you can say you did it! While eating snails may not sound like a good time, they are actually really tasty and a famous food of French cuisine, so give it a shot.
Where to Find the Best Escargot in Paris:
L'Escargot Montorgueil
Chez Fernand Christine
Allard
25. Frog Legs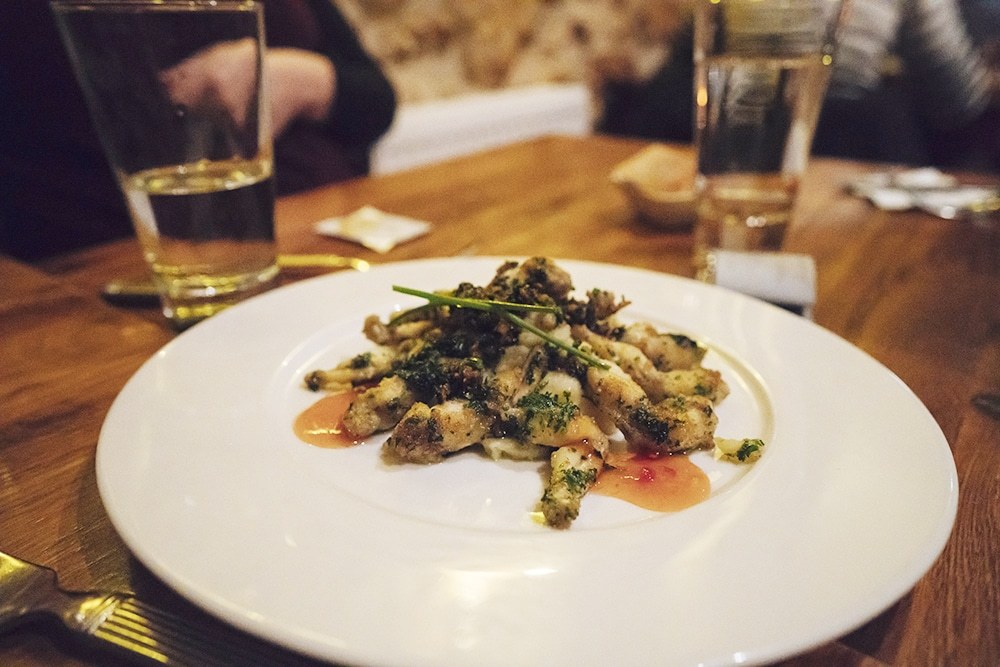 Tastes like chicken! No really, it does. Except I think I'd rather be eating chicken. These legs from Sacre Fleur were pretty amazing though!
Where to Find the Best Frog Legs in Paris:
Roger La Grenouille in Paris
Au Moulin A Vent in Paris
Le Square Trousseau in Paris
How To Pick A Parisian Restaurant
You are going to have your pick of amazing restaurants to choose from in Paris. 99% of the time you will walk away feeling satisfied, but here are some tips for choosing local hidden gems over tourist traps:
Find a main tourist attraction (Notre Dame, Eiffel Tower, Louvre, etc.)
Walk AWAY from said attraction at least 3 blocks or so.
Find somewhere SMALL. Parisian restaurants are known for their tight fits and sharing tables with strangers. I've met many lovely strangers just by dining with them out of necessity.
Look for French menus on display. This means that locals usually frequent this spot.
Look for small menus without pictures. Avoid anywhere with flashy menus containing large pictures and no prices!
Look for a crowd of French people. Use your ears…is everyone seated speaking French? Then you're good to go. If it looks like 100 Americans, then walk away.
Read Trip Advisor Reviews
Where To Eat In Paris: Our Favorite Parisian Restaurants
There are many famous restaurants in Paris that will have incredible food, but they will also come with a high price tag. You don't need to eat at one of these to have an incredible dining experience. You can have the best French food in a tiny hole in the wall place in a back alleyway…ok, so I may be exaggerating, but honestly, step away from the main tourist sites, find a small restaurant with only a few tables and a menu without pictures! Here is where we've found the best food in Paris.
Bistrot Les Papilles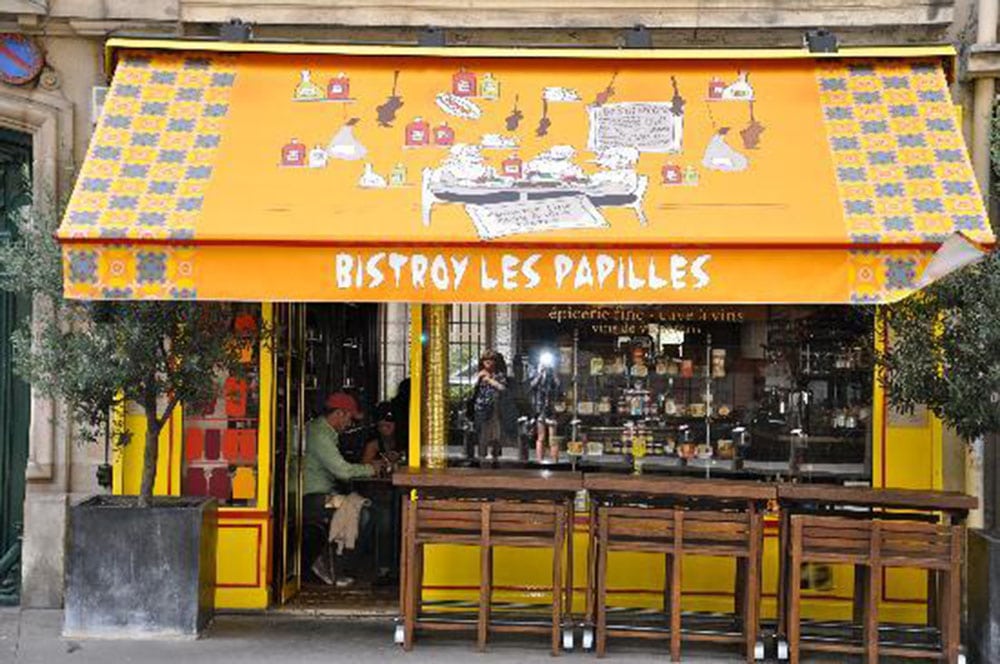 I would consider this one of the best French restaurants in Paris! If you want authentic food made in small batches, this is it!
Les Papilles is definitely our favorite restaurant in Paris and we eat here every time we visit. It is strictly reservation only at least weeks in advance and there is no menu. I honestly think this is one of the best places to eat in Paris. You really can't go wrong!
Honestly, if you were just walking by and saw the bistrot, you wouldn't think it was anything special, but it is amazing! When you walk inside you will be surprised by how tiny this place is. Like most Parisian restaurants, there is only room for about 20 customers.
Les Papilles has a fixed menu, meaning you get what the chef cooks that night, which is always incredible and consists of a 5-course meal which is eye-wateringly beautiful! Seriously, tears coming to my eyes thinking about it. If you have dietary restrictions or picky eaters, this might not be the place for you, but it is amazing!
I have sent hundreds of people to this restaurant and I haven't heard anything but rave reviews. It costs around €38 per person and they have an excellent wine selection. We don't drink, but there is wine lining the walls!
Sacree Fleur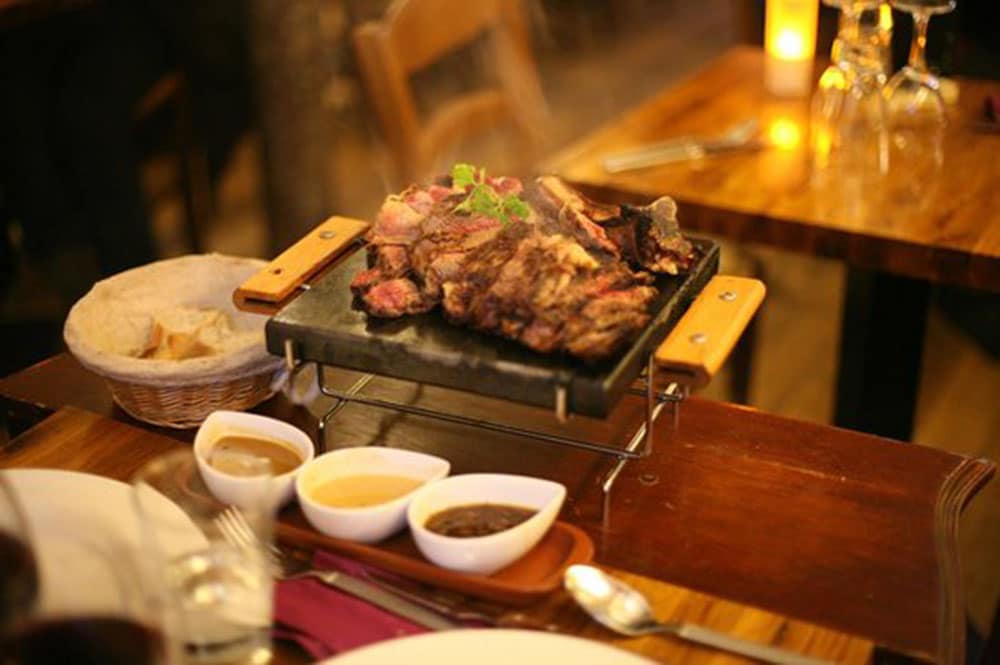 Sacree Fleur is another amazing restaurant that we made reservations at last minute. Amazing meats, vegetables, fish, and desserts! And the owner is so nice and loves to practice his sarcasm on Americans.
Choco Factory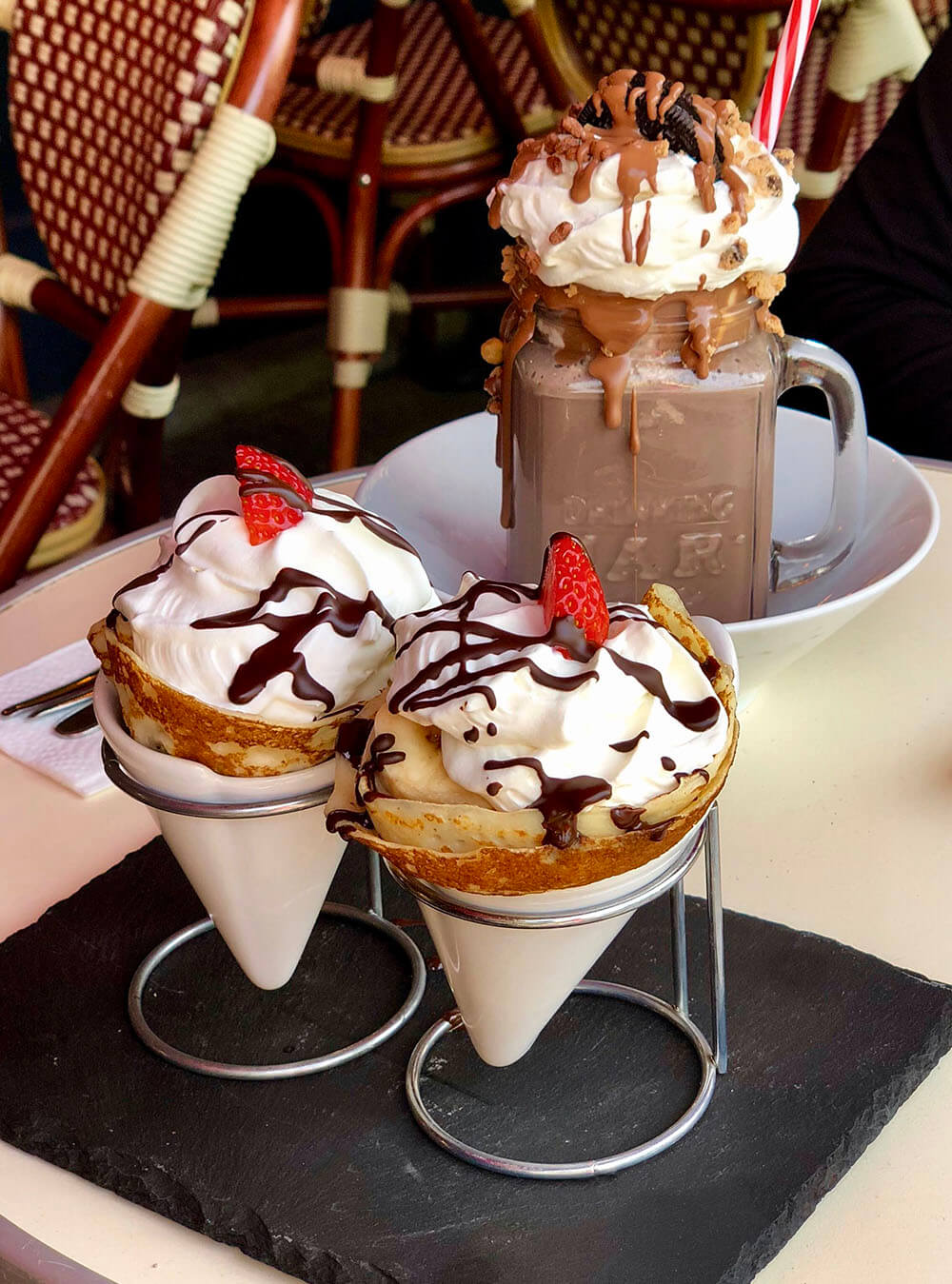 There are two things you'll love about Choco Factory: They have everything chocolate, of course, and it's situated right across the street from Le Jardin du Luxembourg. I highly recommend the fruit filled crêpes then take a stroll through the gardens. -Time Zone Travelers
Angelina Tea House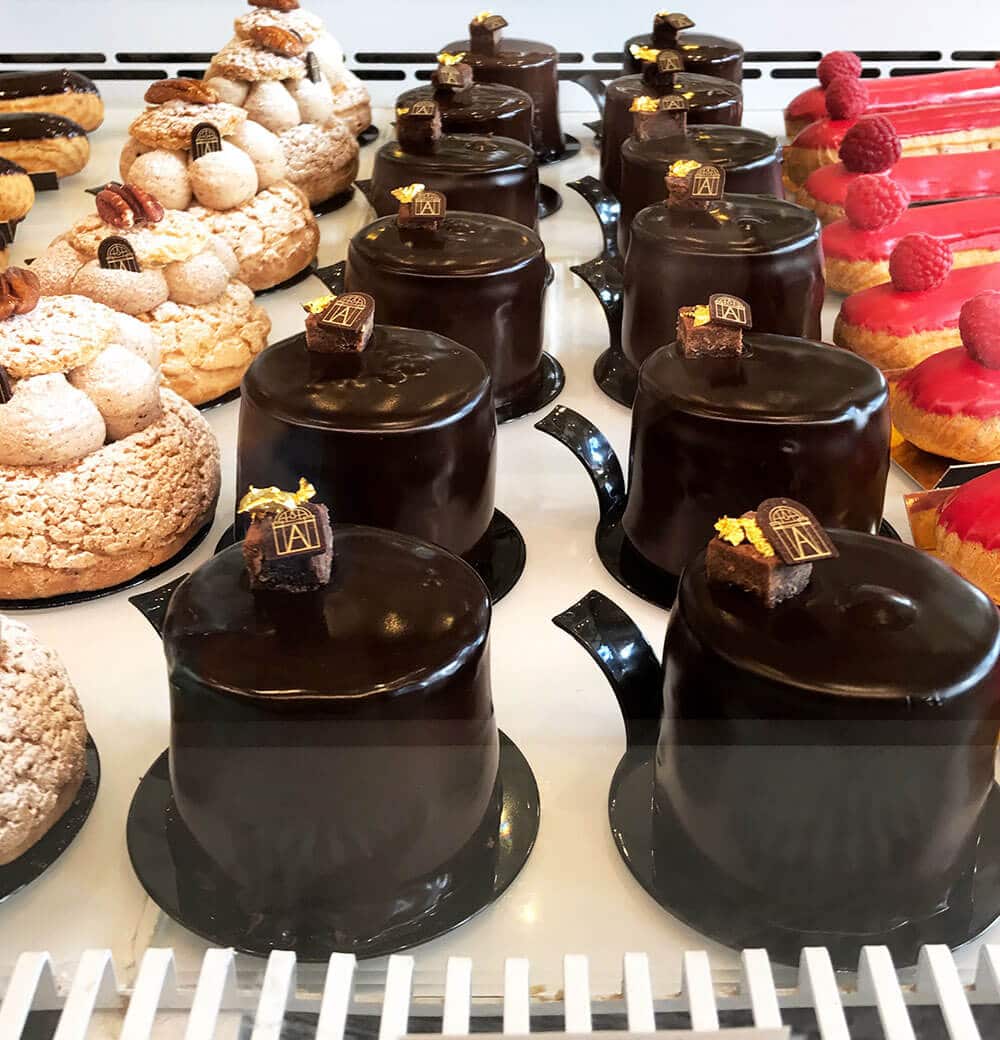 A quintessential French restaurant that features yummy food and beautiful desserts. It's the perfect place to feel a little posh but relaxed enough to bring your children with you. In fact, they do have a children's menu! The ambiance is just as delicious as their food offerings. You can pop in for a spot of tea, hot chocolate for the kids, and delicious dessert or get a full food menu, just make sure to leave room to share in some of their delectable pastries.
Tip: Get a little selection of the pastries and share! That way you get a wonderful sampling of what they have to offer! Or if you're stuffed from lunch, get them to go and enjoy them at the park, Jardin des Tuileries, which is also next to the Louvre. -Let's Adventure Some More
Frenchie Restaurant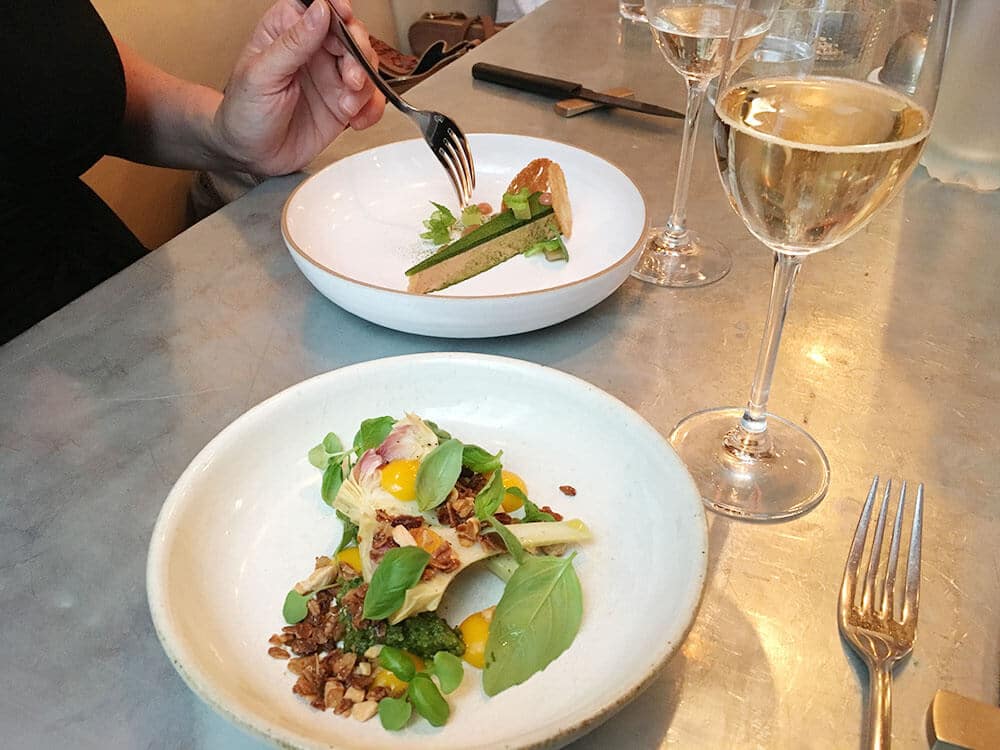 I am not a foodie, but the famous Frenchie Ru Du Nil made me want to be. French food with an International flare is served as a prixe fixe menu, but they accommodate vegetarians or other food preferences. The meal at Frenchie is exactly the thing you are looking for when you go to Paris- gourmet, inspired, and unusual. –Traveling Mel
There are plenty of amazing restaurants in Paris and I couldn't fit them all here. Follow the above steps and you won't go wrong.
I hope you get a chance to try all the amazing food the Paris has to offer! You have so many options to keep your mouth busy during your trip to Paris!
If you have any other suggestions or questions you can comment here or get in touch with me on Instagram or Facebook. I love hearing from you!
xo
Vanessa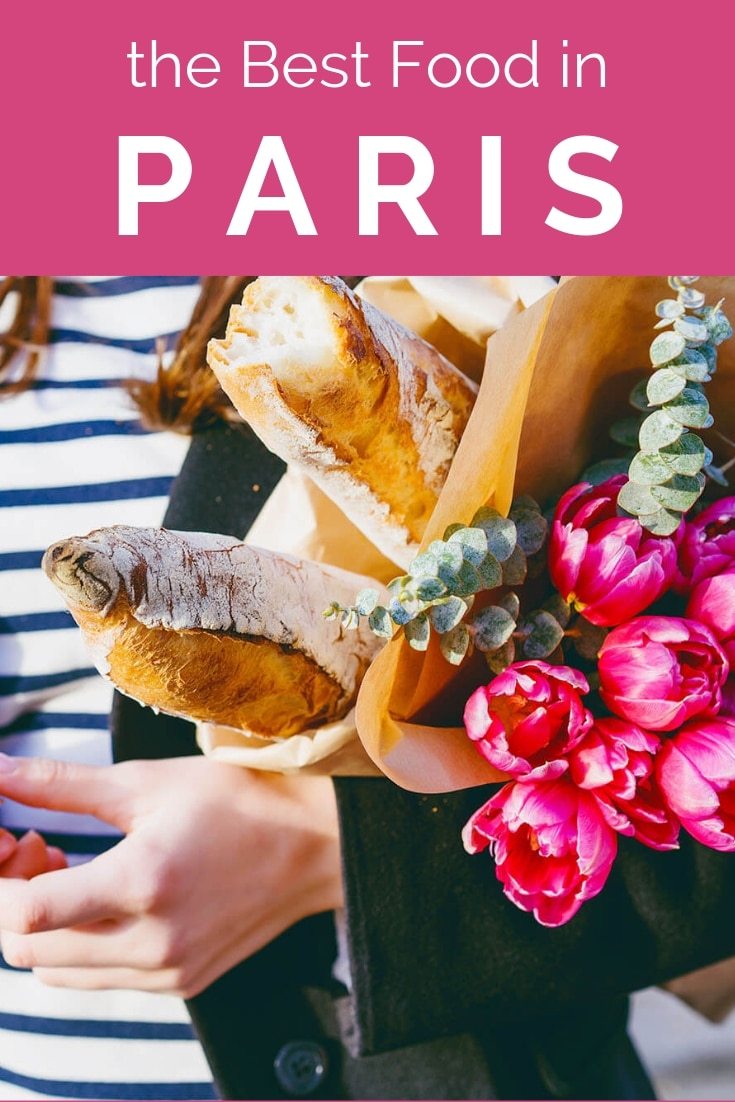 Pin this for later!