There are so many incredible day trips from Paris that can enrich your trip to the city. If you're heading to Paris and have a few extra days, get out of the city for a while and discover what France has to offer outside the city of lights. These ten best day trips from Paris are our favorite!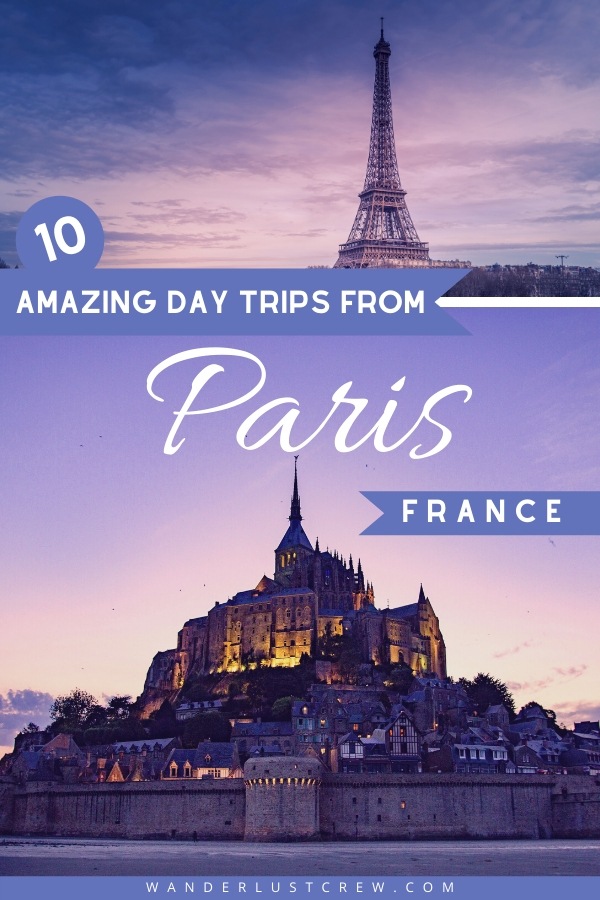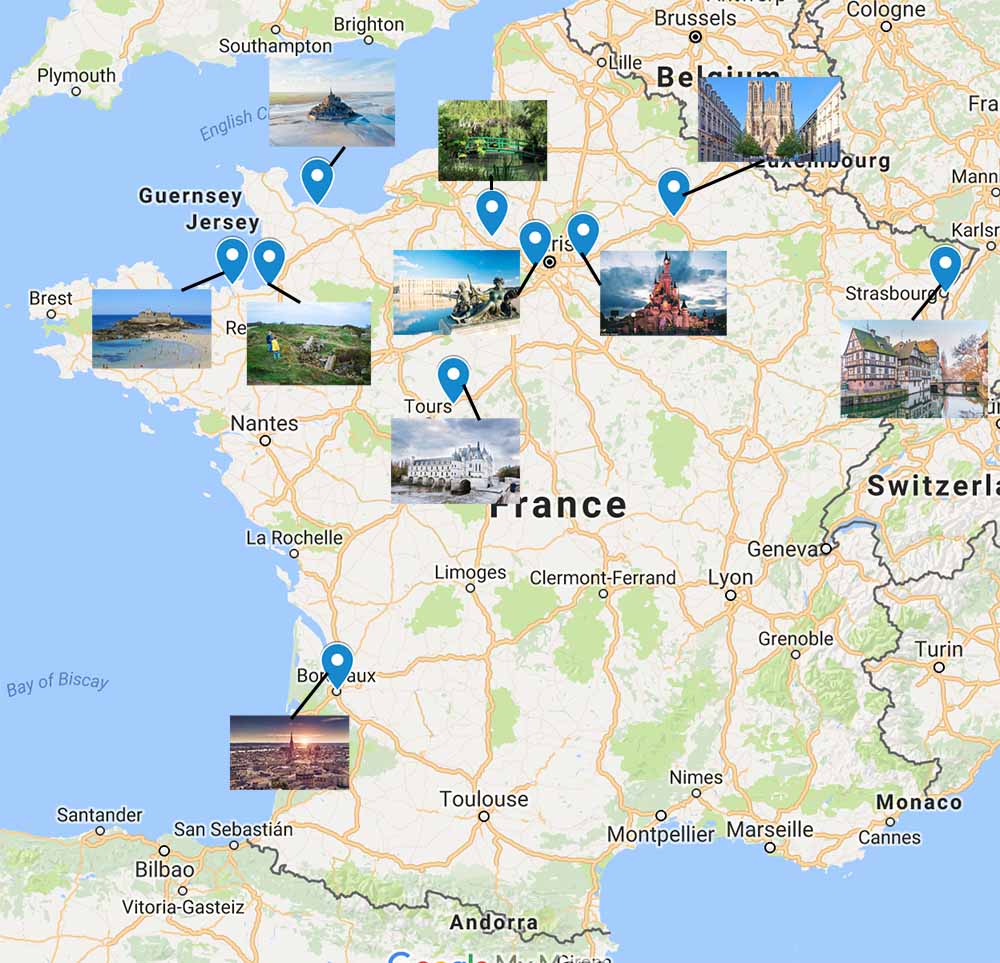 The Best Day Trips from Paris
Paris is one of my favorite places on Earth. Where else can you eat chocolate croissants for breakfast every day, walk through charming streets while carrying a baguette, visit museums and see famous works of art, and feel fashionable every time you wear black?
Right now there are some killer deals to Paris. I flew from San Francisco Round Trip for $400 in December. It's kind of ridiculous how cheap flights are right now! Learn how we Fly for Cheap or Nearly Free.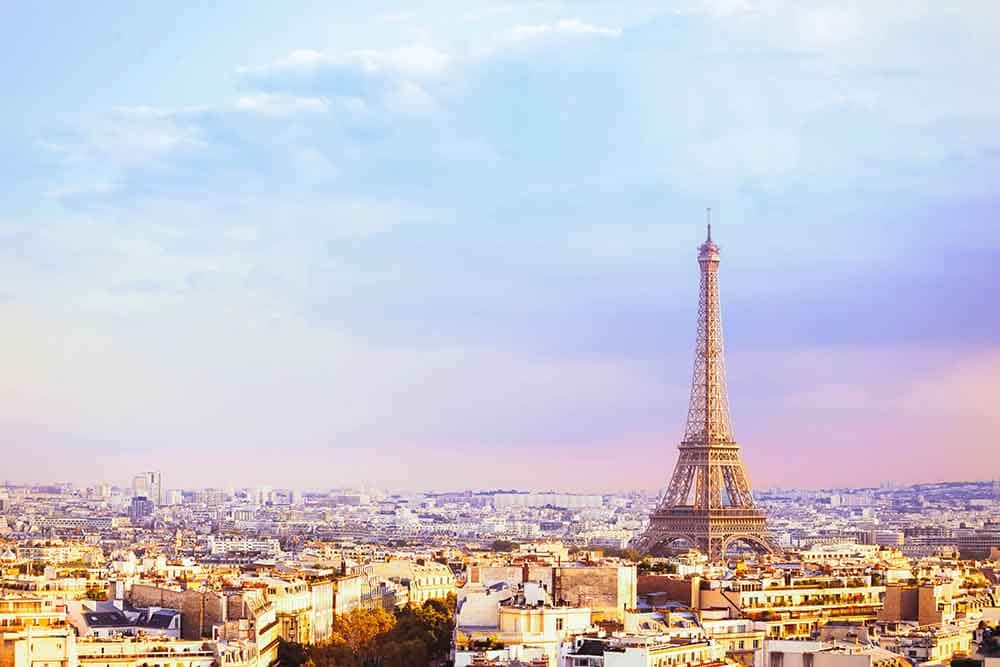 There's a reason Paris is such a popular destination. It's got culture, class, food, history, shopping, fashion and more, but even better, is that it is centrally located in France with so many attractions within a day trip from Paris. While you can definitely spend days, weeks, or even months in Paris, it can, of course, be done in one day. What can you do in Paris in one day? Well, you can do a lot if you know how to see the city right. Read this Paris Walking Guide to find out more.
If going to Paris with kids, read my Ultimate Guide to Paris with Kids. It's great to take Paris day trips with the kids! Sometimes they need a break from the city too.
If you're ready to get out of the city a bit and soak up some fun, fresh air, and country roads, I've rounded up my favorite day trips outside of Paris. I often get asked: What are the best cities to visit in France? And these are places that we've been and loved.
Our Favorite Easy Day Trips from Paris:
Mont-Saint-Michel
Versailles
Disneyland Paris
Giverny
The Loire Valley
Strasbourg
Normandy D-Day Beaches
St. Malo
Reims
Bordeaux
Use this interactive Google map to navigate to each of these day trips from Paris.

1. Mont Saint Michel
Probably one of my very favorite day trips from Paris is Mont-Saint-Michel. I've been 3 separate times and it never gets old. It's stunning to see this majestic, ancient abbey jutting out from this, often-times surrounded by water, rock in the ocean. Stay until sunset and nightfall to see the lights twinkling. It's straight out of a medieval fairytale!
Distance from Paris
Things to do in Mont Saint Michel
Abbaye du Mont Saint Michel
La Chapelle Saint-Aubert
La Grand Rue
Tours to Mont Saint Michel
If you'd rather not drive to Mont Saint Michel yourself, you can take this tour that will drive you there and back in comfort and let you explore on your own, or with an audio tour once you're there.
2. Versailles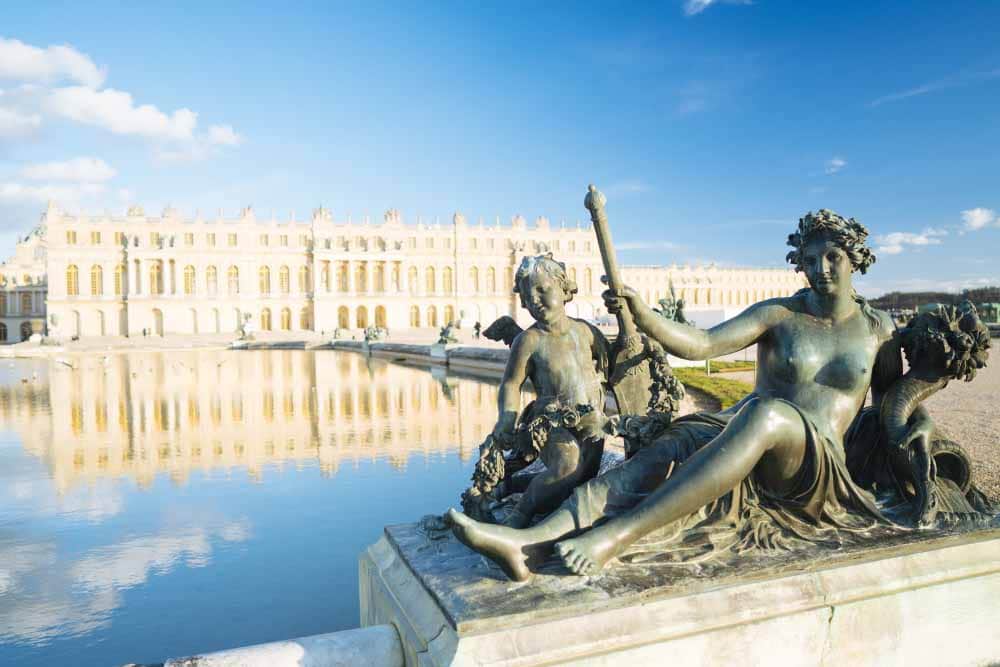 This one is usually a given due to its proximity to and ease of transport from Paris. It's one of the easiest day trips from Paris by train. You can easily hop the RER from the city and land right in the town of Versailles where you can take a short walk to the famous Palace of Versailles where you will experience some of the most opulent interiors and intricate gardens in the world.
There is generally a long line to buy tickets, so consider booking skip the line tickets through Get Your Guide.
You can walk around the grounds of Versailles, rent a bike, or even better, a golf cart! The grounds are huge so if you're on a time crunch, I would suggest something other than walking. You could spend an entire day (or more) at Versailles, so plan on leaving early. Read this for all you need to know about visiting Versailles with kids on one of your day trips from Paris.
Distance from Paris
Train: 50 minutes
Car: 1 hour
Things to do at Versailles
Hall of Mirrors
Gardens
Royal Chapel
Grand Canal
Royal Opera
Hameau de la Reine
Le Grand Trianon
Tours to Versailles
Take a tour of Versailles and skip the seriously long line with these advanced booking tickets.
3. Disneyland Paris
If Paris doesn't feel like the happiest place on earth to you, maybe Disneyland Paris will do the trick?! It's one of the quickest and easiest day trips from Paris by train. At only about 50 minutes by train from Paris, Disneyland Paris is an easy day trip from Paris and one that is sure to please the kids!
If you want to stay overnight there are multiple Disney hotels surrounding the park. Disney Paris offers two parks: Disneyland Park and Walt Disney Studios Park. Our favorite rides are Ratatouille the Adventure and Crush's Coaster, both located in Walt Disney Studios Park.
This also might be one of the best overnight trips from Paris thanks to all the great hotels surrounding Disneyland Paris. Read more Disneyland Paris tips.
Distance from Paris
Train: 50 minutes
Car: 1 hour
Things to do at Disneyland Paris
Ride the rides
Try the food
Book Disneyland Paris Tickets in Advance
You can book your Disneyland Paris tickets in advance to guarantee the best price. This package includes park tickets and train tickets to Disney.
4. Giverny

In this little village not very far from Paris, you will find the former home of Impressionist painter Claude Monet, which is now the Claude Monet Museum where you can see the gardens where he painted the famous water lilies.
Take time soaking in the art and history and strolling along the elaborate gardens. Also in the town is the Musée des Impressionnismes Giverny where you can discover more about the Impressionist painters.
Distance from Paris
Things to do in Giverny
Foundation Claude Monet
Musee des Impressionnismes Giverny
Half Day Trip Tour to Giverny
If you'd rather not drive, you can take this half-day tour to Giverney that will take you right to Monet's Gardens and allow you access.
5. The Loire Valley
Only two to three hours outside the city, you can drive right into your fairytale fantasy in the Loire Valley, a historic area of France known for its opulent castles of the ancient nobility of France. Some of our favorite castles of the Loire Valley are:
Chaumont-sur-Loire
Chambord
Blois
Cheverny
Amboise
Villandry
Usse
Azay-le-Rideau
Chinon
Saumur
You can even stay in your own castle in France too!
Distance from Paris
Car: 2-3 hours 6. Strasbourg
Tour of the Loire Valley
If you want a truly unique experience exploring the Loire Valley, you can take this amazing tour that will guide you through this fairytale valley, serving lunch and also a wine tasting.
And this alternative tour with Take Walks takes you to Chenonceau, Leonardo DaVinci's home, and Amboise. You really cannot go wrong with either one.
6. Strasbourg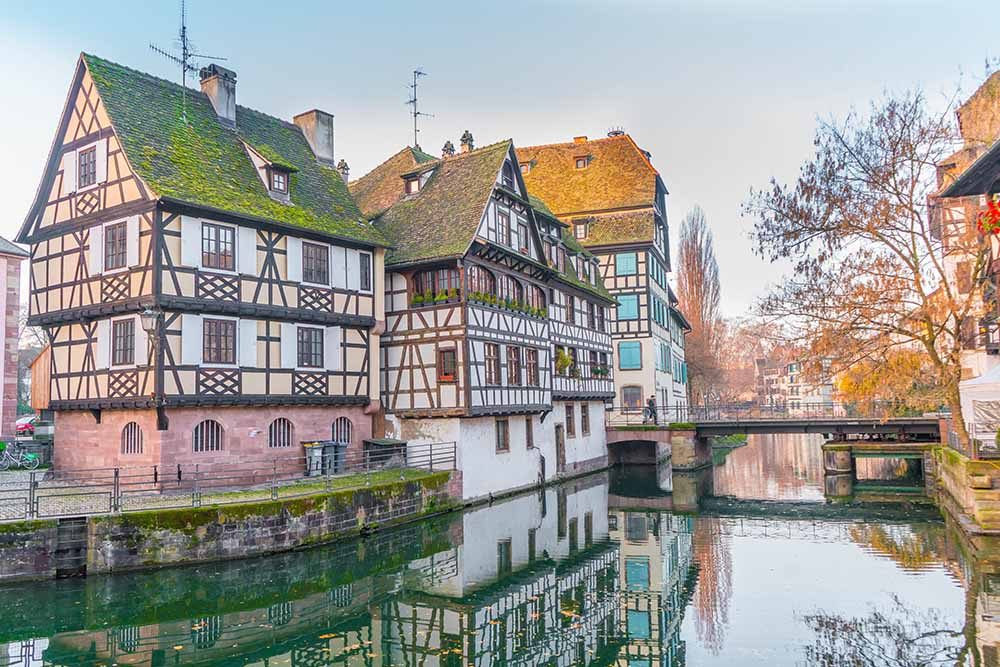 Strasbourg is a bit far for a day trip by car, but there is a fast train that will get you there in under 2 hours and it's worth the trip. Known as "The Capital of Christmas," Strasbourg is a charming town full of half-timber houses, yummy food and lots of history. Float down the river and take in the Strasbourg Cathedral.
Distance from Paris
Car: 4 hours by car
Train: 1 hour 45 minutes
Things to do in Strasbourg
Strasbourg Cathedral
Strasbourg Shops
Strasbourg Canal
7. Normandy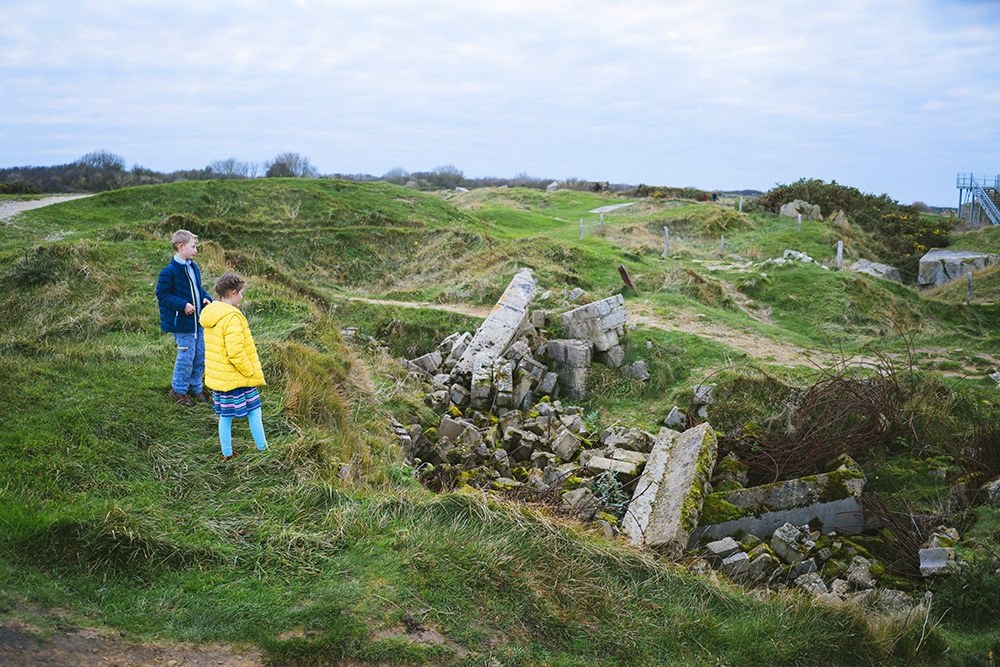 The entire area of Normandy, north-west of Paris, is rural and beautiful and visiting the Normandy D-Day beaches is something that will stick with you forever. Our favorite is Pointe-du-Hoc where you can see the craters made by bombs dropped on German bunkers. There are remains of the bunkers that you can crawl into.
It is very moving and beautiful. The distance from to Normandy makes it an easy day trip from Paris that is well worth your time. It's something I think everyone should see since many remains of WWII are now long gone.
You can get to Normandy by train, but to see the beaches and many of the main sites, you'll need a car.
Distance from Paris
Things to do in Normandy
D-Day Beaches
Normandy Museums
Tour of Normandy from Paris
I highly recommend taking this tour of Normandy from Paris. It's so helpful to visit with a knowledgable guide so that you can learn about each of the Normandy beaches and what happened there.
8. St. Malo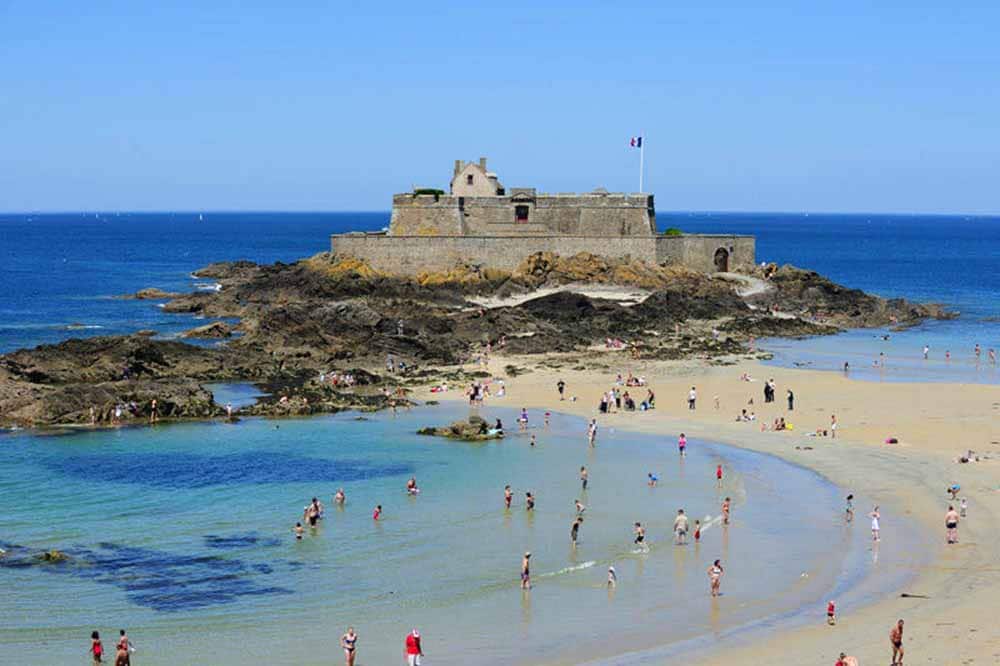 This historic walled port city in Brittany was made famous by the WWII historical fiction book All the Light We Cannot See. I had the opportunity to visit St. Malo right after reading this book and it really made the history come alive for me.
It's a beautiful town and a popular vacation spot for families with its great beaches, hotels, and restaurants. You could stay in St. Malo for a week, but it makes a great day trip from Paris to the beach!
Distance from Paris
Car: 4 hours
Train: 2.5 hours
Things to do in St. Malo
Play at the beach
Walk through the walls of the city
Take a Tour to St. Malo
If you want to see St. Malo and even more of Brittany, this tour, although technically a 2 day trip from Paris, is a great option.
9. Reims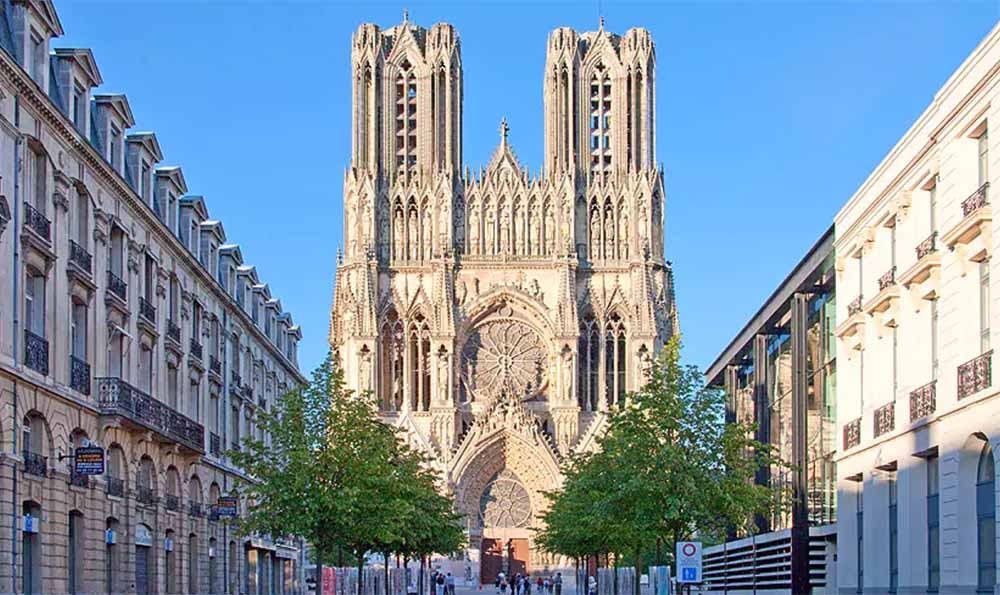 Famous for being the capital of the Champagne region of France, Reims's historical significance should not go unnoticed. This was the location where Germany officially conceded defeat during WWII.
Every year in May there is a four-day peace festival where you can witness a re-enactment of a US military camp along with other historical festivities memorializing the fallen during the war. Reims has incredible architecture and food as well as its breath-taking cathedral rivaling Notre Dame de Paris herself!
Distance from Paris
Car: 2 hours
Train: 45 minutes
Things to do in Reims
Cathedral Notre Dame
Palais du Tau
10. Bordeaux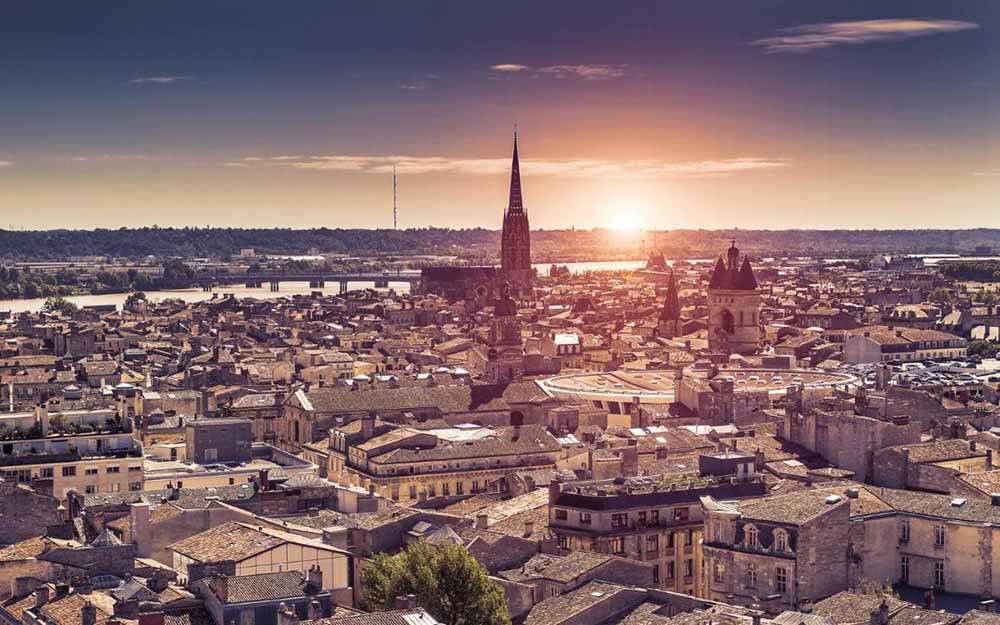 Catch a high-speed train to Bordeaux and enjoy another big city in France, with a little less traffic and a little more international flair. In Bordeaux, you will find many international transplants offering an amazing collection of food. Some of the best Moroccan food I've ever had was in Bordeaux.
This city holds a special place in our hearts as Paul lived here for 2 years and we lived here for several months as a family. Be sure to visit the Place de la Bourse and the Jardin Publique which has an amazing playground for kids as well as a carousel.
Distance from Paris
Car: 5 hours
Train: 2.5 hours
Things to do in Bordeaux
Place de la Bourse
Quais de Bordeaux
La Grosse Cloche
Porte Cailhau
Day Trips from Paris to Other Countries
If you're considering taking day trips from Paris to other countries, these are some of my favorites. Keep in mind these will be longer drives or train rides, so you'll have less time if you want to do it in just one day.
11. London, England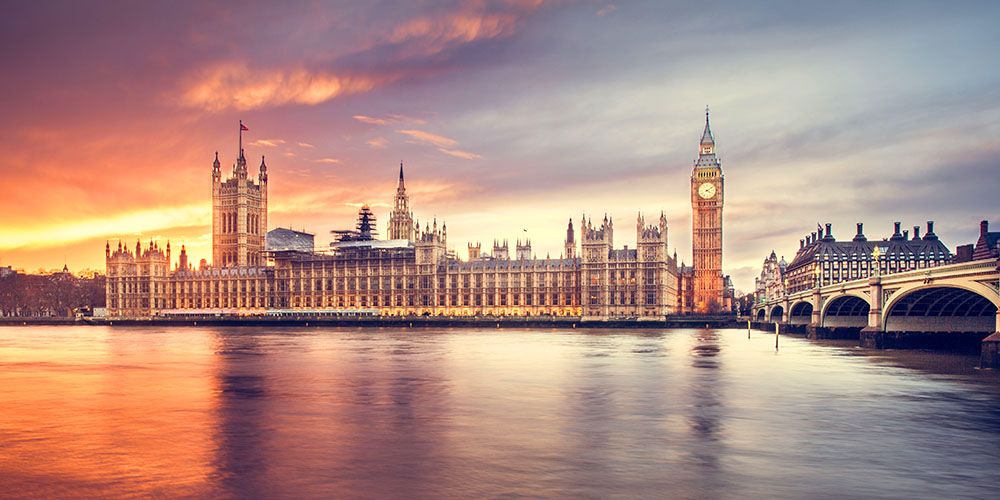 London is a surprisingly easy day trip from Paris! You can hop on the Eurostar and be in London in about 2 hours. London honestly requires at least a week to do it properly, but if you've only got a day there's still tons you can do. Check out my London Travel Guide.
Distance from Paris
Things to do in London
Tower of London
London Bridge
Houses of Parliament (and Big Ben)
London Eye
Westminster Abbey
Kensington Palace
12. Bruges, Belgium
The cobblestone streets and medieval architecture of Bruges will win you over in just a day! It's one of my favorite international Paris day trips.
Distance from Paris
Car: 3 hours
Train: 3 hours
Things to do in Bruges
Take a boat down the canals
Eat Belgian waffles
Take a Tour to Bruges, Belgium
Sit back and relax as you take a day tour to Bruges. This tour will take you across the border and walk you through the picturesque town.
13. Ghent, Belgium
Ghent, Belgium is a beautiful and bustling ancient town. Walk along the canal and try some local delicacies.
Distance from Paris
Car: 3 hours by car
Train: 2.5 hours by train
Things to do in Ghent
Grevensteen
St. Michael's Bridge
St. Bavo's Cathedral
14. Brussels, Belgium
Brussels is a beautiful big city in Belgium full of culture and arts. Be sure to grab a delicious Belgian waffle!
Distance from Paris
Car: 3 hours
Train: 1 hour 45 minutes
Things to do in Brussels
Visit the Grand Place
See the Old England Building
Palais Royal
15. Luxembourg
Visit one of the smallest countries in Europe on your day trip from Paris. This gorgeous medieval city is perched on sheer cliffs and is a bustling metropolis surrounded by rural lands.
Distance from Paris
Car: 4 hours
Train: 2 hours
16. Heidelberg, Germany

Heidelberg is my favorite town in Germany and a great day trip from Paris. It's a bit far, but worth the trip. You can ride the funicular up to the ancient Heidelberg Castle and wander the stunning university town.
Distance from Paris
Car: 5 hours
Train: 3 hours
Things to do in Heidelberg
Ride the funicular
Tour the castle
17. Geneva, Switzerland
Headquarters for the United Nations and the Red Cross, Geneva is a beautiful town situated on the border of France and Switzerland. You can enjoy views of Mount Blanc and spend time on Lake Geneva! It's one of the best train trips from Paris.
Distance from Paris
Car: 5 hours
Train: 4 hours
Things to do in Geneva
Lake Geneva
St. Peter's Cathedral
Vielle Vielle
I hope you have a fabulous time in Paris and take time to take one of these easy day trips from Paris during your trip. Wherever you choose to go in France will be amazing. Do you have a favorite day trip from Paris? I'd love to hear about it! Connect on Instagram or Facebook.
Practical Tips for Booking your Trip
Book Your Flights and Car
Find a budget airlines by using Skyscanner. This is my favorite way to search for flights because they crawl websites and airlines around the globe, so you always know you're getting the best deal. Learn more tips for finding the best flight deals here.

For cars, I like to use Rental Cars because they have good filters and its easy to search for multiple companies.
Book Your Accommodation
My preferred way to stay around the world is VRBO. I find it usually gives you a unique local experience in any destination. If you want to stay in a hotel, use Booking, as it consistently gives the cheapest rates for guesthouses and hotels. I use them both all the time.
Always Get Travel Insurance
Travel insurance protects you and your family against illness, injury, theft, and cancellations. It's peace of mind in case anything goes wrong. I never travel without it. I've been using World Nomads for the last few years and love how easy it is to use. I have also used Allianz. Compare rates to see which is best for the coverage you need.
Looking for ways to save money on travel?
Check out my resource page for the companies I use for traveling! I share everything I use to save me time and money.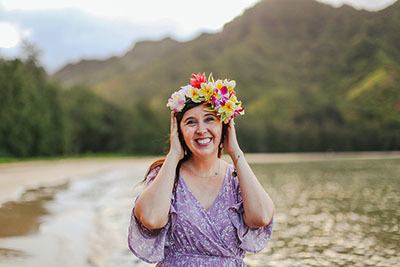 xo
Vanessa