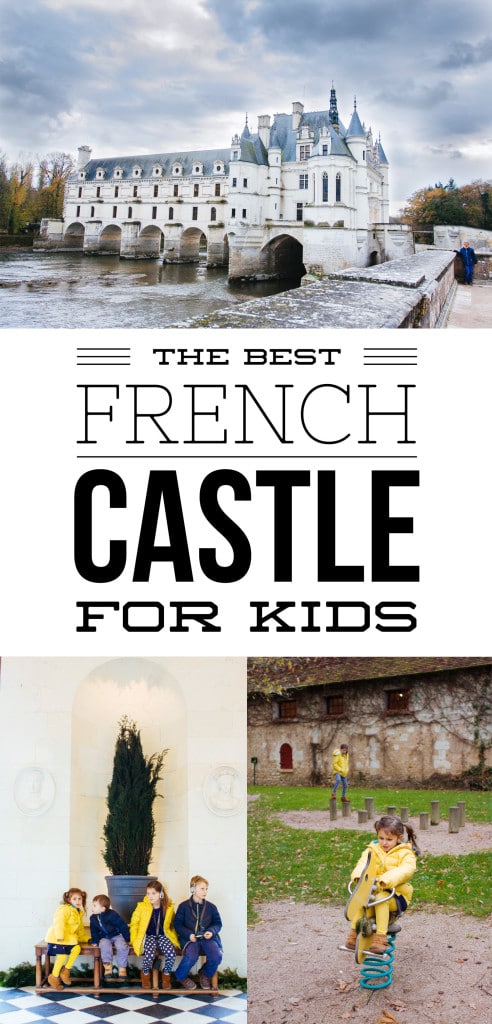 We have been to quite a few castles over the last few months, but Château de Chenonceau has been our favorite for kids!
Chenonceau Castle is absolutely a dream. After a few hours drifting along beautiful corridors and kitchens that rival Downton Abbey, we left literally searching for castles to buy in Europe (yes you can do that, for about the same price as a house in Hawaii or Washington DC)! It honestly has that effect on you!
The château has been around since the 11th century and the current structure was built over a mill in the mid 1500s. It has a long history of nobility and mistresses of nobility running the castle. Here is the Chenonceau for Dummies version. Feel free to gloss over this if you don't find history interesting. If you don't I'm not sure we can be friends. Only kidding.
In the 13th century the château belonged to the Marques family who sold it to the Bohier family. The Bohiers built most of the existing castle. It was then seized by King Francis I for unpaid debts and after his death, his son Henry II gave it to his mistress Diane de Poitiers. She lived there for many years and built the bridge over the river so she could hunt. After Henry II's death, his wife Catherine de Medici kicked Diane out (to a much larger castle…poor woman!) and Catherine took over Chenonceau and built the gallery over the existing bridge. When Catherine died she left it to her daughter in law Louise de Lorraine who was also called the White Queen because when her husband Henry III was assassinated she went into mourning (wearing white as the royal color of mourning) and roamed the castle in a depressed state with black tapestries hung throughout the castle with skulls and crossbones sewn in. Louis XIV was the last king to visit the chateau. A hundred years later or so it was purchased by the Dupin family. Louise Dupin hosted many great thinkers of the renaissance such as Voltaire and Montesquieu, and Rousseau was actually her son's tutor. Louise saved the château from ruin during the French Revolution because she was known for her charity and good deeds.
It changed hands several times over the next 200 years. It seems that everyone who owned it ran out of money attempting to improve or restore it. It is now owned by the famous chocolatier family, the Meniers.
During WWI the gallery over the bridge was used as a military hospital financed by the Meniers where patients would fish out of the windows and during WWII the gallery bridge was used to escape from Nazi occupied France on one side of the river Cher to the free zone on the opposite side.  It was bombed by the Germans in 1940, occupied by Germans for several years, then bombed by Allies in 1944! Did anyone else find that super fun? We are total history nerds, so you'll have to bear with us!
Got all that? There might be a quiz later! Aside from Versailles, this is the most visited castle in all of France and for good reason. It is absolutely unforgettable! When you enter the castle you are greeted by a humungous fire in the fireplace. They must have had to burn 20 trees a day to keep the castle warm (ish).
We visited just before December so the castle was in the process of being decked out for the holidays. The château employs their own team of florists who use flowers and plants from the extensive gardens to create splendid arrangements in every room of the castle! The smell was absolutely heavenly!
There were Christmas trees on every level of the castle. A children's Christmas Tree greeted us in the entry way held the kids spellbound. We of course got in trouble for touching everything, but it was worth it!
We took the audio tour which was great. They have a kids' version, which is a story told from the perspective of a cook at the castle, and an adult long or short version. If I had the time and no kids I would definitely do the long version. So much history lies within these walls. Our older two loved the audio tour.
If you want to save the money you can download the Chenonceau tour app on an iPod, iPhone or iPad and bring your own headphones. $3.99 for the app and everyone has it vs. $8 for each tour! They do offer headphone splitters if you wanted to share which I thought was nice. You can go through the castle at your own pace, which was great for the kids. If they were interested in a particular room, we could stay longer or skip rooms all together if they were feeling restless.
The grounds of the château are extensive and grand! Flower gardens, vegetable gardens, a donkey park (that's what the translation said) and a maze are enough to keep you busy for hours. It was freezing when we went, but we still spent hours outside. Our kids are totally spoiled now and every time we visit a castle they want to know where the playground is! It's pretty much ruined castles for us forever! Thanks a lot Chenonceau!
I would love to come back to Chenonceau in the Spring when all the trees and flowers are in bloom and it's a bit warmer, but being here around Christmas time was just magical! It is a very family friendly chateau with tons for the kids to do! In the Spring, Summer and early fall the restaurant L'Orangerie is open and looks delicious! The surrounding town of Chenonceaux, which also seems to shut down for the winter is very quaint and adorable. There is a train stop directly in front of the chateau which makes visiting from Paris very doable in a day.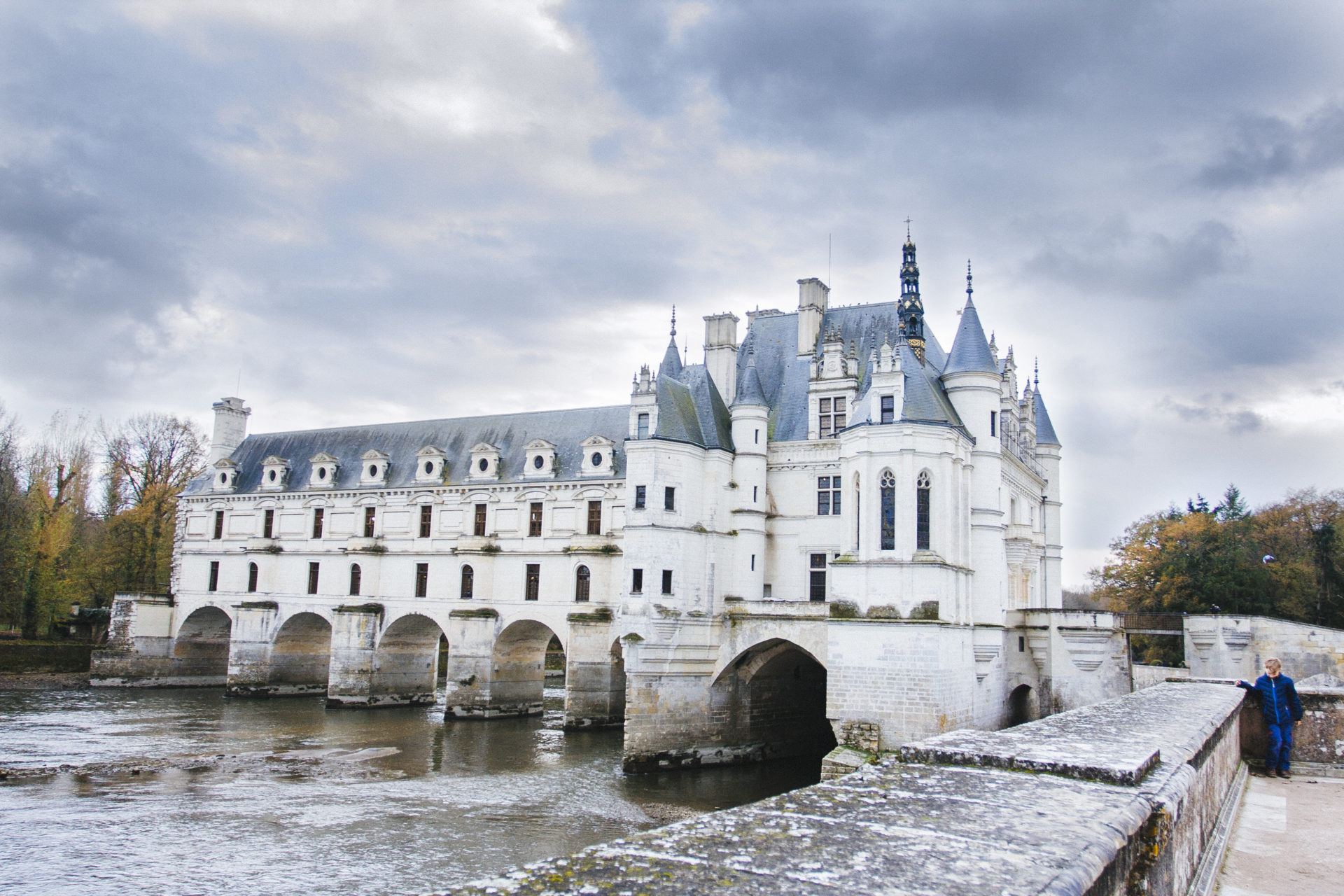 My kids are already asking to go back here and wishing we lived closer so we could go every day! I'm just wishing we actually lived there! Until next time Chenonceau!
Do you have a favorite castle or site to see in France? We'd love to hear about it! We are always looking for new things to discover. If you would like to follow along with us day by day you can follow @wanderlust.crew on Instagram or on Facebook or sign up for our newsletter! We would love to hear from you!