Let's get personal for a minute: I went to this magical, fairy-tale like island when I was just 9 years old with my grandmother. I spent several months with her in Scotland, England, Wales and France. It was probably the most memorable time in my childhood, not only because we got to see and do amazing things, but it was such an amazing bonding time with my grandma. I had the privilege of living with her and my great-grandmother when I went to college. My grandma was bed-ridden with arthritis and my great-grandma was blind. So, one was the eyes and the other was the legs. It was really quite a funny sight to see!
She grew up in Hollywood and was in several movies. She had quite a roller coaster of a childhood and she was very ill most of her adult life, but still had a brilliant soul and a heart for wanderlust, which obviously I inherited! I think about her a lot on our travels. Especially when we go to places we visited together. She was a single mom who lived through the death of her second born son and raised 5 children on her own. She went on to get her Ph.D. in English literature and taught high school.
When I was young I would go to school with her and all her students adored her. She truly inspired people and no one could forget her laugh. My grandma passed away just weeks after my first child, Abbi was born. She never got to meet her first great-grandchild. She had an incredible life and I know she's doing amazing things up in heaven!
It was really a touching thing to take my oldest daughter here because she is 9, the same age I was when my grandma took me. I felt really connected to her!


Le Mont Saint Michel is an ancient abbey on a little island barely off the coast of Normandy, France There used to be quite a bit more water surrounding the island and the government has taken efforts to restore it to it's original state. When I visited as a girl it was much more of a city though now it's more of a tourist island, but it is still so full of history and magic. It is a must see!
To enter the island you have to park and take a shuttle in. Or you can take a 40 minute walk but with kids it most definitely would have been a 2-hour trek! And you've got lots of stairs to climb once you get there! The shuttle is free, the parking is about 12 Euro, depending on how long you park. If you want to save some money, there is a little shop to the right and behind the parking lot. Go in, buy some delicious biscuits, leave your car and walk to the shuttle. Also, great views from this spot!
And if you go down that same road you can catch the sheep grazing in front of the Abbey. We drove down the road just as they were being herded through the town and into a barn. If you're American, you know what an awesome novelty this is! We were so excited. And it may have been the highlight of the trip, for the kids at least!


Once on the island you can head straight into the walled city. We were lucky enough to be here at Christmas time. The lights were up in full force and it was absolutely lovely! I recommend going in the late afternoon and staying through the evening to see the lights! The (extremely) tiny streets are full of shops. Mostly touristy stuff, but it's fun to look in.


There are plenty of places to eat, even in the off season. Paul and I came here in April and all the shops and restaurants were open, but only about half are during the cold months. Even with fewer shops open, they weren't busy and you won't have a wait! This is the place to get a crepe. You can get them at every other shop on the street.


Eat before you hike up the stairs to the abbey! It's a lot of stairs. We tried to count but kept losing track! There is a fee to enter the abbey and it is well worth it! The architecture dates from the 9th century and almost every century after that.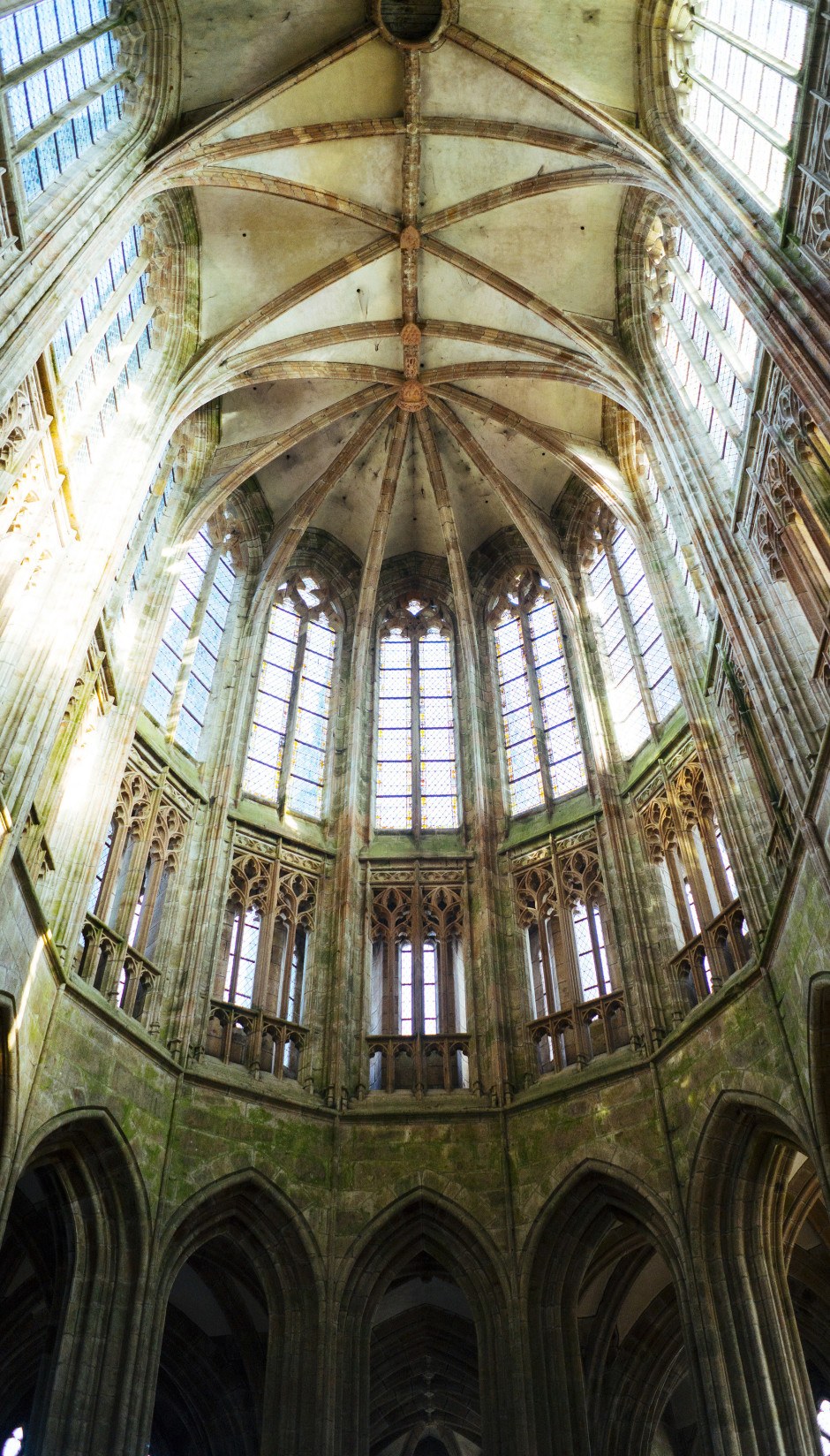 We try to let our kids run around and play as much as they want at these places. It's not fun and memorable if you have to be silent and well behaved the whole time! We did try to keep them quiet in the abbey though, as it is still a working abbey and nuns still worship here (we saw a few).\


It was a good introduction to gothic architecture for the kids. The abbey is partially built into the side of the island. It's incredible to see!


This was a great day trip, full of fun (and educational) experiences for both the kids and adults. You'll never forget the magical feel of this island. (Check out our aerial video of Le Month Saint Michel below.)