This is everything you need to know to plan the perfect Harry Potter London vacation
How to Plan the Perfect Harry Potter London Vacation
This post contains affiliate links
Last month I took my 12-year-old daughter to London for the ultimate Harry Potter London vacation! It was the trip of a lifetime. She and I are both obsessed with all things Harry Potter and its been such a fun and magical (haha) thing for us to share.
Her Christmas gift last year was this trip along with tickets to see Harry Potter and the Cursed Child, which she has been dying to see since reading the script years ago when it first came out. When we walked into the Palace Theater she turned to me and said "I've been waiting 1/3 of my life for this moment" and it's true! Her reaction to this Christmas gift was absolutely priceless and worth every penny and hour of planning this trip!
You can watch her opening her present here. It's the cutest!
I let my daughter plan a good portion of this Harry Potter vacation and it was totally worth it. It gave her practice planning, scheduling, and budgeting. Plus she got to pick most of the things that she wanted to do. I think traveling and travel planning is such a great thing for kids and teens to do, I talk more about that here.
Last year for her 12th birthday we visited The Wizarding World of Harry Potter in Orlando and it was amazing! We couldn't wait to experience another Harry Potter themed vacation! And this Harry Potter London vacation totally lived up to our expectations!
If you've got any Potter Heads in your family this Harry Potter London vacation will be the perfect thing for them! This itinerary is good for fans of all ages, and not just for kids!
Prepping for your Harry Potter London Vacation
Read the Harry Potter Books
Hopefully, you've already read the Harry Potter books. If not and you're interested in taking a Harry Potter London Vacation, it will make it even more special! We have been re-reading the illustrated collection of Harry Potter. They are so beautiful and great for younger readers too.
Watch the Harry Potter Movies
Have a Harry Potter movie marathon before you visit London! You'll be seeing a lot of Harry Potter London sites from the movies, so it's good to brush up!
Get Sorted Into Your Hogwarts Houses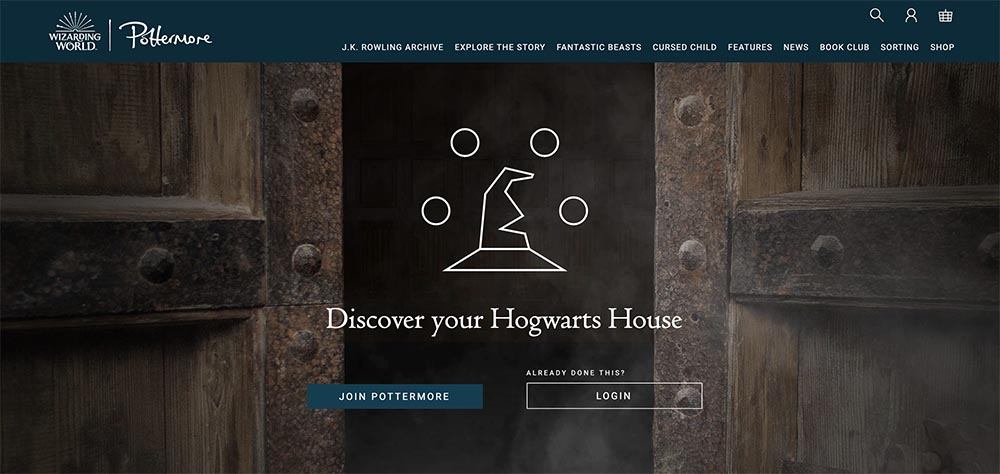 Before you wander around London like total Harry Potter nerds, you'll want to get sorted into your Hogwarts houses. You can take the official test from Pottermore where you can also find out your Patronus and your wand!
Get Harry Potter Nails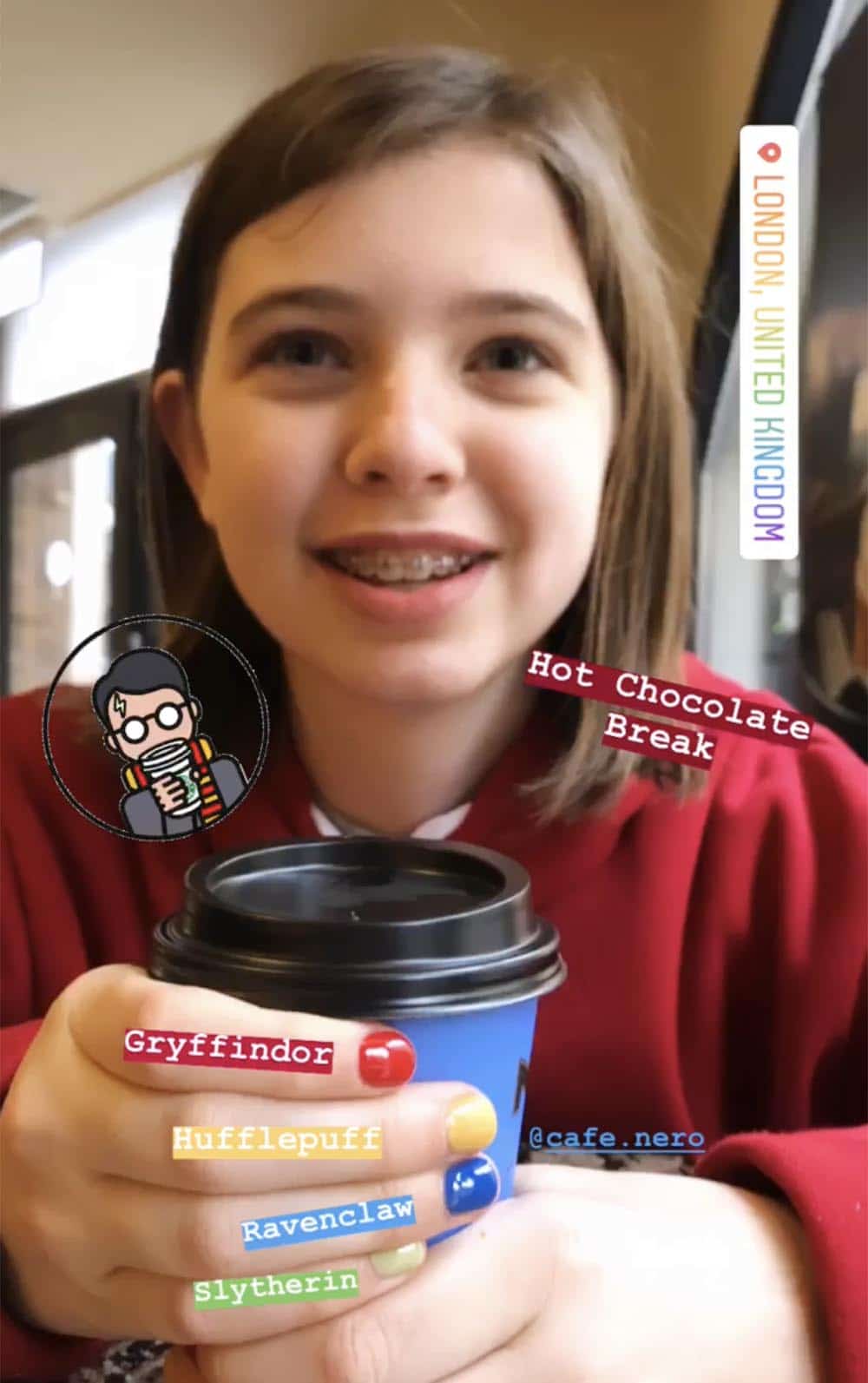 If you love getting your nails done before a trip as we do, get some cute Harry Potter nails. I went with Gryffindor colors and Abbi painted each nail a different color for every Hogwarts house. So cute! I love these nail wraps too if you're good at doing your own nails.
Pack Your Harry Potter Gear
To really get in the spirit you'll want to wear your Harry Potter gear! My daughter got a few cute things for Christmas when I surprised her with this trip. There are some great shirts, socks, hoodies, and other Harry Potter stuff online!
Book Ahead
While spontaneous trips can be really fun, a Harry Potter London vacation will take some planning. Here are things you shouldn't leave until last minute.
Buy theater tickets, especially if you're seeing Harry Potter and the Cursed Child
Buy Flights
Book Your Hotel or Airbnb, especially if you plan to stay at a magic-themed hotel (keep reading to find out more about that)
Book each Harry Potter experience (read below for more information)
Know How to Get Around London
It's good to know how to use the public transportation system in London before you go. It's one of the best in the world and will be part of the fun! Learn more about getting around London here.
What to do on your Harry Potter London Vacation
We did a ton of research before our trip and came up with the best Harry Potter things to do in London and just outside London too! We also found a few more things along the way! We were able to combine a Harry Potter London-themed trip along with the classic London tourist spots and experiences.
Watch this video of the top ten things to do on your Harry Potter London vacation

Look at this Harry Potter London vacation map to help you choose where to go.
Stay at a Harry Potter Hotel – The Georgian House Hotel Wizard Chambers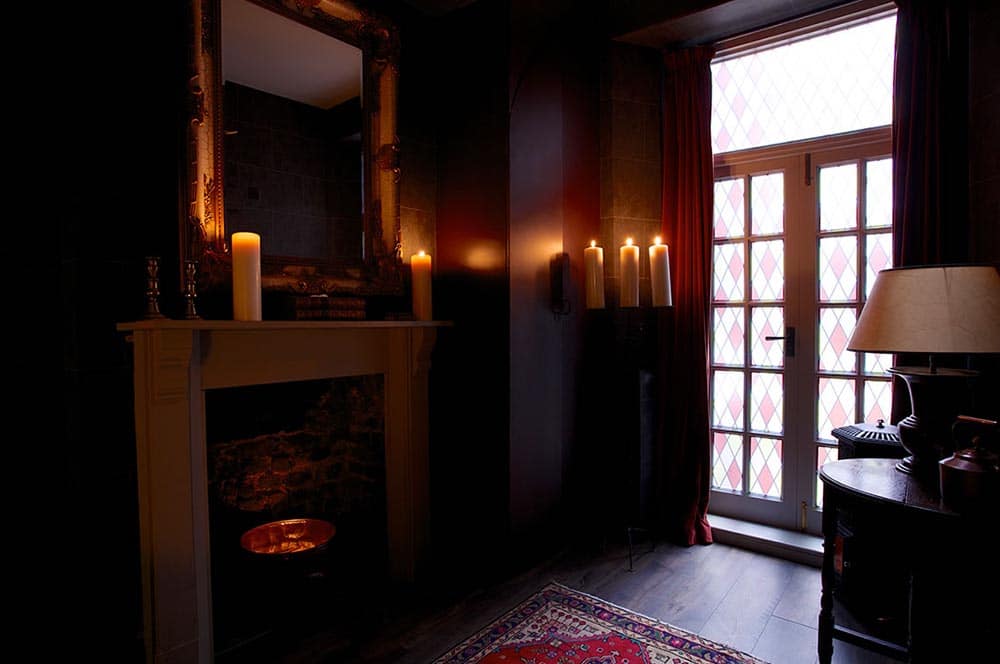 If you want to make your Harry Potter London vacation really magical it's worth staying at a magical hotel, and there's no better option than the Georgian House Hotel. This amazing hotel made our time in London extra special!
At the Georgian House Hotel, you can book one of their magical Wizard Chambers! They have chambers for 2 to 6 visitors! We stayed in the family room, which sleeps 6. Our chamber consisted of two separate rooms, one with a king size four poster bed with curtains and all, and the other room with a four poster bunk bed! I've never seen anything like it, but I'm sure I need this in my house!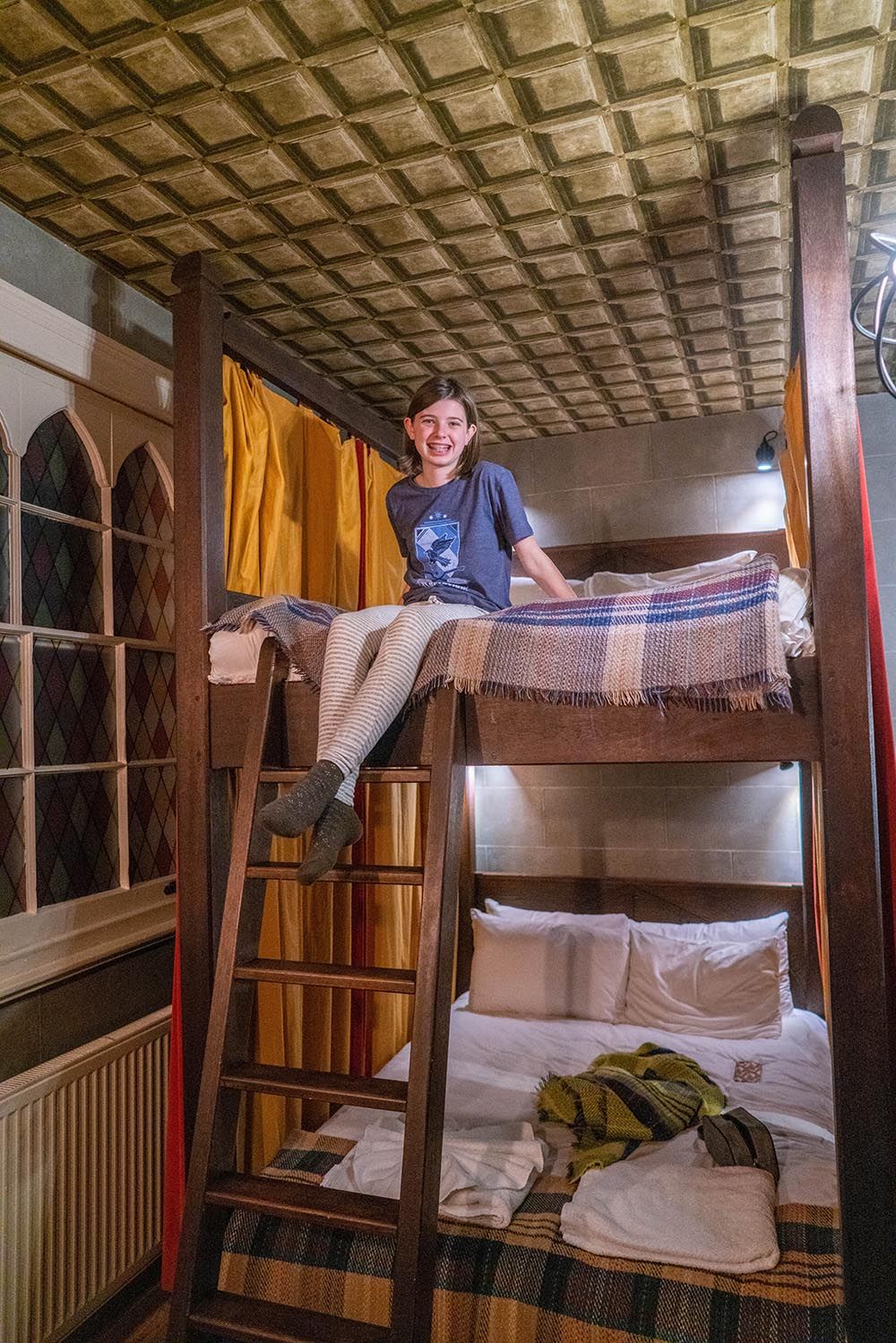 The Wizard Chambers are located in the "dungeon" of the Georgian House which is decorated to look just like Hogwarts! The rest of the hotel is just as beautiful and is a renovated Georgian home. The hotel reminded us of Serius Black's house from The Order of the Phoenix, but obviously way more beautiful and renovated without any house elves! Although someone did come to tidy our room each day…so maybe?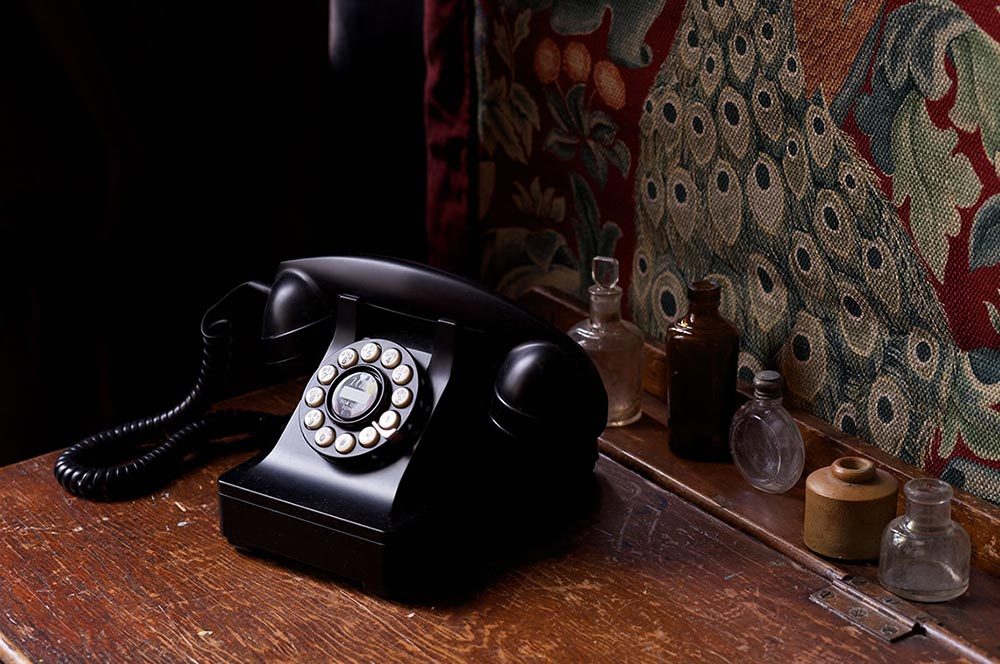 Another huge perk of staying at the Georgian House Hotel is the incredible breakfast included each morning! We were treated to a magical menu consisting of a forbidden feast and toffeedukes pancakes! You can also choose other delicious items like avocado toast, eggs benedict, and french toast, as well as the full breakfast buffet.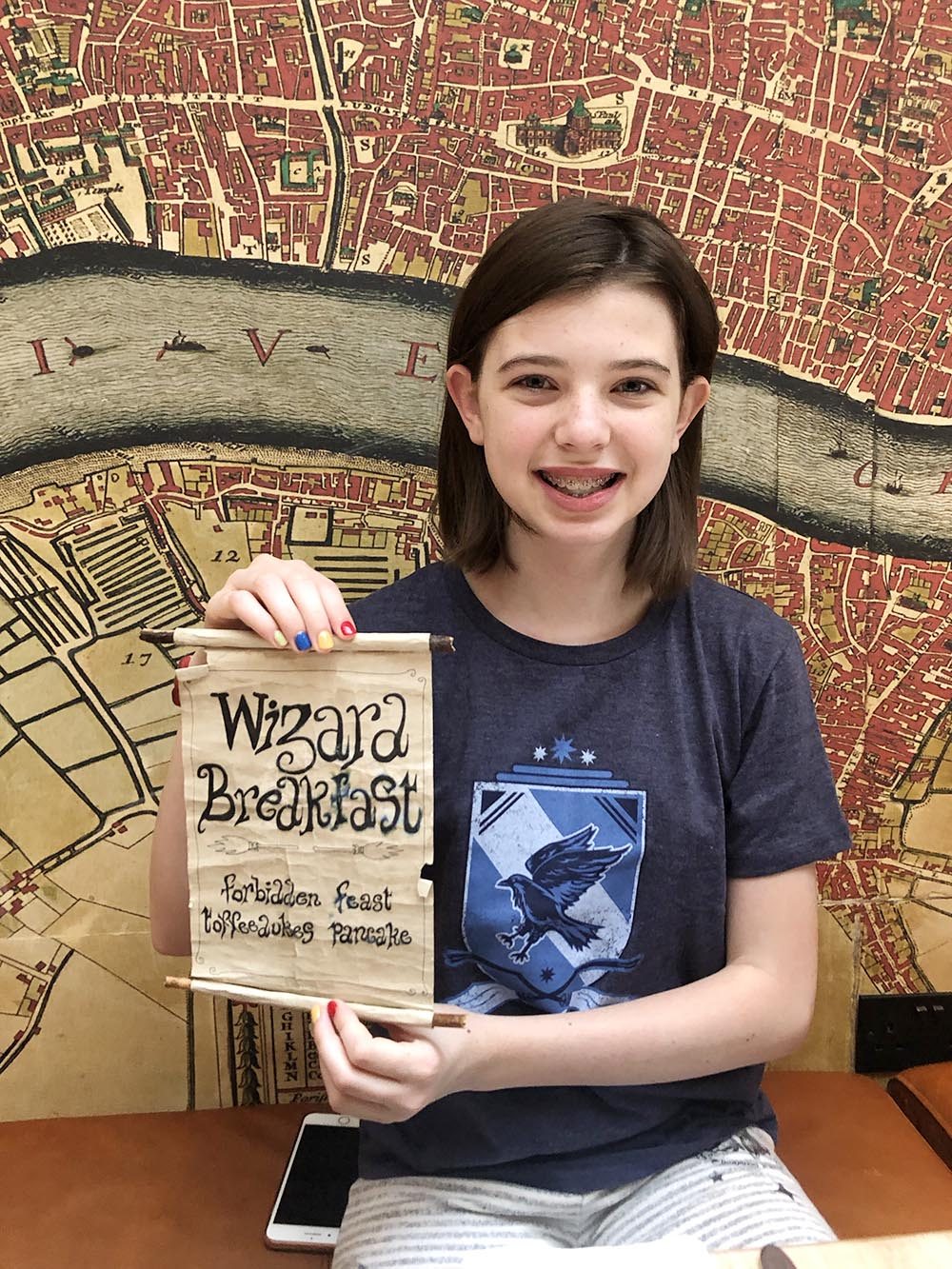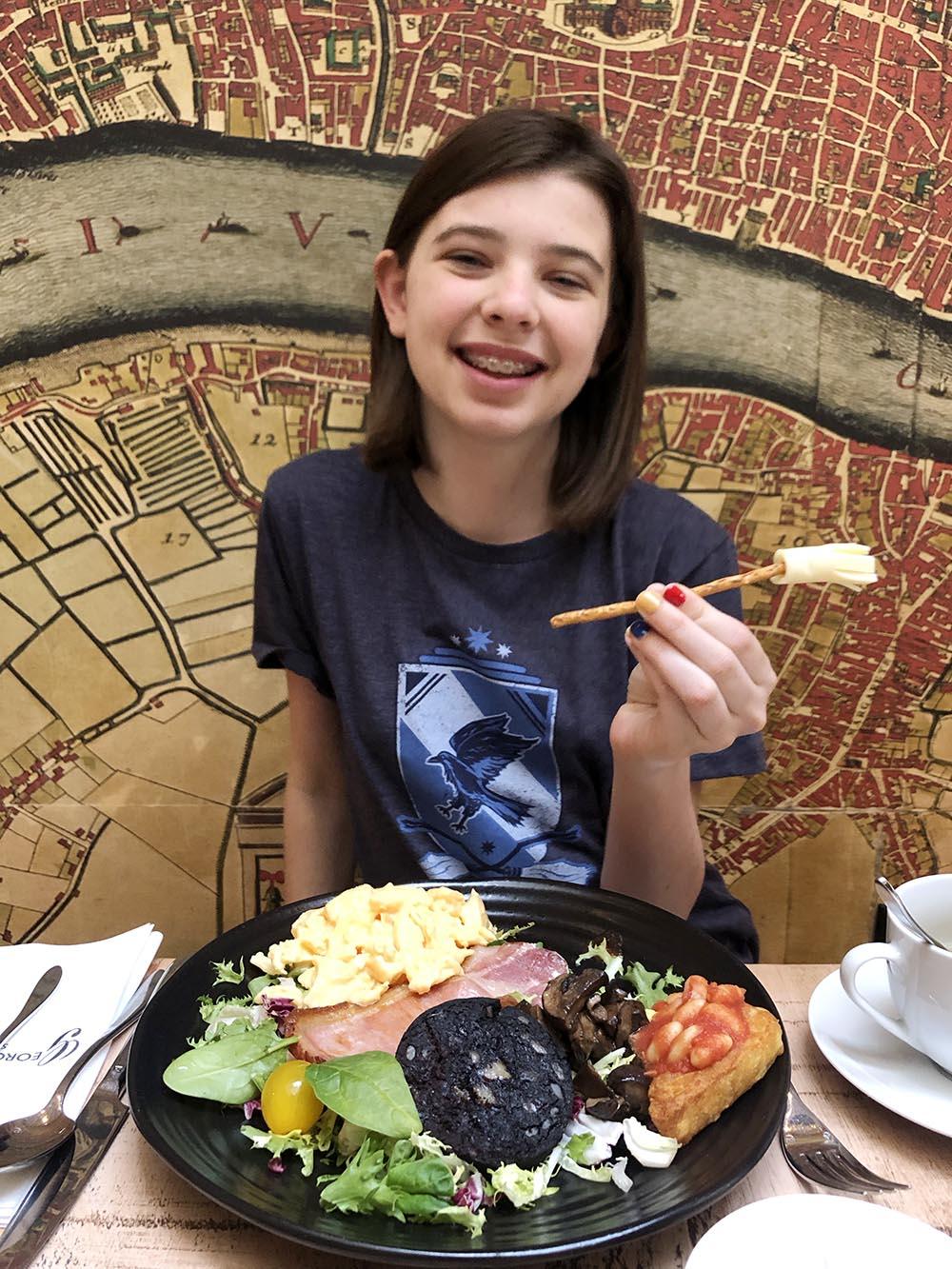 The kitchens at the Georgian House Hotel are open all day and also provide great room service. We were in a hurry and they were kind enough to pack us sandwiches to go in a cute little canvas tote bag! So nice right?! It's the little things that matter!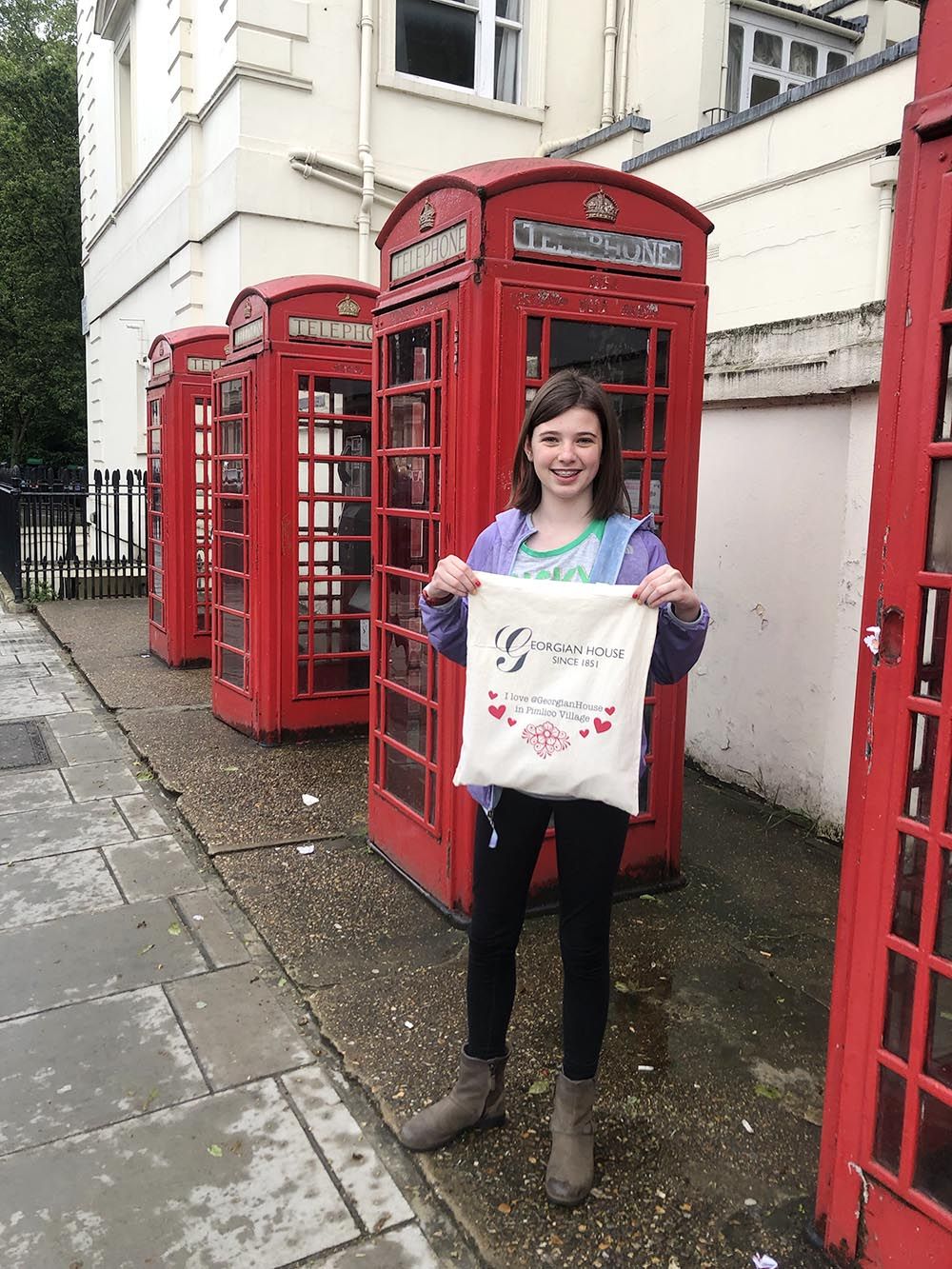 Another fun experience at the Georgian was potions mocktails making! We had fun following the potions master's instructions as we concocted our own delicious sugary potions to enjoy.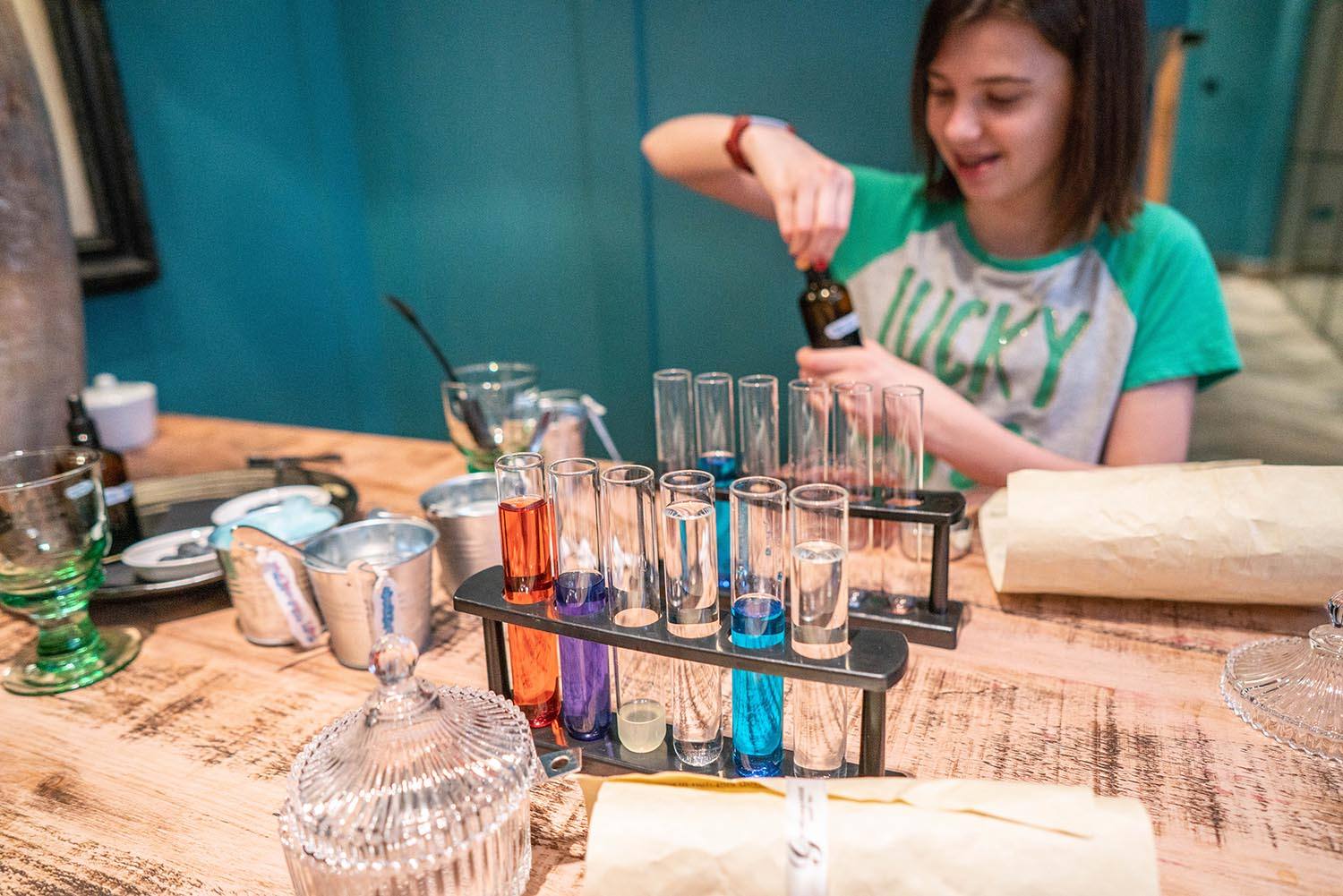 The Georgian House Hotel is located just around the corner from Victoria Station, about a five-minute walk, making it an easy spot to base yourself for all the sites in London.
Be sure to book well in advance as the Wizard Chambers are very popular and book up quickly! The Georgian does have other gorgeous rooms available if you're not able to book the Wizard Chambers. It's a great location within walking, bus, and tube distance to all the sites.
Watch Your Favorite Harry Potter Film at London's Smallest Cinema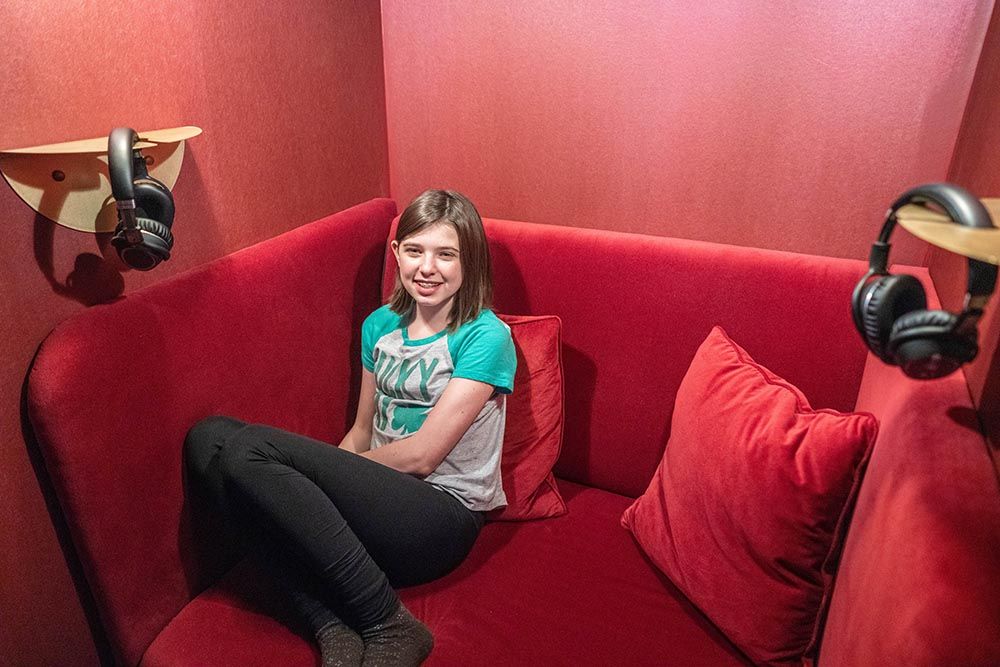 Complete your wizarding experience at the Georgian House Hotel by climbing to the top of the 5 story house and watching your favorite Harry Potter film in London's Smallest Cinema, just for two, Pimlico Pictures! We chose to watch Order of the Phoenix since the hotel reminded us so much of the Georgian home of Sirius Black, or the headquarters for the Order!
You can also order popcorn and other snacks as you snuggle up on the velvet couch with your favorite travel buddy!
Cost
£25
See Harry Potter and the Cursed Child Play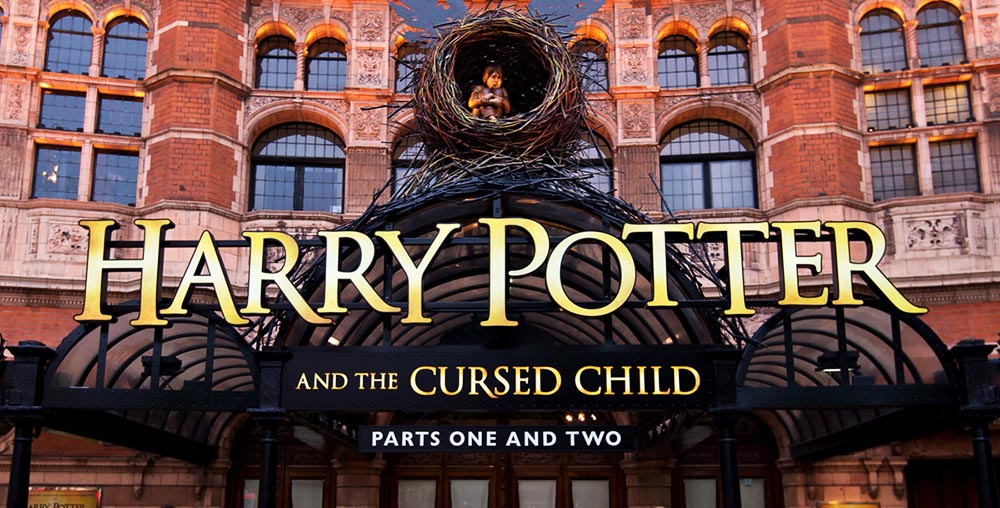 If you are a true Harry Potter fan, this show is a must! It is set 19 years after the last book/movie and is the story of Harry Potter and Ginny Weasley's middle child, Albus Severus Potter and his journey to discover himself and his purpose. The play is viewed in two separate parts. You can see it on the same day back to back or on two separate days. We opted to see it over two days to extend the magic!
I would recommend Harry Potter and the Cursed Child for kids 10 and up who are really into Harry Potter and have read all the books or seen all the movies. The play can get quite scary with Dementors and Voldemort and the storyline is complicated and it's very long. It was wonderful and we loved it, but I was glad my younger kids weren't there. If you do take younger kids I highly recommend choosing the two-day option.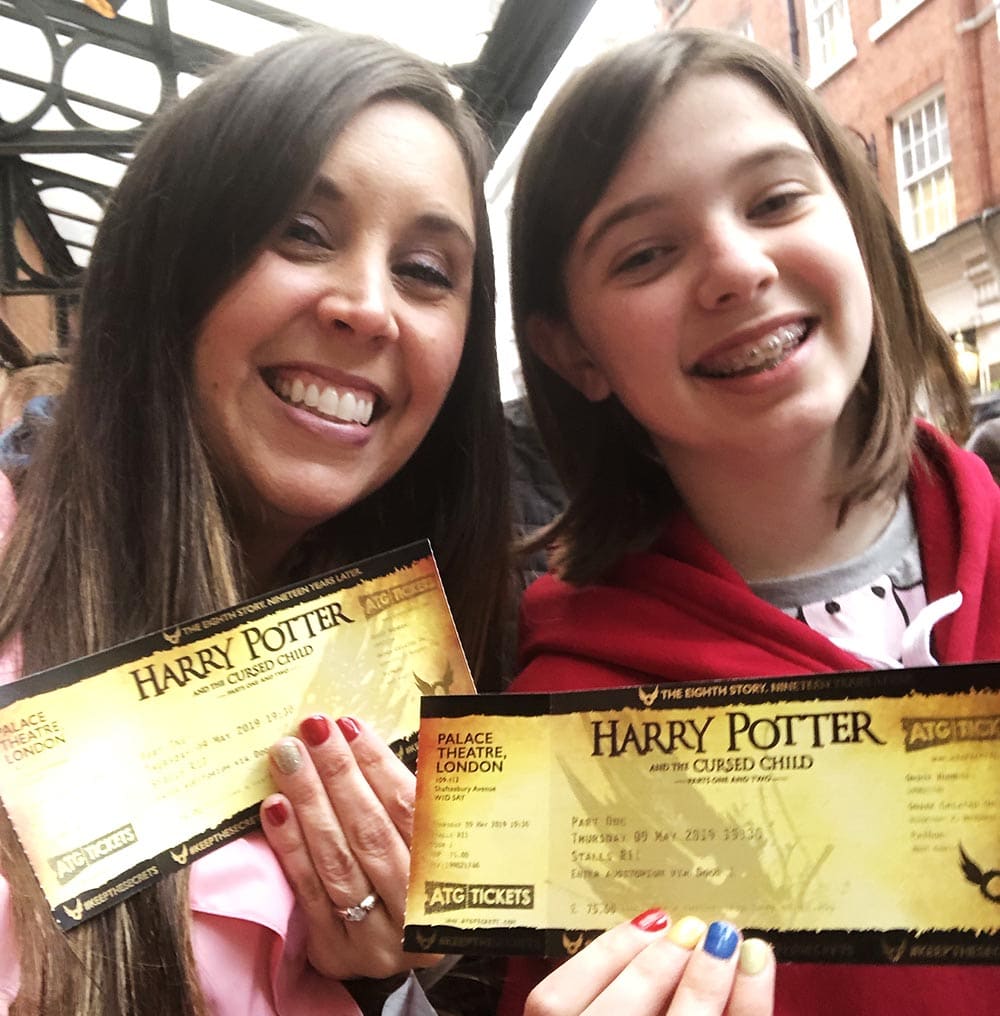 You'll need to book your Harry Potter play London tickets well in advance. It's no easy feat, so be sure to book these tickets before you plan anything else. There are five ways to get Harry Potter London tickets, including a Friday lottery. They are not cheap, but actually much cheaper than seeing it on Broadway in New York City.
This is a once in a lifetime opportunity, so I think it's worth it to splurge on really good seats. We chose the stalls, row R, stage right and they were pretty good seats. Although I would have loved to be a few rows closer!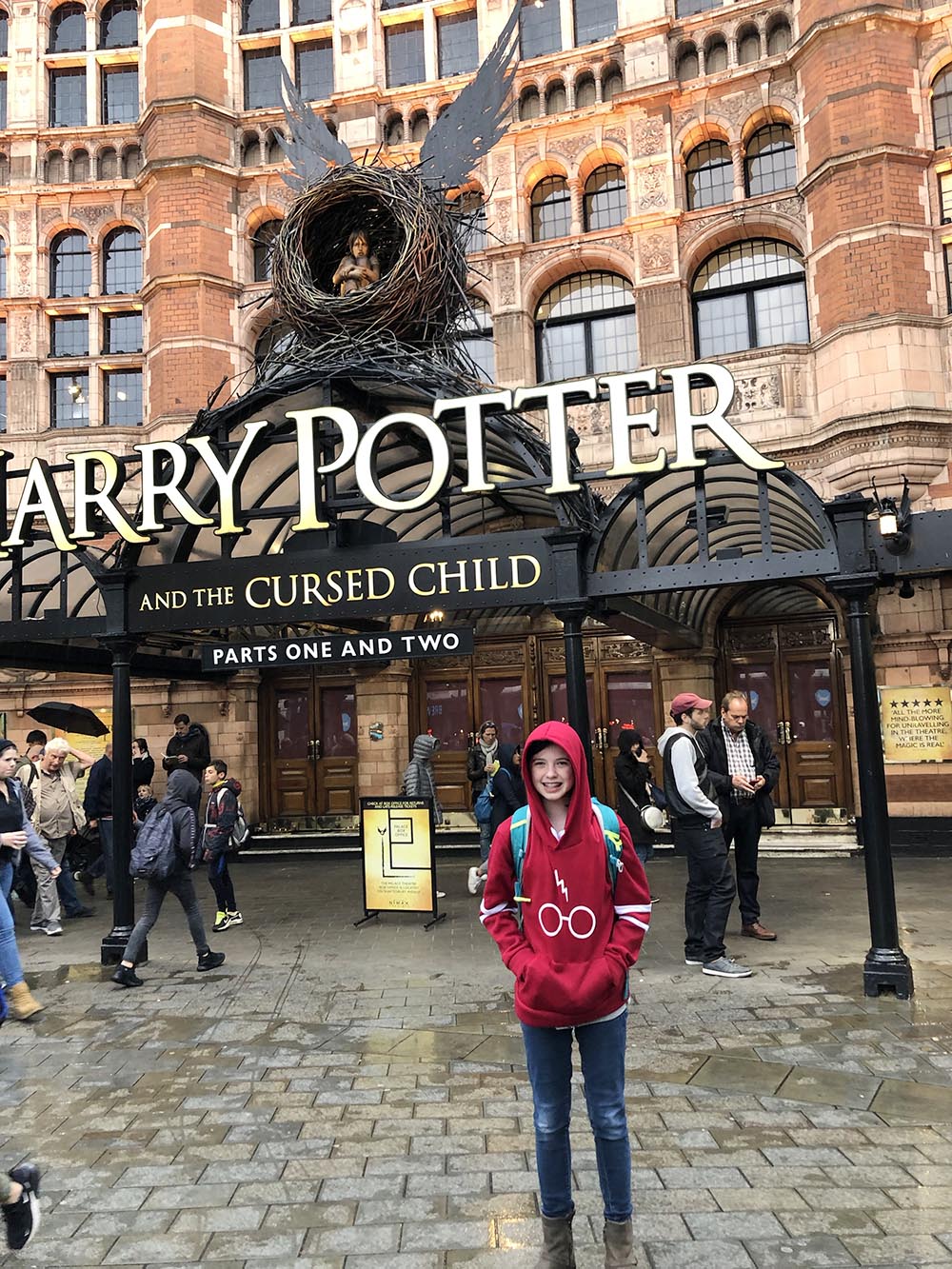 My daughter told me "I've been waiting a third of my life for this moment," and we both agreed it was absolutely worth it!
We saw several other shows during our Harry Potter London vacation including Wicked, Aladdin, and The Play That Goes Wrong. They were all excellent and, again, tickets were much more affordable than Broadway.
Cost
£80-500 depending on seats
Visit the Warner Brothers Studio Tour: The Making of Harry Potter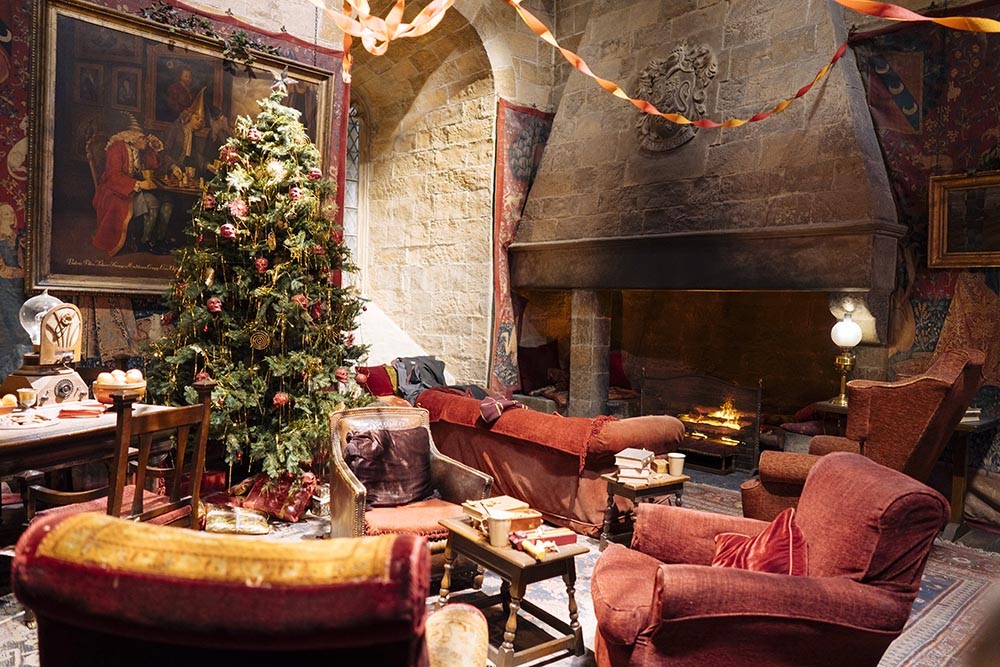 Your Harry Potter experience in London won't be complete without a trip to the Harry Potter Studio tour where the majority of the movies were filmed, just outside the city. This is a great thing to do if you're a big fan of the Harry Potter films. The studio is full of props, sets, costumes, and fun information about the making of the Harry Potter series!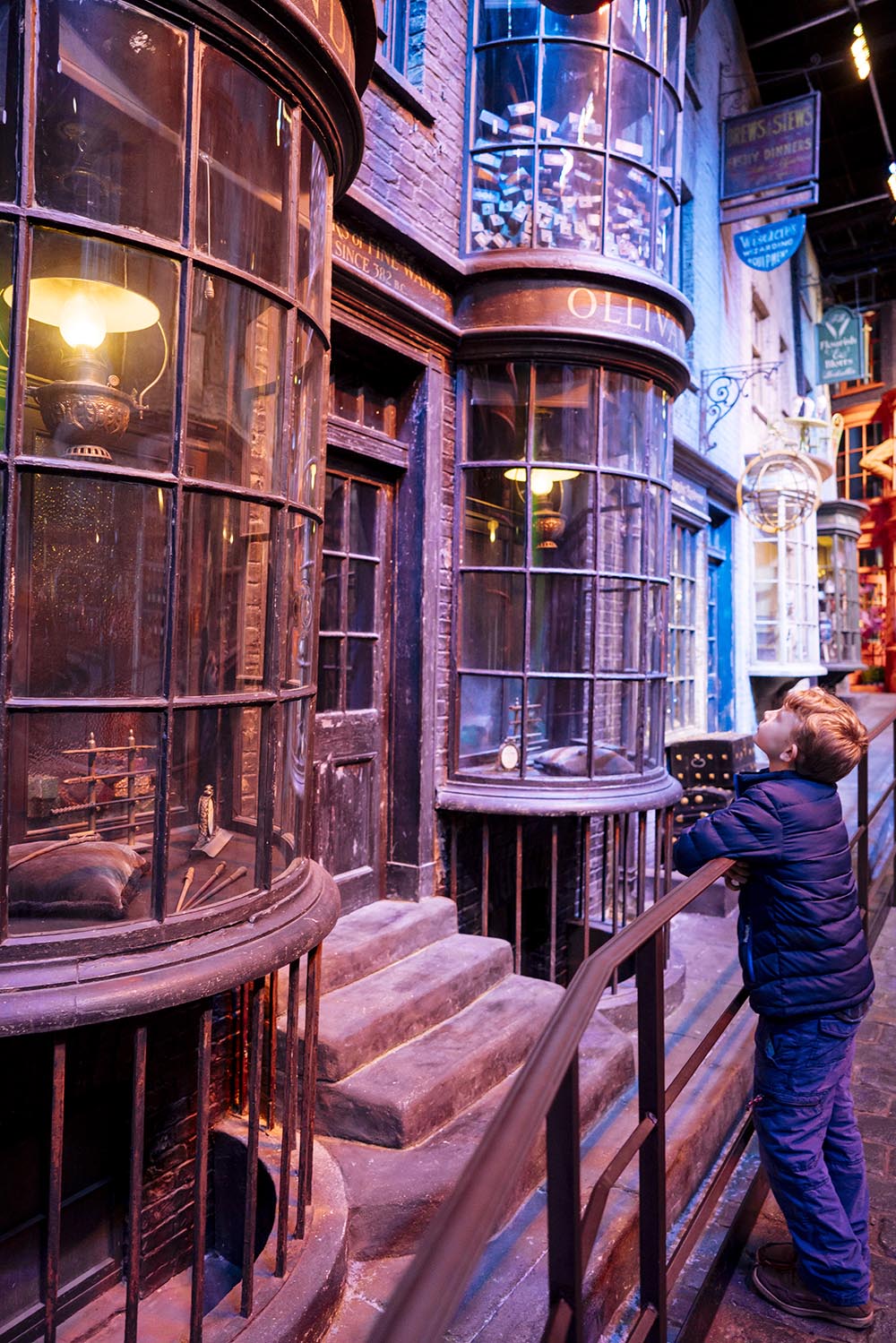 The Warner Bros studio tour London should be booked as soon as possible as it can sell out months in advance, especially if you're going during the winter for Hogwarts in the Snow (which is amazing)! You can easily book your tour directly from London here.
When you visit the Harry Potter studio tour you'll be given a timed ticket and then be able to wander the studio (mostly) at your leisure. Here's what you'll be able to see at the studio:
Costumes
Props
The Great Hall
Gryffindor Common Room
Small scale Hogwarts Castle
Malfoy Manor
Hagrid's Hut
the Burrow
Dumbledore's Office
The Dursley's Privet Drive
The Knight Bus
The bridge between Hogwarts and Hogsmeade
Diagon Alley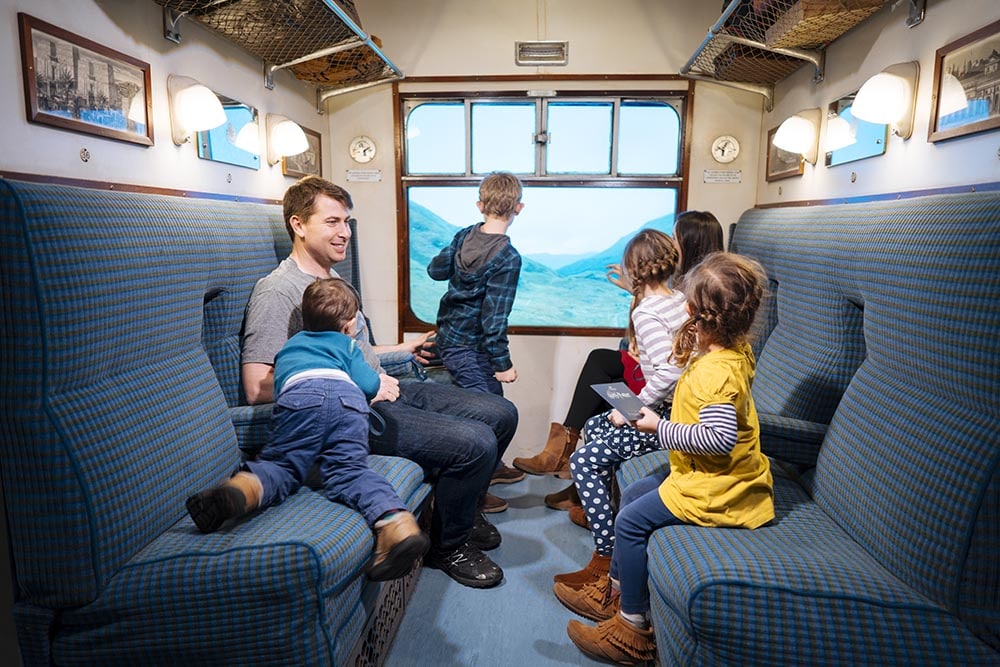 There are also some incredible interactive exhibits where you can
Learn to cast spells
Ride a broomstick in front of a green screen
Visit the Forbidden Forest
Board the Hogwarts Express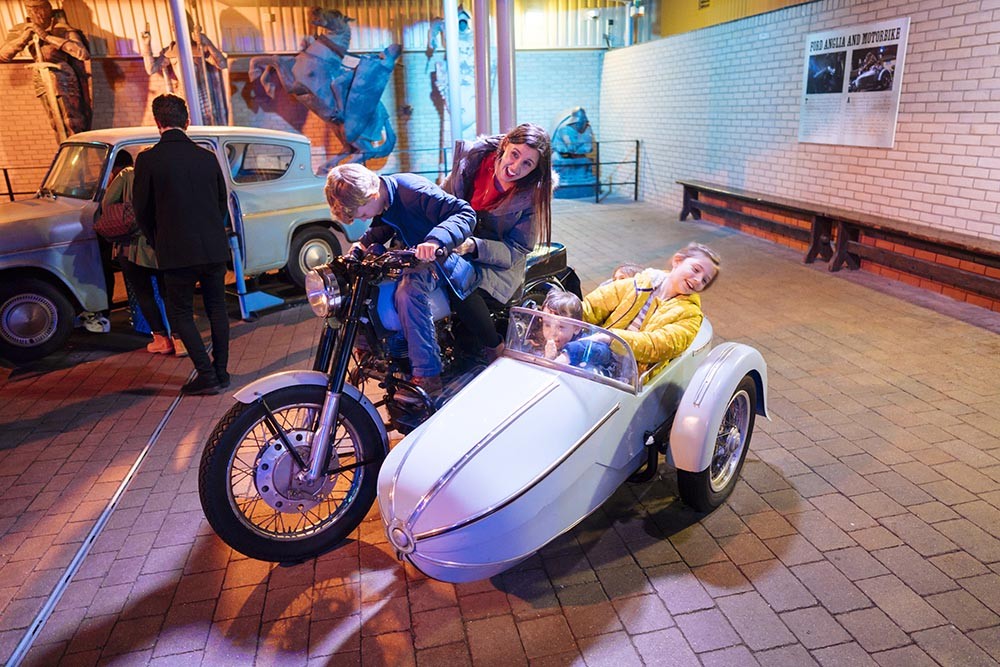 There will be a photo opp for most of these experience. You don't have to buy anything, and can always take your own photos.
You'll also have a chance to stop in the cafe of the Warner Brothers Studio Tour and have a meal and, most importantly, a butterbeer! You can also try the butterbeer ice cream! Personally, I liked the ice cream better! And once you've had the frozen butterbeer at The Wizarding World of Harry Potter at Universal Studios Orlando, there's just nothing that can compare!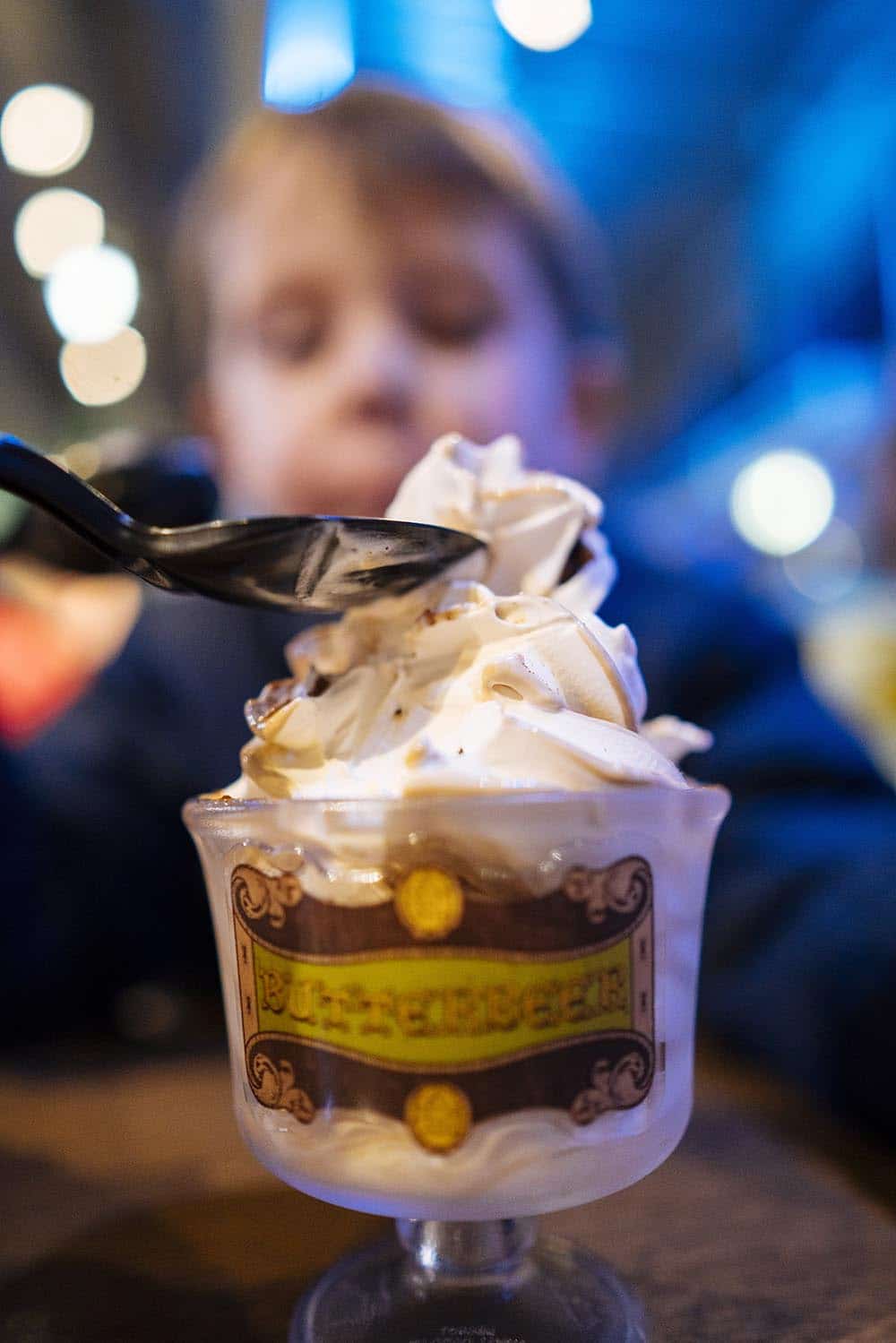 After you're finished at the Harry Potter Studios, you'll be ushered through the gift shop on your way to the exit. There are some really fun Harry Potter toys, candies, clothing, wands, and more. While these are all great, I'd recommend visiting somewhere else to buy Harry Potter things. Keep reading to find out where.
This is quite a long trip out of the city, so if you decide to stay the night, check out these hotels near Harry Potter World.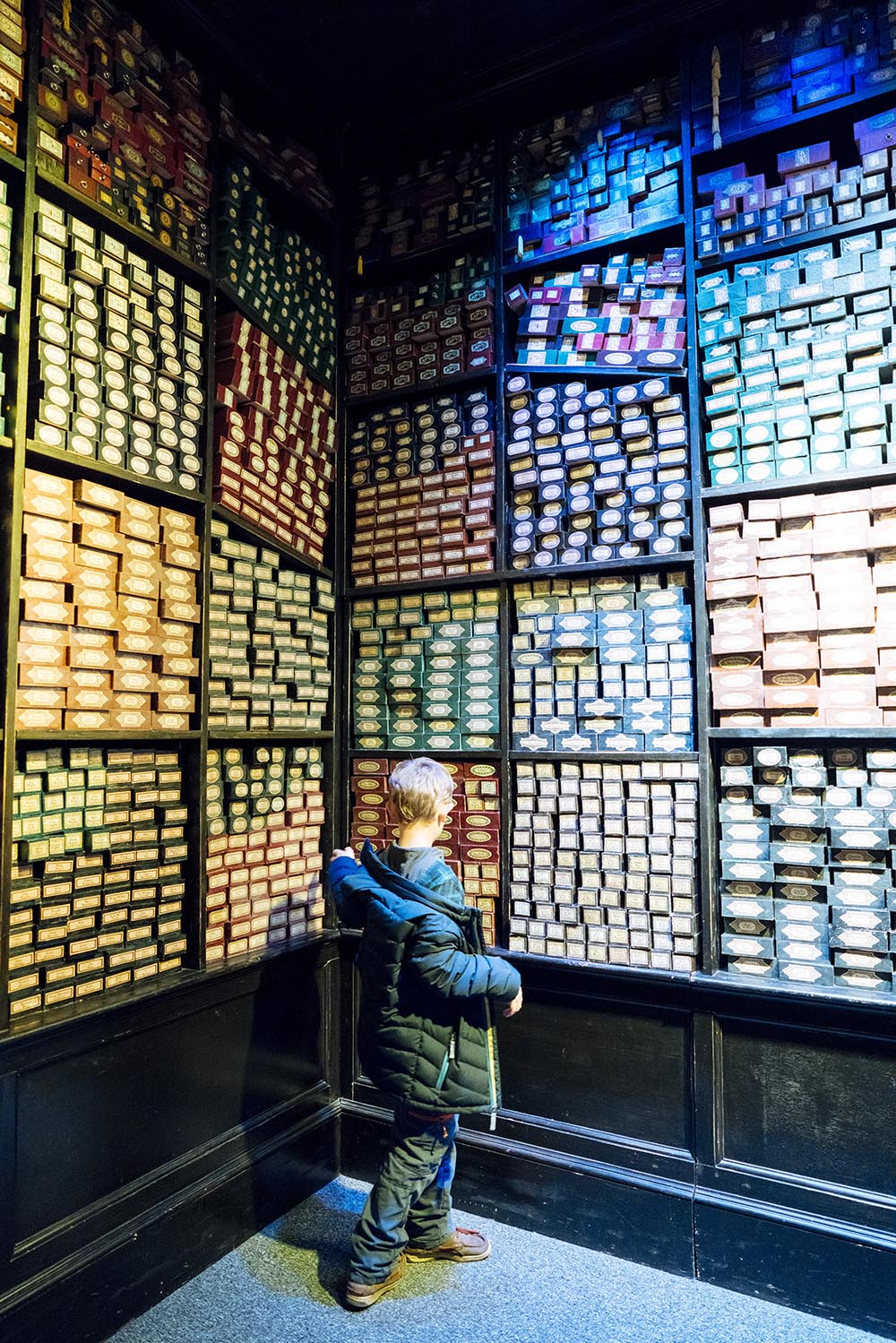 Cost
£115 (studio tour plus transport)
Visit the House of MinaLima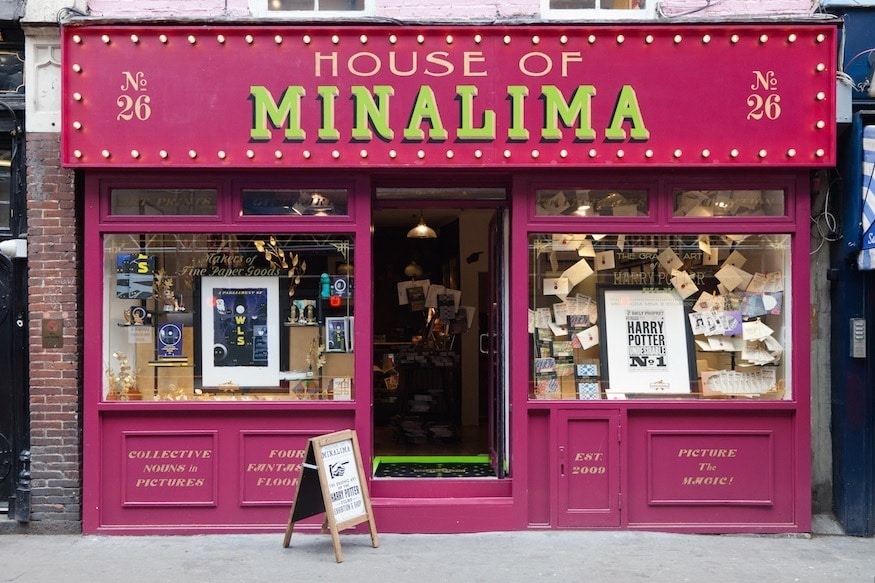 This was one of my very favorite London Harry Potter stops! This amazing Harry Potter Museum dedicated to the art and graphic design behind the props in the movies was incredible! Think about all the props that required graphic design or artwork in the movies like food and cleaning products, newspapers, Harry's acceptance letter from Hogwarts, posters, signs, books, the Maurader's Map etc.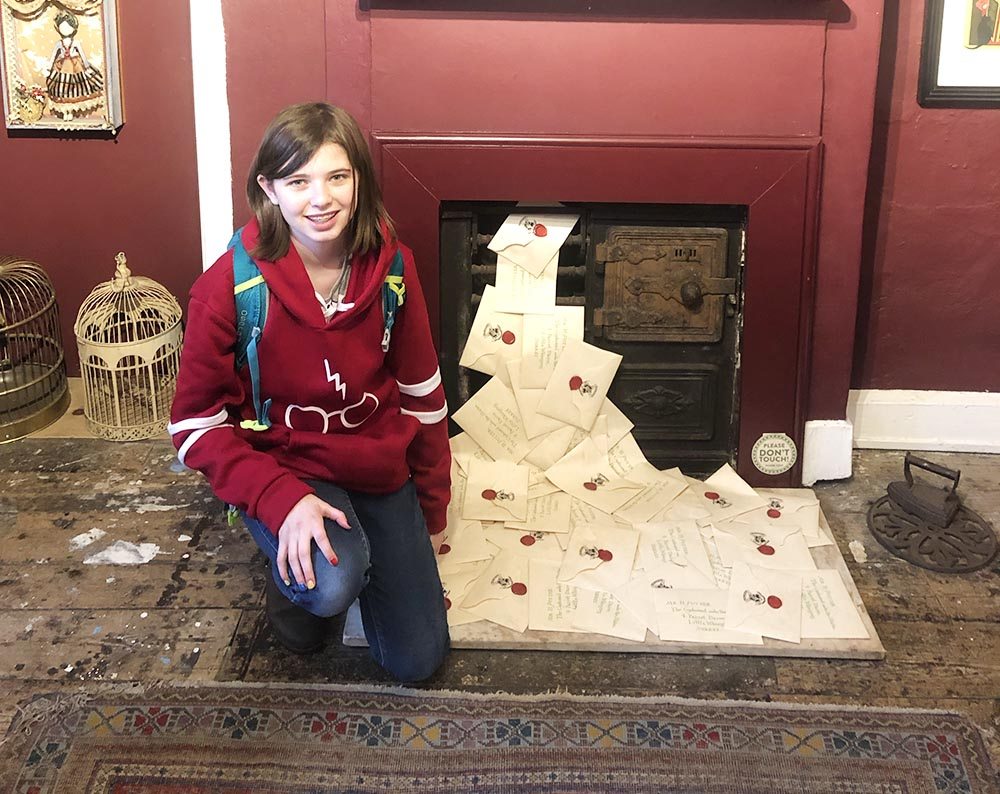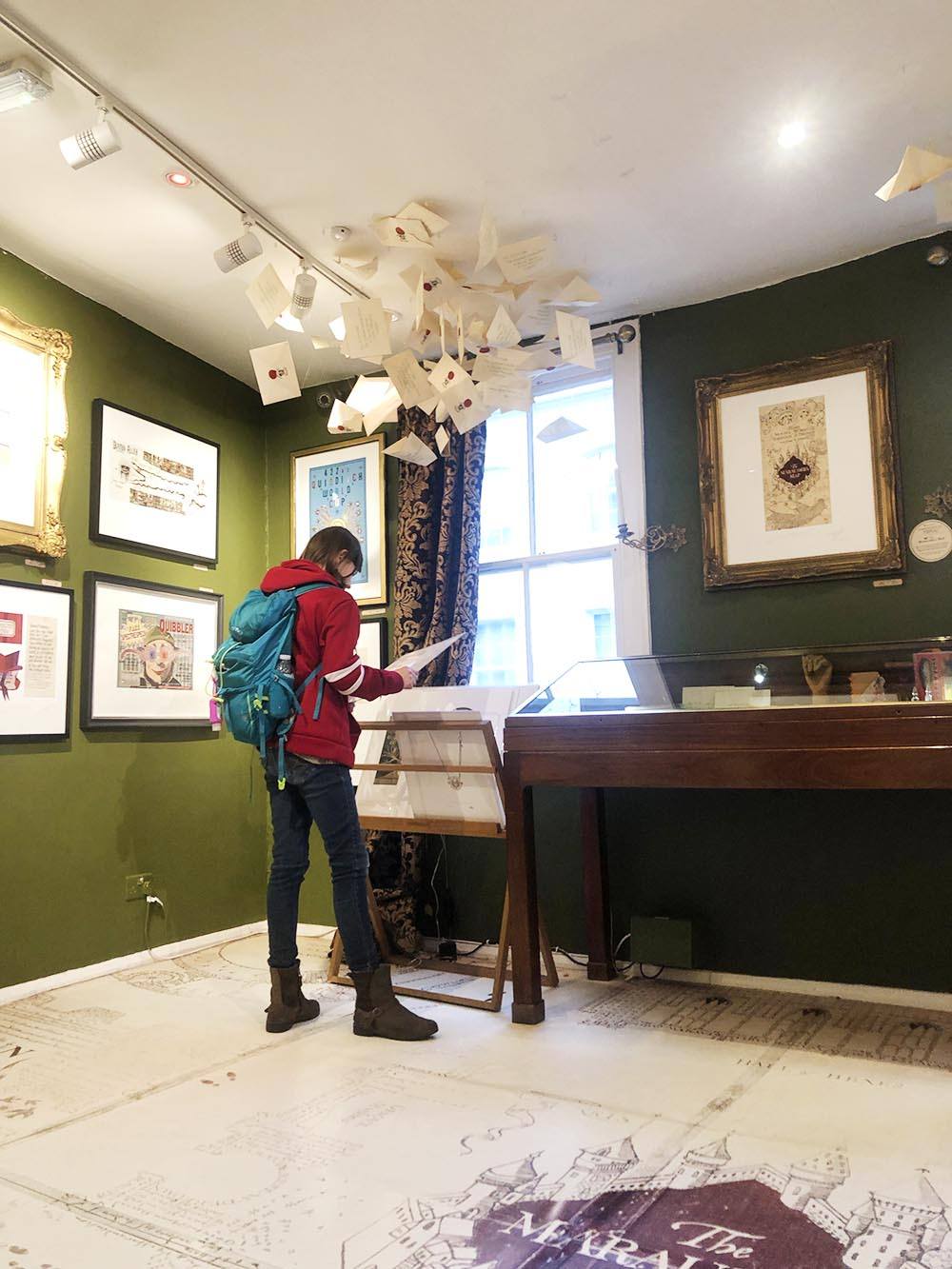 The designs are all done by Mina and Lima, who are incredibly talented artists and designers. At the House of MinaLima you can purchase postcards, books, signed prints, and your very own letter to Hogwarts!
MinaLima also designed some incredibly beautiful interactive classic children's books, including The Secret Garden, The Little Mermaid, The Beauty and the Beast, Peter Pan, The Jungle Book, and Alice's Adventures in Wonderland, which you can purchase there, but they are much cheaper online. They have popups, removable items, and beautiful illustrations! I've added all of these to my personal library and they will be something to pass down to my grandchildren. Absolutely gorgeous!
Run Through Platform 9 3/4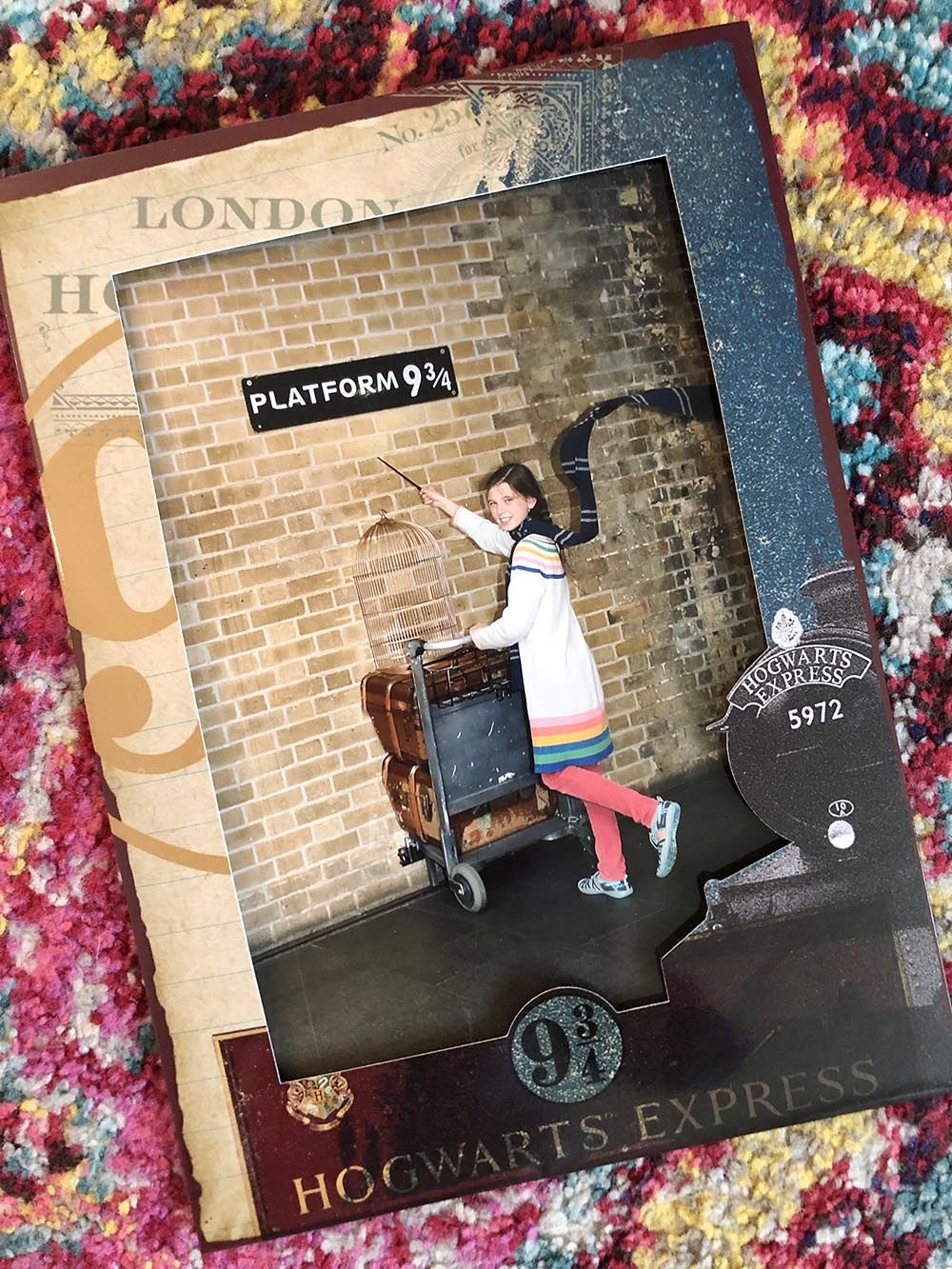 Perhaps one of the most famous Harry Potter London sites, Platform 9 3/4 located at King's Cross station is where Harry ran through the barrier to board the Hogwarts Express before his first year of school! You can visit the actual barrier where the scene was filmed, but there is also a trolly photo opp where you can get your photo taken with scarves, wands, and all!
IMPORTANT: The line for Platform 9 3/4 can be extremely long! I once waited in it with 11 children for an hour and a half. I thought the other people waiting were going to kill me by the end (we had all of our luggage too)! It was so worth it to get our awesome photos. But there is a much easier way to do this now!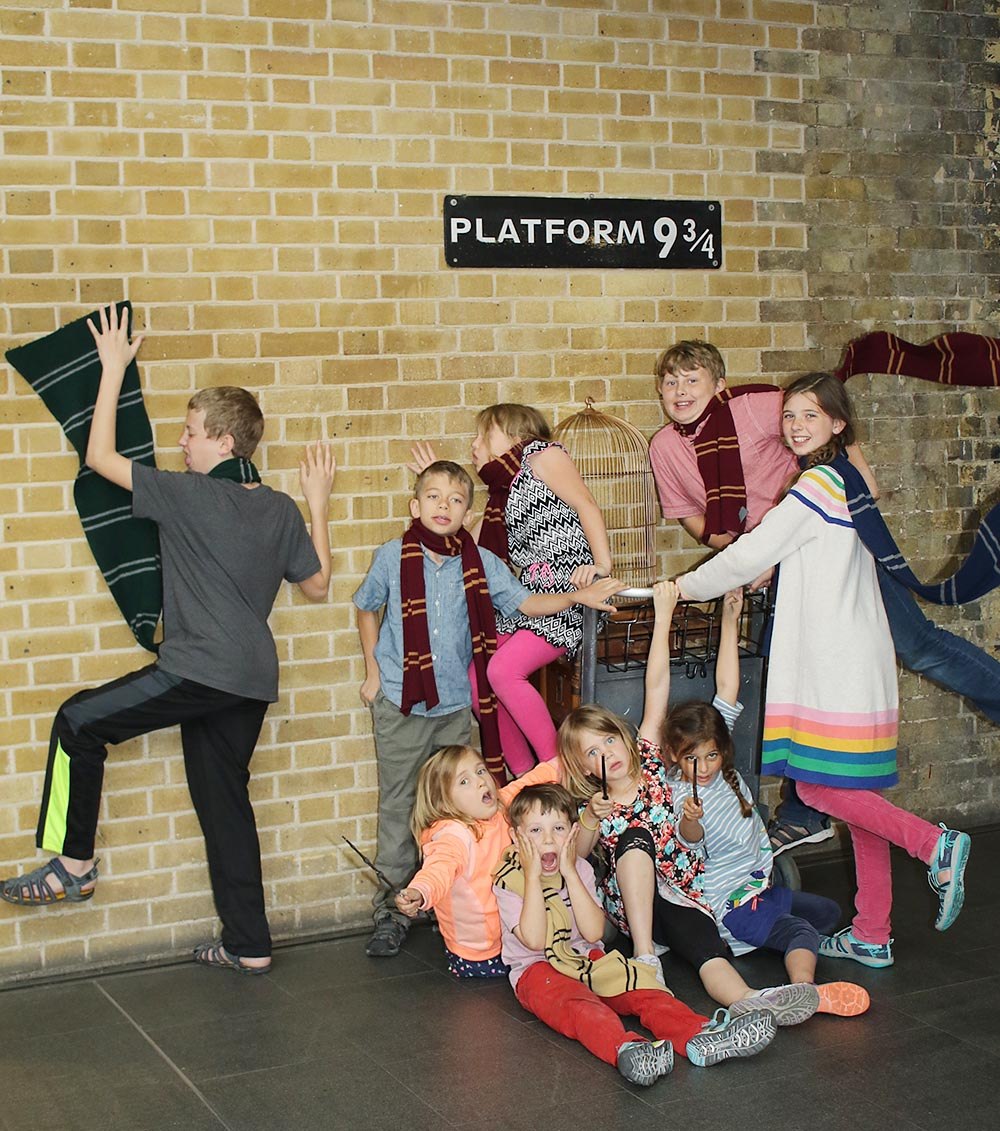 You can purchase this special VIP lanyard online BEFORE your trip that will allow you to go to the front of the line and also gets you a professional photo. This lanyard must be shipped to you, so order it several weeks before your trip. The lanyard costs £15 each.
Be sure to visit the Harry Potter shop at Platform 9 3/4. You can find some fun souvenirs and Harry Potter paraphernalia. And see if my friend with the Deatheater's mark is still there!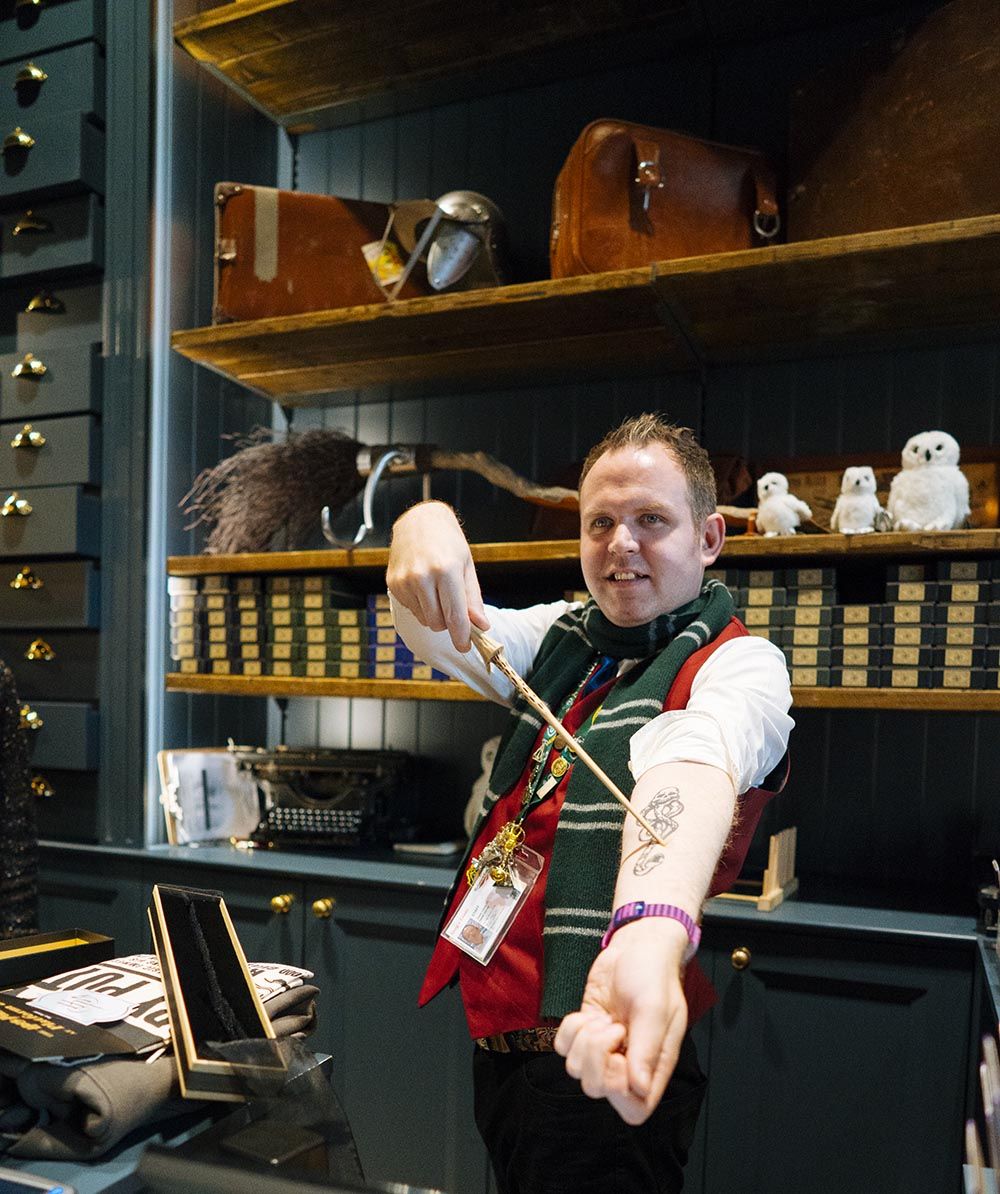 Cost
£15/person
St. Pancras Station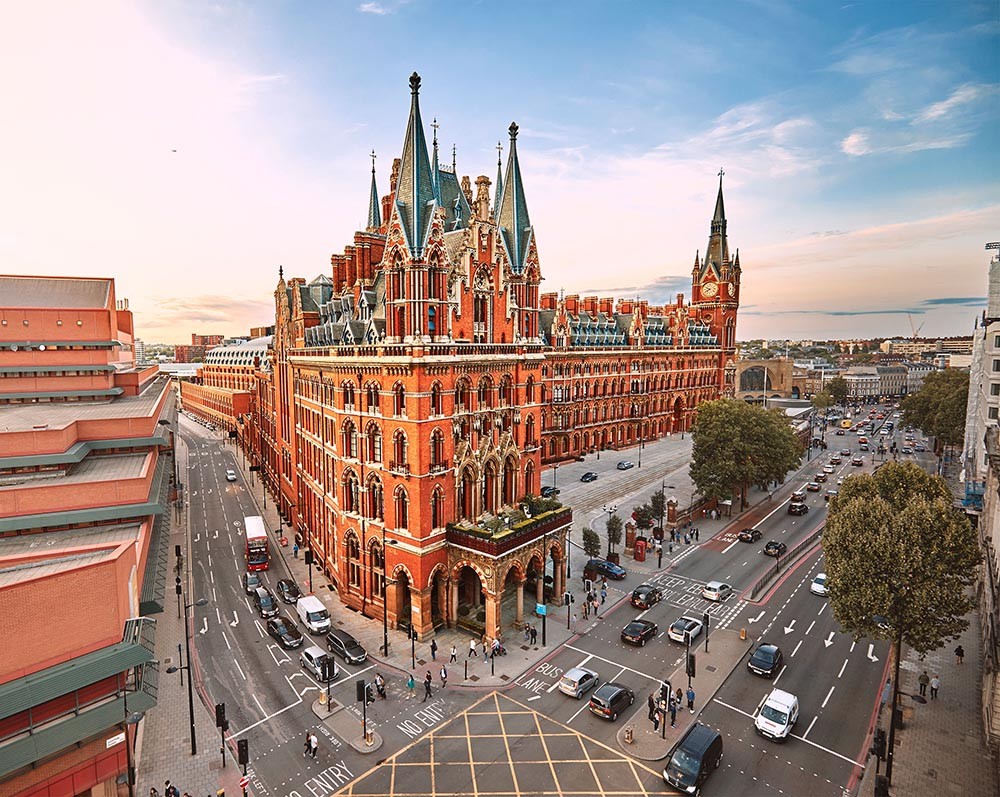 While you're at King's Cross Station, cross the road and visit St. Pancras Station where you'll remember the Weasley's flying Ford Anglia taking off!
Have a Potions Lesson With Snape While Drinking Tea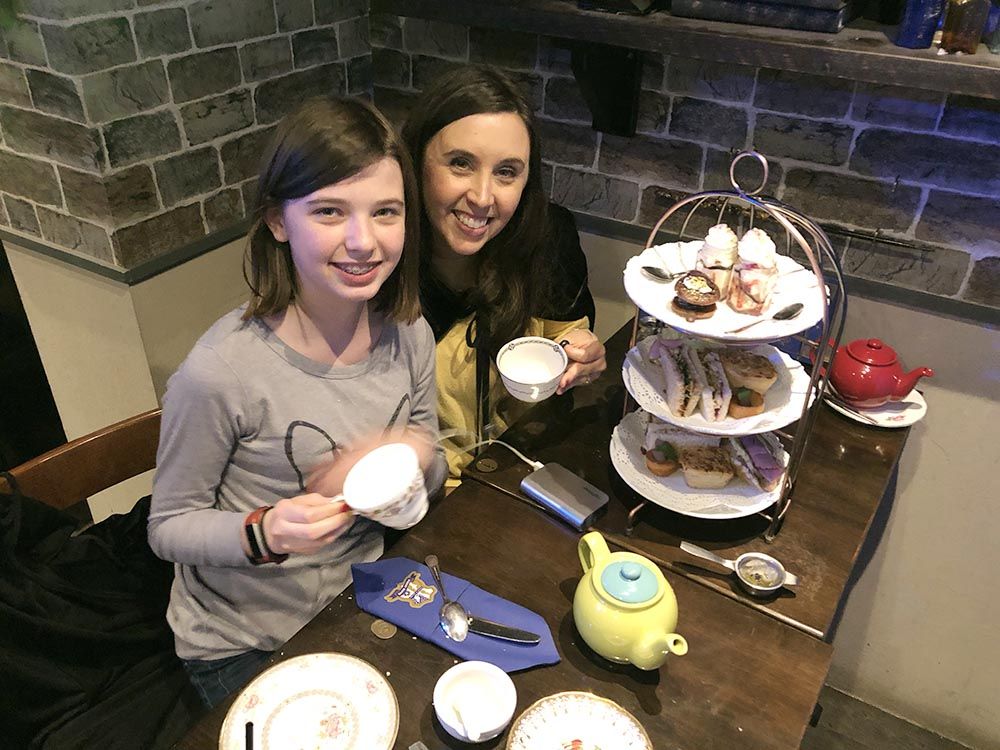 If you're looking to combine a traditional English afternoon tea with a Harry Potter twist, take a visit to Cutter & Squidge for tea in the Potion Room! This was a really fun experience and I thought the theatrics were really well done.
The food and tea were fine, but for around the same price, you can have tea at the Ritz which will be a more elegant and more delicious experience. You can read more about my experience here.
Cost
£49.50/Adult
£39.50/Child
Take a Harry Potter London Tour for Muggles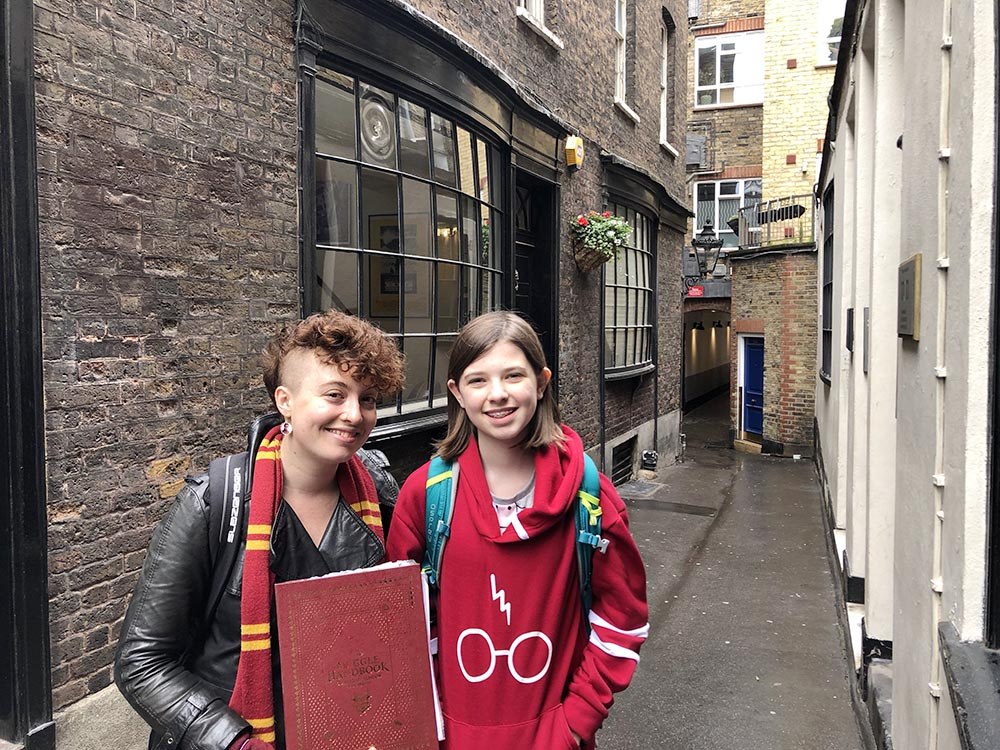 We took the Tour for Muggles through London and it was so worth it! Our tour guide was Ellie Lovegood (Luna's cousin). She took us on a walking tour of London and showed us sites for filming and inspiration from the books and films. She was super knowledgeable about not only Harry Potter but also about London and its history. We learned a lot about the city. Combining history and Harry Potter! It doesn't get much better than that!
This Harry Potter tour went quite quickly. I had a tough time keeping up myself so it might not be suitable for slower children or strollers.
Cost
£14/Adult muggle
£12/Child muggle
Take a Harry Potter Taxi Tour
If you're not up to walking around London for 2 hours, but still want to see all the Harry Potter London sites, taking a Harry Potter tour by taxi is a great way to go! It's not cheap, but tours seat up to 5 in a group
Cost
$400/group
Shop for Books on Diagon Alley (Cecil Court)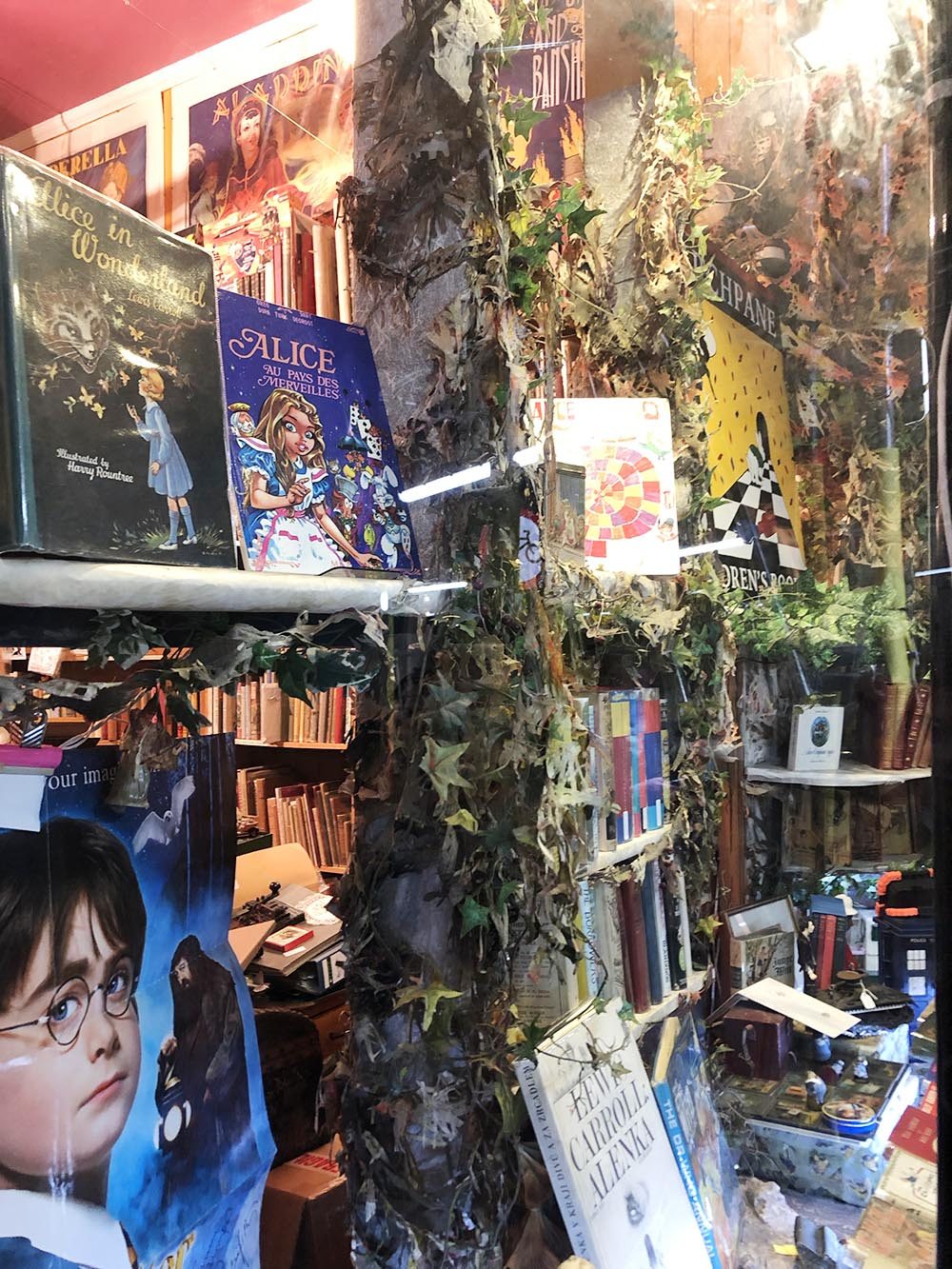 Spend time perusing Cecil Court, JK Rowling's inspiration for Diagon Alley. On this tiny pedestrian street, you'll find all sorts of novelty bookshops that were the inspiration for Flourish and Blotts as well as a coin shop that was the inspiration for the use of Gallions as currency in Harry Potter. You can check out the huge coins in the window!
Unfortunately, this street is currently covered in scaffolding. I've seen it on better days and it's really quite nice. The shops are still worth visiting and you can try to imagine the quaint look it will have when the scaffolding comes down.
Visit the other Diagon Alley: Leadenhall Market
Some of the filmings of Diagon Alley happened at Leadenhall Market. It's also a great place to grab a bite.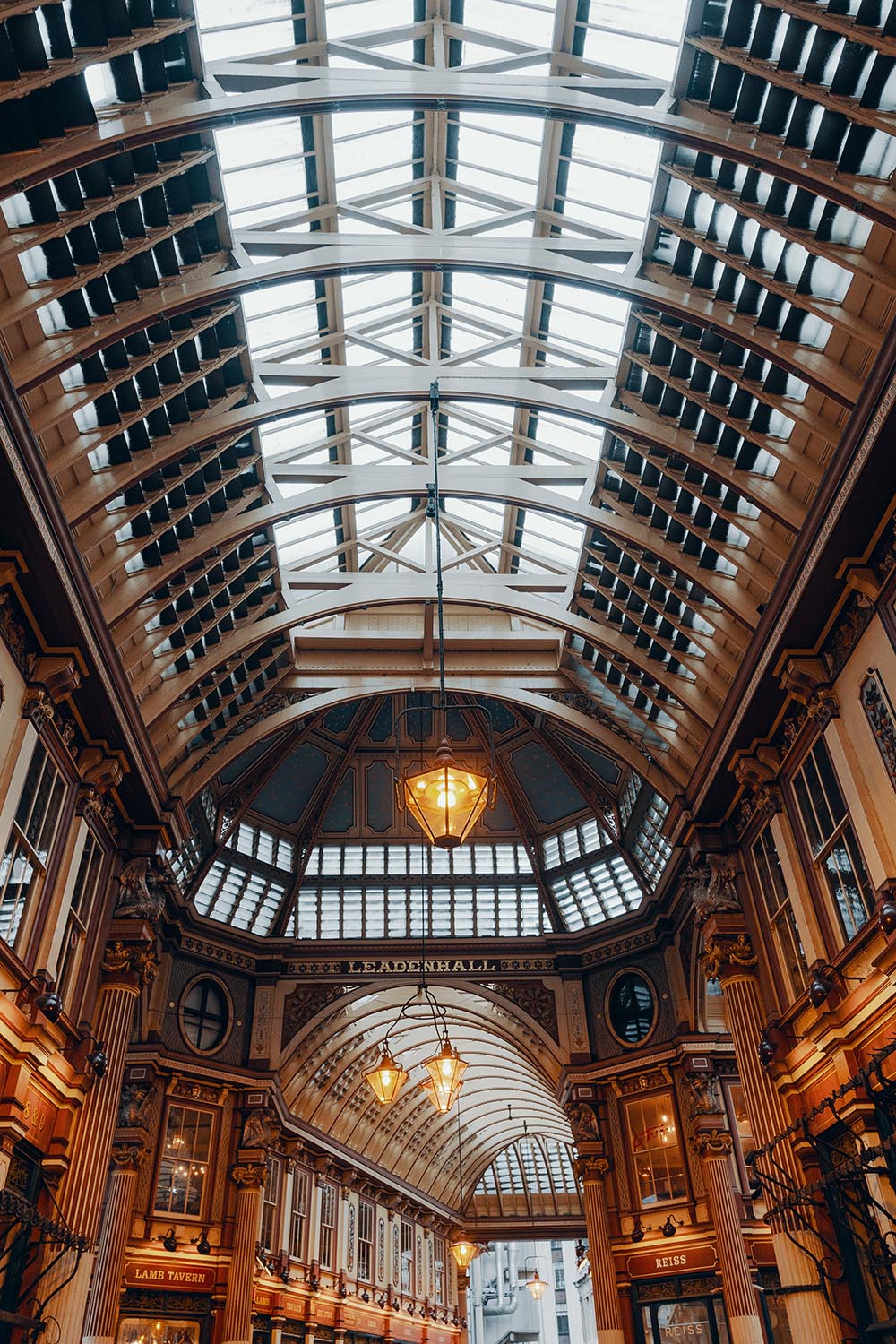 Meander down Knockturn Alley (Goodwins Court)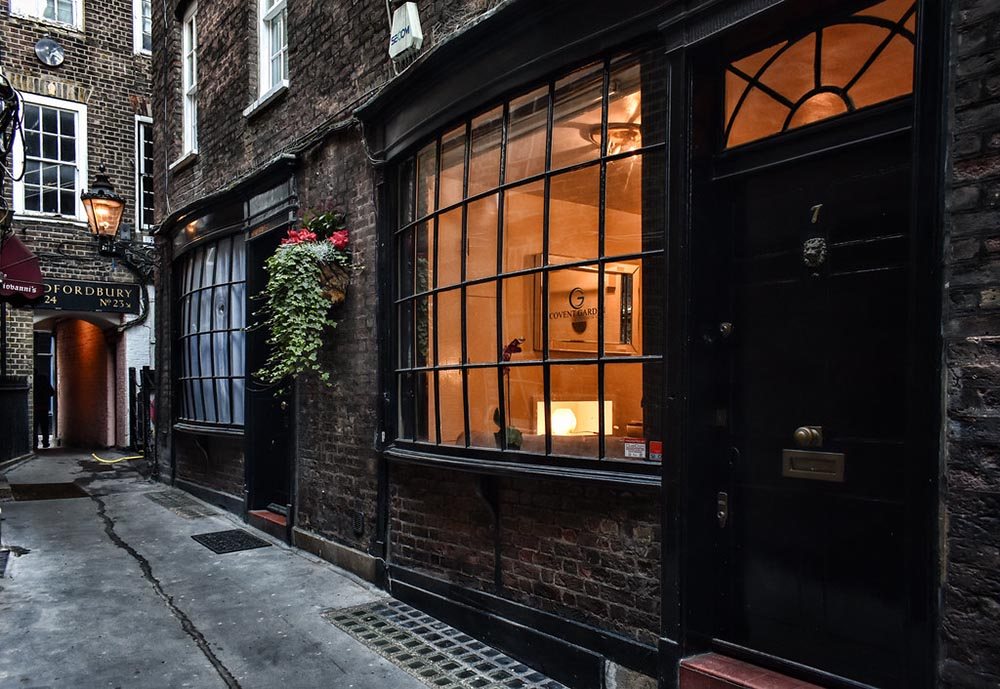 This is one of my favorite streets in all of London and not just because it was JK Rowling's inspiration for Knockturn Alley, the center for dark magic in the wizarding world of London, but also because this street has a lot of history. It's one of the only streets in London that has withstood time and not been destroyed by the many wars and fires that have plagued London for centuries. The curved windows and narrow walkway make it a charming stop and one of the cutest places to see in London!
Borough Market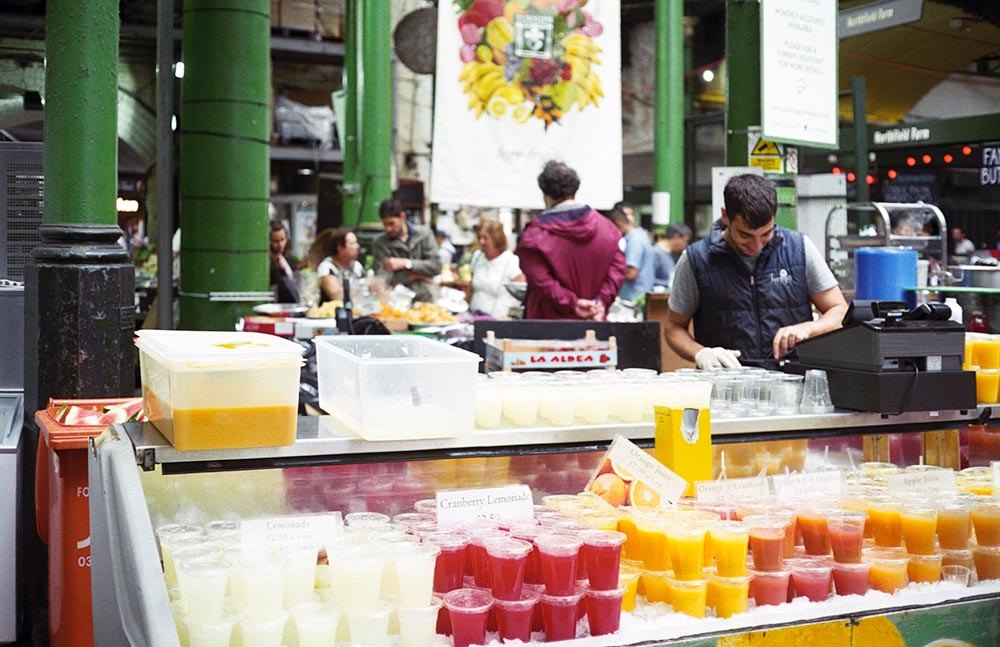 See the entrance to the Leaky Caldron or El Pastor in the Muggle world. They also filmed a lot of the Knight Bus scenes around here. Because of all the low bridges near Borough Market, the production team actually had to detach and reattach the bus roof each time they filmed!
Try to get to Borough Market just before lunch and sample some amazing market fare. Borough Market is actually London's oldest outdoor market, dating back to the 12th century. It's one of my favorite places to go in London for good eats!
Stay Overnight on the Durmstrang Ship (The Golden Hinde)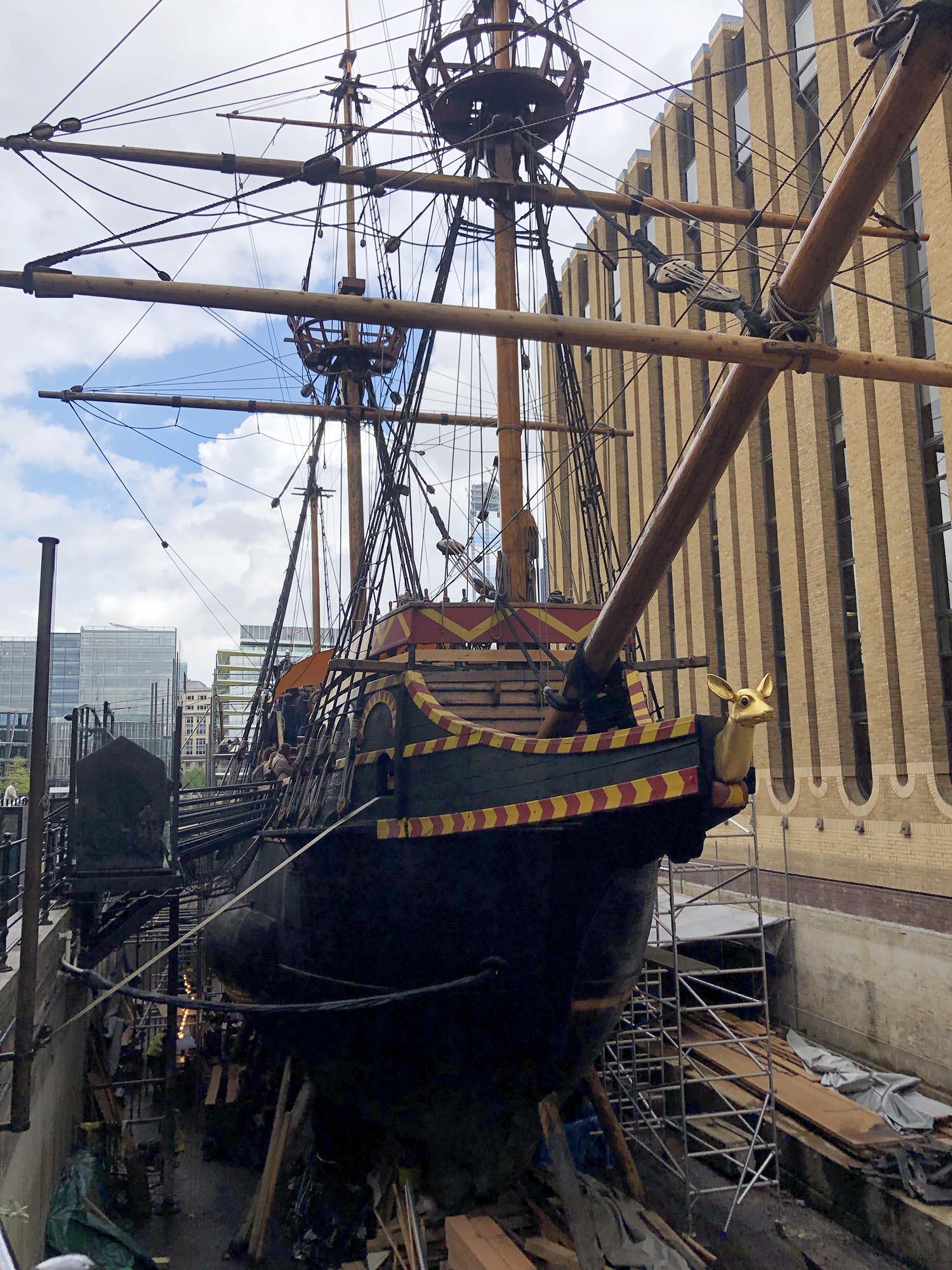 Take a visit to the Golden Hinde , a replica of Sir. Francis Drake's ship, AKA the Durmstrang ship from Harry Potter and the Goblet of Fire. You can even spend the night on the ship! The ship is actually getting some work done right now, so it's dry docked, but it's fascinating to watch them work on it the old fashioned way!
Dodge Dementors on the "Wobbly" Millenium Bridge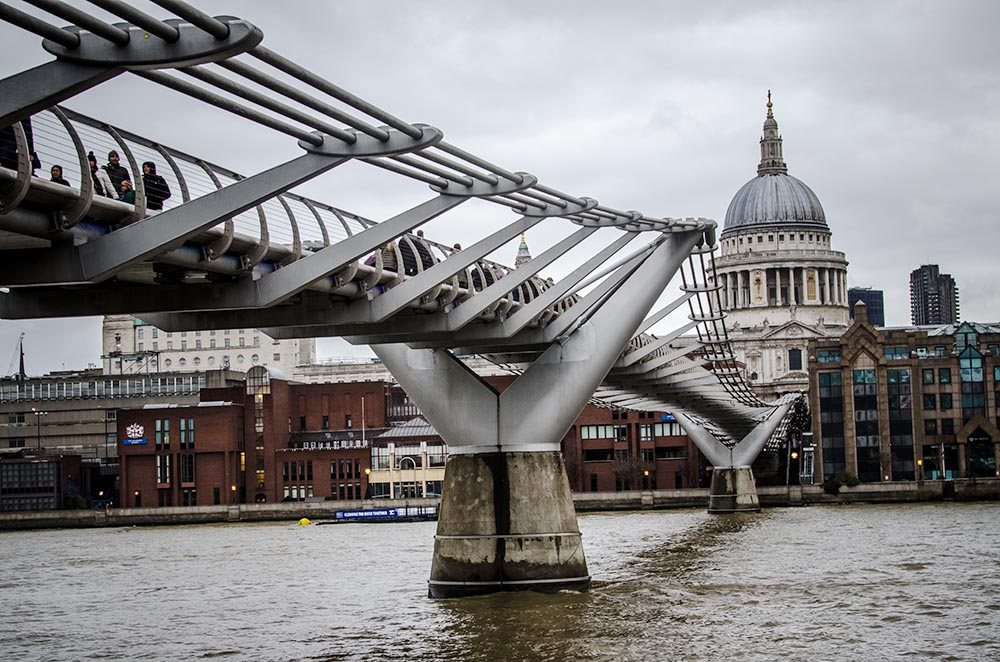 Walk across the Thames on Millenium Bridge. The story behind why the movie producers chose this bridge to film on is pretty funny. The Millenium Bridge (nicknamed the Wobbly Bridge) opened in 2000, but was quickly closed for 2 years due to the fact that the bridge swayed!
The architect's famous answer to why the bridge was wobbly? "People are walking on it wrong." So it's quite ironic that this bridge was used to wobble as the dementors came through London in Harry Potter and the Half-Blood Prince.
Picadilly Circus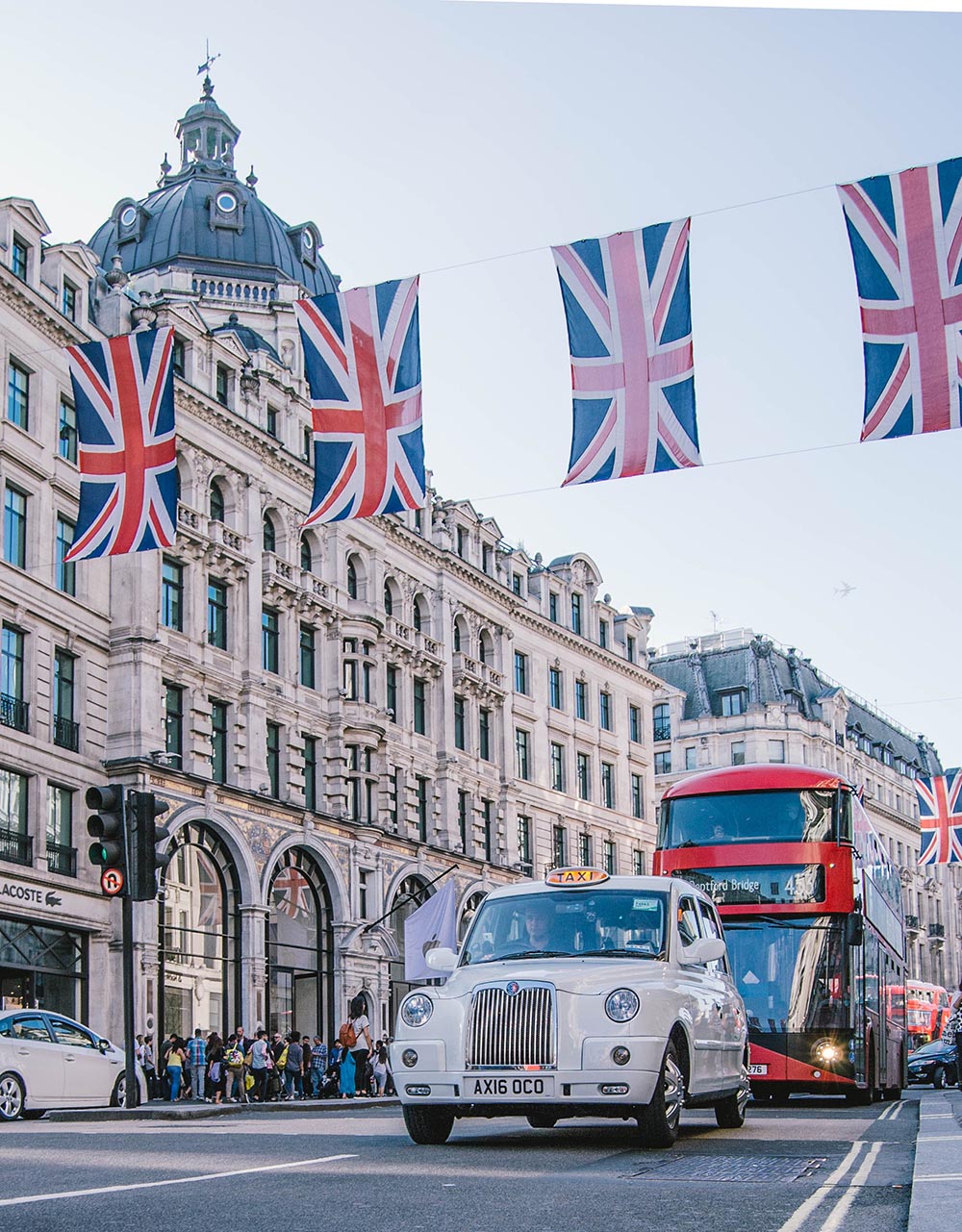 In the Deathly Hallows Part I, Harry, Ron, and Hermoine apparate to Picadilly Circus. Here you can also see the junction of much of the city!
Old Scotland Yard (Ministry of Magic)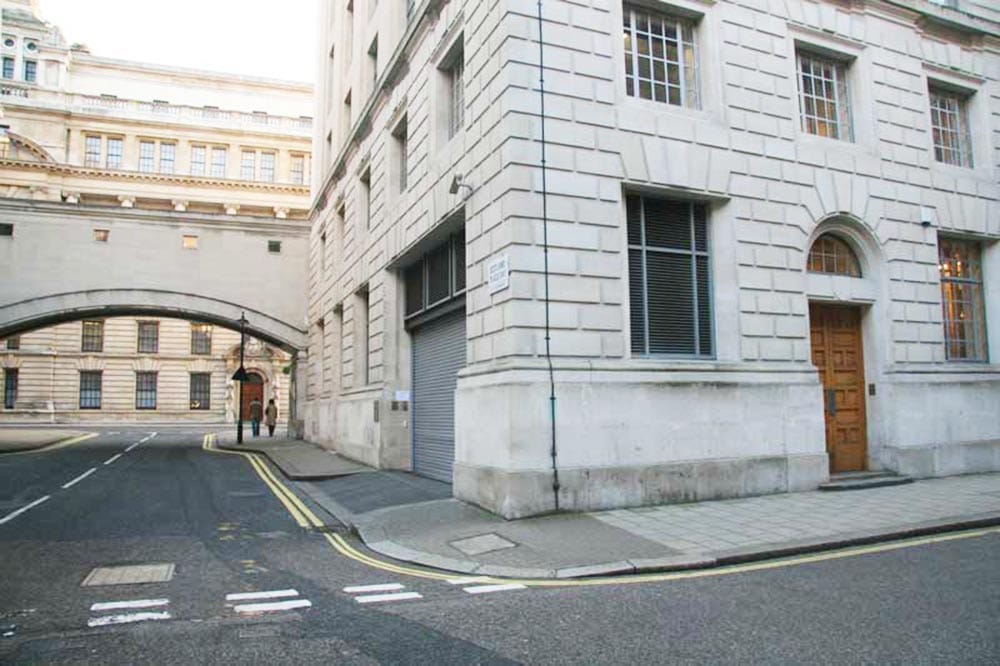 The Old Scotland Yard has been transformed into the Ministry of Magic! Unfortunately, you won't find the red telephone booth that is the visitor's entrance (that was just a prop). Nor will you find the toilets to flush you to the ministry (and I'm ok with that). But you will find the street where the outside of the Ministry was filmed. You can find this location at Scotland Place by the Department for International Trade.
Follow the Path of the Knight Bus on the Lambeth Bridge
A lot of Knight Bus filming was done on the Lambeth Bridge. The scene when the Knight Bus squeezes between two double deckers was filmed here.
St. Paul's Cathedral
Visit the spiral staircase in St. Paul's Cathedral, also the filming location for many staircases in the Harry Potter films. Dumbledore was also standing at the top of St. Paul's Cathedral in Fantastic Beasts: The Crimes of Grindelwald. The astronomy tower located on the right was used as inspiration for the astronomy tower at Hogwarts where Dumbledore is killed.
Westminster Tube Station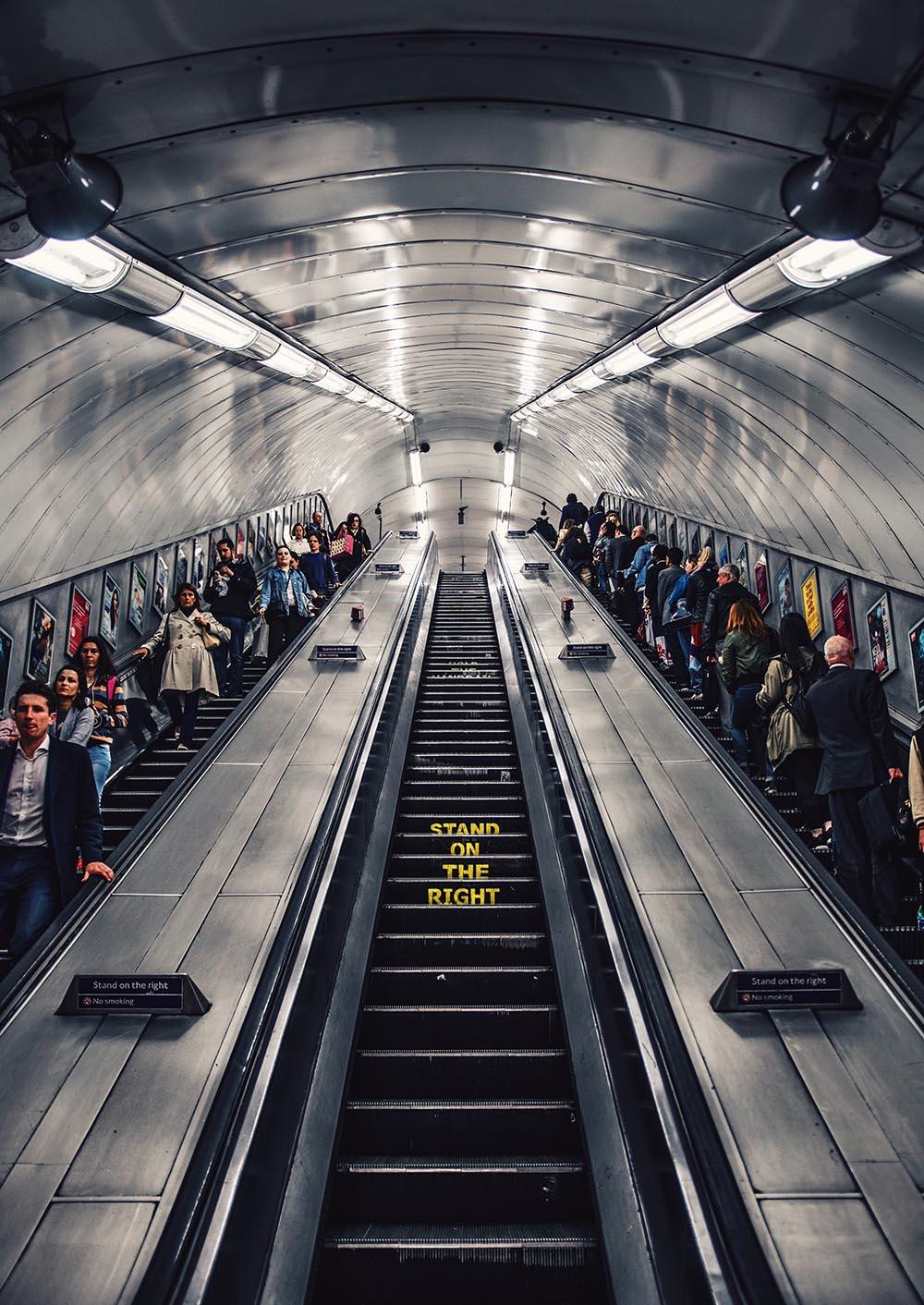 The deepest tube station in London was used to film the scene where Harry and Mr. Weasley ride the underground and Mr. Weasley is attempting to "magic" his way through the barriers in the Order of the Phoenix. My daughter and I had just watched it at the Pimlico Pictures and the second we set foot in the Westminster Tube station we recognized it!
Reptile House at the London Zoo
If you've got animal lovers in the family as well as Potterheads, a visit to the London Zoo will be in order. Here you can see the famous snake exhibit where Harry first talks to snakes in the Sorcerer's Stone.
Australia House
This grand grade II listed building is the filming location for Gringotts Wizarding Bank.
Go Shopping at Primark Harry Potter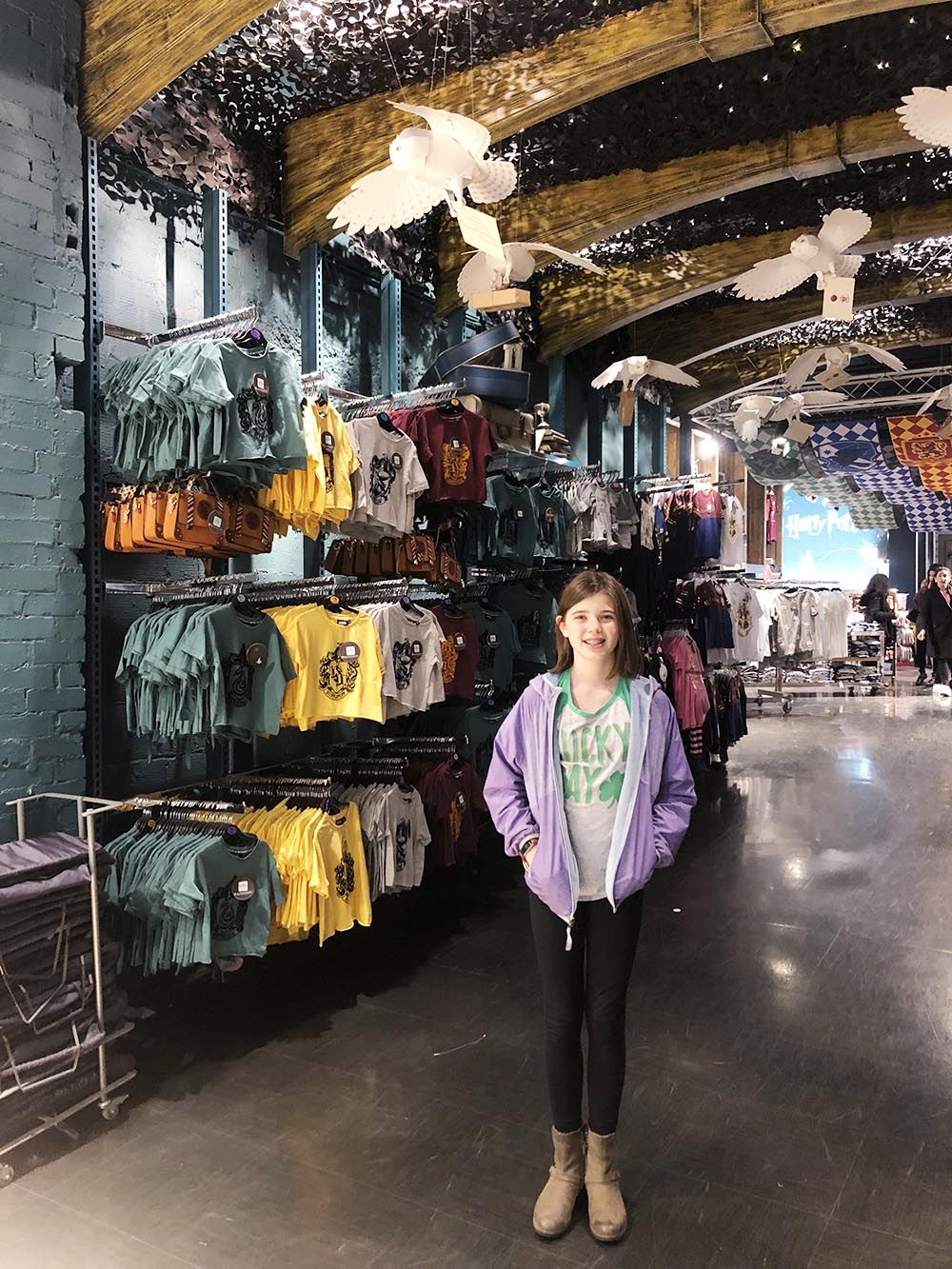 Instead of shopping at a Harry Potter store in King's Cross or the Harry Potter Studio tour, consider making a visit to Primark London first! The one on Oxford Street has a huge Harry Potter section with the cutest clothes, bedding, toys, and other Harry Potter things like quills, socks, piggy banks, and phone chargers. You can also find some great London souvenirs at Primark!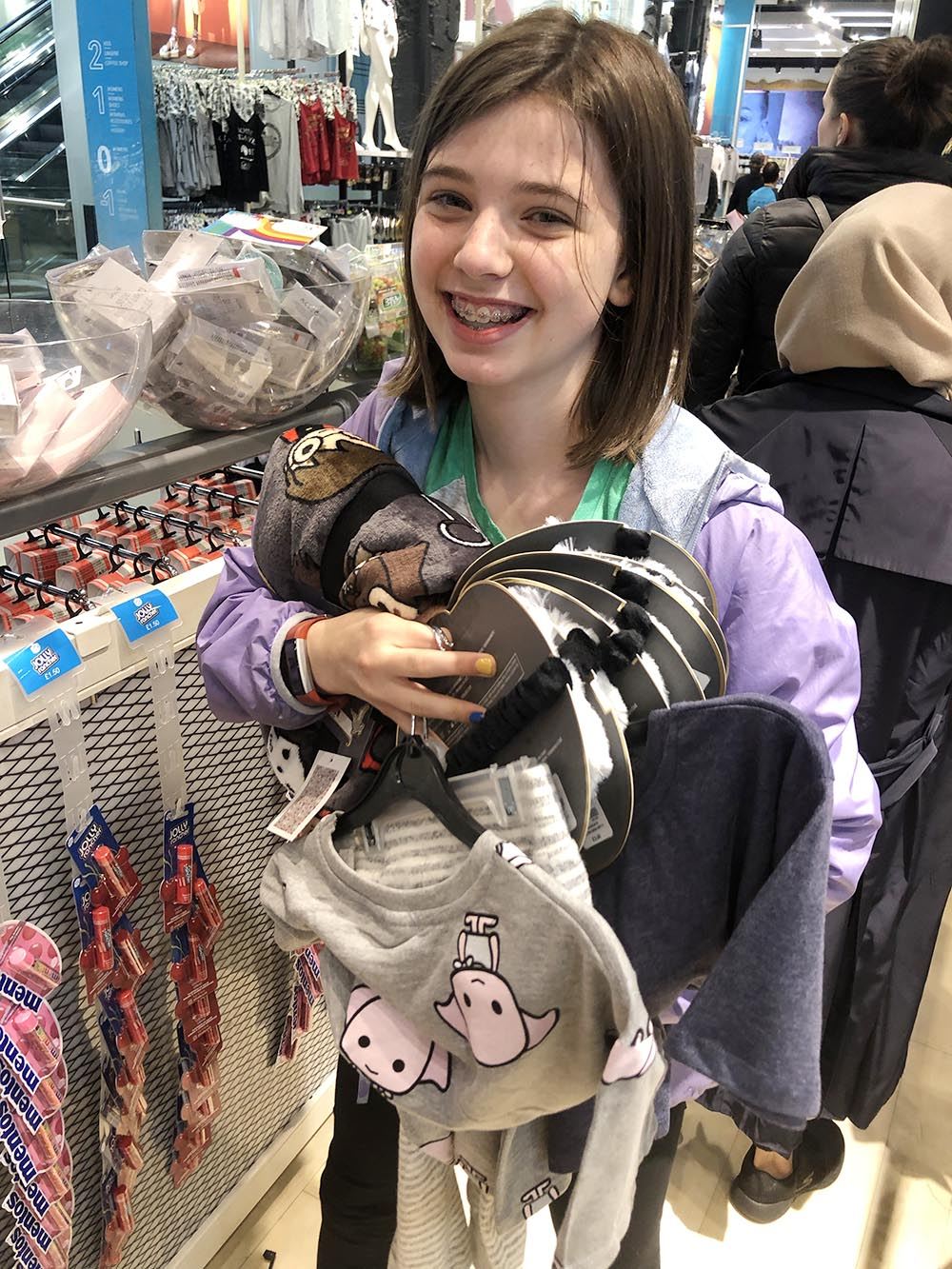 The best part of shopping for your Harry Potter souvenirs at Primark is that it is super affordable! We bought super soft Harry Potter blankets for £6, a nice big faux leather Hogwarts bag for £18, pajamas for £12, Hedwig eyemasks for £5, quills for £1.50, and more!
I think we walked out of there for under $100 USD which is pretty amazing considering you could spend that much on 2 T-shirts at the Harry Potter store at the studio tour or Platform 9 3/4! And I think the Primark gear was actually cuter!
Take a Day Trip to Oxford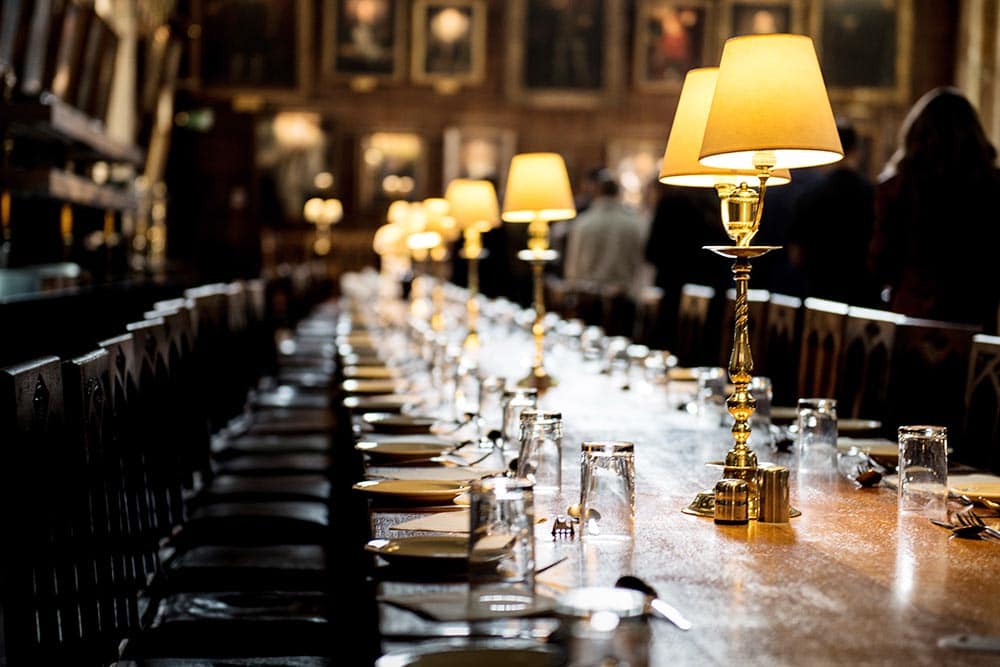 If you have time to take a day trip out of London, Oxford is a great choice. While most of the scenes from the movies were filmed at the Harry Potter Studios London, several of the Hogwarts scenes were filmed at Oxford University. You can take an organized day tour from London or take the 1-hour train ride and go on your own. Download this great Oxford Harry Potter Trail.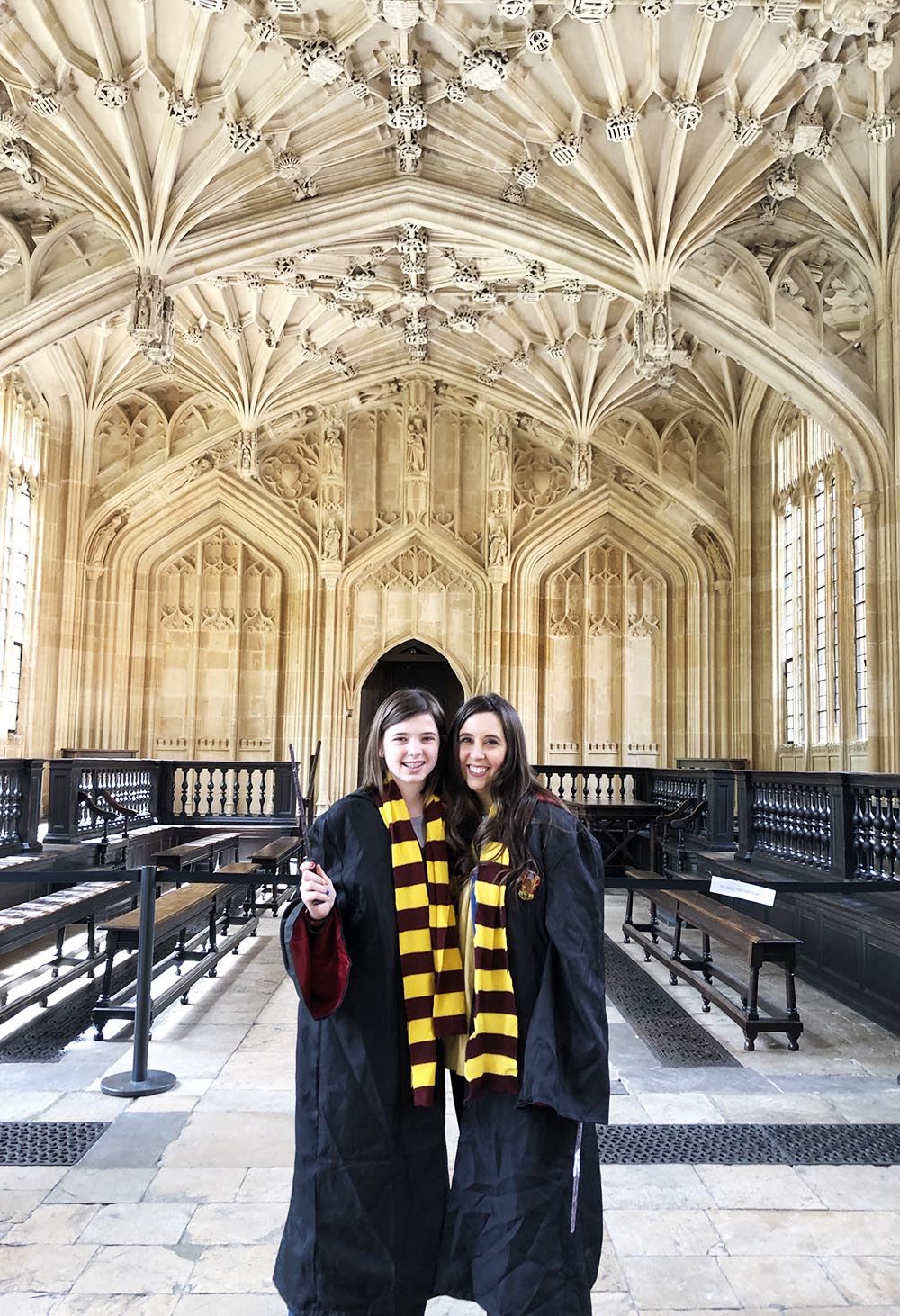 If you enjoyed this, please pin it for your friends!