If you're looking for an exciting adventure, consider exploring the mesmerizing wonders of Alaska! With towering mountains, breathtaking glaciers, and vibrant wildlife, this extraordinary destination offers a wealth of unforgettable experiences. Below, you'll unveil a treasure trove of thrilling things to do in Alaska.
You might explore vast national parks, witness the mystical dance of the Northern Lights, or encounter majestic creatures in their natural habitats! Immerse yourself in the untamed beauty of Alaska with the top things to do in this glorious state.
We love Alaska! Our family had the amazing opportunity to spend a summer in Alaska and were able to see and do so many incredible things. Alaska is a state unlike any we've ever visited and we can't wait to back and explore even more. I've shared some of our favorite things to do in Alaska below.
Planning Your Trip to Alaska
If you want an easy way to plan your trip to Alaska, check out our guide that will take you step by step and day by day through your time in Alaska.
Getting Around Alaska
When you visit Alaska, you will HAVE to rent a car unless you're going with a guided group. It's just too vast with no public transportation to the places you'll want to see.
If you're renting a car, there are two companies we prefer to use: Rental Cars and Expedia Cars. We have had no issues with them and have been able to find the best prices available.
30 of the Best Alaska Tourist Attractions
What is there to do in Alaska? There's truly something for everyone, whether you're interested in history and native cultures or native wildlife and outdoor adventures! Here are just 30 of the best places to visit in Alaska.
Book a Photoshoot
We always love to book a photoshoot when we're traveling. As a mom, it's tough to get in the photos since I'm always behind the camera. We love using Flytographer to capture our memories. You can get $25 off your shoot by booking with this link or using code WANDERLUST.
1. Explore Kenai Peninsula
Located in south-central Alaska, the Kenai Peninsula is a beautiful rural region popular for its variety of outdoor activities. One of the most popular destinations on the Alaskan peninsula is the charming town of Seward. This is where most people embark on cruises through Kenai Fjords National Park (more on that below!).
Fishing enthusiasts flock to the town of Homer, dubbed the "Halibut Fishing Capital of the World.' Besides top-notch fishing opportunities, it's generally a great place to visit for low-key tourism. You can go birdwatching and beachcombing And the iconic Homer Spit features shops, restaurants, and panoramic views of Kachemak Bay.
For more things to do in Kenai, the Kenai Peninsula is a great place to go hiking. It boasts popular trails like the Harding Icefield Trail in Exit Glacier, the Russian River Falls Trail, and Resurrection Pass Trail are also popular options.
2. Learn About Alaska's History at the Alaska Native Heritage Center
Located in Anchorage, visiting the Alaska Native Heritage Center is one of the best things to do in Alaska if you're interested in the rich history and traditions of the region. Walking through this cultural institution provides an immersive experience into the rich traditions of Alaska's indigenous peoples.
Native Alaskan cultures are showcased through indoor and outdoor exhibits, performances, and interactive activities. You'll witness captivating traditional dances, listen to ancestral stories, and watch demonstrations. The crown jewel of the Alaska Native Heritage Center is the village exhibits, which represent various Native Alaskan groups.
The center purposefully employs Native Alaskans, including young people. They offer free daily tours, and everything is free admission. They also work with Anchorage Trolley Tours to offer shuttles from downtown Anchorage, but you must book online in advance.
3. Go Wildlife Watching in Denali National Park
Denali National Park and Preserve, located in Alaska's interior, is a whopping 6-million-acre wilderness and home to Denali, North America's tallest peak! With its vast landscapes and diverse ecosystems, the park offers an array of unforgettable experiences.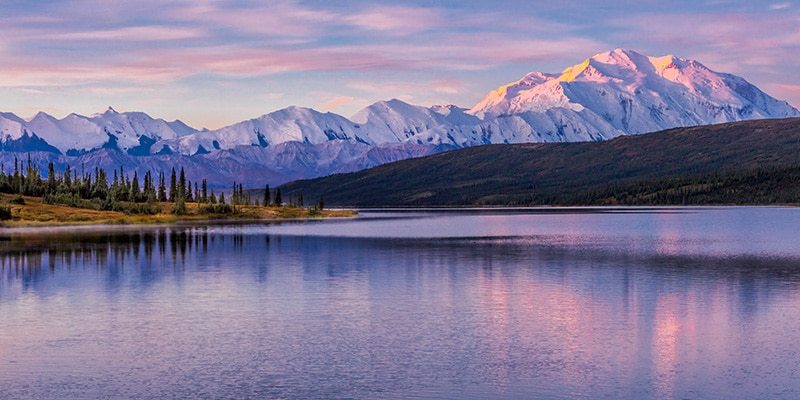 There's a single road that runs through Denali National Park with intermittent campsites, trailheads, and visitor centers. To keep traffic along the road clear, past mile 15 of the 89-mile road, you must travel by bus, bicycle, or on foot! Transit buses are available along the park's scenic road, or you can also take narrated tour buses from the main visitor center.
Tour buses are half-day experiences and provide visitors with opportunities to spot iconic wildlife such as grizzly bears, wolves, moose, and caribou. The visitor center also features educational exhibits on the park's flora, fauna, and geological history.
Denali Park hiking trails cater to all skill levels. For more experienced thrill seekers, there are also mountaineering and backcountry camping opportunities. This is just another way to closer exploration of Denali's unique subarctic ecosystem. Wildlife photography, birdwatching, and fishing are also popular pursuits.
4. Soak in Natural Hot Springs at Chena Resort
Chena Hot Springs Resort is a must-visit destination outside of Fairbanks, Alaska. Come relax and rejuvenate in its natural hot springs, known for their therapeutic properties. Guests can book day passes to the hot springs or book a stay. The property offers all kinds of accommodations, including rooms, family suites, cabins, yurts, and more!
Also, the resort is located in an ideal spot for viewing the Northern Lights! Away from city lights, visitors have a higher chance of witnessing the dancing colors of the aurora borealis in the clear night skies.
During your stay at Chena Hot Springs Resort, there are a variety of fun activities to try each season! Go dog sledding and snowmobiling in winter or hiking and horseback riding in summer. And you can feel good about supporting the resort, which is committed to sustainability and showcases alternative energy sources.
5. See the Northern Lights
One of the top tourist attractions in Alaska is the Northern Lights. With its location within the "Murphy Dome," most people start in Fairbanks for the best chances. Escape the city lights by heading to remote areas like the Chena Hot Springs Resort or the University of Alaska Fairbanks campus.
Optimal viewing times are during the dark winter months, from September to April. You'll need to keep an eye on local weather and aurora forecasts. Or leave everything up to the professionals and book a guide! From Fairbanks (and the North Pole), this full-day small group tour offers transportation from local hotels. Spend the day soaking in the hot springs, visiting the Aurora Ice Museum, and getting the best views of the aurora borealis.
6. See the World's Largest Chocolate Waterfall
If you're going to be in Anchorage, don't pass up one of the most unique things to do in Alaska. At Alaska Wild Berry Products, you can see the world's largest chocolate waterfall! This family-owned business creates an array of mouthwatering delights, including wild berry jams, chocolates, and candies made with local ingredients.
Check out the falls, indulge in delectable chocolate-covered berries, and explore the huge gift shop for Alaskan-themed gifts. You can also watch Alaska Wild Berry Products being made through an observation window and read an educational display about their process.
The store is open to visitors Monday through Saturday from 10 AM to 7 PM. On Sundays, stop by between 11 AM and 6 PM.
7. Visit the Smallest National Forest
Located on Adak Island is a hidden gem and one of the more unique Alaska landmarks. This rural, rugged island is part of Alaska's Aleutian Islands in the Bering Sea between North America and Asia. This is where the Adak National Forest is located, though it only consists of 33 pine trees and isn't recognized by the parks department!
The story goes that during World War II, Adak Island served as a strategic military outpost. The unforgiving, harsh conditions of the island left soldiers in poor spirits. An army general came up with the idea to start a Christmas tree-planting program to boost morale.
While the program went on for a few years, and the island remained a base through the Cold War, trees don't naturally grow on Adak Island. Somehow, against all odds, 33 trees remain. Along the way, a soldier put up a sign that reads "You are entering and leaving Adak National Forest" as a joke.
If you find your way to the Aleutian Islands, you can see the "forest" and the sign for yourself (though there's not much else out there to see). And if you're there at Christmas, you'll get to experience the tradition of locals decorating the trees for the holidays!
8. Stop By the Aurora Ice Museum
If you plan to visit the Chena Hot Springs Resort, make sure to stop by the Aurora Ice Museum for a fun and whimsical experience. This one-of-a-kind attraction showcases masterfully sculpted ice art in a unique ice-carved structure. You see the site through daily tours, which take place about every 2 hours and cost a small fee per visitor.
Inside, you'll see ice sculptures, intricate chandeliers, and more on your own. Then your guide will make you a drink at an ice bar where beverages are served with glasses made entirely of ice! The museum is maintained at a constant (chilly) temperature, ensuring the preservation of the intricate ice creations.
9. Take a Road Trip along the Seward Highway
Taking a road trip along the Seward Highway is one of the best things to do in Alaska in the summer. This highway stretches 125 miles from Anchorage to Seward on Kenai Peninsula, winding along the coast of the Turnagain Arm and passing through the Chugach National Forest.
The highway offers awe-inspiring scenery, winding alongside majestic mountains, glaciers, and the picturesque Turnagain Arm. The summer months provide longer daylight hours, allowing extra time to soak in the views.
Along the way, you have access to various attractions and outdoor activities, including hiking trails, wildlife viewing, and opportunities for fishing and boating. Portage Glacier, just off the highway, offers boat tours to get up close to the glacier's face. Another excellent stop is the Alaska Wildlife Conservation Center.
And the Seward Highway serves as the gateway to Kenai Fjords National Park in Seward. Here, you can take boat tours from Seward to explore the park's majestic glaciers, spot marine wildlife like whales and sea lions, and immerse yourself in the rugged coastal landscapes.
Or for travelers seeking to explore the vast wilderness of Alaska and Canada, you could take the Alaska-Canada Highway. Also known as the Alcan Highway, this iconic highway stretches over 1,387 miles, connecting Dawson Creek in British Columbia, Canada, to Delta Junction in Alaska.
10. Take a Ride on the Alaska Railroad
If you don't want to drive but you're looking for an unforgettable travel experience, consider booking a ticket on the scenic Alaska Railroad! This 100-year-old rail line covers almost 500 miles between Seward and Fairbanks. It connects some of Alaska's most spectacular landscapes, including towering mountains, virgin wilderness, and gorgeous coastal areas.
A must-do in Alaska, the route consists of 5 different connecting routes that showcase iconic destinations like Denali National Park, Anchorage, and Seward. You can relax and take in the awe-inspiring views from large panoramic windows or get off and explore different stops along the way!
Riding the railroad allows you to witness the grandeur of Alaska's vast wilderness while enjoying the convenience of transportation. Whether it's a short scenic ride or a multi-day adventure, a trip on the Alaska Railroad is an unforgettable way to experience Alaska.
11. See the Animals at the Alaska Wildlife Conservation Center
The Alaska Wildlife Conservation Center (AWCC) is a remarkable place dedicated to the preservation and rehabilitation of Alaska's local wildlife. You can visit this non-profit organization for an up-close and personal experience with a variety of Alaska's most iconic animals, including brown bears, moose, and caribou.
Located in Portage, Alaska, the center provides spacious enclosures and natural habitats that prioritize the well-being and comfort of the animals. Choose between exploring AWCC's exhibits and trails at your own pace, or booking one of the many daily guided walking tours for an additional fee. Tours are unforgettable experiences where you'll learn about the animals and the conservation efforts being made, as well as feed an animal!
A visit to the Alaska Wildlife Conservation Center is one of the top things to do in Alaska and you can visit year-round. Or for those who will be traveling near Juneau and want to support wildlife conservation, the Kroschel Wildlife Center is a great alternative. At this private facility, you can enjoy a hands-on experience with rescued and rehabilitated animals, like wolves, lynx, and more.
12. Fountainhead Antique Auto Museum
The Fountainhead Antique Auto Museum in Fairbanks is ideal for automobile enthusiasts (or anyone else!) vacationing in Alaska. This unique museum boasts a remarkable collection of beautifully restored antique automobiles from the 19th and 20th centuries. Visitors can explore a diverse range of vintage vehicles, including classic cars, horseless carriages, and iconic luxury automobiles.
Through exhibits featuring stunning period clothing, you'll learn about the history of automotive engineering. It's an immersive experience, as you walk through the evolution of transportation and see the impact of automobiles on society!
During the summer, the Fountainhead Antique Auto Museum is open 7 days a week from 11 AM to 5 PM. Mid-September through mid-May, it's only open on Sundays and Wednesdays from noon to 4 PM. There's a small admission fee and children under 5 are free.
13. Experience Glacier Bay National Park and Preserve
A visit to Glacier Bay National Park and Preserve promises nature lovers an unforgettable adventure into one of Alaska's most awe-inspiring natural wonders. This UNESCO World Heritage Site is a dramatic landscape of towering glaciers, mountains, and pristine fjords.
A top Alaska tourist attraction near the city of Juneau, there are tons of ways to explore Glacier Bay National Park. You can see the park by boat or kayak. And during the summer, day cruises leave Bartlett Cove. Nothing is more magical than watching the majestic creation of glaciers and encountering humpback whales, sea otters, and more!
You can go camping or stay at one of the campsites at Bartlett Cove or enjoy the view from your room at Glacier Bay Lodge. And there are a variety of hiking trails that you can explore and see the park's lush rainforests. The park also offers summertime nature walks and education programs led by park rangers.
14. See Hubbard Glacier at Wrangell-St. Elias National Park
For experienced outdoor enthusiasts, Wrangell-St. Elias National Park is a wonderland of self-guided activities. The rugged and wild landscape is prime for epic backpacking, mountaineering, hunting, and fishing adventures! But perhaps the most popular thing to do at Wrangell-St. Elias is seeing the Hubbard Glacier.
While it's one of many impressive glaciers inside the park, the Hubbard Glacier is especially breathtaking. At around 76 miles long, it's the largest tidewater glacier in North America, with a 6-mile face that opens up onto Yakutat Bay to the south.
The Hubbard Glacier is a spectacular experience, with towering icy blue walls and thunderous cracks as massive chunks of ice calve into the water below! The only way to see it is by boat tour or plane tour out of Yakutat. On a boat tour, you can get closer to the glacier for unparalleled views.
15. Glimpse Humpback Whales on a Whale Watching Cruise
One of the top things to do in Alaska is seeing Humpback Whales. It's also one of the most popular activities for first-time visitors to the state. You can book an Alaska cruise liner or go on a shorter whale watching excursion. Look for cruises in areas known for high whale activity, like Juneau, Seward, or the Inside Passage. This 3.5-hour expedition out of Juneau is an excellent choice.
Once you're on your cruise, your guides will provide quality information about the whales. Keep your eyes peeled for telltale signs of whales, such as spouts, breaches, or flukes! Just be patient and observant, because they can surface unexpectedly. Bring binoculars for better viewing and a camera to capture all the memories!
16. University of Alaska Museum of the North
If you're going to be in Fairbanks, you must plan a visit to the University of Alaska Museum of the North and learn about all things Alaska! It's a natural history museum on the college campus where you can explore Alaska's natural and cultural heritage.
This place has it all, from fascinating exhibits on the state's diverse ecosystems and epic geological formations to ancient artifacts and dinosaur fossils. It's like stepping into a time machine and getting up close with Alaska's past and present. You can check out taxidermy animals or artwork by local artists. The Museum of the North is interactive and great for all ages.
17. Explore the Alaska Raptor Center
For more fun things to do in Alaska around local wildlife, there's the Alaska Raptor Center. You'll find the renowned rehabilitation center in Sitka, Alaska. This non-profit organization provides a safe haven for injured, sick, and orphaned birds of prey.
When you visit the Alaska Raptor Center, you can observe bald eagles, owls, hawks, and falcons up close! The center's passionate staff and volunteers offer guided tours, where you'll learn about the birds' history and the challenges they face. You'll also learn about the rehabilitation process and the efforts made to release the birds back into the wild.
Many of the center's birds are permanent residents, unable to be released because of their injuries. Instead, they work as ambassadors, helping to educate visitors about the importance of raptor conservation in Alaska. There's an admission fee and the center is open every day of the week from 8 AM to 4 PM.
18. Totem Bight State Historical Park
While considering what to see in Alaska, it's important to recognize native Alaskan cultures. The captivating Totem Bight State Historical Park in Ketchikan, Alaska is a true gem for those seeking a deeper understanding of the earliest people of Alaska. For most people, this is a stop on a cruise. But you can also book a tour of the park and Ketchikan City to learn more about Alaskan history in this southern region.
The park is perfect for a nature walk through an old-growth rainforest. Trails showcase a collection of intricately carved totem poles and traditional "big houses" that tell the stories of the region's indigenous peoples. As you stroll along the nature trails, keep an eye out for majestic bald eagles and enjoy stunning views of the ocean and nearby islands! There's a small fee for entry to the park.
19. Immerse Yourself in the wilderness of the Misty Fjords
Misty Fjords National Monument Wilderness, located in the southeastern part of Alaska, is a wilderness area and part of the Tongass National Forest. It's a bucket list destination for outdoor enthusiasts because of its towering granite cliffs, mist-shrouded fjords, cascading waterfalls, and dense forests.
The monument spans over 2.3 million acres and offers a paradise for experienced nature lovers seeking a challenge! When you visit Misty Fjords, you'll be surrounded by raw, untouched nature. The area is only accessible by boat or seaplane tours, so it's perfect if you're seeking a remote and serene space to explore.
If you're interested in guided hikes, you can find several different companies based in Ketchikan that offer them. Hikes are a great way for skilled trekkers to see local wildlife, including wolves, seals, and bald eagles. Or go kayaking and explore the glassy lakes and rivers.
20. Visit the Alaska SeaLife Center
You might be seeking a kid-friendly outing, or perhaps you're simply interested in local marine life. Either way, the Alaska SeaLife Center is a must-see in Alaska for all visitors. Located in Seward, the aquarium combines education, conservation, and the incredible ocean life of Alaska's waters.
The Alaska SeaLife Center is a great place to witness a diverse array of captivating creatures up close. From playful seals and adorable sea otters to mesmerizing jellyfish and majestic sea lions, there is an abundance of marine life to discover! Enjoy educational presentations by staff or have fun in the children's section.
Keep in mind that you're required to purchase timed tickets online in advance of your visit. Also, the center holds different hours in each season.
21. Visit the Harding Icefield in Kenai Fjords National Park
For hikers, one of the best things to do in Alaska is challenge yourself with a rewarding hike to see the Harding Icefield inside Kenai Fjords National Park! The trailhead is located just outside of Seward and is a strenuous route that covers 8.2 miles out and back.
As you hike along the trails, you'll be rewarded with breathtaking views and possibly see local wildlife (bring bear spray). But the highlight is when you finally reach the expansive icefield, stretching as far as the eye can see! The sheer size and beauty of the icefield will leave you in awe.
The Harding Icefield offers an unforgettable opportunity to witness the power and majesty of nature. Just be sure that you're prepared for such a challenge and come prepared with proper hiking gear and enough time for the trek. But the effort is well worth it!
But the best way to see Kenai Fjords National Park is by boat. Take a boat tour and see glaciers, whales, seals, puffins, and more during your time onboard. This was my family's favorite thing to do in Alaska. Seeing the humpback whales up close like that was incredible. If you're lucky you might even get to see some Orcas.
22. Go Bear Watching at Katmai National Park
If you want to know where to go in Alaska to see brown bears, Katmai National Park is it! Located in southwestern Alaska, the national park is renowned for its abundant population of brown bears. The bears gather along the Brooks River during the summer salmon run (July through September). This is your best opportunity to see the majestic creatures.
Head to Brooks Camp to witness the bears in their natural habitat, as they fish for salmon and interact with each other. Katmai's platforms and viewing areas provide safe vantage points for observing the bears up close, while also maintaining a respectful distance.
There are more areas of the park where you can see the bears at different times of the year. If you want to book an official guide that offers safe bear-viewing trips, the park keeps a list of trip providers here.
23. Visit the Gates of the Arctic National Park and Preserve
For adventurers seeking untouched landscapes, taking on Gates of the Arctic National Park and Preserve is one of the best things to do in Alaska. This vast and rugged park spans over 8 million acres! And as the northernmost national park in the US, it sits entirely within the Arctic Circle.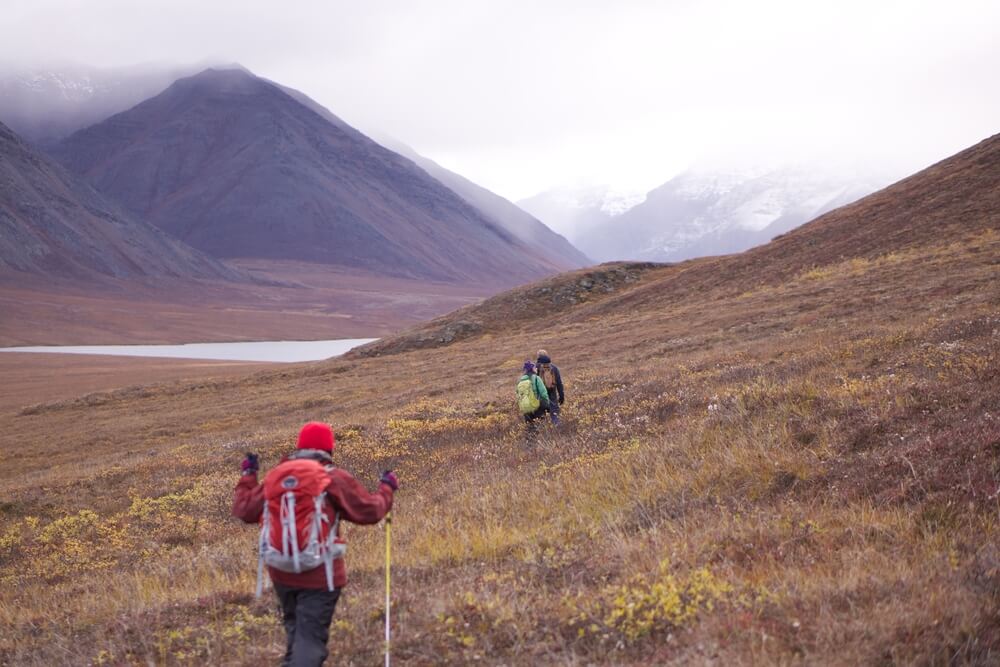 While there are no designated trails or visitor facilities, the park is completely available for outdoor activities. Hiking and backpacking are popular. You can explore the park's stunning terrain and glimpse animals like caribou, grizzly bears, and Dall sheep.
If you're interested in backcountry camping, you can choose between established campsites and remote wilderness camping. And Arctic National Park is also a dream destination for photography enthusiasts. They come to capture soaring peaks and rolling tundra under the midnight sun!
24. Cruise the Inside Passage
If you're considering a cruise to Alaska, you'll find that touring the Inside Passage is one of the most popular things to do in Alaska for visitors. All the major cruise lines offer itineraries along this iconic route through Alaska's stunning coastal landscapes.
Along the way, you'll be surrounded by breathtaking scenery and abundant wildlife, including whales, seals, eagles, and porpoises! During your cruise, you'll have the chance to visit coastal towns, experience Native Alaskan culture, and enjoy outdoor activities. If you get the opportunity to sail the Inside Passage, do it!
25. Visit the Mendenhall Glacier
For even the most low-key tourists, you can experience the mesmerizing Mendenhall Glacier right outside Juneau, Alaska. This glacier is easily accessible and offers a stunning glimpse into the icy wonders of the region.
A convenient way to experience the glacier is by visiting the Mendenhall Glacier Visitor Center which overlooks Mendenhall Lake. Here, you can peruse exhibits, enjoy panoramic views, and watch educational presentations about the glacier and its surroundings.
From the visitor center, a short and scenic walk takes you to a viewpoint for admiring the glacier's massive ice face and surrounding landscape. You can also explore nearby hiking trails, such as the Photo Point Trail, which offers excellent photo opportunities.
For a closer encounter with the glacier, you can go on a guided kayak tour. Or, if the conditions are just right, book an excursion within the Mendenhall ice caves!
26. See Live Totem Carving at Sitka National Historical Park
Another opportunity to learn about Alaska's indigenous peoples is at Sitka National Historical Park in Sitka, Alaska. This unique destination offers a glimpse into the artistic traditions that have shaped the Tlingit culture for centuries.
One of the highlights of the park is the live totem carving demonstrations. Skilled Tlingit artists create intricate totem poles, showcasing their craftsmanship and storytelling traditions. As you observe the carvers at work, you'll learn about the ancient art, with its many symbols and designs. It's a rare chance to witness a living tradition being passed down through generations.
In addition to the carving demonstration, Sitka National Historical Park offers a scenic setting with beautiful coastal trails and historic sites to explore. You can also see exhibits on Tlingit history and culture in the visitor center.
27. Klondike Gold Rush National Historical Park
Klondike Gold Rush National Historical Park, located in Skagway, Alaska, is the most visited national park in Alaska. It commemorates the iconic Klondike Gold Rush of the late 1800s. Starting in the town of Skagway, stop by the visitor center and see interactive exhibits and short films that tell the stories of the gold seekers. Then, take some time to explore the preserved historic buildings along Broadway Street, which once served as a bustling hub during the gold rush.
But what makes this one of the most popular things to do in Alaska is the ghost town just north of Skagway! Park rangers offer tours out to the site, where you can see a few remaining structures from that wild era. And outdoor enthusiasts can explore scenic hikes in the area, such as the Chilkoot Trail.
28. Visit the Santa Claus House in North Pole, Alaska
Curious about places to go in Alaska with kids? You can't miss the Santa Claus House in North Pole, Alaska! This place is all about Christmas magic, and you'll find everything you need to make your holiday season extra special. Plan to spend an hour or more here. They're open all year, from 10 AM to 6 PM daily.
Explore the gift shop, stocked with unique ornaments, decorations, and Santa-themed goodies. Don't forget to meet Santa Claus himself and snap a memorable photo. Kids will love the reindeer corral across the street, where they can get up close with Santa's furry friends. And if you're craving something sweet, indulge in their famous homemade fudge or ice cream.
29. Take a Farm Tour at Musk Ox Farm
Tourism in Alaska centers around the national parks where you can enjoy wildlife watching. But for more intimate interactions, head to the farm! At the Musk Ox Farm in Palmer, you can learn about the conservation efforts and fascinating biology of musk oxen.
Guided tours allow you to observe these impressive creatures. You can even touch their soft qiviut, the fine wool that keeps them warm in Arctic conditions. Visiting this precious farm is a great way to learn about the importance of preserving this iconic species.
If your travels take you further north, there's the Running Reindeer Ranch in Fairbanks. This farm provides an up-close experience with domesticated reindeer. Walk alongside these gentle animals on guided tours through the boreal forest. On tours, you'll have the chance to feed, pet, and learn about the reindeer and their significance in indigenous cultures.
Both Musk Ox Farm and Running Reindeer Ranch offer unique opportunities to connect with some of Alaska's most captivating creatures in a peaceful setting.
30. See the Eldred Rock Lighthouse
Eldred Rock Lighthouse, located near Haines, Alaska, is a historic landmark that offers a glimpse into Alaska's past. This picturesque lighthouse, perched on a rocky island, has guided ships along the Lynn Canal since 1906. Although it is not open to the public, you can still appreciate its beauty and significance from a distance.
Sightseeing cruises, ferries, and boat tours in the area often pass by Eldred Rock, providing the perfect opportunity to admire the lighthouse. Standing tall amidst the rugged Alaskan coastline, the remote lighthouse makes for alluring and dramatic photographs.
31. Visit a Reindeer Farm in Palmer
Without a doubt, this was the coolest and closest encounter that we've had with Alaskan animals. I'd recommend it for any family trip to Alaska. Did you know that the only difference between reindeer and caribou is that reindeer are domesticated and caribou are wild?
You will learn so many other interesting facts about reindeer, caribou, elk, moose, and really anything with antlers! When we went, we even got to watch a baby moose being bottle-fed. It was the cutest thing ever! Your guide will take you into the reindeer stall and allow you to safely hand-feed the reindeer.
31. Go Fishing
Alaska is one of the best places in the world to go fishing. Summer is the best time for fishing, especially salmon. Our family did several different kinds of fishing during our time in Alaska, including river fishing, fly fishing, and deep sea fishing. We loved taking our fish home and cooking it. The best way to go fishing in Alaska is to go with a local guide who knows the best spots. You'll also need to make sure you get your fishing license when you arrive in Alaska.
FAQ about Visiting Alaska
What is Alaska famous for?
Alaska is most famous for its breathtaking natural landscapes and untamed wilderness. Known as "The Last Frontier," this vast state boasts mountains, glaciers, and unique wildlife. Alaska is home to national parks like Glacier Bay and Kenai Fjords, as well as Denali, the highest peak in North America! Something else that the state is famous for is its northern location with ideal opportunities to witness the Northern Lights. But that's just the beginning of what this amazing state has to offer!
What is the best time of year to visit Alaska?
Summer in Alaska (June to August) is the most popular time to visit, with pleasant weather, longer daylight hours, and abundant wildlife. This is when you can enjoy activities like hiking, fishing, wildlife viewing, and cruising. But if you want to see the magical Aurora Borealis, the winter months (September to April) are when you'll have your best chance. Whenever you choose to visit, keep in mind that Alaska's weather can be unpredictable, and each season offers its own unique experiences.
What are the most popular cities in Alaska?
The 3 most popular cities in Alaska are Anchorage, Fairbanks, and Juneau. Anchorage is Alaska's largest city and offers a range of attractions, including museums, outdoor activities, and access to scenic areas. Fairbanks boasts a vibrant arts scene, a fascinating past, and opportunities to view the Northern Lights. And Juneau, the capital of Alaska. This city is the perfect base for exploring the Mendenhall Glacier and experiencing the cultural heritage of the region.
Explore Alaska, the Last Frontier
As you prepare for an Alaskan adventure, you can reflect on the incredible experiences and captivating beauty this land has to offer. From the vibrant cities of Anchorage and Juneau to the untouched wilderness of Denali National Park and Kenai Fjords, Alaska truly has it all.
You might seek thrilling outdoor adventures like hiking and kayaking or yearn to immerse yourself in the rich cultural heritage of this great land. No matter what, Alaska delivers beyond expectations! As you explore national parks and stand in awe of the Northern Lights, you'll be forever changed by the raw beauty surrounding you.
But Alaska isn't just about the scenery. It's about the people and their unique stories. Learn from the rich Native Alaskan cultures and embrace the traditions that shaped this land!