If you're heading to the land of fire and ice, get ready to see the most incredible landscapes and do some amazing activities. I've compiled a list of the best things to do in Iceland to give you some inspiration for your trip. These are our favorite things to do in Iceland.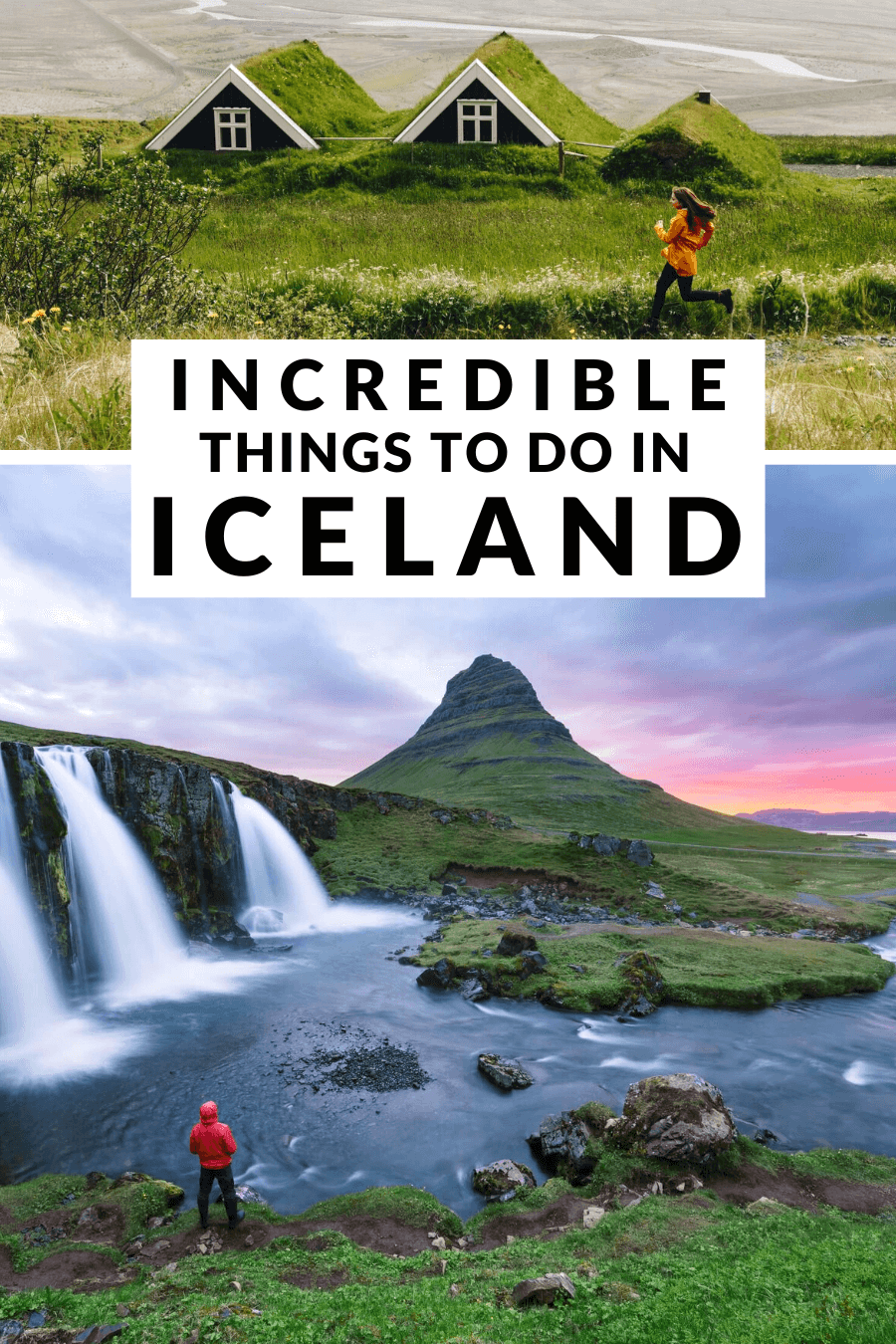 Bucket List Things to do in Iceland
Iceland is such a dream! It's somewhere I had dreamed of visiting since I was just a little girl. The first time I ever flew on a plane I was nine years old. I was on my way to live with my grandma in Scotland. I remember feeling really special because, since I was a solo minor, I got to fly in first class to be within easy access to the flight attendants. It was such an experience for a little girl who had never been on a plane!
Toward the end of our flight and right around sunrise, I remember leaning over to look out the window and gazing down at wild-looking Iceland, and also wondering, after flying over white Greenland, why Iceland looked so green and Greenland looked so white?! So I'd wanted to see this green island since that day!
Since then I've had the opportunity to go to Iceland several times and have fallen in love with this island nation. It's unlike anywhere else I've ever been!
I also read these strange and interesting facts about Iceland that made me want to go even more!
We were lucky enough to score DIRT CHEAP tickets to Iceland for $135 each from San Francisco on Wow Air, back in the day before they went under. Read here about how we fly for cheap or nearly free, which is a total necessity when you've got a family of 6!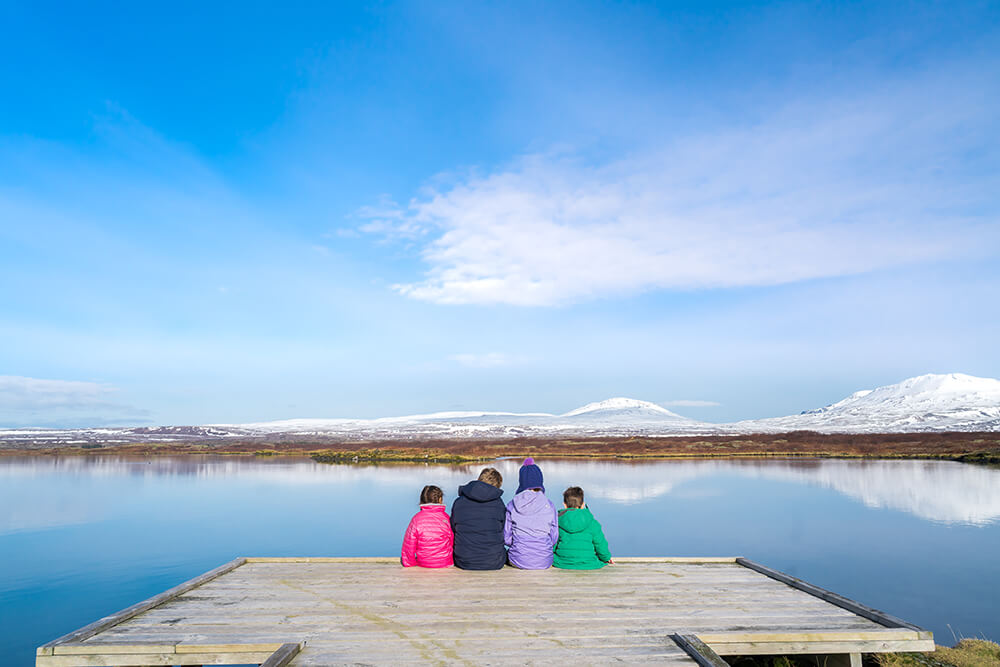 Since there is so much to see on this relatively small island, I wanted to make a bucket list of things to do in Iceland. With the help of my friends Travel With Meraki, Adventure Together, Sugar & Soul Co, and this amazing list for Iceland with kids, I think I've rounded up the perfect locations and activities for my Iceland Bucketlist!
10 Facts to Know About Iceland Before You Go
I've created this interactive Google Map of my bucket list things to do in Iceland.
Unforgettable Things to do in Iceland
There are many reasons not to visit Iceland. For starters, it's one of the most expensive countries in the world. Iceland is also in a remote location in the North Atlantic Ocean so you can only reach it by flight or a long, rocky boat ride. Temperatures rarely climb above 60°F and the climate is very unpredictable.
And yet, none of those reasons are enough to deter millions of tourists from flocking to this beautiful country like Icelandic puffins every year. There are so many unique, incredible, and awe-inspiring things to do in Iceland that braving a wind chill is more than worth it.
Some of the best things to do in Iceland revolve around its dramatic and diverse landscapes. Its geothermal activity produces healing hot springs like the Blue Lagoon, lava-spewing volcanos, and the phenomenon of geysers. There are many more natural wonders to be found here including the northern lights, glaciers, powerful waterfalls, black sand beaches, and more.
Iceland's cultural heritage is also rich with UNESCO World Heritage Sites, Viking museums, and acquired cuisine. When planning a trip to Iceland, you'll soon realize the abundance of bucket list experiences on offer in the Land of Fire and Ice.
This is an extensive list of all the very best things to do in Iceland. It includes all the top Iceland tourist spots and some hidden gems around the ring road and the capital of Reykjavík so that you enjoy an unforgettable trip to Iceland.
1. Relax in the Thermal Spas at The Blue Lagoon
Looking at the statistics, the best thing to do in Iceland is the Blue Lagoon. It's the most-visited Iceland attraction and a must-do on any first-time trip to Iceland.
The Blue Lagoon is an outdoor geothermal spa in the Reykjanes Peninsula, close to Keflavík Airport and about an hour from Reykjavík by car. Locally-produced geothermal energy powers the Blue Lagoon so this expansive complex is not really a 'natural' spring. Regardless, it's filled with steaming, mineral-rich waters that produce silica-rich mud surrounded by rocky terrain.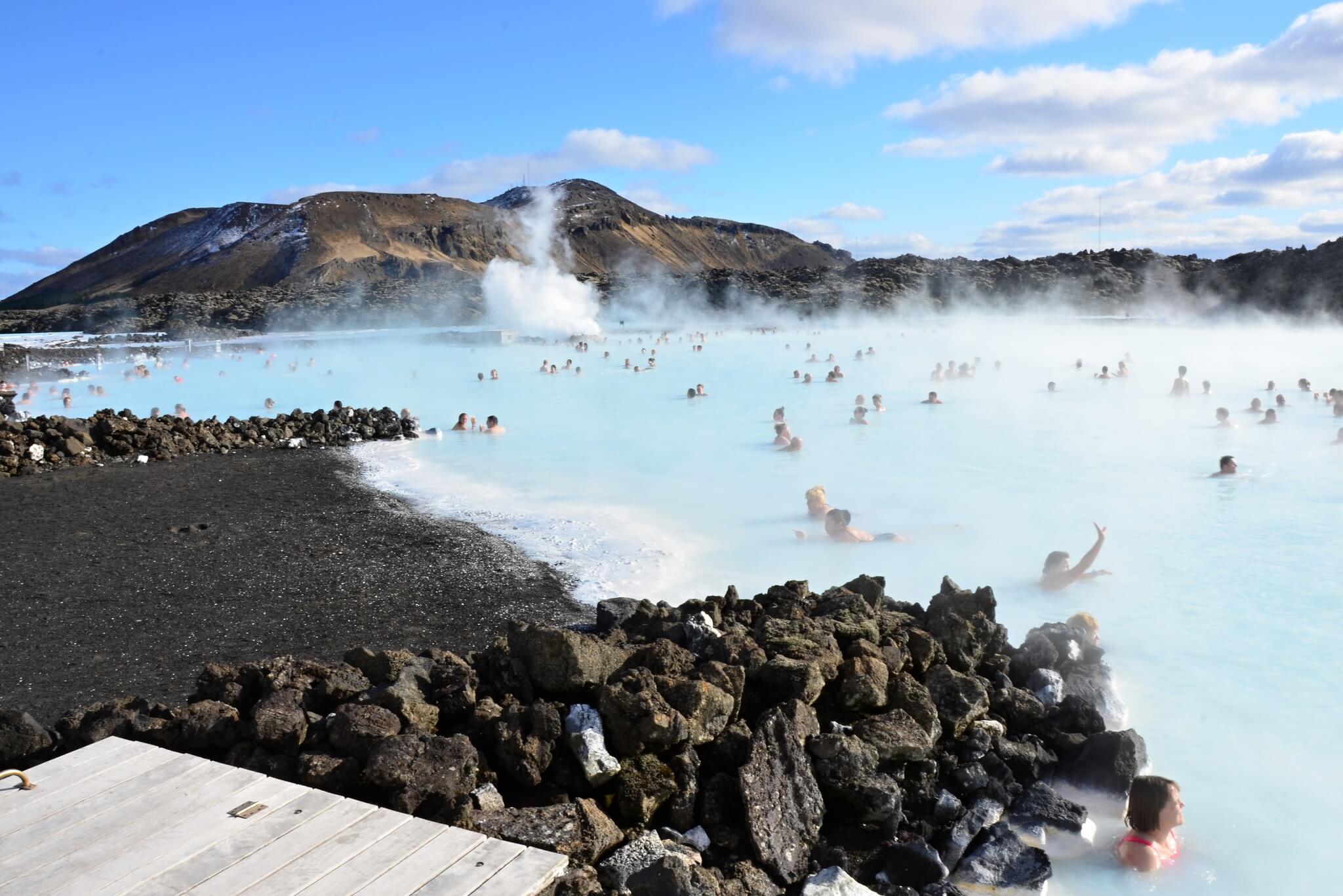 You could easily spend a couple of hours at the Blue Lagoon swimming between the different pools, enjoying the warmth, and admiring the scenery. Even the most cost-effective packages at the Blue Lagoon include a drink from the lagoon-side bar and a skincare face mask.
There's an onsite café and a hotel at the Blue Lagoon, so you could stay overnight and make the most of their spa treatments. The Blue Lagoon's shop is the perfect place to pick up locally-made souvenirs and gifts.
2. Chase the Northern Lights or Midnight Sun
One of the top 10 things to do in Iceland, by far, is to see (or attempt to see!) the northern lights. Due to Iceland's location close to the Arctic Circle, it's in a perfect position for you to see the solar flares of the northern lights/aurora borealis whenever they are active.
The best time of year to see the northern lights in Iceland is from September to April, during the winter months. This is when the nights are long and dark which are the best conditions to spot the northern lights.
If you are staying in Reykjavik or another urban area in Iceland, consider booking a northern lights tour. These tours will take you just a short drive into the countryside so you can avoid the light pollution of the city. This will give you a better chance to see the natural beauty of the northern lights.
Visiting Iceland during the summer months? Unfortunately, it's unlikely you'll spot the northern lights because the nights are too short and light so you won't be able to book a northern lights tour.
In fact, if you visit Iceland around the summer solstice at the end of June then you could see the natural wonder of the midnight sun! Countries close to the Arctic Circle often experience consecutive periods of 24-hour sunlight in the summer months where the sun doesn't rise or set. It's wild!
3. Eat an Icelandic Hot Dog With Sweet Mustard
Every country has a beloved street food that everyone enjoys, locals and tourists alike. In most Nordic countries like Iceland, it's hotdogs! Whether you order one from a restaurant, cart, or service station, eating one of these moreish treats is one of the top things to do in Iceland.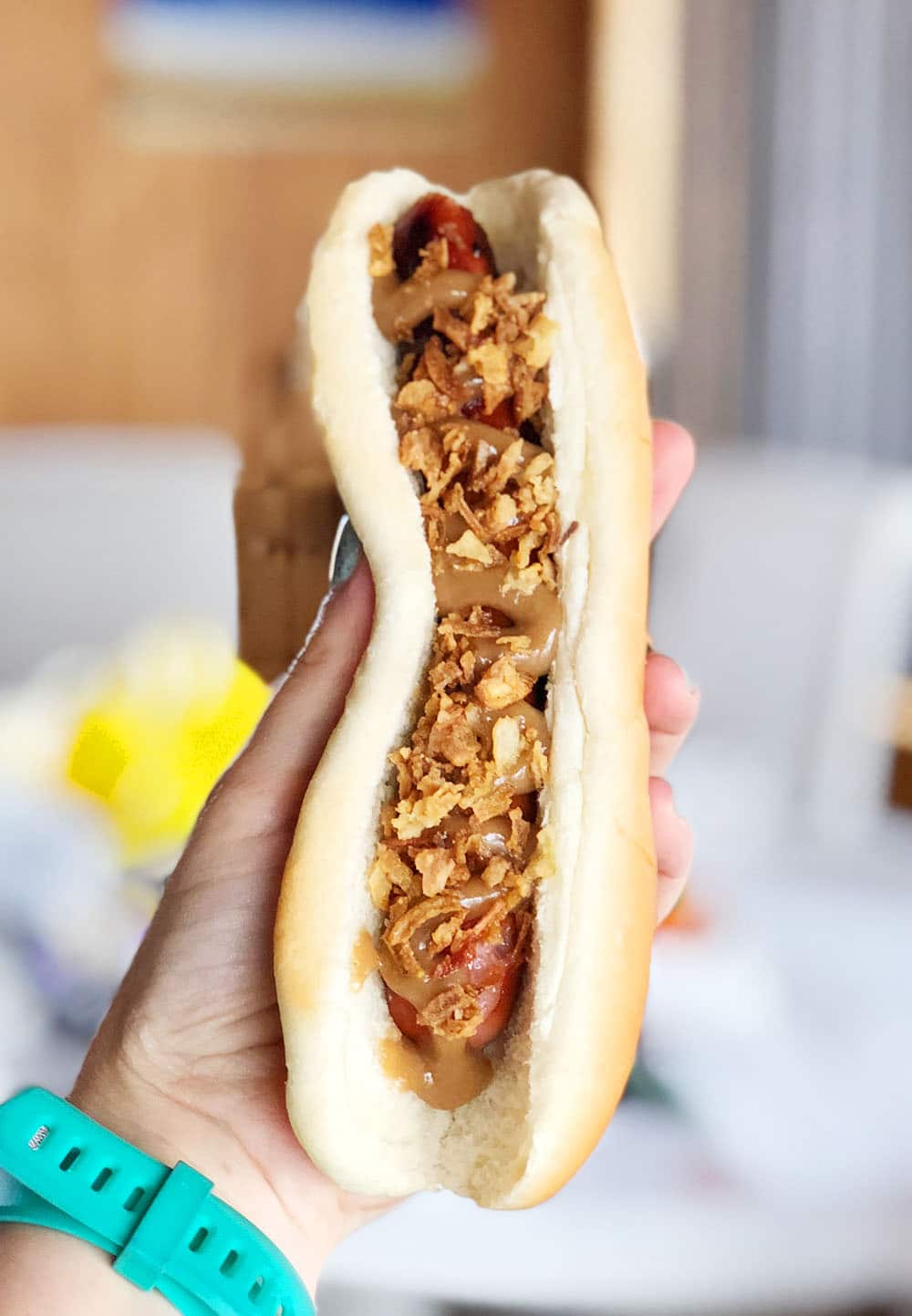 Bæjarins Beztu Pylsurm is widely considered to be the best hot dog stand in the country. You'll find it in Reykjavik just a short walk from Reykjavik City Hall between the harbor and downtown. This stand has been serving hot dogs to the people of Reykjavik since 1937 and The Guardian newspaper once listed it as a top five European street food stall.
Don't expect an extensive menu with different toppings that cater to individual dietary requirements. They serve hot dogs, coke, and prince polo chocolate bars. That's it. If you want, you can add ketchup and/or sweet mustard like an Icelandic.
4. Book a Golden Circle Tour Day Trip
Reykjavik is fairly compact and most of the things to do in Iceland are only accessible by car. So if you're visiting Iceland for a few days, it's super common to book day trips with an organized tour company to explore other cool places to visit in Iceland. Reykjavik is a good starting point for most day trips when visiting Iceland for a long weekend or city break.
One of the top 10 things to do in Iceland and the most popular day trip is the Golden Circle. This is a circular tour of three or four (depending on the tour) of the best natural sites to visit in Iceland. On a Golden Circle tour, you can visit Gullfoss Waterfall, Thingvellier National Park, the Geysir geothermal area, and sometimes the Volcanic Kerid Crater.
The Golden Circle day trip allows you to see a diverse mix of some of the best things to do in Iceland, specifically in southwest Iceland. If you're short on time, some Golden Circle tours combine this route with a trip to the Blue Lagoon too.
5. Check out Gullfoss Waterfall on the Hvitá River
This waterfall is a must-see in Iceland (as well as many other waterfalls!) and it's included as a spot on the Golden Circle tour.
Gullfoss waterfall is a multi-step waterfall on the Hvitá River. There are hiking trails running to the west of the river so you can see Gullfoss Waterfall from several angles. Watch the steps in windy weather!
6. Visit Thingvellir National Park UNESCO Site
One of the top attractions on the Golden Circle route is also one of the best things to do in Iceland, hands down. Thingvellier National Park is a UNESCO World Heritage Site due to its significance in Viking history and as a natural phenomenon. It's also one of the six national parks you can visit in Iceland.
Located just north of Thingvallavatn lake, this national park is part of the Mid-Atlantic ridge where you can witness the North American Tectonic plates moving apart. They're only moving at a rate of 2.5cm per year, but it's surreal to be able to walk between them at Thingvellir National Park!
The Vikings must have known this was a special place as they hosted their parliamentary meetings in what is now Thingvellir National Park as far back as 930 AD. In fact, it's one of the oldest examples of parliament and the last meeting was held here as recently as 1798.
Putting aside history and geology, Thingvellir National Park has beautiful scenery and is a great place to go for a hike. There's also a visitor's center and gift shop.
7. Watch the Eruptions at the Geysir Geothermal Area
This natural attraction can only be found in five countries. It's no wonder that visiting the Geysir geothermal area is one of the best things to do in Iceland and a highlight of the Golden Circle tour!
Geysers are hot springs that erupt when they experience a high amount of pressure. They're very rare and the time it takes for each one to erupt varies from geyser to geyser. In the Geysir geothermal area, there are around a dozen geysers but only one erupts frequently.
Strokkur geyser erupts every 4-10 minutes and its powerful blow can reach heights of around 50 or 60 feet/15 or 20 meters in calm weather. So, it's well worth sticking around to watch! Capture a video so you don't miss the eruption and take photo stills from your footage.
8. Walk Around the Ridge of Kerid Crater
Not all Golden Circle tours visit Kerid Crater. If you book a Golden Circle trip that includes the Blue Lagoon then time constraints usually mean they skip it. But it's really cool and you should visit if you're self-driving the Golden Circle route.
Kerid Crater is a volcanic crater with a striking aquamarine-colored lake in the center and it was created circa 4,000 BC. It's in a scenic location and you can hike around the perimeter when you visit Kerid Crater which is a great excuse to stretch your legs on a long road trip.
9. Sail on a Boat Tour of Jökulsárlón Glacier Lagoon
Jökulsárlón Glacier Lagoon is one of the Iceland top attractions in Southern Iceland. It's definitely one of the top 20 things to do in Iceland that you wouldn't miss if you were enjoying a long vacation road tripping around the country.
One of the reasons why this glacier lagoon is so special isn't just the beautiful landscape, but the small icebergs dotted all around Jokulsarlon Glacier Lagoon. These are deposits from the nearby Breiðamerkurjökull glacier and you can sail on a Zodiac tour around the glacier lagoon to see it up close.
It's a lagoon and not a lake because technically, the Jokulsarlon Glacier Lagoon flows into the North Atlantic Ocean via a small opening in the coastline. So, the icebergs in the lagoon just flow straight out to sea, right? Not exactly! Keep reading to find out where they end up…
10. Climb to the Top of Hallgrimskirkja Church
From shopping to nightlife to museums, there are so many fun things to do in Reykjavik, Iceland. But a good starting point for any self-guided walking tour of the capital city has to be Hallgrimskirkja. It's one of the top Iceland attractions you should visit in Reykjavik!
Opening in 1986, this church is fairly new by European standards. Hallgrimskirkja's unique tiered design was inspired by the appearance of cooling volcanic lava and it's made from the hardy materials of concrete and granite.
It's by far the tallest building in the city, reaching heights of 244 feet/74.5 meters offering amazing views across the city from its bell tower.
Don't worry about climbing hundreds of steps to enjoy the view! There's an elevator that will transport you to the top in seconds.
11. Visit the US Navy Douglas Super DC-3 Plane Wreck
One of the most instagrammable and unique things to do in Iceland is to visit the site of a plane wreck in South Iceland. Though the plane crashed on Sólheimasandur Beach in 1973, the shell of the US Navy Douglas Super DC-3 plane is surprisingly still fairly intact. That's just one reason why it's become an Iceland must-see tourist attraction.
You can rest easy knowing that one of the best things to do in Iceland isn't to visit the site of a fatal tragedy where people lost their lives. Miraculously, all seven crew members traveling in the plane from Hornafjördur Airport in southeast Iceland to the Keflavik Naval Air Station in western Iceland survived.
12. Ride an Icelandic Horse in Northern Iceland
Wondering what to do and where to go in Iceland, particularly in the summer months? One of the top fun things to do in Iceland in the summer has to be riding Icelandic horses.
There are lots of excursions and riding companies that pick up from Reykjavik and there are several sites you can go to all over this beautiful country. But the only place you should consider riding horses is in northern Iceland where they thrive.
Icelandic horses are special for several reasons, but one is that they are an extremely pure breed. Due to the country's isolation, there has been little to no cross-breeding of the horses here since the Vikings first brought them over in the 9th century.
They're not only a hardy breed that can survive in wild weather but they also have a smooth gait. This is ideal for first-time horse riders, so don't worry about having zero riding experience. You will soon take to these magnificent creatures and will thoroughly enjoy riding them through lush green fields.
13. Take a Day Trip to the Snæfellsnes Peninsula
Speaking of northern Iceland, one of the top places to go in Iceland on a day trip (after the South Coast and Golden Circle, of course) is the Snæfellsnes Peninsula. This is the area of western Iceland just north of the Reykjanes Peninsula and the capital city.
Some of the best things to do in Iceland are on this peninsula. If you were to book an organized excursion, some of the commonly visited Iceland sights here include the Kirkjufell Mountain and Waterfall, Dritvik Djúpalónssandur black sand beach, Londrangar basalt towers, and the fishing village of Arnarstapi.
14. Drive to Kirkjufell Mountain and Kirkjufell Waterfall
Driving or walking through the picturesque landscape on the coast of north Iceland is one of the best Iceland things to see. You'll have no doubt seen photos of the cylindrical Kirkjufell Mountain with the Kirkjufell Waterfall in the foreground, but nothing beats seeing it in real life. It's one of the can't-miss places to visit on any north Iceland road trip.
Though a little off Iceland's ring road, it's worth the detour. Keen photographers should consider visiting Kirkjufell Mountain at night when there is a high chance you'll see the northern lights too. There's very low light pollution here and the shots you'd take would look unbelievable.
15. Hike to Vatnajokull Glacier in the National Park
Vatnajokull is another national park measuring around 5,405 square miles/14,000km² of ice, hiking trails, campgrounds, and nature reserves. It's one of the top places to go in Iceland for nature lovers.
To stress how huge this national park is, it encompasses around one-eighth of the total landmass of Iceland. It stretches from the south coast to the Icelandic Highlands in the center of the country.
In this national park, you will find Europe's largest glacier which has the same name as the national park itself. There are also lots of outlet glaciers stemming from this monstrous wall of ice. If you were thinking about going on a glacier hike in Iceland, this would be the best place.
Taking a glacier hike in the Icelandic Highlands poses many dangers, especially if you've never done it before. Book a local guide who will be able to give you the right safety gear and lead you through the best glacier hiking trails.
16. Join Whale Watching Tours in Húsavík or Reykjavík
Iceland is home to so many incredible species on land, air, and sea. But it's not surprising that one of the most popular tourist attractions in Iceland is to join whale watching tours. Whales are the largest mammal ever to have lived on earth and there is an abundance of them in this part of the world.
There are around 12 species of whales, as well as porpoises and dolphins, living in the waters off Iceland's coastline. On a whale-watching tour from Reykjavik harbor, you have a very strong chance of seeing at least one. In Húsavík, the whale-watching capital in northeast Iceland, you have a 97% chance of spotting at least one whale.
Booking a whale-watching tour in Northeast Iceland is a half-day excursion because they sail far out into Skjálfandi Bay. It's a must-do in Iceland if you are driving along Iceland's ring road. Aside from the whale-watching opportunities, Húsavík is a charming fishing village.
17. Frolic on Black Sand Beaches on Iceland's South Coast
Visiting a black sand beach is high on the list of cool things to do in Iceland. Luckily, you have many choices of beautiful, non-tropical beaches in Iceland on the south coast and a couple in north Iceland too.
Black sand beaches are the norm here because the sand is actually grounded volcanic rock from cooled lava. Could Iceland be any more awesome?!
Diamond Beach is one of the most well-known dramatic black sand beaches and one of the top places to visit in Iceland. It's located on the coastline near Jokulsarlon Glacier Lagoon. If you've put two and two together, you'll have already realized that 'Diamond Beach' is so-called because the icebergs that float in Jokulsarlon Glacier Lagoon wash up here.
Aside from Diamond Beach, another beautiful black sand beach on the south coast is Reynisfjara Beach near Vík. This is a common place to visit in Iceland on a South Coast organized tour.
Reynisfjara Beach is surrounded by tall, black basalt columns and jagged rocks out to sea. Its current can be dangerous and unpredictable but you can still appreciate this black sand beach from a safe distance.
Djúpalónssandur Beach is a black sand beach on the Snæfellsnes Peninsula in north Iceland. Unlike Diamond Beach and Reynisfjara Beach, this black sand beach resides in the incredible scenery of a national park, the Snæfellsjökull National Park.
18. Explore the Langjökull Glacier's Ice Caves
Nestled in the Icelandic Highlands is Langjökull Glacier, known locally as the 'long' glacier. This is one of the must-see places in Iceland if you want to explore ice caves. While it might not be the biggest glacier in Europe, it can boast the world's longest man-made ice cave.
Considering the country is called Iceland, you can't visit without checking out an ice cave!
The Langjökull ice cave is 1,640 feet/550 meters deep into the glacier and measures 4,134 feet/1,260 meters above sea level. These ice caves are a labyrinthine network of ice tunnels that you can explore on snowmobiles, so it's a super fun activity for the whole family.
You won't be able to visit the ice caves independently as it's just too dangerous. Sign up for an ice cave excursion with a company that will hook you up with all the gear, vehicles, and information you need to see as much of the ice caves here as possible.
19. Wander Through the Eldhraun Lava Fields
Lava fields are flat areas of land where subaquatic fluid forms of lava, like basalt, flow along the ground. There are tons of lava fields in Iceland; what to do when you want to visit them all?!
The Eldhraun Lava Fields in south Iceland are widely considered one of the best places to visit in Iceland and offer some of the unique lava fields in the country. An eruption in 1780 left the terrain here covered in mossy, bubbling boulders. These volcanic landscapes are a great place for a hike as long as you're wearing sturdy shoes.
20. Take a Day Trip to Heimaey Island
Wondering what to do in Iceland that's a little off the beaten path? Take an Iceland sightseeing tour to Heimaey Island, the largest island in the Westman Islands group. It's a popular bird and whale-watching island off Iceland's south coast.
In good weather, the ferry leaves from Landeyjahöfn harbor and you can visit for the day on an organized tour or stay overnight. There are lots of lighthouses, museums, restaurants, and hotels here as well as mountain trails.
21. Wildlife Spot in the Hornstrandir Nature Reserve
Sitting on the tip of north Iceland is Hornstrandir Nature Reserve. Far away from civilization and urban development is a nature lovers' paradise. If you're looking for Iceland beautiful places and amazing things to do in Iceland, it doesn't get much better than Hornstrandir Nature Reserve.
Arctic foxes, Iceland's only native mammal, live in Hornstrandir where they are left alone to thrive. Hornvík Bay has two seabird colonies that are home to millions of nesting birds every summer including puffins, terns, and guillemots.
If you're willing to drive so far from other people that it will feel like you're traveling to the end of the earth, you'll be welcomed with lush hiking trails and a plethora of flora and fauna.
22. See the Instagrammable Skógafoss Waterfall
This must-see in Iceland is one of the most photographed waterfalls in Iceland. Considering there are around 10,000 waterfalls in Iceland, that's a great achievement! Visiting Skógafoss Waterfall is one of the most amazing things to do in Iceland and is one of the places to visit on a South Coast organized tour.
Stretching almost 200 feet/60 meters, this waterfall can get crowded in the peak tourist seasons so visit as early as possible. If you're lucky, you'll be able to see a rainbow reaching across the powerful falls.
23. Taste Iceland's National Dish and National Drink
Iceland won't be giving Italy or France any competition for the best cuisine any time soon because its national dishes are an acquired taste. Hákarl, also known as fermented shark, is Iceland's official national dish but it's only consumed by curious tourists these days.
Iceland's national drink, brennivín, won't make your mouth water either. It's a distilled liquor made from fermented grain mash, Icelandic water, and caraway seeds for flavor.
While not very delicious, Iceland's cuisine definitely reflects its remote location, reliance on fishing, and the harsh winter weather that its residents endure.
Want to know where to go in Iceland to try these delicacies? Check out Café Loki in Reykjavik.
24. Visit one of Iceland's Active Volcanoes
Iceland has around 30 active volcanoes with approximately 100 more that are inactive. If you're wondering what to do in Iceland that you cannot do in many other places, checking out Iceland's volcanic landscapes is a good option!
Fagradalsfjall Volcano, about an hour away from Reykjavik in south Iceland, started erupting in 2021 after almost 6,000 years of inactivity. While it calmed down after six months of lava flowing in 2022, it's predicted to start up again in 2023 or 2024. Helka Volcano is another active volcano you can visit in South Iceland that has erupted over 20 times since 874.
25. Witness the Power of Dettifoss Waterfall
Europe's most powerful waterfall after the Rhine Falls, Dettifoss is a must-see in Iceland if you're visiting northeast Iceland on a road trip. It's situated in Vatnajökull National Park and you can hike to both the west and east sides. It's a perfect short walk if you want to stretch your legs and want to know what to do in Iceland in this part of the country.
26. Watch the Sunset at the Sun Voyager in Reykjavík
One of Iceland's top attractions is the Sun Voyager sculpture on the coastline near Reykjavik harbor. It's just a short walk from the center of the city and it's one of the best things to do in Iceland, Reykjavik.
This sleek sculpture resembles a Viking ship and commemorates Iceland's Viking heritage. On a clear day, it's one of the best places to watch the sunset when visiting Iceland.
27. Drive the Ring Road Along the Eastfjords
There are many amazing things to see in Iceland when you drive the ring road that roughly follows Iceland's coastline. One of the top hidden gems of the ring road is the Eastfjords. This part of the country is the furthest you can be from Reykjavik and boasts a stunning, picturesque landscape.
When driving along this road, just some common Iceland views you'll see are lava fields, abandoned buildings, glittering lakes, waterfalls, and fjords surrounded by steep cliffs. Because it's so remote, you may even spot a herd of reindeer here too.
28. Discover Icelandic History at the Perlan Museum
Though Iceland has countless natural wonders, some of the best things to do in Iceland are to visit museums. If you're sitting around not knowing what to do in Iceland in particularly bad weather, they are your saving grace!
The Perlan Museum is based just outside of Reykjavik in southwest Iceland. It's a futuristic, glass-domed building with interactive exhibitions focusing on Iceland's landscape and geological marvels. There's also a fine-dining restaurant and cocktail bar.
29. Witness the Scale of the Godafoss Waterfall
Godafoss Waterfall is only a 40-foot/12-meter drop but it consists of a series of falls plunging over a curved rock face so it looks spectacular. It's a must-see in Iceland if you are venturing on a long road trip around the entire country.
Based just off the ring road in northeast Iceland, there are several paths and viewpoints you can check out to appreciate the natural beauty of this waterfall from several angles.
30. Bake Rye Bread in the Fontana Hot Springs
Yes, Iceland's lava fields and hot springs are so hot that you can actually bake bread in them. There are many facilities and experiences you can book around the country, but Laugarvatn Fontana is very welcoming for tourists. It's situated on the edge of the Icelandic Highlands near Reykjavik so you've no excuses not to try one of the most unique Iceland things to do!
Rye bread baked via this method has the nickname 'thunder' bread. The baker mixes the ingredients in a bowl and pours them into a greased pot.
They submerge the pot in the ground for around 24 hours to let the steam slowly cook the bread. Fortunately, most organized baking experiences will prepare several pots the day prior so you can enjoy baking and eating this bread on your trip to Iceland.
31. Take a Dip in the Sky Lagoon outside Reykjavík
Opening in 2021, the Sky Lagoon is fast becoming one of the top things to do in Iceland to rival the Blue Lagoon. It's a geothermal spa located on the coastline of the Reykjanes Peninsula just a short drive (around 10 minutes) from Reykjavik.
The Sky Lagoon's beautiful views and extra facilities like saunas make these thermal baths one of the best places to visit if don't have time to check out any others.
32. Walk Behind Seljalandsfoss Waterfall
Seljalandsfoss Waterfall is a common stop on any organized day trip to the South Coast so you're likely to see it when you visit Iceland. That's perfect! Because this stunning natural attraction is one of the top must-see places in Iceland for sure.
Not only can you admire this 200-foot/60-meter waterfall from afar, but you can also walk behind it! Pack your raincoat as you won't get soaked (unless you fall in, of course) but you will get sprayed a little. Totally worth it, though!
33. Look out for Puffins at the Sea Arch of Dyrholaey
Whales, tactic foxes, reindeer… Some of the best Iceland attractions are its wildlife. Puffins should also be on that list because seeing these cuties up close and in real life has to be one of the top things to do in Iceland during the summer months.
They nest in various pockets of Iceland's coastline between late April and early September. If you want to spot them in a particularly lovely location, head to the Sea Arch of Dyrholaey. It's super close to Reynisfjara Beach.
34. Walk Along the Rainbow Road in Seydisfjordur
Reykjavik's rainbow street mural is one of the more well-known Iceland attractions, so the rainbow street leading up to the church in Seydisfjordur is a cool, less-touristed alternative.
It's really nothing more than a cheery, brightly colored backdrop for social media photos and family vacation snaps. But if you're already traveling in the Eastfjords then it's one of the top Iceland things to do in this area. Seydisfjordur is a charming fishing village too.
35. Explore the Lake Myvatn Geothermal Area
This volcanic lake is one of the top must-see places in Iceland, especially if you are driving the ring road around northern Iceland as you can see this area from the highway.
Myvatn geothermal area encompasses many Iceland tourist attractions into one. In the same area, there is a man-made thermal lagoon (Myvatn Nature Baths), a bird museum, and a lava field. You could spend hours walking around appreciating the natural beauty and still not see everything there is to see.
36. Scuba Dive in the Silfra Rift Between Two Continents
Calling all adrenaline junkies! Visiting Thingvellir National Park and hiking through the mid-Atlantic ridge is cool, but scuba diving or snorkeling between the European and North American tectonic plates is even better. The Silfra rift in this national park is perhaps the only place in the world where you can do this and it's definitely one of the top things to do in Iceland.
Don't worry if you have no diving experience or gear as you can book an excursion. You'll get a drysuit to handle those freezing temperatures and a guided 30 to 40-minute dive. If it's your second or third visit to Iceland and you need inspiration for a day trip, doing this dive will make your trip truly unforgettable.
37. Hike Through the Skaftafell Nature Reserve
Formerly its own national park before it was incorporated into Vatnajökull, the Skatftafell Nature Reserve boasts some of the best incredible, amazing things to see in Iceland. Some of the natural wonders you can see in Skatfafell include the Svartifoss Waterfall, glaciers, ice caves, valleys, and lakes.
Hiking through the Skaftafellsjökull Gönguleið region is one of the more popular Iceland tourist spots in this nature reserve. But if you wanted to hike one of the glaciers here, it's better (and safer) to follow a guide.
38. Photograph the Stokksnes Headland
It's not a black sand beach, a mountain, or a nature reserve, and yet the Stokksnes Headland is a must-see Iceland stop on any ring road trip. This rocky cliff is one of the most dramatic Iceland attractions (and that's saying something!) and a photographer's dream.
39. Search for Iceland's Mythical Elf Population
Did you know that approximately 54% of the Icelandic population believes in elves, according to National Geographic? Well, supposedly they 'don't deny' the existence of elves which isn't exactly the same thing, but still. And there are lots of cool Iceland attractions related to these tiny fairytale creatures that will allow you to learn more about these (literal) hidden gems when you visit Iceland.
First, there's the Elfschool in Reykjavik where you can book a private three to four-hour class on elf culture. There are 13 different species to learn about and you get a certificate too!
One of the most fun things to do in Iceland where you might be able to spot one of these hidden gems in the wild is to visit their houses. Yes, there are rows of tiny elf-size houses buried into the turf dotted around the country. You could go to the Elf Palace in Borgarfjördur Eystri where the Elf Queen lives or the Elf Market at Bjartmarssteinn Rock in northern Iceland.
40. Stare Up at the Reynisdrangar Cliffs in Vík
Some of the most beautiful things to see in Iceland are the basalt columns that line many of the black sand beaches around Iceland's coastline. The Reynisdrangar Cliffs in Vík are some of the most spectacular. Luckily, you have a good chance of seeing them if you book a South Coast tour when you visit Iceland.
41. Soak in the Natural Hot Springs Around Iceland
There are so, so many more natural hot springs and geothermal-powered spas around Iceland aside from the Blue Lagoon and the Sky Lagoon. If you're on a road trip around Iceland and want to know where to go in Iceland to visit more, here are some options.
Seljavallalaug Pool on the South Coast was built in the 1920s and it's located in some of the most dramatic landscapes. Hrunalaug Hot Spring in the Highlands is perfect if you're looking for hidden gems and Hvammsvik is ideal if don't want to venture too far from Reykjavik.
42. Munch on Homemade Pastries in Reykjavík's Cafes
Speaking of Reykjavik, you cannot leave the capital without consuming as many delicious pastries in the city's cozy cafes as possible. Denmark might be the Nordic country that is more synonymous with pastries and Sweden has fika, but Iceland is strong competition.
Some of the best cafes, bakeries, and pastry shops in Reykjavik include Sandholt, Mokka Kaffi, Te & Kaffi, and Brauð & Co. These are top Iceland attractions in their own right and deserve a spot on your itinerary!
43. Learn About Iceland's History at a Living Museum
Wondering where to go in Iceland to learn more about the country's history? There are some fantastic open-air and living museums all over the country that you can visit.
Most are replicas of fishing villages, Viking strongholds, and preserved ancient ruins. Two of the best ones are the Arbaer Open-Air Folk Museum tourist attraction in Reykjavik and The Commonwealth Farm tourist attraction near Iceland's south coast.
44. Visit One of Iceland's Cool and Unique Churches
Despite being mostly unoccupied and unused these days, many of Iceland's quirky rural churches are still standing. They've become wonderful hidden gems and fun road trip stops and they are an Iceland must-see.
Grafarkirkja is the oldest church in Iceland and it was built with a turf roof. It looks more like a hobbit's house than a church! Búðakirkja is less of a hidden gem as it's one of the most photographed churches in Iceland, but it's still a cool place to visit if you're traveling north.
45. Marvel at Iceland's Photogenic Colorful Lighthouses
Since it's an island country, some of the best things to see in Iceland are its colorful and quirky lighthouses that sit proudly on the coastline. There are 104 lighthouses still standing which is slightly too many to see on an average vacation, but it's well worth making an effort to see at least one.
Some of the best are Grotta Lighthouse on the Reykjanes Peninsula, Dalatangaviti in the Eastfjords, and Hopsnes on the south coast.
46. Hike in the Horseshoe of Asbyrgi Canyon
Though the most spectacular views of the horseshoe-shaped Asbyrgi Canyon are best seen from above, you can still appreciate the landscape by following one of the hiking trails. This huge canyon was created during the last ice age and is steeped in local folklore.
It's located on the edge of the Vatnajökull National Park so you'll need to rent a car to go hiking in this region, but the spectacular sights will make it worth your while.
47. Join a Craft Beer and Brewery Tour of Reykjavík
Did you know that beer was illegal in Iceland from 1915 to 1989? It's true! Iceland had its own prohibition era from 1915 to 1922 when they lifted the ban on wine, but continued to ban beer for 74 years. It was seen as a 'gateway alcohol' which would encourage young people to consume stronger substances.
Thankfully, Iceland bounced back from the beer drought and Reykjavik has a thriving craft beer scene. Some of the best places to visit for craft beer include Skúli Craft Bar and the Frederiksen Ale House. Book a brewery tour and tasting at Ölgerðin Brewery too. Or book a Beer & Booze Tour.
48. Catch a Performance at the Harpa Concert Hall
Opening in 2007, the Harpa Concert Hall in Reykjavik's harbor is one of the most stunning buildings in the country and a real Iceland must-see. Its glass, patchwork exterior either resembles fish scales or Iceland's basalt landscape depending on your perspective.
You can visit the concert hall on a guided tour during the day or catch an orchestral performance at night.
49. Go Climbing in the Esja Mountain Range
Love hiking but don't want to tackle the treacherous glaciers? Opt for one of the hiking trails on the Esja mountain range. Less than one hours drive from Reykjavik, it offers a mix of easy to challenging routes with scenic views across the coastline in one direction and more mountains in the other.
50. Taste Modern Icelandic Cuisine on a Food Tour
Traditional Icelandic cuisine leaves a lot to be desired. Luckily, many restaurants in Reykjavik are reinventing Icelandic dishes so that they are not only edible but delicious. Join a modern Icelandic food tour to sample lots of different dishes like skyr and lamb stew to gain a new appreciation of Iceland's culinary heritage.
Things To Do in Iceland FAQs
What is there to do in Iceland?
There is an endless list of things to do in Iceland. All the best things to do in Iceland can be divided into two lists: nature/outdoors and culture.
Some of the outdoorsy best things to do in Iceland include glacier hikes, exploring dramatic black sand beaches, and whale watching. You can also enjoy hot springs, watch erupting volcanoes, climb mountains, ride Icelandic horses, go scuba diving, and walk behind waterfalls.
Some of the cultural best things to do in Iceland include visiting national museums, exploring open-air Viking museums, and tasting Icelandic food and drink. You can also explore churches and watch performances at some of Iceland's best venues.
What are three things Iceland is famous for?
Iceland is famous for much more than three things, but here are some examples. First, Iceland is famous for being the 'land of fire and ice' which refers to its many glaciers and volcanoes.
Second, it is famous for being one of the top three happiest countries in the world, according to the World Happiness Index. And third, Iceland is famous for its hot springs as the Blue Lagoon. In fact, the Blue Lagoon is the number one most-visited Iceland tourist attraction in Iceland.
How many days do you need in Iceland?
If you are planning a trip to Iceland and want to explore the entire country, you will need at least 10- 14 days. In two weeks, you will be able to drive around Iceland's ring road and check out all the absolute best things to do in Iceland.
Planning a shorter trip to Iceland? Four or five days in Iceland will allow you to spend a couple of days in the capital city of Reykjavík and take day trips to the Golden Circle and South Coast.
Is everything just a short walk away in Reykjavik?
Reykjavik is the 8th smallest capital city in Europe by population, and it's pretty dang small by size too. It's only 105 square miles/273 km² big.
This means that most of Reykjavik's top attractions are just a short walk away from each other. There are some distances that are a little too far to walk (the harbor to the Árbær Open Air Museum, for example, is 6.2 miles/10 km) but then it's just a short drive or bus ride.
Unforgettable Things To Do in Iceland on an Epic Vacation
These are all the best things to do in Iceland that will ensure you see the top sights and activities that Iceland has to offer. With experiences like relaxing in outdoor thermal pools, photographing colorful houses, and hiking up Europe's largest glacier, you're bound to have an unforgettable Iceland vacation.
Canyons
With such dramatic landscapes, Iceland is sure to have plenty of canyons to explore, like:
Fjaðrárgljúfur Canyon
Seljalandsfoss
Thorsmork
Gljufrabui
Waterfalls
It's no secret that Iceland is full of stunning waterfalls! I can't pronounce most (all) of them, but I'm sure excited to see them all!
Gullfoss
Djupagilsfoss
Seljalandsfoss
Gljufrabui Falls
Skogafoss
Kvernufoss
Thorsmork
Dettifoss
Selfoss
Godafoss
Glymur Falls
Hraunfossar Falls
Barnafoss Falls
Svartifoss
Hraunfossar
Phew…I'm sure I'm missing a million waterfalls!
Glaciers
Iceland is known as The Land of Fire and Ice, so it makes sense that there would be so many glaciers and hot springs! Check out these 3 glacier ice caves in Iceland that you can see in one day.
Solheimajokull
Vatnajokull
Jökulsárlón Glacier Lagoon
Beaches
Iceland is famous for its incredible black sand beaches with other-worldly rock formations.
Reynisfjara Black Sand Beach
Sólheimasandur Black Sand Beach
Reynisdrangar (famous Basalt Columns)
Diamond Beach
Stokksnes Beach
Hot Springs
Iceland is covered with hot springs, like the famous Blue Lagoon. It's going to be cold when we get to Iceland, so I'm excited to find a warm activity!
Blue Lagoon
Mývatn Nature Baths
Secret Lagoon
Grjotagja
Caves
I'm excited to explore all the caves of Iceland!
Vatnshellir
Crystal Ice Cave
Reynisdranger
Grjotagja
Hikes in Iceland
There are some truly incredible hikes in Iceland that you should definitely do! If you're active and want stunning views, hiking in Iceland is a must! Here are some of the best hikes in Iceland:
Mount Esja
Glymur Waterfall
Snaefellsnes Penninsula
Landmannalaugar

Hvannadalshnukur

Skogafoss Waterfall Trail
Detifoss & Selfoss

Kerlingarfjoll
Iceland has no shortage of activities like these unique things to do in Iceland for adventurers.
Cities in Iceland
Whale Watching in Iceland
Iceland was once known for its commercial whaling, but now is looking forward to the future with more eco-friendly and sustainable whale watching practices. There are several whale watching cruises to choose from in Iceland, but be sure to pick one that uses best practices.
Other Things to do in Iceland on my Bucket List
See the Northern Lights
Sólheimasandur Plane Wreck
Námaskarð