There's no question that Canada is one of the most family-friendly destinations in the world. After all, Canada is listed as the third country on the list of countries with the best quality of life. And Alberta is certainly one of the most beautiful and adventure-filled provinces in the country.
With iconic mountain landscapes, prairies, good food, friendly locals, rich history and a culture of adventure, Alberta is the perfect Canadian province to visit for families looking to create memories for a lifetime.
It's impossible to cover all that Alberta has to offer due to its sheer size. Here's a little Alberta fun fact for you: If it was a country, Alberta would be the 40th largest in the world! We'll do our best to feature the highlights of this beautiful province.
Where to Go
Almost the same size as Texas, Alberta is a large province that could take years to discover. Southern Alberta, with its rolling prairies and rich First Nations history, the Rockies with incredible National Parks, and the north, home to Alberta's capital, all offer opportunities for a family adventure.
What to Do in Alberta Canada
National Parks
Alberta is famous for its breathtakingly beautiful national parks with rugged mountains and glacially-fed lakes. Those pictures that you see are actually real! No filter needed! Here are some of Alberta's most loved parks:
Banff National Park
Home to towering Canadian Rockies, aquamarine glacial lakes and rivers, 996 species of trees, and a thousand miles of trails, Banff National Park is the 3rd oldest national park in the world and not to be missed on a trip to Alberta. Be sure to see Banff Upper Hot Springs, Lake Louise, Moraine Lake, Columbia Icefield, the adorable town of Banff, and the Indian Trading Post. Banff is also one of the best places in Canada to see the Northern Lights. Learn more about Banff National Park.
Icefields Parkway
This 232 km route running through Banff and Jasper will treat you to jaw-dropping views of the Rockies and glacial waters throughout the parks.
Jasper National Park
Banff's less-visited big sister, Jasper National Park is just as worthy of a visit as Banff, and maybe more. Here you will find the same magnificent blue waters and stunning mountains, with fewer crowds. Be sure to see Maligne Lake (home to the famous Spirit Island), Icefields Parkway, Athabasca Glacier, and the Glacier Skywalk.
Waterton Lakes National Park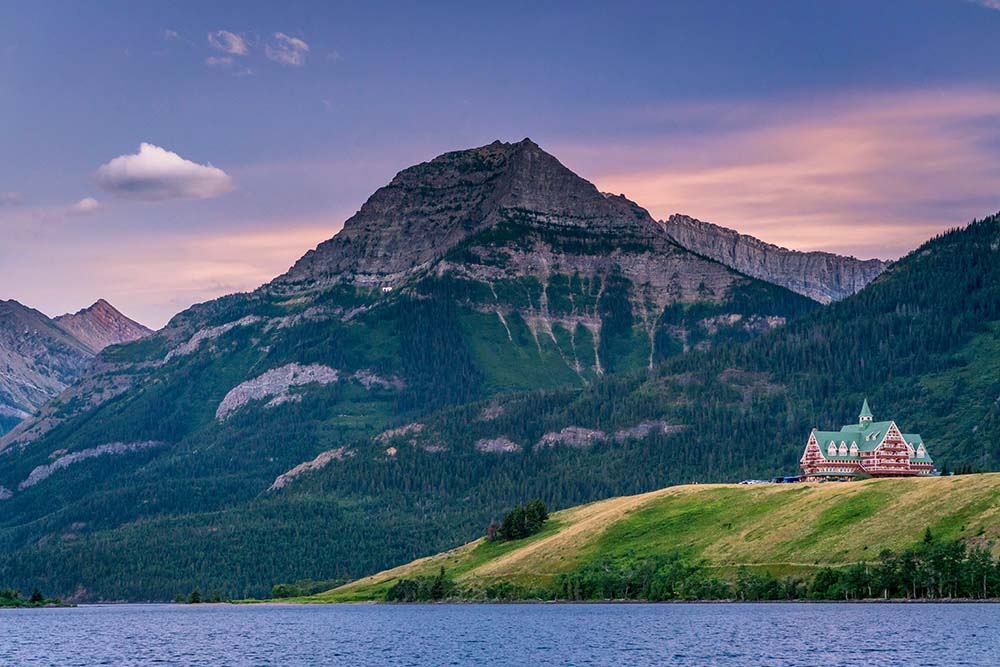 Glacier National Park's Canadian cousin holds extraordinary natural wonders in a compact space. Be sure to see The Prince of Wales Hotel, Waterton Lake, Cameron Lake, Red Rock Canyon, Bear's Hump hike, and the little town where you can't miss Waffleton for gourmet Belgian waffles. Learn more about Waterton Lakes National Park.

Provincial Parks
While Alberta is well known for its incredible National Parks, it has many beautiful Provincial parks that are well worth a visit. Some local favorites are Canmore Nordic Centre Provincial Park, Cypress Hills Interprovincial Park, Dinosaur Provincial Park, Kananaskis Country, and Writing-on-Stone Provincial Park.
Follow the Fossil Trail
Home to the richest source of dinosaur fossils in the world, Alberta's Fossil Trail spans 1,553 miles from southeast to northwest. Be sure to visit the Royal Tyrrell Museum and see one of the world's largest displays of full dinosaur skeletons and the town of Drumheller, which proudly calls itself the "Town of the Dinosaurs"
Go Skiing
The Canadian Rockies of Alberta get about 75 inches of snowfall a year! The only thing to do with that much snow, besides freeze, is to play in it! Alberta is home to many world-class ski resorts. Some favorites are Sunshine Village, Lake Louise, Mount Norquay, and Nakiska. With a ski season from November to May, you'll have plenty of opportunities to play in the snow! Be sure you're prepared if you plan on skiing with kids.
Head-Smashed-In Buffalo Jump at Fort Macleod
In southern Alberta, this sacred ridge of land, once used as a hunting ground by the aboriginal people is now UNESCO World Heritage Site. Hunters would gather herds of buffalo and drive them over the cliff. Kids will enjoy learning about this fascinating history in a unique way.
Calgary Stampede
One of the largest rodeos in the world and considered by many as "the best," the Calgary Stampede happens every year for ten days in July. It includes sheep shearing demonstrations, horsemanship, and agricultural programs. They call this the greatest outdoor show on Earth! x
Calgary
Alberta's most populous city, Calgary is packed full of family fun and adventure. Don't miss these top attractions:
Calgary Zoo
Ranking as one of the best zoos in the country, you'll find animals from all over the world and kids will especially love the Penguin Plunge!
Calgary Tower
Head to the top of Calgary Tower for a bird's eye view of the city.
Edmonton
Alberta's capital city has a lot to offer for families including these top attractions:
West Edmonton Mall
North America's largest shopping center has more to offer than just stores. An ice rink, two mini-golf courses, bumper boats, billiards, bowling, an indoor water park, and the world's largest indoor amusement park can provide days of entertainment for the family.
Jurassic Forest Learning Center
Located on 40 acres of natural, old-growth forest, this educational facility aims to teach about the forest and dinosaurs. Walk along two kilometers of walkways with life-like, robotic dinosaurs that kids will get a kick out of.
Getting Around
There are many tour companies that will take you to the main attractions and traveling by rail can be an extraordinary journey, but you may need a car if you want to explore all the beautiful nature that Alberta has to offer.
I hope this quick guide to Alberta has been helpful. It's such a vast province. Don't try to see it all in one trip, but do hit these highlights if you can.