If you're wondering where to stay in Paris, but are totally confused by the Paris Arrondissements, don't worry! Follow this easy Paris neighborhood guide to help you find the best places to stay in Paris.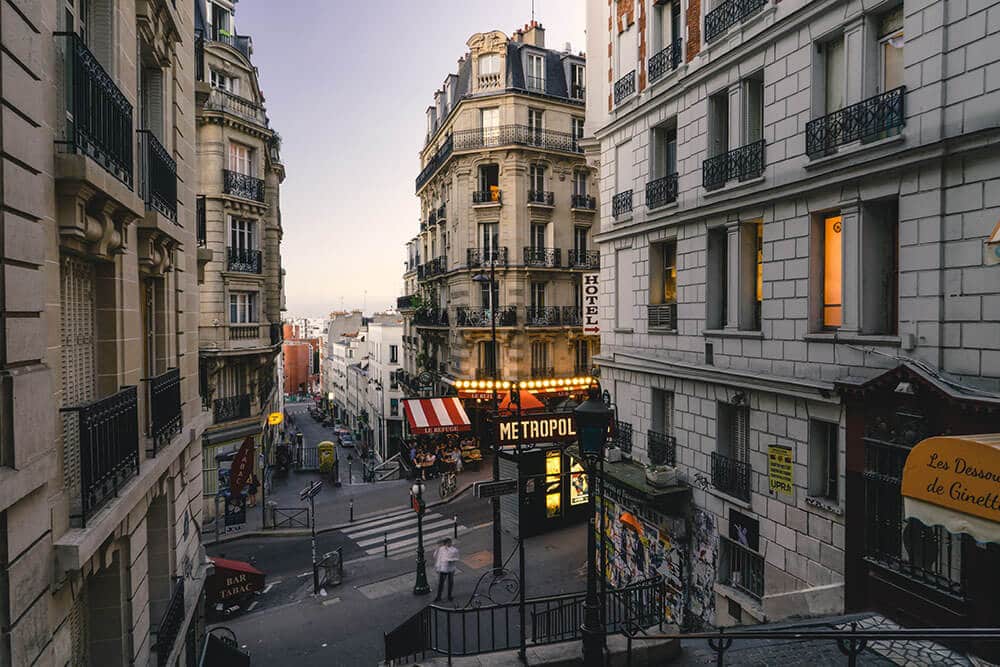 Where to Stay in Paris – A Neighborhood Guide to Paris Arrondissements
this post contains affiliate links
If you're planning a trip to Paris, or even a move to Paris (lucky you), understanding the neighborhood structure, names, and organization of the city is sure to give you a headache! But fear not, I've organized Paris for you and added some explanations.
Hotel vs. House Rentals in Paris
If you're trying to decide between staying in a boutique hotel or a VRBO in Paris, the choice really depends on your preferences and what kind of trip you're looking for. When I come to Paris, I like to try to blend in, practice my (bad) French, see the sites, and enjoy the culture and cuisine. So when I visit Paris, I always choose to stay in a VRBO. It helps me to have a more "local" experience rather than a "touristy" one.
Hostels in Paris
Hostels are another great alternative to luxury hotel and mid range hotel or Home Rentals, more like a budget hotel, this is especially helpful if you're traveling solo, with a friend, or on a budget. Hostels have come a long way in the last few years and they have really exceeded my expectations lately. Read more about the best hostels in Paris for tons of great options. 
While you want to have a local experience, you also don't want to be so far from the sites that it takes you ages to get anywhere! Especially if you're visiting Paris with kids! Their little legs won't last. I've made that mistake before along with millions of other visitors. Just because a hotel or listing says "Paris" does not mean it won't take you 30 minutes to get to the Eiffel Tower!
Find the Best Places to Stay in Paris with Kids
So it's best to learn about the different or Arrondissements before you decide the best neighborhoods in Paris to stay in.

What is an Arrondissement
First of all, let's talk about what the heck an Arrondissement even is, and most importantly, how you pronounce it!
Arrondissement pronunciation: "Ah-Ron-Dees-Mohn"
An arrondissement is basically an administrative district within Paris. There are separate Paris neighborhoods, or quartiers, inside of each arrondissement, and even neighborhoods that span more than one arrondissement. So it can be difficult to tell where you even are at certain locations.
Paris Arrondissements begin in the center of the city (walking distance to Notre Dame Cathedral) and spiral out from there, with the 1st Arrondissement being in the center, and the 12th through 20th being on the outskirts of Paris.
Paris Neighborhood Map
This cute Paris arrondissement map lays out the city and its arrondissements simply. You can see the spiral pattern starting and Arr. 1 and snaking around clockwise until you hit 20. I recommend staying in the pink zone for your first trip to Paris.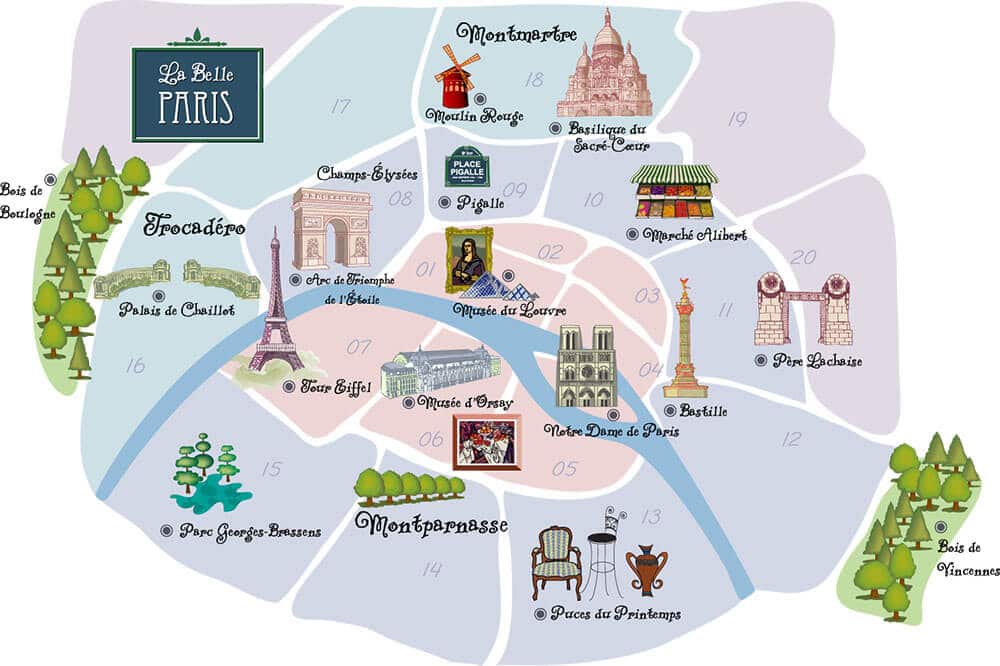 Choosing the Best Arrondissement to Stay in Paris for You
There are 20 Paris arrondissements and each has its own unique charm, but I do believe that some are better than others if you're visiting Paris. I'm going to lay out each one for you so that you can decide where to stay in Paris that will suit your taste and needs.
My personal recommendation is that you choose the 1st through 8th Paris arrondissements. These will be in and surrounding the city's center, and therefore conveniently located to most of the best places to visit in Paris.
If you're wondering which arrondissement to stay in in Paris, here is a list of the Arrondissements along with pictures, pros and cons, and affordable accommodations in each area so that you can choose for yourself:
Paris Arrondissement Guide
Here is an interactive map of all 20 Paris Arrondissements to help you orientate yourself with their locations better.
1st Arrondissement – Louvre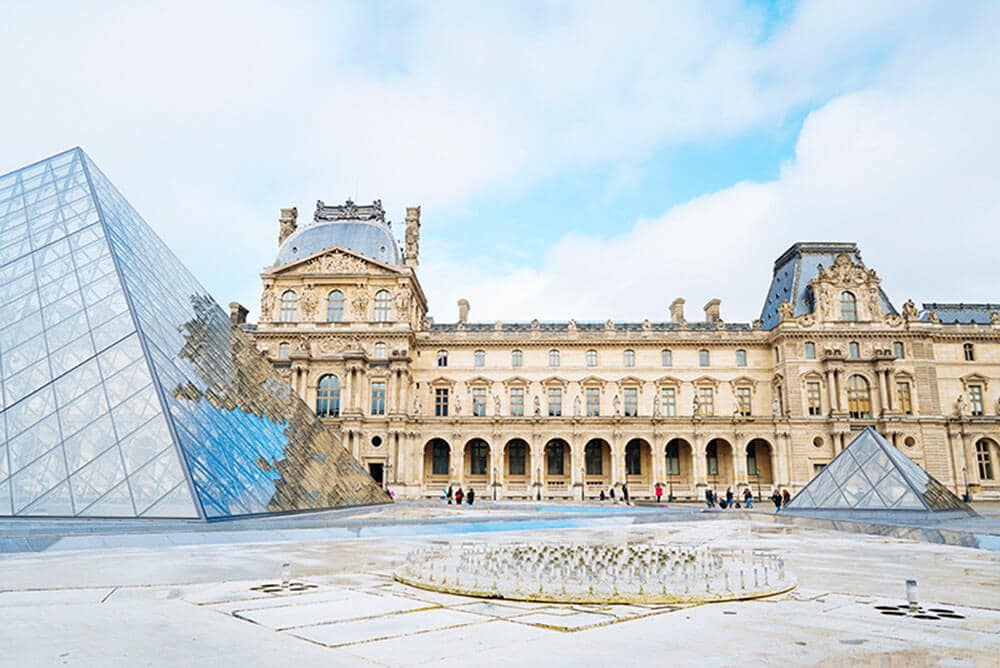 This arrondissement is one of the oldest and also one of the smallest. It lies directly on the right bank of the Seine and also includes a tiny bit of the western end of the Île de la Cité (how cute). If you are only coming to Paris for a short time, I always recommend that you stay near the 1st Arrondissement.  You'll have easy access to many of the tourist attractions to go to in Paris.
Main sites in the 1st Arrondissement:
The Louvre
Tuileries Gardens
Pont des Arts
Place de Vendôme
Rue de Rivoli
Place de la Concorde
Sainte Chapelle
Conciergerie
Les Halles
Arc de Triomphe du Carrousel
Palais Royal
River Banks
Pont Neuf
Place Vendôme
Musée de l'Orangerie
Notre Dame Cathedral
So as you can see there is plenty to do just in the 1st Arrondissement alone. It could take you a week or more to see it all. It's one of the best places to stay in Paris close to everything you want to see and do. The other thing I love about this area is that there are multiple metro and bus stops in close proximity, making getting around Paris very convenient.
Staying in the 1st Arrondissement is not usually cheap since it is in central Paris and has a fantastic location, but there are some very affordable VRBOs in the neighborhood.
Pros & Cons of the 1st Arrondissement
PROS: Central to all the main sites
CONS: Fairly filled with tourists, expensive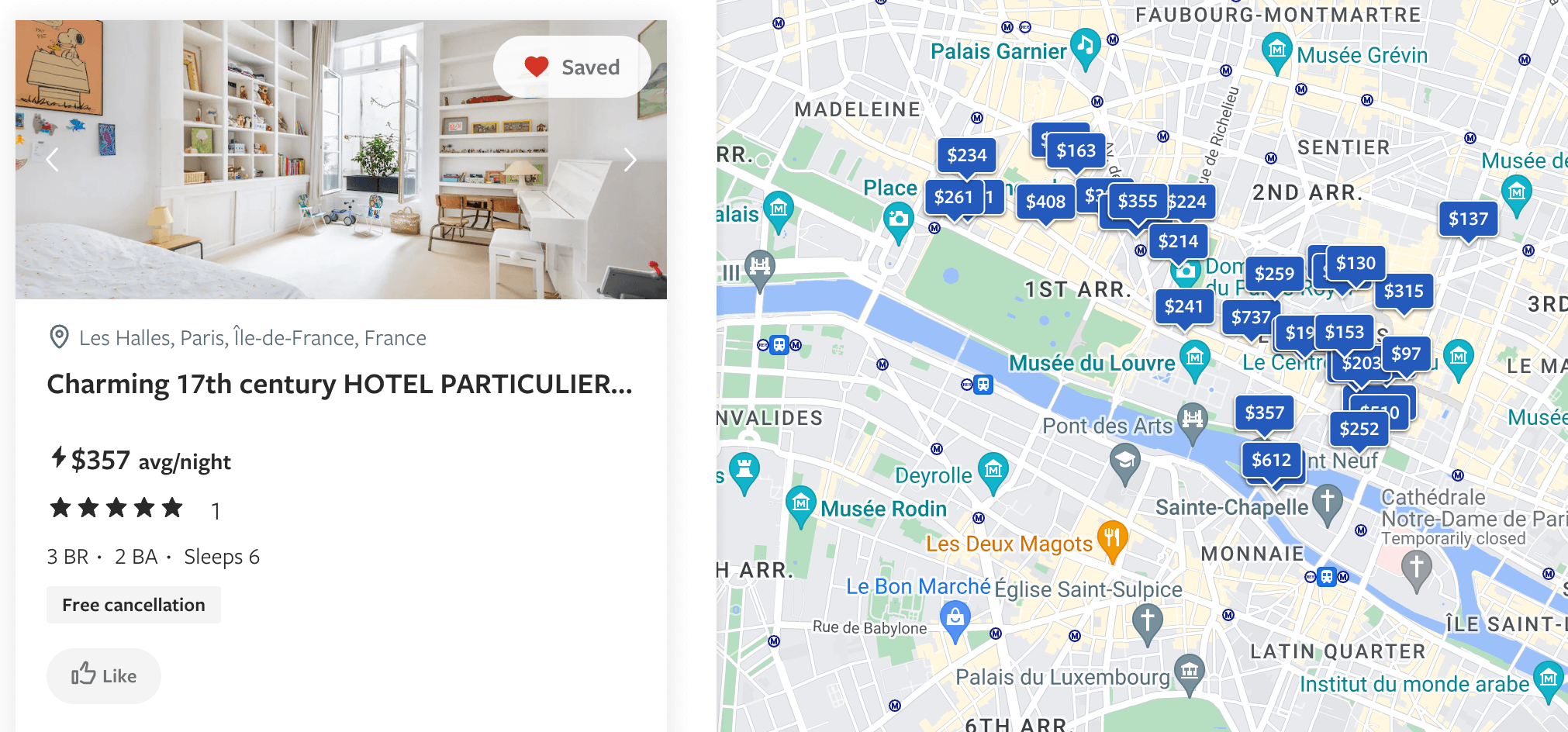 2nd Arrondissement – Bourse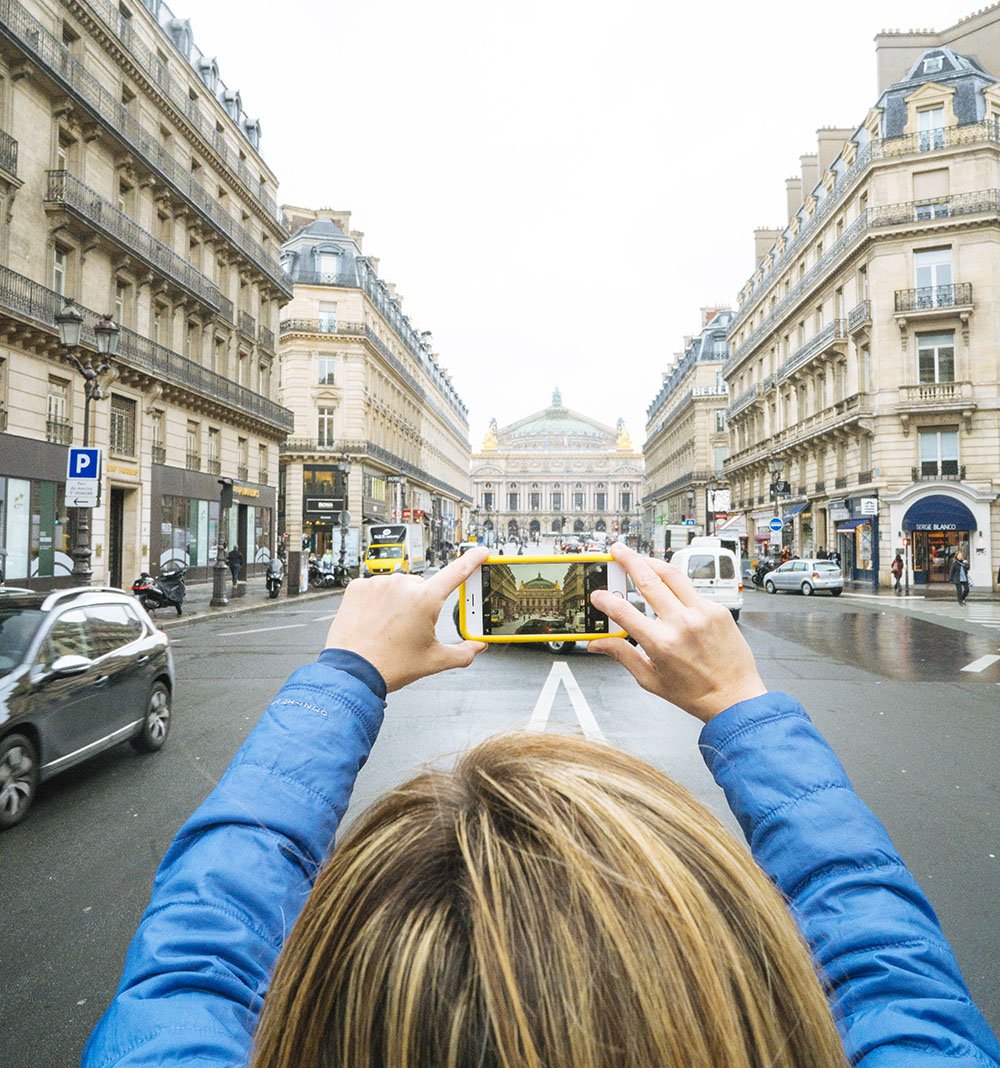 This is the smallest arrondissement in Paris. It is an important business district. It is famous for textiles and has lots of shops and restaurants, but my favorite part of the 2nd Arrondissement is the covered shopping arcades from the 1800s called Passages.
Main sites in the 2nd Arrondissement:
Passage des Panoramas
Galerie Vivienne
Passage Choiseul
Opera Garnier
Le Grand Rex (Europ's largest movie theater)
The 2nd Arrondissement is a good place to stay, still close to all the sites in the 1st with a more local feel. The passages are truly something you must explore. I love the small covered corridors lined with second-hand shops, toy stores, booksellers, and boutiques. It has some of the best mid range hotel in the area.
Pros & Cons of the 2nd Arrondissement
PROS: Still close to all the sites, Passages
CONS: Busy with business workers
3rd Arrondissement – Temple – Le Marais North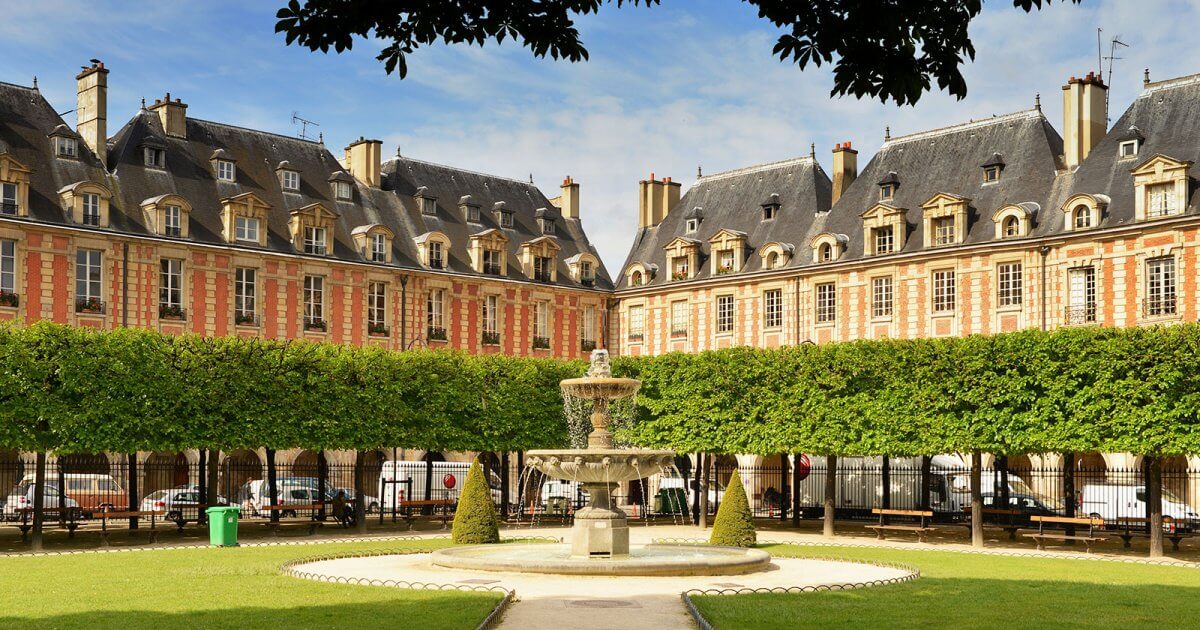 This is one of those confusing situations I was telling you about when an area or neighborhood encompasses more than one Arrondissement. In this case, Le Marais refers to both the 3rd and 4th Paris Arrondissements. This area is the second smallest arrondissement of Paris. It is a beautiful and historic area, and home to some of the residences of French nobility from the 16-1700s.
You can come to Le Marais for a pre-Revolutionary feel to Paris. They call it pre-Revolutionary because during the revolution, Napoleon intentionally widened many of the streets in Paris to prevent the resistance from creating barricades in the narrow Parisian alleyways. Thanksfully for us, he missed this section! You can enjoy wandering down the narrow, old roads in Le Marais.
Main sites in the 3rd Arrondissement:
Place des Vosges
Hôtel Carnavalet (Museum of he history of Paris)
National Archives
Picasso Museum
Museum of Arts and Crafts
Place de la République
Nicolas Flamel House (the oldest house in Paris)
The 3rd Arrondissement is a great choice if you want to be central to many of the sites, have the feel and neighborhood of Le Marais, but still, be slightly removed from the tourist hub. Experience luxury hotels here like no other.
Pros & Cons of the 3rd Arrondissement
PROS: Still fairly close to all the sites, museums, part of Le Marais, Old feel
CONS: A little farther from the sites and the river
4th Arrondissement – Hôte de Ville – Le Marais South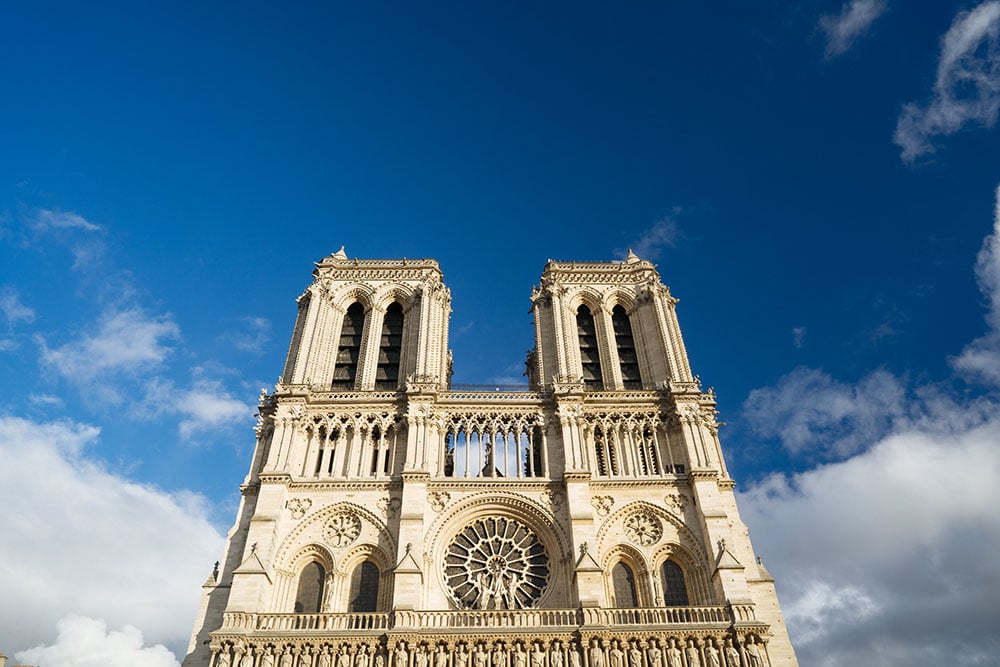 Ok, so here is the rest of the Le Marais in the 4th Arrondissement! It is the 3rd smallest arrondissement and has the same feeling as the 3rd, but lies closer to the Seine and includes Notre Dame on Île de la Cité as well as Île Saint-Louis. This is where I personally choose to stay when I come to Paris. It's one of the best places in Paris for an old-world feel close to all the action. I love the feel of the neighborhood and the proximity to the sites and the accessibility to public transportation.
Main sites in the 4th Arrondissement:
Notre Dame
Sainte Chapelle
Île de la Cité
Île Saint-Louis
Hôtel de Ville
Pompidou Center
Queen Elizabeth Flower Market
Place de la Bastille
Places des Vosges
Victor Hugo's Home
Pros & Cons of the 4th Arrondissement
PROS: Close to sites, charm, views, and metro station
CONS: Expensive
5th Arrondissement – Latin Quarter
The Latin Quarter with its beautiful old-world charm is also the student hub of Paris, with universities and prestigious high schools, and has a distinctly intellectual and bohemian feel. It's definitely considered one of the coolest neighborhoods in Paris. In this neighborhood, you'll find more ethnic diversity (among the people and the food) as well as happening nightlife. I would classify this area as"trendy." Back in the middle ages when all the old universities were here, Latin was spoken in this area, and that's how the Latin Quarter got its name!
Main sites in the 5th Arrondissement:
Pantheon
National Museum of the Middle-Ages
Jardin des Plantes (botanical gardens)
Menagerie: the oldest zoo in France
Museum of Natural History
Paris Mosque
Sorbonne University (founded in the 12th century and one of Europe's oldest Universities)
Arenes de Lutece (Roman Coliseum)
Shakespeare & Co. Bookstore
This is a great neighborhood to stay in if you're young and single and want to meet people your own age. It's classic Paris for the young and one of the best neighborhoods to stay in Paris especially if you're a young student.
Pros & Cons of the 5th Arrondissement
PROS: Close to sites, charm, youth
CONS: Expensive, crowds of loud students
6th Arrondissement – Luxembourg & Saint-Germain-des-Prés
Known as one of the best neighborhoods in Paris for families, the 6th Arrondissement is beautiful. The multitude of corner patisseries and centuries-old churches also make this one of the most romantic neighborhoods in Paris. Full of old-world charm and former home to the writers and intellectuals of the Paris' golden age or Belle Époque, it is one of the most sought after (read: expensive) areas in Paris. It's a great neighborhood to hang out in a Bistrot or Cafe.
I like to stay in this area when I'm visiting Paris with kids due to its proximity to the Luxembourg Gardens, which has so much to do for children including toy boats, pony rides, carousels, playgrounds, a children's theater, and more! I think it's one of the best places to stay in Paris with family. After a long day of playing tourist, it's nice to just have a seat on the beautiful manicured lawns while watching the children play.
Main sites in the 6th Arrondissement:
Luxembourg Gardens (home of the famous toy boat pond)
Saint-Michel Fountain
Le Procope (oldest cafe in Paris)
Les Deux Magots (a regular hangout for Pablo Picasso and Ernest Hemingway)
Church of Saint-Germain-des-Prés
Saint-Sulpice church,
Palace of Luxembourg (the Senate)
This is a great neighborhood if money is no object and you are interested in the golden age of Paris and the history that comes with it.
Pros & Cons of the 6th Arrondissement
PROS: Close to sites, charm, history
CONS: Expensive, touristy
7th Arrondissement – Eiffel Tower
Eiffel tower arrondissmentThis Paris Arrondissement contains the single most popular site in the city, the Eiffel Tower of course. It's fun to stay here if you can snag a place with a view of la tour, but the 7the arrondissement can actually be a bit far from the rest of the Paris sites if you're on foot, bike, or using public transportation. Despite that, it can still be one of the most touristy areas of Paris, with lots of people selling Eiffel Tower keychains or trying to get you to sign a petition (don't do it, it's a scam), and the streets are lined with souvenir shops.
Main sites in the 7th Arrondissement:
Eiffel Tower
Rodin museum
Musée d'Orsay
Champ de Mars
Ecole Militaire
Hôtel des Invalides
Pont Alexandre III
While it can be fun to walk toward the la tour each night to go home, the Eiffel Tower arrondissment is not my favorite place to stay. But if you're only staying in Paris for a very short time and your main goal is to visit the Eiffel Tower and to see it sparkle at night (which is truly amazing), then staying in the 7th might be your best bet!
Pros & Cons of the 7th Arrondissement
PROS: Close to Eiffel Tower
CONS: Expensive, touristy
8th Arrondissement – Champs-Élysées
Home of the imposing Arc de Triomphe and the glamorous Champs-Élysées. This is a good central location to everything, but can also be very busy, especially if you're driving in Paris and need to go around the Arc, which is total insanity!
Main sites in the 8th Arrondissement:
Arc de Triomphe
Avenue des Champs-Élysées
Place de la Concorde
Grand-Palais
Petit-Palais
Parc Monceau
The 8th Arrondissement is the best area to stay in Paris if you plan to do a lot of high end shopping or want a view of the Arc. We stayed here once and had a magnificent view out our balcony of the Arc. It was definitely stunning, but the noise from the traffic was a big bummer!
Pros & Cons of the 8th Arrondissement
PROS: Close to Arc de Triomphe
CONS: Expensive, lots of traffic, loud
18th Arrondissement – Montmartre
Ok, so I'm definitely skipping a few Arrondissements obviously, but since this is a guide about where to stay in Paris, I'm only telling you about the Paris neighborhoods I think you should stay in while in Paris. I'm sure some will disagree with me and that's totally fine. Different strokes for different folks and all!
The 18th Arrondissement is home to the beautiful Montmartre neighborhood. Montmartre was actually a separate town from Paris, but was added to the city in 1860. During the Belle Époque, Montmartre was frequented by many famous artists such as Degas, Matisse, Modigliani, Picasso, Pissarro, Renoir, Van Gogh, and more. Montmartre is one of the best area to stay in Paris if you're interested in art, and especially impressionism.
The 18th Arrondissement is also home to the imposing Sacré-Cœur Cathedral atop the hill of Montmartre. I love seeing it peak through little alleyways like the picture above. It's definitely an older feeling part of the city. One thing that Montmartre definitely offers is a sweeping view of the entire city of Paris, including the Eiffel Tower.
Main sites in the 18th Arrondissement:
Montmartre
Sacré-Cœur
Moulin Rouge
The 18th Arrondissement can be a great place to stay if you're looking for incredible views and charm but also have strong legs. It IS mostly on a hill. When I go to Paris, I like to walk as much as possible, but I don't like having to walk up steep hills and stairs late at night, especially if I'm visiting with kids. It's just something to be aware of.
Pros & Cons of the 18th Arrondissement
PROS: Beautiful, great views
CONS: Far from sites, Long walk uphill, lots of stairs
If you're traveling with kids, be sure to check out this great list of Family Hotels in Paris.
I hope this guide to Paris neighborhoods has been helpful. I hope you are able to decide where to stay in Paris France without too much stress or confusion. If you pick any of these neighborhoods, I think you'll be just fine! If you have any questions, don't hesitate to reach out on Facebook or Instagram.
Practical Tips for Booking your Trip
Book Your Flights and Car
Find a budget airlines by using Skyscanner. This is my favorite way to search for flights because they crawl websites and airlines around the globe, so you always know you're getting the best deal. Learn more tips for finding the best flight deals here.

For cars, I like to use Rental Cars because they have good filters and its easy to search for multiple companies.
Book Your Accommodation
My preferred way to stay around the world is VRBO. I find it usually gives you a unique local experience in any destination. If you want to stay in a hotel, use Booking, as it consistently gives the cheapest rates for guesthouses and hotels. I use them both all the time.
Always Get Travel Insurance
Travel insurance protects you and your family against illness, injury, theft, and cancellations. It's peace of mind in case anything goes wrong. I never travel without it. I've been using World Nomads for the last few years and love how easy it is to use. I have also used Allianz. Compare rates to see which is best for the coverage you need.
Looking for ways to save money on travel?
Check out my resource page for the companies I use for traveling! I share everything I use to save me time and money.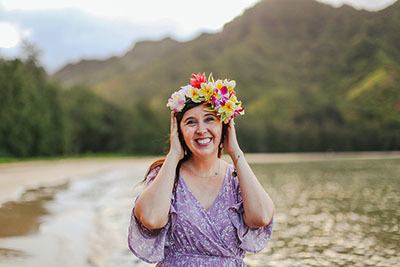 xo
Vanessa