If you're trying to decide where to stay in Scotland, look no further. I've rounded up some of my favorites, both hotels and Airbnbs to help you choose the best places to stay in Scotland.

The Best Places to Stay in Scotland
This post contains affiliate links.
Scotland is one of my favorite countries. I've traveled all over Scotland and stayed in countless hotels and Airbnbs in this beautiful country.
I'm constantly getting asked about the best places to stay in Scotland. So I've compiled some of the favorite places we've stayed and other places that have been recommended to me by readers and friends. I'm dividing these up by the most popular places to visit in Scotland
Edinburgh
Inverness
Isle of Skye
Hotel vs. Airbnb in Scotland
It's always a tough choice between hotels and Airbnbs. Hotels are great, especially for one-night stays. In some more rural places in Scotland, hotels are few and far between, making Airbnbs a great choice.
Airbnb can be a great option if you need extra space or beds, especially if you're traveling with a family. If you prefer cooking your own meals, Airbnb can also be a great option. If you've never used Airbnb before, you can use my coupon for $55 off your first stay.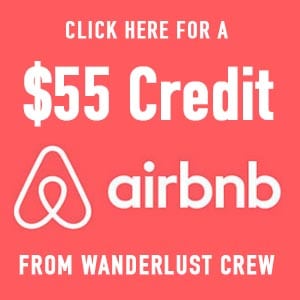 Where to Stay in Edinburgh Scotland
Edinburgh is most likely the city that you will fly in and out of on your trip to Scotland, so the chances of you spending at least one or two nights here are high. Edinburgh is a beautiful city full of history and a great foodie scene! Deciding where to stay in Edinburgh Scotland can be tough with so many options from hotels to Airbnbs to hostels. But I've rounded up some of my favorites
Edinburgh Hotels
The Rock House Period charm in the Calton Hill area on the edge of the city center, The Rock House is a great guest house at an amazing price.
The Witchery by the Castle: If you're looking for an amazing and magical splurge in Edinburgh, this over the top, magical hotel will fit the bill! Each suite is unique and opulent!
23 Mayfield: This is a great place on the outskirts of Edinburgh with an old-world feel and wood paneling. It's got a lot of character and a great restaurant.
The Royal Scots Club: This private club on one of Edinburgh's grandest streets was founded in 1919 in honor of those in the Royal Scots Regiment who died in the First World War. Non-members who stay are treated more to a personal experience than a hotel but with all the facilities: think country house hotel transplanted to the city. It's a special place.
The Waldorf Astoria: Another great splurge in Edinburgh, you can never go wrong at the Waldorf if you can afford it!
Edinburgh Airbnbs
If you'd rather stay in an Airbnb, there are some great ones in Edinburgh. It's sometimes nice to have your own kitchen and a little more space than a hotel. And they are often times much more affordable, especially in big cities.
Scottish Highlands Hotels and Airbnbs
The highlands of Scotland are gorgeous! There are some really classic places to stay from cozy cottages to luxury retreats!
Scottish Highlands Hotels
Despite its rural location, there are some gorgeous hotels in Co. Wicklow! These are my favorites.
Inverlochy Castle Hotel: Queen Victoria said she 'never saw a lovelier or more romantic spot' than Inverlochy Castle in 1873, and the reaction from most visitors is the same. It's a real splurge, but an amazing experience in the heart of the Scottish highlands!
Glenmoriston Townhouse Hotel: This is a great townhouse hotel on the banks of the River Ness.
Scottish Highlands Airbnbs
There are some great Airbnbs in the Inverness area. You can find a place along the shores of Loch Ness! Here are some great Airbnbs.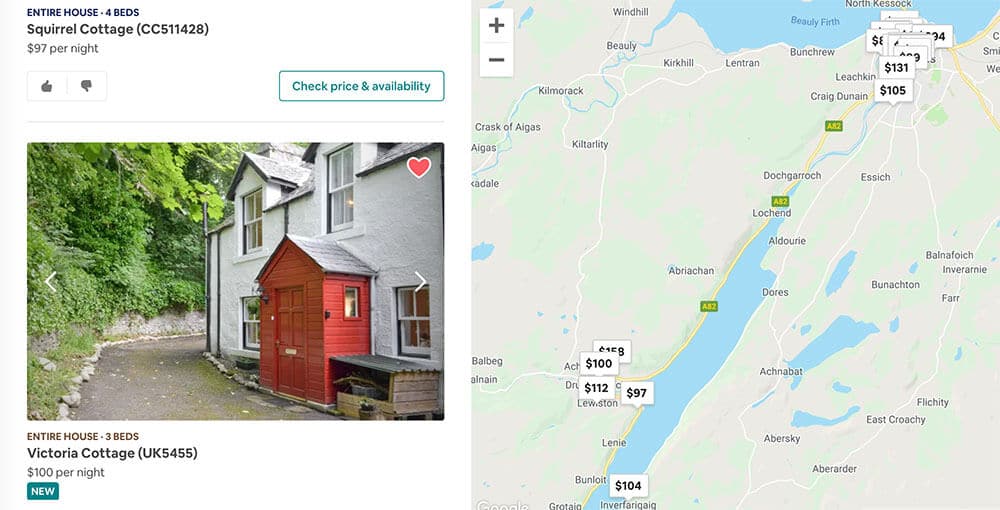 Where to Stay on the Isle of Skye Scotland
The Isle of Skye is a gorgeous and remote part of Scotland whos ancient history and stunning views will tkae your breath away. There are not a ton of great hotels on the island, so an Airbnb might be your best option, but there are a few I do love.
Isle of Skye Hotels
Marmalade Hotel: I love this hotel because it contains my favorite restaurant on the Isle of Skye that has THE BEST Sticky Toffee Pudding you've EVER tried! The hotel is also adorable
Kinloch Lodge: A seriously gorgeous lodge located near Dunvegan Castle.
Isle of Skye Airbnbs
There are not a ton of hotels on the Isle of Skye, so an Airbnb is a great choice. You can find a cozy cottage with a great view and cozy up at night. Here are some affordable Isle of Sky Airbnbs.