If you're trying to decide where to stay in Scotland, look no further. I've rounded up some of my favorites, both hotels and VRBOs to help you choose the best places to stay in Scotland.

The Best Places to Stay in Scotland
This post contains affiliate links.
Scotland is one of my favorite countries. I've traveled all over Scotland and stayed in countless hotels and VRBOs in this beautiful country. I even lived here with my grandma as a kid. It's really what launched my wanderlust and made me such a hopeless nomadic. They're some of my best memories. I've even had the opportunity to go back many times and also to bring my children back. They love it too!
I'm constantly getting asked about the best places to stay in Scotland. So I've compiled some of my favorite places we've stayed and other places that have been recommended to me by readers and friends. I'm dividing these up by the most popular places to visit in Scotland
Edinburgh
Inverness
Isle of Skye
Experience sandy beaches, boat trip adventures in the different parts of Scotland such as the north west highlands, loch fyne and glens, and more!
And if you're searching for the perfect Scotland itinerary for your trip, I've also written a full blog about it and indulge in the city's culture and what is Scotland known for.
Hotel vs. VRBO in Scotland
It's always a tough choice between hotels and VRBOs. Hotels are great, especially for one-night stays. In some more rural places in Scotland, hotels are few and far between, making VRBOs a great choice.
VRBOs can be a great option if you need extra space or beds, especially if you're traveling with a family. If you prefer cooking your own meals, VRBOs can also be a great option.
Staying in a Castle in Scotland
On many visitors' bucket list is "stay in a castle in Scotland" so when my readers start planning their trips, I like to direct them to my article about the best castle hotels in Scotland. You'd be surprised at how many there are and at how affordable many of them are. So before even looking at hotels and home rentals, consider a castle stay first. It really is just a classically Scottish thing to do.
Where to Stay in Edinburgh Scotland
The Scottish capital, Edinburgh is most likely the city that you will fly in and out of on your trip to Scotland, so the chances of you spending at least one or two nights here are high. Edinburgh is a beautiful city full of history and a great foodie scene! Deciding where to stay in Edinburgh Scotland can be tough with so many options from hotels to VRBOs to hostels. But I've rounded up some of my favorites
Edinburgh Hotels
The Rock House Period charm in the Calton Hill area on the edge of the city center, The Rock House is a great guest house at an amazing price. 
The Witchery by the Castle: If you're looking for an amazing and magical splurge in Edinburgh, this over the top, magical hotel will fit the bill! Each suite is unique and opulent! 
23 Mayfield: This is a great place on the outskirts of Edinburgh with an old-world feel and wood paneling. It's got a lot of character and a great restaurant. 
The Royal Scots Club: This private club on one of Edinburgh's grandest streets was founded in 1919 in honor of those in the Royal Scots Regiment who died in the First World War. Non-members who stay are treated more to a personal experience than a hotel but with all the facilities: think country house hotel transplanted in the city centre. It's a special place. 
The Waldorf Astoria: Another great splurge in Edinburgh, you can never go wrong at the Waldorf if you can afford it! 
Edinburgh VRBOs
If you'd rather stay in a VRBO, there are some great ones in Edinburgh. It's sometimes nice to have your own kitchen and a little more space than a hotel. And they are often times much more affordable, especially in big cities.
Scottish Highlands Hotels and VRBOs
The highlands of Scotland are gorgeous! There are some really classic places to stay from cozy cottages to luxury retreats!
Scottish Highlands Hotels
Despite its rural location, there are some gorgeous hotels in Co. Wicklow! These are my favorites.
Inverlochy Castle Hotel: Queen Victoria said she 'never saw a lovelier or more romantic spot' than Inverlochy Castle in 1873, and the reaction from most visitors is the same. Nearby popular destinations such as Fort William, it's a real splurge, but an amazing experience in the heart of the Scottish highlands! 
This Inverlochy Castle hotel hols a very special place in my heart with such beautiful architecture and amenities. One of the place I can't forget is their dining room and the fancy hot tub in their shower rooms. The place also has its own golf course and other outdoor activities to enjoy that would really take away your mind from the bustling city.
Glenmoriston Townhouse Hotel: This is a great townhouse hotel on the banks of the River Ness. Like the Inverlochy Castle hotel, the palce has many outdoor activities nearby the castle.
If you loved this Scottish hotel castle, make sure you check out our Best Castle Hotels in Scotland blog!
Scottish Highlands VRBOs
There are some great VRBOs in the Inverness area. You can find a place along the shores of Loch Ness! Here are some great VRBOs.
Where to Stay on the Isle of Skye Scotland
The Isle of Skye is a gorgeous and remote part of Scotland whos ancient history and stunning views will tkae your breath away. There are not a ton of great hotels on the island, so an VRBOs might be your best option, but there are a few I do love.
Isle of Skye Hotels
Marmalade Hotel: I love this hotel because it contains my favorite restaurant on the Isle of Skye that has THE BEST Sticky Toffee Pudding you've EVER tried! The hotel is also adorable 
Kinloch Lodge: A seriously gorgeous lodge located near Dunvegan Castle. Located on the west coast of Scotland, it's the perfect place to get away from it all and enjoy some spectacular views of Scotland's rugged landscape.
Isle of Skye VRBOs
There are not a ton of hotels on the Isle of Skye, so an VRBOs is a great choice. You can find a cozy cottage with a great view and cozy up at night. Here are some affordable Isle of Sky VRBOs.
I hope this helps you decide where to stay in Scotland. Obviously, there are some pretty amazing places around the country. Wherever you stay, I hope you fall in love with Scotland as much as I have! If you need help planning your Scotland itinerary,
read this
, or you can find my
custom travel planning information here.
And if you're planning a trip to both Scotland and Ireland, you can find my
itinerary here.
Practical Tips for Booking your Trip
Book Your Flights and Car
Find a budget airlines by using Skyscanner. This is my favorite way to search for flights because they crawl websites and airlines around the globe, so you always know you're getting the best deal. Learn more tips for finding the best flight deals here.

For cars, I like to use Rental Cars because they have good filters and its easy to search for multiple companies.
Book Your Accommodation
My preferred way to stay around the world is VRBO. I find it usually gives you a unique local experience in any destination. If you want to stay in a hotel, use Booking, as it consistently gives the cheapest rates for guesthouses and hotels. I use them both all the time.
Always Get Travel Insurance
Travel insurance protects you and your family against illness, injury, theft, and cancellations. It's peace of mind in case anything goes wrong. I never travel without it. I've been using World Nomads for the last few years and love how easy it is to use. I have also used Allianz. Compare rates to see which is best for the coverage you need.
Looking for ways to save money on travel?
Check out my resource page for the companies I use for traveling! I share everything I use to save me time and money.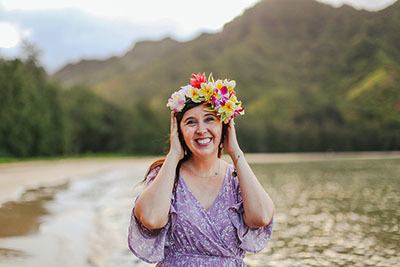 xo
Vanessa