If you're coming to Oahu and want to experience the island beyond the beach, these 15 activities will help you make your vacation unforgettable.
Oahu is one of my favorite Hawaiian islands. Not only is there so much to do in Oahu, but it was also our home for 2 years, and we miss it dearly. We moved there just after my youngest child was born and it was a great way to begin our life as a family of six. Even if it was a little crazy keeping an eye on a newborn, toddler, preschooler, and kindergartener at the beach! To be honest, a lot of days are a blur, but I definitely remember when we got out to explore our island home, and we've been back to visit several times since moving away.
I'v been meaning to round up the best things to do in Oahu for a while now, and after visiting last summer, I'm finally ready to share my updated list! Obviously the most important thing you can do in Oahu is relax at the beach, but if you get sick of doing that, here are some great Oahu activities.
Planning Your Oahu Vacation
If you're feeling overwhelmed about planning your vacation to Oahu, I highly recommend using this guide to help you plan. It includes insider tips and day-by-day itineraries.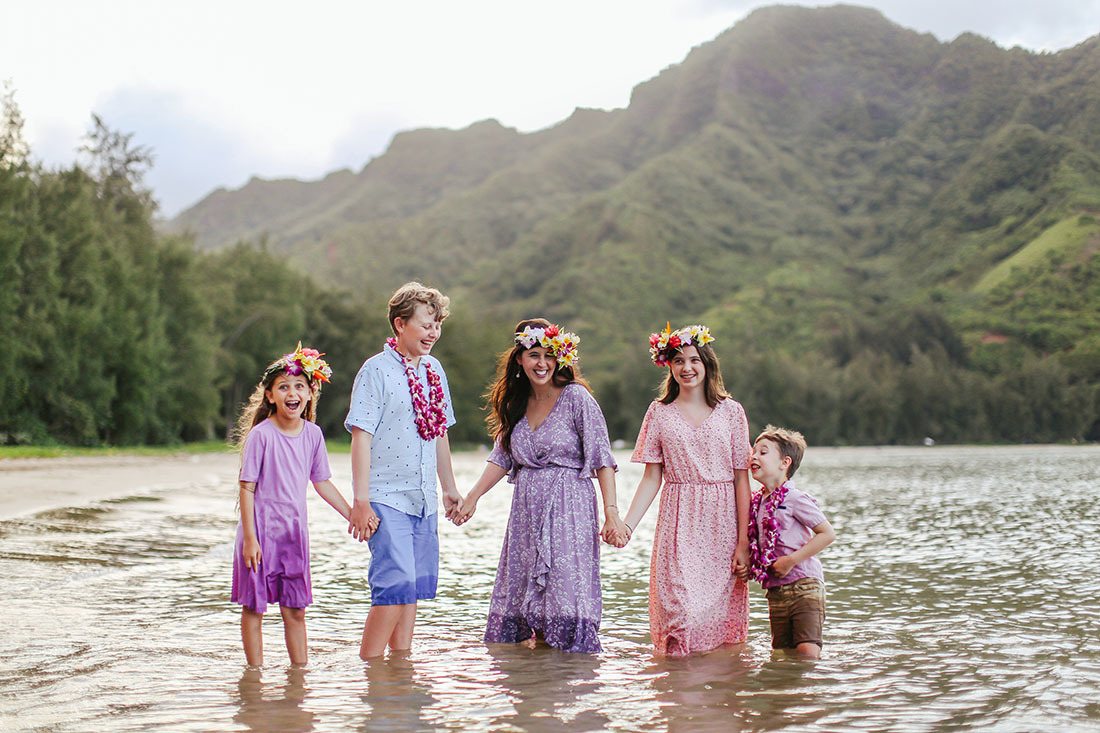 Book a Photoshoot
We always love to book a photoshoot when we're traveling. As a mom, it's tough to get in the photos since I'm always behind the camera. We love using Flytographer to capture our memories. You can get $25 off your shoot by booking with this link or using code WANDERLUST.
1. Drive Around the Island
I have done this drive many, many, many, many times. As a large family with lots of kids who just needed to take a Sunday drive many weeks, we've explored this entire island by car and you can see most of the island in just a day, unlike Maui who's roads are too narrow and windy or the island of Hawaii, which is too big to see in a day.
Oahu is the perfect size for a day-long drive of sightseeing. Pick a direction and go along the coast. You can't loop around the entire island, since the road on the leeward side (west side) cuts off at Ka'ena point, but it's still worth the quick drive up there as you'll see some of the most spectacular sunsets, and this is more of a local area of Oahu.
We made sure to make the most of Oahu by going to the Oahu Ultimate Grand Circle Island Tour. The circle island tour was such a great hack for me as we were able to skip the hassle of planning our own tour and we were able to see Oahu's top attractions in just one day!
2. Discover the Beauty of Hawaiian Food
One of my favorite aspects of living in Hawaii was trying all of the amazing Hawaiian food. It's a beautiful conglomeration of authentic dishes with Polynesian roots mixed with immigrant-introduced delicacies and staples that make for an eclectic mix of food you'll only find together in the islands. Here are some of my favorite Hawaiian foods:
Shave Ice
Whatever you do, don't call it "shavED ice," the locals will all know you're a tourist. It's "shave ice" and it's a Hawaiian specialty that actually originated in Japan. I actually got to try some of the "original shave ice" while in Japan a few years ago. It consisted of finely shaved frozen fruit topped with sweetened condensed milk. In Japan, they call it Kakigōri, and it's kind of shave ice's more delicious cousin.
But shave ice is still good. You'll find many shave ice shops around Oahu, including the famous Matsumoto's in Haleiwa. But to be honest, I've not found a shave ice place in Oahu that I love. Matsumoto's is alright and it's classic, and there's one next door that's just as good, but I haven't found anything to compare to Ululani's on Maui. I'm hoping they'll franchise out on Oahu soon. If you find a place you love, please let me know!
Plate Lunch / Mixed Plate
Plate lunch is a Hawaiian classic, and something you're sure to have at least once in Oahu. You'll get an entree like meat or fish with a side of mac salad and rice. If you get more than one entree it's called a mixed plate. This is another Hawaiian specialty that has its roots in Japanese culture. Stemming from the bento box, plate lunch is something the field workers in Hawaii would eat during their lunch break.
Malasadas
Malasadas! Kind of like a donut, except way better! Brought over to Hawaii by the Portuguese, malasadas are fried sweet dough that is usually filled with cream or jam. They come in all sorts of flavors with different sugar coating options available. Eat them right when they're fresh, that's how they're best.
We are confident that Leonard's is the only place to go for Malasadas. We've tried others, and these are still our favorite treats on Oahu. There's a bakery in Honolulu, a malasada truck near Hanauma Bay, and one in the Old Navy parking lot in Waipahu (if you're staying in Ko Olina). I like coconut filling with Li Hing coating and chocolate filling with cinnamon-sugar coating. But even with the plain you really cannot go wrong if you're eating them fresh! So ono!
Luau Food
There's just too much classic luau food to give them their own sections, so I'm going to list them here. It's best to just attend a luau so you can try them all in one place.
Pork cooked in an Imu (underground oven)
Lau Lau (meat wrapped in Ti leaves)
Poi (a purple mash made from the Taro root)
Lots of desserts made from Lilikoi (passion fruit), Guava, and coconut
Poke
You'll see poke bowl places all over Oahu. If you like sushi, and you're good with eating raw fish, then you'll most likely enjoy poke. I haven't been to a poke place I didn't like.
Garlic Shrimp
Garlic shrimp is a staple of food on Oahu. I'm not sure if it's specific only to this island, but I've never seen a lot of garlic shrimp on all the other Hawaiian islands. So be sure you grab it here. The north shore is full of famous shrimp trucks where you can wait in line for an hour. Giovanni's used to be the best, but, in my humble opinion, has gone downhill in the last several years. There are other food trucks nearby that are just as good if not better. And if you head to Ted's bakery on the North Shore, they also make some great garlic shrimp. So don't be afraid to branch out.
3. Explore Waimea Valley
In my opinion, Waimea falls is one of the most beautiful places in Hawaii and one of my favorite things to do in Oahu. This area is full of cultural significance for Hawaiians, so not only is it a great place for a moderate hike and to see beautiful nature, but also a time to pay your respect to the aina (land). There are several historical structures that you can see in the valley, including replicas of traditional Hawaiian huts. This was once an important farming area in Oahu, and when you see all of the vegetation here, you'll understand why. It's so green and lush and it seems like anything would grow in this valley. Be sure to take the walk all the way up to the falls and enjoy a swim! They have life jackets, which are mandatory, and lifeguards on-site.
4. Go to a Luau
While you're planning your time at Waimea Valley, be sure to plan it in combination with the Toa Luau, which is located in the Valley. Purchasing a ticket to the Toa Luau will also include entrance into Waimea Valley for that day, which makes both a great deal.
In our opinion, the Toa Luau is the best Luau in Oahu. It perfectly combines cultural activities with great-tasting traditional luau food and an intimate and authentic dance show, including some amazing fire knife dancers.
I would plan to spend the day at Waimea beginning in the morning and then finish it off with this amazing luau.
5. Take a Hike
If you're wondering what to do in Oahu for exercise, hiking is a great option. Surprisingly, even with 4 little kids, we were able to do a ton of hiking in Oahu while we lived there. Here are our favorites of some of the best hikes in Oahu:
Lanikai Pillbox Hike
Maili Pillbox Hike
Manoa Falls
Diamond Head
Koko Head
Makapuu Lighthouse
Kaau Crater Hike
Seven Falls Hike
Crouching Lion Hike
Wiliwilinui Ridge Trail
Tom Tom Trail
6. Visit the Dole Plantation
Ok so this is probably the most touristy, but fun things to do in Oahu. I still think it's worth doing, especially if you've got kids. It's always fun to see where your fruit is coming from and it's amazing to see all the hard work that goes into growing these spiky fruits that are sent around the world. There's a train tour that you can take and of course you must have a Dole Whip, otherwise did you really even go to Hawaii?
7. Swim with Sharks
This one is not for the feint of heart, but if you're determined to see sharks and you don't think it will deter you from swimming in the ocean for the rest of your trip, then book a shark swim! They are totally safe and you're not really swimming with the sharks, you're in an enclosed cage, submerged in the water. It was still sufficiently terrifying for me. We booked this tour and they did a great job.
8. Snorkel with the Fish
Oahu is known for its clear waters and great snorkeling. Here are some of our favorite places to snorkel on Oahu:
Hanauma Bay
Paradise Cove
Shark's Cove
Turtle Bay
Kuilima Cove
Ka'ena Point
Kahe Point Beach
It can be tricky to know where to snorkel, what gear to use, and it's also sometimes tough to identify the fish you're seeing. For this reason, I always recommend taking a snorkel tour toward the beginning of your trip. It will help you feel more confident in the water for the rest of your trip if you want to go out alone. We've booked this snorkel tour before and it was amazing.
9. Swim with Sea Turtles
Another thing you cannot leave Hawaii without doing is swimming with green Hawaiian sea turtles. It's truly a special experience. These guys like to swim close to shore and ride the waves. You'll occasionally see them come up on the beach for a nap too. Be sure to give them space (legally 10 feet) and let them do their thing, but if you're out in the water and you get the chance to swim alongside one, it's an amazing experience. There are several good places in Oahu to see sea turtles, but the best we ever saw were on our snorkel tour. I highly recommend it if you want a guaranteed turtle sighting. Your guides will be able to spot them when you can't.
10. Visit the Polynesian Cultural Center
If you're looking for a culturally educational opportunity on Oahu, the Polynesian Cultural Center on the North Shore will provide ample opportunities for learning. Plan to spend an entire day there exploring each of the Polynesian and Micronesian islands of the Pacific and how they all connect to Hawaii. The PCC is so well done and a lot of thought and love are put into this place. Most of the employees are students attending BYU Hawaii from all over the world and their excitement to be part of this really shows. The dancing is authentic and the educational value is superb.
I personally don't recommend the Luau at the PCC. It's fine, but it's huge and impersonal. I think the Toa Luau at Waimea Valley is much better food wise and for entertainment.
However…I highly recommend going to the Night Show at the Polynesian Cultural Center. Even if you don't spend the day there exploring the lands, at least go to the night show. The dancing and performance is just incredible and unlike anything I've seen on the islands before. They take authenticity seriously at the PCC, and this is where that really shines. The night show tells the story of the Hawaiian islands and includes dances from many Polynesian islands.
The Polynesian Cultural Center is not cheap, but I think it's one of the best things to do in Oahu.
11. Visit Pearl Harbor
I know this isn't necessarily a fun thing to do in Oahu, but I think it's such an important landmark that it merits a visit, especially if you're a US citizen. There's still much to do along Pearl Harbor Visitor Center such as the Pearl Harbor Memorial and Museum, theatre, and other outdoor exhibits. Be sure to book tickets well in advance as they do sell out quickly.
If you're not 100% sure where to go here, I recommend going on a boat tour. This boat tour we've been on takes you all around Pearl Harbor including the Pearl Harbor National Memorial and the USS Arizona Memorial where you'll get to learn the history of American involvement in World War II.
12. Explore Kualoa Ranch
Kualoa Ranch, known as the "backlot of Hawaii," is the filming location to many movies such as Jurassic Park, Jumanji, Soul Surfer, and honestly a bunch of other films and TV shows I've never heard of. But what really makes this place special is its spectacular natural beauty. There are several outdoor activities you can choose from here such as ATV rides, Jurassic adventure tour, movie sites tour, zip-lining, mountain biking, Jeep tours, Horseback riding, and even a farming experience.
13. Hang out on the North Shore
Waikiki is fun, Ko Olina is relaxing, but where the real surf vibe is on Oahu is the North Shore. You'll find most of the real surfers hanging out here. There are too many surf beaches to even try to name, just drive up there, look for heads in the water, and enjoy the show, or join in yourself if you're experienced. In the winter the waves can get massive. Be sure to check out the massive waves at Waimea Bay. Sunset Beach, Laie, and Haleiwa are some of our favorite little North Shore towns that are fun to check out.
14. Hang out at Waikiki
I'll be honest, Waikiki is not really my favorite place on Oahu. The shoreline is crowded, and the water is not clear, but I think it's really fun to hang out and people watch on the beach. It's definitely got it's own vibe, and for history's sake, I think it's worth going for a few hours. You could even take surf lessons.
15. Go to the Beach
Ok this one is a no brainer, but obviously the top thing to. doin Oahu is go to the beach! You're in Hawaii after all, so be sure to dedicate lots of time to laying in the sand and swimming in the warm water. You'll never regret a day like that. Here are some of our favorite beaches in Oahu:
Lanikai Beach
Malaekahana State Recreation Area beach
Paradise Cove
Turtle Bay
Waimea Bay
Waimanalo Beach
Kahana Bay
Ko Olina Lagoons
Yokohama Bay
Kailua Beach
Sunset Beach
Sandy Beach
Ala Moana Beach Park
I hope this list of the 15 best things to do in Oahu was helpful. Again, don't feel like you have to do it all, but this will give you some options if you get bored from lying on the beach. Enjoy yourself and try to slow down and feel the Aloha!
Where to Stay in Oahu
A beachfront paradise on Waikiki Beach, the Hilton Hawaiian Village is a true gem. With several pools, world-class restaurants, lush gardens, and an array of activities like a spa, shopping, and entertainment, you really can't go wrong if you stay here. Plus, the hotel's famous pool deck is a great spot to catch gorgeous sunsets over the ocean.
It's close to Na Ala Hele Manoa Falls Trailhead, Diamond Head Crater, and Lulumahu Waterfall Trailhead. There are a variety of rooms to choose from, perfect for whatever your budget may be.
The Hampton Inn & Suites Oahu/Kapolei is well-rounded for a comfortable stay. It provides guests with modern amenities such as free Wi-Fi, an outdoor pool, a fitness center, and complimentary breakfast.
The hotel is located adjacent to Ka Makana Ali'i Mall, a large shopping destination. It's also nearby some of Oahu's best beaches and attractions such as Ko Olina Beach, Pearl Harbor, and the University of Hawaii West Oahu.
A sustainable stay awaits you at the Residence Inn by Marriott Oahu Kapolei. This hotel is 22 km from USS Bowfin Submarine Museum & Park and 23km away from USS Arizona Memorial. Even with the distance, the hotel offers various outdoor activities families and friends can enjoy such as a basketball court, pool, BBQ facilities, terrace, and outdoor fire pits.
The rooms are equipped with modern amenities like kitchenettes, cable TV, and free Wi-Fi. The Residence Inn also offers a complimentary hot breakfast buffet every morning. It's the perfect spot for both long and short stays.
A luxury beach resort located on Oahu's sunny west coast, the Four Seasons Resort Oahu at Ko Olina offers guests everything they need for a dream vacation. With incredible ocean and mountain views, an outdoor pool, a spa, and a nearby golf course, there's something for everyone to enjoy.
Rooms come equipped with modern amenities such as 65-inch flat-screen HDTVs, kitchenettes, and complimentary Wi-Fi. If you're planning on visiting some attractions, the Arizona and Battleship Missouri Memorial at Pearl Harbor are 27 minutes' drive away.
Things to do in Oahu FAQ
What should I do on the first day of Oahu?
I recommend going on a full day trip, specifically the circle island tour. This tour will take you to the best spots on the island such as Waikiki, Pearl Harbor, and the North Shore. It's an ideal way to get acquainted with the island and learn about its history and culture.
How to spend 7 days on Oahu?
From the list above, try to spend at least one day exploring each area. You can start with Waikiki and visit the beach, attractions, and local shops. The next day, visit the North Shore and dive into its laid-back charm. Then, spend a day in Honolulu to explore Pearl Habor and USS Arizona Memorial. And so on, keep in mind that there are lots of activities, beaches, and trails to explore in each area so you can easily fill your itinerary.
What is Oahu most known for?
Being the state capital of Honolulu, the historic Pearl Harbor, the surfing mecca, and the famous Waikiki Beach. An island with a mix of culture and activities, Oahu is one of the most visited islands in Hawaii.
Is Oahu better than Honolulu?
Day trips are the way to go if you want to explore Oahu and Honolulu in one trip. Each area has its own unique offerings and attractions, so it really depends on what kind of experience you're looking for.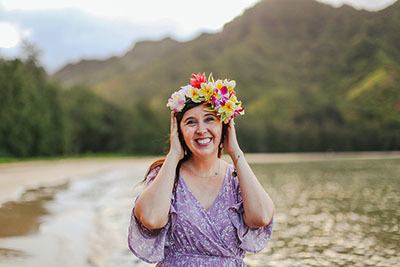 xo
Vanessa