Switzerland might be a small country, but it has plenty to offer, and finding the best places to stay in Switzerland can be overwhelming. But don't fret. I've rounded up the best towns to visit in Switzerland and the best accommodation options for each. Let's get to it!
Switzerland might be small, but it has mighty things to offer, so finding the best places to stay in Switzerland can be overwhelming. I've rounded up the best towns and accommodation options for each. So let's get to it!
When it comes to the best destinations in Europe, Switzerland comes top of my list. The mere word "Switzerland" conjures so many amazing things in mind: delicious chocolate, high-quality luxury watch brands, beautiful snow-covered mountains, and of course, adrenaline-pumping ski experience.
From the modern city of Zurich to the historic capital of Bern to the charming towns, villages, and mountain resorts, you'll see why Switzerland is one of the most popular vacation destinations in the world. Its stunning scenery, lustrous lakes, and gorgeous mountain views just seem so surreal it's like stepping into a postcard!
I don't dare rank these beautiful towns and cities because they are exquisite in their own ways! Still, I will try my best to discuss all the best places to stay in Switzerland, what to expect from each of them, and of course, where to stay. Switzerland has everything from luxury hotels to boutique hotels for budget travelers!
Don't have time to read a bunch of reviews and blog posts? Here are our top picks for visiting Switzerland:
Wanderlust Switzerland Guide
Need a quick day-by-day, open-and-go itinerary for Switzerland? Get my guide and let me do the work for you!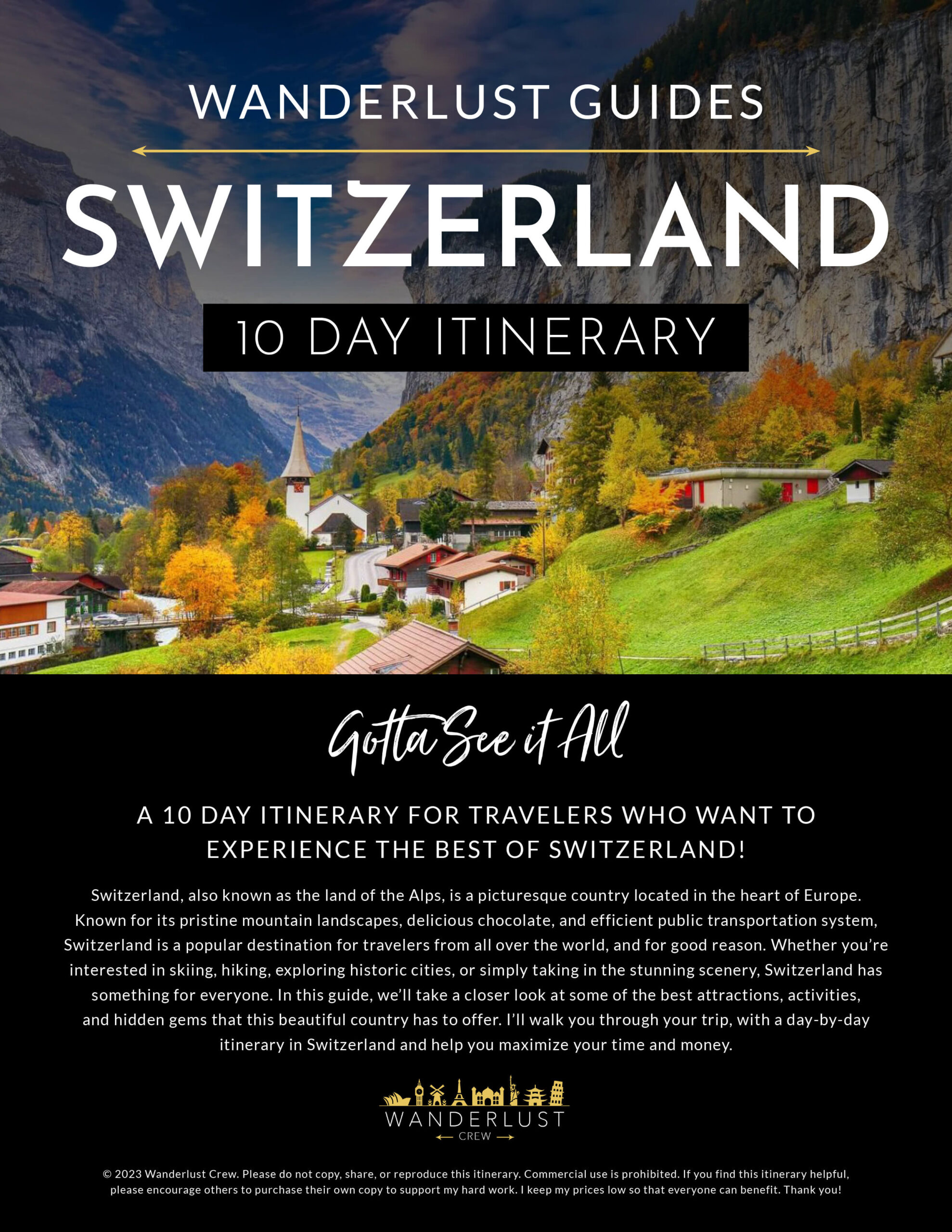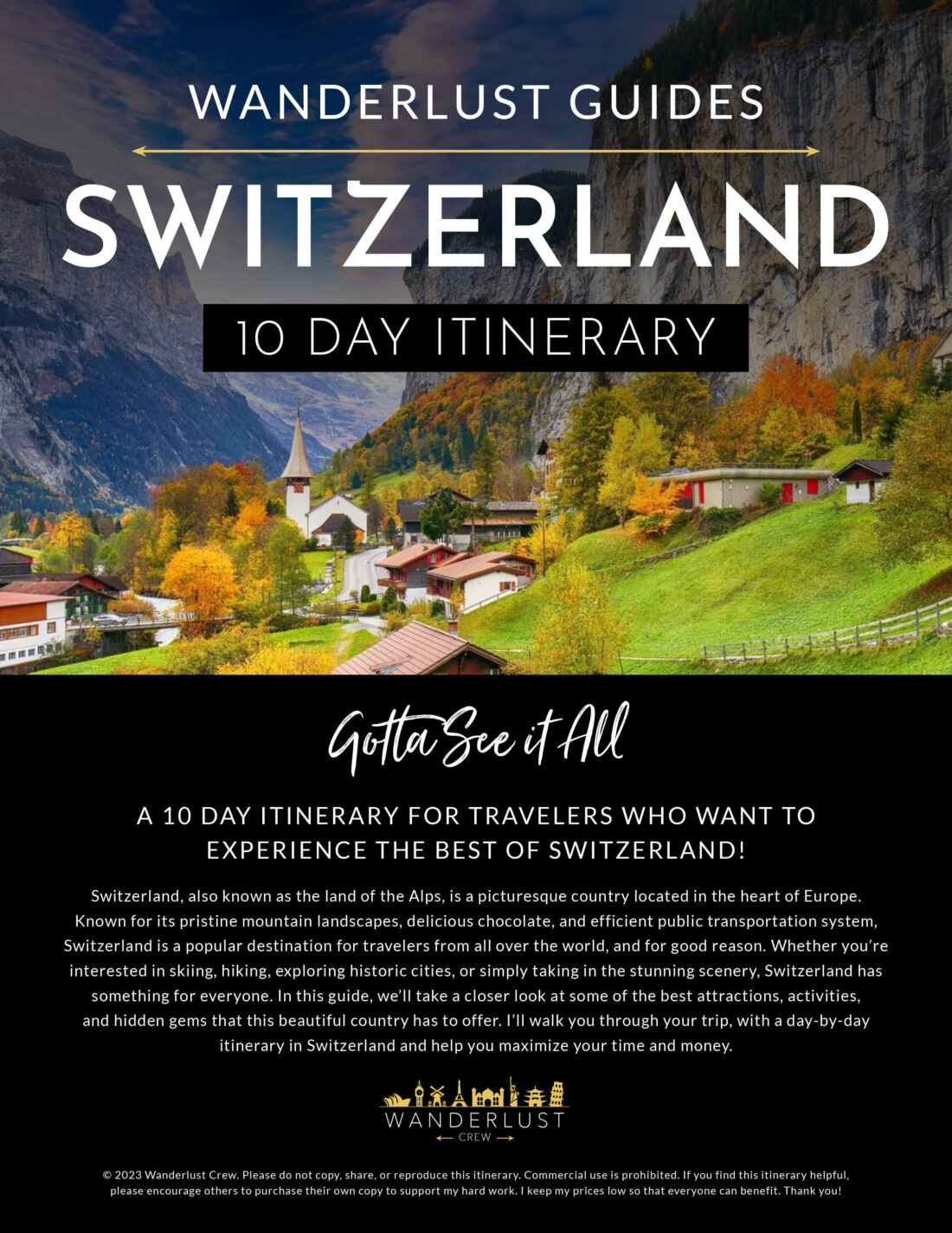 Our favorite Hotels in Switzerland
Getting Around Switzerland
Our favorite activities and tours in Switzerland
Where to stay in Switzerland: Best Towns and Cities
Are you wondering where to stay in Switzerland? I've rounded up gorgeous towns and best cities in Switzerland to visit to help you out. Plus, I discuss the best hotels in Switzerland in each town or city so you can start narrowing down your accommodation options and cut the overwhelm.
Zurich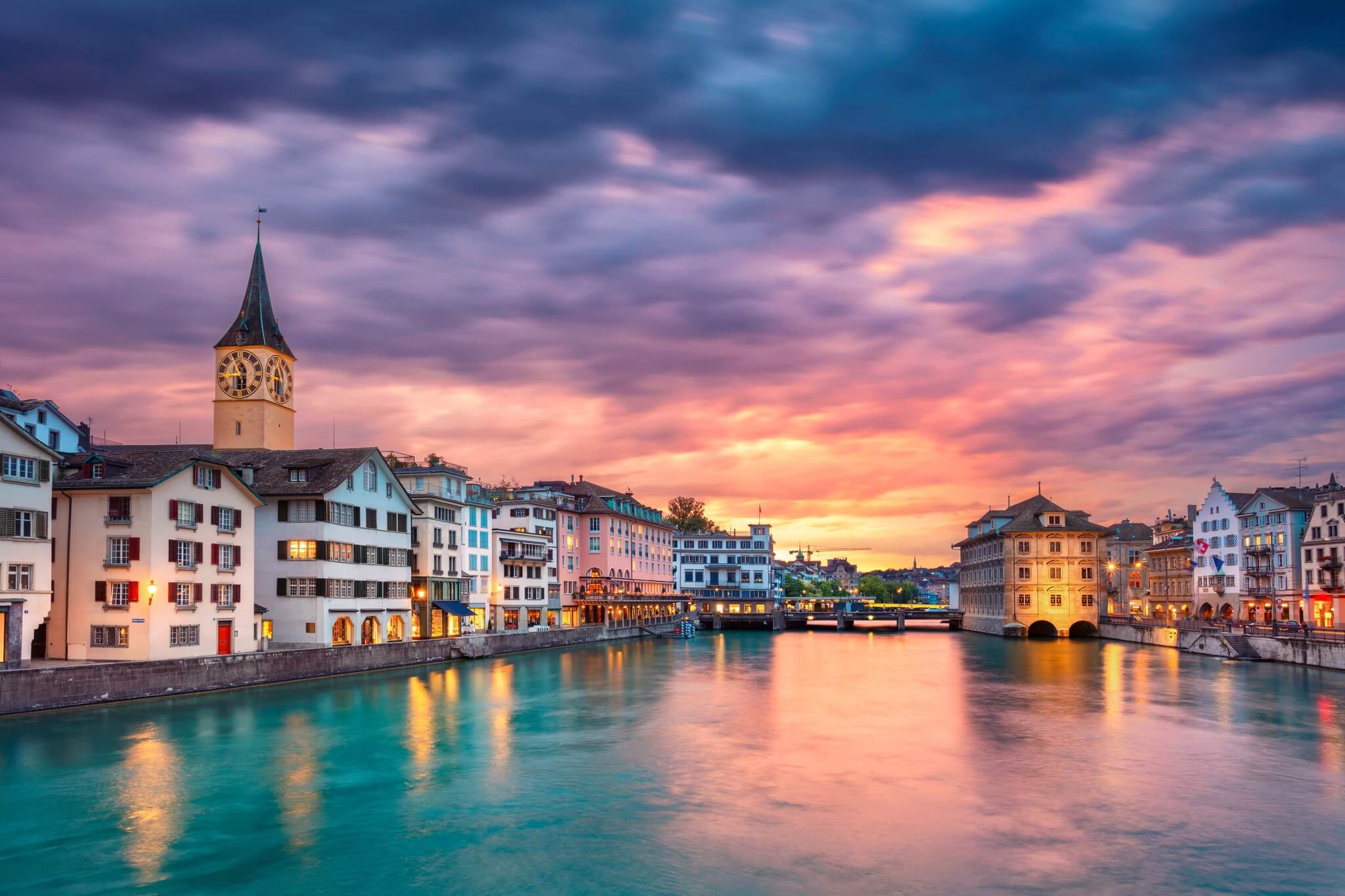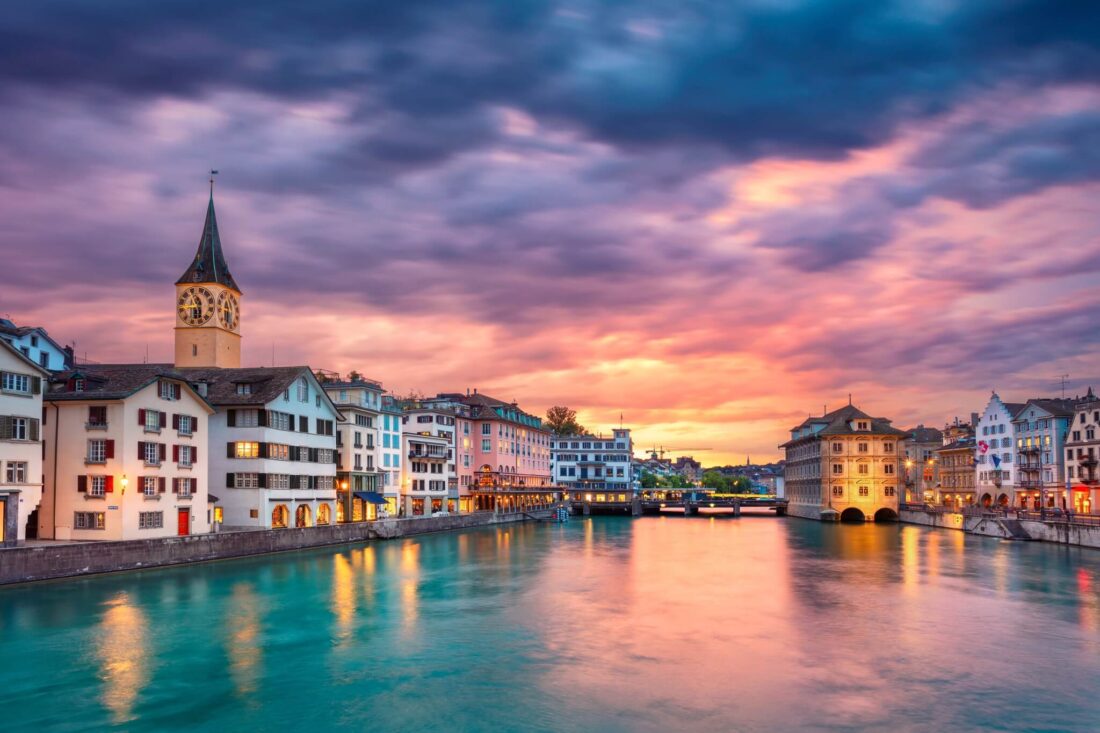 Zurich is a vibrant and beautiful city in Switzerland. It is modern and clean, yet parts are also teeming with a cultural vibe, especially if you wander into Zurich's old town. Zurich's central location also makes it the country's economic hub and is thus quite popular among tourists and jet-setters.
Zurich has the largest airport in the country. You'll also find Bahnhofstrasse, a world-famous and high-end shopping boulevard, and Altstadt, Zurich's old town, composed of beautiful narrow streets reflecting Switzerland's colorful past and vibrant history. Zurich is also gifted with other attractions, such as galleries and museums, opera houses, zoos, and stunning natural scenery.
From modern amenities to fantastic local cafes and cozy restaurants to dynamic nightlife, Zurich has them all, making it one of the best cities to stay in Switzerland. Whether you're looking for a luxury hotel or a family-run boutique hotel, Zurich offers many fantastic accommodation options.
Best Hotels in Zurich
Baur Au Lac is a historic hotel located at the heart of Zurich. This 5-star luxury hotel offers splendid views of the Swiss alps and Lake Zurich. Its central location allows guests access to almost every attraction and destination in the city, especially Bahnhofstrasse, which is just a stone's throw away from the hotel.
Baur Au Lac is one of the luxury hotels in Switzerland that set the standard for Swiss luxury. The elegant rooms and suites are dressed in old-world charm as seen in the art deco pieces, carefully combined with modern amenities in your hotel room. Marble floors in the private bathroom, luxury bedding, high-end furniture, and a fully-stocked minibar are just some hotel amenities in your cozy and intimate stay in Baur Au Lac.
Of course, dining is top-notch at Baur Au Lac. The 2-star Michelin Restaurant delights guests with classic haute cuisine. The Brasserie & Bar also serves classic European cuisine, while the Lobby Bar is an excellent place to enjoy your morning coffee or aperitif.
Widder is a luxury boutique hotel with all the amenities you would expect for pleasant and comfortable accommodation.
Widder Hotel is within Zurich's city center, with the train station is five minutes walking distance and the old town nearby. High-end boutiques and shops, fancy cafes and restaurants, and the most exciting landmarks are just a stone's throw away from the hotel's prime location.
The hotel rooms feature period pieces, modern amenities, and some designer furniture property art collections. The cozy rooms have a high-speed internet connection, a Nespresso coffee machine, and a well-stocked minibar. If you'd like to go all out, book one of the suites with complimentary breakfast, a bottle of champagne, and welcome VIP treatment.
The Widder Hotel may be a historic hotel, but the hotel amenities and services are high-quality and top-notch. The modern gym allows you to work out during your holiday, while the relaxing massage services are perfect after an exciting day of exploring the city. Dining experiences are exceptional at the Widder Restaurant. The hotel's on-site bidealerfect for socializing and winding down after sunset.
If you're looking for a mid-range, budget-friendly hotel to stay in Switzerland, Sorell Hotel Seefeld fits that bill. With facilities like free private parking, private bathrooms, and bicycle rentals, Sorell Hotel Seefeld is an excellent accommodation with good value for the money.
Located in the trendy neighborhood of Sorell, this business hotel is perfect for exploring the city of Zurich. Lake Zurich, for instance, is within walking distance. In addition, you can ride a tram and get to the train station to explore other points of interest, such as the opera house, Bahnhofstrasse shopping street, Zoo Zurich, and the Swiss National Museum, Switzerland's largest art museum.
The rooms are decent for their prices. You can choose from the smaller standard single rooms to spacious family rooms. The rooms are tastefully designed with modern conveniences such as free WIFI, TVs, and air-conditioning units. Some rooms do have a sun terrace.
Montreaux
Moving away from the city center of Zurich to the shores of Lake Geneva and the foot of the Swiss Alps lies Montreaux, a gorgeous Swiss town. Montreaux offers stunning mountain views practically anywhere you look. Add to that the pristine views of Lake Geneva, and it's easy to see why this charming town has become a world-class destination and one of the best places to stay in Switzerland.
There are plenty of things to do in Montreaux that make for an unforgettable and once-in-a-lifetime experience. First, visit Château de Chillon, a medieval castle that's quite popular among tourists. Then, stroll along the banks of the Montreux Riviera while savoring the gorgeous views of Lake Geneva and the snow-capped Alps.
Montreaux is also close to some of the best ski resorts in Switzerland. If you're looking for some fun and adventure in the snow, consider visiting Verbier and Crans-Montana, well-known skiing and snowboarding destinations.
The Best Hotels in Montreaux
Royal Plaza is a luxurious hotel located on the lakeside. There are 119 private rooms and suites in the hotel. You can book one with a private balcony to relish the stunning views of the mountains and the lakes from the comforts of your own room.
The hotel is well-equipped with modern facilities, such as an indoor pool, sauna, and hot tub for the ultimate relaxation. In addition, the hotel serves sumptuous breakfast at Café Bellagio while you can order cocktails and drinks at Sinatra's bar.
Royal Plaza Montreaux has the perfect location to enjoy all the good things this beautiful town offers. You can't miss a visit to Château de Chillon, just four minutes by foot, and the Freddie Mercury Statue, just a 14-minute drive. In addition, the train station is only 10 minutes from the city center.
Eurotel Montreaux is a gorgeous 4-star hotel sitting on the banks of Geneva Lake and is one of the best hotels in Switzerland. It is near the train station and the lake and has access to stunning mountain views. It is one of the best Switzerland hotels if you're in town for Montreux Jazz Festival.
Booking a private room in Eurotel Montreaux means one thing: you'll get a room with a view! The 154-room hotel has access to the best views of the Alpine Peaks and Lake Geneva from every angle. Add to that four-star hotel amenities like bathrooms, bathtubs, flatscreen TVs with cable, and Wi-Fi connection.
The hotel's desirable location allows you easy access to the main attractions in town, including Château de Chillon and Montreaux Casino. Although exploring the town leisurely on foot is recommended, the hotel also provides free bicycle rentals to guests and a Riviera Card, which gives you free access to the town's public transport.
Lucerne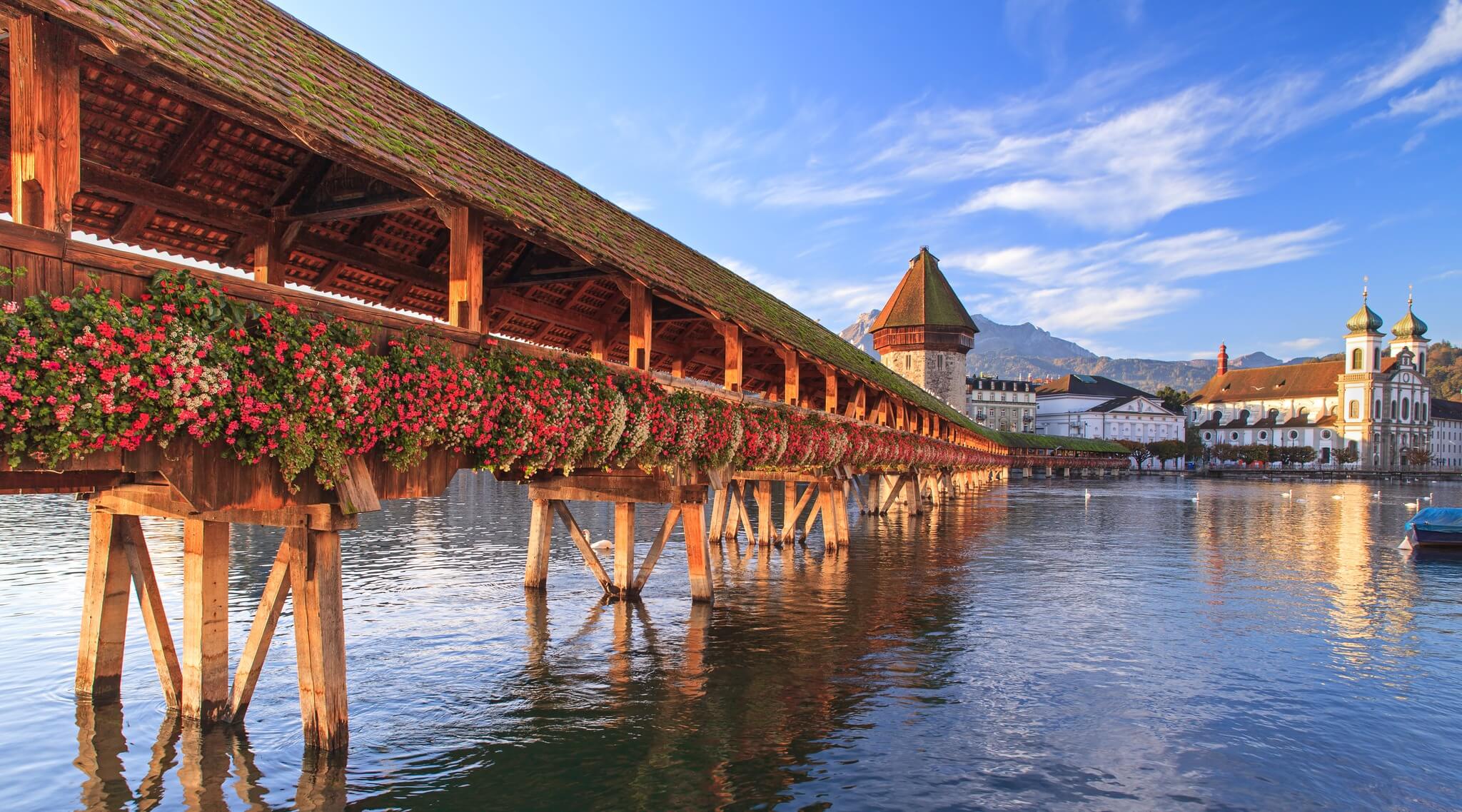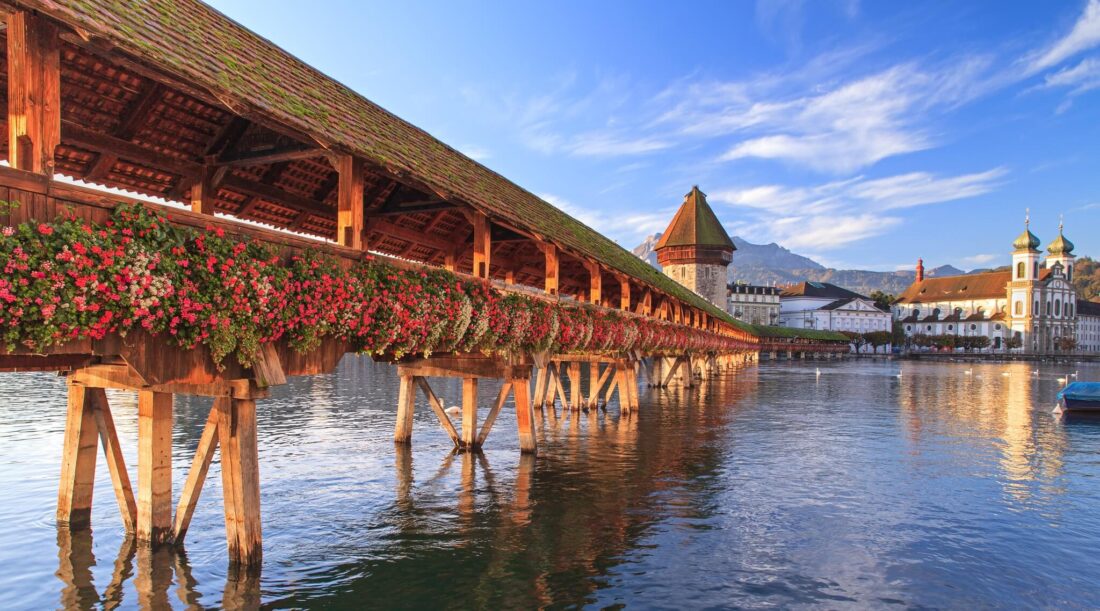 Lucerne is a gorgeous city located in Central Switzerland, right on the shores of Lake Lucerne. This picturesque village is your gateway for a spectacular vacation in the heart of Switzerland. You can admire the dreamy views of the lake and mountains from your hotel room, explore the old town at your own pace, be one with nature, hit the hiking trails, and ride cable cars.
While there are plenty of cool things to do in Lucerne, I suggest you visit the Chapel Bridge, the most iconic structure in town. Chapel Bridge is a 14th-century wooden bridge that connects two towns across the Reuss River.
Lake Lucerne itself offers a wide variety of outdoor activities. You can take a scenic boat ride to admire to appreciate the unparalleled views of the mountains, stroll or bike around the lake, or even swim in the summer. But the highlight of your trip would be the cable car ride that takes you high up on Mount Pilatus, which will be your most unforgettable experience.
The Best Hotels in Lucerne
Bürgenstock Hotel & Alpine Spa is one of the best five-star hotels in Switzerland. Famous personalities like Sophia Loren and Audrey Hepburn stayed here, proving that accommodations in this resort village are spectacular!
Bürgenstock Hotel & Alpine Spa is nestled high up on a mountain ridge and overlooking the glorious beauty of Lake Lucerne. There are 102 gorgeously-appointed rooms, each with sweeping views of the lake and mountains. The spacious modern rooms have modern conveniences, such as free WIFI, flat screen TV, freestanding baths, double-sided fireplaces, and luxury brand toiletries.
The state-of-the-art facilities are also worth every money you spend, including an indoor pool, an infinity outdoor pool, and a spa. After that much-needed pampering, go to the hotel's restaurant and bar, where you can indulge in a lengthy selection of delicious traditional swiss cuisine and drinks.
When it comes to the best place to stay in Switzerland, particularly in Lucerne, Hotel Villa Honegg always comes as a top choice. Hotel Villa Honegg is a 5-star boutique hotel in the heart of Switzerland, located at Mount Bürgenstock at 914 meters above sea level. The hotel's unique location gives you unforgettable views of Lucerne's natural beauty.
Hotel Villa Honegg has everything, and more you'd desire from a five-star hotel. The rooms are suites are designed, decorated, and supplied to perfection. The hotel has superb modern amenities, stunning views, and excellent services. It's noteworthy that the spa has a heated outdoor pool set against picturesque mountains.
Dine at the hotel's restaurant and enjoy a sumptuous meal prepared by the skilled staff. The hotel boasts of using fresh and locally sourced ingredients.
Zermatt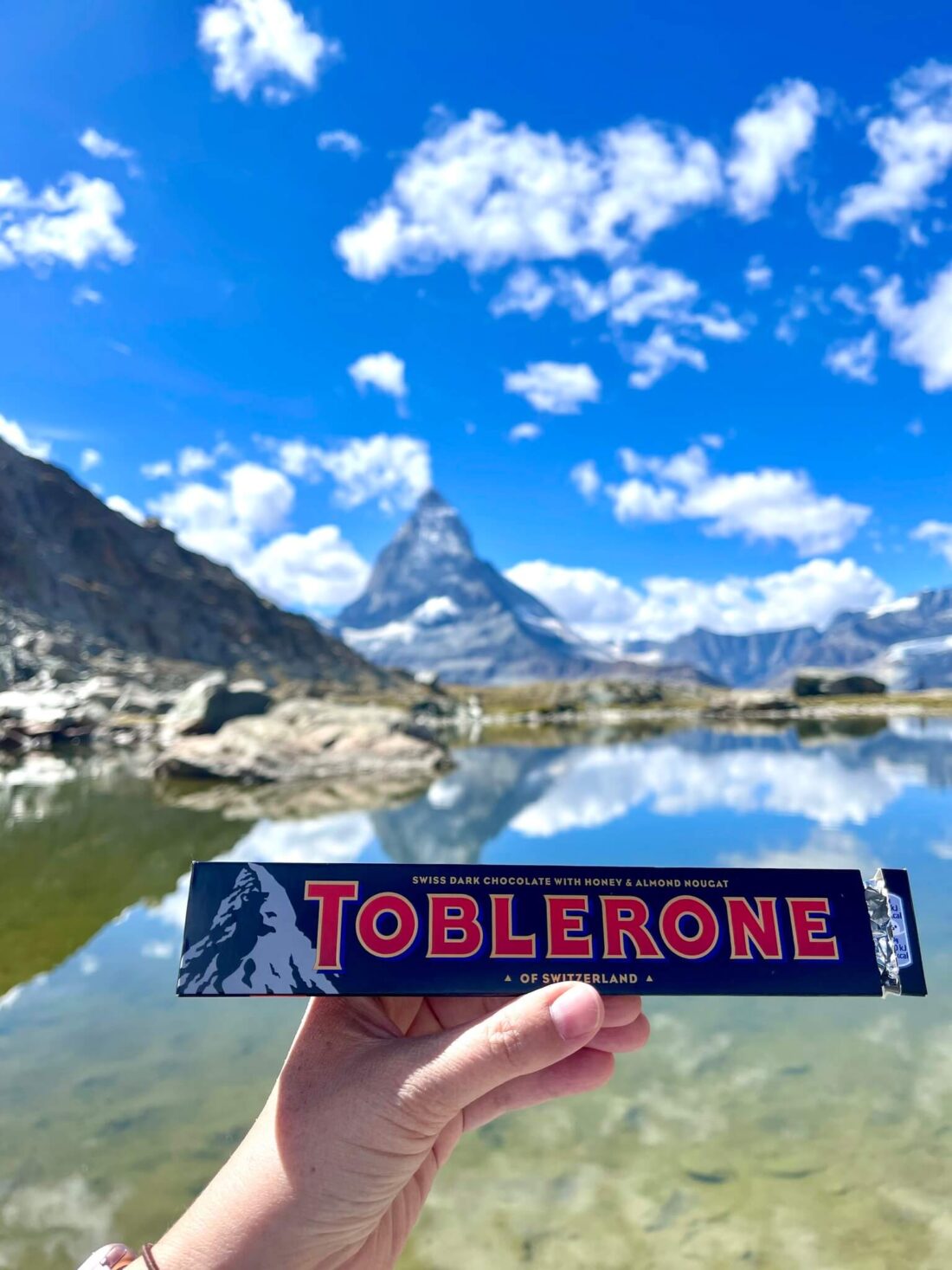 Zermatt is definitely one of the best towns in Switzerland. The town is known for the breathtaking views of the Alps, particularly that of Matterhorn, one of the most recognized peaks in Europe and all over the world. In addition, Zermatt is a well-known destination for skiing and snowboarding. With many excellent ski resorts in town, Zermatt gets an influx of adventure-seeking tourists all year round.
One of the most important things to know when you visit Zermatt is that it is a car-free town. You can reach Zermatt by taking the train. You can either walk or ride an e-bus once you enter the town. That's pretty good, though, as walking around town gives you plenty of opportunities to truly appreciate Zermatt's natural beauty.
Since Zermatt is one of the cool places in Switzerland, you can find great accommodations during your vacation, from luxury hotels to affordable hostels.
The Best Hotels in Zermatt
Zermatt Youth Hostel is one of the town's cheapest yet most decent accommodations. It is perfect for not-so-picky travelers who want to meet and socialize with other tourists while getting a good night's sleep at a low price.
Zermatt Youth Hostel is at a prime location, giving guests access to the incredible views of the Matterhorn. The city center is also just a 10-minute walk from the hostel. Also, several ski lifts near the hostel, such as the Furi Ski Lift, Matterhorn Gondola Express, and Zermatt-Sunnegga, are all within walking distance.
The Omnia is a luxury 5-star hotel, considered one of the best hotels in Switzerland mountains. Perched high on a hill, guests at The Omnia are afforded the most panoramic and unforgettable views of the Alps.
If you're looking for a luxurious experience in Zermatt, The Omnia is the best place to stay in Switzerland. There are 30 beautifully-appointed rooms, and all are supplied with the best amenities, such as high-quality mattresses, luxury-brand toiletries, a dressing room, and complimentary Bourbon as a welcome gift.
The modern and high-end facilities at The Omnia further enhance your already pleasant stay. You can access outdoor and indoor pools, a sauna with steam, and even book a massage appointment on-site. A Michelin-starred restaurant and a lounge bar are also on-site to offer you a fantastic gastronomic experience.
Interlaken
Located in the Mountainous Bernese Oberland Region, between two stunning lakes, Lake Breinz and Lake Thun, plus the towering Alps in the background, there is no doubt that Interlaken is one of the best Switzerland vacation spots.
This beautiful Swiss destination features a charming atmosphere thanks to the presence of three mighty peaks in the area: Jungfrau, Eiger, and Mönch. It is a fantastic destination for year-round outdoor excursions and is most famous for its hiking trails, paragliding, snowboarding, and skiing.
Some of the most exciting things to do in Interlaken include riding the funicular to climb Interlaken's most formidable mountain, the Harder Klum. For more relaxed and chill sightseeing, go to some of the most beautiful gardens in Switzerland, which you'll find in Interlaken: the Höheweg and the Garden of Friendship.
Of course, you can't miss the chance to go up the Schynige Platte via the rack railway, taking you to the best vantage point to see the panoramic Alps.
The Best Hotels in Interlaken
Hotel Interlaken offers a luxurious stay in Switzerland. This luxury hotel was established in the 14th century and is now a 4-star luxury hotel serving as a cozy and pleasant temporary abode in your holiday to Interlaken.
The hotel offers different room types, from small rooms that sleep two people to family rooms with balconies. They all come with stunning views of the natural scenery, up-to-date amenities, and various breakfast options. Restaurant Taverne, the hotel's on-site restaurant, serves modern Swiss cuisine and a massive selection of wines.
The hotel sits on the heart of the main street, adjacent to the Japanese Garden and two beautiful churches. Plenty of shops and restaurants are nearby, and other attractions, such as the Congress Center, are also within walking distance.
Dubbed the "Grand Dame of Swiss Luxury Hotels", the Victoria Jungfrau Grand Hotel offers unforgettable experiences that further elevate your Swiss holiday. Located in the heart of the Bernese Oberland and with stunning panoramic views of Jungfrau Mountain, this hotel promises an exquisite and relaxing stay in Switzerland.
There are numerous accommodation choices at Victoria Jungfrau Grand Hotel. Each beautifully-appointed hotel room sports an elegant color palette, spacious bathrooms, corner seating, and unbeatable views of Jungfrau.
With two on-site restaurants, a bar, and a bistro, you can indulge in Swiss cuisine and refreshing aperitifs without leaving the hotel. Other remarkable facilities include wellness retreats, spa, and facial and body treatments that rejuvenate the mind and body.
Bern
Bern, Switzerland's capital city, is an incredible vacation destination. It is most popular for its Old Town, a Unesco world heritage site that has impressed tourists with its medieval charm. The Old Town comprises a six-kilometer-long arcade of beautiful alleys and fascinating fountains. While there, remember to see the Zytglogge, the Clock Tower, probably the most well-known landmark in the city.
Also visit Bear Park, a peaceful enclosure that houses bears (if you must know, the bear symbolizes the city of Bern). And then take a stroll at the Rose Garden, a massive park that overlooks the Old Town. This serene place is home to various flowers, a pond, and a charming restaurant.
The Bernese Minster is another must-see attraction in Bern. Climb the 344 steps leading to the church's view deck and hold your breath as you take in the mesmerizing panoramic city views.
If you visit Bern in the summer, don't be surprised to see people splashing about in the Aare River. The river is an essential avenue for exciting water activities (and we're not just talking about swimming). Locals and tourists flock to the river to enjoy rafting, surfing, kayaking, and canoeing. However, if you want to just chill by the riverside, go on a picnic and enjoy the cool breeze and the sight of the crystal clear water before you.
Best Hotels in Bern
If you're looking for a luxurious stay in Bern, Hotel Schweizerhof Bern & Spa is one of the best places to stay in Switzerland.
Located in downtown Bern, this 5-star hotel boasts first-class accommodation. The hotel eloquently combined tradition and modernity, as seen in the 99 beautiful hotel rooms and suites. The spacious rooms feature handpicked furnishings, Japanese bathtubs in spacious bathrooms, and modern entertainment systems and minibars.
The facilities at Hotel Schweizerhof Bern & Spa are renowned. The spa facilities include a whirlpool, sauna, and steam bath. You could also book a massage or beauty treatment for ultimate pampering.
Afterward, head over to the restaurant, Jack's Brasserie, and indulge in sumptuous French cuisine in such a homey yet elegant ambiance. Or, go to the Sky Terrace for a more casual setting and enjoy seasonal and fresh snacks while admiring the city views with the Swiss Alps in the background.
Several words may describe Hotel Savoy Bern: minimalist, contemporary, functional, practical, and value for money. Hotel Savoy Bern may not be as lavish or elegant as luxury hotels, but it is nonetheless one of Bern's best places to stay.
The hotel is located within the Old City, bringing you close to the main attractions in Bern, such as the Prison Tower and the Church of the Holy Ghost. In addition, the renowned Rose Garden and Berner Munster are only a few minutes' drive away. You'll also find the shopping streets and strings of cafes and restaurants nearby.
There are 63 well-appointed rooms in Hotel Savoy, each featuring modern conveniences such as flat-screen TVs, WIFI connection, Nespresso machine, and minibar. If staying longer, opt for the sizable suite on the top floor and enjoy the charming views of the Old Town from the terrace.
Geneva
Geneva is a gorgeous city in the western part of Switzerland. Located on the shores of Lake Geneva and at the foothills of the Swiss Alps, the city features unforgettable experiences that will last a lifetime!
The first point of your excursion begins at the charming Lake Geneva, where you can take a boat tour and leisurely admire the natural scenery in the city. Be sure to watch out for The Jet d'Eau, a famous fountain located in the heart of Lake Geneva. The fountain shoots water up to 460 feet in the air, and the sheer sight and experience of it should make your trip even more memorable.
Hopping off, wander into Genevea's Old Town, and savor the rich history as you stroll along charming streets and old cobbled streets. You'll also find the majestic St. Pierre Cathedral in the Old Town, so consider climbing the towers to admire the splendid view of the city.
There are several outdoor activities that you can enjoy in Geneva. Book a paragliding tour and fly over Mount Salève. Your day trips may include hiking or biking in the Swiss Alps, skiing, and snowboarding during winter.
Best Hotels in Geneva
If you're looking for the best place to stay in Switzerland that your money can pay, consider The Woodward. The hotel, composed of 26 suites, oozes elegance, sophistication, and luxury.
Located on the northern portion of Lake Geneva, The Woodward gives you access to the most breathtaking views of Mont Blanc. The best points of interest in the city center are close to the hotel, including the Grand Opera House and Douglas Theatre.
This exclusive all-suite hotel is designed for the most exquisite stay. Apart from the sweeping views of Lake Geneva straight from your hotel room window, you also enjoy the finest amenities featuring king-size beds, fireplaces, free WIFI, and full-stocked minibars. The Royal Suite, the largest room in the hotel, comes with a private elevator, a marble fireplace, and lake-facing balconies.
Swiss Luxury Apartments offer a unique accommodation experience for discerning guests. These service apartments ensure a most comfortable stay in Geneva, thanks to its high-tech amenities, including free WIFI, smart TV, coffee and tea maker, Oculus VR Quest II, PS4, and Bluetooth charger. In addition, your booking includes a free transportation card, laundry services, and housekeeping.
Swiss Luxury Apartments is located in Old Town Geneva. Lake Geneva is just a two-minute walk away, while the central train station is nearby. Some must-see spots near your accommodation are Patek Philippe Museum, Villa Diodati, Jardin des Alpes, Square du Mont-Blanc, and the Flower Clock.
You can book a private dinner right in your apartment and order breakfast in bed. The Swiss Treatment Room offers signature treatments to help your body detoxify, relieve stress and get a good night's sleep.
The Best Places to Stay in Switzerland
Switzerland is a spectacular country. The cities and towns are just as pretty and magical as the next. With endless views of the Swiss Alps, crystal clear waters in major rivers, magnificent natural views from every angle, and gastronomic delights at each turn, we just can't say enough how beautiful Switzerland is.
Planning your Swiss holiday starts with identifying the cities and towns you wish to visit and the activities you want to do. You'll need at least a week or two to see all the major places in Switzerland, so this perfect Switzerland itinerary will be handy!
We hope this article helps you find the best places to stay in Switzerland and the perfect accommodation in each of them. There are plenty of options in each town or city, and we are rooting that you find the best hotel, apartment, or hostel that best fits your needs and budget.