Discover the enchanting allure of the City of Lights with our comprehensive guide to the best things to do in Paris. Uncover hidden gems, iconic landmarks, and indulgent culinary delights that will leave you captivated by the timeless beauty of this remarkable city.
Nestled along the banks of the Seine River, Paris stands as a testament to centuries of art, culture, and history. With its grand boulevards, iconic landmarks, and vibrant atmosphere, the French capital captivates millions of visitors each year. No matter your interest, you're sure to find amazing things to do in Paris!
I've been to Paris so many times and it still remains one of my favorite places in the world. There's a magic about the city that can't really be described. It needs to be experienced. I hope you're able to catch the magic while you're there and have an incredible time. I wanted to share some of my favorite things to do in Paris with you to make your trip planning a little easier.
5 Day Paris Itinerary
If you're traveling to Paris, you'll want to have a solid itinerary that will help you organize your time in the best way possible and maximize your time and money. I've created this 5-day Paris itinerary that will help you see the best sites in Paris along with some hidden gems. It contains open-and-go day-by-day schedules and expert advice from me!
What to Do in Paris France
From its earliest days, Paris flourished under Roman rule. The city saw the rise of medieval architecture and emerged as a center of art and intellectualism during the Renaissance. And over the centuries, Paris has withstood revolutions and wars, only to emerge as a hub of civilization.
Today, Paris boasts a stunning blend of antiquity and innovation. You can visit iconic landmarks like the Eiffel Tower, the Arc de Triomphe, and Notre Dame Cathedral, which serve as powerful symbols of the city's cultural heritage.
You'll find works of art like the iconic Mona Lisa and the Venus de Milo showcased in the Louvre Museum and other renowned museums. Or walk the streets to take in Paris' vibrant street art scene.
Neighborhoods like the bohemian Montmartre and the glamorous Champs-Élysées offer unique experiences that cater to a myriad of interests. And while you explore Paris, make time to savor the city's diverse range of culinary experiences. Or for the fashionista, take your pick from grand malls, haute couture fashion houses, sprawling flea markets, and more!
Paris, France is a timeless destination that oozes romance, culture, and sophistication. Below you'll read about 33 of my favorite activities and places to see in Paris. The city truly is a treasure trove and you're sure to find things to do in Paris that you'll never forget!
See The Biggest Landmarks in Paris
The Eiffel Tower
The Eiffel Tower is located on the Left Bank of the Seine River, overlooking the vast Champ de Mars. One of the best things to do in Paris, this iconic landmark is a must-visit for every traveler.
Take an elevator ride to its dizzying heights and marvel at the panoramic views of the cityscape. You'll see the magnificent Grand Palais from above. You can dine at one of the elegant restaurants inside the Eiffel Tower or enjoy a picnic on the Champ de Mars with the tower as your backdrop!
At the time of writing, the Grand Palais is closed for preservation but will reopen in 2024 for the Paris Olympics.
Notre-Dame Cathedral
Situated on the Île de la Cité, Notre-Dame Cathedral is a breathtaking masterpiece! This must-see attraction will take your breath away with its impressive architecture and intricate details.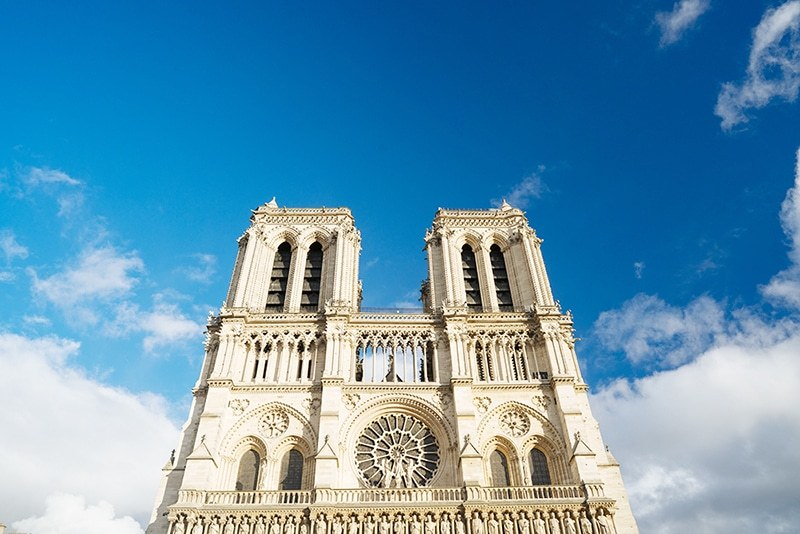 Admire the grandeur of its Gothic spires and marvel at the glowing stained-glass windows. Dating back to the 12th century, the rich history and cultural significance of Notre Dame make it a cherished symbol of the city. Despite the recent fire, Notre Dame stands resilient!
At the time of writing, Notre-Dame Cathedral is still closed for reconstruction after a fire in 2019 but should reopen in December 2024.
Arc de Triomphe
The Arc de Triomphe, situated at the Place Charles de Gaulle, is one of the city's most iconic landmarks. This architectural marvel is a symbol of French history. Commissioned by Napoleon Bonaparte after his victory at Austerlitz, it was completed in 1836 and commemorates the French Revolution and the victory of the French military.
You can learn more about the construction and history of the Arc de Triomphe at the onsite museum. Or climb to the top, where you'll be rewarded with panoramic views of Paris and its iconic avenues, including the Champs-Élysées.
Champs-Élysées
The Champs-Élysées, dubbed "the most beautiful avenue in the world," is a landmark you don't want to miss when in Paris. Stretching from the Arc de Triomphe to the Place de la Concorde, this famous street in Paris is steeped in history and lined with luxury shops, cafes, and theaters.
It has witnessed many significant events, from the grand military parades during the French Revolution to the liberation celebrations after World War II. Today, the iconic thoroughfare is known for hosting spectacular parades throughout the year.
If you're going to be in Paris in mid-July, don't miss the Bastille Day parade, which commemorates the French National Day. And the Champs-Élysées also serves as the route for the New Year's Eve parade.
Book a Photoshoot
We always love to book a photoshoot when we're traveling. As a mom, it's tough to get in the photos since I'm always behind the camera. We love using Flytographer to capture our memories. You can get $25 off your shoot by booking with this link or using code WANDERLUST.
Tour Paris' Art Museums
The Louvre
Located in the 1st arrondissement of Paris, the Louvre Museum is one of the world's most renowned art museums. It's housed in the former Louvre Palace, which itself has a rich history dating back to the 12th century.
The Louvre's collection showcases over 35,000 artworks, ranging from ancient civilizations to modern masterpieces. It's home to iconic pieces like the Mona Lisa and the Venus de Milo.
You can book tickets online or in person but get them online if you don't want to wait in the queue. Audio tours and guided tours are available for an additional fee.
Musée d'Orsay
Visiting the Musée d'Orsay is a top thing to do in Paris for art. Set on the Left Bank of the Seine River, this stunning museum is housed in a former railway station! It's renowned for its collection of 19th- and 20th-century Impressionist and Post-Impressionist art.
Among the masterpieces on display, the works of Van Gogh stand out. You can see his masterpiece, "Starry Night Over the Rhône," as well as his iconic self-portraits! With its beautiful architecture and fabulous collection of paintings and sculptures, the Musée d'Orsay is an unforgettable experience.
Timed and untimed tickets are both available for the Musée d'Orsay. You can purchase tickets online or at the door, and Sundays are free for all.
The Centre Pompidou
Whether you're admiring the artwork or enjoying the magnetic atmosphere, a visit to the Centre Georges Pompidou is one of the best things to do in Paris! This unique cultural center, located in the vibrant Beaubourg district, is home to Paris' National Museum of Modern Art.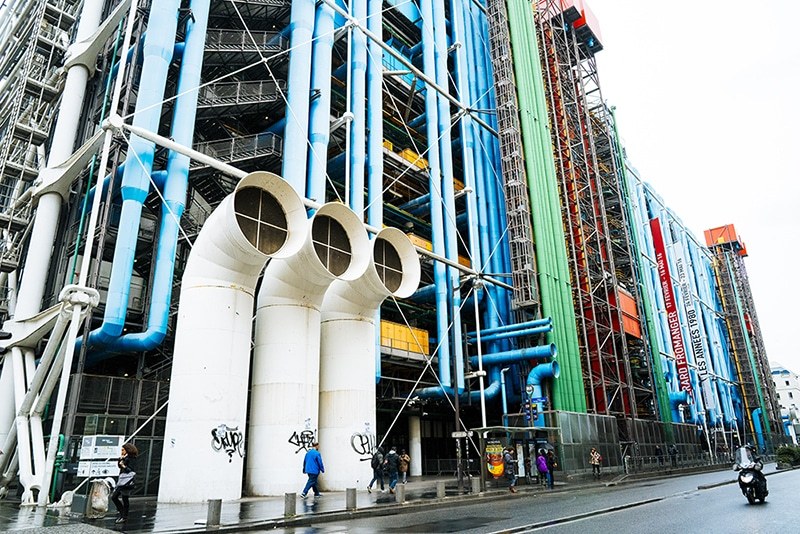 The Centre Pompidou boasts colorful and unconventional exteriors and thought-provoking exhibitions inside. You can explore a diverse range of artworks, including paintings, sculptures, photography, and multimedia installations. Plus, the center offers amazing panoramic views of the city from its rooftop terrace!
For admissions tickets, you have several options, depending on which collections you wish to see. There are also a few galleries that are free to visit.
Musée Rodin
When exploring the things to see in Paris, don't miss out on a visit to the Musée Rodin. Located in the elegant 18th-century Hôtel Biron, the museum is dedicated to the renowned sculptor Auguste Rodin and houses over 300 of his works.
Here, you can admire his iconic works, including "The Thinker" and "The Kiss," along with numerous other sculptures, drawings, and personal artifacts. Stroll through the museum's gardens, adorned with Rodin's sculptures, for an escape from the bustling city.
Musée de l'Orangerie
The Musée de l'Orangerie in Paris is a small yet impressive museum located in the Jardin des Tuileries on the Right Bank of the Seine River. Housed in a former orangery, the museum is renowned for its collection of 20th-century European art. One of its most famous attractions is the captivating display of Claude Monet's Water Lilies series.
The oval-shaped rooms were specially designed to showcase Monet's large-scale paintings, providing a serene and immersive experience for visitors. The museum also features works by other influential artists, including Renoir, Cézanne, Matisse, Modigliani, and Picasso.
Pro Tip
If you plan on visiting more than 2 museums while Paris sightseeing, purchase a Paris Museum Pass! It includes admission for one person to more than 50 museums in the region at a discounted rate, as well as other perks.
Enjoy the Parks and Gardens of Paris
Luxembourg Gardens
The Luxembourg Gardens in Paris have a fascinating history dating back to the 1600s. It was created by King Louis XIV, with beautiful flower beds, meticulously trimmed hedges, serene ponds, statues, fountains, and even an orchard.
There are statues and fountains to admire, including the famous Medici Fountain. You can rent a toy sailboat to sail on the pond, too! The Luxembourg Gardens are a great place to go for a stroll, have a picnic, or read a book.
And if you're looking for free things to do in Paris, this iconic landmark is a great option! When you get hungry, there are cafes, bistros, and restaurants inside the park and nearby.
Jardin des Tuileries
For one of the top things to do in Paris, France, head to the Jardin des Tuileries. This stunning park is located between the Louvre Museum and Place de la Concorde. Created in the 16th century, the historic park offers an elegant blend of natural beauty and cultural experiences all year round.
You can take strolls along its tree-lined pathways, relax on the green lawns, and admire manicured flower beds. The Jardin des Tuileries is adorned with beautiful statues and fountains from every era. And you can dine at outdoor restaurants under shade trees.
This is where you'll find the Musée de l'Orangerie, an intimate art museum housing world-famous works of art. The gardens are also the site of the popular Tuileries Funfare in the summer and a Christmas Market in the winter.
Parc des Buttes-Chaumont
Are you looking to get away from the main tourist area of Paris? The Parc des Buttes-Chaumont is an ideal getaway. This is an especially unique and picturesque park nestled in northeastern Paris. Spanning over 60 acres, it offers an escape from the city's hustle and bustle, but also stunning views of Paris' city center.
The park's hilly terrain, serene lake, and lush greenery create a peaceful ambiance. It's the perfect place to go for a walk or a run. There are several walking paths, old bridges, and hidden alcoves to explore. And the Parc des Buttes-Chaumont's crown jewels are the Temple de la Sibylle, perched atop a rocky island, and the lovely Waterfall in the Grotto.
Bois de Vincennes
Bois de Vincennes is a beautiful public park situated on the eastern edge of Paris, outside of the busy city center. Covering 2,400 acres, it offers a diverse range of things to do and is one of the best things to do in Paris.
The park features lush forests, sprawling lawns, lakes, and gardens. And Bois de Vincennes is home to a mind-blowing variety of attractions, including a zoo, a botanical garden, and a Buddhist Temple that you can visit.
If you want to get active, you can do some cycling, walking, jogging, and boating. The park also houses the majestic Château de Vincennes, a medieval fortress and former royal residence that you can tour.
Parc de la Villette
For a completely different feel, there's the Parc de la Villette. It's a fun urban park nestled in northeastern Paris. Spanning over 135 acres, the park boasts contemporary architecture, lush green spaces, and innovative design.
A highlight of the park is the Cité des Sciences et de l'Industrie, the largest science museum in Europe. You can also enjoy outdoor concerts and cultural events at the Philharmonie de Paris. It's also home to one of the most unique sights to see in Paris, The Geode, a giant reflective sphere. The park also features themed gardens, excellent playgrounds, and a canal.
Explore Historic Paris Neighborhoods
Le Marais
Le Marais is a vibrant and historic neighborhood located in the heart of Paris. Once a noble district, you can see remnants of the past in narrow streets and breathtaking architecture. Today, Le Marais is a popular area with numerous art galleries, fashion boutiques, vintage shops, and stylish restaurants.
The neighborhood boasts several landmarks, including the Place des Vosges, the Musée Carnavalet, and the striking Hôtel de Ville (City Hall). Le Marais was also Paris' former Jewish Quarter and is still home to many quality Kosher restaurants.
If you're interested in guided Paris tours, this small-group walking tour of Le Marais is excellent. It's a great way to see one of Paris' oldest neighborhoods and learn about its long history.
Montmartre
Montmartre, nestled atop a hill, is an enchanting neighborhood in Paris's 18th arrondissement known for its bohemian charm and artistic legacy. It was once the stomping grounds of creatives like Pablo Picasso and Gertrude Stein!
If you're looking for things to do in Paris for free, you can't go wrong simply exploring the hilly streets lined with quaint cafés, art studios, and boutiques. Stroll through Place du Tertre, where local artists display their work. Or walk down iconic streets like Rue de l'Abreuvoir and Rue des Abbesses.
Montmartre is also home to several iconic sights in Paris. There's the Sacré-Coeur Basilica, where you can take in panoramic views of the city. And this is where the iconic Moulin Rouge cabaret is located.
Saint-Germain-des-Prés
You'll find more of the best things to do in Paris, France in the neighborhood of Saint-Germain-des-Prés. Located on the Seine River, it's always been a gathering place for writers, philosophers, and artists. These days, the neighborhood is also known for its boutique shops and eateries.
You can visit the famed Café de Flore and Les Deux Magots, where renowned intellectuals once gathered. Saint-Germain is also home to the beautiful Saint-Germain-des-Prés Church, which dates back to the 5th century! Wander through its charming streets, browse independent bookshops, visit art galleries, and indulge in French cuisine at cozy bistros.
Latin Quarter
Immerse yourself in history, art, and literature as you wander through the Latin Quarter, situated on the Left Bank of the Seine River. It gets its name from the Latin language, which was widely spoken in the area by scholars during the Middle Ages. Today, the neighborhood is still home to multiple intuitions of higher education.
This also means that the Latin Quarter benefits from being Paris' college scene! You can check out trendy bars and cafes, bookstores, lively markets, and more. And the neighborhood boasts significant Paris attractions, like the Panthéon and the Luxembourg Gardens.
Canal Saint-Martin
The Canal Saint-Martin in Paris is a picturesque waterway that stretches through the vibrant neighborhoods of the 10th and 11th arrondissements. The area around Canal Saint-Martin is known for its street cafés and small shops. Lined with pretty bridges and tree-lined quays, it offers a peaceful and romantic atmosphere.
You can take leisurely walks along the canal's banks, enjoy picnics, or simply sit and watch the boats pass by. Indulge in delicious food at the local bistros, browse boutiques, or explore the neighborhood's prominent street art. Canal Saint-Martin offers a delightful escape just a bit north of the city center.
Sample All of French Cuisine
Dine at the Finest French Restaurants
Paris is renowned for its culinary excellence, so definitely take some time to eat all the incredible food in Paris. You'll find options for every budget and for all tastes.
Going on a culinary adventure in Paris is not only delicious, but it's a great way to connect with the essence of French culture! Known worldwide for its exquisite flavors and culinary artistry, French cuisine is a true reflection of the country's history, traditions, and passion for gastronomy.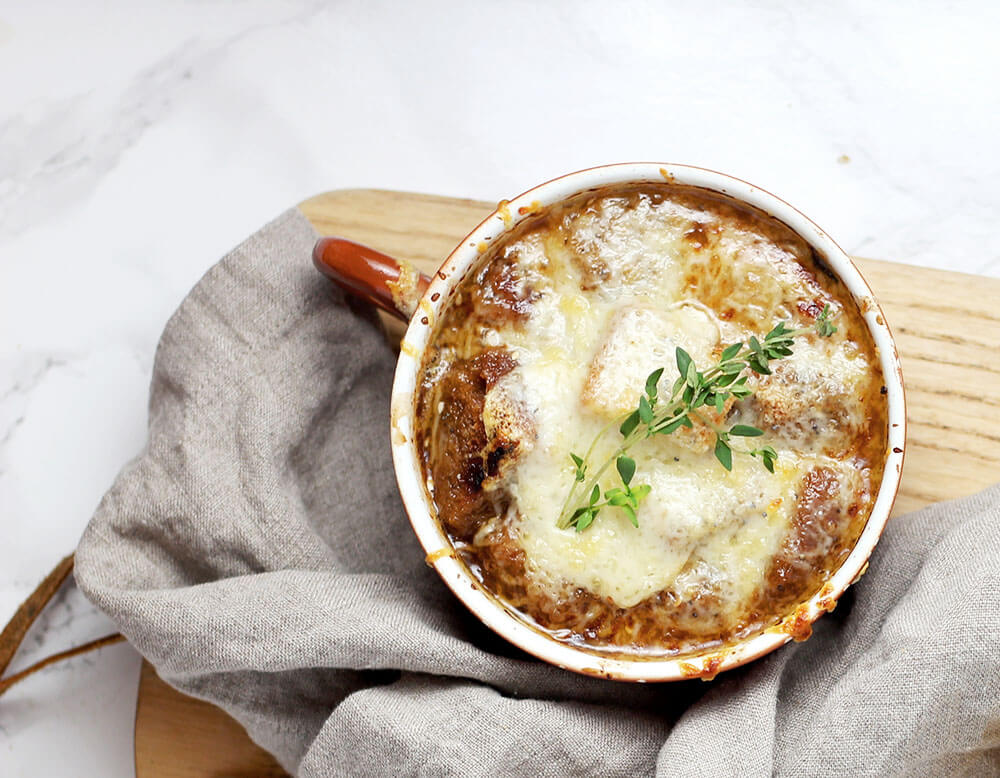 Take the opportunity during your Paris vacation to immerse yourself in the diverse culinary landscape of downtown Paris, with its Michelin-starred restaurants. Indulge in classics like escargots, foie gras, coq au vin, and crème brûlée for a sensory journey into the depth of French food heritage. And dine at iconic establishments like Le Train Bleu for a glimpse at French Belle Époque architecture while you savor gourmet dishes.
Eat at Cafés and Bistros
Paris is known globally for its charming café culture, where locals and visitors alike gather to eat, people-watch, and savor the moment. And enjoying a café au lait, the classic combination of coffee with steamed milk, is a quintessential Parisian pastime!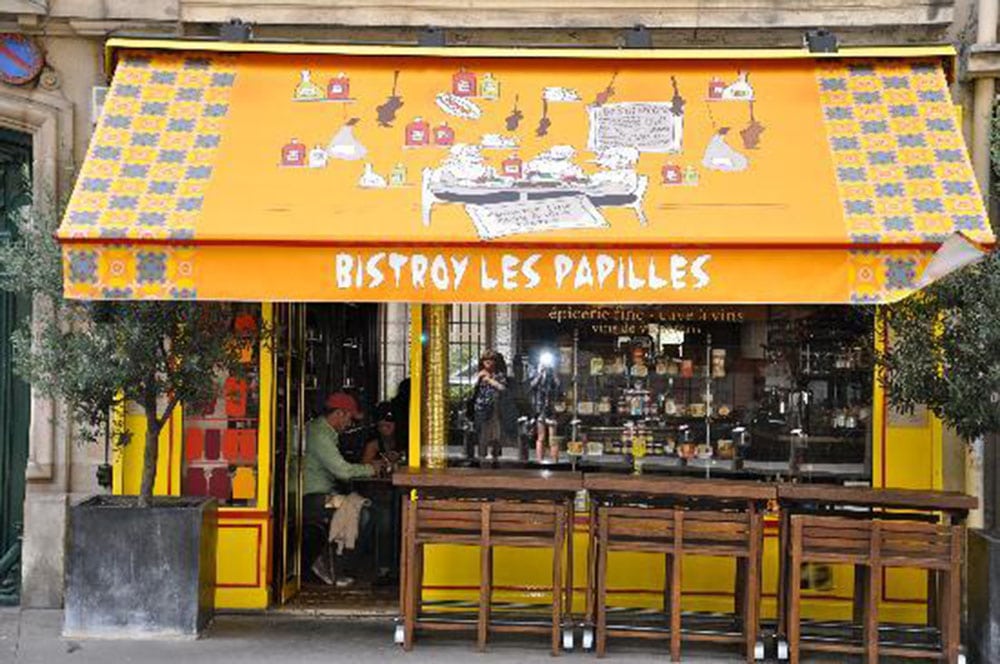 Plus, cafés and bistros aren't just places to grab a bite! They're social hubs where conversations flow and friendships form. These establishments offer an authentic Parisian ambiance, with their sidewalk seating, elegant interiors, and attentive service.
They also showcase Paris' iconic art of leisurely dining. Enjoy croissants, quiches, or a delicious croque-monsieur, while embracing the laid-back and sophisticated atmosphere that defines Paris.
Go on a Wine and Cheese Tasting
One of the best things to do in Paris is taste the world-famous wines and cheeses that the region is known for. Going on a wine and cheese tasting provides an opportunity for you to deepen your appreciation for craftsmanship and regional traditions.
During this small-group tour in a cheese cellar, your guides will educate you on how to pair wines with regional cheeses. Nibble on Camembert, Roquefort, and Gruyère while you learn about the art of cheese making!
Take a Food Walking Tour
A wonderful way to experience any city for the first time is by going on a food walking tour. The best Paris tours for foodies are led by locals who will take you to local patisseries, boulangeries, food markets, fromageries, and more!
On this 3.5-hour walking tour of Montmartre, you'll learn the proper way to eat French staples while you take in the historic neighborhood's most famous landmarks. Your guide will give you recommendations for authentic restaurants and soon become a friend!
For even more variety, this ultimate food tour of Le Marais is a must-do in Paris. Just make sure you come hungry! Your guide will weave history into your foodie experience as you try a variety of Parisian classics. You'll also sample food from Paris' international community, including the Jewish bakery, Sacha Finkelsztajn.
Go Shopping in Paris
Paris Department Stores
For fun things to do in Paris, France, get some retail therapy at the finest Parisian department stores. The Galeries Lafayette and Printemps are located on Boulevard Haussmann in the bustling shopping district of the 9th arrondissement. These 2 iconic malls offer a blend of high-end fashion, luxury brands, common household names, and trendy shops.
Both department stores also showcase Art Nouveau architecture, with ornate facades, stained-glass domes, and elegant interiors. From rooftop terraces inside each mall, you can also enjoy some of the most breathtaking views of the city skyline, including the Eiffel Tower and the Arc de Triomphe!
Designer Boutiques
A must for fashion enthusiasts when in Paris is exploring boutiques and designer stores. Paris is the global capital of fashion, it's even the home of Fashion Week, and its boutiques showcase the height of style, luxury, and craftsmanship. Brands like Chanel, Dior, and Yves Saint Laurent have established their legacies in the fashion world and offer unique shopping experiences.
You have many options, but I suggest making your way to the famous luxury shopping street, Avenue Montaigne, in the 8th arrondissement. Known as the "Golden Triangle" of Paris, the avenue is home to dozens of prestigious designer boutiques and flagship stores. This is where you'll find renowned fashion houses such as Chanel, Dior, Louis Vuitton, Gucci, Prada, and many others!
Paris' Famous Flea Market
Les Puces de Saint-Ouen is one of the largest and most famous flea markets in the world and one of the best places to visit in Paris. Called Les Puces by locals, it's located at Porte de Clignancourt on the northern outskirts of Paris. And it boasts a treasure trove of antiques, vintage items, furniture, clothing, accessories, and more!
Spanning multiple acres, Les Puces is a maze of alleyways and stalls with vendors selling everything you can think of. It's a paradise for collectors, designers, and vintage lovers seeking one-of-a-kind pieces. You can visit Saturday, Sunday, and Monday from around 10 AM to 6 PM. The market can get pretty crowded, so get there early to make the most of your visit.
Enjoy Paris' Nightlife
Experience Cabaret
One of the best things to do in Paris at night is to attend a cabaret show! Immerse yourself in Parisian nightlife with drinks and dinner while you watch dazzling performances. There are many wonderful cabarets throughout the city, but 2 of the best are the Moulin Rouge and Lido.
The Moulin Rouge, located in the Montmartre neighborhood, is a legendary venue known for its iconic red windmill and can-can dancers. The Lido on the Champs-Élysées is equally famous for its grandeur and elaborate productions. Both venues offer popular world-class shows and should be booked several weeks in advance!
Attend The Paris Opera
Even if you've never attended the opera or been to a traditional performance arts venue, take advantage of the opportunity when traveling to Paris. While there are several fabulous opera houses in Paris, the Opéra Garnier is a cultural landmark and a Paris must-see.
The Opéra Garnier, known as the Palais Garnier, is a magnificent opera house located in the 9th arrondissement. The exteriors feature grand architecture in the Beaux-Arts style. The Baroque interiors are equally stunning, featuring a gilded auditorium, sweeping grand staircase, and ornate foyers.
Home to the Paris Opera Ballet, you can see them perform at the opera house throughout the season. Or attend a lineup of classical concerts and operatic theater. The Palais Garnier is also popular for its guided tours. You see backstage exhibits, admire the architecture, and learn fascinating history about the venue.
Music Venues
Paris also boasts a vibrant music scene with numerous venues that cater to every taste. One iconic venue in the heart of the city is The Olympia. Since 1893, the legendary venue has welcomed countless iconic artists, from Edith Piaf to The Beatles, making it one of the most prestigious concert halls in Paris. Today, the venue continues to showcase a diverse range of genres, including pop, rock, jazz, and more.
There's also La Cigale in Montmartre. This historic concert hall is known for its ornate interiors and intimate atmosphere. Dating back to the late 19th century, the hall has hosted renowned artists from various genres, including rock, pop, and alternative.
Take a Day Trip from Paris
If you need a break from the city and want to explore more of the surrounding areas, taking a day trip can be a great option. We've got a full list here of our favorite day trips from Paris. But here are just a few from the list.
Palace of Versailles
One of the most popular day trips from Paris is to the Palace of Versailles, being an easy hour train ride away from the city! The palace was the residence of French kings and queens, including Louis XIV. And it's recognized as a UNESCO World Heritage Site.
The palace has an admission fee that includes an audio tour, and the gardens are free to visit. Inside, you can immerse yourself in the palace's rich history while you explore lavish interiors, including the iconic Hall of Mirrors. Take a walk through its vast gardens, with its stunning fountains, topiaries, lush trellises, orange trees, and budding flowers.
Disneyland Paris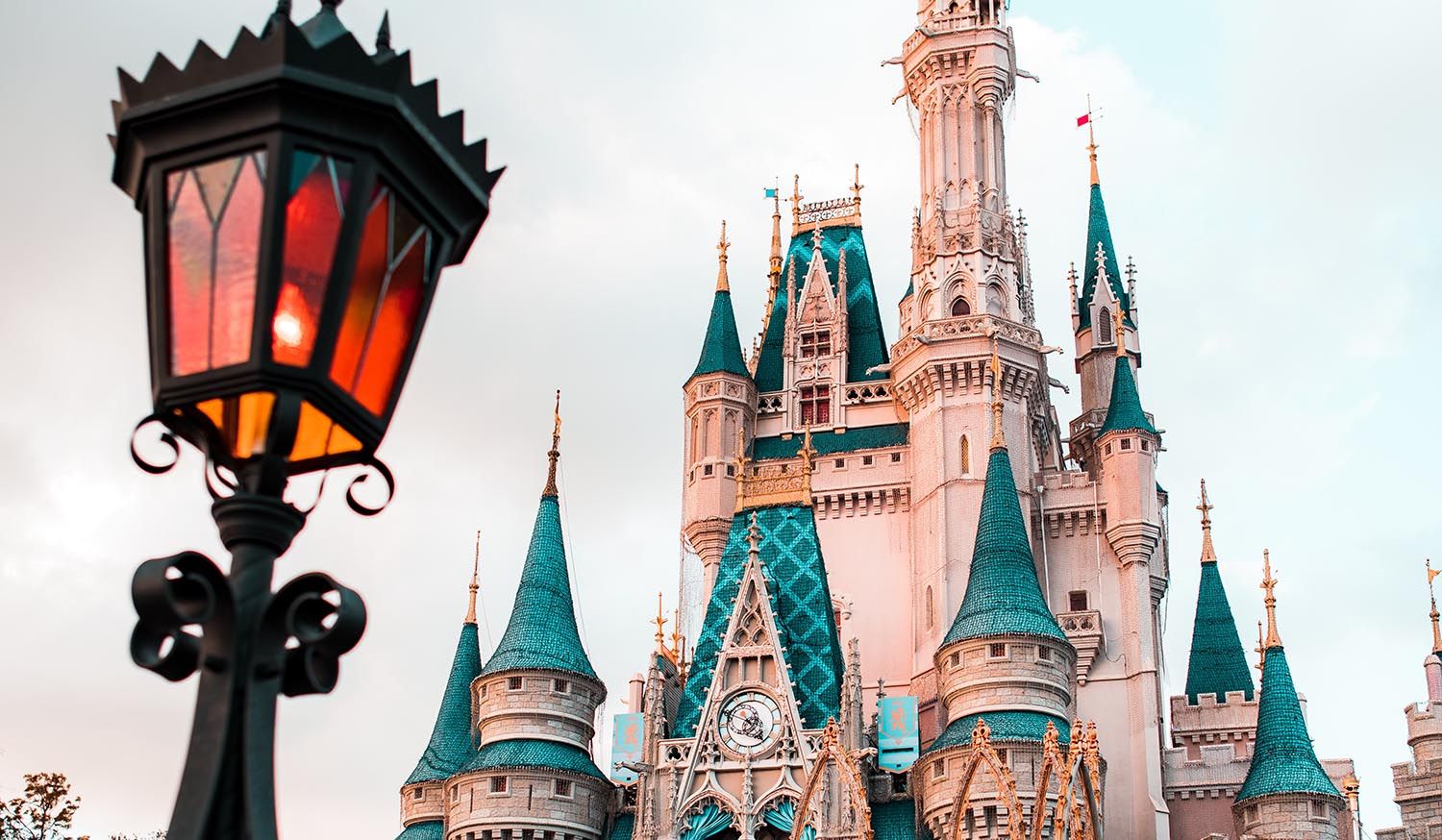 Don't miss out on the chance to visit Disney Paris if you love the Mouse! Less than an hour by metro from the iconic Gare de Lyon station, the park is one of the most beloved modern tourist attractions in Paris. With its iconic Sleeping Beauty Castle, thrilling rides, and beloved Disney characters, it's perfect for all ages.
From adrenaline-pumping roller coasters to whimsical attractions, there's something for everyone. Take the kids to the Frontierland Playground, explore Alice's Curious Labyrinth, or ride through Pinocchio's Daring Journey. And make sure to stay for the dazzling fireworks show that happens every night!
Explore the Champagne Region
If you have time to explore the regions around Paris, consider this full-day tour with wine tastings to the nearby Champagne region. There are beautiful landscapes, a rich heritage, and some of the finest sparkling wines in the world. Visiting the Champagne region is in itself one of the best things to do in France.
You'll walk through vineyards and see where the grapes are carefully cultivated. Learn about the traditional methods of champagne production and tour a family-owned winery. Your tour will include a classic French meal at the winery as well as stops at prestigious champagne houses.
Explore Giverny and Claude Monet's House
The village of Giverny is about 2 hours from Paris by train and a little less by car, but it's worth the trip. It was in this idyllic village that renowned French artist Claude Monet spent the majority of his adult life. Giverny's lush gardens, blooming flowers, and picturesque surroundings served as an endless source of inspiration for Monet's artwork!
And visiting the Maison de Claude Monet in Giverny is an extraordinary and unique experience. This is the actual house where the renowned artist lived and created his iconic artworks. Stepping inside the Maison de Claude Monet is like entering the world of the artist himself.
Explore the beautifully preserved rooms filled with Monet's personal belongings, furniture, and memorabilia. Outside, wander through the enchanting gardens that served as the backdrop for his famous Water Lilies series. It's a truly emotional journey into the tortured life and artistic genius of Monet!
FAQ about Visiting Paris France
When is the best time to visit Paris?
That depends on what kind of experience you want to have! Peak season is May through August. This is when the city is the most crowded and you'll have plenty of company at Paris' top attractions. But it's also when most shops are open and the summer carnivals are in full swing. Want to avoid the crowds but still enjoy warm weather? Come to Paris in April or September-October. And the holidays in Paris are also busy but make for a magical experience.
Do I need to speak French when in Paris?
As a tourist in Paris, you don't need to speak French, but knowing the basics will help you out a lot! In an emergency, you'll always be able to find someone who speaks English. And when it comes to sightseeing in Paris, most attractions offer tours in a variety of languages.
Is Paris safe for tourists?
Paris is a relatively safe destination, with the most common crime being pickpocketing. The best advice? Use common sense, keep your belongings close, and be aware of your surroundings, especially at night and in crowded tourist areas. Worried about civil unrest? Just avoid areas where protests are taking place and you'll be safe!
How much time should I spend in Paris?
Especially if it's your first time in Paris, aim for a 5-day trip. This will give you enough time to see the big attractions, go shopping, and visit a few of Paris' iconic neighborhoods. f you only have 1 or 2 days, you'll want to hit up the biggest sites. Focus on the most famous places in Paris, like the Eiffel Tower, Notre Dame, and a famous Paris museum. And another must-see in Paris, if you're limited on time, is a cabaret show at Moulin Rouge!
Create Memories with a Trip to Paris
With so many famous attractions and hidden gems, there are memorable things to do in Paris for even the most weathered traveler! You might explore the streets of Montmartre, visit the incredible Louvre Museum, or enjoy delicious French food at a cozy bistro. However you spend your time, you'll be amazed by the city's beauty!
With its timeless charm and lively atmosphere, Paris offers unforgettable experiences that will make you want to come back again and again. The magic of the City of Lights will stay with you even after you say goodbye!