One Week in Jordan Itinerary
The Hashemite Kingdom of Jordan, more commonly known simply as "Jordan" is an ancient country that lies to the east of Israel and north of Saudi Arabia. It's a beautiful and desolate place with thousands of years of history.
You can learn it not only from the people but also from the land as you wander the desert rock walls covered in petroglyphs and wander the ancient Roman ruins that are scattered throughout the nation. This land has changed hands many times over thousands of years of recorded history and has gone through many religious and political changes throughout its time.
It is an old land, but at the same time, a fairly new nation where Muslims and Christians live alongside each other in relative harmony compared to much of the rest of the world.
If you have any interest in history, archeology, religion, geology, photography, or adventure, Jordan is a must-see destination. Not only does one tiny country hold all of that, but one of the seven wonders of the world is located here as well: Petra.
Learn About Jordan Before You Go
I always recommend learning at least a little bit about a place before visiting. It will make your experience much richer and help you connect to the land and people more than just going in blind. I've rounded up a brief history and a few resources for you to look over before you start planning your trip.
A Brief History of the Hashemite Kingdom of Jordan
The country of Jordan was first settled by the Amorites in 2000 BC. Many other ancient nations and empires would come to settle or conquer the land over the years. These included the Hittites, Egyptians, Israelites, Assyrians, Babylonians, Persians, Greeks and Romans.
Perhaps the most notable Jordanian civilizations was the Nabatean Kingdom. They built the famous capital city at Petra which became a major trade center for the region and is still Jordan's main source of tourism today. They also developed the North Arabic Script which would later become the Modern Arabic script. The Nabateans controlled much of current country of Jordan as well as surrounding lands at its peak. It was later taken over by the Persian Empire and eventually the Roman Empire. You can still see many Roman ruins around Jordan today.
In 1516 Jordan became part of the Ottoman Empire. It would stay a part of the Ottoman Empire until the end of World War I when it would be awarded to the United Kingdom. The British created the Emirate of Transjordan ruled by Prince Abdullah, but under British rule. In 1946, Jordan became an independent country, now known as the Hashemite Kingdom of Jordan, ruled by the Hashemite family from Saudi Arabia.
National Geographic Documentary on Disney+
If you want a quick but informative documentary to learn about Petra, National Geographic has a great one on Disney+ that explains the history of Petra and also how these carvings were created.
Fall of Civilizations
There's a great podcast called Fall of Civilizations that explores the topic of the Nabateans, Petra's first recorded inhabitants before the Romans came. Look for the episode called Nabateans. It's about 2 hours long and very in-depth, but fascinating.
Preparing for your trip to Jordan
When to go to Jordan
Jordan is great to visit any time of year but depends on your tolerance for heat or cold. Keep in mind that if you plan to do any hiking, it's most likely not going to be somewhere with any shady trees. Jordan is a desert after all. According to my friends that live in Amman, March and October are the perfect months to visit Jordan. We went to Jordan in October and had perfect weather. The nights were a little chilly and the daytime high was around 78 degrees.
Jordan Visa
To enter Jordan, you will need to purchase a visa. You can do this at the airport, however, it's much easier to purchase online before your visit. You can do this by purchasing a Jordan Pass which will cover your visa fee, Petra entrance fee, and also get you into several sites you'll want to visit. It's well worth the money. I paid about $100 USD for my Jordan Pass which included 2 days in Petra. For reference, a 1-day permit at Petra costs around $70 USD.
Packing
Packing for Jordan really depends on what time of year you're going. We were there in mid-October and the weather was really pleasant, around a high of 78 degrees Fahrenheit. It was a little chilly in the evenings but still pleasant.
Regardless of the weather, be sure to pack the following:
Good sweat-wicking hiking pants women | men
You'll want these for hiking in hot weather. The length will protect your skin, but they're light weight so you won't be too hot. Plus you'll be sliding on a lot of rocks, trust me! No one wants rock rash.
Underwear – This seems like a no brainer, but I wanted to share my favorite travel underwear for women. They're expensive, but last a long time and they wash really well while traveling (ask me how I know).
Sports Bra – Again, this brand of sports bra is what I like. Easily washable like underwear which is essential when you're visiting Jordan where you'll sweat all day every day.
Good hiking shoes with grip women | men
These are essential for hiking around Petra where you're hiking on stony mountains and hot sand. You'll appreciate your grip, especially on the way down!
Water shoes or old tennis shoes that can get wet women | men
You'll need these if you're planning on hiking any Wadis (canyons) with water in them like Wadi Mujib.
Sunglasses – You're in full sun nearly the whole time. Don't forget your favorite glasses!
Wide-brimmed hat with chin strap women | men
This one was a lifesaver since we were in full sun the entire trip. The chin strap was essential for riding camels, driving in jeeps, and on windy nights. Probably the best thing I packed for Jordan.
Sunscreen – My favorite sunscreen
Light Scarf – It's a good idea to have one if you are required to cover your head anywhere and it's actually helpful to use on the plane as a blanket! You can also wait and purchase one in Jordan. You'll see about a million of them being sold.
Cash for Jordan
I normally recommend getting cash out at the ATM when you arrive at any destination. But the ATM fees were insane in Jordan. So if your bank will exchange your money for JD (Jordanian Dinar) I recommend this option. We used cash for most things.
The only time we really used our credit cards was at hotels, nicer restaurants, gas, and groceries. You'll definitely want cash when you're in Petra and Wadi Rum especially as you'll be dealing with locals who won't have card readers. We did encounter some in Petra who did, but since the WiFi was spotty, so were the card readers.
Things to Know About Jordan Before You Go
Bathrooms may not have toilet paper
Most of the public bathrooms we encountered in Jordan did not have toilet paper. Most of them have a sprayer. I packed toilet paper or Kleenex in my bag every day and used it every day. Don't flush it in the toilet. It probably won't go down. They just don't have the infrastructure to support it. There will be trash cans in the bathroom for your used toilet paper.
Most of the Water is Not Safe to Drink
Don't drink the tap water anywhere in Jordan. I recommend using bottled water or filtered water even for brushing your teeth. Most of their water comes from desalination plants and it just is not safe. Take it from someone who wasn't as careful as she should have been and got sick. It's just not worth it. I use this water bottle when I travel to avoid getting sick from bacteria in water.
Dress Code
While you'll honestly see all kinds of clothing worn in Jordan, I always try to respect a culture wherever I go, and in Jordan, that means dressing modestly. I don't think you need to necessarily wear long sleeve shirts every day, but wearing non-revealing attire is probably a good idea. I wore loose pants most of the trip and a short sleeve T-shirt with a linen cover-up shirt, mostly for sun protection. I would avoid short shorts or skirts and low-cut tops personally. But no one will ridicule you for any way you dress.
Smoking
Nearly every man in Jordan smokes. At least that's how it seems. So if cigarette smoke is something that bothers you, you honestly may want to skip this trip. It really seems totally unavoidable to me. I have friends who really cannot deal with the smoke and I would just recommend that this is a trip they skip. Also if you're sensitive to your kids being around cigarette smoke, I'd maybe avoid it. We didn't see many people smoking indoors, but we saw it everywhere on the streets and even in taxis. Just an FYI.
Talking About Israel/Palestine
Jordan is home to both Palestinians and Jordanians, Muslims and Christians, so the subject of Israel can be a sensitive matter. As a tourist, you might have differing opinions regarding this topic, but I recommend avoiding the subject in large public gatherings. We did have discussions with several locals, but in some cases, it got awkward.
Drink Water
Though the tap water in Jordan isn't safe to drink, be sure you are drinking plenty of fluids! Not only is Jordan hot, but it's also dry. You don't want to get dehydrated.
Where to Stay in Jordan
Amman
We were lucky enough to stay at our friend's house during our time in Amman, but there are some great hotels at affordable prices in the city including the gorgeous Amman Rotana, which is in a great location with fantastic views and is a beautiful luxury hotel.
Wadi Rum
There are several accommodation options in Wadi Rum from very basic camping to luxury bubble tents. Since we were traveling as a group of moms, we opted for the more luxurious option and stayed at Memories by Aicha. It was a beautiful camp that offered luxury tents, family tents, and bubble tents.
Honestly for being a luxury camp, I thought it was a really good deal. It included dinner when we arrived and breakfast the next morning. The food was really good with a huge variety. We were picked up from the parking lot and driven through the desert with our luggage to the camp.
The camp also helped us set up a tour of the Wadi Rum desert the next day. Everything was seamless there. The beds were great and I really appreciate hot showers and flushing toilets in the desert.
Aqaba
Sadly, we didn't make it to Aqaba this trip, but my friend said it's amazing if you're looking for a beach resort vacation. There's a Movenpick Resort there, the Hotel Brand I fell in love with at the Dead Sea. My friend says it's also amazing in Aqaba.
Petra
During our time in Petra, we stayed at the Petra Marriott. It was a fantastic hotel with a stunning view, great restaurants, and a spa on site. I got a massage between our 2 days in Petra and it saved me with all the hiking! They also offer a traditional outdoor Bedouin meal at the Marriott that is really special. You can also order lunch boxes to go since there isn't much in the way of food inside Petra.
If you want a truly unique experience and want to stay INSIDE Petra, this is really your only choice. It's very rustic, but what an incredible experience. The owners of this home were kind enough to let me do a little tour, and I even used the bathroom. You can also schedule a camel ride and a dinner with them. So much fun and the Bedouin owners were very nice. Check rates.
The Dead Sea
I honestly can't say enough good things about where we stayed at the Dead Sea. It was such a special experience. We stayed at the Movenpick Resort and Spa Dead Sea and absolutely loved our stay. I wish we'd stayed an extra night. The rooms were beautiful and spacious, and there were several pools, including an infinity pool that looked over the Dead Sea as the sun set with rollerblading waitstaff to bring you drinks. There are helpful lifeguards at the private beach. All the staff was friendly and the entire resort looked like a gorgeous little village. There are several restaurants on-site. We ate at two and they were both good. The included breakfast was huge and great! I would return here in a heartbeat. It was definitely my favorite hotel we stayed in during our time in Jordan.
How to Spend One Week in Jordan
Private Tour of Jordan
Some people are really daunted by the idea of planning a trip in the Middle East, which I totally understand! Luckily, I have several friends who live here, otherwise, I would have felt a little out of my depth. If you're feeling like you don't want to plan each detail on your own, a private tour can be a great way to see the country and spend time with a local who you'll be able to learn so much from! I recommend this private tour that will take you to Petra, Wadi Rum, and the Dead Sea over 3 days.
A Step-by-Step Jordan Itinerary
If you are feeling brave and want to create this trip on your own, but need a little help, my friend has created this incredible Jordan Itinerary that lays out your entire trip for you. All you need to do is the booking. It's well worth the small cost and takes all the hard work out of the trip planning. She really knows her stuff too!
My Jordan Itinerary
This is the itinerary that we followed during our trip to Jordan. I wish we had 2 more days honestly. One to explore Aqaba and one extra day at the Dead Sea to just relax at the amazing Movenpick Resort.
Day 1 – Arrive in Amman, Food Tour
Begin your trip by arriving at Queen Alia International Airport. You should be able to easily take an UBER into Amman to your hotel. Most flights to Jordan land in the afternoon, so you'll want to keep yourself busy so you don't fall asleep too soon.
Amman Food Tour
I recommend taking a food tour of Amman on your first night. This will also orient you to the food options you'll have all week. My friend runs this tour and it was so much fun. I learned so much about Jordanian food and culture and left with a very full belly! You'll also be able to learn about and explore most of Amman during the food tour, specifically on Rainbow street, so it's a great option to check off exploring Amman and trying all the food!  Check availability.
Amman Roman Theater
Walk over to the Roman Theater. It's an amazing structure and so old and impressive. You can walk around the ancient Roman steps and Jordan Archaeological Museum and take in the view of the city from there. You can use your Jordan Pass to get in for free. Unlike the Roman Colosseum, you can walk around on the stairs and seats freely.
Amman Citadel
Perched on the highest hill in Amman, the Citadel contains the ruins of the Temple of Hercules and the Umayyad Palace. It's a hike to get to the top, but worth it for the history and the views.
Day 2 – Jerash, Drive to Wadi Rum
Jerash – City of Roman Ruins
The next morning, our friends took us to Jerash, which is a city with incredible history and more Roman ruins than I've seen in all of Rome! It's a bit like Pompeii, in that it was destroyed (by an earthquake instead of a volcano) and then left and never rebuilt.
You'll see hundreds of pillars, an old Roman road, and a massive disused fountain that rivals the Trevi fountain in Rome. It's really an incredible place if you are fascinated by ancient history and civilizations like I am. I traveled to Jordan with my archaeologist friend, so it made it even more meaningful to us.
Fallafel Lunch at Hamadas
After Jerash, we stopped at our friend's favorite local falafel shop. Wow, best falafel ever and the fries were incredible. My mouth is watering typing this right now! You'll be able to find Hamadas all over Jordan. There's even one at the airport. It is cheap and so tasty!
Long Drive to Wadi Rum
In the afternoon we drove to Wadi Rum. It's about a 4 or 5 hour drive. There are a few gas stations to stop at along the way that will have bathrooms. Try to arrive in Wadi Rum before sunset. The lights on the roads outside of Amman are bad to nonexistent, and the roads aren't always the best, and also the drivers aren't always the best, so it's not very safe. Plus you'll want to see the dessert lit up in all its sunset glory. It's an incredible Jordan road trip experience!
We parked in the hotel's gated parking lot, loaded ourselves and our luggage into one of their trucks, and took a bumpy ride into the desert where we were escorted to our luxury tent.
After getting settled in, we walked over to the main tent where we enjoyed a buffet dinner. We relaxed in the bar afterward which was built into a rock wall. It was so beautiful. You can get drinks, tea, or smoke. I opted for hot chocolate. Don't really recommend that. Go for an herbal tea or a lemon mint drink.
Then we snuggled into our cozy tent. The beds were perfect. It was a cool night so we slept with the windows open. The stars were amazing. I took this picture on my phone, that's how bright they were!
Day 3 – Explore Wadi Rum
This was probably one of my favorite days in Jordan. It's hard to pick really! After eating a buffet breakfast in the main tent, we packed up our luggage and hopped into another open-air truck where we spent the next 5 hours exploring the Wadi Rum desert. It's one of the most fun things to do in Jordan and you'll see so much of Wadi Rum this way.
I do not recommend anyone, no matter how adventurous you are, explore Wadi Rum on their own. There are no real roads and absolutely no cell service. You will get lost. You also 100% need 4 wheel drive. We encountered several tourists who rented trucks and were completely lost. Our poor guide gave a lot of directions!
I can't even really tell you where we went in Wadi Rum…a few big sand dunes, some rock bridges, lots of petroglyphs, a few awesome canyons. I don't even know how you would find these places even with GPS! It cost us 100 JD (about $140 USD) for a 5 hour tour. Definitely worth the money to see all the highlights and not spend time being lost.
Drive to Petra
After our tour of Wadi Rum, we drove to our Petra hotel. We packed bread and peanut butter and jelly and made lunch in the car. There's not really anywhere to eat in Wadi Rum except for the hotel.
It was about a 2 hour drive to the Petra hotel where we checked in just in time to see an amazing sunset over Wadi Musa (Valley of Moses), the valley where the city of Petra lies. We enjoyed a really traditional Jordanian meal of a cheeseburger and pizza at the hotel restaurant. Haha! We needed a little taste of home. They had great mocktails there though!
Day 4 – Petra & Altar of the High Sacrifice
Time to visit Petra! The day we've all been waiting for! We woke up around 7, had breakfast at the hotel, and ordered a boxed lunch from the hotel. It was a lot of food that we all split up. We each brought 2 water bottles and ended up buying probably 2 more each while inside Petra.
We drove to the free parking lot by the visitors center, but our hotel had a shuttle you could use as well. When you arrive you need to redeem your Jordan Pass to receive your entrance ticket into Petra. If you've purchased the 2 day pass like I did, you'll get a ticket that you need to hold onto for the next 2 days. So don't lose it!
You'll walk down through the Holy See and enter Petra with the most incredible view of the Treasury (al Kazneh), the most famous building when visiting Petra. Ok, most people will get to this point, take some amazing pictures, and then leave. Which is mind-blowing because Petra is HUGE! I had no idea. We spent 2 days there, but easily could have spent a few extra exploring so much more.
For our first day, we hopped on some camels, which is one of the best things to do in Jordan if you want the full experience. We rode them to the Holy Tombs which were amazing. We stopped and hiked around here for about 30 minutes. Hop back on your camels and ride over to the Roman Temple, then up to the beginning of the trail to the Alter of the High Sacrifice.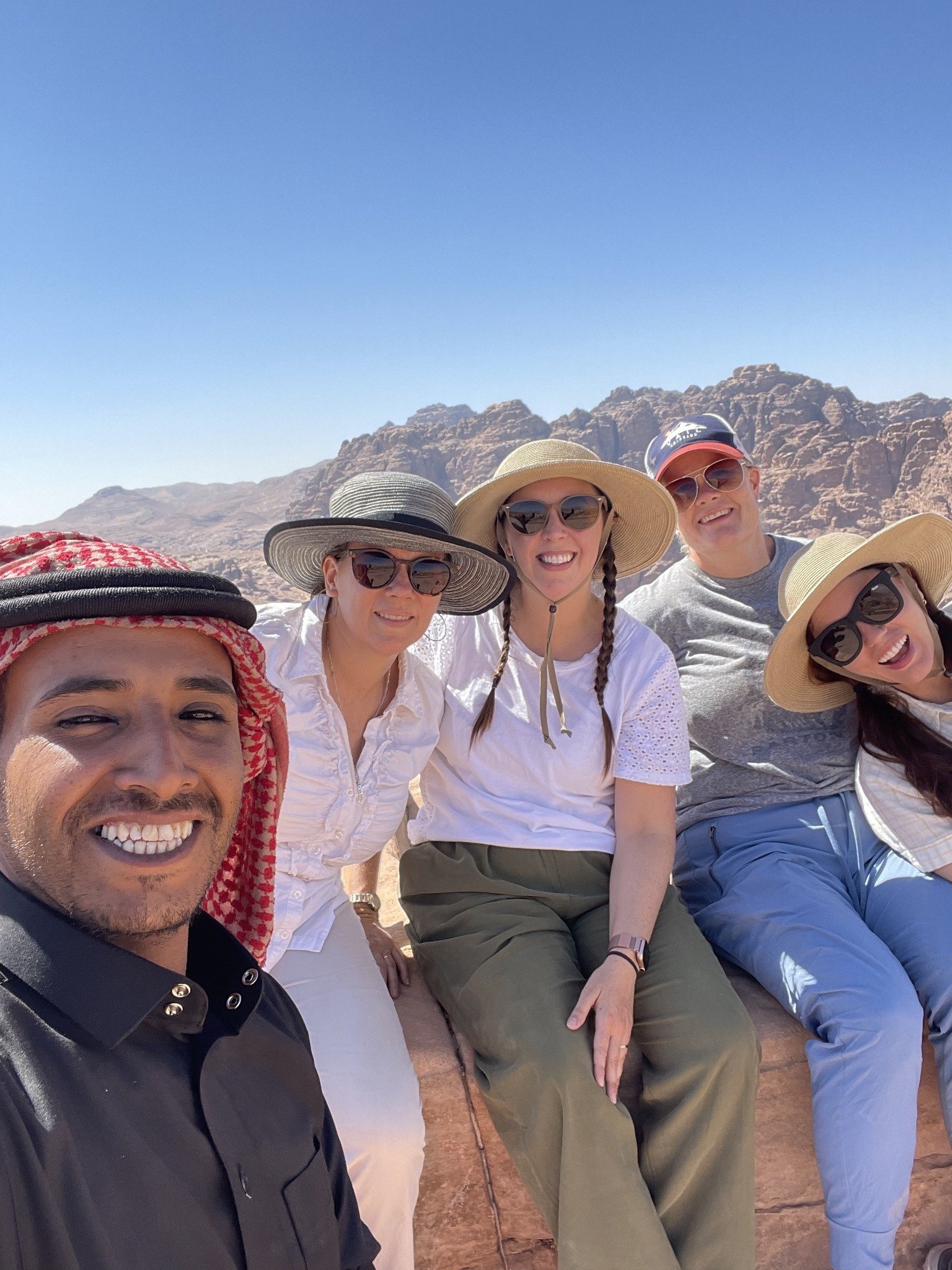 Our guides took us to the famous Indian Jones Cave where you can stay the night. It's the one I mentioned above.
We then said goodbye to our camels and our cute little camel guide (who was 6 by the way) and began our hike up to the altar! Oh boy…this hike was more intense than I was planning on. We hired a guide to take us. It cost around 80 JD (around $120 USD) to have him help us throughout the day and it was definitely worth it and necessary. The trail was ok on the way up, but was pretty tricky on the way down.
He took us to an amazing viewpoint of the Treasury at the end. There is a steep drop and I would never take my kids to this overlook because I was having a slight panic attack just watching my friends sit near the edge. It makes me sweaty just thinking about it!
After hiking down, we got a few last pictures of the Treasury and said goodbye to Petra as we walked out of the Holy See. We spent about an hour exploring the Petra Museum which was really well done. They also have a nice gift shop if you didn't do enough shopping inside Petra.
We drove back to our hotel, got into our swimsuits and took a dip in the pool. It felt good after nearly 10 miles of walking and hiking. We made dinner reservations for around sunset time and enjoyed a beautiful Bedouin dinner overlooking Wadi Musa. The dinner was amazing meat and vegetables that were cooked to perfection. Definitely a must on your day Jordan itinerary.
After dinner, I got a massage from the hotel spa. It was honestly one of the best massages I've ever had. Maybe because I'd just hiked all day and was about to hike all day tomorrow. I slept like a baby and wasn't sore in the morning.
Day 5- Petra Round 2 – The Monastery
For our second day in Petra, we decided to go in the back way to the monastery. This means you can skip hiking up to the monastery in the heat of the day after you've already walked all the way to the base of the steps.
To go in the back way, park in the same lot as yesterday, or take a taxi to the visitor center. There will be a free shuttle to "Little Petra." You'll take that free shuttle, pay a 5 JD fee for the next shuttle, walk about 5 minutes and hop in a truck that will take you about 3 miles to the base of the hike. It's a lot of steps, so start early as just getting to the base will take around an hour.
Once you get to the base of the hike, you've got about one million stairs up to the monastery! Just kidding, but seriously it's quite a bit. We took a lot of breaks to breathe and drink water. The great thing about this hike is that the trail and stairs are all fairly new and not worn. Also, the hike is almost 100% in the shade during the morning vs hiking up the other side in full sun. So it was worth the few extra steps to do it this way.
The Monastery was incredible and even bigger than the Treasury. You can't really see inside the Treasury, but you can look inside the Monastery. In reality, all of these carvings were originally tombs but have also been used as dwellings in the past.
Over the last 40ish years, the government of Jordan has tried to remove the bedouins from Petra and given them homes in the nearby village of Wadi Musa, but there are still a few families that reside within the caves of Petra.
You'll find many men, women, and children selling items along the trails in Petra. If you see something you like, just get it. Feel free to barter, they expect it. There will also be water bottles for sale if you run out.
We relaxed at the Monastery and enjoyed a popsicle while catching our breath. Then we walked down the stairs the other way. It was around 11:00 am by then, so I was happy to not be walking up in the sun at that point.
We made our way slowly back to the Holy See and out of Petra, stopping to explore some Roman ruins along the way. Since we took the shuttle to Little Petra, our car was right at the entrance, so we were able to leave right away.
We left around 2:00 pm and drove straight to our Dead Sea Resort where you'll go pass through King's Highway, just in time for a gorgeous sunset over the Dead Sea with a view of Israel in the background.
Swimming in the Dead Sea was incredible. It was probably the one thing I was looking forward to the most (how many times have I said that?) and it did not disappoint. We did the "mud up" experience which I highly recommend. My skin seriously felt amazing after the mud, rubbing down with salt, and floating in the Dead Sea. It's seriously one of the best things to do in Jordan, so don't miss it!
I was in love with our resort. It was magical and I'd recommend it for couples, families, or solo travelers.
We spent the rest of the night lounging by the pool, enjoying mocktails. Later that evening we ate at one of the resort restaurants. The food was great.
Day 6 – Wadi Mujib, Mount Nebo & Madaba
Early in the morning, we hiked Wadi Mujib, which was such an incredible experience! Wadi Mujib is a canyon full of water that you can hike through to an amazing waterfall. There are multiple waterfalls that you can go down. It costs about 20JD/person and is totally worth it. There are lifeguards along the way, and the organization provides life jackets at no charge. It's a fairly challenging hike, but worth the effort.
I recommend wearing shorts, T-shirt, sports bra, and old tennis shoes or water shoes that tie tight. The current gets very strong in some parts and I don't think water shoes would have cut it and there are too many rocks and parts where you have to hike over rocks to be safe in sandals. My shoe broke towards the end. I was grateful they held up throughout miles of hiking in Petra before they bit the dust.
The hike probably took us about 3 hours in total. When we finished we ran back to the hotel, showered and got ready before checkout at noon.
For the rest of the day, we hired a guide to drive us around outside Amman. We visited Mount Nebo, where Jordanians believe Moses went to receive the 10 commandments. It's quite an experience going from below sea level at the Dead Sea to such a high elevation on a windy road. Take it slow and steady.
After Mount Nebo, we drove to Madaba and grabbed some Shawarma at Doctor Shawarma. It was delicious. Madaba was a fascinating city. It's the capital of mosaics. You can go to the archaeological park and St. George Church and see some of the best-preserved mosaics I've ever seen. Then we went to Promised Land Mosaics to shop and get our own mosaics. The work they do is incredible. This is a tradition that has been passed down and taught for thousands of years.
There are also many shops in Madaba where you can buy souvenirs like Dead Sea salts and muds, incense, and more. It's a good end-of-trip shopping stop.
After Madaba, we drove home to Amman and worked on packing all of our goodies!
Day 7 – Fly Home
We took an UBER to the airport which cost around 20 JD. Security was a little intense. Our bags went through several different scanners and we had a few things that got inspected. They didn't take anything, but I wouldn't try to sneak anything illegal (not that you would)!
Israel Add On
Many people who visit Jordan will visit Israel first. It's a great combination trip since it's so expensive to fly to the middle east. There are amazing sites in both countries. It's best to fly into Israel and out of Jordan. Crossing the border the other way around can be tricky. If you want to spend time in Israel before your day trip to Jordan, this Israel itinerary is so helpful!
End Notes
All in all, my trip to Jordan was incredible. I can't believe all that we were able to fit in in just six days. I was really pleased with my Jordan itinerary. I wish we had found time to fit in Aqaba, but it would have meant one less day in Petra, and I think that really deserved an extra day.
I loved meeting the people of Jordan. They were so warm and friendly and always willing to help. The entire time I was there, I never felt unsafe (except maybe up high above the Treasury in Petra). I was never concerned about theft or my personal safety.
It was truly the trip of a lifetime. I would love to bring my whole family back someday. Please let me know if you have any questions and again, if you would like an easy-to-plan Jordan Itinerary, this is this guide will be invaluable!