Blessed with sunny climates, thousands of years of history, idyllic beaches, and the most delicious and fresh cuisine, both Italy and Greece are both fantastic choices for a Mediterranean vacation. This Italy and Greece itinerary is perfect for anyone that wants to explore both countries.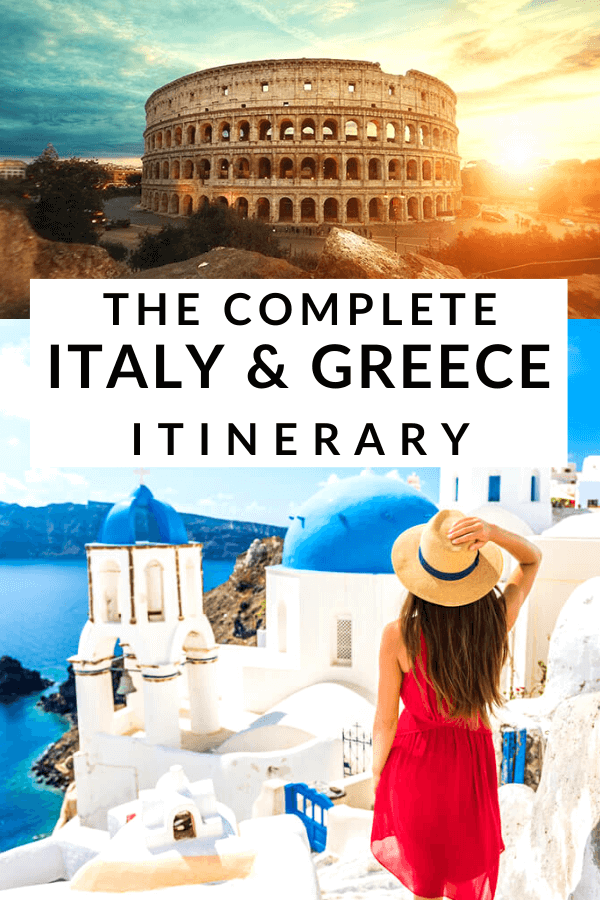 It can be so difficult to choose one over the other!
On an Italy trip, you can explore a Seventh Wonder of the World, sail on mountain lakes, and see world-famous artworks like Michelangelo's David. In Greece, you can island-hop in the Cyclades, stroll through white-washed cobblestone villages, and witness Greece's ancient history at the Acropolis.
We've been lucky enough to visit both Italy and Greece. They are both incredible countries that I love. I've been getting a lot of questions recently about combining a trip to Greece and Italy. If you've got enough time to explore both destinations, I say go for it!
I would recommend allotting at least 10 days to each country. I've written this Italy and Greece itinerary to help you decide where to go, but if you'd like a more detailed Italy and Greece Trip Itinerary, I recommend downloading our combo guide written by myself and Kids are a Trip.
Should I go to Italy or Greece?
Both countries have similarities but they offer totally different cultural experiences. So, if you have the time, why not travel to Italy and Greece?!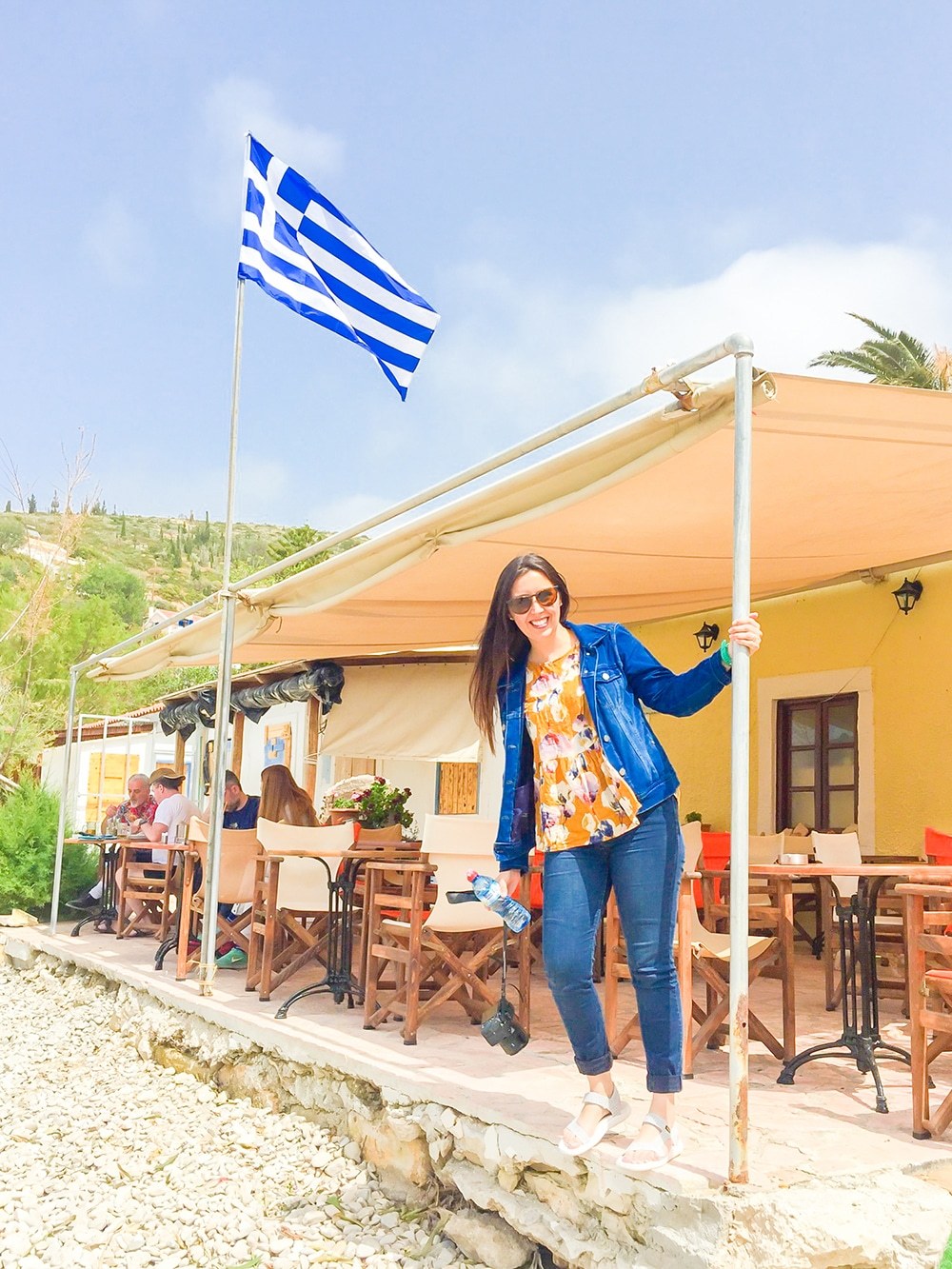 Combining visits to both countries into a three-week vacation package will result in the most life-changing, memorable trip.
Following a three-week Italy and Greece itinerary also makes sense on a practical level. They're both Mediterranean countries separated only by the Adriatic Sea, so there are lots of flight, ferry, cruise, and sightseeing tour travel options.
You won't have to pack for two completely different sets of climates, either. Both countries boast dry and sunny weather for most of the year.
As you digest this three-week Italy and Greece itinerary and learn all the cool things to do in both places, you'll realize that you simply cannot miss out on any of these amazing experiences.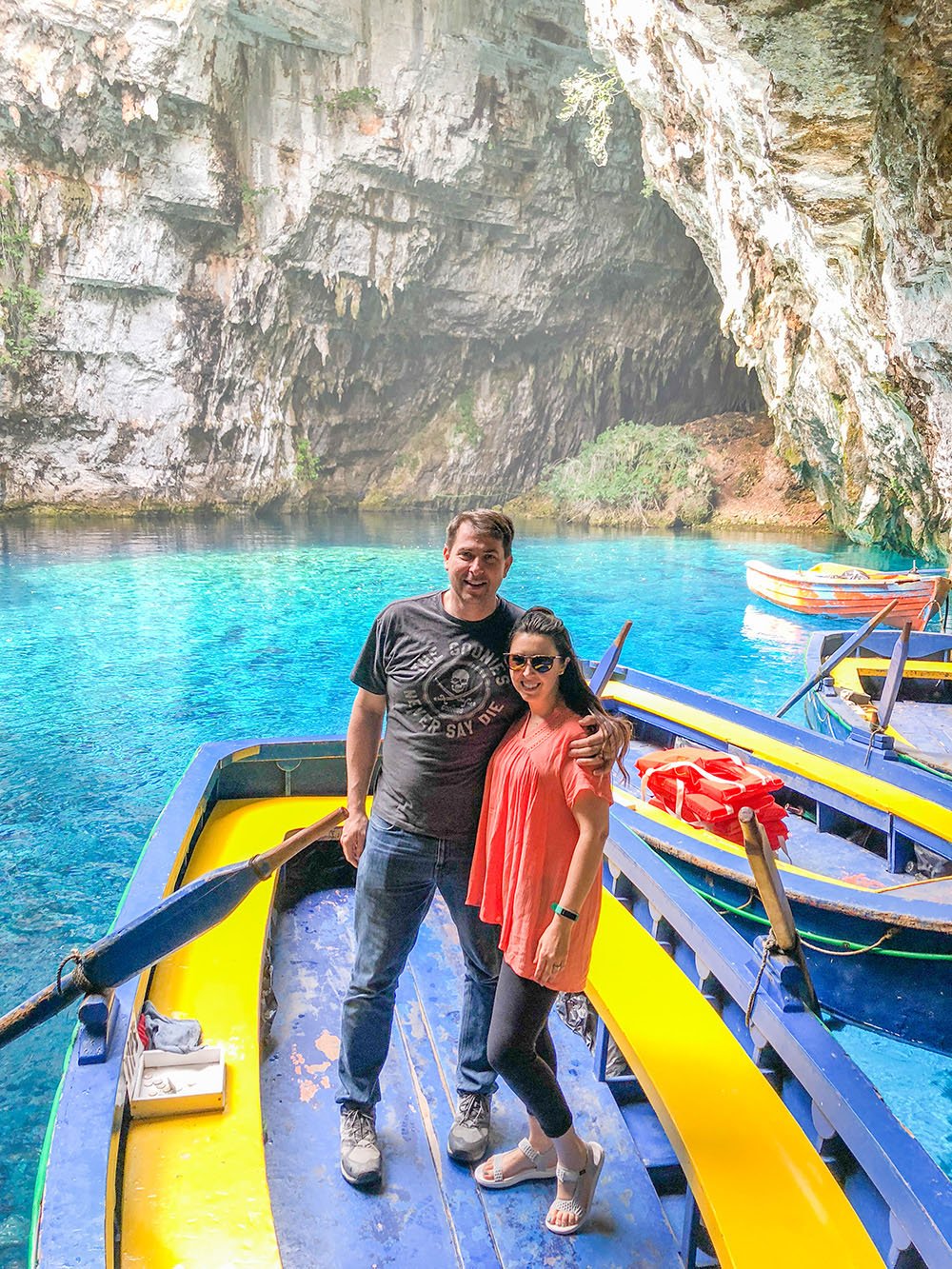 Best Time to Visit Italy and Greece
The best time to visit both Greece and Italy is in the shoulder season from April – June and September – October. Italy's and Greece's warm climate ensures you will still be able to enjoy all the outdoor activities that you can do in summer while avoiding the intense, often dangerous heat of midsummer as well as the crowds and high prices.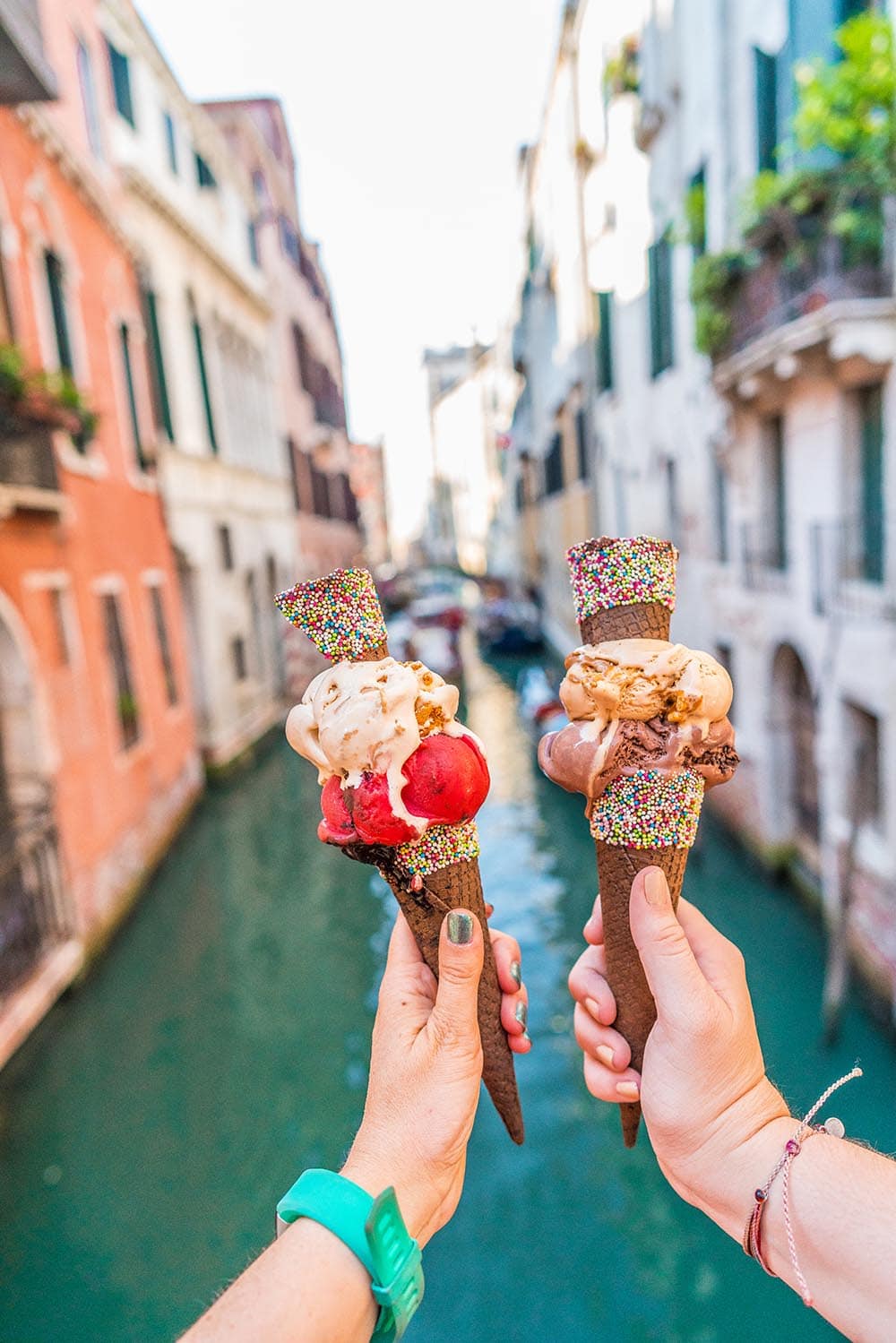 Getting Between Italy and Greece
Unless you enjoy long bus rides or hauling your luggage between train connections, the best way to travel from Italy to Greece is either by flying or taking the ferry.
A local specialist in traveling throughout this region will probably tell you that flying is way faster and cheaper. But you might be in the mood (and have the time) for an epic sailing adventure! Either way, you have lots of options.
Fly between Greece and Italy
Thanks to Europe's several budget/low-cost airlines, you could get round-trip flights booked from Italy to Greece for less than $40! In peak season, you can still find tickets for less than $100 if you book ahead.
Check out airlines like Jet2, Easyjet, and Ryanair for the best deals. Aegean Airlines, ITA, and Volotea also fly between Italy and Greece so it's worth checking those too.
Ferry from Greece and Italy
The ferry schedule between Venice (where the Italy portion of this itinerary ends) and Athens (where the Greece section begins) is fairly limited. There are only four sailings a week and single tickets start from $250+ per person.
Oh, the journey time for this ferry ride is approximately 33 hours.
So no, you're probably not going to sail from Italy to Greece or from Greece to Italy, but it's an option if you have a big pile of books you want to read sitting on your nightstand. You also don't need to rent a car to follow this itinerary so there's no reason why you would have to take a ferry.
What's the Best Way to Visit Greece and Italy in One Trip?
There are several ways to explore the best of both countries and each of them is great for different reasons. You should choose the option that best fits your needs. Take into consideration budget, mobility, time, and style of travel. For example, if you get very sea sick and don't like being able to be on your own schedule, then a cruise might not be the best option for you.
If you don't like to be around a lot of people, a tour might not be a good idea fit either. But if you're traveling solo and you don't feel comfortable planning and running your own trip, a do-it-yourself option may not be a good choice for you. I'll lay out the pros and cons of each option below.
Cost Analysis of Italy and Greece Trip Options
| | |
| --- | --- |
| Trip Type | Cost for 1 Person |
| Italy and Greece Tour | $5,600-$10,000 |
| Italy and Greece Cruise | $3,200-$12,000 |
| DIY Italy and Greece Trip | $3,000-$8,000 |
Greece and Italy Tours
Embarking on a three-week adventure to two countries that you might not have visited before can be daunting, even a guaranteed amazing trip like this one.
If you're nervous or traveling solo, booking a multi-day Italy or Greece tour has a lot of benefits. You'll get a tour director who is a local specialist in traveling this region with a lot of insider tips. Often, tours include some meals like a welcome and farewell dinner, plus you'll get to make friends with your like-minded, fellow group members.
This two week Italy and Greece tour is a great option for anyone looking to travel in a group and not have to worry about any logistics. It's also a fantastic price for a trip this length and has great reviews. It's run by Trafalgar which is a very reputable tour company.
Pros of taking an Italy and Greece Tour
Most things are taken care of for you
Ability to pay over time
Great option for solo travelers who want to make friends
Good for those who don't drive
Cons of taking an Italy and Greece Tour
It's very people-y
You're not on your own schedule
Not a lot of flexibility
Can be pricey
Italy and Greece Cruises
Another great way to explore these two beautiful countries is to take a cruise of the Aegean and Adriatic seas, allowing you to visit port cities in Greece and Italy. There are several great cruise options. If you're on a budget, this 16-day cruise is only $3,200 USD and hits so many incredible places in both countries.
Pros of taking an Italy and Greece Cruise
Accommodations and most food is taken care of for you
Ability to pay over time
Chances to make friends for solo travelers
You get to see a lot of ocean
Cons of taking an Italy and Greece Cruise
It's very people-y
Not great if you get seasick
Can be expensive
You don't get to see a lot of the interior of each country
You're only in each location for a short time
Do it Yourself Italy and Greece Itinerary
If you don't think a tour or cruise will be a good option for you, then a DIY Italy and Greece Itinerary is probably going to be the best fit.
This is a detailed, day-by-day itinerary for exploring Italy and Greece over three weeks. If you're based in the US, there tend to be more direct flights to Italy than Greece and they're often more affordable.
However, you might personally find it more convenient and cheaper to fly to Greece. Feel free to book round-trip flights to one city in Italy or Greece or fly into one country and out of the other. It all depends on what works for your schedule, vacation time, and the deals you can find.
If you want a more detailed itinerary, I highly recommend downloading our Italy Greece Combo guides. They cover 20 days (10 in each country) and walk you through each day, giving you recommendations, schedules, tours, restaurants, and more. We've helped thousands of people travel to Italy and Greece with these guides.
Italy
Visiting all of the iconic cities and resort towns in Italy would take months if not years! This 10-day Italy itinerary is the perfect balance between bustling cities and picturesque countryside.
You'll visit the capital city of ancient Rome, the floating city of Venice, and Florence as well as the regions of the Amalfi Coast, Cinque Terre, and the northern lakes.
Day 1: Arrive in Rome
If you're flying from the continental US, Rome is around nine hours ahead to six hours ahead. Excluding early morning departures, this itinerary works for anyone arriving in Rome on a red-eye flight or the day before.
Without delay, welcome to the Eternal City! Rome is Italy's bustling ancient capital and the best place to begin a first-time Italian adventure.
After breakfast, spend your first morning on a Vespa or walking tour to see the highlights and orientate yourself in this sprawling city. Here are some of the top sights you can expect to see on a guided tour of modern and ancient Rome:
Trevi Fountain
The Pantheon
Spanish Steps
Monument to Victor Emmanuel II
Roman Forum
Colosseum
Castel Sant'Angelo
Piazza Navona
Piazza del Popolo
Campo De Fiori Market
Ask your tour director for advice on where to eat a typical Italian meal during your time in Rome. They are a local specialist, after all! Try street food like the Roman suppli (a fried rice ball similar to Sicilian arancini) or porchetta panini as well as delicious dishes in restaurants.
You should leave room in your schedule to visit the Colosseum, not just see the outside. Book a guided tour to avoid long lines and to learn about the history.
On your first free evening, head across the River Tiber to the cool Trastevere neighborhood.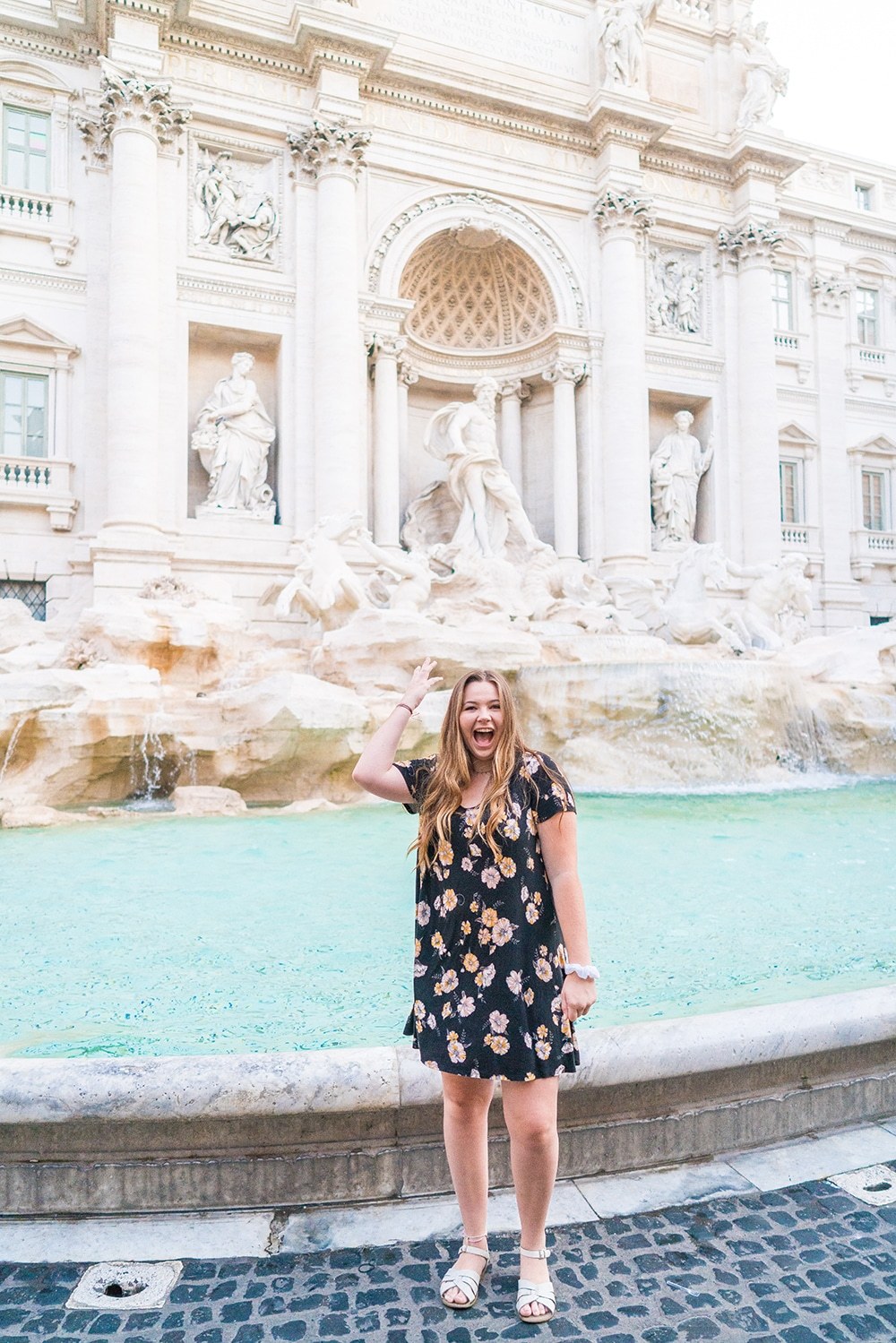 Day 2: Rome
It's only possible to snap photos of the Trevi Fountain without the crowds if you visit very early in the morning. If you'd rather sleep in, after breakfast, spend your morning in Vatican City.
Don't miss St. Peter's Basilica, the largest church in the world, and the Vatican Museums, home of the Sistine Chapel. Book a tour of the Vatican Museums so you don't have to wait in a long line.
After visiting Vatican City, book a cooking class so you can learn how to make more authentic meals in contrast to the Italian dishes you're probably used to making at home! And it goes without saying, but you should be eating as much homemade gelato in Rome as you can too.
Walk off all those delicious plates of Roman pasta and desserts in Villa Borghese before spending the evening in the Jewish Quarter.
Day 3: Amalfi Coast
It's time to leave Rome and head south to the Amalfi Coast. This UNESCO-listed region offers charming hillside villages, calm waters, and beautiful white sands.
It takes around three and a half hours to travel there via Naples on the train, so set off early.
Here are some fun things to do during your free day on the Amalfi Coast:
Positano Beach
Villa Cimbrone
Sunset at Ravello
Fiordo di Furore
Emerald Grotto
Explore Sorrento
Day Trip to Pompeii
Spend the night on the Amalfi Coast.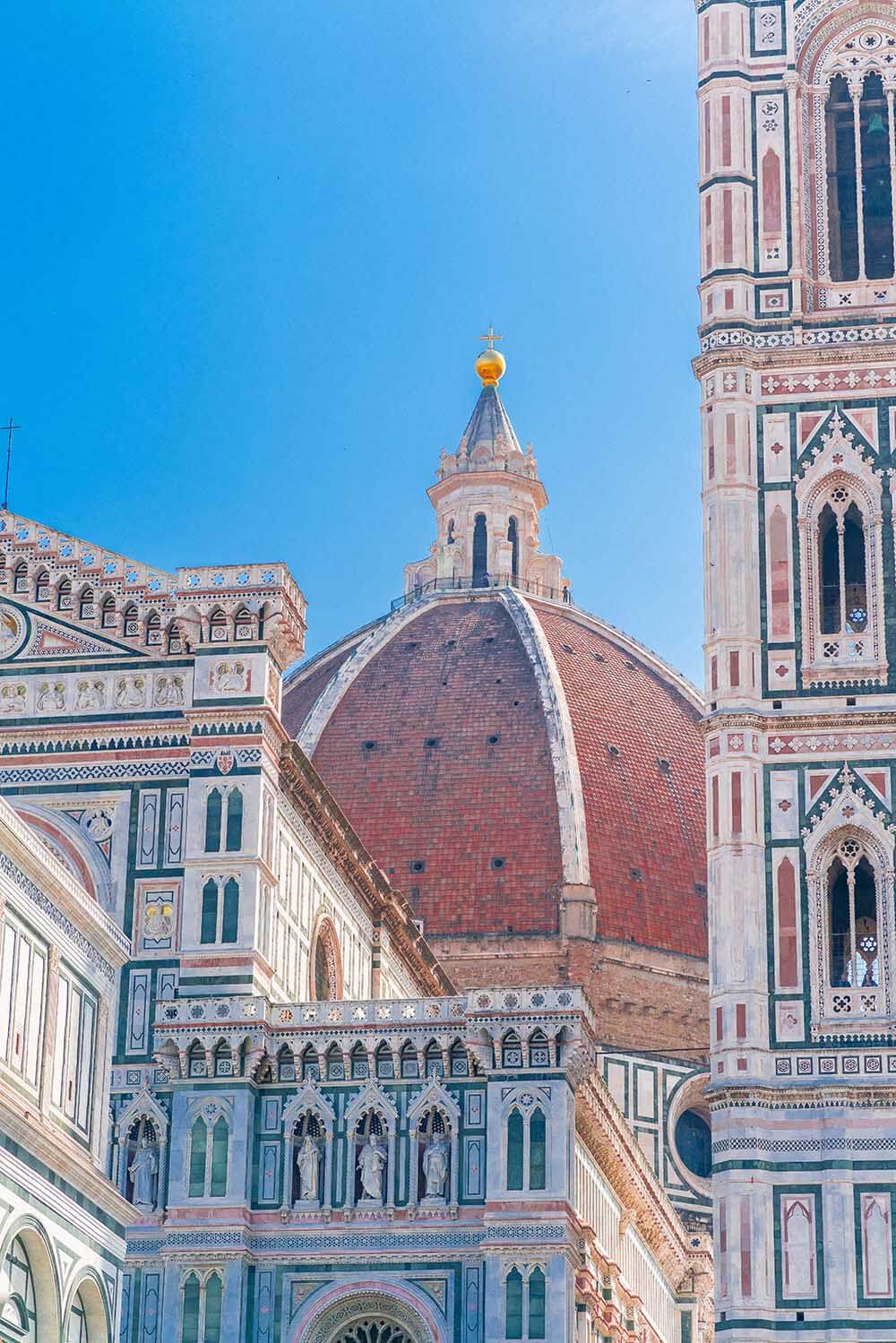 Day 4: Florence
Now, it's time to visit the City of the Renaissance! Florence is the capital of Tuscany and a must for history lovers and culture vultures.
Take the train to Florence from the Amalfi Coast via Naples in the morning and arrive by early afternoon. Here are some of the best things you can do on your free afternoon in Naples:
Climb the Dome of Florence's Duomo
Baptistry of St. John at the Duomo
Walk Across Ponte Vecchio
Michelangelo's David at the Accademia Gallery
Uffizi Gallery
Piazzale Michelangelo for views
Basilica of Santa Croce
Boboli Gardens
Gelateria Santa Trinita
Piazza della Signoria
Spend the night in Florence.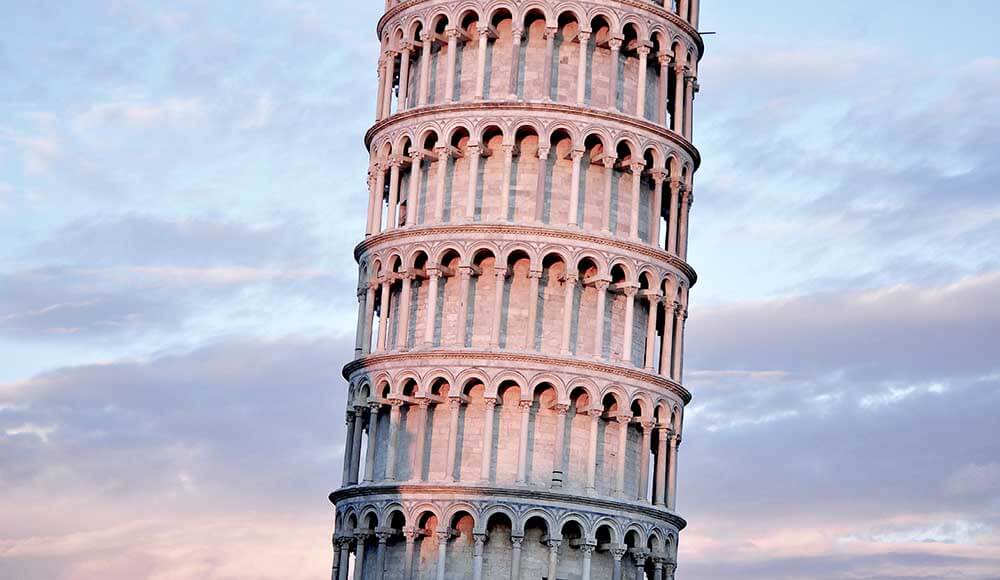 Day 5: Florence and Pisa
On your final morning in Florence, you may want to check out some of the top attractions you didn't get around to visiting the day before.
Accademia Gallery, for example, usually opens at 8:15 am. This is a great time to see the Statue of David as it's usually packed out!
The train from Florence to Pisa takes less than an hour and it's en route to the colorful, coastal Cinque Terre villages so it's the perfect stopover. Spend a few hours here taking Instagrammable photos of the famous Leaning Tower of Pisa and the Cathedral before hopping back on the train to head north.
Ideal towns to stay in on Cinque Terre for this itinerary are Monterosso al Mare or the nearby city of Levanto.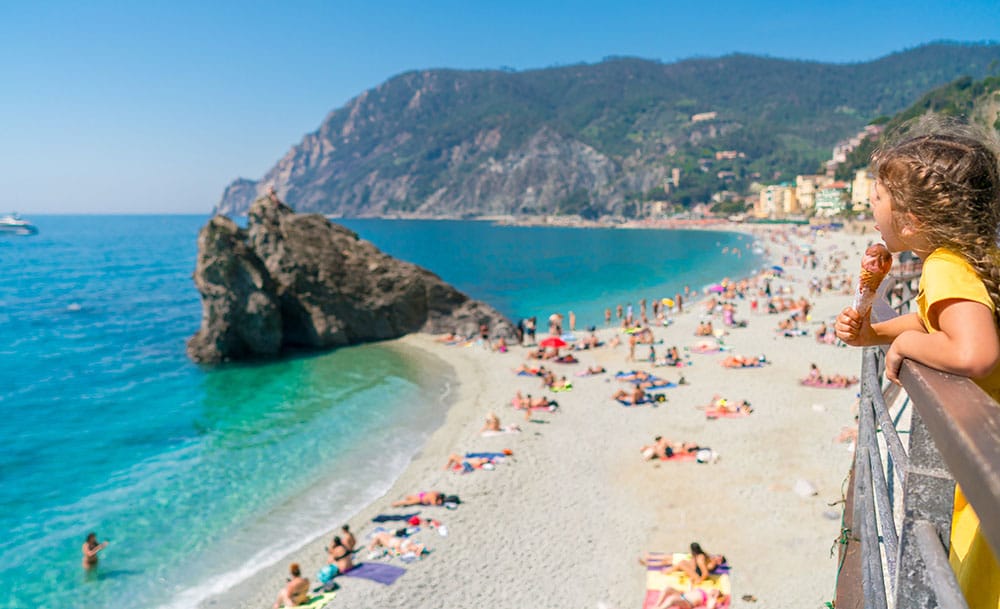 Day 6: Cinque Terre
Start off your full day in Cinque Terre in the picturesque village of Monterosso al Mare. This is the northernmost town of the five lands that make up Cinque Terre. The other four, from north to south, are Vernazza, Corniglia, Manarola, and Riomaggiore.
There are three ways you can explore Cinque Terre:
By train – Purchase a Cinque Terre rail pass at any station to visit all five villages
By ferry – Head to the dock for a day pass but note they don't stop at Corniglia
By foot – The Blue Trail connects all five villages but parts are often closed for maintenance
Exploring by train is the quickest and most efficient way to see all five villages. Enjoy the epic viewpoints, gelato, seafood, and watching the sunset from any of the Cinque Terre towns.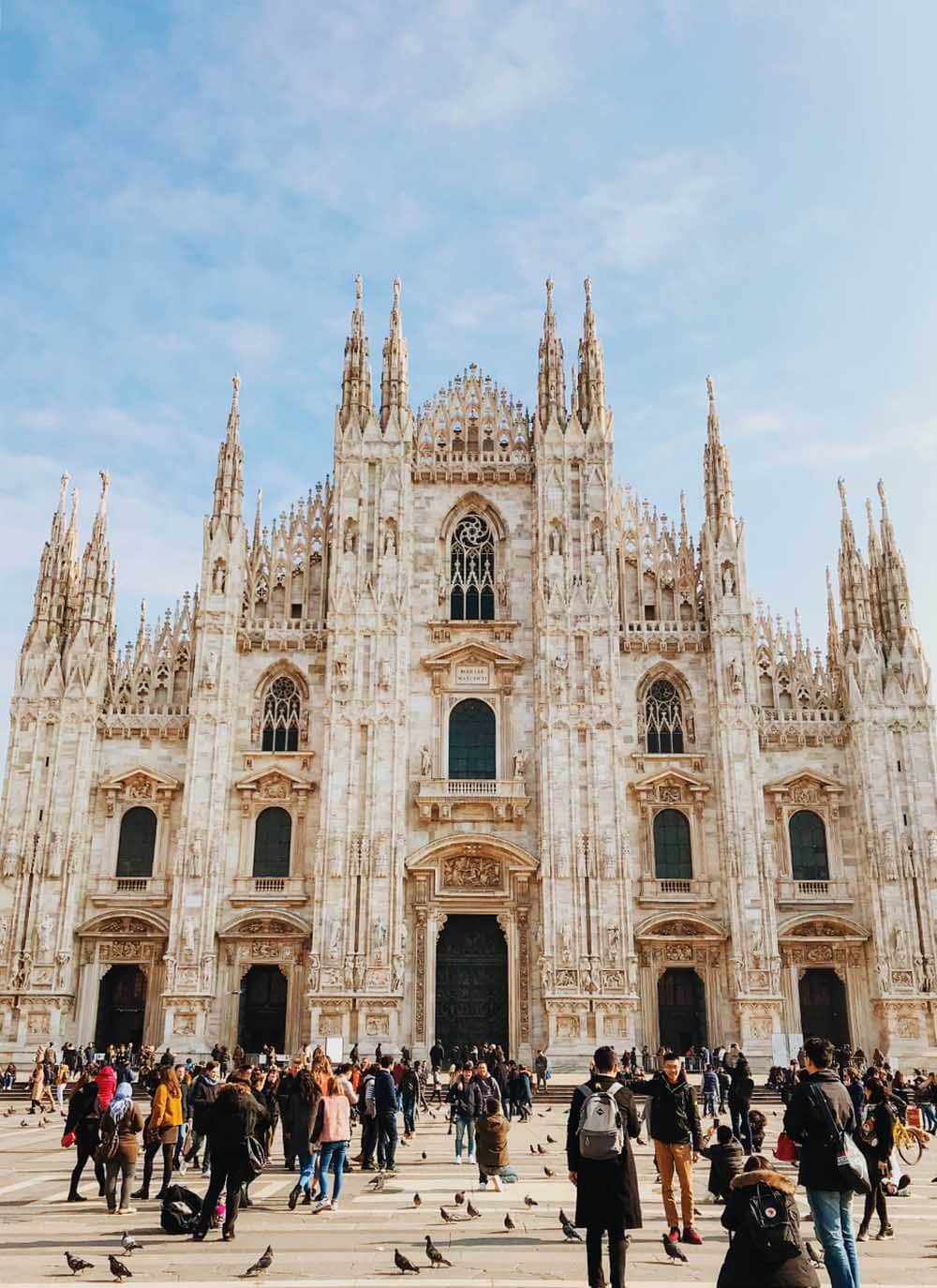 Day 7: Milan and Lake Como
Wake up bright and early to take the train from Cinque Terre. Plan to arrive in Milan early afternoon for a short stopover.
Here are some things you can see in Milan during your afternoon there:
Milan's Duomo Rooftop
The Last Supper Painting by Da Vinci
Galleria Vittorio Emanuele II
Head to the town of Bellagio on the banks of Lake Como where you'll spend the night. You can take a train to Como and then a bus, but you might prefer to hire a driver for convenience.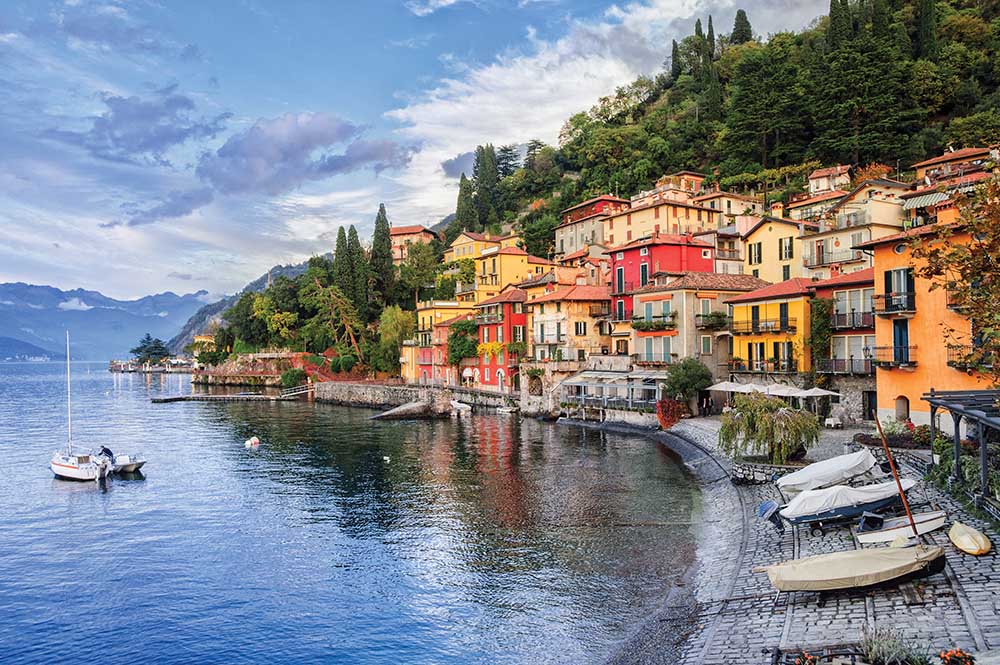 Day 8: Lake Como
There's only one way to spend your free day in Lake Como: sailing on the lake and exploring charming lakeside villages!
You have three sailing options:
Catch a round-trip ferry
Book a private boat tour
Rent a boat
Spend the day stopping off at as many beautiful villages as you can and seeing incredible villas. Here is some inspiration:
Town of Varenna
Town of Menaggio
Villa Balbianello in Lenno
Villa Melzi in Bellagio
Villa Carlotta in Tremezzo
Spend a second night in Bellagio.
Day 9: Venice
It's time to explore the romantic, floating city of Venice! Book a driver for your return trip to Milan and take the train to Venice.
The first thing you should do is take a gondola ride along the Grand Canal and down the waterways that run beside Venice's narrow streets. You'll be able to see lots of churches, city squares, and bridges from the viewpoint that Venice is meant to be seen.
Spend your free evening eating cicchetti (Venitian tapas) and if you're in the mood for after-dinner drinks, head to Harry's Bar where Hemingway once frequented.
Day 10: Venice
After breakfast, spend your last day in Italy seeing as many of Venice's top sights as you can. Be an early bird to avoid the cruise ship crowds! Here are some suggestions:
St. Mark's Square and Basilica
Doge's Palace
Rialto Bridge and Market
Peggy Guggenheim Collection
St Mark's Campanile
Bridge of Sighs
Libreria Acqua Alta
Islands of Murano, Burano, and Torcello
Depending on your travel plans, either fly out to Athens tonight or enjoy your last night in Venice.
Greece
After spending over a week on a sightseeing tour of Italy doing what the Romans do, it's time to explore the island nation of Greece. This 10-day itinerary offers heaped helpings of ancient history with a side dish of wonderful beaches and glistening turquoise waters on the Greek Islands.
You'll visit the ancient city of Athens on mainland Greece before venturing on an island-hopping Greece tour of Crete and two islands in the Cyclades, Santorini and Naxos.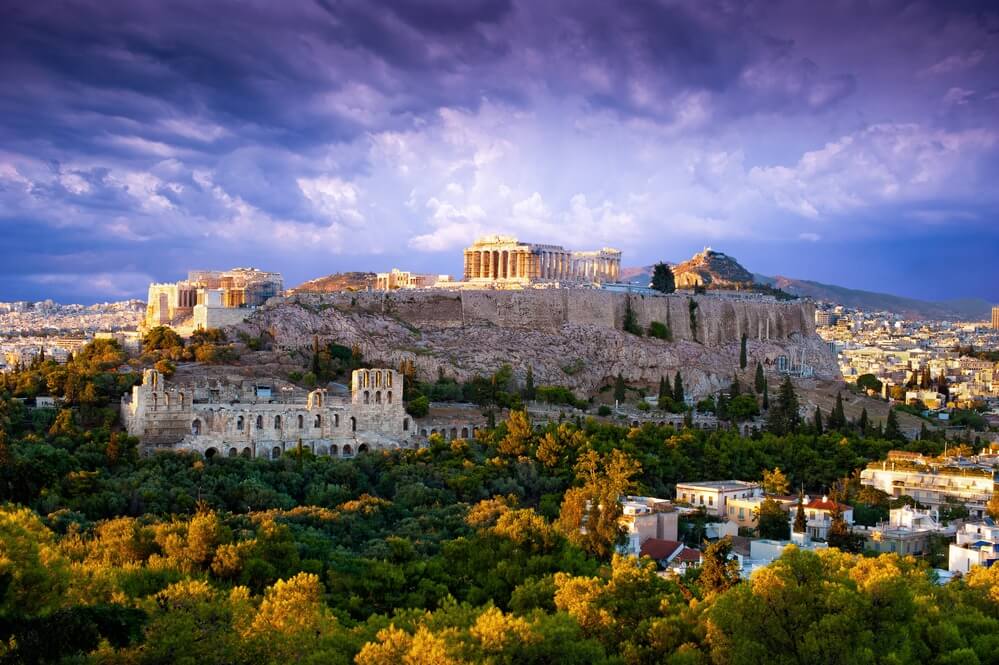 Day 11: Arrive in Athens
Welcome to Greece and its capital city, Athens! Note that Greece is one hour ahead of Italy.
Depending on what time to arrive, you may be able to start exploring Ancient Athens today. Look at the list of things to do on tomorrow's date as there are endless things to do here to fill your time.
Day 12: Athens
Continue exploring Athens and all of its spectacular ancient sites, some of which are thousands of years old. Here are all of the sites you can visit just within the Acropolis Hill area:
The Parthenon
Odeon of Herodes Atticus
Beulé Gate
Monument of Agrippa
Propylaia
Temple of Nike Athena
Porch of the Caryatids at the Erechtheion
Old Temple of Athena Polias
Olive Tree of the Pandroseion
Spend the rest of your day exploring the Acropolis Museum, which has an on-site restaurant, and the Ancient Agora of Athens.
Day 13: Chania, Crete
Take a flight out to Chania airport on Crete, the first of the three Greek Islands you'll visit on this trip, to start your island-hopping adventure.
Once you arrive in Crete, here are some things you can do in Chania or nearby:
Samariá Gorge
Elafonisi Beach
Adkadi Monastery
Balos Lagoon
Spend the evening wandering through the old port of Chania. Don't miss out on tasting local cheeses served with olives and herbs, typically freshly prepared.
Day 14: Chania, Crete
There are tons more places to explore on your full day in Chania. Start your day wandering around Old Chania Market, which is also known as the Agora. You can buy lots of local fresh produce or souvenirs here.
Next, take a day trip to Falassarna Beach which is only an hour's drive away.
When you get back, check out the Minoan Ruins of Chania and the Church of Agios Nikolaos before enjoying a relaxing evening.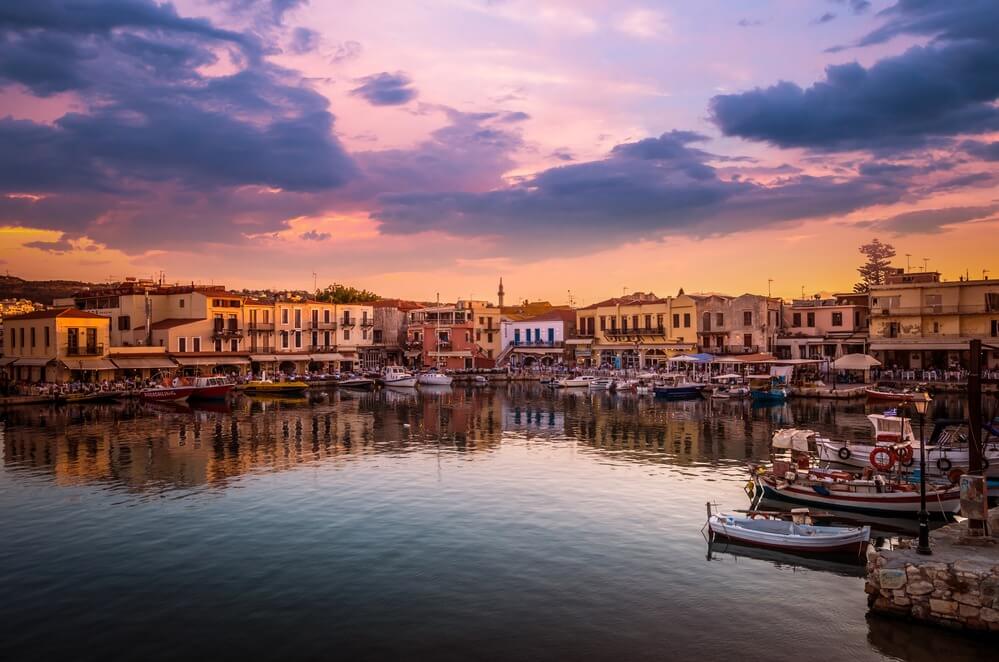 Day 15: Eastern Crete
Who's ready for a mini road trip?! Rent a car or book a driver and head to Eastern Crete making some stops along the way:
Stop 1 – Fortezza in Rethymno
Stop 2 – Rimondi Fountain
Stop 3 – Neratze Mosque
Stop 4 – Archaeological Museum of Rethymnon
Stop 5 – Porta Guora
Stay near the towns of Malia or Elounda.
Day 16: Spinalonga or Heraklion
You have a free day to do whatever you please! Hang out at your resort, book a day trip with a tour director who is a local specialist in Crete, or explore independently with a rental car. Here are some great choices of what to do with your day:
Option 1: Palace of Knossos and Heraklion Archaeological Museum
Option 2: Island of Spinalonga
You can either catch a ferry to Spinalonga or book a sightseeing tour extension online or through your hotel.
Day 17: Santorini
The white-washed island of Santorini is a must-visit on any first trip to Greece. Head to the ferry terminal and hop on a boat to Athinios Port.
Some of the best places to stay in Santorini are Oia, Imerovigli, and Fira.
Spend your first day relaxing on one of the wonderful beaches on this island before enjoying a sunset boat ride. You'll get the best view of the Oia windmills!
Day 18: Santorini
To make the most of your day in Santorini, book a sightseeing tour of the island's highlights. Here are some of the hotspots you should aim to see on a day tour:
Red Beach
Ancient Ruins of Akrotiri
Santorini Vineyards
Mount Profitis Ilias
Monastery of Profitis Ilias
Fira and Oia Hiking Path
If you drink wine, compare a Greek wine tasting with glasses you enjoyed in Italy. After a few sips, you'll not be able to say which you prefer.
Day 19: Naxos
Take the two to four-hour ferry from Santorini to your final island in Greece, Naxos. Because it's a long boat ride and you probably won't arrive until lunch, spend your afternoon relaxing on one of the best beaches in Naxos:
Agios Giorgios
Agios Prokopios
Agios Anna
Plaka Beach
Spend the night at your resort before your last full day of sightseeing tomorrow.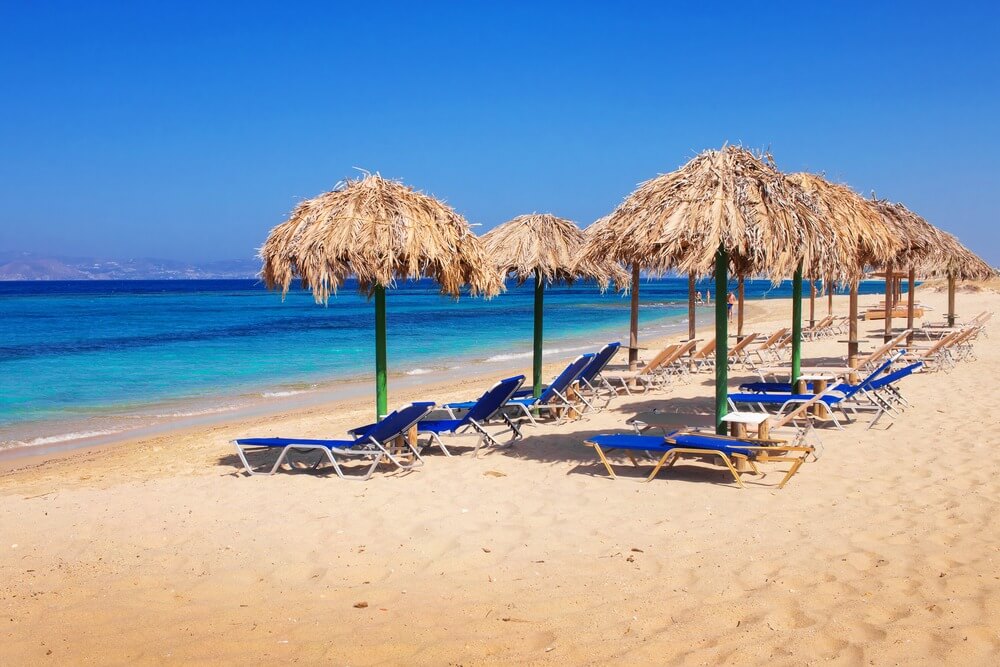 Day 20: Naxos
Rent a car, book a driver, or join a group tour to see the highlights of Naxos.
Here are some of the top attractions you shouldn't miss:
Eggares Olive Oil Museum
Kouroi of Melanes
Apeiranthos
Zas Mountain
Town of Chalki
Limpertas Manolis Pottery
Temple of Demeter
Spend your last evening enjoying dinner with a beach view or getting stuck into a Greek cooking class.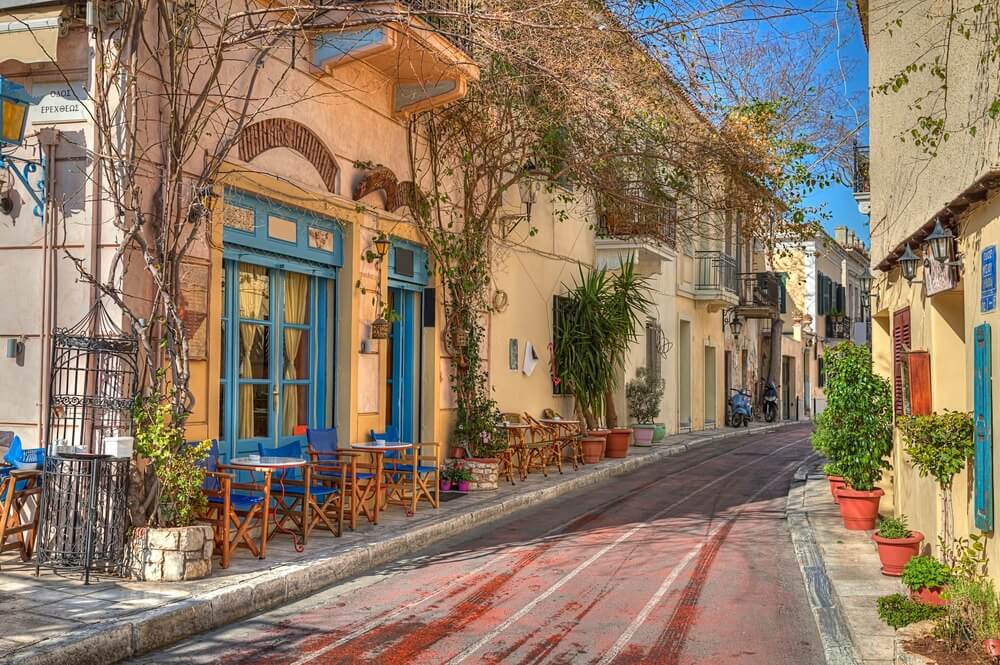 Day 21: Return to Athens
Take the ferry or fly from Naxos to Athens. Ferries take around three hours but the flight is only 45 minutes.
Or you can take a direct flight from Naxos to Rome if you booked a round-trip flight to Italy from your home airport.
Use this Guide to Plan an Epic Italy and Greece Trip
This Italy and Greece itinerary includes plenty of inspiration, logistical info, and advice so you can enjoy an incredible three-week vacation.
You do not have to choose between Greece or Italy and there is absolutely no doubt that you will have an unforgettable time on this amazing trip exploring both countries. I hope this helps you have the best trip ever!
And if you need help deciding what to do, the best tours, restaurants and more, be sure to download our Italy Greece Itinerary – an amazing 2 for 1 combo!
Not the Trip You Need?
Not exactly the trip you're looking for? Don't worry, I also offer custom trip planning by request for many destinations! Learn more here.