Sponsored by Zappos
What to do in Kefalonia, Greece
If you want to visit Greece, but are on a tight budget, fear not, it CAN be done! I'm almost hesitant to tell you about this major tip on how to visit Greece on a budget because this island might be the best-hidden gem in all of Greece if not all of Europe.

Why Go to Kefalonia, Greece?
So you're wondering why you should pick Kefalonia, Greece for your first foray into Greece. Besides being one of the most inspiring places in Greece, here's why:
Friendly Locals
Cheap to get to (we got our flights for under $25 here)
Easy to get to
Cheap to stay
Stunning Scenery
Incredible history, both ancient and modern
Beautiful beaches
Fabulous weather
Not very well known

Where is Kefalonia, Greece?
Kefalonia is the largest of the Ionian islands on the western coast of Greece, steeped in rich history dating back 40,000 BP. The island has been inhabited and ruled by Greeks, Romans, Venetians, French, British, and later occupied by Axis Powers during WWII.
Shortly after the war, in 1953, Kefalonia suffered a devastating earthquake that leveled the majority of the houses on the island and raised the entire island 24 inches. You can see evidence of this on the watermarks around the island's shoreline.
How do You Get to Kefalonia, Greece?
I've been dreaming of going to Greece since I was a little girl. Maybe it was "My Big Fat Greek Wedding" or "Sisterhood of the Traveling Pants" or "Mamamia," but I've always wanted to go! I hadn't made it happen yet because of the expense. Flights from the US to Greece can be really pricey, but flights from London to Greece can be cheap! And flights from London to Kefalonia are REALLY cheap!
We managed to fly from London to Kefalonia for $53 total for our entire family of 6! That's less than $10 each! Ryanair has super cheap deals all throughout Europe. And if you're flying out of the UK with kids 16 and under, they will pay no UK tax, which could save you tons of money!
If you want to know all my best tricks on finding dirt cheap flights, read "How to Fly for Cheap or Nearly Free." It's full of information that will guarantee you're flying somewhere cheap! It's honestly opened up the world to so many people and I'm so glad I could be a part of that!
When to Go to Kefalonia
I always recommend taking any trip during the shoulder season. In Kefalonia, the tourist season is from May-September. Many of the shops and restaurants close down for the remainder of the year, however, in April the weather is fabulous, the crowds are nonexistent and the prices are low. April, May, or September would be a great time to visit Kefalonia.
Most of the restaurants were still closed when we went, but we managed to find great places to eat in every town we went to.

What to Pack for Kefalonia
If you're going anytime between April and September, the weather will be warm. In April we had temperatures in the mid 70's and it felt fantastic. The water was still a bit chilly, but the kids didn't seem to mind.
Here are your packing essentials for Kefalonia:
Light, summer clothing, such as a sundress, shorts, T-shirts, and a light blouse.

A light jacket for evenings or overcast days

Good sandals for hiking and water play. I took my

Teva

Terra-Float 2 Knit Universal

Sandals from Zappos.

These are great for both water play and for hiking and they are so comfortable, it's almost like walking barefoot! They are breathable and quick drying, so you don't have to worry about sweaty feet in the heat. They are so light that they take up almost no weight in your bag.


What to do in Kefalonia, Greece
For such a small island, 300 miles square, Kefalonia has a vast offering of sites and activities. Whether you enjoy relaxing by the beach, culture, history, food, adventure or all of the above, there will be something for you on Kefalonia.
1. Mellisani Cave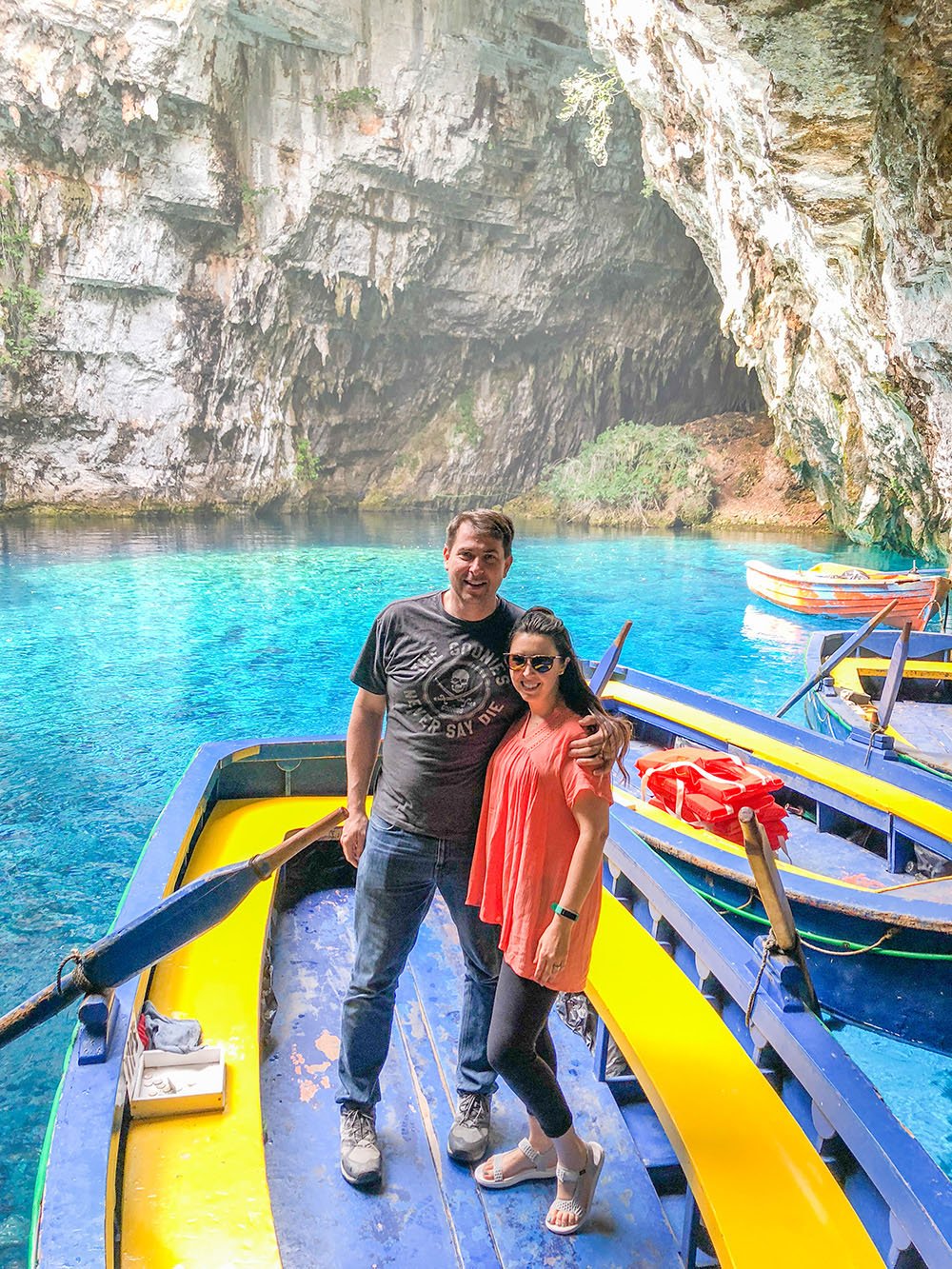 This ancient, underground lake can be entered through a tunnel after paying a $7 entrance fee to take a boat ride in the lake and around the tunnel. It's well worth the entry price! The cave is open between 11am-2pm, which may seem strange, but you'll understand once you get there. You'll want to be inside the cave while the sun is shining into it because the color of the water is magnificent!
2. Assos
This shockingly beautiful tiny town built on the narrowest part of a peninsula is the best spot to go on the island for a relaxing day in a crystal clear, calm bay, with food and drink right on the beach.
Take a hike up to Assos Castle up on the hill in the morning and spend the rest of the day in the water or snacking on greek yogurt and ice cream on the beach. Be sure to hike up the walkway opposite the castle to see incredible views.

Assos is full of old houses that have yet to be renovated and the site is actually quite beautiful. Take in the colors and old charm of the tiny city.
3. St George Castle
As you drive up to this historic castle in the south of Kefalonia, you might start to wonder if you're supposed to be up there. The roads are narrow and obviously built for a horse and cart hundreds of years ago and there is no parking lot, but drive all the way to the entrance gate and park right in front. The castle is in ruins now, but you wander through the ancient grounds and catch one of the best views in Kefalonia, Greece.
4. Fiskardo
This ancient fishing village is located in the north of Kefalonia, the only area of the island that wasn't completely devastated by the 1953 earthquake, so you can still see some of the old architecture. There is also an ancient roman cemetery right on the coast that dates back about three thousand years. The water in Fiskardo is crystal clear and inviting with a private little beach located around the corner from the fishing docks. If you're there early in the morning you can watch the fishermen bringing in their catch, and you can eat it later that afternoon at one of the many restaurants that line the shore.
My favorite was Irida's. It's a mother/daughter run establishment that has been there for years and serves some of the most delicious and authentic Greek food on the island. Irida will insist that you do as the Greeks do and eat with your hands. Everything we tried at Irida's was amazing. The Courgette pasta, Fried Red Mullet fish, Sea Bream and orange and fennel sea bass were incredible. The kids' menu was sophisticated and, thankfully lacked the typical mac and cheese that my kids like to order. Instead they got more adventurous and tried fried sardines (that was a big surprise for them), courgette pasta, sausage, and seafood risotto (I was wishing I had ordered that off the kids menu too). Irida sat with us and talked about her life in the village. We finished off our lunch with the most delicious Baklava I've ever tasted! Just go here, I promise you won't be disappointed!
5. Skala
This hip little beach town has a bit of a Mexican Riviera feel to me. Beach umbrellas in the sand and bars scattered along the coast. It's a classic "beach town" housing several resorts and restaurants along with half the world's cat population!
6. Lixouri
Kefalonia's peninsula of Lixouri is about an hour drive from the capital of Argostoli or a fun and and easy ferry ride across the inlet. The ferry leaves about every 45 minutes and costs a few Euros. It's worth the ride though as you'll be greeted by some of the most stunning beaches on the island. Our favorite was Xi Beach. The majority of beaches in Kefalonia are rocky, especially in the north, but Xi beach, and many of the southern beaches are sandy. We loved Xi beach because it had an awesome little cave that entertained the kids for hours as they played pirates and mermaids!. The southern coast of Lixouri is scattered with caves, which makes it a perfect place to take a long walk on the beach.
7. Myrtos Beach
This is probably the most famous beach in all of Kefalonia. From the road you can look down onto a bright, turquoise crescent of a perfect sandy beach. There is quite the drive down to the beach from the main road, but you'll be rewarded with beautiful water and smooth sand. We were advised by a local not to take the kids here because of the strong undertow. We have two kids who aren't great swimmers, so we took his advice and just saw it from above, but it was truly beautiful.
Some Helpful Tips for Visiting Kefalonia, Greece
Rent a Car: If you want to see all the best spots on the island, rent a car! There is one bus that offers very limited service from suburban areas into Argostoli once a day. You need a car. Be sure to use a local rental company. They were a third of the price as the big brands like Hertz, etc. We used Just Rent It Kefalonia and I have only amazing things to say about them. Spyros, the owner brought the car to us personally at 10:00 pm, gave us a map and told us what to do in Kefalonia. He even let me come to his office and print my boarding passes! The best part is that the car is fully insured, no extras needed.
Tips for Driving in Kefalonia
The roads in Kefalonia are very narrow and very steep! The whole island is like a big mountain range so you'll be doing a lot of switchbacks. Be careful and obey the speed limit.Goats and sheep rule the road in Kefalonia, so watch for them and be patient as they cross the road.Gas is NOT self-serve on Kefalonia. Pull up to the pump and wait for an attendant.Many of the roads are gravel. Ask for a map from Just Rent It and they will be marked. Try to stay on the paved roads.
Learn Some Greek
Thank you: Efcharisto (ef-car-ee-stow)
Toilet: Toualeta (twa-let-a)
Pardon/Excuse Me: Sygnomi (seeg-no-mee)
You're welcome: Parakalou (para-ka-low)
Please: Sas Parakaloume (sauce para-ka-low-may)
Good Morning: Kalimera (kah-lee-mare-ah)
Good Evening: Kalispera (kah-lee-spare-ah)
Food in Kefalonia

There are plenty of good restaurants in Kefalonia. Some of our favorite foods were fresh fish in Fiskardo and fresh squeezed orange juice which can be found in many cafes.

The Greek eat with their hands so don't be shy.

For groceries, head to the AB Store. These are the biggest grocers and are found in most areas of the island. You'll have the best luck and selection at one near Argostoli.
Whatever you choose to do in Kefalonia, you'll be glad you went. It's a beautiful island and warm both in temperature and friendliness. It will hold a special place in my heart forever.
If you go to Kefalonia and catch the Greek island bug, be sure to visit some of Greece's other stunning islands like Mykonos or Santorini. This is a great post about the best Greek islands to visit. And of course, Greek island hopping is always a good idea!