The Netherlands might be a small country, but there is an abundance of awesome activities packed in. While climbing mountains might be off the table (it's famously flat!), the historical sites, tulip fields, theme parks, windmills, canals, national parks, and vibrant cities more than redeem its shortcomings. It may be known for it's Amsterdam canals, but there is so much more to this beautiful and culturally rich country.
I loved my time in the Netherlands and fell in love with this country. I don't even mind the pickled herring! Everything else makes up for it!
Many don't visit the Netherlands beyond the capital city of Amsterdam and never know that most of the best things to do in the Netherlands are actually elsewhere. You can actually see a lot of these places as day trips from Amsterdam if that's all you have time for. We did a lot of day trips, and you can see my itinerary here.
Yes, Amsterdam boasts world-class art galleries like the Van Gogh Museum and quirky attractions like the Houseboat Museum. But places like Hoge Veluwe National Park and Zaanse Schans are worth exploring when visiting the Netherlands too.
If you're ready to delve into this country's rich history or have fun experiences, this list covers exactly what to do in the Netherlands. Whether you're visiting in summer or winter, with family or friends, and whatever your travel style, here are tons of ideas to fill your trip itinerary in this lush, diverse European nation.
1. Stroll Around Amsterdam's Canals
Without a doubt, one of the best places to visit on your first trip is to visit Amsterdam, Netherlands. It's the capital city and a great base for exploring all the other great things to do in the Netherlands too.
Amsterdam is at the center of Netherlands history with dozens if not hundreds of world-class museums (some will appear on this list!). However, Amsterdam's canals are iconic.
You cannot visit the city without strolling around the Nine Streets and Jordaan neighborhoods. These places are where Amsterdam's canals are at their most picturesque.
Amsterdam's canals were constructed during the city's heyday in the 17th century. They're a UNESCO World Heritage Site, no less, and with 1,753 bridges stretching over roughly 100 km of water.
Flowerboxes, bicycles, cobblestones, and tall townhouses with stepped gable roofs all add to the allure! You'll have 1,001 photos of Amsterdam, Netherlands on your camera roll thanks to these beautiful canals.
Take a boat tour along Amsterdam's canals to learn more about the function of these important waterways.
2. Walk in Fields of Tulips at Keukenhof
So, what is in the Netherlands countryside? Also referred to as the 'Garden of Europe', Keukenhof Gardens is one of the country's top attractions and one of the best things to do in the Netherlands during the spring.
This beautiful park dates back to the 19th century. Every year between late March and early May, it blooms with some of the brightest, rainbow-colored tulips you've ever seen.
The Netherlands is a big exporter of tulips. There are several tulip fields across the nation but Keukenhof is by far the most popular tourist destination.
Luckily, it's a huge space with woodland, ponds, and more than enough room to accommodate everyone, so it's definitely worth visiting.
3. Visit the Home of the Dutch Royal Family
In terms of cities, what is in Holland besides the capital? Well, the Netherlands has a unique setup because its monarchy doesn't live in Amsterdam as you'd expect.
The Dutch Royal Family mostly resides in Huis ten Bosch Palace in The Hague. Unfortunately, it's never open to the public but there are lots of other Netherlands attractions making this Dutch city one of the best places to visit if you are a history buff.
The Hague is home to the U.N.'s International Criminal Court and The Binnenhof. This is a complex which houses the Dutch Government and Noordeinde Palace where King Willem-Alexander works.
4. Learn About Dutch History at Zaanse Schans
Zaanse Schans is a traditional Dutch village built to recreate how a quintessential 18th/19th-century village would have looked. It's one of the best things to do in the Netherlands to learn more about Dutch history via an interactive tour and in a hands-on way.
It doesn't hurt that Zaanse Schans is a stunning, waterside traditional Dutch village too! Authentic green wooden houses and spectacular windmills dot the skyline of Zaanse Schans.
Take a peek inside and you'll find workshops and museums. Guides dressed in period clothing can teach you and your kids all about making wooden clogs, the purpose of the windmills in Zaanse Schans, and more.
5. See Paintings by the Dutch Masters in Rijksmuseum
Museum Square in Amsterdam, Netherlands is where you'll find no less than three of the country's top attractions and art galleries. Undeniably the most prestigious is the Rijksmuseum.
It boasts a vast collection of no less than 8,000 words by European artists and Dutch painters from Amsterdam's Golden Age. Of the vast collection, the most important painting housed in this Dutch National Museum is The Night Watch by Rembrandt. FYI, it's under restoration right now.
It's one of the best places to visit if you're an art lover but this beautiful 19th-century building is one of the best things to do in the Netherlands period. You won't be able to see everything in this museum during your trip to Amsterdam, Netherlands but you can try!
6. Spot Wildlife at Hoge Veluwe National Park
Despite being such a small country, the Netherlands has 20 national parks. If you only have time to check out one, Hoge Veluwe National Park is well worth visiting.
Hoge Veluwe National Park became a national park in 1935 and encompasses a variety of terrain including heaths, sand dunes, and forest. This diverse landscape offers a range of fun activities.
It's a habitat and nature reserve for several animals including red deer, wild boar, foxes, pine martens, badgers, and much more. If you love bird watching, over 172 species are documented as living in Hoge Veluwe National Park!
Aside from wildlife spotting and bird watching, there is a sculpture park, some museums, lots of cycle paths, and walking trails in this nature reserve.
If you want to check out other parks in the Netherlands besides Hoge Veluwe National Park, Maasduinen National Park, and Schiermonnikoog National Park are great options.
7. Explore the Fairytale De Haar Castle
Most of the 1,200 castles in the Netherlands date way back to the Middle Ages, but that doesn't mean the (slightly more) modern world doesn't know how to build a beautiful castle! De Haar Castle is one of the best places to visit in the country.
Still over 100 years old, De Haar Castle has been perfectly preserved and it looks like the kind of place King Arthur would live. This turreted, flag-flying castle is situated in a moat surrounded by water with a singular bridge as an entrance which just adds to the allure of De Haar.
While you can explore the formal gardens and lavish interiors of De Haar Castle almost year-round, the best time to visit is summer. De Haar is surrounded by blooming countryside which makes it look even more picturesque.
8. Feel Inspired at the Anne Frank House
One of the top places to visit in Amsterdam, Netherlands is the Anne Frank House.
During the German occupation of the Netherlands, a young Jewish girl named Anne Frank hid in a secret annex with her family. She wrote journals during the almost two years she lived in the secret annex, which the remaining Anne Frank family members published after the war and her death.
The Anne Frank House is now a part-museum, part-preserved living space. Many of the journals that Anne Frank wrote are on display in the Anne Frank House Museum. There are also other relevant objects, like the armbands that Jewish people like those in the Anne Frank family, had to wear during the holocaust.
Learning more about the story of Anne Frank is incredibly moving. Just remember to buy tickets online to the Anne Frank Museum weeks, if not months, before your trip as they will sell out.
9. Party and Wear Orange on King's Day
One of the best things to do in the Netherlands is to visit on King's Day! Koningsdag, as it's known in Dutch, is a national holiday recognizing the monarch's birthday.
Since the current monarch, King Willem-Alexander, was born on April 27th, that's when it is celebrated.
There are street parties with lots of music, dancing, and fairs. Oh, and everyone wears orange which is the Netherlands' national color.
10. Wander Around the Cube Houses in Rotterdam
When you imagine the buildings in a Dutch city, you probably think of historic, four-story canal houses. But one of the top things to see in the Netherlands is a brilliant example of architecture in the modern world.
Famous Dutch architect Piet Blom (along with German architect Simon Ungers) designed the Cube Houses in the Netherlands' second city of Rotterdam in 1977. These yellow-painted wood and brick buildings were built to be a residential estate just outside of the city center.
Today, the houses are open as a museum to the famous Dutch architect with photos and plans detailing the whole project. Blom intended the houses to look like trees in a forest if you can believe that!
11. See the UNESCO Windmills at Kinderdijk
Zaanse Schans isn't the only place in the Netherlands to see spectacular windmills and Dutch wooden houses. Kinderdijk is one of the top must-see Netherlands tourist attractions and it's even a UNESCO World Heritage Site.
This beautiful park is the perfect place to learn about how the country has avoided flooding for centuries and even reclaimed land from the North Sea. At Kinderdijk, you can see how the Netherlands' water management system works as well as pumping stations, reservoirs, and dikes.
Visit the site by boat tour or cycle around the area as there are plenty of bike paths.
12. Check Out the Madurodam Miniature Model Park
Wondering what to do in Holland with your kids? One of the fun things to do in the Netherlands with children is to visit the Madurodam Miniature Model Park near The Hague.
This family-friendly attraction is an unbelievably impressive model of real Dutch buildings, cities, and interactive waterworks. You'll instantly recognize landmarks like the Castle of De Haar and St. Martin's Cathedral in Utrecht. There are displays of Dutch daily life in centuries gone by as well as in the modern world too.
There's no explaining the level of detail that has gone into these models and you will not be disappointed.
13. Visit Famous Artworks at the Vincent Van Gogh Museum
Aside from the Rijksmuseum, another phenomenal gallery in Amsterdam, Netherlands is the Vincent Van Gogh Museum. It boasts the largest collection of works by Dutch artist Vincent Van Gogh in the world with over 200 paintings, 400 drawings, and 700 letters.
Vincent Van Gogh was born in 1853 in Zundert, a small town in the Netherlands on the Belgian border. He painted throughout his life and although his talent was not recognized during his lifetime, today Vincent Van Gogh is considered one of the greatest artists of all time.
The Van Gogh Museum not only has the largest collection of his works but it also has some of his most prolific works. Almond Blossom, Sunflowers, The Potato Eaters, and Self Portrait with Grey Felt Hat are on display at the Van Gogh Museum. Having the largest collection allows the Van Gogh Museum to display his works chronologically, following the artist's life and progression.
You'll find the Van Gogh Museum along with several other art museums in Amsterdam's Museum Square.
14. Ride Rollercoasters at Efteling Amusement Park
The Netherlands has tons of cultural and historical sites, but it also has theme parks and funfairs too! One of the best places to visit is the magical world of Efteling, a super family-friendly attraction and the biggest amusement park in the country.
Efteling has a fairytale theme, transporting everyone who visits into the magical world of Hansel and Gretl, sea creatures, dragons, and talking trees. Since it's the Netherlands' biggest amusement park, there are plenty of rollercoasters and performances for kids of all ages.
Eftel is much more than an amusement park with eateries and a huge pond where you can hire paddleboats.
15. Visit the Netherlands Open Air Museum
If you're a history buff who wants to find what to see in the Netherlands that will satiate your appetite for learning about the past, one of the best places to visit is the Netherlands Open Air Museum.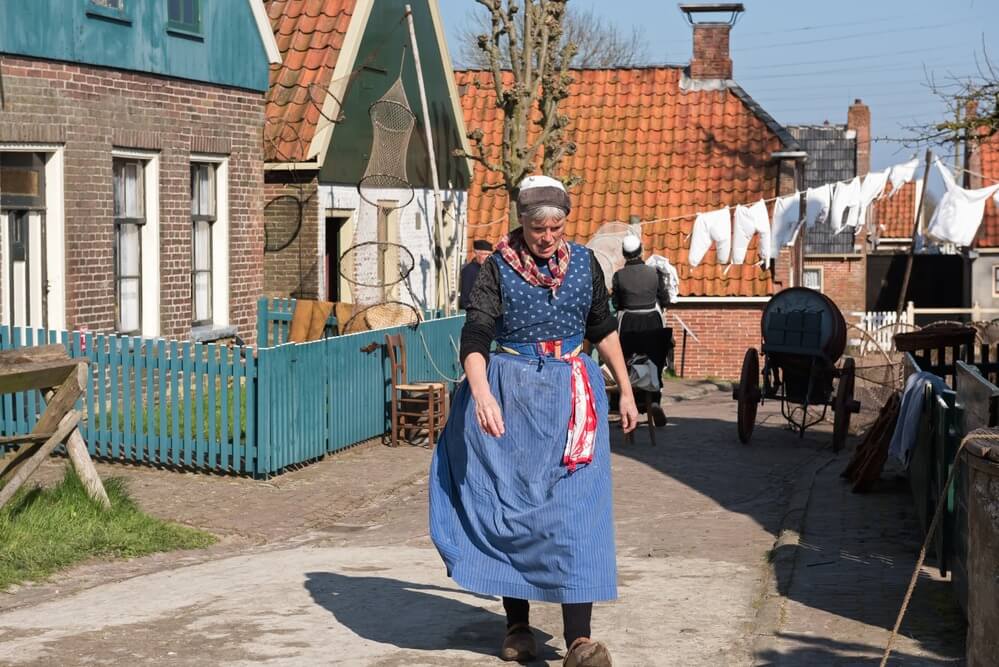 This expansive heritage park features countless houses, windmills, and vehicles from different eras so you can learn what life was like in the Netherlands in various centuries. You're able to explore absolutely everything at the Open Air Museum so you could easily spend an entire day there.
While there is no official Dutch National Museum, the Open Air Museum comes close!
16. Discover Cathedral Square in Utrecht
Utrecht is a beautiful college town with picturesque canals just like Amsterdam. You'll find the modest UNESCO-certified Rietveld Schröder House in Utrecht as well as medieval market squares filled with cute cafes and trees everywhere.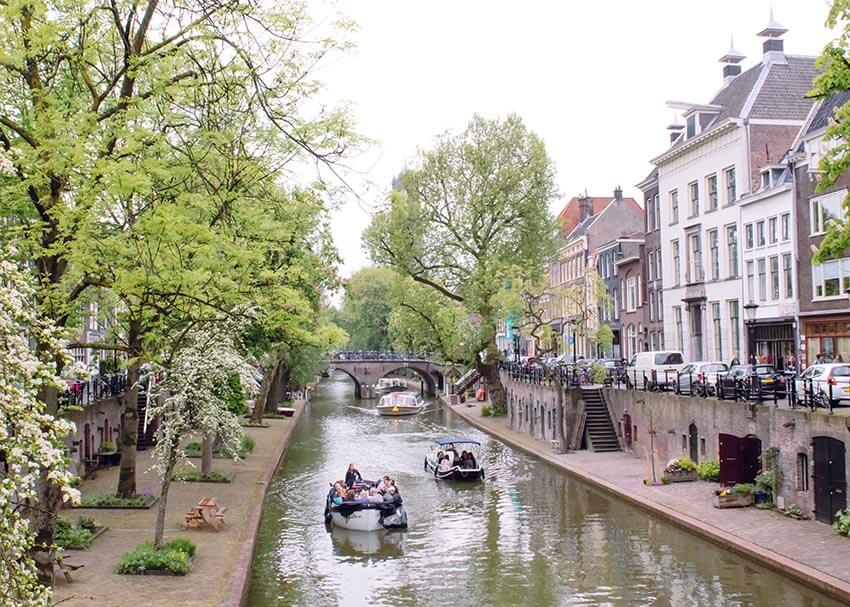 One of those market squares is Cathedral Square, located in Utrecht's city center. Cathedral Square is home to St. Martin's Cathedral, a pre-reformation Gothic cathedral with incredible stained glass windows. Its courtyard, named Pandhof van de Dom, has water features and wildflowers.
Also in Cathedral Square is the famous Dom Tower. This tower is part of the St. Martin's Cathedral complex and has been the tallest church tower in the Netherlands since it was built in 1382.
It's an impressive 312 ft/95 meters tall, which is high for a 14th-century building. Climb up the 465 for some of the best views across St. Martin's Cathedral and the entire city.
17. Climb Aboard the Houseboat Museum
Bored of art museums and looking for quirky places to visit in Amsterdam? One of the top quintessentially-Holland attractions is the Houseboat Museum.
Originally, houseboats were converted from cargo boats and were synonymous with poverty and cheap housing. Since canals are in many cities across the country (not just Amsterdam!), they are an icon of the Dutch lifestyle.
The Houseboat Museum is literally a Houseboat Museum. It's a converted 1914 freighter that is permanently docked on one canal. You can pay a small fee to explore the Houseboat Museum and imagine what it would be like to live on one.
18. Explore the Valkenburg Castle Ruins
One of the top things to do in Holland is to visit the Valkenburg castle ruins. It's a unique castle because it was the only hilltop castle ever built in the Netherlands!
Unfortunately, this 14th-century building hasn't survived as well as other structures from that period, but it's still worth adding to your trip itinerary.
Once you complete the climb up to this hilltop castle, you'll be rewarded with beautiful panoramic views over the town of Valkenburg. And even though the castle rock is now in ruins, there's still a lot to walk around and explore.
You can still climb steps, peek out of windows, and walk along the castle walls. Just don't expect the castle rock to provide cover on a rainy day. There's not much of a roof!
19. Grab a Glass at the Heineken Experience
Heineken is the second-largest beer company in the world and it was started right here in Amsterdam, Netherlands. If you are a beer drinker, booking a tour and tasting session at the Heineken Experience is likely something you'll enjoy.
Housed in one of the beer brand's former breweries, you will be given an interactive tour of the brewing machinery and beer-making process as well as the history of Heineken. At the end of the tour, there is a tasting session of at least two different beers.
Plus, you can even visit their rooftop for views across the canals!
20. Meet Land and Sea Animals at the ARTIS Zoo
One of the top places to visit for families is the ARTIS Zoo in Amsterdam. Founded in the 19th century, it is the oldest zoo in the Netherlands and is located conveniently on a 10-hectare site in the heart of the city.
At ARTIS, you'll find almost every species of animal under the sun. They keep exotic animals from elephants to zebras, giraffes to gorillas. But there's also an aquarium with colorful tropical fish and a planetarium too.
Some of the quirkier attractions in the oldest zoo are the insect house and the butterfly pavilion.
21. Visit the Netherlands' Fishing Villages
The Netherlands might border Germany and Belgium, but it's also a coastal country on the North Sea. It has a long and diverse maritime history so some of the best places to see in the Netherlands are the several beautiful fishing villages along the coastline.
One popular day trip is to visit the quaint green wooden houses, canals, and colorful harbor of the Volendam fishing village. Other options are Hoorn, Marken, and Broek in Waterland.
Each and every fishing village in the Netherlands is unique yet you can find the same picturesque wooden houses and tasty seafood wherever you visit!
22. Eat Dutch Cheese in Gouda or Edam
The Dutch know a thing or two about making cheese. There are at least 100 different varieties of delicious Dutch cheeses! Two of the best places in the Netherlands for cheese fiends are Gouda and Edam, for obvious reasons.
Both towns host cheese markets in their main squares: Gouda's is on Thursday mornings and Edam's is every Wednesday in summer. There are lots of family-owned cheese shops open year-round and cheese-themed museums too.
Aside from the cheese heritage, Gouda's medieval history and Edam's canals make them both beautiful places to visit.
23. Time Travel at the Rembrandt House Museum
If there was one key artistic figure from Amsterdam's Golden Age, it would be Rembrandt. While he was born in Leiden, he lived in the same house for 20 years in Amsterdam, Netherlands.
This 17th-century house is now the Rembrandt House Museum. Restored to how it might have looked during Rembrandt's lifetime, it's a fascinating place for an art fan or history buff to visit. The exhibits include many of his paintings and etchings that help 'paint the picture' of the artist's life.
Located near one of Amsterdam's main canals, the Rembrandt House is also just a beautiful well-appointed house in a postcard-perfect setting.
24. Make Delftware in the City of Delft
The Netherlands isn't just famous for its painters. The City of Delft has been creating its own style of ceramics since the 15th century!
It's one of the top places to visit if you want to take a piece of Delftware from their vast collection home as a souvenir as well as visit a beautiful medieval town.
Delftware (also called Royal Delft or Delft Blue) is white-glazed ceramics with hand-painted blue exotic or provincial Dutch scenes. You can visit the Royal Delft Museum and take guided tours inside the 17th-century factory which is still in operation today.
Other places of interest in Delft include the New Church and the Vermeer Centrum Delft Museum, as the painted Johannes Vermeer was born here.
25. Enjoy Watersports on the Beaches of Zeeland
While the Hoge Veluwe National Park is a fantastic place to visit to enjoy nature in the Netherlands, things to do like water sports can be found in the region of Zeeland on the North Sea coast. It's one of the least populated regions but its clean, untouched golden sands and water defenses have put it on the map.
Breezand is the widest beach in Zeeland with shallow waters, so it's perfect for families who want to swim and snorkel. Nolle Beach and Hoge Hilt Dune Deach are sheltered and ideal for watersports that demand calmer waters, like stand-up paddleboarding and sea kayaking.
Want to try more adventurous watersports? Try surfing and kitesurfing at Texel Beach or Domburg Beach where you'll be able to find surf schools.
26. Cycle Anywhere and Everywhere
Around one-quarter of Dutch people participate in a water sport, but the average Dutch person goes on a bike ride over four times every week.
It's one of the most quintessentially Dutch outdoor activities. You absolutely have to try it at least once during a trip to the Netherlands!
Book a cycling tour of a city, or rent a bike and cycle around a local park. If you haven't cycled for a while and are nervous, head out into the countryside where there are bike lanes and fewer cars.
27. Embrace Modern Art at the Stedelijk Museum
Nope, we're not quite done with covering all the amazing art museums in Amsterdam, Netherlands! The Stedelijk Museum might just be the best contemporary art museum in the whole country which is why it's one of the top Netherlands things to do.
The Stedelijk Museum is also on Museumplein next to the Van Gogh Museum with a vast collection of modern art from the 20th and 21st centuries. You'll find displays of works by prominent artists like Andy Warhol, Henri Matisse, Jackson Pollock, and many more.
With over 90,000 paintings, sculptures, and multimedia works, it's the largest collection of experimental and postmodern art you'll find in the Netherlands.
28. Visit Rotterdam's Oude Haven Maritime District
Fishing villages and the Houseboat Museum in Amsterdam are both great places to gain a deeper insight into the Netherlands' maritime history. But the main reason why the Netherlands had such a powerful shipping company and were world explorers was thanks to its port cities like Rotterdam.
Oude Haven (which translates to 'Old Harbor') in Rotterdam is one of the top places to visit to see a variety of vessels from different eras of Dutch maritime history, from old sailing ships to modern yachts.
It's also just a beautiful place to walk around and spend some time. There are lots of great restaurants on the waterfront and a blended skyline of centuries-old buildings and young skyscrapers.
29. Discover Ijsselmeer's Lakeside Villages
Ijsselmeer is the largest 'lake' in the country. It's confusing to look at Ijsselmeer on a map because it doesn't look much like a lake, but thanks to man-made dikes it has been completely closed off from the sea.
One of the most relaxing things to do in Holland is to visit or stay in one of the villages nestled on the banks of Ijsselmeer. They range from small cities like Hoorn and Medemblik to tiny towns with less than 1,000 residents like Stavoren and Hindeloopen.
If you want to experience a couple of days of serenity in a small cabin where you can swim in clean waters and bike on safe streets, Ijsselmeer is a must-visit destination.
30. Indulge in Dutch Pancakes and Stroopwafels
Dutch cuisine is more than eating cones of fries with mayonnaise and chunks of cheese. One of the top Netherlands things to do is to eat lots of sweet treats, too!
Stroopwafels are Dutch cookies with two round pieces of sweet dough baked with a waffle iron and sandwiched together with syrup or caramel. You'll find them in markets all over the country and it's common to sit them over cups of hot drinks until they soften.
Dutch pancakes are a delicious and basic treat with either fruit or sometimes bacon in them. If you really want a true cultural experience, I recommend booking a Pancake Class. You'll be able to go into a local's home, try some local cheese, the Dutch delicacy of pickled herring, and learn how to make a Dutch pancake. You can book the class here.
Be sure to also try poffertjes: small, medallion-sized puffed pancakes dusted with sugar and served with syrup. They're usually a festive snack served at Christmas markets. You can find most of these treats at Albert Cuyp Markt in Amsterdam.
Netherlands Things To Do FAQS
What's in the Netherlands and is the Netherlands worth visiting?
Yes, the Netherlands is a popular tourist destination and is definitely worth visiting!
The Netherlands is famous for its capital Amsterdam, its canal network, North Sea defenses, tulip fields, windmills, clogs, liberal politics, world-renowned painters, and vibrant cities with world-class universities.
Netherland vs Holland: Which one to use?
The Netherlands is the correct way to refer to the entire country. Holland is only one of 12 regions in the Netherlands.
Throughout the country's rich history, its borders and names have changed several times which is one reason why there is often confusion over the country's name.
Amazing Things To Do in the Netherlands On Your Next Trip
Whether you're a history buff, culture vulture, outdoor lover, or adrenaline seeker, the Netherlands is a country well worth visiting for as long as you can spare. These are all the best things to do in the Netherlands to ensure you have a fun vacation in the land of artists, flowers, and windmills!