If you're heading to the Netherlands, the land of tulips, windmills, clogs, and cheese, there's a good chance you're going to visit the capital city. Discover the most unforgettable things to do in Amsterdam.
I had the opportunity to visit Amsterdam last month and it was an absolute dream! It's been somewhere I've wanted to go for years, but has always eluded me. I was so grateful to be able to go with some girlfriends for a week and we had the best time after months of careful planning. I wanted to share my favorite things to do in Amsterdam, plus a few extras that you might be interested in.
No other city in Europe appeals to so many types of travelers as the Dutch Capital City. Amsterdam has art museums for couples and families and the Anne Frank House for history buffs. It boasts the Heineken Experience for bachelor parties and Vondelpark for kids.
But walking along the picturesque, UNESCO-certified canal streets and townhouses with unique stepped gable roofs? Well, those are just one of the best things to do in Amsterdam that appeal to everyone!
Visiting this sprawling, beautiful city along the River Ij will not only be super fun, but it will give you a deeper understanding of Dutch culture like no other city in the Netherlands. This guide lists every single one of the best attractions and activities in the city as well as insider tips so you have the best vacation possible.
Where to stay in Amsterdam
There are several great neighborhoods in Amsterdam. We stayed near Vondelpark, which was perfect for us. It's not far from the city center, but still in a quiet neighborhood, which was great for my sleep at night. This is the hotel we stayed at in Amsterdam and you can see my Amsterdam neighborhood guide here.
1. Join Guided Tours of Central Amsterdam
Amsterdam is a super walkable city. If you're enjoying a short city break or a quick pit-stop before traveling onward and want a local and in-depth experience, join a walking tour.
Even if you're in town for a while, they can help you find your bearings and get an overview of Dutch culture and history. Most tours are two to three hours long so they cover a lot!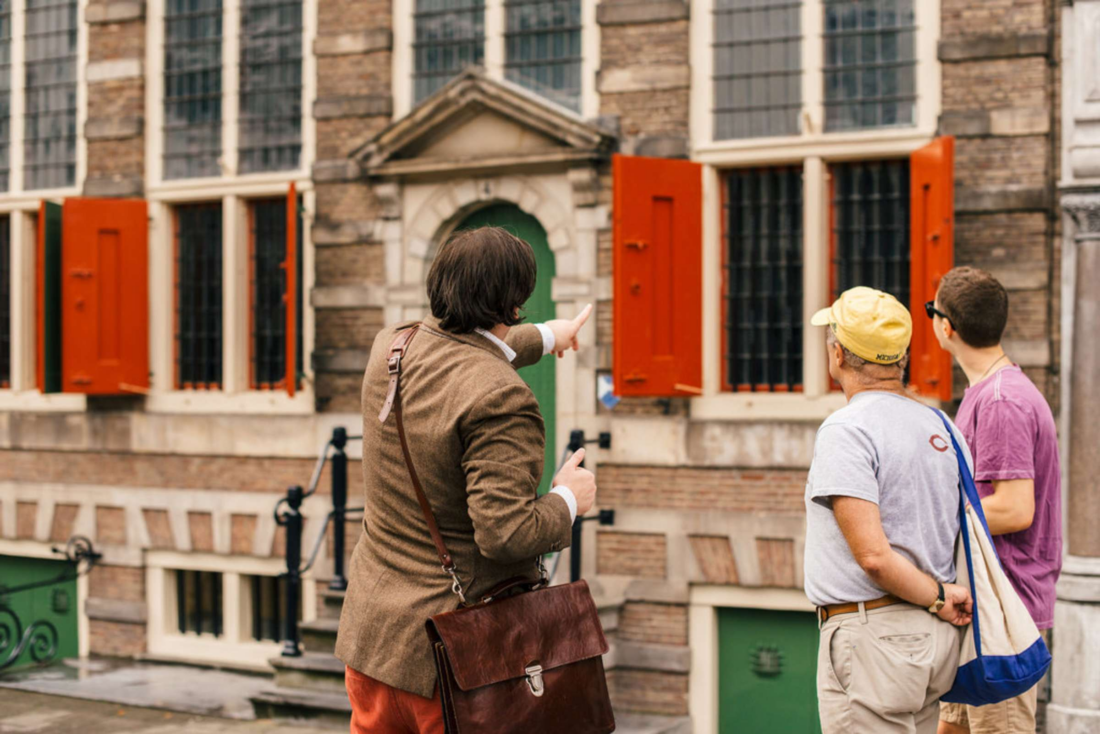 Most guided tours like New Europe and Free Walking Tours are free, tip-based tours. You can pay whatever you think the tour was worth! Many tour guides are happy to give you their restaurant recommendations too.
If you're really into history, I always recommend booking a Context Travel Tour. These are usually led by professors, authors, or historians. These guides really know their stuff and can be really fun to learn from
If you're traveling with kids or prefer to explore at a slower pace, you can download a self-guided tour to your phone and listen to it through your headphones like an audio guide. Rick Steves and GPSmyCity both have great ones.
2. Reflect at the Anne Frank House and Museum
No 'top 10 things to do in Amsterdam' list, or any number, is complete without the Anne Frank House and Museum. It's singularly one of the most moving and important places you'll ever visit in your life.
Anne Frank was a young Jewish girl who hid from the Nazis with her family in an annex above a shop during World War II. Whilst in hiding, she wrote a diary (published as The Diary of a Young Girl) which has been translated into over 70 languages and sold more than 30 million copies.
The annex where her family hid was turned into the Anne Frank House, sensitively preserved and restored to appear as it did when Anne Frank lived there. At the Anne Frank Museum on the lower level, you can see various copies of her diary, photographs, and other memorabilia from the time period.
Top Tip: Book your tickets to the Anne Frank House as early as possible. Tickets do and will sell out weeks beforehand (sometimes months in high season!) with no more available last minute. I've seen so many people make this mistake when visiting Amsterdam, so be sure to book this the second you're able. Tickets generally go on sale 6 weeks in advance, so set an alarm on your calendar.
There are no pictures allowed inside the house and it's a place where you need to be very quiet and respectful. There is an included audio guide so you can go at your own pace.
I highly recommend watching A Small Light on Disney Plus before your trip to Amsterdam. It will really enhance your visit. The show is so well done.
3. Amsterdam Photoshoot
I loved my photo shoot with Tania from Flytographer. We had so much fun and she put me at ease while doing a photoshoot by myself. It was fun to see Amsterdam early in the morning before the city woke up.
4. Shop in the Nine Streets Canal District
One of the best things to do in Amsterdam is to simply walk along the Nine Streets canal ring and check out the local boutique shops and cafés that line the water.
The city's canal system was originally built in the 17th century during the Golden Age when the Dutch were pioneers of trade, science, art, and exploration. The Singel Canal is the one that surrounds the city center, but they're all just as beautiful and as important when transporting goods hundreds of years ago.
As you wander along the cobblestone Nine Streets that bookend the canals, pose for selfies at the flowerboxes and bicycles that adorn the hundreds of bridges that stretch over the waterways. Dream about living on the houseboats rocking on the gentle waves.
Something to note: Despite being the capital, Amsterdam's shops have more restrictive opening hours than you might assume. Most shops are open from 8 am to 6 pm Monday – Friday, open later and close earlier on Saturdays, and don't open at all on Sundays.
5. See the Largest Collection at the Van Gogh Museum
Do you love art museums? You're in the right city! One of the essential things to see in Amsterdam is the Van Gogh Museum.
It's an entire museum dedicated to the works of famous Dutch artist Van Gogh with the largest collection of his pieces anywhere in the world. The permanent exhibition boasts 200 paintings, 400 drawings, and 700 letters of Van Gogh's works and follows a timeline of his life and artistic progression.
Some of the highlights of the Van Gogh Museum include his paintings The Potato Eaters, Almond Blossom, Sunflowers, and Self-Portrait With Grey Felt Hat. Due to his notoriety as one of the best artists who has ever lived, this museum will be interesting to everyone.
6. Visit the World-Famous Rijksmuseum
The second of the three museums that surround Museumplein Park (more on the third later!) is the Rijksmuseum. This ornate 19th-century building houses an impressive collection of more than 8,000 works by classic Dutch painters from the Dutch Golden Age. Sculptures, paintings, and ceramics by other prestigious European artists from the last 800 years can be found here too.
The museum's pièce de résistance is the 17th-century masterpiece The Night Watch by Golden Age painter Rembrandt van Rijn. Johannes Vermeer, Frans Hals, and Jan Steen are other Golden Age painters also represented at the museum.
There's no way you'll be able to see every single artwork so just wander around at your leisure. The building itself is a work of art!
7. Be Part of the Milkmaid Project
If you're an art lover and have ever wanted to be part of an art project, book a session with The Milkmaid Project. You can pick which painting you want to be in or the costumes you want to wear. I chose to do The Milkmaid, but I wish I would have.
Not only do you end up with a cool picture souvenir, but you get to chat with a real artist and learn a lot about Vermeer.
8. Wear Orange and Visit the Netherlands' Royal Palace
If you didn't know that the Netherlands has a Monarchy, it does! But the Dutch Royal Family primarily lives in their palace in The Hague. This is great news for tourists as it means Amsterdam's Royal Palace is open for visitors and is a must-do in Amsterdam.
The Royal Palace is the Dutch monarch's reception palace, meaning that Head of State functions and events are held here. This 17th-century Baroque building is one of three palaces in the Netherlands and is just as opulent as you'd expect inside with marble furniture, red curtains, and chandeliers galore.
And why wear orange? Well, orange is the national color of the Netherlands and everyone wears it when they celebrate 'King's Day' which is the current monarch's birthday.
9. Explore the Picturesque Jordaan Neighborhood
One of the must-do things in Amsterdam that surprisingly some people skip is to visit the Jordaan neighborhood. Slightly west of the Centrum and Nine Street districts, Jordaan is a hip residential neighborhood with tons of great restaurants, cafés, and shops. It offers visitors an insight into local life in the city whilst still having plenty of things to do.
Check out the Noordermarkt Square market for vintage and organic food shops (yes, it's that kind of hipster neighborhood!). Other cool markets include the Westerstraat Market on Mondays or the Lindengracht Market on Saturdays. Some of the more eclectic museums (like the Electric Ladyland Museum of Fluorescent Art and Houseboat Museum) are in this district.
10. Wander the Infamous Red Light District
You may or may not want to visit the Red Light District when you come to Amsterdam. If I had my kids with me, I wouldn't have gone. It's such a huge part of the culture, that I wanted t see what it was all about.
Many European cities from Paris to Hamburg have one, but none are more infamous than the Red Light District in Downtown Amsterdam. Otherwise known as the De Wallen neighborhood, this area has a high concentration of sex workers and similarly-themed shops and shows. This district is also where you'll find the highest concentration of 'coffee shops' which sell marijuana.
You may not want to visit the Red Light District during its peak nightlife hours unless you're visiting with a Bachelor/Bachelorette party. Although it's much tamer than it used to be and the neon signs are fun, groups of drunken partiers aren't! You'll be pleased to know this area is fairly calm and quiet during the day.
11. Learn at the Jewish Historical Museum
Visiting the Anne Frank House will offer you a fantastic insight into the lives of Dutch Jewish people during a specific era, but there's so much more to learn. The Jewish Historical Museum is the best museum dedicated to the lives of Jewish people not only from the Netherlands but its colonies too.
It has over 11,000 artworks, artifacts, memorabilia, and ceremonial items relating to the Jewish faith and everyday Jewish life. If you don't know much about the Holocaust and how the Dutch responded, you'll learn a lot here. It's a fantastic museum in its own right but a must-see if you missed out on getting tickets to the Anne Frank House.
12. See the National Monument in Dam Square
One of the best free things to do in Amsterdam is to check out Dam Square. Not only is Dam Square home to the Royal Palace, but it's also home to the National Monument and the New Church (De Nieuwe Kerk in Dutch). The National Monument was built in 1952 as a memorial to those who died during WWII.
De Nieuwe Kerk isn't really that 'new' at all as it dates back to the 15th century. This medieval, Gothic-style church is now an exhibition space and events space for some of the most important ceremonies in the Netherlands including royal weddings.
13. Tour the Heineken Experience at the Former Brewery
We don't drink, but the Heineken Experience is a must in Amsterdam if you do. My friend Rebecca from Almost Ginger says:
"Wondering what to do in Amsterdam where you can properly taste authentic Dutch beer? Wonder no more as Heineken, the second-largest beer company in the world, was founded here.
The Heineken Experience is an interactive tour through the beer giant's former brewery and the company's history. You can see the old brewing kettles, beer mats with various logos, barrels, casks, and more at the Heineken Experience. No beer tour is complete without a tasting which the Heineken Experience offers too.
If you're a craft beer purist or traveling with your family, the Heineken Experience is probably not for you. On the weekends, you might even find the Heineken Experience is overrun with Bachelor parties looking to kill an afternoon before spending all night in the clubs downtown!
But there's no denying that the Heineken Experience is one of the city's most popular attractions. There's even a rooftop bar with a beautiful view where you can round off the Heineken Experience too."
14. Sit Back and Watch Open Air Theater at Vondelpark
With over 30 parks, one of the most fun things to do in Amsterdam on a sunny day is to take a walk, relax, or play in one of them! While Oosterpark, Beatrixpark, and Amstelpark are all highly-rated, Vondelpark is the one you can't miss.
Vondelpark is particularly a fun place to visit during the summer months when can check out the famous open-air theatre. You and your family can watch cabarets, children's theater, stand-up comedy, musicians, movies, and more every single day.
There's always a jam-packed performance schedule and they're all free!
15. Tour Amsterdam's Waterways on a Canal Cruise
Walking tours are great, but the best way to explore and learn more about the Dutch capital is on a canal cruise. Most of the city was built in the 17th century, as were the canals, so it just makes sense to learn about the history by water!
Most canal cruises last about an hour and you're usually able to plug in your earphones to listen to an audio tour too. Taking a canal cruise is ideal if you are traveling with babies or have accessibility issues. Head to Centraal Station where you can take your pick of canal cruise companies.
16. Dare to Ride the A'DAM Lookout (Europe's Highest Swing)
Don't think there are any adrenaline-inducing, crazy things to do in Amsterdam?! That's where you're wrong! In the Amsterdam Noord neighborhood, you'll find A'DAM Lookout. It's a 20-story rooftop observation deck where you will find Europe's highest swing.
Once strapped into the swing, the mechanism will take you over the edge of the skyscraper for a thrilling ride. Don't worry, you can admire the same view with two feet on the ground too!
17. Live Like an Amsterdam Local and Rent a Bike
There are almost as many bicycles in Amsterdam as people. So, one of the best outdoor activities and fun things to do in Amsterdam with kids is to hire bikes and explore the city on two wheels.
Amsterdamers are ruthless road cyclers, so you may want to stick to riding around the city's numerous parks with young ones.
18. Hunt for Bargains at Waterlooplein Flea Market
One of the quintessential, local Amsterdam activities is shopping at one of the many flea markets for a bargain. Waterlooplein is the oldest and biggest in the city with over 300 stalls selling everything from second-hand books to clothes and antiques.
It's open from Monday to Saturday and is a fun place to stroll around and buy souvenirs.
19. Explore a Canal House at Museum Van Loon
Amsterdam's townhouses are iconic and you can step inside a canal house at Museum Van Loon. It was previously owned by a wealthy shipping family of that name.
This excellent museum displays its many art collections and luxurious, centuries-old furnishing. Entering this home will feel like stepping back in time.
20. Dine at the International Foodhallen
Food halls are awesome! You can dine together as a family or a group of friends while eating different cuisines from local vendors. Foodhallen in Amsterdam West provides a casual yet chic setting for you to do exactly that!
At Foodhallen, you'll find local Dutch delicacies like Bitterballens but also crowd-pleasing dishes like hotdogs, tapas, and pita kebabs.
21. Appreciate Contemporary Art at Moco Museum
The third museum in Museumplein Park is the Moco Museum. Located in a freestanding 20th-century townhouse, this art gallery displays works by some of the most prominent artists of the 21st century including Andy Warhol, Salvador Dalí, and the illusive Banksy.
22. Take a Break at Screaming Beans Roaster & Café
Amsterdam has a booming café culture and Screaming Beans is one of the top dogs. This company is a roaster, café (not a coffee shop, that means something else in this city – think space brownies!), and they sell delicious cakes so it's a firm favorite amongst tourists and locals alike.
There are three locations in the city so you won't have to walk far for a mid-morning pick-me-up.
23. Discover the City's History at the Amsterdam Museum
You've joined a walking tour, visited the specialist museums, the Anne Frank House, and walked along the canals… And yet, you still may not have a real grasp of Amsterdam's history and how the city came to be.
One of the best ways to gain a deeper understanding of the city's evolution and Dutch culture is to check out the Amsterdam Museum. Housed in a former orphanage, this excellent museum tells Amsterdam's entire story from the Middle Ages when the city was just a small fishing village up until the present day.
24. Climb the Tower and Witness the Views from Old Church
Since there is a 'New Church' then there is probably an older church hiding down a cobblestone lane somewhere! Yes, Old Church (De Oude Kerk in Dutch) is located in the Red Light District of all places and is Amsterdam's oldest building.
It is mostly used as an art exhibition space rather than a place of worship. The church's opening hours are consistent but if you want to climb the tower for panoramic views of the city, it's closed on Wednesdays and only open during the afternoons.
25. Learn More About WWII at the Dutch Resistance Museum
During the second world war, the Netherlands held a neutral stance until the Nazis invaded, and being neutral was no longer an option. This museum details the Resistance with photographs, artifacts, and first-hand accounts.
If you're interested in World War II then this is a great museum to add to your itinerary.
26. Explore Amsterdam's Eight Historic Windmills
Around 1,200 historic windmills remain throughout the Netherlands, and around eight of them are in and around the city. Windmills were vital for transferring water away from the Netherlands' flood-prone fields.
One of the top places to visit in Amsterdam is The Sloten Windmill, the only working windmill open to visitors. You can still admire the other seven from the outside:
De Krijtmolen d' Admiraal
De Gooyer
Molen De 1200 Roe
Molen de Bloem
Molen de Otter
De Riekermolen
De Oudemolen/Akermolen
If you want to book a vacation photographer to take some snaps of you and your family, friends, or partner, these windmills will make the perfect Dutch backdrop!
27. Indulge in Amsterdam's Sweet Treats
To truly experience the city, you need to see, do, smell, touch, and properly taste it too. You can find lots of authentic Dutch sweet treats in Amsterdam's canal district.
Stroopwafels delicious waffle-ironed cookies sandwiched together with caramel. Dutch pancakes are much smaller than regular pancakes and they're often served with powdered sugar and strawberries. Check out The Pancake Bakery, Melly's StroopWafels, and Lanskroon Bakery to taste the goods for yourself!
28. Appreciate Quirky Art at the Stedelijk Museum
If you love art then there is no shortage of museums in the city you can visit. One of the top fun things to do in Amsterdam is to visit the Stedelijk Museum.
This museum features over 90,000 pieces of modern art ranging from paintings to sculptures, graphic design, and sound installations. It's not going to be everyone's cup of tea but if you like works by artists like Warhol and Pollock, it's a can't-miss.
29. Find the Hidden Courtyard of Begijnhof
Believe it or not, there are lots of secret courtyards hiding behind the grand townhouses and medieval homes all over the city. One must-see in Amsterdam is the Begijnhof courtyard, just behind the English Reformed Church.
Begijnhof is a former woman's religious community almost as old as the city itself. The courtyard is a little slice of serenity in an otherwise bustling place.
30. Relive the Golden Age at the Rembrandt House Museum
Rembrandt is perhaps the most famous and important Dutch person in history and you can gain a deeper understanding of his life by visiting the Rembrandt Museum.
Also known as Museum Rembrandthuis, this restored 17th-century house is where the famous Dutch painter lived for 20 years. Many of his original works are on display including his stretches, etchings, and painting materials.
31. Visit the Historic Our Lord in the Attic Church
Possibly one of the cutest and quirkiest churches in the city, this is literally an old Catholic church hidden in an attic! When practicing Catholicism was outlawed in countries across Europe, those faithful to their religion practiced in secret.
Our Lord in the Attic Church, once confined to the top floor of a 17th-century house, is no longer hidden and open to the public.
32. See Photography Exhibits at the FOAM Museum
Courtesy of FOAM.org
Wondering what to see in Amsterdam if you're a photography buff? You can find all types of museums for all mediums of art in the city and photography is no exception.
The FOAM Museum is located in a beautiful canal house in the Nine Street District. Its four exhibition spaces are constantly changing so you'll never see the same photo collection twice no matter how many times you visit.
33. Walk Through the Hortus Botanicus Gardens
One of the oldest botanical gardens in the world, Hortus Botanicus is such a pretty place to visit on a sunny day in Amsterdam. Dating way back to 1682, these gardens boast a greenhouse, formal gardens, and over 4,000 native and local plant species.
34. Love Cats? Don't Miss the KattenKabinet Museum
Society says you're either a cat or a dog person. If you're the former, one of the coolest unique things to do in Amsterdam is to visit KattenKabinet: a cat museum!
It's a centuries-old canal house decorated by someone who bought every piece of kitschy, cat-related homeware they could get their hands on. We're talking cat posters, weird cat sculptures, and so much more.
35. Hop on the Ferry to Visit NDSM in Amsterdam Noord
Thinking about what to do in Amsterdam Noord? Aside from the few museums and hotels on the north side of the city, there's also the NDSM cultural center.
This renovated, former industrial site has dozens of pop-up eateries and hosts live music performances and other cultural events. It's where the cool, hip Amsterdamers hang out after work during the summer months.
And the good news is, the ferry to cross the river is free!
36. Drink Dutch Gin Cocktails at the House of Bols
I don't drink, but my friend Rebecca from Almost Ginger recommends House of Bols.
"Beer drinkers should head to the Heineken Experience but those who prefer gin should visit the House of Bols. Run by the Bols Distillery, this is where you'll find the Dutch Gin Museum and a tasting room where you can order craft gin cocktails in their stylish, contemporary bar. Genever is a type of Dutch spirit that evolved into the popular Juniper gin that is distilled today. If you love cocktails, this is a cultural experience made for you."
37. Take an Easy Day Trip to Haarlem
The Netherlands is such a small, well-connected country. You can take a day trip to almost anywhere in the country no matter where you're based.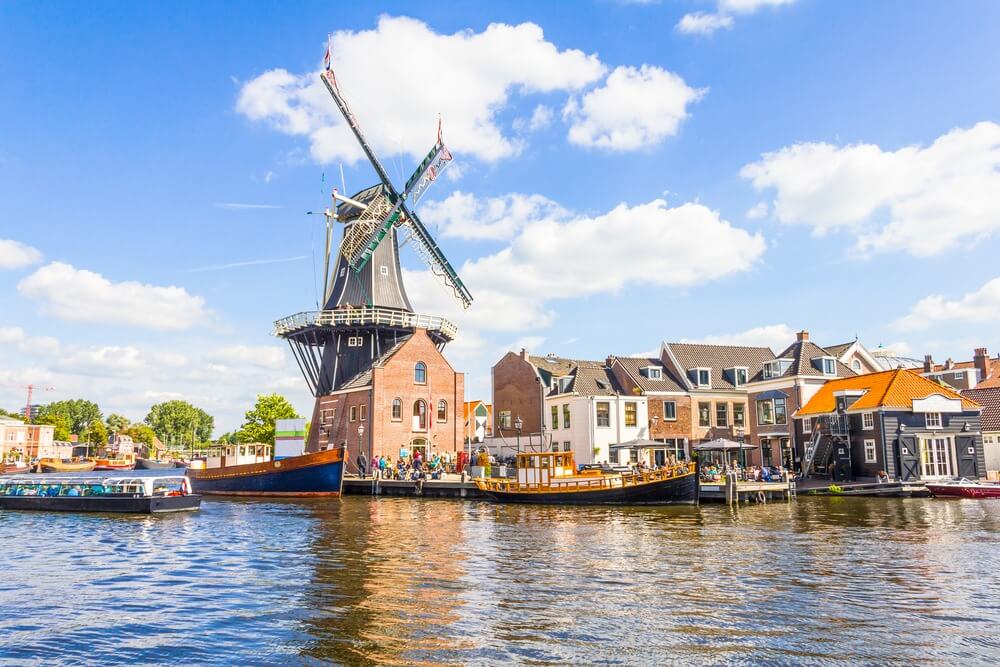 One of the best, easiest, and quickest day trips from Amsterdam is to the town of Haarlem. It's a flower-laded, medieval town with gable-roofed houses and cobblestone streets. If you have the space in your itinerary, Haarlem offers a change of scenery and a slower pace of life.
38. Take a Day Trip to Zaanse Schans
Zaanse Schans is a must if you've got enough time in Amsterdam.
Zaanse Schans is a neighborhood and open-air museum located near Zaandam, in the Netherlands. It is known for its well-preserved historic windmills, traditional houses, and picturesque Dutch countryside scenery. Zaanse Schans offers visitors a glimpse into the Netherlands' industrial heritage and traditional way of life.
The area is home to several working windmills, which were once used for various purposes such as grinding spices, producing oil, and sawing wood. These windmills have become iconic symbols of the Netherlands and attract tourists from around the world.
In addition to the windmills, Zaanse Schans features traditional wooden houses and buildings, many of which have been converted into museums, craft shops, and souvenir stores. You can explore these buildings to learn about Dutch crafts such as cheese making, clog making, and chocolate production.
Zaanse Schans offers a unique opportunity to experience Dutch culture and history and it's not far from Amsterdam. You can take an UBERor bus from the city and be there in less than 30 minutes.
39. Take a Day Trip to Delft
Delft is a beautiful city about an hour's train ride from Amsterdam.
Delft has a rich history that dates back to the 13th century. During the Dutch Golden Age, it was an important center for trade, industry, and art. The city was also the residence of the Dutch royal family, and it played a significant role in the Dutch Revolt against Spanish rule.
Delft is famous worldwide for its production of Delftware, a type of pottery that is typically decorated with blue and white designs. Delftware became popular in the 17th century and was inspired by Chinese porcelain. The Royal Delft factory, established in the 17th century, continues to produce Delftware. You can take a tour and see the pottery-making process. They also have a great cafe.
From there, you can walk to the old town and if you're there on a Saturday, you can visit the Antique Market and find some vintage Delft pottery.
40. Day Trip to The Hague
The Hague, located on the western coast of the Netherlands, is the country's third-largest city and the seat of the Dutch government. Known as the International City of Peace and Justice, The Hague is renowned for its role as the host of numerous international organizations, including the International Court of Justice and the International Criminal Court.
It is also home to the Dutch royal family and boasts an elegant city center, historic buildings, beautiful parks, and a vibrant cultural scene. The Hague offers a unique blend of cosmopolitanism, historical significance, and natural beauty, making it a captivating destination for visitors from around the world.
But the main reason we visited The Hague was to see Vermeer's Girl With a Pearl Earring at the Mauritshaus Museum which was amazing.
Amsterdam Things To Do FAQs
Is the Anne Frank Museum worth the hype?
Yes, the Anne Frank House is definitely worth the hype. Visiting the Anne Frank House is heartbreaking and emotional. It's where the young Jewish diarist hid with her family during the second world war and many of the rooms look as they did when Anne Frank lived there.
Tickets need to be booked in advance and it is a small exhibit that will only take you around an hour to see, but it's still worth it.
What is there to do in Amsterdam?
There are countless museums, landmarks, activities, eateries, parks, and so much more to do in Amsterdam. Plus, new experiences are opening up all the time! It's not possible to get bored in Amsterdam.
Some of the top-rated experiences are the Anne Frank House, the Heineken Experience, the Van Gogh Museum, Dam Square, the Rijksmuseum, and Jewish Historical Museum.
How far is Amsterdam Central Station from the city center?
Amsterdam's train station, also known as Amsterdam Centraal Station, is in the center of the city. It's between the Ij River and the central De Wallen neighborhood.
At Central Station, you can catch trains for day trips, airport transfers, and even international services. There's also a tram depot at the train station with different lines to various parts of the city.
All the Cool Things To Do in Amsterdam on Your Dutch Vacation
From the Heineken Experience to stroopwafels, to the Anne Frank House, canals, and everything in between, Amsterdam is a historic and beautiful place to visit. These are all the top things to do in Amsterdam Netherlands so you can get an in-depth experience of what the Dutch capital city has to offer!