Zurich is a great place to base yourself while in Switzerland. It's the most affordable international airport and there are some great day trip from Zurich that will allow you to see so much of the country without having to move around.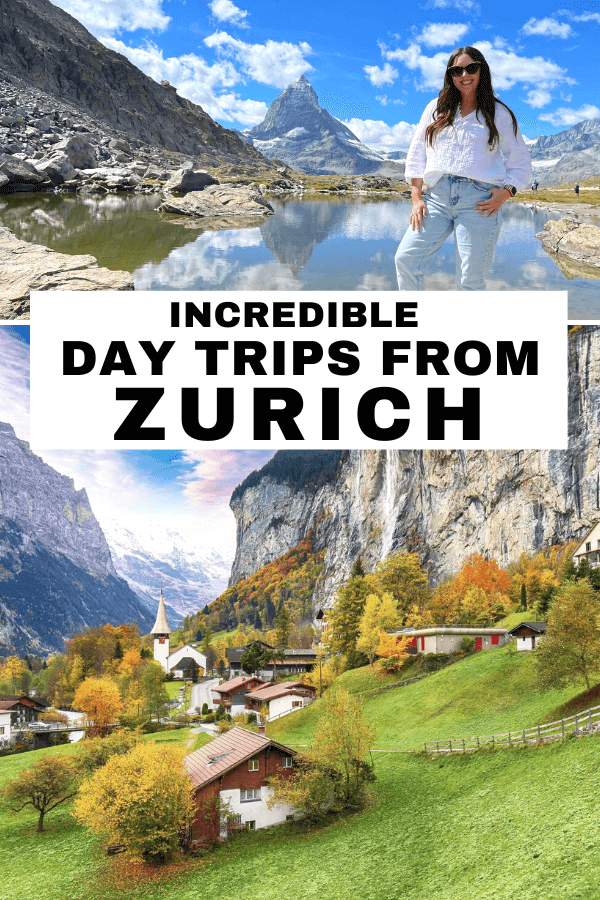 When you visit Zurich, not only will you enjoy an exciting metropolis, but also an opportunity for a variety of unforgettable day trips. Get ready to uncover some of the country's most breathtaking destinations on the best day trips from Zurich!
In just a few hours from the city, you can witness the mighty Rhine Falls, Europe's largest waterfall, or climb the heights of Mount Titlis. You might want to explore the enchanting streets and historic landmarks of Lucerne on a city tour. And for the quintessential Swiss experience, book a train ride through the spectacular Swiss Alps.
Zurich is your ticket to exploring the unparalleled beauty of Switzerland. Curious about what awaits? Check out 24 of the best day trips from Zurich by train below!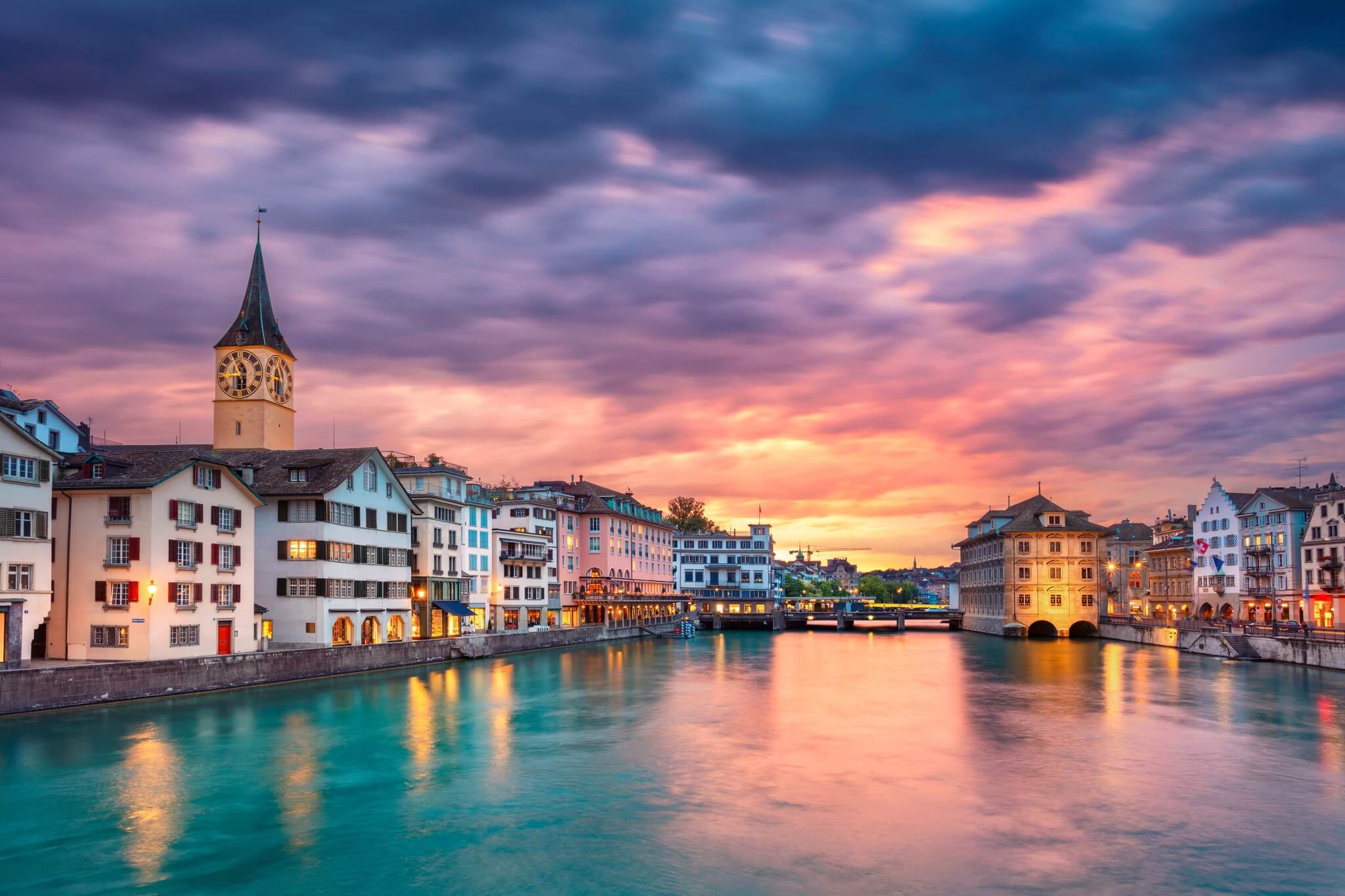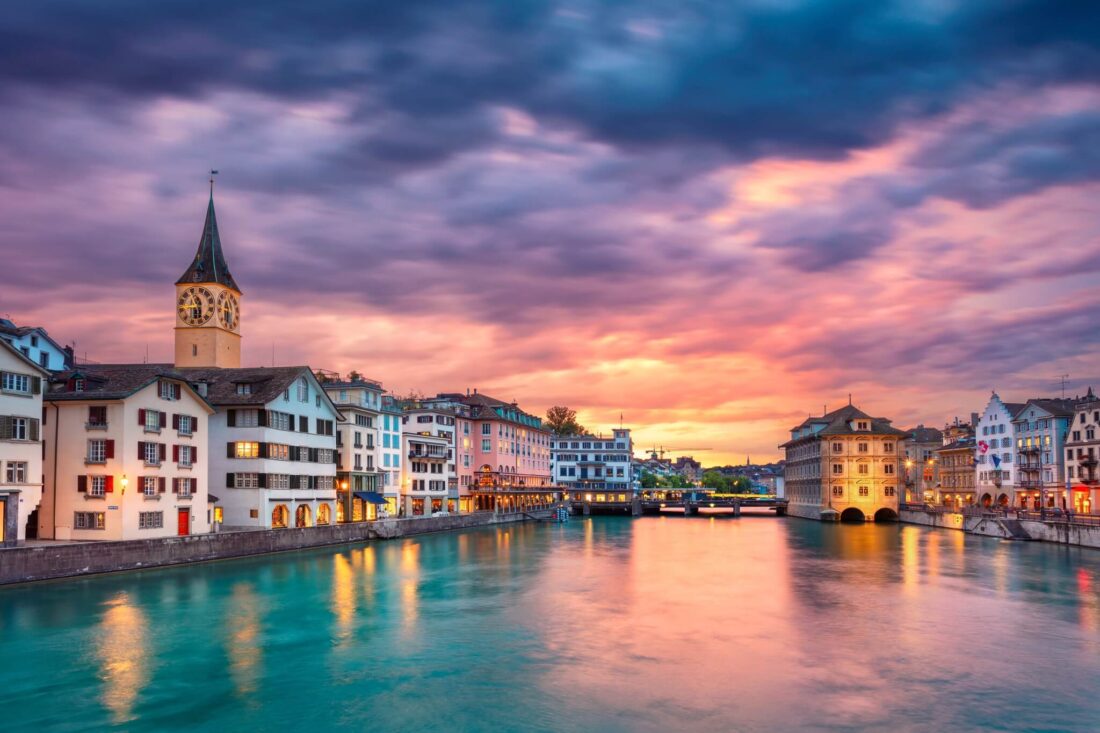 Zurich: A Gateway to the Best of Switzerland
Situated at the northern tip of Lake Zurich is the city of Zurich. It has over a thousand years of history, evident in its charming cobblestone streets and well-preserved medieval architecture. Once a Roman settlement, Zurich has evolved into a thriving global hub while still retaining its historic charm.
Zurich is renowned for its business, but there's so much more here! You'll find art museums, commercial retail streets, performance art centers, and historical landmarks everywhere you turn. The nightlife is one of a kind in Zurich, and nature lovers can't miss out on a boat ride on Lake Zurich, surrounded by the stunning Alps!
And Zurich's strategic location makes it an excellent base for exploring Switzerland. The world-class Swiss railway system connects you to destinations like Lucerne, Zermatt, and the shores of Lake Geneva.
Don't have time to read a bunch of reviews and blog posts? Here are our top picks for visiting Switzerland:
Wanderlust Switzerland Guide
Need a quick day-by-day, open-and-go itinerary for Switzerland? Get my guide and let me do the work for you!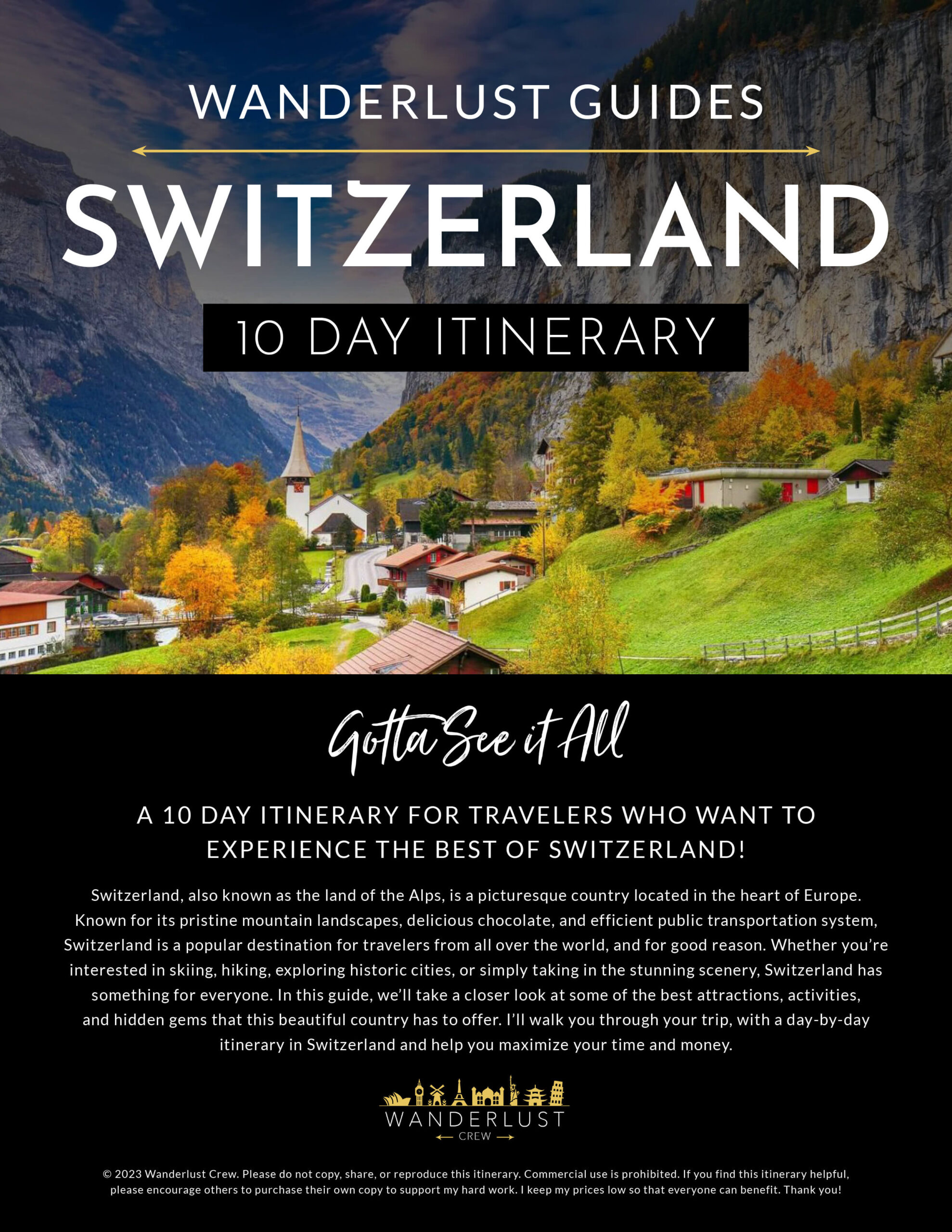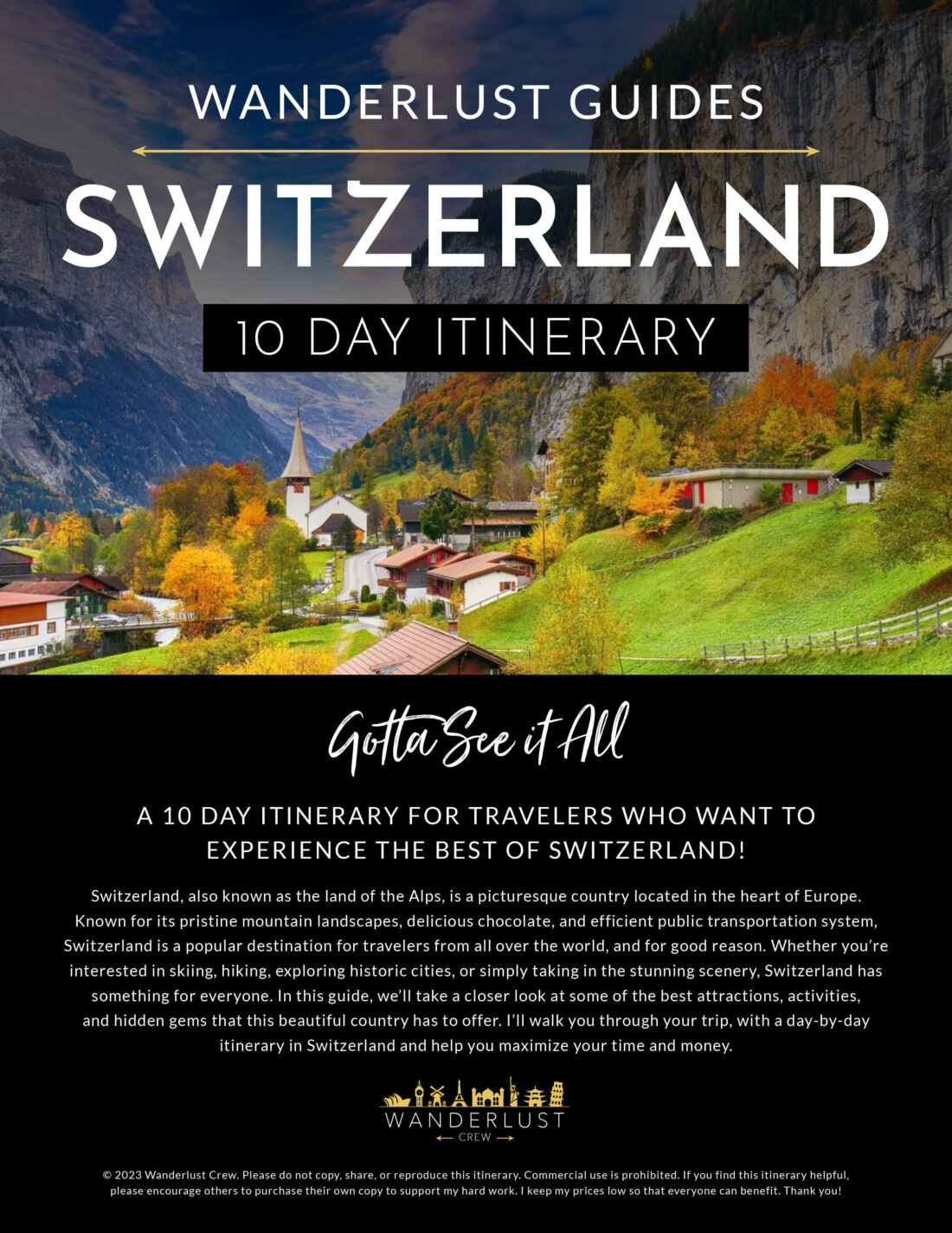 Our favorite Hotels in Switzerland
Getting Around Switzerland
Our favorite activities and tours in Switzerland
What's the Best Way to Get Around Switzerland?
Day Trips in Switzerland by Train
If you're planning to do a lot of day trips by train, I would definitely get the Swiss Pass which will allow you to ride the trains for free and also give you free access or deep discounts on a lot of activities around Switzerland.
When it comes to getting around Switzerland, the train system reigns supreme, offering both convenience and efficiency. And while driving provides autonomy, the train ensures relaxation and panoramic views. For day trips from Zurich, the train journey only amplifies your experience!
Hop aboard panoramic trains like the Glacier Express or GoldenPass Line for an unforgettable travel experience. You can choose from different destination packages. And all guests enjoy expansive windows that frame Switzerland's serene lakes and majestic Alps like living artworks.
Plus, Switzerland is renowned for having one of the world's finest train networks. Trains run like clockwork, connecting major cities and even the most picturesque day trip destinations. You might want to consider getting the Swiss Travel Pass, which grants you unlimited train rides.
Day trips in Switzerland by Car
I've done Switzerland by train and by car. Both have their pros and cons. I do love having the flexibility of having a car to explore a little deeper and a little more off-the-beaten-path, both literally and figuratively.
If you're renting a car, there are two companies we prefer to use: Rental Cars and Expedia Cars. We have had no issues with them and have been able to find the best prices available.
20-Minute Day Trips from Zurich
Looking for something to do outside of Zurich with minimal travel? Check out these destinations, all of which are just a 20-minute train ride out of central Zurich!
Uetliberg Mountain
Imagine trading the cityscape for a tranquil mountain retreat less than 30 minutes from the heart of Zurich. Uetliberg Mountain, your destination, promises a day filled with natural beauty and outdoor adventure.
Head to Hauptbahnhof station in central Zurich, where trains for Uetliberg leave every half hour! The 20-minute train ride itself is an experience, gradually transitioning from urban landscapes to verdant hills. Lace up your hiking shoes and follow well-defined trails that lead to the mountain's summit!
On Uetliberg Mountain, breathe in the fresh mountain air on a picnic or a hike through dense forest trails. If you're interested in adventure tourism, you can go paragliding here! And try to stay long enough to enjoy the sunset over the entire city of Zurich below.
Baden
Looking for easy day trips from Zurich to escape the hustle and bustle of Zurich? Baden is the perfect remedy. Just a hop away, this historic town is known for its thermal baths and medieval charm.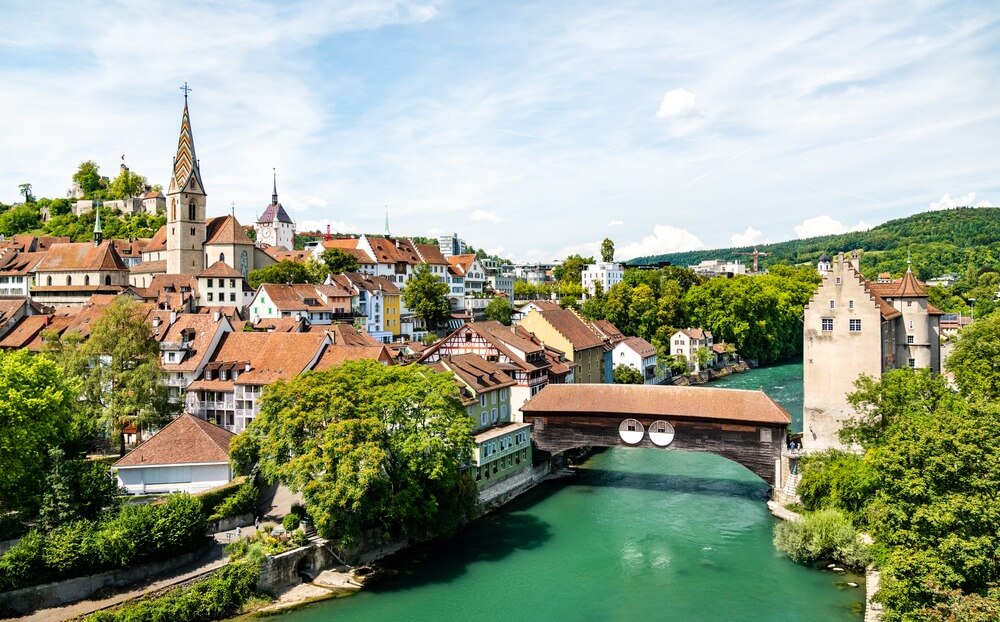 Upon arrival in Baden, take your time wandering through the old town. Don't miss the chance to explore the stoic remnants of Stein Castle. Then, sink into a heavenly thermal bath and let your cares melt away!
Baden is also home to an impressive number of stand-out museums, including the Museum Langmatt, which boasts an impressive collection of art and historical artifacts. Or some might be interested in the Teddy Bear Museum Baden!
As you enjoy a day in this very walkable city, you might consider a stroll along the Limmat River. Nearby, local cafes and restaurants offer a taste of local flavors, ensuring that your senses are pampered!
Winterthur
Another short train ride brings you to Winterthur, a cultural center with a vibrant arts scene. With the Swiss Science Center Technorama, the Fotomuseum, and a trip through the charming Old Town, this would be the perfect day trip from Zurich for families!
Every season of the year, a stroll through Winterthur's pretty old town does not disappoint. Observe historic buildings or peruse a street market. And one of the most popular attractions in the city is the Swiss Science Center Technorama. The science museum features interactive exhibits that explore the wonders of science and technology.
Art lovers will want to visit the Museum Oskar Reinhart and Kunstmuseum Winterthur, 2 more very popular destinations within Winterthur. Or if you're here during the summer, the hilltop Rosengarten in Old Town is absolutely beautiful with hundreds of rose varieties!
Full-Day Trips from Zurich
The best day trips from Zurich by train are anywhere from an hour to 3 hours one way. Below, you can read about the most popular day trip destinations, as well as some unassuming gems!
Zermatt & The Matterhorn
3.5 hours by car
I only recommend taking this day trip from Zurich if you have a rental car, otherwise it will take too long by train. Zermatt and the Matterhorn are must-sees when you're in Switzerland, so even if you don't take a day trip, it's worth spending the night if you need to.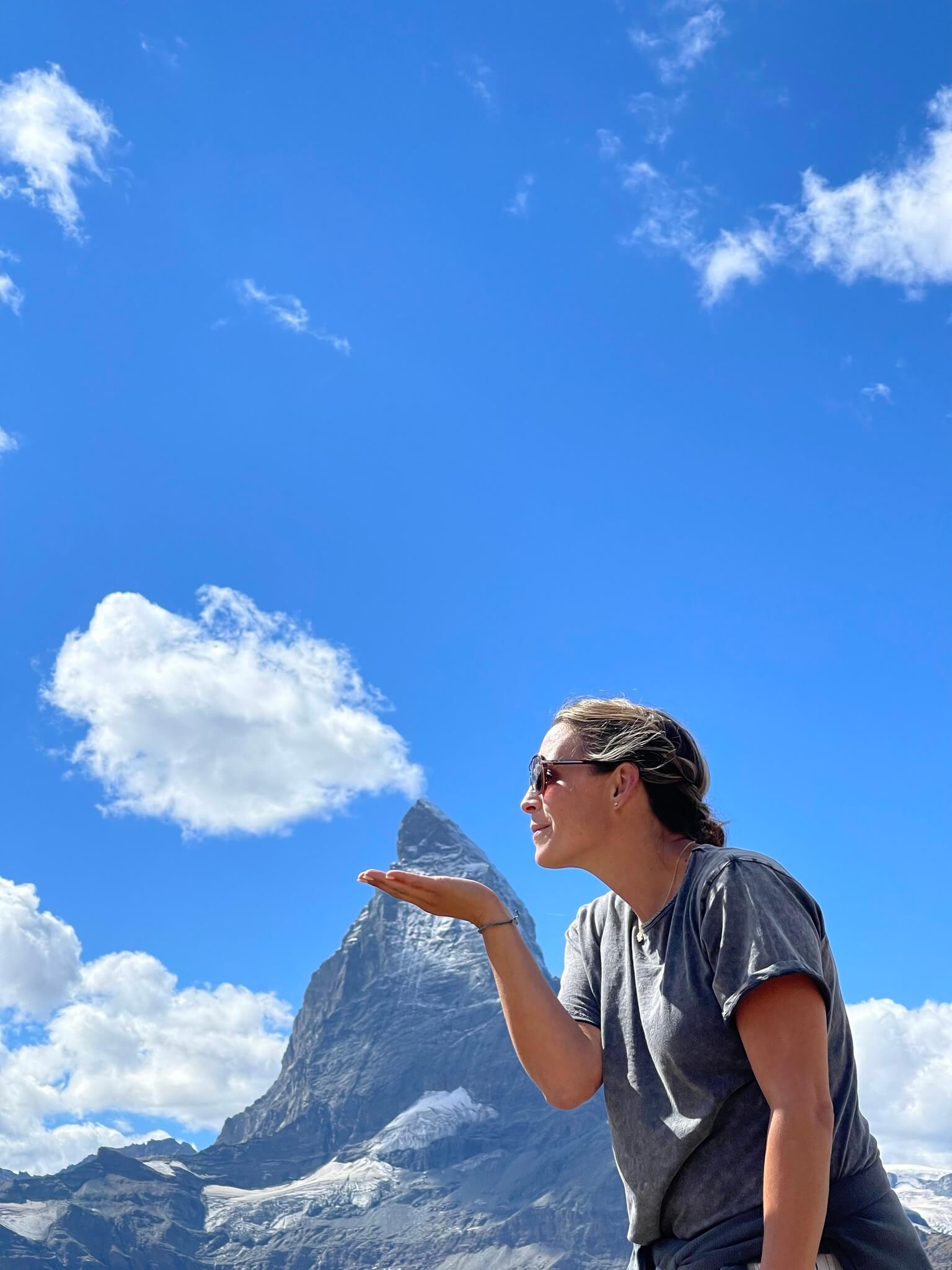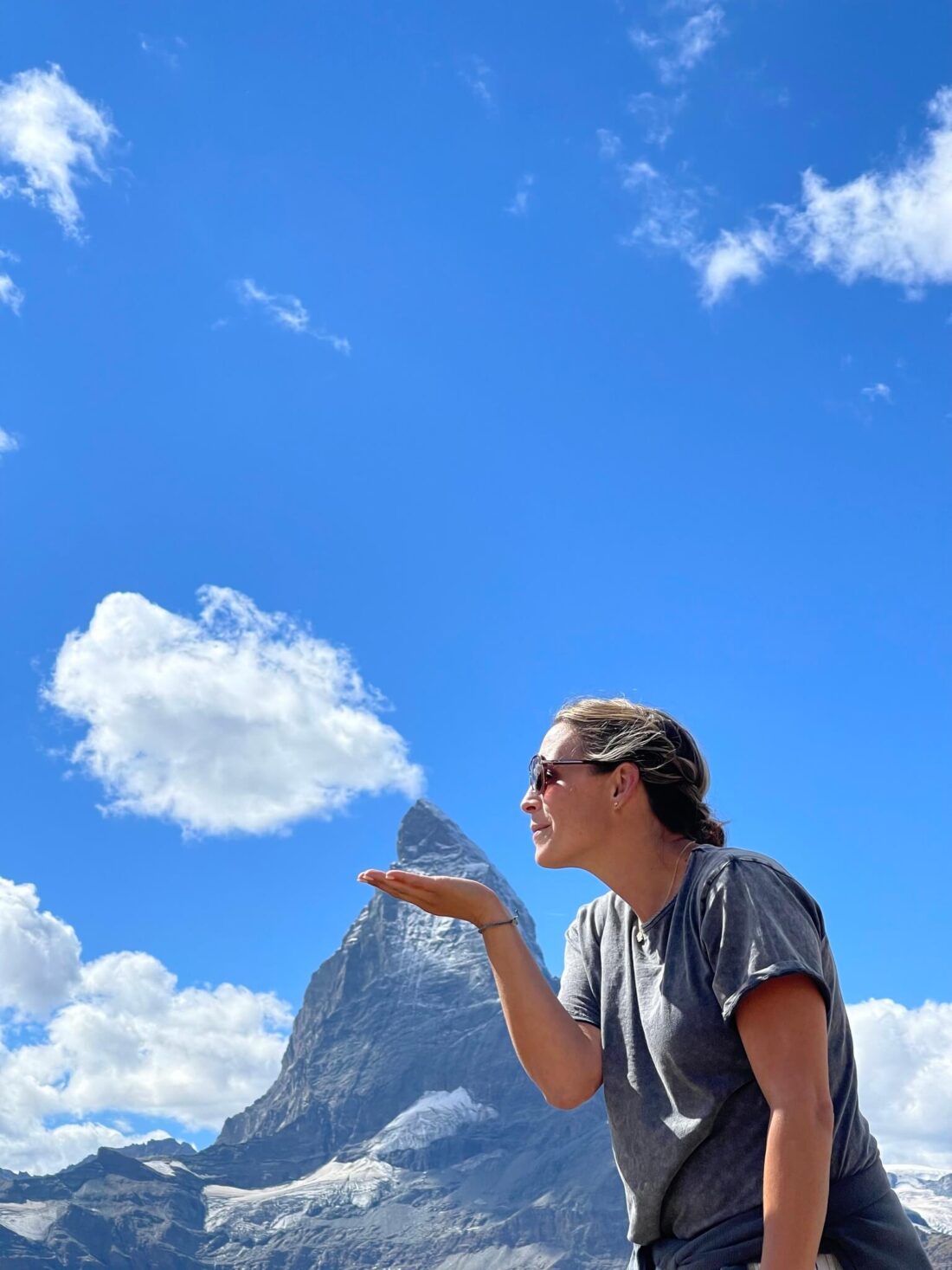 Zermatt is most famous for its incredible views of the Matterhorn, but there's a lot more to this picturesque town. It's home to some of the most scenic train rides on Earth and some great restaurants and shopping as well.
Zermatt is also the end of the Walker's Haute Route, which is a massive hike through the Swiss Alps that begins in Chamonix, France, and traverses some of the most beautiful scenery in Switzerland, ending in Zermatt. You can take the Gornergrat Railway (one of the most scenic train rides in the world), Hike from Gornegrat to Riffelsee, and visit the Matterhorn museum.
Rapperswil
30-45 minutes by train
From Zurich's main train station, you can take a leisurely train ride along Lake Zurich to Rapperswil at the southern end. Spend a day exploring the medieval castle and its rose gardens which are the reason the city has been called the "City of Roses."
Rapperswil has been called the "Riviera of the Alps," with its lakefront attractions, historical charm, and top-notch shopping and dining options. Old Town is home to a wide range of designer boutiques, clothing retailers, gift shops, cafes, restaurants, and trendy food joints.
Take a walk along the lakeside promenade. And if you're feeling up to it, visit the local Knie's Kinderzoo, which features animals native to Switzerland.
Whether you're an art lover or looking for a relaxing jaunt outdoors, consider visiting the Enea Tree Museum nearby. This park is home to a wide range of regional trees, as well as fascinating contemporary art sculptures by renowned artists.
Lucerne
1 Hour by Train
A Zurich to Lucerne day trip is one of the most popular day trips available to travelers in Switzerland. In just an hour, you'll arrive in the heart of Lucerne, where you'll have access to the town's many treasures! Walk the cobblestone streets of Old Town to see beautiful examples of medieval architecture. You can visit the Richard Wagner Museum, housed in a charming villa.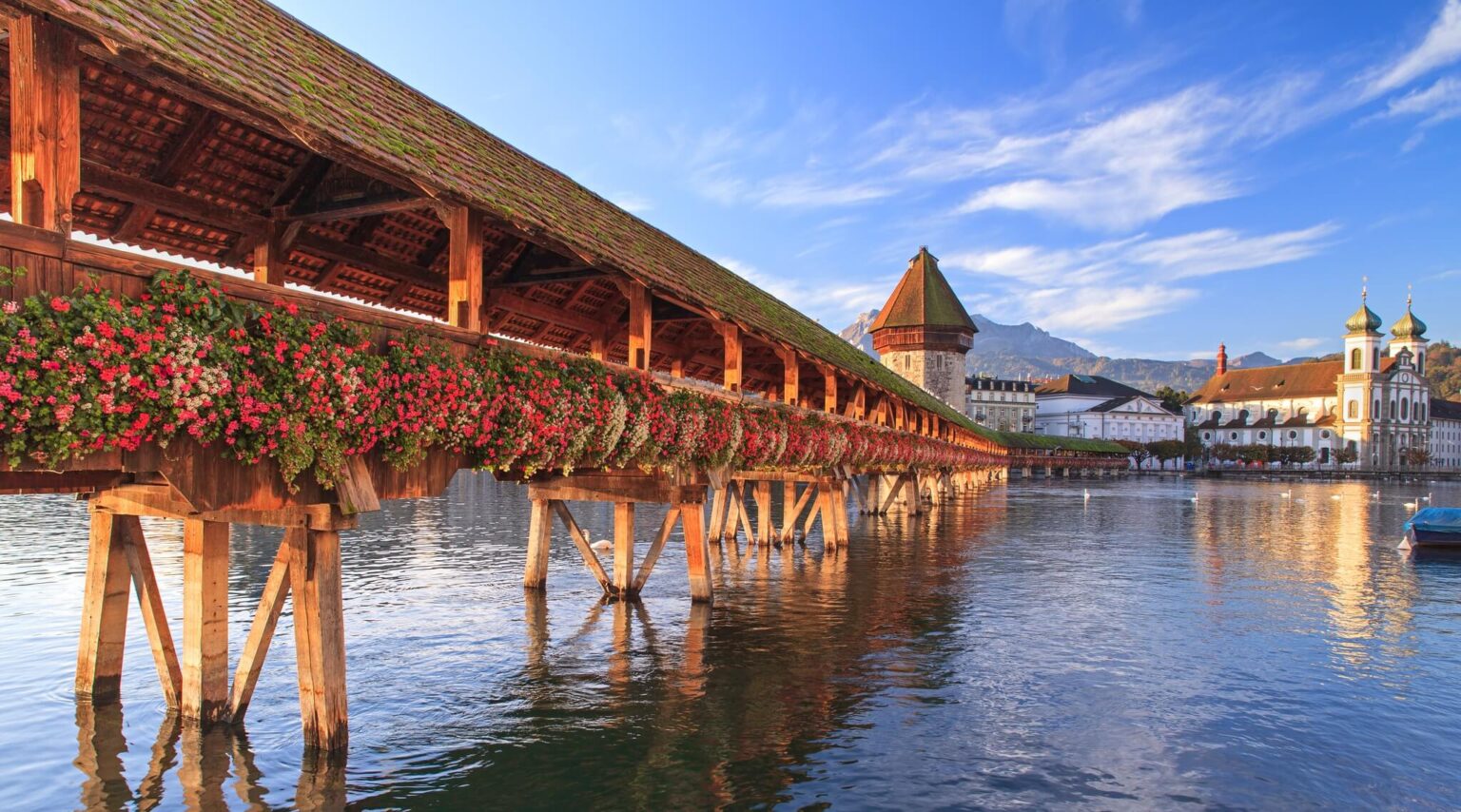 And the iconic Chapel Bridge is a must-visit. This 700-year-old bridge is famous for its lovely wooden structure trimmed with colorful flowers! Nearby, the Lion Monument (Löwendenkmal) pays tribute to Swiss Guards and is absolutely moving to see in person.
On Lake Lucerne, you can take boat cruises against the stunning backdrop of surrounding mountains. Or head to the Swiss Transport Museum (Verkehrshaus der Schweiz), with its interactive exhibits on transportation history. Nearby, you can ascend Mount Pilatus via cable car ride for views that take your breath away.
Bern
1 Hour by Train
A day trip to Bern is a great way to experience the diversity of the Swiss countryside in central Switzerland. In just an hour, you'll travel from urban Zurich to this idyllic Swiss town. The entire town holds the title of UNESCO World Heritage Site and features a storybook-perfect Old Town.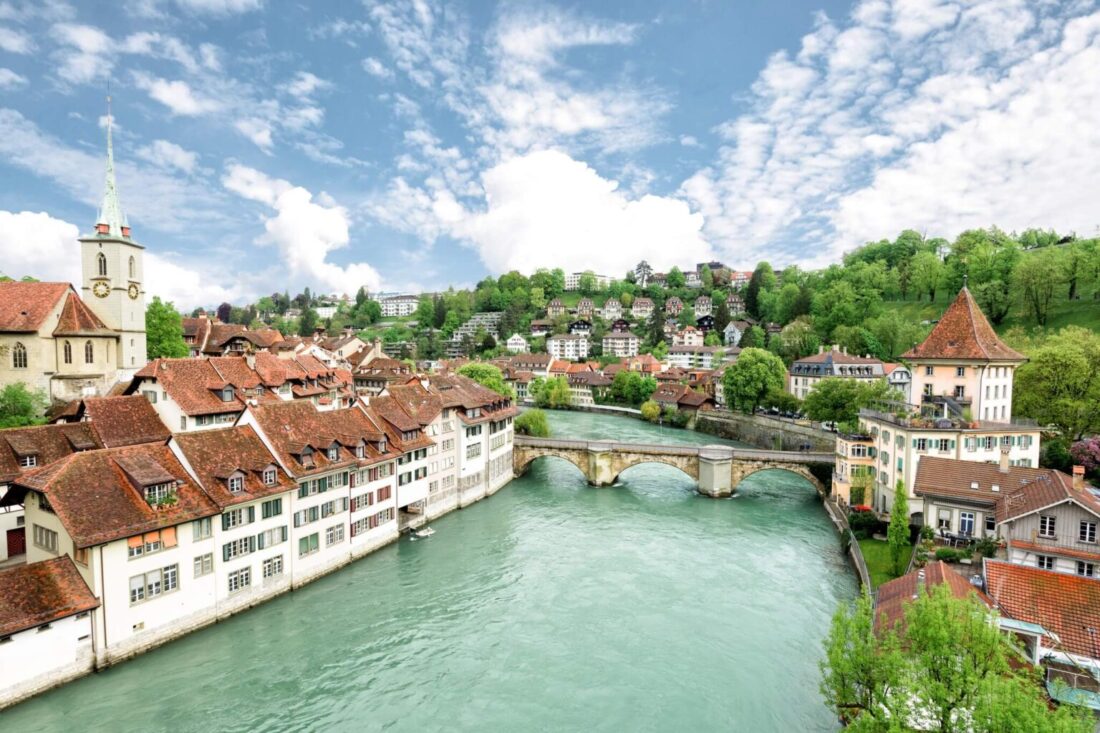 One of the best things to do in Bern is simply to roam the streets! Say hello to the famous Zytglogge Clock Tower, shop, and hunt down historic bronze statues and pretty fountains. This is also where you'll find Switerland's tallest cathedral, the Cathedral of Bern!
When in Bern, a visit to Bear Park is a must. Plus, you can visit the Einsteinhaus, a house museum where the mathematician lived while he was developing his Theory of Relativity. And among the many excellent museums in Bern, I recommend the Natural History Museum.
Basel
1 Hour by Train
In just an hour, you can reach Basel, a cultural hotspot on the banks of the Rhine River. Nestled on the banks of the Rhine River, Basel is a vibrant Swiss city that offers historical, cultural, and outdoor attractions.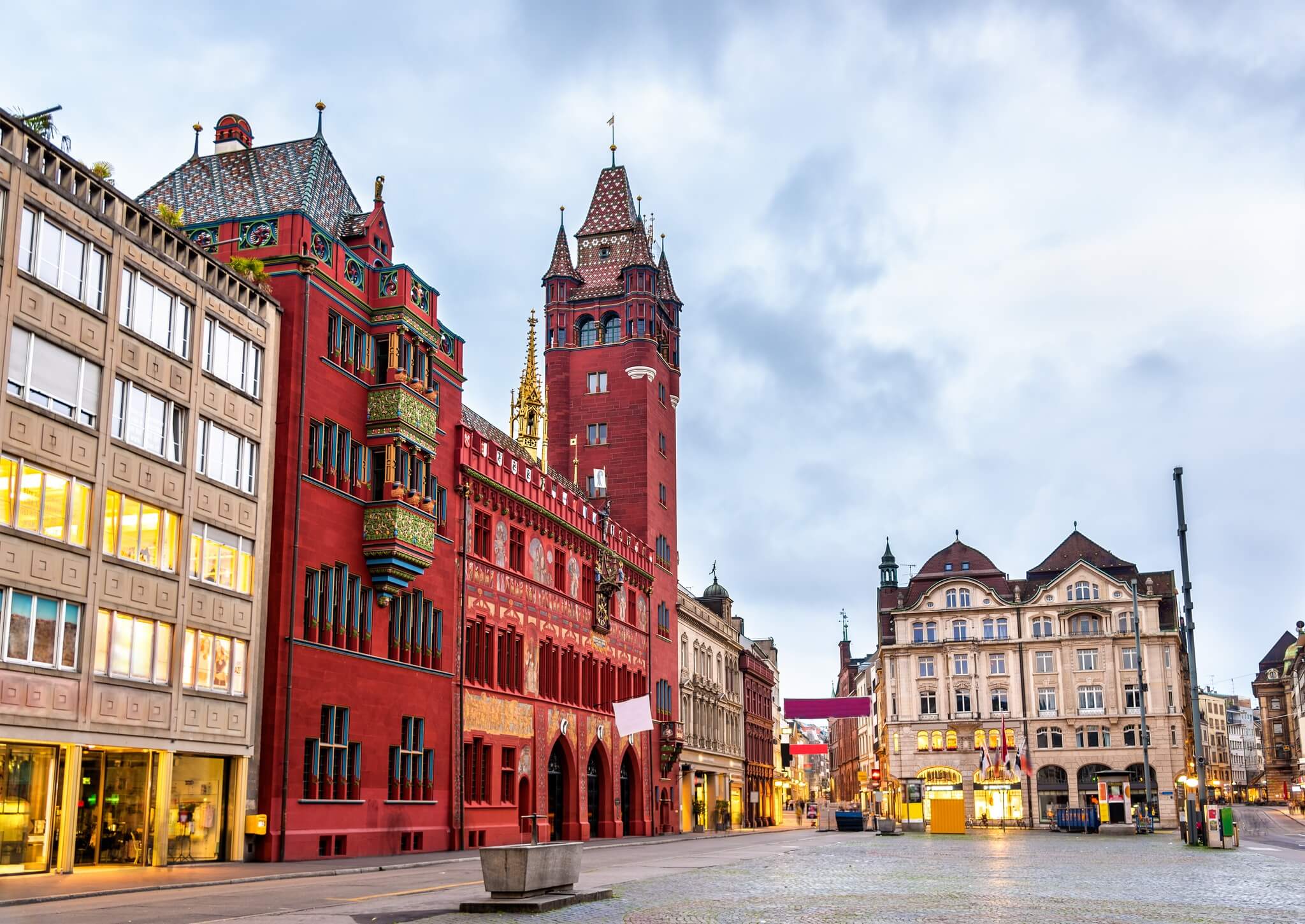 Basel is known for its thriving arts scene. The city boasts over 40 museums, including art museums like Fondation Beyeler, the Museum Tinguely, and the Swiss Architecture Museum. For more variety, there's the Toy Worlds Museum or the Jewish Museum of Switzerland.
The old town is a gorgeous maze of medieval streets and squares, anchored by the magnificent Basel Minster with its striking red sandstone façade. Make sure to check out Marketplatz. Framed by imposing medieval buildings covered in ornate architecture, the square hosts a vibrant farmer's market and festive holiday gatherings.
And just a short walk away, the Rhine promenade invites you to take a scenic walk. During the warmer months, locals and visitors alike love to swim in the river's cool waters. And a relaxing Rhine River cruise is a fantastic idea on a sunny day!
Neuhausen am Rheinfall and Schaffhausen
1 Hour by Train
Neuhausen am Rheinfall and Schaffhausen just might be the most popular day trip from Zurich! This is where you can experience Rhine Falls, Europe's largest waterfall, as well as the magic of an ancient Swiss town.
Neuhausen am Rheinfall is the home of Rhine Falls. This is the perfect spot to witness the sheer power of the cascades from an observation deck. Or you can take trails along the river's edge that take you through lush forests and close to the falls.
For a thrilling experience, take a boat to get close to the falls. It's the ultimate way to feel the spray and energy of the cascades! For more daring activities, there's also Adventure Park Rheinfall, where you can take on challenging ropes courses and ziplines right next to Rhine Falls!
You can also discover the source of Rhine Falls by venturing to Lake Constance, which feeds Rhine Falls nearby. This serene lake straddles 3 countries and offers boat rides that provide mesmerizing views of the surrounding landscapes.
Then, in Schaffhausen, walk into the past as you explore well-preserved medieval streets. Don't miss the impressive Munot fortress, which offers panoramic views of the city and the Rhine River. And a popular stop in Schaffhausen is the All-Saints Museum (Museum zu Allerheiligen), which boasts a treasure trove of art and artifacts.
Arth-Goldau and Einsiedeln
1-1.5 Hours by Train
Venturing from Zurich, the towns of Arth Goldau and Einsiedeln offer a taste of Swiss beauty and spirituality in a single day trip!
Start your day in Arth-Goldau, set on the banks of beautiful Lake Zug and cradled by the Swiss Alps. You can spend your time riding bicycles along the stunning lakefront or exploring quaint local eateries by the water.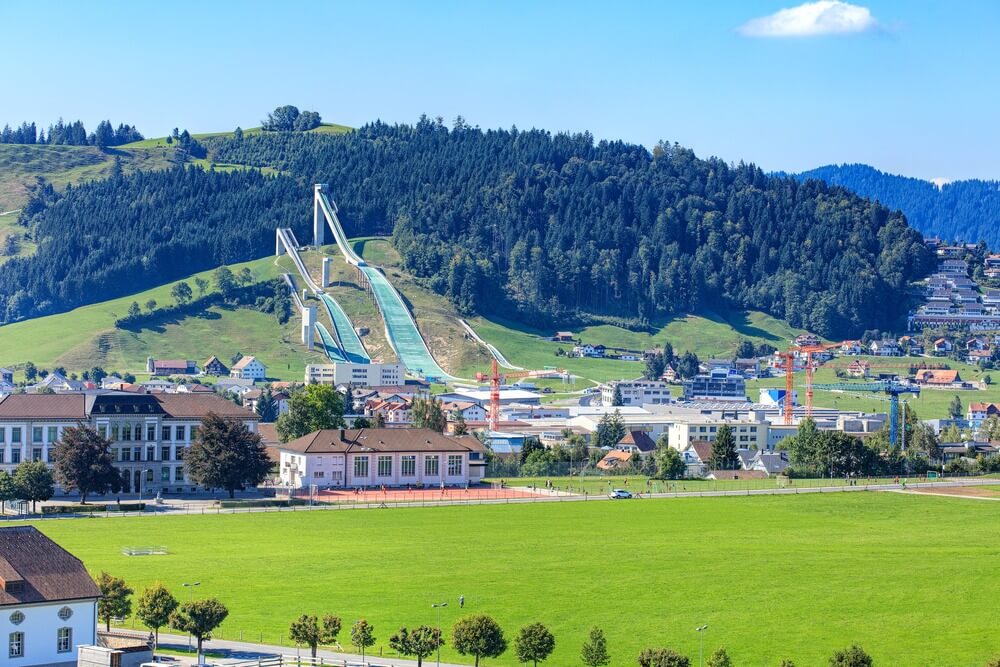 And nearby Mount Rigi is one of the most sought-after destinations in all of Switzerland. Take a cogwheel train to the top and enjoy hiking trails that offer breathtaking scenery.
Then just it's another 30-minute train ride to Einsiedeln known to be a spiritual haven. The crown jewel here is the majestic Einsiedeln Abbey. Marvel at the baroque architecture and explore the rich history within. Plus, if you're here in the winter, the village hosts a charming Christmas village in the square here!
Stein am Rhein
1.5 Hours by Train
Stein am Rhein stands as a time capsule, offering a captivating journey back to the Middle Ages. It's hailed as one of the best day trips from Zurich for those interested in medieval history. This charming town is like something out of a fairy tale!
The town's well-preserved half-timbered houses are breathtaking and give you a sense of reverence for the past. Every corner of Stein am Rhein tells a story, inviting you to explore its historic nooks and crannies. The vivid frescoes that decorate the buildings just add to the town's charm!
The church and former monastery of St. George's Abbey is a main attraction in Stein am Rhein. Its intricate facade and ornate details paint a living picture of centuries past, so you feel like you're walking in history. Nearby, you can explore Hohenklingen Castle, and take a stroll along the picturesque Rhine River.
If you prefer a guided walking tour, this one is excellent. It's a full-day tour with transportation from Zurich that combines sightseeing at Rhine Falls with a visit to Stein am Rhein.
Gallen
1.5 Hours by Train
Nestled in eastern Switzerland, St. Gallen is perfect for those interested in unique historical attractions. The St. Gallen Abbey, a UNESCO World Heritage site, is a focal point. It boasts a stunning library filled with ancient manuscripts and delicate Baroque architecture. And the city's historical textile industry is celebrated at the Textile Museum, where you can see delicate lace creations.
Wandering through the old town, you'll encounter medieval facades, cobblestone streets, and charming squares. The twin-spired cathedral and the Abbey Square add to the city's architectural appeal. The Museum of Art (Kunstmuseum) houses a diverse collection of artworks made up of both classical and contemporary pieces.
Also, while you're in St. Gallen, check out the culinary scene! It offers a wide range of traditional Swiss flavors and contemporary twists at both restaurants and fast-food locations.
Glarus
1.5 Hours by Train
For those seeking a day trip full of outdoor adventures, Glarus is a hidden gem surrounded by mountains and valleys. Take a stroll around the charming town, known for its painted wooden houses. For a taste of local flavors, explore farmers' markets offering fresh produce and handmade goods. Then, venture into the great outdoors!
Klöntaler Lake (Klöntalersee), a nearby mountain lake, is a perfect retreat for the day. You can go hiking or mountain biking on trails around the lake to find waterfalls and enjoy stunning mountain views. Enjoy a tranquil lakeside picnic or rent a kayak from the Rhodannenberg Chalet.
Fribourg
1.5-2 Hours by Train
Fribourg is a picturesque town with a blend of French and German influences nestled in the rolling landscapes of western Switzerland. The medieval old town is packed with preserved architecture. Navigate cobblestone streets winding through Gothic buildings, visit the iconic St. Nicholas Cathedral, and walk the pedestrian-only Zaehringen Bridge.
The city's dining scene is spectacular, from Old Town to the sleek commercial districts! You can peruse all kinds of local cafes and restaurants serving Swiss specialties, Parisian favorites, and Italian classics.
And Fribourg's museums do not disappoint. The Art and History Museum showcases regional heritage, while the Espace Jean Tinguely-Niki de Saint Phalle adds contemporary appeal. The Sarine River winds through the city, with tranquil spots like St. Jean's Terrace, where you can take in the city's panoramic views.
Chur
1.5-2 Hours by Train
Nestled in the heart of the Swiss Alps, Chur is Switzerland's oldest city, at around 5000 years old! Its lovely old town exudes a medieval charm, with narrow streets leading to architectural treasures like the Chur Cathedral and the Rathaus (Town Hall). The bustling markets and squares feel timeless!
For outdoor enthusiasts, Chur is a base for exploring the Rhine Gorge (Rheinschlucht), often referred to as the "Swiss Grand Canyon." You can explore hiking trails through the gorge or go on rafting and canoeing excursions.
Back in Chur, the Bündner Kunstmuseum showcases Swiss art, from traditional to contemporary. Chur is also a gateway to the Bernina Express, a scenic train ride that crosses the breathtaking Alps and connects Switzerland to Italy.
Mount Rigi
1.5-2 hours by Train
Although I included Mount Rigi in things to do near Arth-Goldau, it's a well-known Swiss destination on its own! There are a few ways to reach this infamous mountain peak, but the most direct route for a day trip is by taking a train to Arth.
From here, you'll take Embark on a cable car ride up the mountain's slopes. The journey itself is a scenic delight, enjoying breathtaking views of the surrounding countryside. Alternatively, you can board Europe's oldest cogwheel railway, providing an authentic Swiss experience.
At the summit, be prepared to be stunned speechless by the panoramic vistas, from Lake Lucerne to the Swiss Alps beyond. Mount Rigi also offers an array of well-marked hiking trails and nature walks suitable for all levels. Hike through lush meadows, dense forests, and alpine slopes. You won't believe the clouds up here, and don't be surprised if a cow greets you on the trail!
Appenzell
2 Hours by Train
Appenzell is a village in northeastern Switzerland where you can experience the essence of Swiss tradition while soaking in classic Alpine scenery. The colorful village is set symphony of rolling hills, verdant meadows, and rustic farms. It's the ideal backdrop for your exploration of Swiss culture!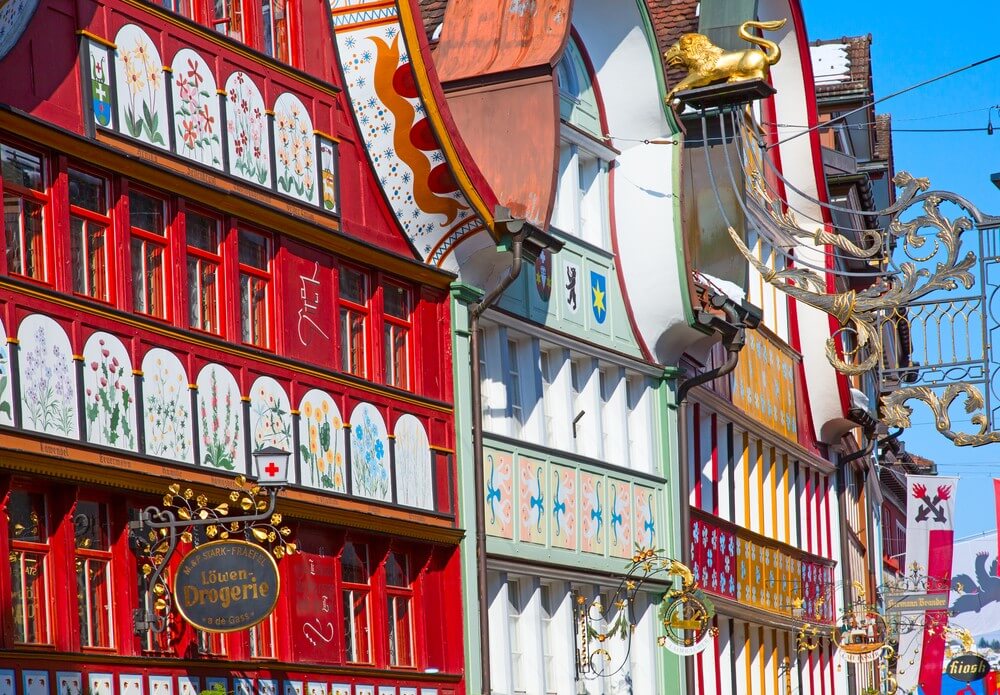 Appenzell's colorful buildings are why it's one of the best day trips from Zurich! The village's traditional architecture is heavily painted with bright hues and cheerful patterns. Just wandering the streets and popping in storefronts is satisfying for any visitor.
While you're exploring, head to the Appenzeller Brewery to try the famous Appenzeller beer. Or explore the cheese shops and chocolate shops found throughout the colorful old town. And for a bit more culture, you can get a feel for the region by visiting the Appenzell Museum. Exhibits here showcasing folk art, historical artifacts, and insights into the village's past.
Gruyères
2 Hours by Train
Cheese lovers, this one's for you! Gruyères is famed for its namesake cheese. But it's also known to be one of the best-preserved medieval towns in Switzerland! Spend your time wandering the Renaissance-era village, admiring the wood and stone structures from a bygone era.
The Gruyères Castle, perched on a hill, offers panoramic views and a glimpse into the past. While you're here, make sure to visit La Maison du Gruyère, where you'll learn about the cheese-making process. And then head to a local eatery to indulge in a mouthwatering fondue!
And fans of the "Alien" movies can check out this next unique attraction: the H.R. Giger Museum. This art museum inside of a medieval castle showcases the surreal and creative works of the Swiss artist behind the infamous science fiction series!
Interlaken
2 Hours by Train
Just a scenic 2-hour train ride away, Interlaken is an adventurer's paradise positioned between Lakes Thun and Brienz. It's one of the most popular day trips from Zurich for adrenaline seekers. It's often a base for exploring the Jungfrau Region. But this resort town is a dreamy destination on its own, with charming streets set against crystal-clear lakes and snow-capped mountains!
Interlaken's food scene offers everything from cozy Swiss chalets to global eateries. You can enjoy local specialties like fondue and raclette. Or savor international cuisines, including Italian, Lebanese, and Asian.
Additionally, the resort town boasts several day spas where visitors can unwind and relax. These spas provide a range of treatments and services, including massages, facials, and wellness therapies, all set against the backdrop of Interlaken's serene surroundings.
Colmar, France
2 Hours by Train
Venture across the border to Colmar, a fairytale-like town in France's Alsace region. It makes an ideal day trip, offering a taste of France within a manageable journey from Zurich!
Colmar, nestled in the Alsace region of France, makes for a captivating day trip from Zurich. Stroll through the well-preserved old town, where half-timbered houses adorned with vibrant flowers line the streets. The historic district, known as "Little Venice," offers picturesque canals and charming bridges.
Colmar's cultural scene shines through its museums, like the Unterlinden Museum, a religious art museum set in a converted convent from the 1200s. And the Bartholdi Museum is a must-visit. This museum honors the creator of the Statue of Liberty, who was born in Colmar!
While in France, make it a point to savor Alsatian cuisine at local bistros. Here, dishes like tarte flambée and choucroute (sauerkraut) reflect the region's fascinating culinary heritage.
Lausanne
2.5 Hours by Train
Lausanne, situated on the northern shore of Lake Geneva, is a vibrant Swiss city known for its truly diverse attractions. If you're a fan of the Olympic Games, Lausanne is the Olympic Capital of the world! It's where the International Olympic Committee headquarters is located, and you can visit the Olympic Museum here.
for history lovers, head to the city's Old Town, where you can explore charming cobblestone streets and squares. The impressive 12th-century Lausanne Cathedral is a focal point of the city's oldest history. And just a few steps away, the Palais de Rumine is a must-see destination. This stunning 200-year-old palace is home to several different museums!
With its lakeside location, Lausanne's Ouchy district offers a variety of pretty lakefront promenades and parks for your enjoyment. And Lausanne's local markets, shopping malls, boutiques, and cafes will please any shopper.
Lugano
2.5 Hours by Train
A 2.5-hour train ride lands you in the sunny town of Lugano, located in the Italian-speaking Ticino region of southern Switzerland. Its mix of Swiss efficiency and Italian influences makes for an interesting place to visit!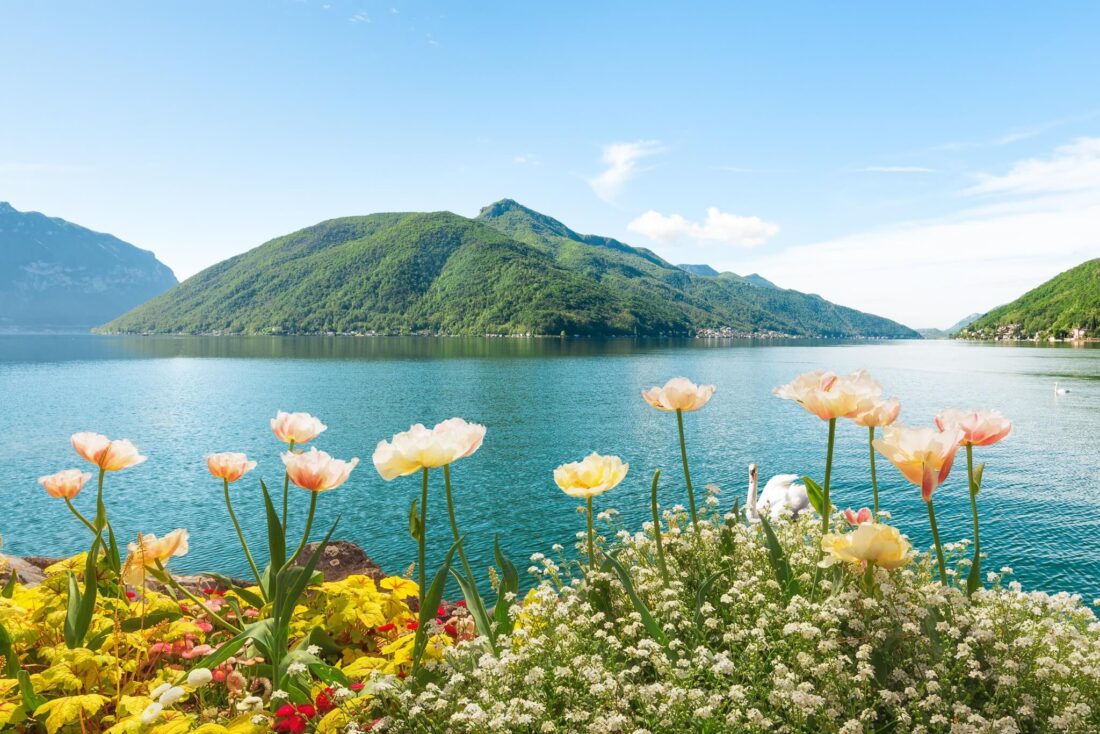 The city sits by Lake Lugano, giving it lovely lakefront views and a wonderful, balmy climate. Start your visit with a stop at the lakeside Parco Ciani, where you can sit by the water or take a relaxing walk. And the historic Old Town offers impressive retail options, whether you're into boutiques, local markets, or international brands.
Lugano's cultural scene includes spots like the Museo d'Arte della Svizzera Italiana, highlighting Swiss and Italian art. And while it's a bit far to walk, for fans of the German writer, the Hermann Hesse Museum is worth paying for a car to reach.
Mount Titlis
2.5-3 hours by Train and Cable Car
One of the most popular day trips from Zurich is Mount Titlis. It's a journey that promises thrilling Alpine adventures! From Engelberg, you'll ride a cable car to arrive at Glacier Park. Here, you can take an exhilarating ride on the Glacier Park snow slide or take the Ice Flyer chairlift, with its stunning panoramas.
For the bravest, take on the Titlis Cliff Walk, Europe's highest suspension bridge! Suspended over a deep glacier crevasse, it offers breathtaking views and a touch of adrenaline. And in the Glacier Cave, you'll explore intricate ice formations and learn about the glacier's formation.
And I highly recommend setting aside time in your day to explore Engelberg! The village offers a variety of opportunities for hiking, shopping, and enjoying Swiss cuisine.
Jungfrau Region
2.5-3 Hours by Train
Embark on a memorable day in the Jungfrau region, beginning with the picturesque village of Grindelwald. Nestled among snow-capped mountains, Grindelwald glows with Alpine charm. As you explore the main thoroughfare lined with shops and eateries, you'll be greeted by breathtaking vistas of the iconic Eiger, Mönch, and Jungfrau peaks.
Next, you'll take the famous Jungfrau Railway to Jungfraujoch, known as the "Top of Europe." This legendary cogwheel train journey offers unbelievable views of the Alps while you climb to an altitude of almost 3,500 meters!
At the top, you can go inside the Ice Palace, a cavern sculpted from ice that features fun ice sculptures. You can also stroll the observation platforms, taking in the snow-clad peaks that make you feel like you're really on top of the world.
Alpstein
2.5-3 Hours by Train
While there's no direct train ride to Alpstein, this is one of the best day trips from Zurich for outdoor lovers! Alpstein is a haven for hikers and nature enthusiasts. Head out early and enjoy a day exploring lush meadows, rolling hills, and rugged peaks.
You'll find a wide range of where well-marked trails lead to breathtaking viewpoints. As you explore Alpstein's trails, you're likely to encounter charming Alpine huts and grazing cows, which only add to the region's Swiss charm!
Take a cable car ride to Ebenalp Peak. This is where the famous Aescher Mountain Guesthouse is, perched dramatically on a cliff. It's an exciting visit and a unique spot to enjoy a meal with stunning views! And the Säntis Cable Car transports you to the highest peak in the region, rewarding you with unparalleled Alpine views.
Zurich Day Trips FAQ
What countries can you see on a day trip from Zurich?
On a day trip from Zurich, you can explore some amazing neighboring countries. Head to Germany to experience cities like Konstanz, known for its charming old town and beautiful lake views. You can also visit destinations in France, like Strasbourg, which is famous for its unique blend of French and German influences. And don't miss a trip to Liechtenstein, a tiny yet picturesque country known for its Alpine landscapes and Vaduz Castle.
Where can I visit from Zurich by train?
Embarking on day trips from Zurich by train opens up a realm of opportunities for you! The majestic Rhine Falls, Europe's largest waterfall, is just a train ride away. You can go on a city tour in Lucerne, wandering cobbled streets and admiring the iconic Chapel Bridge. Or delve into medieval history with a trip to Bern, the capital city. With convenient train connections, these enchanting destinations promise unforgettable adventures with reach of Zurich.
Is Lucerne a good day trip from Zurich?
Absolutely! Lucerne makes for a fantastic day trip from Zurich. The train ride itself is a picturesque journey through Swiss landscapes. Once there, you'll be captivated by the charming beauty of Lucerne. Stroll across the iconic Chapel Bridge and enjoy the serene views of Lake Lucerne and the surrounding mountains. Also, consider a visit to the Swiss Transport Museum to learn about the city's rich history. Or you can climb Mount Pilatus for breathtaking views.
What is the most scenic train in Zurich?
For day trips from Zurich, the "GoldenPass Line" stands out as the most scenic train journey. Connecting Lucerne to Montreux puts Switzerland's diverse beauty on display! You'll pass through lush meadows, charming villages, and the enchanting landscapes of the Swiss Alps. Marvel at stunning Lake Geneva and catch glimpses of iconic peaks like the Matterhorn. This train ride boasts oversized, panoramic windows for taking in the breathtaking views.