Waterton Lakes National Park in Alberta, Canada is one of the most beautiful and best kept secrets in the country. Nestled where the Alberta prairies meet the Rocky Mountains, this haven of glacial lakes offers natural beauty, wildlife, and outdoor activities for everyone!
Why Waterton Lakes National Park is One of the Best Places to Visit in Canada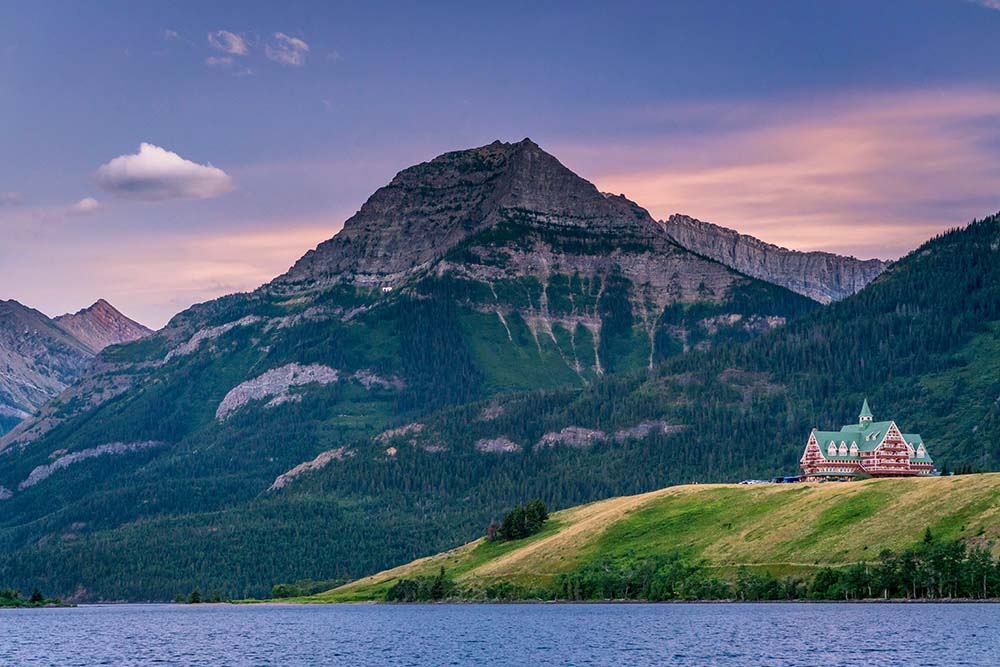 Have you ever been to a place that it got into your soul and under your skin so much, that you just had to return over and over again because your heart longed for it? I think most of us travelers, and travelers at heart, have a place like this in the world. You may not be able to explain exactly why you feel this way about your place, but it's yours, and it's where your soul feels alive.
I may have several places like this around the world. They are all so very different, that it's easy to see how my wanderlust soul could split into so many pieces. For city energy, it's London. For history and returning to my roots, it's Scotland. For nature, my soul lives in Waterton Lakes National Park in Alberta, Canada.
Nestled along the Montana border where the Alberta prairies meet the Rocky Mountains, Waterton is a hidden gem, and one of the most beautiful and most unique National Parks in the world. The park's distinct ecosystem was designated a Biosphere Reserve by the United Nations and Waterton also holds the title of an International Peace Park, due to the fact that it is home to the largest unguarded border in the world!
Not only is this park full of breathtaking beauty, but there is also a feeling here of peace and reverence that is hard to find elsewhere, and even more difficult to describe. The history of Waterton Canada begins over 10,000 years ago when alpine glaciers melted and carved out valleys, paving the way for its first human residents, the tribes of the first nations Canada. Waterton was home to many nomadic tribes who hunted and gathered along the shores of its shimmering lakes for thousands of years.  Since the Kenow Waterton fire of 2017, many indigenous artifacts have been found in the ground as proof of Waterton's earliest inhabitants.
Just as they did thousands of years ago, people today still gather around the shores of Waterton's lakes and enjoy a host of activities throughout the park. Our family has been lucky enough to be able to visit this favorite place of ours about every other year. Paul grew up here, so thankfully, we can always find an excuse to come back!
Sadly, in September 2017, just a few weeks after we left from our last visit, Waterton National Park experienced the devastating Kenow Wildfire, which claimed nearly 50,000 acres of parkland and many park buildings. But don't worry it's still gorgeous and so worth visiting. To check on any park closures you can check here.
If you're planning a Canada trip and wondering what to do in Canada during your time there, then Waterton should definitely be on your itinerary. There are many incredible National Parks in Canada like Banff, Jasper, and Yoho, but in my opinion, Waterton is one of the best places to go in Canada, simply because it is still so unspoiled by overtourism, and has some of the best lakes in Canada. When you go to Waterton Lakes National Park, here is what you should do!
What to do in Waterton Lakes National Park
There is so much to do in Waterton Lakes National Park on your own, as a couple, or with kids and babies on your trip to Canada. It's especially a great place for families.
Waterton Camping
The best way to truly experience Waterton is to stay overnight. Book at one of the three campsites ahead of time here. When Paul and I were first engaged, this was the first trip we took. We laid out our sleeping bags on the rocky shores of the lake and slept there. It was my first time sleeping under the stars and we even saw the Northern Lights, another first for both of us! It was a magical experience I'll never forget. Since I don't think sleeping on the shore is prohibited, it would be wise to book a campsite! There are several RV sites in and around the park as well.
Waterton National Park Lodging
If you'd like to stay somewhere with a hot shower, there are several hotels near Waterton. The most famous hotel is actually inside the park, and you can't miss it. The Prince of Wales hotel Waterton, built in the 1920s, is a beautiful historic hotel. If you don't have the budget to stay there, you can take afternoon tea instead! 
If you'd like to stay somewhere in the park, check out these Waterton Alberta hotels with great locations.
Beaches
Enjoy spending time on the gorgeous beaches of the Waterton lakes. We love Driftwood Beach and Emerald Bay. The water is so crystal clear and its relaxing just to sit and watch the gentle waves lap up onto the shore and take in the magnificent views. My kids' favorite activities include skipping rocks (aka: throwing rocks in the water), and building driftwood houses. These beaches provide hours of entertainment for them so I love to bring a camping chair and a good book!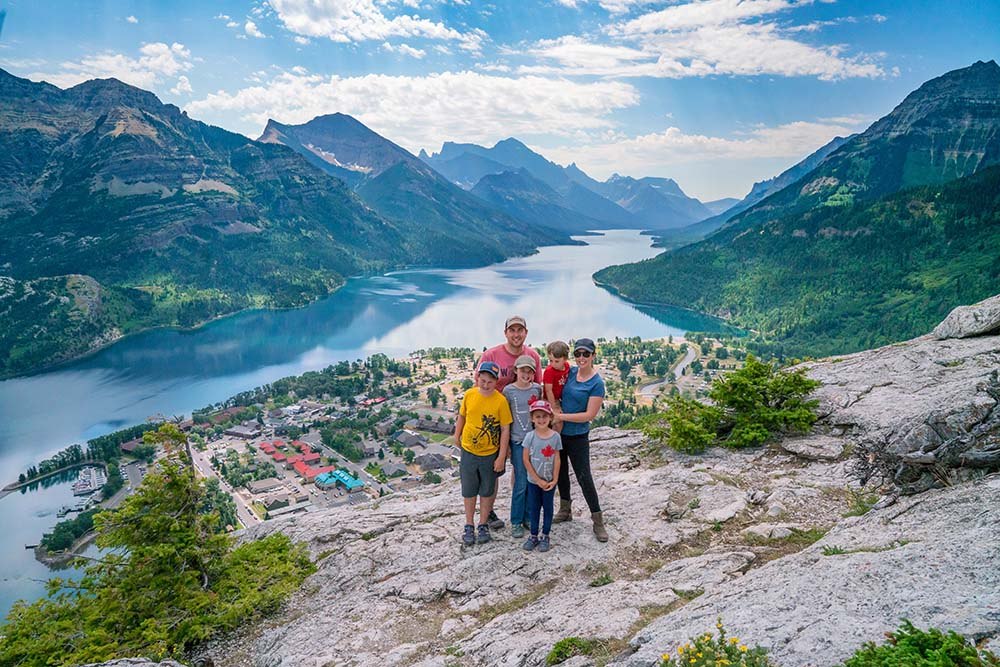 Hiking
With over 120 miles of hiking trails, ranging from easy to difficult, multi-day hikes, Waterton has no shortage of ways to see the park on foot.
Our personal favorite is Bear's Hump, a steep 2-mile hike that takes about an hour and offers stunning views of the Waterton lakes!
We also love Red Rock Canyon. The kids love splashing through the water and sliding down the natural rock slides!
Cameron Falls is a beautiful and easily accessible waterfall that you can park and walk to easily. You can also walk up a paved path to the top of the falls.
Find a complete list of Waterton hikes and which hikes are still open after the Waterton fire here.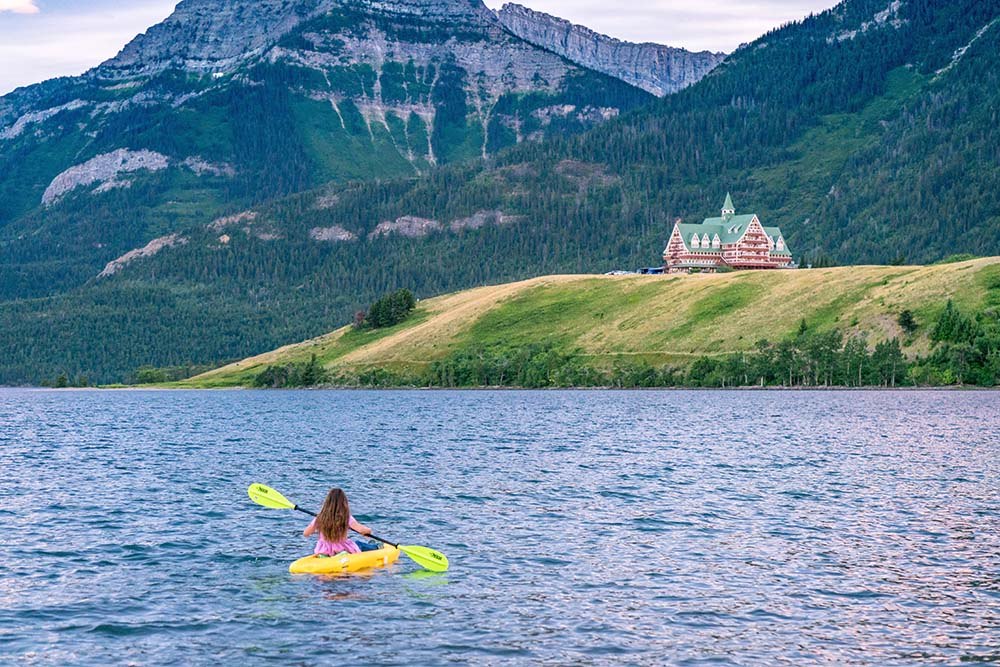 Spend Time on the Water
The crystal clear glacier water of the Waterton Lakes is perfect for kayaking, canoeing,  paddleboarding, windsurfing, scuba diving, or swimming. The water is anything but warm, but during the summer months the cool water really does feel refreshing!
Fishing
Waterton can be a great Canada fishing trips! Be sure to get a fishing license and be aware of local rules and regulations, which you can find here.
Sit in the Red Chairs
Waterton has 5 sets of Parks Canada chairs placed throughout scenic spots in the park. Take a break and take a selfie!
Stargazing
Once the sun goes down and the campfires go out, take a look up in the sky and see some of the most incredible stars in the world! You can download a star chart for the month you're there right here. The stars are so incredible in Waterton due to the lack of light pollution and because of the high altitude. It might even be worth bringing a small telescope if you can.
View Wildlife
Wherever you go in Waterton Lakes National Park, you'll have the opportunity to view wildlife. From the deer wandering the campsites, bighorn sheep you'll see on the mountains, and even bears! Bird enthusiasts can find over 250 different species of birds! Be sure to review animal safety rules and never, ever feed the wildlife!
Visit Two Countries on the Waterton Shoreline Cruise Co.
If you take a ride on the historic M.V. International, you can cross the international border into Glacier National Park and visit Goat Haunt, Montana while enjoying incredible views of the mountains from the lake!
Red Rock Canyon
Red Rock Canyon is a beautiful and unique spot in Waterton. You can hike through the canyon and slide down natural stone slides and rock pools.
Volunteer
If you love volunteering, there are many opportunities to help out at Waterton National Park. Check this page and the volunteering calendar.
Hang Out in Town
The town of Waterton is adorable! It feels like stepping back in time 50 years. Some of our favorite shops include Weiners of Waterton where you can grab vegan hot dogs, polish dogs, and more; Waffleton, which has the best Belgian waffles I've ever had; and several ice cream and sweet shops, as well as art and souvenir shops.
If you're looking for more incredible places in Alberta, check out  these six magical places.
I hope you make it to Waterton! It truly is a special place and I know you'll fall in love with it! Please contact me if you need any help planning your trip. You can get in touch on Instagram or Facebook.
Be sure to pin this for later!