Considered by many as a romantic retreat for adults, the Andaz Costa Rica at Peninsula Papagayo is also a great choice for families. We visited 2 years ago for our anniversary, without the kids. It truly was a romantic experience that allowed for adults to have a separate space from families if they wish. With two adult pools, a world-class spa, and gourmet restaurants, it certainly might sound too posh for kids.
Hey, if you're interested in booking a stay at the Andaz Costa Rica, use my special code STAYPV for special upgrades. You can call +506 2690 1234 or book online.
But after visiting, we knew we had to bring the kids back! It's an amazing place for families who are interested in relaxing, wellness, nature, having fun together, or having the freedom to choose different activities.
We chose Costa Rica, and the Andaz, because of the lighter entry restrictions for Costa Rica, and knowing the staff and management at the resort, we also felt comfortable that they would be handling the situation and protocols responsibly. Learn more about how to travel to Costa Rica safely right now.
The New Protocols
The Andaz Costa Rica has new protocols put in place to help keep you safe during the pandemic. We were very impressed with how well they were handling all the changes.
Masks were worn at all times by employees
Guests all wore masks unless swimming, eating, or in our hotel rooms
Our temperatures were taken upon arrival
There are extra cleaning procedures in the guest rooms
Bags are given out at mealtimes to store your mask and keep it clean
There is hand sanitizer on every table and all around the resort
On-site testing is available so that you can meet the requirements to get back to the USA.
The food buffets are all manned by staff serving food.
The Resort Ambiance
The Andaz Costa Rica is a special place and its location makes it truly unique. They have seamlessly blended nature and architecture so that you feel you are staying in a sophisticated treehouse with really great food!
There is respect for wildlife and conservation, while providing a special experience for guests. The buildings have been tied into the existing mountainside, and when viewed from the water, the Andaz Costa Rica barely stands out. Even their pools naturally flow with the landscape. The lights are kept very low at night so as not to disturb the wildlife. The respect for nature is truly felt here.
The Guest Rooms
The rooms at the Andaz Costa Rica are set up nicely for families. We had 2 connecting rooms. One with a king bed and one with two queen beds. We could close our door at night for privacy and connect them during the day. It was the perfect set up for us. Each room comes with your own adorable fedoras and flip flops so you can fit right in and really look like you're on vacation.
The balcony was probably my favorite part of the room and I took several naps out there, listening to the sound of the howler monkeys, birds, and water. The kids loved the open-air showers looking over the bay and we all agreed we need one at home! The beds were comfortable, and we all slept hard!
We also loved the showers that opened up to the balcony! It was like having our own little private getaway.
The Swimming Pools
There are 4 different pools at the Andaz Costa Rica. Three family pools and one adult pool. The adult pool is at the far end of the property, removed from the family pools. We spent a lot of time here during our first trip.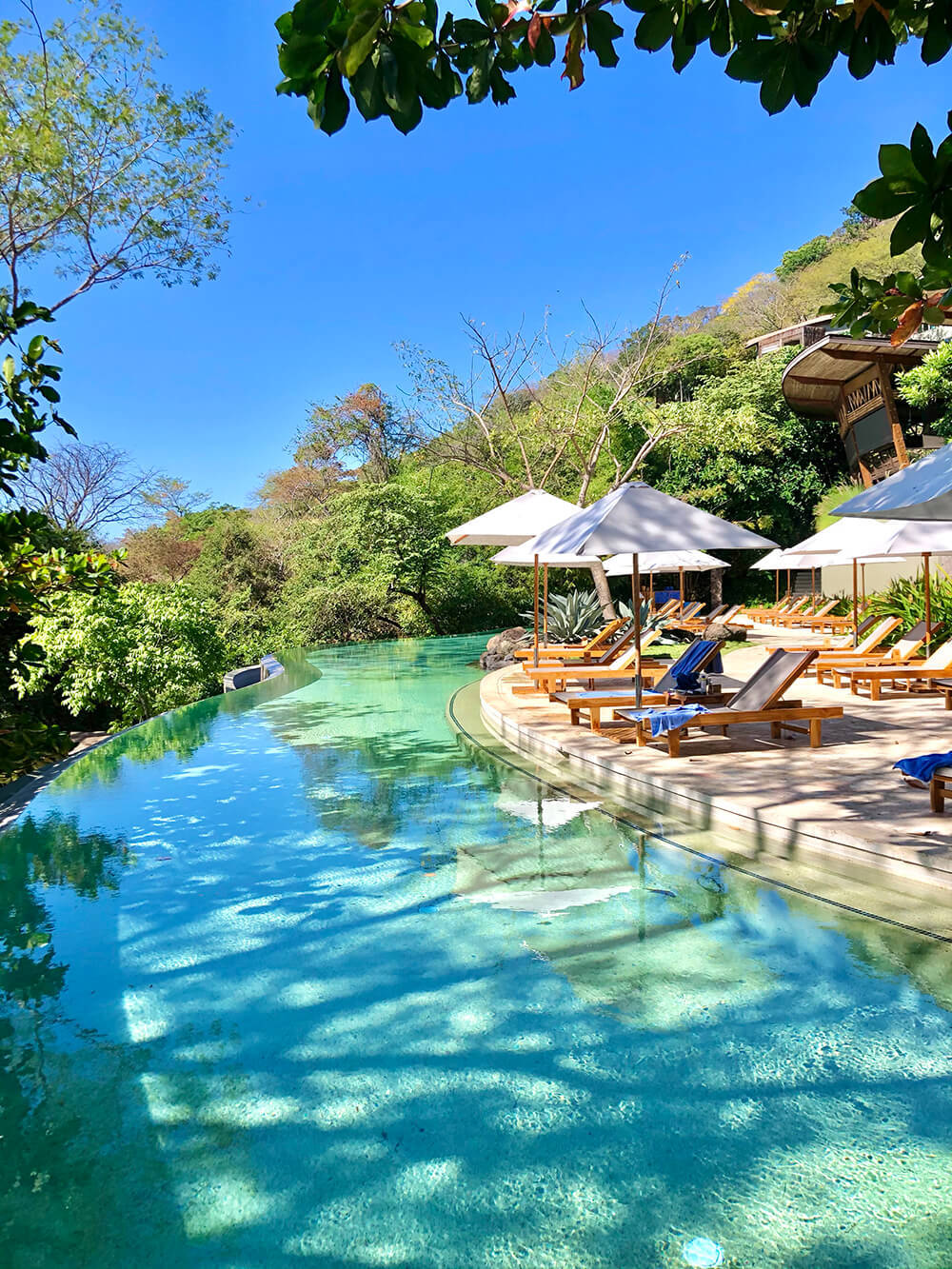 The family pool area is large and beautiful. The lower freeform infinity pools are surrounded by lava rock that's great for jumping off of, and the infinity side provides a beautiful view of the bay through the trees. There's enough shade that you won't burn and it keeps the lower pools cooler during hot days. The upper family pool is in direct sun, which makes it warmer great for those who tan, and at night it feels almost like a hot tub! All are amazing, and we went back and forth between them all day.
There is poolside service all day where you can order snacks, meals, and drinks. We got really into virgin pina coladas on this trip! My personal favorite was the passion fruit colada. Honestly, the best drink I've ever had.
At each pool you'll see a cart that provides sunscreen, bug spray, hand sanitizer, and towels. This was one of my favorite features, because I'm usually the one that has to remember the sunscreen, towels, snacks, and all the supplies! A note about bug spray…we had 2 mosquito bites while we were here. Considering it's a tropical climate, I thought that was pretty good!
The Kids Club
I was excited for the kids to try out Cambi, the kids club at the Andaz Costa Rica. The staff were very friendly and great with the kids, and my 2 youngest loved going a few times.
They were able to do several crafts and play games. They also have an outdoor play area with the loveliest view. Kids ages 4-12 can go to Cambi included in the room rate. Children under 3 can attend the toddler room with their parents, or the staff can arrange for babysitting. There are also activities in the evening from 6:00 pm- 10:00 pm that cost extra. A few notes about Cambi:
During this time you must make a reservation
You need to choose morning or afternoon to give other families an opportunity to come and maintain a small group.
Shoes will be removed before entry
There is a hand washing station before entering.
Masks must be worn by children and staff at all times.
Kids must have fun (just kidding…that's a given)
The Wildlife
Probably the main reason I really wanted to bring my kids back was the abundant wildlife around the Andaz Resort. As I've mentioned before, they really try to blend in with the natural surroundings rather than becoming a mega resort and paving over the landscape.
Around the resort you will see huge iguanas, curious capuchin monkeys, adorable coatis, loud howler monkeys, and many birds and butterflies! It's an animal lovers dream.
The Beaches
We didn't just come to Costa Rica to sit in the pool, we definitely wanted some beach time and water sports! The Andaz has not one, but three breathtaking beaches! One thing that I love about the Andaz Costa Rica beaches for families is that the resort is built in a Bay, so the water is very calm, perfect for younger kids and parents that don't want to stress about small kids being tossed in the waves.
Playa Sombrero
Walk down the path and discover Playa Sombrero, where you'll find a beautiful black sand beach with a tree swing, lounge chairs, and calm water. The Andaz Costa Rica provides life jackets, kayaks, paddleboards, and snorkel gear for guests ready to get out on the water.
They also contract with a local company to provide jet ski rentals, fishing excursions, and sunset boat tours. There is so much you can do without even driving off the resort. You can order beachside service from this beach as well. It's so convenient!
Sombrero Claro
If you continue past Playa Sombrero you will find Sombrero Claro beach, a secluded little haven that feels like you've just stumbled upon an isolated island. Relax in the sand and watch the hermit crabs dance in the tide. There are hundreds of them!
The Beach House
Hop on a free 10-minute shuttle to paradise and you have arrived at the beach house, the Andaz's little oasis. You can relax on the beach beds (or nap like we did), and watch the world go by.
This truly feels like paradise. The water is crystal clear and perfect for swimming, snorkeling, kayaking, and paddle boarding, all which you can do right from The Beach House at no extra cost.
The food at the beach house was amazing, and you can bet I ordered more of those passion fruit coladas! There were a lot of capuchin monkeys the first day we went, so just watch your food and your personal belongings! There were no monkeys the rest of our trip, they seem to travel in packs and frequent different parts of the peninsula at different times.
The Food
The food was another deciding factor in our decision to come back to the Andaz Costa Rica. Not only is the chef a genius, but the meals are healthy and sustainability conscious, using fresh fish caught daily and local produce, dairy, and other products.
There are four restaurants at the Andaz Costa Rica: the main restaurant, Rio Bhongo, where breakfast is served, as well as lunch and dinner, Chao Pescao, with a Latin America inspired menu and live music is open for dinner, Ostra, for a more fine-dining experience, and the Beach House located at the excluded beach, where you can order the world's best fish tacos, all the yummy drinks, and more!
Ostra was closed during our stay, but we were still able to order items off the menu at Rio Bhongo. We ate at Ostra during our last visit though and took a ceviche-making class which was amazing. Hopefully that will be available soon as more people begin traveling to Costa Rica.
All four restaurants are sophisticated yet welcoming and had a large array of truly unique dishes that we all loved. You can tell a lot of thought is put into the menus and they are carried out flawlessly. We had so much fun trying new foods and getting to know our favorites. My girls decided that octopus is their new favorite…who would have guessed!
I highly recommend looking into the all-inclusive option when you go. It was so nice not to have to worry about budgeting for the cost of meals. It's just one less thing to stress about on vacation.
The Service
The staff at the Andaz Costa Rica were all amazing, polite, welcoming, respectful, and genuinely happy to help. They embrace the true meaning of Pura Vida and made our stay memorable.
We fell in love with the Andaz Costa Rica as a romantic getaway and we fell in love again, this time as a memorable family vacation getaway. It was so fun experiencing both sides of the resort. We cannot wait to come back home to our little piece of paradise! Click here to book your stay and use my special code STAYPV and mention Wanderlust Crew
Hey, if you're interested in booking a stay at the Andaz, use my special code STAYPV for special upgrades. You can call +506 2690 1234 or book online.