The Isle of Guernsey is a beautiful destination where history comes alive and life moves a little slower.
What to do on the Island of Guernsey
This post contains affiliate links
You may not have heard of this tiny island in the English Channel until the popular book and movie, The Guernsey Literary and Potato Peel Pie Society, was released a few years ago. But this gorgeous island has a lot more to offer than just a literary reference. From thousands of years of history to a modern foodie scene, Guernsey is a great place for an active vacation, romantic getaway, or family holiday. The Isle of Guernsey has it all!

My husband and I are celebrating our 15th wedding anniversary this year and wanted a little getaway that would be relaxing, quiet, and unique. We are both huge history buffs so I was really excited about visiting Guernsey island England as I know that it's full of ancient and modern history.
We had the best time on the Isle of Guernsey and we both agreed it was just what we wanted and needed! A mix of fun, relaxation, and activity. Because we both know that if we go anywhere too relaxing, we will just end up sleeping and working the whole time haha!
But while I was doing some research on Guernsey island, I found it was pretty difficult to come across any detailed guide to this exquisite place. So I wanted to share what we did in Guernsey in hopes that it will help you plan your own trip.
A Little Bit About the Isle of Guernsey
Where is Guernsey Island?
The Isle of Guernsey is located just 30 miles (48 km) off the coast of Normandy, France in the English Channel.
Is Guernsey a Country?
As I was sharing our trip on social media, I got many questions, the biggest one being "Is Guernsey a country?" I too had the same question! Guernsey UK is a self-governing dependency of the British Crown.
It is not part of the United Kingdom but it is part of the British Islands which the United Kingdom is also a member. Guernsey is known as the Bailiwick of Guernsey and includes the outer islets of Herm, Sark, and Alderney. Guernsey prints its own money and has its own government, but is greatly tied to the UK. Yes, it is confusing!

A Brief History of Guernsey
The earliest record of Guernsey is from the Romans who knew the island as Sarnia in the 11th century. It was ruled by Normandy but separated in 1204. In the 1800s the islands were placed under the rule of a "Bailiff" and this is how Guernsey got the name of "Bailiwick of Guernsey."
Guernsey has been passed back and forth between the Romans, British, and French for centuries. It was the only British territory to be occupied by Germans during WWII.
How to get to Guernsey?
Getting to Guernsey is easy from Frane or England. There are two options for getting there.
Ferry: There are two ferry lines that travel to Guernsey. Condor Ferries and Manche Iles Express. Both lines have frequent crossings and a ferry is a great way to go if you want to bring your own car. We chose to arrive by ferry and went from St-Malo, France on Condor Ferries. It was affordable, quick, clean, and a great experience overall!
Fly: There are several airlines that fly to Guernsey, including Flybe, Blue Islands, Loganair, and Augigny (Guernsey's own airline). Most flights leave from the UK, but there are a few each week from France.
How much time should I spend in Guernsey?
We stayed in Guernsey for 3 days. We saw almost everything we wanted to see in about a day and a half, which left lots of time for leisurely eating meals, swimming in the pool, picnicking at the beach, and napping! I think you could see the whole island in 2 days if you needed to. Everything is very close together and easy to access. I would plan for a minimum of 2 days in Guernsey.
Guernsey can easily be combined with a trip to France (like we did) or a trip to London. I loved combining this beautiful island with a visit to a bigger city. It gave us a little break from the city life in Paris.
Where to Stay in Guernsey
I surprisingly found a lot of options for accommodations while on Guernsey. For such a small island there are a lot of houses and hotels. It's a popular holiday destination and also a retirement destination as there is no sales tax or income tax on the island. It's known as a tax haven for many in the UK.
Airbnb in Guernsey
You can find a lot of great Airbnbs on Guernsey. I've compiled a wishlist of places in great locations for affordable prices. You can find that list here.
Hotels in Guernsey
There are a variety of hotels in Guernsey. Most can be found in the main port town of St. Peter Port, but I recommend getting out of the "city" and staying somewhere in the country or along a more secluded beach.
We stayed in Le Friquet Country Hotel in the center of the island and it was just perfect. The rooms were clean and bright and the staff was amazing. We loved having a heated pool too! The setting in the country among the flowers and trees was so relaxing. I'm already dreaming about going back. And our room was a steal too for just $100/night in June!
How is the weather in Guernsey?
Like most of the UK and Northern France, Guernsey weather can be unpredictable. Plan for at least a little rain and wind. I brought my trusty raincoat to keep me dry and block the wind. We also had a fair amount of sun in June, but the weather changed every few minutes!
Driving in Guernsey
The great thing about the island of Guernsey is that it is so small and everything is only about a 5-20 minute drive! You can easily cover the entire island in a day if you want to. There are some gorgeous coastal drives on the island and it's fun just to enjoy the ride.
There are a few things you need to know before driving in Guernsey.
In Guernsey, they drive on the left
The roads are SUPER narrow! You'll have hedgerows or stone walls on most sides instead of a shoulder.
Rather than stop signs, you will see a lot of "filter" signs. This basically means first come, first serve. You treat the intersections like a 4-way stop, except you don't have to stop.
The top speed limit in Guernsey is 35 miles/hour and honestly, you won't want to or need to drive any faster than that. Remember how close everything is?
What to do in Guernsey
There is so much to do in Guernsey, but all the sites are really close together, making it super easy for you to cram a ton of site seeing into a short amount of time without feeling rushed. Here's a helpful map of Guernsey with most of the places we visited, slept, and ate.
Guernsey Island Map
Wander the Streets of St. Peter Port
St. Peter Port is the main town on the island of Guernsey. It's full of hills, colors, and super cute shops! Take a few hours to wander the cobblestone streets and soak up the history and adorableness of it all.
Visit the Eerie Underground German Hospital
Guernsey island ww2 history can be found anywhere you look, but for this stop, you'll have to head straight down! This was one of the most moving and depressing places I've ever been to. But I'm so glad that we visited. The German Underground Hospital was built towards the end of WWII by forced labor from Nazi work camps. There are over 75,000 SF of tunnels. They just go on and on. You can see old hospital beds and other WWII era paraphernalia.
The tunnels are dark, cold, and wet, and also very depressing. The hospital wasn't actually used for very long as conditions were not optimal for health and healing.
Learn some History at the Guernsey Island Occupation Museum
As an avid reader of WWII history and a frequent visitor to WWII museums, I can say without a doubt that this is one of the most comprehensive collections of wartime artifacts I have ever seen in one place. The occupation is one man's collection. He's been amassing these artifacts since the 1960s. Guernsey is full of WWII history and items because when the war ended, everyone just dropped everything and left it there.
The Occupation museum contains war vehicles, ration books, postcards to Nazi officers from their families in Germany, wartime recipes, an Enigma machine, Nazi uniforms, Holocaust artifacts, and much much more.
We spent at least 2 hours just wandering through this museum which is housed in an old farmhouse near the island's airport, reading stories of the citizens of Guernsey and how they survived the German occupation.
When you visit, be sure to take time to read these stories, as they really bring the horrors of WWII on the island to life. I loved learning about the GUNS (Guernsey Underground News Service) which consisted of several men who hid forbidden radios and wrote up the news that they heard on the BBC and distributed it amongst the island's inhabitants.
All of the men were caught and sent to concentration camps. Only one survived, Frank Falla, who went on to write a book called The Silent War, which I immediately purchased at the gift shop along with a Nazi Reichsmark, which was also left all over the island.
Also if you're a fan of The Guernsey Literary and Potato Peel Pie Society, then you can see a real wartime recipe for Potato Cake, which is pretty darned close to pie!
La Valette Underground Military Museum
Duck into the Little Chapel
The Little Chapel is quite possibly the cutest thing I've ever seen. It's actually the smallest chapel in the world! But the astonishing thing is that the entire chapel, interior and exterior, is covered in broken bits of pottery, glass, and china. It's really a beautiful site! Visiting the Little Chapel is free, but there is a donation box if you feel so inclined.
Walk around some of the many Fortifications
If you drive along the coastline of Guernsey you will hit military fortifications almost every 2 minutes or so. These were built during the Napoleonic wars to protect Guernsey from France.
They did their job then and when WWII came around, the German also used them as lookouts and bunkers. Fort Hommet is a big one, but there is a fee. The rest are free to walk around and inside.
Watch the Cannons at Castle Cornet
Honestly, this castle looks really unassuming from the shore and I didn't really have high expectations, especially after seeing so many castles and ruins in France a few days earlier. We planned on getting to the castle just before noon because they fire a live cannon daily. It was really amazing to see the cannon go off, but be warned, it is LOUD. I recommend plugging your ears!
The castle also puts on little plays that are really fun for old and young! We learned about letters of Marque, privateering, and pirating. It was actually really interesting.
The castle grounds are quite large and there are also some great displays about WWI and WWII. Be sure to climb to the top of the ramparts for a great view of St. Peter Port and the lighthouse as well.
Visit the Victor Hugo House
If you love the writings of Victor Hugo at all then Hauteville House is a must. This is where Victor Hugo spent 25 years of his life exiled from France. He finished Les Miserables here and wrote several other books as well.
Hauteville House has recently been renovated and was just opened back up to the public in April 2019, so we were lucky enough to get in to see it.
The entire interior of the house is Hugo's design and it is beyond eccentric! Every inch of the home is covered in either wood carving, tiles, or fabric. It's sensory overload and so incredible to see! If you want to visit Hauteville House, you must email the museum at Maison de Victor Hugo, which is run by the city of Paris, to schedule a tour.
Keep in mind that the tours are run by the French and your guide will act accordingly. Members of our tour were yelled at several times! Despite the demeaning guides, the house was still worth visiting. Be sure to take time to stroll the gardens.
If you can't get into Hauteville House, you can visit the gardens for free. This is a good option if you have kids with you, as I would not take kids younger than 10 on this tour due to the guides, the strict rules, and tight spaces while on the tour. The cost of the tour is £10 per person.
Take in the views at Cobo Bay
Cobo Bay is one of the most beautiful sandy beaches on Guernsey. I loved seeing the old ladders on the old walls going into the sea too.
Hike up to Le Guet
Le Guet is a Napoleonic watchhouse built on a high rock behind Cobo Bay. This picture really doesn't do it justice. You can take a little hike up the hill to get to the house, and the views of Cobo Bay and the Guernsey coastline are worth it! On the hike up to Le Guet be sure to stop at the rope swing on the hill!
Picnic at Petit Bôt Bay
Petit Bôt Bay was one of my favorite stops on Guernsey. It's a very secluded beach surrounded by hills on either side. The water is freezing, but we saw several kids playing in it anyways. It's a great place for kids as the little inlet means calmer waves. Hit up Waitrose and pack a picnic to take to the beach.
Cycle or walk on Ladies Bay
Another great beach spot on Guernsey is Ladies Bay. Here you can find beautiful rocky and sandy beaches, a golf course, and some ancient ruins too! There were a lot of dogs here, so if you're bringing your pup this would be the perfect spot. There are some really nice walking and biking trails along the coast here.
Enjoy the beautiful Flowers and Foliage around Guernsey
We visited Guernsey in the spring and the island was bursting with life! Amazing flowers were everywhere and I wish we could have visited a few of the private gardens. Stop along the side of the road and smell the flowers!

Take a Day Trip to the Islands of Sark or Herm
If you're feeling like you've had enough of Guernsey island, hop on a ferry and visit the islands of Herm or Sark. You won't be able to take your car to Sark (tractors and carriages only), but you can rent bikes instead!
Visit a Guernsey Cow and try some Guernsey Dairy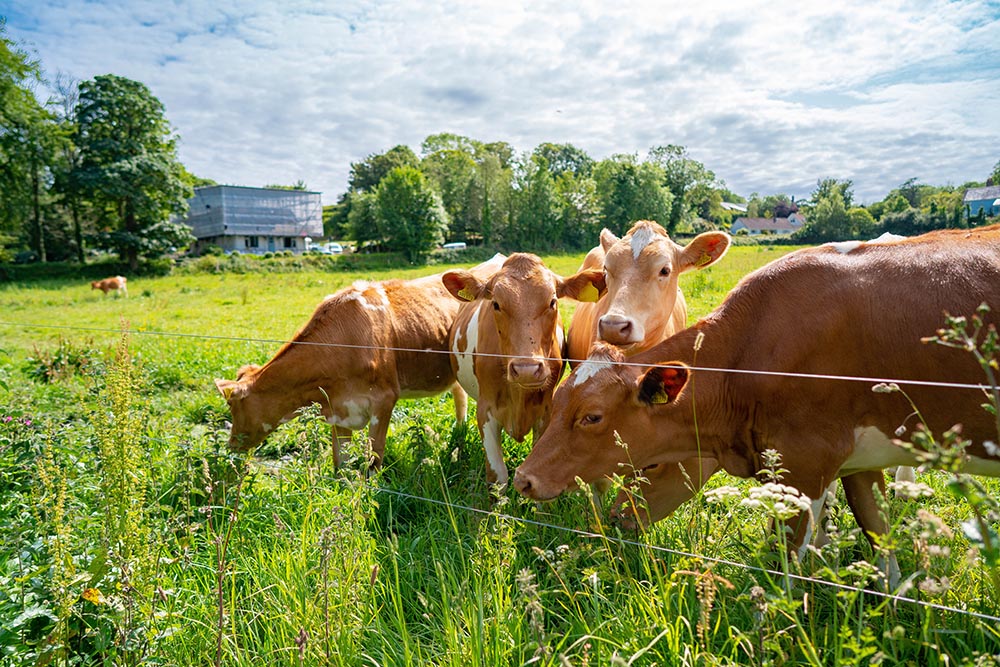 Guernsey is famous for its cows and their dairy. Be sure to try some milk, butter, yogurt, and ice cream while you're there. Guernsey cow milk naturally contains a higher fat milk, making it extra delicious! You can find Guernsey Dairy at any grocery store in Guernsey. The Guernsey cow is also super cute! I mean, look at them!
Have an indulgent Afternoon Tea
Since you're technically in the UK you'll be able to get some great afternoon tea and even some clotted cream! We had tea at Christie's in St. Peter Port. The portions were huge! I should have clued in when the waiter asked "you want 2 afternoon teas?" when we ordered.
Two full-size sandwiches, a little sausage roll, croque monsieur, tons of desserts including a delicious cumquat creme brulee, and of course, a scone with clotted cream and jam! Christie's is right on the water with a gorgeous sea view too.
Try Guernsey Gâche
Guernsey Gâche is like a light raisin bread, best eaten with Guernsey Butter! I prefer it toasted and warm. You'll find it in most cafes around the island
Shop at Waitrose
Waitrose is our favorite grocery store in the UK, and I was happy to find several around the island of Guernsey! They have lots of great packaged fruits, vegetables, sandwiches, and snacks that are perfect for a picnic. Be sure to grab some smoked hummus!
I hope you have an amazing time in Guernsey. If you need any help planning your trip, please get in touch! You can find me on Instagram, Facebook, or Email.
xo
Vanessa