Planning a visit to Japan and thinking about Kyoto? Don't miss this vibrant city full of history and culture. Explore the most unforgettable things to do in Kyoto, Japan.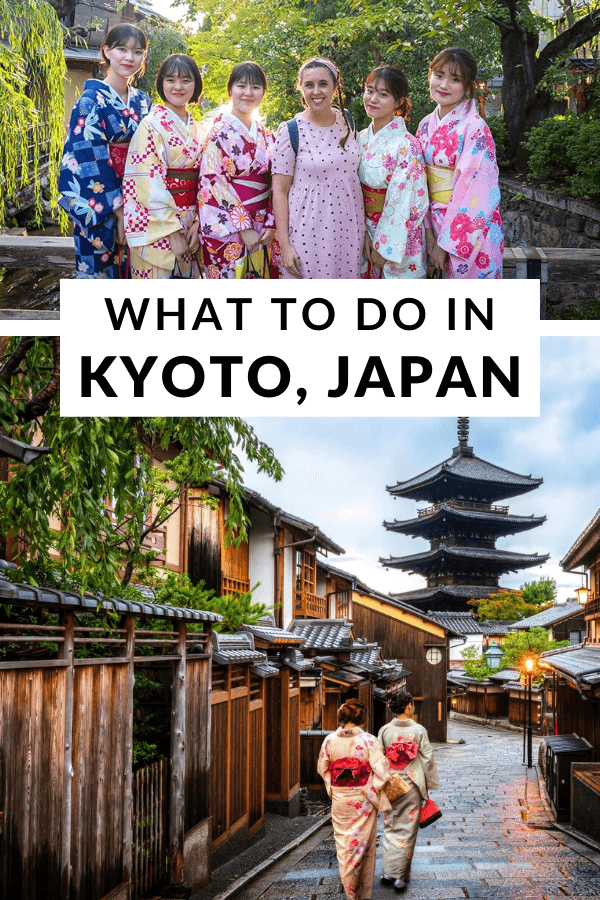 Kyoto is one of my favorite cities in Japan. I loved my time there and wish I'd had a few more days to explore. It really feels like stepping back in time, to a Japan of the past, before the modern world touched it. It's one of the few major cities that wasn't destroyed during WWII, so it remains one of the best examples of ancient Japanese architecture.
Nestled in the heart of Japan, Kyoto is renowned for its deep cultural significance and centuries of history that have shaped its identity. Some of the best things to do in Kyoto include visiting ancient temples and enchanting gardens. Or you can learn about geisha traditions and experience a traditional Japanese tea ceremony.
But Kyoto is not just a city frozen in time! It thrives as a modern hub with prestigious universities and a vibrant youthful energy. Get ready to explore the narrow streets lined with wooden machiya houses and take in the beauty of cherry blossoms in spring. You might want to indulge in delectable cuisine or discover the trendy side of Kyoto with its fun cafes and quality shopping!
Whether you seek tranquility or excitement, you'll be enchanted by all of the amazing things to do in Kyoto, Japan.
What is Kyoto Known For?
Thought to be the birthplace of traditional Japanese culture, Kyoto holds a significant place in Japan due to its profound historical and spiritual importance. As the former imperial capital for over a thousand years, Kyoto shaped the nation's history and served as the center of political, cultural, and religious activities.
Today, it remains a treasure trove of traditional arts, crafts, and customs, with numerous UNESCO World Heritage Sites. The city's enchanting Gion district keeps the revered geisha culture alive, offering glimpses into traditional Japanese culture. Kyoto is also renowned for its abundance of temples and shrines, reflecting various Buddhist and Shinto traditions.
This city is also a bustling, modern city with high rises and modern attractions. So, if you're seeking more contemporary Japanese experiences, you'll also find a vibrant and trendy side to Kyoto. There's a thriving café scene, modern art spaces, a vibrant nightlife scene, and more!
The city's ability to preserve its traditions while embracing modernity is truly remarkable. It's the perfect place to enjoy an unforgettable, immersive experience in Japanese culture. Below, you'll find amazing things to do in Kyoto covering every aspect of this city's unbeatable charm.
Book a Photoshoot
We always love to book a photoshoot when we're traveling. As a mom, it's tough to get in the photos since I'm always behind the camera. We love using Flytographer to capture our memories. You can get $25 off your shoot by booking with this link or using code WANDERLUST.
Explore Ancient Kyoto
Some of the most famous landmarks in Japan can be found here, in Kyoto. It was the capital city of Japan for a millennium, attracting emperors, nobles, and religious institutions. Numerous temples and shrines were built here, as well as palaces and entertainment districts.
Today, these historical sites are the most popular things to do in Kyoto, Japan. Each one is like stepping into Kyoto's history. Here are just a handful of some of the best ones!
Visit the Kiyomizu-dera Temple
Explore the iconic Kiyomizu-dera Temple, a cherished UNESCO World Heritage Site with over 1,200 years of history. Nestled into the hills of southern Kyoto, the Buddhist temple offers breathtaking views and a captivating experience.
Marvel at the wooden main hall of the Zen temple, where you can see a statue of Kannon, the Buddhist goddess of mercy and compassion. And during cherry blossom season, the temple is adorned with a stunning canopy of pink blooms!
You can sip from the sacred Otowa Waterfall or soak in your tranquil wooded surroundings. Or take part in traditional rituals, such as lighting incense and offering prayers.
Be mindful of crowds and consider visiting early in the morning or the evening to avoid the busiest times. Remember to wear comfortable shoes, as there are stairs and sloping paths all over the temple grounds. And don't forget your camera!
Climb the Red Torii Gates to Fushimi Inari Shrine
Visiting the Fushimi Inari Shrine is one of the top things to do in Kyoto. And while the beautiful Shinto shrine is an experience in itself, most visitors come for the striking torii gate-lined path! It winds its way up Mount Inari through a serene wood and takes 1.5-2 hours. It's a bit of a hike, so you'll need to be prepared for this.
Once you're at the Fushimi Inari Taisha Shrine, you can explore the intricate shrines. Make sure to check out the shrine dedicated to Inari, the Shinto god of rice and prosperity. You'll see visitors offer prayers and seek blessings.
If you're looking for free things to do in Kyoto, this is an excellent choice. Just keep in mind that the Fushimi Inari Shrine is a very popular destination and can get crowded. But it's open 24 hours! If you want to avoid crowds and enjoy an ethereal experience, consider coming at dawn or after sunset when it's lit up.
See the Golden Pavilion of Kinkaku-ji Temple
Another UNESCO World Heritage Site that won't disappoint is Kinkaku-ji Temple, known as the Golden Pavilion. This remarkable Zen Buddhist temple is stunning, with its top 2 floors covered in gold leaf that seems to cast a magical glow!
Originally built as a shogun's retirement villa, Kinkakuji Temple is elegant and tranquil. You enjoy the reflection of the golden exterior in the surrounding pond and wander through meticulously manicured gardens. And during the cherry blossom and autumn foliage seasons, the Golden Temple becomes even more enchanting, with a breathtaking display of colors.
Located in northern Kyoto, no trains go there, but you can cycle, take a taxi, or take a local bus from Kyoto Station. You should also know that Kinkaku-ji can be quite crowded, especially during peak hours, but it's worth the visit!
Experience Gion District and Geisha Culture
The Gion District is an absolute must-do when visiting Kyoto! This is the city's most popular geisha district, located around Shijo Avenue between Yasaka Shrine and the Kamo River in eastern Kyoto. It's a historical entertainment district, famous for its geisha culture. Geisha contribute to the preservation of traditional Japanese culture through their refined entertainment.
The district is home to numerous teahouses and exclusive establishments where geisha still entertain guests with their talents. You can take a stroll through Hanamikoji Street, the district's main thoroughfare. You might spot geisha gracefully walking along the traditional wooden machiya houses! Today, these historic houses hold souvenir shops, teahouses, boutique shops, and restaurants.
Consider booking a traditional tea ceremony or a private dinner with a geisha. Or simply walk through the narrow streets of the geisha district for some of the best Kyoto sightseeing! Gion District is also one of the best places to stay in Kyoto if you want to be within walking distance of many historical sites.
Take a Tour of Nijo Castle
Don't pass up the chance to visit a 400+-year-old Japanese imperial palace in central Kyoto. Built in 1600 for Japanese warlords, Nijo Castle is a UNESCO World Heritage Site that offers a fascinating glimpse into Japan's past.
Stepping inside the castle grounds, you'll be transported back in time. The grounds feature an outer wall and moat, an inner wall and moat, and the Nimonaru Palace at the center. Around the castle are stunning gardens, ponds, and orchards of plum and cherry trees. The gardens change with the seasons, offering beautiful scenery throughout the year.
The castle's architecture showcases the exquisite craftsmanship of the Edo Period, with ornate details and intricate wooden carvings. Inside the castle, you can wander rooms adorned with beautiful sliding doors, tatami mats, and beautiful murals of cherry blossoms, tigers, and more.
Be aware that there's a hefty admission fee per person to visit the site, plus an additional fee to enter Nimonaru Palace. You can rent audio guides or pay for guided tours that are offered twice daily.
Enjoy Kyoto's Beautiful Gardens and Parks
Kyoto, Japan is said to be one of the most beautiful cities in the country because of its amazing outdoor spaces. Whether you seek a peaceful stroll, a canopy of cherry blossoms, or a moment of Zen, you'll find a variety of delightful escapes from the busy streets of Kyoto city!
Wander Through a Bamboo Grove
One of Kyoto's most iconic natural wonders is Arashiyama Bamboo Grove in western Kyoto. It's hypnotic to wander through this bamboo forest, surrounded by bamboo stalks towering high above you! However, due to its popularity, the Arashiyama Bamboo Grove can get crowded, especially during peak hours.
If you don't want to deal with crowds, there are other options. Consider visiting the bamboo forest at Adashino Nenbutsu-ji Temple. It's similar to Arashiyama Bamboo Grove, but small and has almost no crowds. Or you can explore the bamboo grove behind the palace at Kōdai-ji Temple near Gion.
And if you're curious about what to do in Kyoto that's free, the bamboo groves are a wonderful choice. Most are near majestic temples, which cost admission fees to go inside. Instead, catch a glimpse of the exteriors of these stunning structures and then enjoy a peaceful walk.
Walk the Philosopher's Path
The Philosopher's Path is a serene canal-side walk in Kyoto's Higashiyama District. It's perfect for a leisurely stroll, especially during cherry blossom season. The stone path stretches for about two kilometers and takes about 10 minutes to walk, connecting many popular historic sites, including Ginkaku-ji Temple and the Yasaka Shrine.
However, you'll want to take your time here! Along the way, there are charming cafes, small shops, and art galleries. Take a break and enjoy a cup of tea or pick up Japanese sweets at one of the teahouses along the path. When the cherry blossoms bloom (March through April), the path boasts a canopy of beautiful pink blossoms! This makes it a popular spot for Hanami picnics.
See the Cherry Blossoms at Maruyama Park
Maruyama Park, nestled at the foot of Yasaka Pagoda, is a lush Japanese garden in Kyoto. It's a beautiful place to visit throughout the year. But during cherry blossom season, Maruyama Park comes alive and visitors flock to the park for hanami picnics. If you can come in the spring, this is definitely one of the best things to do in Kyoto.
Join the crowds and spread out a blanket under the blooming cherry trees, bring bento boxes, and raise a toast with friends and loved ones while you enjoy the blossoms. There's an amazing atmosphere as everyone gathers to celebrate the arrival of spring and take in the beauty of the cherry blossoms.
Located adjacent to Maruyama Park, Yasaka Shrine should not be missed. It's the site of the famous Gion Matsuri, the most famous festival in Japan. Inside the shrine grounds, you can pay your respects, offer a prayer, or purchase good luck charms. Explore the serene pathways and discover smaller shrines, beautiful gardens, and tranquil ponds.
Check Out Kyoto Imperial Palace Park
The Kyoto Imperial Palace Park is a massive park in central Kyoto with a lot of different offerings where you can get a glimpse into the city's imperial past. The park is surrounded by walls and moats and houses the Kyoto Imperial Palace, the former residence of Japan's Imperial family.
You can enjoy beautiful gardens, glassy ponds, and grand pathways lined with towering trees. There's a peaceful atmosphere and lots of people enjoy walks here. You could easily spend a few hours here, visiting shrines, reading educational markers, eating at cafes, and more.
The Kyoto Gyoen National Garden is a particularly popular attraction, with cherry blossoms and ancient pagodas. Here you can also find a historic teahouse, ball courts, lavatories, and areas for children. And while access to the Kyoto Imperial Palace and other palace buildings are restricted, you can still admire the 1000-year-old structure from the outside.
Embrace Kyoto's Traditional Arts and Crafts
Besides gardens, palaces, temples, and shrines, Kyoto, Japan is known for its iconic cultural experiences. From the Heian Period in 796 to 1869, this was the capital city of Japan and it's always been the center of traditional Japanese culture.
In fact, this is so well known that US leaders insist Kyoto be removed from the list of US atomic bomb targets during World War II for fear of losing such a cultural gem! Kyoto is a major tourist center with amazing opportunities to experience what makes Japan unique.
Attend a Tea Ceremony
One of the best things to do in Kyoto, Japan is attending a traditional tea ceremony. these ceremonies are rooted in centuries-old traditions and are a great way to get a feel for Japan's rich heritage. Anyone is welcome to sample tea ceremonies, with a variety of venues across the city offering tourist-friendly settings.
When you visit a serene tea house, a tea master will guide you through each step with grace and precision. Sitting on tatami mats, you'll sip a bowl of frothy matcha, prepared with meticulous care. The ceremony cultivates mindfulness and offers insight into the philosophy behind this ancient ritual.
For a good introduction to a traditional tea ceremony, consider making reservations with Tea Ceremony KOTO, near Kinkakuji Temple. Another quality experience can be found at Camilla, near Kiyomizu Dera Temple. This teahouse is geared towards tourists and offers a very thorough tea ceremony with a bilingual tea master. You can walk in for sessions offered every hour.
Take an Ikebana Workshop
Ikebana is the traditional Japanese art of flower arrangement. Going beyond simply placing flowers in a vase, it's all about creating a harmonious and balanced composition. Ikebana emphasizes the use of space, form, and minimalism to highlight the natural beauty of the flowers and their surroundings.
Each arrangement is carefully crafted, considering the shape, color, and texture of the flowers, as well as the vessel they are placed in. It's not just a decorative art but also a meditative practice.
There are a variety of places where you can attend an Ikebana workshop in Kyoto. Find out about flowering arranging classes when you visit the Kyoto Botanical Garden. Or for a more intimate experience, you can book a certified teacher in a private home. And this is a great option if you're looking for things to do in Kyoto with kids!
Book a Kimono Fitting
For unique Kyoto things to do, consider booking a Kimono wearing session. This is a cherished cultural experience offered to tourists. You can find rental shops throughout the geisha districts that offer a wide selection of kimono styles, colors, and patterns.
At this Kimono and Yukata experience, staff will dress you from head to toe, including undergarments, obi (belt), and accessories. Once you're dressed, you can walk the streets, visit temples, or stroll through beautiful gardens. This package includes an optional upgrade with hair styling and makeup. And the shopkeeper will take photos of you!
It's important to keep in mind that wearing a kimono requires proper etiquette: Be mindful of the way you move in these delicate garments and avoid stepping on hems. It's also very important to return the kimono on time.
Shop for Kyoto Ceramics
Kyoto, Japan is known for its pottery and ceramics. There's a variety of ways to experience the craftsmanship of these works of art. While the tradition of pottery-making in the city can be traced back to the 5th century, ceramic artistry in Kyoto developed over many centuries. And while you can find mass-produced ceramics in stores across Japan, handmade Kyoto ceramics are highly sought after for their intricate details and defining characteristics.
Start by exploring the Kiyomizu Pottery District, where you can watch artisans at work and browse pottery shops. Another popular tourist destination is Gojozaka Pottery District, known for its high-quality ceramics and studios offering hands-on pottery experiences.
The Kyoto Ceramic Center in downtown Kyoto is a must-visit. They boast an extensive collection of ceramics, including both historic pieces and modern creations. If you're looking to purchase authentic, handmade pieces, you'll want to visit the shop here. You can also find out about workshops at the center where you can make your own pottery.s
Additionally, Kyoto is home to numerous specialty stores and department stores where you can shop for one-of-a-kind handmade ceramics. You'll find excellent spots for unique pieces all along the Philosopher's Path and at local markets such as Toji Temple Flea Market.
Tour the Fushimi Sake District
For more things to do in Kyoto, head to the historic Fushimi district in southern Kyoto. With a history dating back over 400 years, the district is renowned for its high-quality sake and the craftsmanship of its sake breweries.
The district is home to many breweries, many of which open their doors to the public for tours and tastings. You can take a sake tour of Fushimi where you'll learn about the history of sake, visit the Gekkeikan Okura Sake Museum, and attend a sake-tasting with paired snacks.
The Fushimi District is a charming historic district in Kyoto. Its streets are lined with traditional wooden houses, creating a nostalgic atmosphere. You'll love walking through the district, soaking in the ambiance of old Japan while you shop for souvenirs and try local cafes.
Discover Kyoto's Trendy and Youthful Side
Maybe you need a break from visiting the solemn temple houses and shrines of old Kyoto. Or perhaps you're looking for fun things to do in Kyoto, Japan with kids. Make sure to add some of the modern attractions to your Kyoto itinerary! There are so many contemporary attractions in the city, these are just a few of them.
Enjoy Panoramic Views from the Top of Kyoto Tower
Located near Kyoto Station in the heart of the city, Kyoto Tower is a must-visit spot for breathtaking views. It stands tall at 131 meters, with a birds-eye view of famous landmarks like Kiyomizu-dera Temple and Kyoto Imperial Palace.
You can take an elevator to the observation deck, where there's also a souvenir shop, food court, and a museum about the tower and the city of Kyoto. Admission fees are reasonable, making it an affordable attraction. Plus, the tower is open late into the evening, so you might want to go after dark to see Kyoto at night!
Support a Good Cause at an Animal Cafe
If you've been to a cat cafe in the States, you'll want to visit one in Japan! This is the country that started the trend. You'll have a blast sipping on green tea or coffee and Japanese-style pastries while you play with kittens, puppies, and even otters!
However, it's very important to find animal cafes with a strong reputation for caring for their animals. You'll find that the best animal cafes require you to make reservations and are very strict about how their animals are treated, as well as when they need to rest.
Having said that, Loutre is a wonderful cafe where you can play with a friendly otter for 50 minutes (just bring cash; they don't accept cards). The Pug Cafe Living Room is another great choice in Kyoto that runs a dog fostering program. Your admission includes snacks and drinks, for you and the dogs! Just double-check the age limits if you bring children. Every cafe is different, but they usually don't allow children under 10 years old.
Visit the Kyoto International Manga Museum
One of the best things to do in Kyoto Japan is exploring the Kyoto International Manga Museum. This cultural hotspot is dedicated to manga, Japan's popular comic book-style art that dates back to the 19th century. The museum is located in a former school building and houses a vast collection of manga, including rare editions and contemporary works.
Explore reading rooms, where you can peruse manga titles and read in peace. The museum features a unique "Manga Wall" displaying thousands of manga titles. And make sure to stop by the museum shop, where you can purchase a variety of manga paraphernalia.
You can visit the Kyoto International Manga Museum for a small fee. Whether you're a manga enthusiast or curious about Japanese pop culture, a visit to the Kyoto International Manga Museum is a must!
Go Shopping!
The city boasts several modern shopping centers. One popular mall is the Kyoto Station Building, which houses numerous shops, department stores, and boutiques. It's an ideal place to shop for fashion, cosmetics, electronics, and souvenirs, all conveniently located near the train station. There's also the Aeon Mall Kyoto Gojo, where you'll find fashion brands, specialty shops, and a great food court.
Or if you want to find unique treasures, explore the flea markets of Kyoto. One popular flea market is the To-ji Temple Flea Market, held on the 21st of each month. Another one is the Kitano Tenmangu Shrine Flea Market, held on the 25th of each month. This is where you'll find antiques, vintage clothing, handicrafts, and traditional Japanese goods!
Indulge in Kyoto's Culinary Delights
It should be no surprise that a city as old as Kyoto has a well-established food culture. From refined kaiseki meals to mouth-watering street food, the city is a gastronomic paradise! Check out these amazing stops across Kyoto City's culinary landscape or book a food tour in Kyoto.
Experience the Art of Kaiseki
Indulge in the elevated culinary experience of a traditional kaiseki meal in Kyoto! Kaiseki might be considered Japanese haute cuisine. Each dish is thoughtfully crafted using fresh, seasonal ingredients, harmonizing flavors, and elegant presentation.
The meal takes you on a gastronomic journey, starting with appetizers, followed by meticulously prepared sashimi, simmered dishes, and grilled delicacies. Finally, you'll enjoy beautifully plated desserts. The attention to detail and the balance of textures and tastes make kaiseki an unforgettable experience.
The city of Kyoto is dotted with numerous kaiseki establishments. They range from high-end Michelin-starred restaurants and invitation-only dining rooms to teahouses and more casual establishments that allow you to walk in.
Explore Nishiki Market
Nishiki Market is a bustling and beloved food market that stretches over four blocks in the heart of Kyoto. The covered arcade is lined with shops and stalls selling fresh seafood, local produce, traditional sweets, pickles, kitchenware, and more.
Take a stroll through the market and take in all the amazing aromas and colorful displays! You can sample delicious street food like grilled skewers, takoyaki (octopus balls), and freshly made sushi. Don't miss out on trying Kyoto specialties like yudofu (tofu hot pot) and matcha-flavored treats.
A visit to Nishiki Market is an opportunity to immerse yourself in Kyoto's culinary culture. Engage with friendly vendors, learn about unique ingredients, and embrace the lively atmosphere. Whether you're a food lover or simply seeking an authentic local experience, Nishiki Market is a must-visit destination.
Matcha Tea and Wagashi (Traditional Japanese Sweets)
While exploring Kyoto, be sure to sample matcha tea and wagashi, traditional Japanese confections. Matcha and wagashi hold a special place in Kyoto's tea culture. Many tea houses, confectionery shops, cafes, and specialty stores in Kyoto offer opportunities to experience the art of matcha and wagashi.
If you experience a traditional tea ceremony, you might be served wagashi with your tea! These adorable confections are made with sugar and red bean paste and come in a variety of shapes, colors, and flavors. With a subtle sweetness and a lovely texture, they're meant to extend the mindful practice of a tea ceremony by including all 5 senses.
Indulge in Rich Kyoto Ramen
Every region of Japan has its own take on ramen, and Kyoto is no different! Kyoto ramen (not Kyoto-style ramen – this is not authentic!) is characterized by a few things. First, the broth is thick and very rich with a high fat content and tons of flavor. It's not greasy but is usually made with soy sauce and pork fat that's cooked very well into the broth.
Kyoto ramen also includes thick, flat noodles, rather than the traditional thin noodles. This is the telltale sign that you're getting authentic Kyoto ramen! You can find it in ramen shops across the city, from small family-owned shops to chain stores.
Eat Kyoto-style Pancakes
Trying Kyoto-style pancakes is one of those fun things to do in Kyoto you just have to try! These pancakes are typically round and slightly thicker than regular pancakes, with a soft and fluffy interior. When they're brought to the table, you often see them jiggling or bouncing because they're so light!
Every cafe has its own take on Kyoto-style pancakes. They're often cooked on a special iron griddle, giving them a crispy outer layer and a warm, gooey center. They're most commonly served sweet with butter and honey, but they can be served savory as well. You might enjoy them as a snack or dessert topped with red bean ice cream!
Finding Kyoto-style pancakes is relatively easy in the city. They're sold at various street stalls, food markets, and specialty shops.
FAQ When Visiting Kyoto
While you're planning your perfect adventure in Kyoto, Japan, you'll probably have lots of questions that need answers! Here are some of the most frequently asked questions about visiting Kyoto.
What's the best way to get around Kyoto?
It's easy for visitors to move around the city, thanks to Kyoto's excellent public transportation system. The trains, subways, and subways are the most convenient way to travel and provide easy access to major attractions. The city is also relatively compact, making it convenient to explore on foot. Renting bicycles is also popular, and you can take taxis for longer distances.
When is the best time to visit Kyoto?
The best time to visit Kyoto is spring (March to May) and autumn (September to November) when the weather is the best. Spring is when the cherry blossoms bloom across the city, while autumn offers stunning colors. However, for visitors interested in fun things to do in Kyoto in winter, the city also has its charm. With fewer crowds, winter (December to February) allows for the peaceful exploration of temples, hot springs, and winter illuminations.
Is 2 days enough for Kyoto?
You can hit some of the main attractions in Kyoto in 2 days, but that's not nearly enough if you want to get a good feel for the city. There are so many different things to do in Kyoto, Japan, and it's a massive city! To really enjoy your trip, aim for 5 days at least.
What are some tips for experiencing Kyoto on a budget?
You can definitely do Kyoto on a budget if you know where to look. Take advantage of free-entry temples and gardens, such as Tofuku-ji and Kyoto Imperial Palace Park. You can try affordable local eats like ramen and udon. Hostels and guesthouses are budget-friendly accommodations. And consider visiting during the off-peak seasons to find better deals on hotels and Kyoto attractions.
What are some cultural customs to be aware of while visiting Kyoto?
Manners are very important in Japan, and you should familiarize yourself with essential Japanese etiquette. Bow slightly when greeting or expressing gratitude. Remove shoes in traditional settings. Use polite language like "arigatou gozaimasu" (thank you) and "sumimasen" (excuse me). Respect queues and avoid cutting in line. Maintain reverence at temples and shrines, following rules and refraining from touching structures. Also, arrive at appointments on time, and request permission before photographing individuals.
Final Thoughts on Things to Do in Kyoto, Japan
As you explore the best things to do in Kyoto, remember to seize every opportunity to explore a variety of the city's extraordinary offerings. Marvel at the beauty of Kyoto's temples and shrines and wander through the ancient streets of Gion. Indulge in the flavors of Kyoto's renowned cuisine and make sure to visit the Kyoto International Manga Museum!
Whether you seek tranquility, cultural richness, or a taste of modernity, Kyoto has it all. Let the city's unique wonders leave an impact on you!