Iceland, the land of Fire and Ice, is an island nation begging to be explored and appreciated. Discover this beautiful land with this epic Iceland itinerary.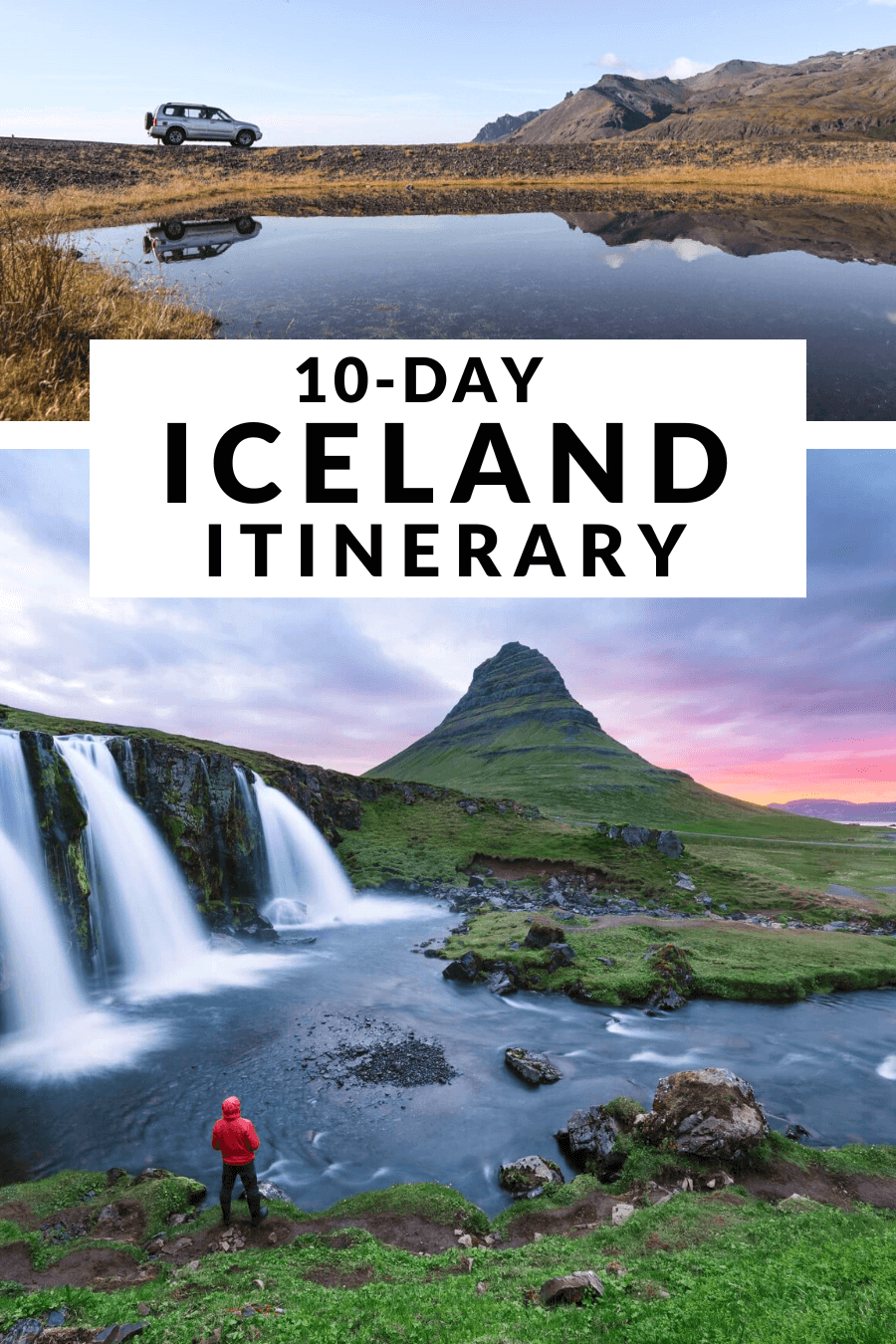 Iceland is without a doubt one of the most special and unique places I've ever been to. We loved our visits to the land of fire and ice. This island really holds a magic spirit that I can't really name or explain.
While it's a relatively small nation, it can be difficult to figure out how to plan your time and know where to go and what to do. There are so many incredible things to do in Iceland, it's hard to narrow it down. I wanted to help you organize your time with this Iceland itinerary.
Erupting hot springs, glistening ice caves, multi-colored fishing villages, waterfalls, whales, volcanoes, mountains, and more… If you're planning an Iceland trip, you're in for an unforgettable vacation. As long as you have the right Iceland itinerary to guide you, of course!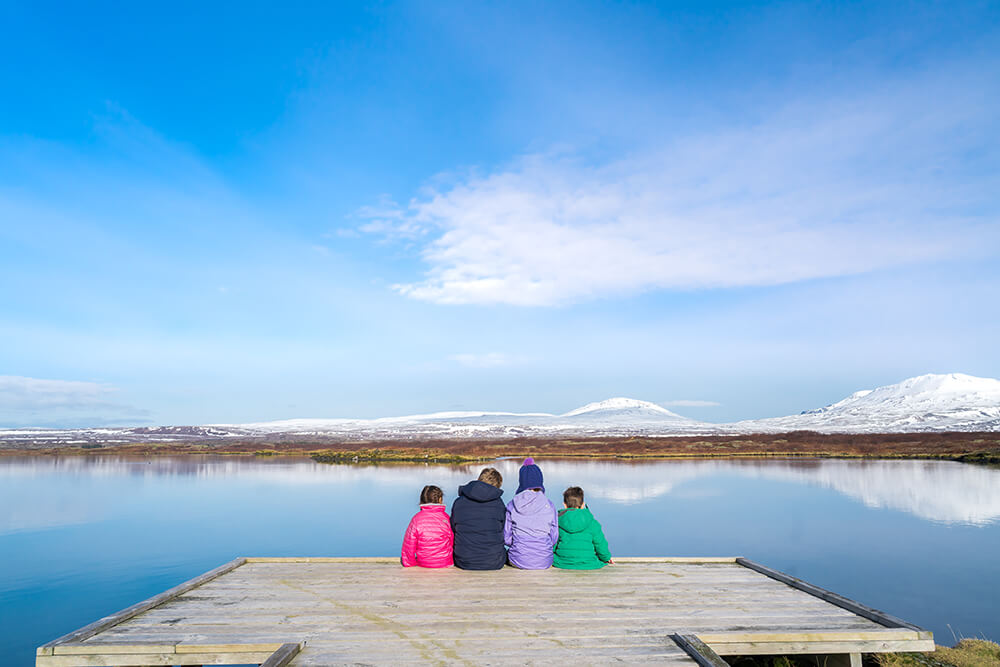 There are so many iconic sites and things to do in the Land of Fire and Ice that you won't regret booking an Iceland trip for as long as your schedule (and bank balance!) allows. In an ideal world, you'd probably like to spend an entire month on an Iceland road trip. You could travel at your own pace and still see every glacier, stroll along every black sand beach, and take a dip in every hot spring.
But traveling for so long is a little out of reach for most! Luckily, visiting Iceland is worth it no matter how much time you have to spare and this is the best Iceland itinerary to help you plan any trip to Iceland.
This guide includes a suggested Iceland itinerary whether you're traveling for one, two, or three… up to 10 days in Iceland! Whether you only have a short one-day layover, just a few days on a city break, or you want a jam-packed 10-day adventure, this Iceland trip itinerary has got you covered.
It includes all the top Iceland attractions from the famous Blue Lagoon, the Icelandic capital of Reykjavik, the northern lights, and tons of natural wonders like the northern lights. Aside from a day-by-day Iceland travel itinerary breakdown, this itinerary covers tips for driving in Iceland, estimated trip costs, what to pack, and tons more.
Ready to explore Iceland both on and off the beaten path? Pack your crampons and let's get started!
Cost of a 10-Day Iceland Trip
There's no denying that Iceland is one of the more expensive countries to visit. Your trip costs for a 10-day Iceland itinerary are likely to be much more than a similar-length trip to somewhere like Thailand or even another European country like Italy.
Some of the essential trip costs to consider when budgeting to visit Iceland (or anywhere) include flights and transfers, accommodation, food and drink, travel insurance, and activities.
But there are also other trip costs like a car rental and gas if you're embarking on an Iceland road trip. Even if you're not renting a car, you will probably want to book day tours.
Iceland does have public transportation, but only buses and ferries. Whilst using public transport in Iceland is an option if you're just staying in Reykjavik, Iceland's bus network isn't ideal for tourists wanting to explore the entire island.
Everyone has different travel styles, but it's not an overestimation to suggest budgeting at least $3,500 USD per person if you're following a 10-day Iceland itinerary. Solo travelers might need to save more as you won't get the benefit of splitting the cost of accommodation or a car rental.
Also, you probably won't need to invest in new clothes and shoes if you're looking for a summer itinerary for Iceland but you might when traveling in the colder seasons. Good winter boots and insulated coats aren't cheap!
Where to Stay in Iceland
If you're looking for a vacation with luxury resorts and relaxation, you might want to look for a different European vacation. Iceland is a place of adventure and the accommodation options reflect that. You can still find some nice hotels and some great home rentals for a more local experience. You can see the best places to stay in Iceland here.
What To Pack for an Iceland Vacation
This brings us nicely to what you should pack when you visit Iceland!
Anyone who has already visited Iceland will tell you that it's very cold. Iceland's coldest month is January where temperatures, on average, range from 26.5°F (-3°C) to 35.5°F (3°C). Iceland's warmest month is July when average temperatures are 46°F (8°C) to 59°F (15°C).
Often, it's not the temperatures that are the problem. It's the heavy snowfall and blistering wind chills that come with the temperatures! Plus, you should keep in mind that you'll often be heading outside at night to search for the northern lights in winter or enjoy the midnight sun in summer.
If you're traveling in the winter months, pack an insulated parka or ski jacket with thick, cozy winter boots with good grip. Packing crampons or picking some up in Reykjavik is essential too! Invest in quality base layers and socks made out of a sweat-wicking material like merino wool to wear underneath regular clothes.
If you're traveling in the summer months, you probably already have what you need in your wardrobe. Pack a light waterproof jacket so you're prepared for spontaneous rainstorms and trail runners for hikes.
Essential Tips for Driving an Epic Iceland Road Trip
One thing Iceland is not known for; is public transportation. You'll need to rent a car for your visit unless you plan to stay in one place the whole time (don't do that). We like to rent our cars from this site. They have good rates and options in Europe. We tend to rent 4-wheel drive cars while in Iceland because there are some areas that require this. So keep that in mind when choosing your car. It's a little more expensive, but will be worth it if you plan to get off the beaten path.
You'll need to follow a 10-day Iceland itinerary, at least, to explore the entire island in your own car rental.
Iceland's Ring Road (also known as Route 1, Highway 1, or Þjóðvegur 1) is the national highway that circles the entire country. The entire ring road is 828 miles/1,332 km long. Iceland is roughly the same size as the state of Ohio if that helps you to visualize it better.
In ideal weather and road conditions, you can tackle the entire ring road in 10-14 days. Most travelers would never venture on a self-drive road trip of Iceland in winter because it would be a much longer trip (more like 22-24 days) and you wouldn't be able to do as many activities.
Driving the ring road is fairly easy on a summer itinerary as you just head straight for the entire road trip on a smooth, wide road. However, keep in mind that you will want to take detours that will almost certainly involve a single-lane bridge crossing or farm animal encounter. It's all part of the fun! At least they drive on the right, right?!
When organizing your rental car, make sure you book your own car with automatic transmission. Most cars in Iceland have a manual transmission so if you don't specify, that's what you'll get. You don't need the extra stress on vacation if you're not used to driving a stick!
While your car rental will probably provide a GPS, you can also use Google Maps to navigate. Just be sure to download an offline map when you have WiFi in case you lose signal which you can easily do in your Google Maps account.
Iceland Itinerary Map
Here's a helpful map for your Iceland itinerary. It highlights the main sites on the ring road and the Westman Islands.
10-Day Iceland Itinerary: Day-by-Day Epic Iceland Trip Guide
This 10-day Iceland itinerary is designed so that you can also use it if you are visiting Iceland for one, two, three, four, five, or 10 days.
If you are staying just a few days (up to five), you can follow the suggested itinerary for the first three days as it is. On the fourth day, visit the Snæfellsnes Peninsula (as suggested on day nine), and on the fifth day take an extra day in Reykjavik (day 10) using and use Reykjavik as a base for your entire trip.
Even if you are looking for Iceland itineraries for 6, 7, 8, or 9-day trips, this suggested Iceland itinerary has lots of advice and inspiration!
1-Day Iceland Itinerary: Explore Reykjavik
Whether you're spending only a few hours in Iceland or venturing on an Iceland road trip, the best Iceland itinerary always starts in Reykjavik. This is Iceland's capital city and the gateway to outdoor adventures like the Golden Circle, exploring the South Coast, or taking a northern lights tour.
Join a free walking tour of Reykjavik's city center to see all the highlights in a short space of time. Most walking tours will take you to see the Sun Voyager Statue, the Harpa Concert Hall, Hallgrimskirkja church, and some street art murals. They will explain the history of Reykjavik, and Iceland as a whole, and will no doubt wax lyrical about Vikings and fishing!
Head to Laugavegur Street, the main shopping street in Reykjavik city center, to pick up souvenirs and any outdoor gear that you couldn't fit into your suitcase. There are tons of cozy cafes around this part of town like Mokka Kaffi and Café Babalú where you can warm up and taste delicious homemade pastries that locals in Nordic countries love to eat.
If you're following a summer itinerary, you need to hop on a whale-watching boat tour. They depart from the harbor and you're almost guaranteed to spot at least one of the 23 species of whales hanging out in Reykjavik's waters! On a whale-watching boat tour, you can often spot birds like puffins and sometimes seals too.
Traveling with kids? Check out the FlyOver Iceland rollercoaster simulation. It will allow you to experience what it's like to fly in a helicopter over Iceland without using your kids' college funds to pay for the real thing! They'll also love visiting the Tjörnin Park & Garden near Reykjavik City Hall.
Traveling without kids? You cannot visit Iceland without checking out The Icelandic Phallological Museum back in Reykjavik's city center. It's a rite of passage for any tourist. Another fun museum is The Icelandic Punk Museum which is a little more off the beaten path. The National Gallery of Iceland is a great museum to visit for local culture.
Iceland's national dish might be Hákarl (fermented shark) but Reykjavik's gastronomy scene is actually thriving and delicious. Book a food tour to taste as many local dishes as possible including skyr, hot dogs (Bæjarins Beztu Pylsur is the best hot dog stand), rye bread, lamb stew, and more delicacies.
Visit Hlemmur Mathöll, an upmarket food hall where you can order from different vendors but eat together at one table. You can taste local cuisine from one restaurant while your kids can eat tacos or pizza from another!
2-Day Iceland Itinerary: Blue Lagoon & Golden Circle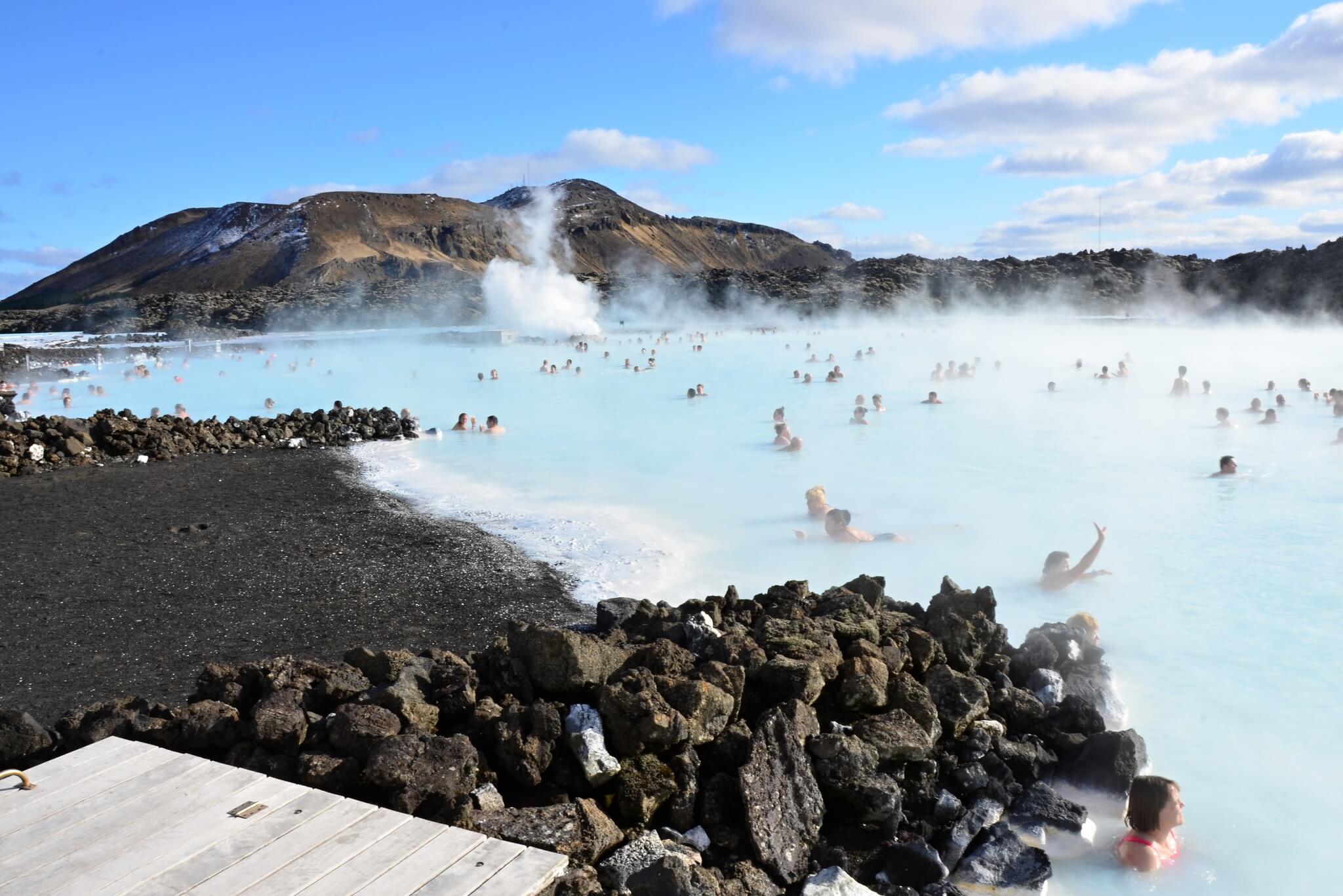 If you're doing a road trip in Iceland around the ring road, you can get your car rental now or do the Golden Circle route and trip to the famous Blue Lagoon hot springs as part of a tour. It's up to you! Note that the Golden Circle route is off the ring road so you might prefer to hold off on getting a rental car for another day.
The Golden Circle Iceland itinerary is a perfect first-timer's day trip from Reykjavik. It allows you to see a variety of natural wonders within close proximity to the capital in just one day.
The three sites that feature on any Iceland Golden Circle itinerary are the Gullfoss Waterfall, Geysir Geothermal Area, and Þingvellir (Thingvellir) National Park. Longer trips also include a visit to Kerid Crater Lake.
Geysers are hot springs that erupt towers of water into the air due to a build-up of pressure. Some only erupt once in a blue moon, but there is one in Iceland on the Golden Circle route that erupts every few minutes. Top tip: take a video of the eruption so you don't miss it and grab photo stills of it afterward!
Thingvellir National Park is a UNESCO World Heritage Site due to its historical and geographical importance. Not only is it was it the site of the Vikings' Parliament, but this rocky landscape is also the result of the Eurasian and the North American tectonic plates moving apart. You can't say you've visited Iceland if you don't visit Thingvellir National Park!
The Golden Circle route is enough of a day trip by itself. But if you're short on time, you can also squeeze in a trip to the Blue Lagoon on the same day. This is Iceland's number-one tourist attraction and a must-do on any great trip to Iceland.
The Blue Lagoon is a geothermal spa located in a lava field close to Keflavík Airport. It uses geothermal energy from a local plant to heat up natural seawater in this beautiful, relaxing outdoor pool. You get a free face mask and there's a poolside bar too.
Even if you're not a 'spa' person, everyone who visits loves the Blue Lagoon. If you have older kids, they can go too.
3-Day Iceland Itinerary: South Coast
Like the Golden Circle and Blue Lagoon day trip, there are tons of tours you can book to explore Southern Iceland and all the top South Coast sights. So, if you just need an Iceland 3-day itinerary and aren't planning a road trip to Iceland, you won't need a rental car. You can just book day trips from Reykjavik.
However, all of these South Coast sights are on the ring road. So, if you are following a longer 10-day Iceland itinerary, you might want to rent a car for the next part of your Iceland adventure!
While you saw waterfalls, geysers, craters, and national parks on your Golden Circle day trip, you'll see a variety of different natural wonders in Southern Iceland. The top sights on day trips following a classic Iceland south coast itinerary include stops at Seljalandsfoss Waterfall and Skógafoss Waterfall.
Reynisfjara Black Sand Beach, Eyjafjallajökull Glacier, and Sólheimajökull Glacier are also highlights of this trip.
Seljalandsfoss Waterfall is fed by a Volcanic glacier and it boasts a magnificent 200 ft/60-meter drop. Because it falls from a sheer cliff, you can actually walk behind the waterfall to hear the incredible roar without getting (too) wet.
Skógafoss Waterfall is almost exactly the same height, but it tends to get a little more love than Seljalandsfoss Waterfall. The force and width of this waterfall make it look much more cinematic. On a sunny day, you can often see a rainbow over the pools of the waterfall.
Reynisfjara Black Sand Beach is one of the best South Coast sights thanks to the dark basalt columns that create a natural defense along the beach. It's such a dramatic location and very different from the soft white sands and turquoise waters that you might be used to seeing in Europe!
It's important to stress the potential dangers of visiting Reynisfjara Black Sand Beach, especially if you're traveling with kids. The currents on this beach are incredibly strong and unpredictable. It will pull you into the freezing cold water as soon as you turn your back.
However, that doesn't mean you shouldn't visit Reynisfjara Black Sand Beach at all! There are lots of helpful signs at black sand beaches explaining where it is safe to admire the beach. You can also find the Solheimasandur Plane Wreck from 1973 on one of these beaches on Iceland's southern coastline too.
On a South Coast tour, you'll be able to see at least two glaciers which are huge masses of slowly moving ice built up over centuries. Iceland is full of glacier hiking trails so you can see these natural wonders up close.
Keep in mind you might not get the opportunity to try glacier hiking if you're on a tour company's schedule. But if you're following your own Iceland road trip itinerary, you will have more time to glacier hike as you won't need to drive back to Reykjavik at the end of the day.
Sólheimajökull Glacier is a bit smaller than Eyjafjallajökull so it's one of the more popular spots for guided walks on glacier hiking trails. If you've never tried glacier hiking before, it's well worth joining a tour so you can hire the appropriate gear and stay safe while having fun.
Iceland's Secret Lagoon geothermal pool is close to the South Coast if you want to take a short detour off the beaten path to another hot spring. The Secret Lagoon first opened in 1891 and it's a more natural, local alternative to the Blue Lagoon. There are also little elf houses near the Secret Lagoon which your kids might like to see.
4-Day Iceland Itinerary: Skaftafell National Park
For travelers who only want an Iceland 4-day itinerary, skip to day nine or 10. But for everyone else that wants a 4-day Iceland itinerary as part of a longer vacation, keep reading.
Further east, traveling along the ring road in South Iceland, is Skaftafell National Park, Jökulsárlón Glacier Lagoon, and Diamond Beach. These are the three sites you'll explore on the fourth day of your Iceland itinerary!
Skaftafell National Park was recently incorporated into Vatnajökull National Park. But Vatnajökull is such a large national park, you'll probably only get to explore the Skaftafell area which is closer to South Iceland. This area is 2884 square miles/4807 km² of volcanoes and glacier hiking trails.
Jökulsárlón Glacier Lagoon is a lake fed from the nearby Breiðamerkurjökull glacier, though there is a small gap so the water can flow out into the Atlantic Ocean. You can take boat rides to see the huge icebergs dotted around the Jokulsarlon Glacier Lagoon up close. You'll also get fantastic views of the mountains!
While the biggest ice caves in Iceland might be inside Langjökull, that's inland and not close to the ring road. However, you can book an ice cave tour at Fagurhólsmýri which is right on the south coast next to the national park. If you've got time, try to do a glacier hike and an ice cave tour, or find a guide that will combine both.
One of the last things to do on the fourth day of this suggested itinerary is to visit Diamond Beach. It's one of the best black sand beaches in Iceland and is right next to Jökulsárlón Glacier Lagoon.
Diamond Beach is known for all the iceberg fragments that spill onto its shores from the Jokulsarlon Glacier Lagoon. There really is nowhere like it in the world and it's the perfect place to watch the sunset.
5-Day Iceland Itinerary: Eastfjords
If you're only looking for an Iceland 5-day itinerary, follow the first three days of this Iceland itinerary then skip ahead to days nine and 10. One of the reasons why this is the best Iceland itinerary is because it's so adaptable to your plans! For those looking for a complete Iceland itinerary 10 days breakdown, keep reading.
Continue along the highway east where you'll eventually reach Höfn and Stokksnes. Höfn is an Icelandic fishing village with some colorful buildings and lots of hotels, so it's a great place to find accommodation. Stokksnes might look like a beach, but it's more cliff than sand. It's an incredibly cinematic headline with jagged black mountains and worth a stop on your drive.
The Eastfjords is one of the least-developed parts of Iceland so keep an eye out for wildlife like reindeer. Further north, Petra's Stone Collection is a cool trip stop-off location. It's an outdoor museum featuring thousands of rocks and minerals which started as a personal collection.
Just beyond this little museum is Seydisfjordur, a can't-miss for those driving along the ring road. You may have seen photographs of this small town as it has a funky rainbow cobblestone path leading up to the church here. This part of Iceland features heavily in the Ben Stiller movie The Secret Life of Walter Mitty so definitely watch it before you travel!
Borgarfjörður Eystri is one of the best places to see puffins during the summer months. It's a slight detour off Highway 1 but well worth the extra drive.
6-Day Iceland Itinerary: Myvatn
With this 6-day Iceland itinerary, you're now on the complete opposite side of the country to Reykjavik! The ring road also moves away from the coastline slightly as you drive west away from the jagged coastline of the Eastfjords.
On this leg, you'll explore more volcanic lakes, areas of geothermal activity lava fields, and more natural thermal springs. There is a lot of ground to cover during this section but there are lots of places you can stop off to stretch your legs to explore Iceland as much as possible.
Krafla is the name of a power plant, but it's also the name of a volcano with a beautiful toothpaste-blue crater lake. Namaskard geothermal area is famous for its martian landscape, but those small craters are actually bubbling mud pools. You might experience a strong sulphuric smell as you walk around this landscape, so take this as your warning.
Myvatn Lake is a huge inland lake and it's well worth following one of the trails to a vantage point to see more of the region up above. Vindbelgjarfjall has a great observation deck and the Dimmuborgir Lava Field is a cool place to stroll through. There's a reason why locals call Myvatn 'mosquito lake' so wear long sleeves and pack bug spray so you can keep the annoying insects away!
Though you can't go swimming in them, Grjótagjá is a collection of ancient lava cave houses right next to Myvatn Lake. Luckily, a short walk away from the cave houses is the Myvatn Nature Baths. Like the Blue Lagoon, these are popular thermal baths but are less expensive.
7-Day Iceland Itinerary: Husavik
A 7-day Iceland itinerary might not be enough time to venture on a great trip around the whole of Iceland. However, you can still rent a car and visit the places mentioned at the beginning and end of this Iceland itinerary 10 days guide.
For those planning to visit for longer than an Iceland one-week itinerary, it's time to visit Húsavík! This fishing town is a slight detour off the main ring road on the north coast, but you can't skip it if you want to follow the best Iceland itinerary possible. Husavik is an adorable, quintessential Icelandic town and perhaps the best place on the whole island to go whale watching.
Taking a whale-watching boat tour in this part of Iceland during the summer means you have a 97% success rate of seeing whales. Yes, 97%! Most boat rides that leave from Húsavík take three hours to sail around Skjalfandi Bay from Husavik harbor to maximize your chances of spotting as many whales as possible.
If you have animal-obsessed kids, you can also visit the Whale Museum. Húsavíkurkirkja is a very pretty red and white wooden church you should see before you leave.
Back on the ring road, Godafoss is yet another unbelievably spectacular and powerful waterfall that you can hike to and witness from several viewpoints. Another small fishing village worth stopping by is Svalbarðseyri which has a gorgeous orange lighthouse before heading to Akureyri. Stop by the Christmas House in Akureyri which is an adorable festive-themed gift shop just outside of town.
8-Day Iceland Itinerary: Tröllaskagi Peninsula
Many skip the Tröllaskagi Peninsula when following an Iceland itinerary 10 days guide but this would be a huge mistake! There's so much beauty here and the best Iceland itinerary would always recommend slowing down in this part of the country and taking a small detour from the ring road.
This peninsula is one of the best places to try Icelandic horse riding. This breed of horse is special for several reasons, but its purity is the main reason why they're revered. Vikings brought horses to Iceland in the 9th century and they've never bred with other types of horses.
Don't worry if you've never ridden a horse before as these experiences are geared toward tourists with no horse riding experience. Plus, Icelandic horses naturally have more 'gaits' which means they offer a smoother ride. Tvistur Horse Rental or Langhus Farm are two horse riding experiences you should check out.
Siglufjörður is a small fishing town on this peninsula that offers lovely views across the narrow fjord. It has a small museum, the Herring Era Museum, which houses old fishing boats in a former herring salting warehouse.
If you're itching to take another dip in a geothermal pool, head to Hofsos Sundlaug pool. It's literally just an outdoor pool but it's right on the north coast so the views are incredible.
Just outside of Hofsos is Grafarkirkja. This turf church is the oldest church in Iceland and looks more like something you'd see in Hobbiton than in real life!
Some other stops you can make on this 8-day itinerary Iceland on your way to Blönduós are Glaumbær Farm & Museum and Reykjafoss Waterfall.
9-Day Iceland Itinerary: Snæfellsnes Peninsula
If you just need a 5-day itinerary Iceland guide, take the first three days and the last two days of this itinerary. Keep Reykjavik as your base so you don't even have to rent a car to explore Iceland! There are many tour companies that offer trips north of Reykjavik to the Snæfellsnes Peninsula.
The Snæfellsnes Peninsula is the last region you will travel through on a 10-day Iceland itinerary before heading back to the capital. There are more waterfalls, dramatic beaches, churches, museums, lighthouses, and lava fields off the beaten path on this leg to see before returning to civilization.
Just off Highway 1 is Eiríksstaðir Viking Longhouse which is a replica of a Viking-era farm complete with turf houses. There are so many great open-air museums dotted around Iceland that make great use of the dramatic landscape. You can also visit Þingeyraklausturskirkja, a Lutheran church and the oldest stone building in Iceland.
Hvitserkur is a cool basalt rock formation on the coastline that looks like a rhino or dragon, depending on your point of view. It's surrounded by black sand and is a really cool sight.
Take a short detour to see Kirkjufell and the famous Kirkjufellfoss Waterfall. You'll have no doubt seen this cylindrical mountain in photographs. The waterfall flows along the bottom of the mountain so you can see both at once.
It's definitely one of the most iconic waterfalls in Iceland!
Stop by Ytri Tunga Beach and try your luck at spotting some seals and visit the Saxhóll Crater which looks like a set piece from a sci-fi movie. This is the biggest crater you'll have ever seen and it's sunk into the side of a magnificent volcano. It'll leave you speechless for the rest of your drive back to Reykjavik.
10-Day Iceland Itinerary: Reykjavik
On the last day of your 10-day Iceland ring road itinerary, drop your car off at the rental company and chill out in Reykjavik! While it's a small city, there are still tons of things to do in Reykjavik that are worth adding an extra day to your Iceland vacation itinerary.
Visit some of the museums you might not have gotten around to seeing on your first day. Some great historical and geological museums in Reykjavik include The Settlement Exhibition, the Saga Museum, and Perlan.
You can also visit a few attractions a little more off the beaten path. Reykjavik has three lemon-yellow lighthouses along its Shore and Sculpture Walk (Ingólfsgarður, Höfði, and Skarfagarður) which are excellent places for family photos.
Another great off-the-beaten-path spot is Höfði House, a former poet's house where former President Ronald Reagan and Mikhail Gorbachev of the Soviet Union met in 1986 to end the Cold War.
Plus, if you didn't take the elevator up to the top of Hallgrimskirkja on your first day in Reykjavik then you should go back and do it! Since it's the tallest building in the city, the views are unrivaled.
Want to squeeze in one last trip to a thermal spa on the last day of your Iceland 10-day itinerary? Visit Sky Lagoon! It's a relatively new thermal spa (it only opened in 2021) only a 15-minute drive from Reykjavik overlooking the Reykjanes Peninsula coastline.
Sky Lagoon is open until late and is the perfect place to finish your 10 days in Iceland!
Extra Days in Iceland?
If you've got an extra day or two in Iceland, I would head to the Westman Islands via ferry.
The Westman Islands, also known as Vestmannaeyjar, are a group of islands off the south coast of Iceland. There are around 15 islands in total, with Heimaey being the largest and only inhabited one. The islands were formed by volcanic activity and are known for their rugged beauty and unique wildlife.
One of the most notable events in the history of the Westman Islands occurred in 1973, when a volcanic eruption on Heimaey forced the evacuation of the entire population. The eruption lasted for several months and resulted in the creation of a new volcano, Eldfell. Thanks to the efforts of the residents and emergency workers, the town was saved from the lava flow, but many homes and buildings were destroyed.
You can take a ferry from the mainland or fly in on a small plane. The islands are also home to several festivals throughout the year, including a music festival and an annual puffin festival, celebrating the island's most famous resident bird. You'll notice tiny islands with tiny houses on them on your way to Heimaey Island. These are puffin hunting cabins!
Planning Your Iceland Itinerary FAQs
How many days do you need to visit Iceland?
You could enjoy a great trip to Iceland even if all you have is a few hours on a layover. But for most people, that won't be enough!
Are 5 days enough when visiting Iceland?
Planning five days in Iceland is a great amount of time on your first trip to Iceland. On a 5-day Iceland itinerary, you can spend one or two days in Reykjavik and then take a couple of trips to the Golden Circle and South Coast.
Spend the last day relaxing at a geothermal spa or swimming pool like the Blue Lagoon or Sky Lagoon. Or, take another tour north of Reykjavik to the Snæfellsnes Peninsula.
Are 7 days too long in Iceland?
There is no such thing as spending too long in Iceland! However, a seven-day vacation isn't long enough to venture on a road trip around the ring road of Iceland. It is also too long to just stick to Reykjavik and the surrounding areas.
On a 7-day Iceland itinerary, you could spend two days in Reykjavik and one day at a geothermal spa or swimming pool like the Blue Lagoon or Sky Lagoon. For the last four days, hire a rental car and set out on a road trip to Iceland's South Coast, up to the Golden Circle route, and to the Snæfellsnes Peninsula before driving back down to Reykjavik.
Do I have to drive in Iceland?
You don't have to do a self-drive road trip if you don't want to! You can still have a great trip to Iceland by staying in the capital city of Reykjavik and using tour companies to take day trips.
You can also book multi-day tours that will allow you to explore Iceland and drive along the famous ring road without having to do the driving yourself. Each tour company will have its own Iceland itineraries and you will have to follow their schedule so you won't have as much freedom.
This option will be more expensive than hiring a rental car. But visiting Iceland and seeing places both on and off the beaten path without a car is definitely possible!
The simplest way to explore Iceland is by renting a car.
What Currency Is Used in Iceland?
Iceland uses the Icelandic Króna currency. As of March 2023, 1 Icelandic Króna is worth approximately 0.0073 United States Dollar.
Don't make the mistake of taking lots of Icelandic Króna in cash! Locals rarely use cash and most shops and restaurants, even small businesses, prefer card payments. It might surprise you but some won't even accept cash at all. Take a very small amount of cash for emergencies.
If you don't have one already, invest in a travel-friendly credit card so you don't incur lots of currency conversion fees. Also, note that American Express is not widely accepted in Iceland or lots of other European countries. If this is your preferred type of card, always have a Visa or Mastercard as a backup.
Where to Stay in Iceland?
In Reykjavik, you'll find a range of boutique hotels, international brands, hostels, guesthouses, and short-term rental apartments. You name it! You can choose whichever type of accommodation in Reykjavik suits your travel style. Iceland's capital city is the best base for side trips and for finding a variety of accommodation options.
Keep in mind that if you're taking a trip to Iceland where you'll need to organize pick-ups for tours and transfers, it's better to stay in a hotel so it's easier for tour companies to locate you. Some don't like organizing pick-ups from street addresses because regular-size buses cannot drive down many of Reykjavik's smaller roads.
Stay in Downtown Reykjavik or by the harbor. It's easy to navigate the city via Google Maps and most attractions are just a few minutes walk away from each other.
Elsewhere in Iceland, you'll find more locally-run guesthouses and B&Bs. But there are also lots of futuristic and high-tech hotels too.
Many have incredible full-service geothermal spas and glass roofs where you can watch the northern lights or midnight sun from your bed. It's worth traveling a little off the beaten path for these once-in-a-lifetime experiences while visiting Iceland!
Plan an Unforgettable Trip With This Flexible Iceland Itinerary
While the cold climate and high costs might make visiting Iceland more challenging, it is 100% worth it. No other country boasts as many natural wonders, unique outdoor experiences, and opportunities for epic adventures as a trip to Iceland.
Use this flexible 10-day Iceland itinerary to plan the ultimate Iceland road trip or short break. It'll make sure you see all of Iceland's highlights and off-the-beaten-path wonders so that you have an amazing, memorable vacation!