Croatia is an incredible country full of diverse beauty and culture. Stretching hundreds of miles along gorgeous coastline, you won't run out of things to see and do. I wanted to narrow it down to the top 10 things to do in Croatia, to help you make a decision.
We spent a week in Croatia and fell in love with it! I didn't know much about it before we left and was so surprised about some of the things I learned. I also didn't know there were so many amazing things to do in Croatia beyond just the beach.
You can check out my full Croatia Itinerary for beginners here if you want to read about everything we did during our trip. Also check out 15 things that surprised me about Croatia and what Croatia is known for.
1. Explore Dubrovnik Old Town
You can't visit Croatia without making Dubrovnik a priority! We started our time in Croatia in this city and fell in love with it right away! It's ancient, clean, and beautiful with a rich history. Dubrovnik, often called the "Pearl of the Adriatic," is a city by the sea in the south of Croatia. One of the most beautiful and iconic parts of the city parts is the Old Town, which is like a trip back in time. It's one of the most iconic things to see in Croatia. Here are a few things to do in Dubrovnik:
City Walls: Imagine huge stone walls built centuries ago to protect the city from pirates and invaders. You can walk all around these walls and get awesome views of the sea and rooftops.
Stradun: This is the main street of the Old Town. It's a great place to walk, with smooth, shiny stones underfoot and lots of shops and cafes to explore.
Fort Lovrijenac: A big fortress standing on a rock outside the Old Town walls. It has played a role in keeping the city safe, and it's also been a stage for plays and performances.
Cable Car Ride: Right outside the Old Town, there's a cable car that goes up to Mount Srđ. From the top, you can see the entire city, the sea, and nearby islands.
Rector's Palace: Back when Dubrovnik was its own tiny country (called a "republic"), the leader, or "rector," lived here. Now it's a museum filled with artifacts and stories from the past.
Old Port: A charming harbor area where you can see boats coming in and out. From here, you can take boat trips to nearby islands or just sit and enjoy the view.
Sponza Palace: A beautiful old building that was once a customs house, bank, and even a school. Today, it hosts exhibitions and events.
Game of Thrones Tour: For fans of the show "Game of Thrones," guess what? Many scenes were filmed right here in Dubrovnik! So as you walk around, you might feel like you're in King's Landing. There are many GOT Walking tours, but this one has great reviews.
After you've explored Dubrovnik and if you have an extra day or more, I highly recommend taking some day trips from Dubrovnik. There is so much to see just outside the city.
Visit Plitvice Lakes National Park
Plitvice National Park is truly a gem in Croatia. I asked many Croatians what ONE thing I should do in their country, and most of them answered "visit Plitvice Lakes National Park!" I would have to agree with them. It's one of the most beautiful places to see in Croatia and should not be missed! Here are some things to do in Plitvice:
Lakes & Waterfalls: There are 16 lakes in total, each one a different shade of green or blue. They're connected by hundreds of waterfalls, ranging from tiny trickles to massive cascades. Walking by them feels like being in a nature-made water park.
Wooden Pathways: Tourists can walk on special wooden paths that go over the water. It's almost like floating! These paths make it easy to see all the best spots without getting lost.
Electric Boats & Trains: To save energy and keep the park clean, Plitvice uses electric boats and trains. You can hop on a boat to cross the bigger lakes or take a train ride to different parts of the park.
Wildlife Watching: While walking around, keep an eye out for animals. Deer, bears, birds, and many other creatures call this park home. But remember to always keep a safe distance.
Pictures & Picnics: Don't forget your camera! Every corner of Plitvice is like a postcard. And if you bring some snacks, there are designated picnic spots to relax and eat.
Explore Old Town Split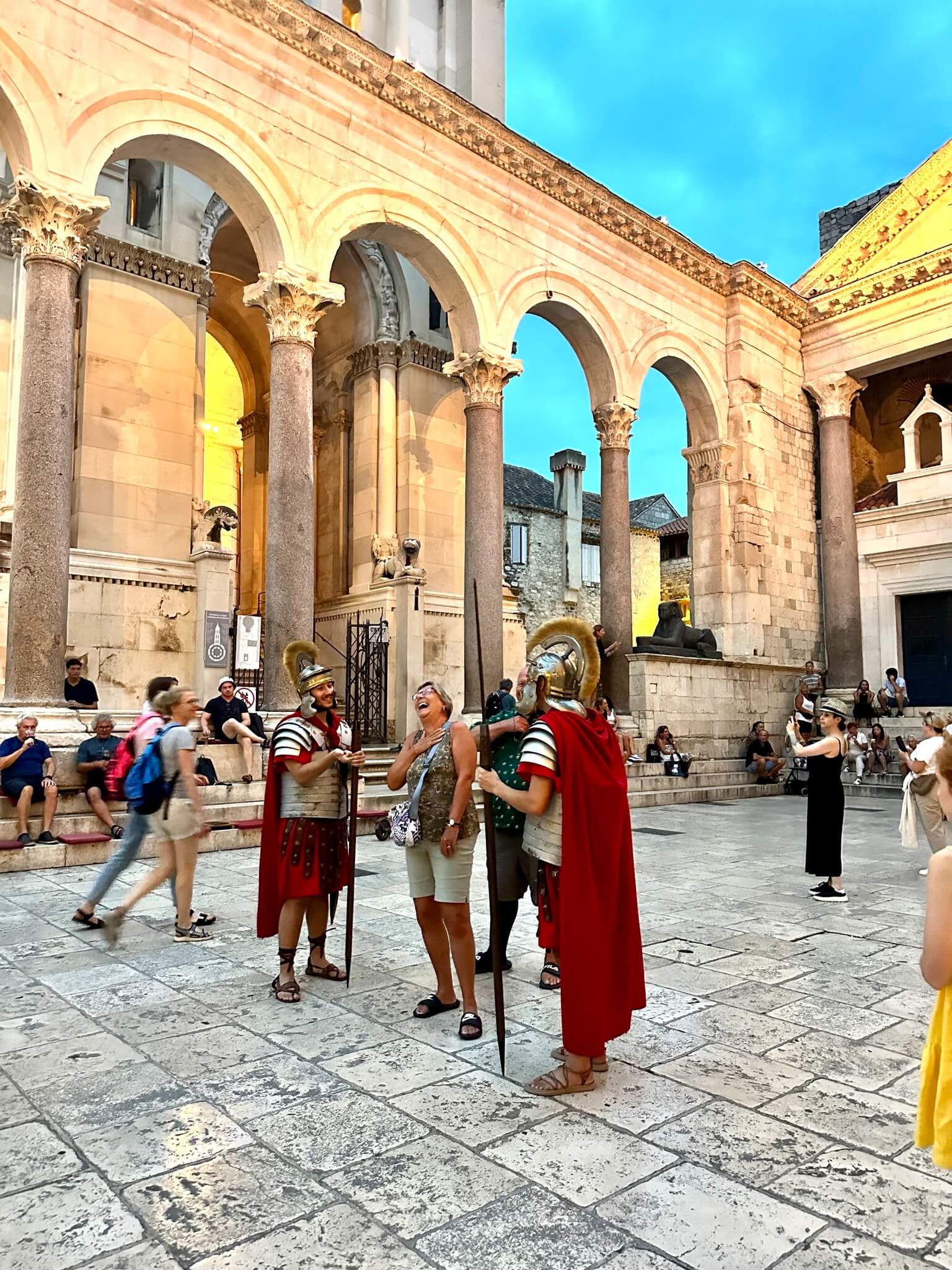 Split is a city by the sea in central Croatia. It's got a great mix of old (think castles and palaces) and new (like modern cafes and shops). It's also a great place to base yourself for some awesome day trips. Here's what you'll want to check out in Split:
Diocletian's Palace: This isn't just any old palace. It's a UNESCO World Heritage site and it's like a mini city inside the city! Built by a Roman emperor long ago, it's now filled with shops, restaurants, and homes. Walking around here is like going back in time.
Riva Promenade: This is a boardwalk right by the sea where you can walk, eat ice cream, or just relax and enjoy the view.
Marjan Hill: Looking for a bit of adventure? Climb up this hill (or take a short bus ride). From the top, you get an awesome view of Split and the nearby islands. Plus, there's a big park with trails and old chapels to explore.
Beaches: Split has some great beaches. Bačvice Beach is famous for a game called "picigin", where players keep a small ball in the air using only their hands. Give it a try, or just enjoy the sun and water.
Green Market (Pazar): Want to shop like a local? This is a lively market where you can buy fresh fruits, veggies, and other goodies. It's colorful, loud, and lots of fun.
Museums & Galleries: If you're into history or art, Split has several cool places to visit, like the Archaeological Museum or the Mestrovic Gallery.
Take a Boat Trip: Since Split is right by the sea, you can easily hop on a boat and visit nearby islands like Hvar or Brač. Each island has its own charm and beautiful beaches. Book an island hopping tour to see as much as possible.
Get on a Boat
Getting on a boat is one of the top things to do in Croatia. With hundreds of miles of gorgeous coastline in Croatia, you have to get out on the water in a boat and see it all from the water. There are tons of opportunities to rent a boat, take a ferry, charter a private boat, do a kayak tour, or an island hopping speed boat tour. You can even get on a raft in the river! We took a rafting tour and it was epic!
Visit at Least One Island
There are over a thousand islands in Croatia, so visiting at least one is a must-do in Croatia. These are just five of the best islands, in my opinion. I'll explain a little about each one, how to get there, and why you should go.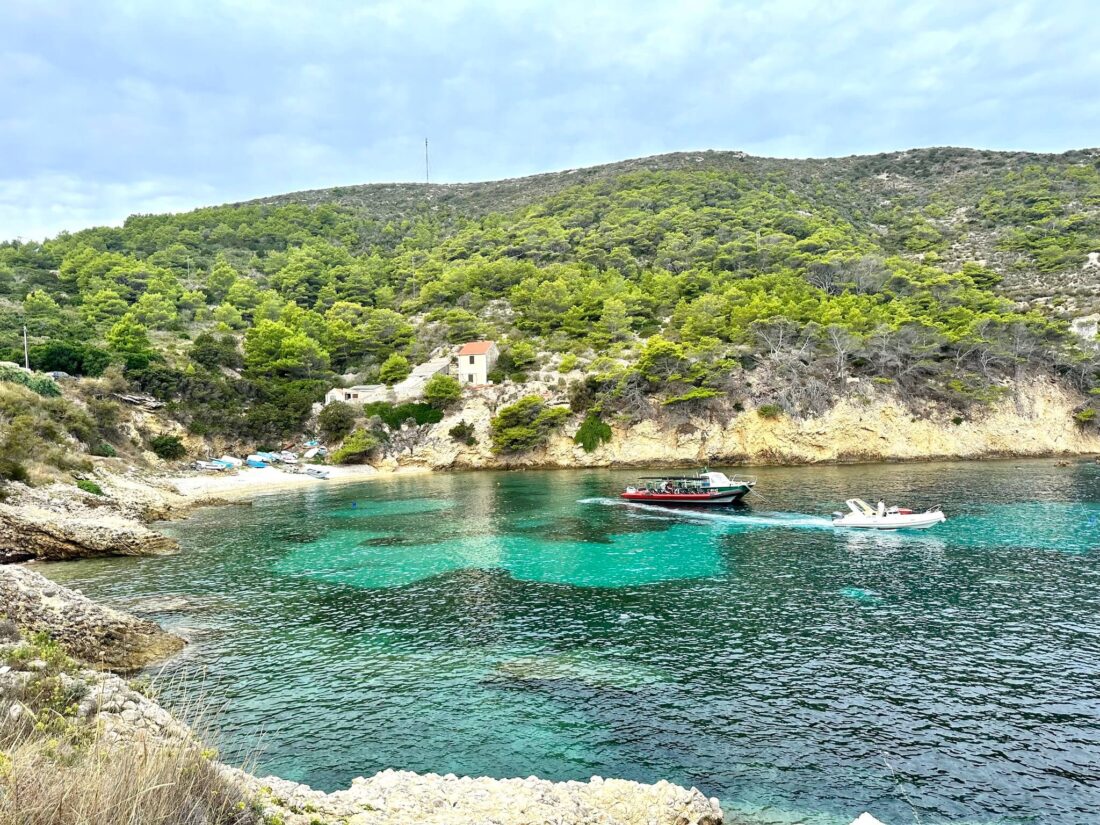 1. Hvar Island
Why you should go: Hvar is like the superstar of Croatian islands. It's known for sunny weather, lavender fields, and an adorable old city in Hvar Town. You can also check out historic spots like Fortica Fortress.
How to Get There: You can take a ferry from Split to Hvar Town. It's a popular route, so there are several trips a day.
2. Brač Island
Why you should go: Ever heard of the Golden Horn Beach? That's in Brač! It's a horn-shaped beach that changes with the currents. The island also has old towns and cool spots to explore, like Dragon's Cave.
How to Get There: Ferries run from Split to Supetar on Brač. It's a short ride, making it easy for a day trip or longer stay.
3. Korčula Island
Why you should go: Some say the famous explorer Marco Polo was born here. Korčula has a charming medieval town and clear waters perfect for swimming.
How to Get There: You can catch a ferry from Split or Dubrovnik to the town of Korčula.
4. Vis Island
Why you should go: Vis is a bit more off the beaten path, which makes it special. It's got beautiful beaches like Stiniva Cove and a mysterious Blue Cave. History buffs might like the old military sites from when it was a base.
How to Get There: From Split, you can hop on a ferry that takes you to the town of Vis on the island.
5. Pag Island
Why you should go: Pag is unique. Parts of it look almost like the moon because there aren't many trees. But it's famous for two things: a wild summer party spot called Zrće Beach and delicious cheese!
How to Get There: You can drive to Pag since it's connected to the mainland by a bridge. Or, you can take a ferry from the town of Prizna to Žigljen on Pag. It's is located pretty close to Zadar, so if you're visiting there, this would be a great time to see Pag Island.
The easiest way to see multiple islands while you're in Croatia is to book a speed boat island hopping tour. We did this one and had a blast! We saw 5 islands in one day and got to visit the Blue Cave.
Explore Old Town Zagreb
This is a city that really surprised me. Zagreb is the capital city of Croatia, and it's a bit different from the coastal spots like Dubrovnik or Split. It's more of an urban adventure with cool buildings, lively streets, and cute cafes. Zagreb might not be by the sea, but it's got its own special charm.Here's what you might want to check out:
Ban Jelačić Square: This is the heart of Zagreb. It's a big open space with a statue in the middle, surrounded by buildings and cafes. People meet up here, watch street performers, or just sit and enjoy the vibes. It's a great spot for people watching.
Zagreb's Upper Town: Take a funicular or walk up to the older part of the city. Here, you'll find the beautiful St. Mark's Church with its colorful roof and lots of old, charming streets.
Museum of Broken Relationships: Sounds weird, right? But it's super interesting! This museum has stories and items from people all over the world talking about relationships that ended. It's funny, sad, and everything in between. It's the only museum I've ever been to where I read every single plaque and looked at every exhibit. Dedicate about 2 hours to this.
Zagreb 360° Observation Deck: Want to see the city from up high? This is the place. You can see rooftops, streets, and distant hills. It's especially pretty at sunset.
Dolac Market: Close to Ban Jelačić Square, this is where locals buy fresh fruits, veggies, and other goodies. You can snack on some local treats or buy souvenirs. We got some blueberries to snack on while we wandered the town.
Zagreb Cathedral: This big, impressive church can be seen from many parts of the city. It's currently under a massive renovation after being damaged by the earthquake a few years ago. So it's not the most beautiful thing in the city right now, all covered in scaffolding.
Tkalciceva Street: A lively street filled with cafes, restaurants, and shops. Perfect for a stroll, a meal, or just watching people go by.
Maksimir Park: If you need a break from city sights, this big park is great for relaxing, having a picnic, or exploring its lakes and forests.
Go to the Beach
This is probably an obvious one, but if you're looking for fun things to do in Croatia, then hitting the beach is a must! One thing to know about the beaches in Croatia is that most of the beaches are rocky. I highly recommend bringing water shoes or sandals with you to wear in the water and while walking on the beach. These are the top 5 beaches in Croatia, but there are hundreds of incredible beaches all along the coast, so just pick something close to you and hit the water!
Bol Beach (Zlatni Rat) on Brač Island: This is one of Croatia's most famous beaches! Its shape changes with the currents and waves. Zlatni Rat means "Golden Cape" in Croatian. The beach is a long, golden pebble beach that looks like a tongue sticking out into the crystal-clear water.
Banje Beach in Dubrovnik: Close to the historical city of Dubrovnik, Banje Beach offers an amazing view of the city walls and the island of Lokrum. It's a pebble beach with sun loungers and umbrellas that you can rent, perfect for relaxing after exploring the city.
Stiniva Cove on Vis Island: Hidden between tall cliffs, this beach is like a secret little paradise! It's not easy to get to, which makes it even more special. The beach is small and has white pebbles, and the water here is incredibly blue.
Sakarun Beach on Dugi Otok: This beach is known for its powdery white sand (a rarity in Croatia) and aqua water. It's quite long and surrounded by pine trees that provide shade on hot summer days.
Punta Rata in Brela: This is a pebbly beach with clear waters, surrounded by pine forests. The beach often gets praise for its natural beauty and is considered one of the best in Europe.
Eat Truffles
I was surprised to learn that Croatia is known for their truffles! Truffles are special kinds of mushrooms that grow underground near tree roots. They're not the typical mushrooms you might find in a grocery store. They're considered a delicacy and can be quite expensive because they're hard to find and have a unique taste. Croatia, especially the Istria region, is one of the top places in the world to find truffles! Here are some things to know about truffles in Croatia:
Types of Truffles: There are different kinds of truffles, but the most prized ones in Croatia are the white and black truffles. White truffles are especially valuable and can cost a lot more than black ones.
How are they found? Truffles are tricky to find because they grow underground. People use trained dogs (or sometimes pigs!) to sniff them out. These animals have a keen sense of smell and can locate truffles buried deep in the soil.
Where are they found in Croatia? Istria! This region in Croatia is a truffle hotspot! The forests here provide an excellent environment for truffles to grow. If you visit Istria during truffle season, you might even get to join a truffle hunting tour.
Tasty Truffle Dishes: In Croatian restaurants, especially in Istria, you can try dishes with truffles. Common dishes include pasta, risotto, or eggs with shaved truffles on top. We had a LOT of truffle pasta while in Croatia!
Festivals: Truffles are celebrated in Croatia! There are festivals where people gather to buy, sell, and enjoy truffle-based dishes. It's a fun way for locals and visitors to appreciate this unique treat.
Go Ziplining
Ok, so I know zip lining isn't really unique to Croatia, but I still think it's one of the most unique things to do in Croatia, especially if you do the Cetina zip line.
Zip lining was incredible! I'd consider myself an avid zip liner. I've zip lined all over the world and I LOVE it! This zip line over the Cetina River is actually the #1 reason I booked this Croatia trip! So I was very excited and it did not disappoint. The zip line course consists of 8 wires that begin at almost 500 feet high and cover almost 7,000 feet in length! It was intense and I probably wouldn't recommend it for someone's first zip line experience.You can book the zip line here. There are other great zip lines in Croatia too, but I think this one is the most epic!
Take a Day Trip
If you visit Croatia, you'll most likely be sticking to the main cities like Dubrovnik, Split, Zadar, and Zagreb. But I recommend booking a day trip or two to see something outside of the main attractions in Croatia.
Obviously there are so many more things to do in Croatia that I haven't mentioned, but I hope you won't hate these 10 things!