Sao Miguel Azores is a hidden gem of an island in the middle of the Atlantic Ocean! This will walk you through how to get there, where to stay, what to eat, and what to do in São Miguel Island!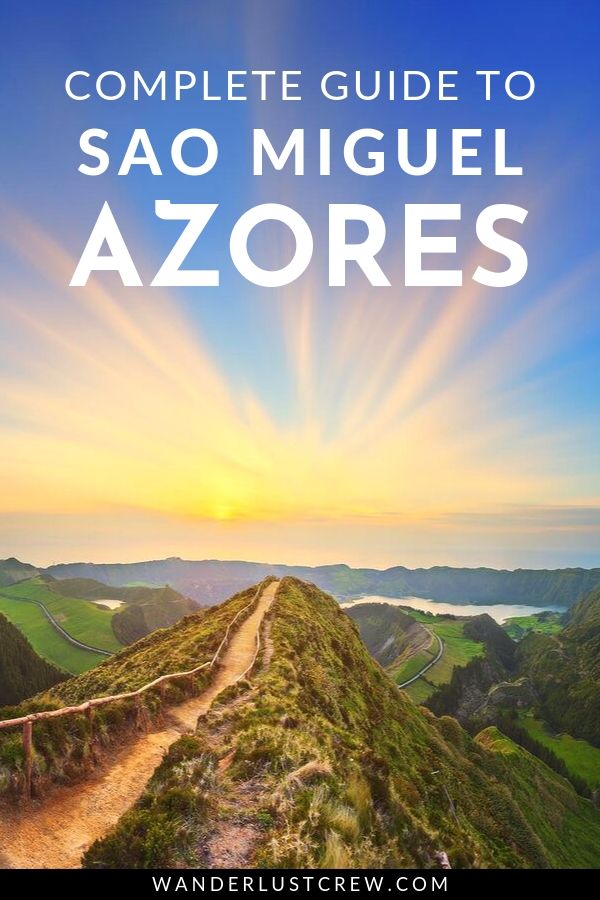 The Complete Guide to São Miguel Azores
São Miguel island Azores in Portugal is one of the most beautiful places I've ever been to! My expectations were high after seeing incredible pictures online, but I was honestly blown away as we explored the island! We happen to go in the summer during the hydrangea bloom and it was truly a sight to behold! There are so many amazing things to do in Sao Miguel, but not a lot of information out there. Hopefully, this Azores guide will help you plan your visit.
Where is São Miguel Island
São Miguel Portugal is one of 9 main islands in the Azores archipelago located in the middle of the Atlantic Ocean. São Miguel is the largest and most populated island in the Azores and where all flights from the US come to in the Azores first.
How to Get to São Miguel Island
Getting to São Miguel is easy. There are direct flights to São Miguel coming from Boston, New York City, and Portugal. It's an easy flight from the US, just under 5 hours. I can get to São Miguel faster than I can get to California.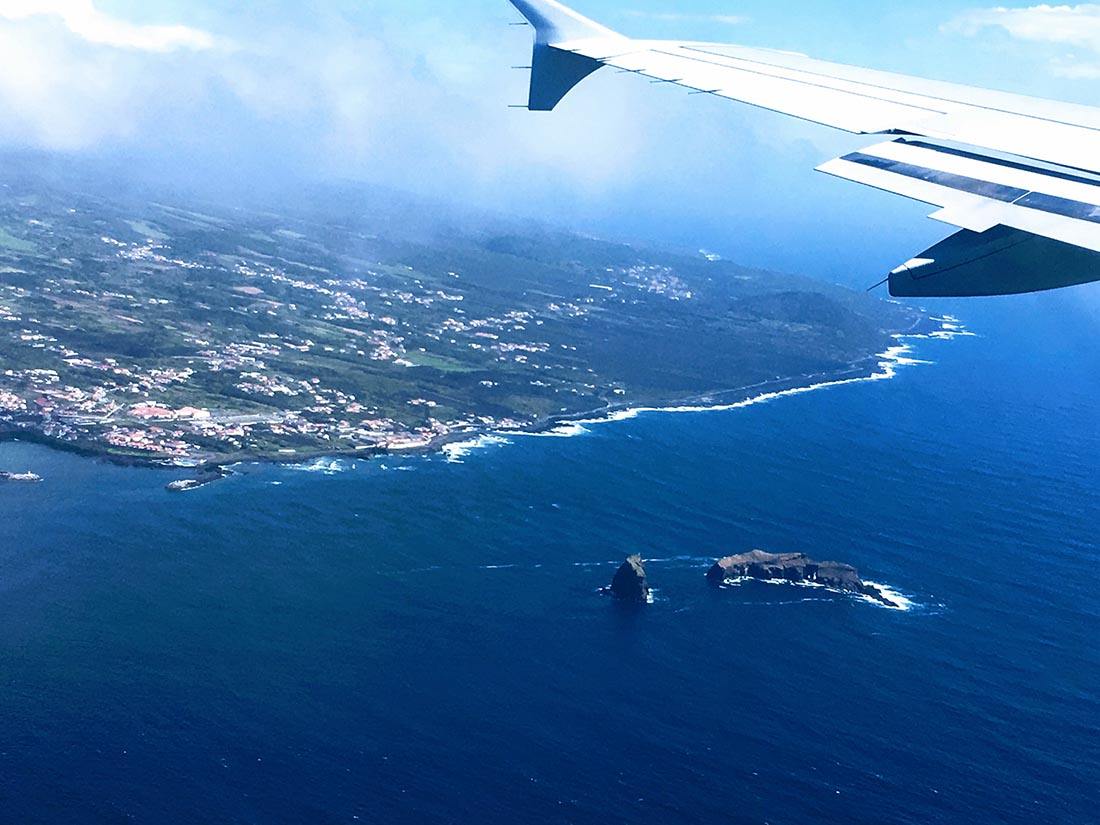 How to Get Around São Miguel Island
Take a Tour
There are several great tours on São Miguel island, Azores and it can be a great way to see the island and learn about it from a local. This is a great tour that will take you to see the best sites in the island. We took a full day ATV tour and it was seriously amazing! We were able to go on a lot of little dirt side roads that we couldn't take our rental car down.
Rent a Car
While taking a tour of São Miguel is a great idea, renting a car is a good way to see the island at your own pace. The roads are fairly good, but windy and narrow. Check here for the best car rental São Miguel Azores rates.
Where to Stay in São Miguel Island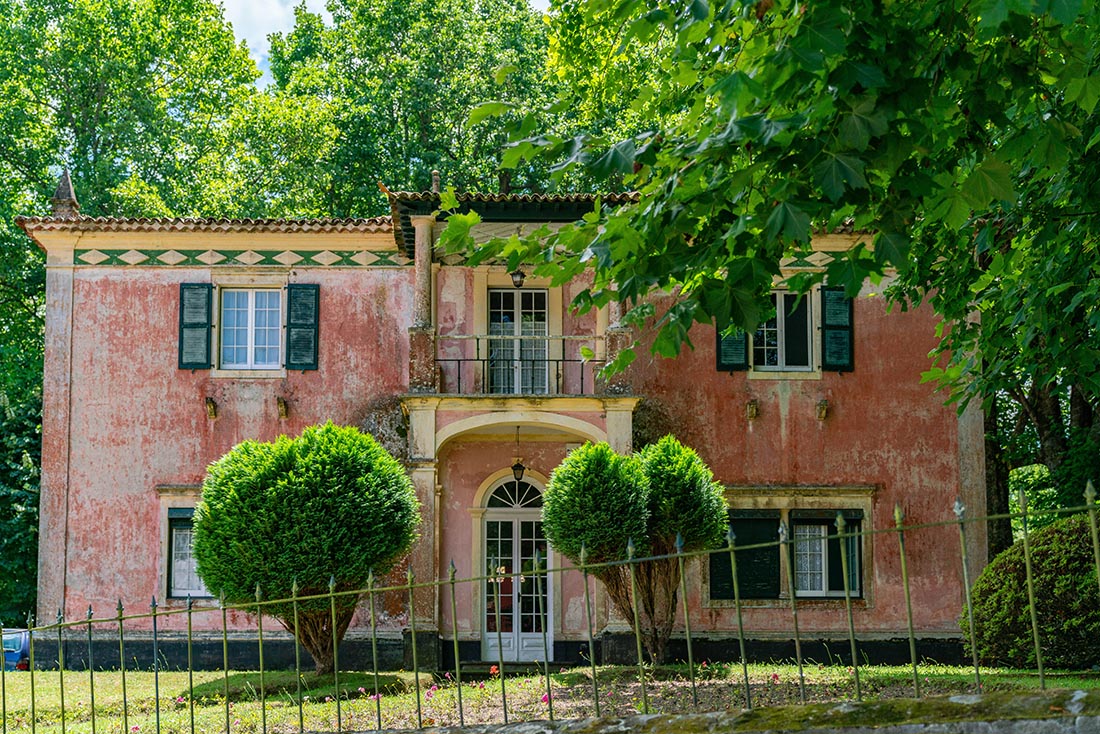 There are plenty of São Miguel Azores hotels and Airbnbs on the island. Since it was our anniversary, we mainly stayed in nice hotels (a rare treat for us). These were the best São Miguel hotels that we loved.
Sao Miguel Azores Hotels
We loved this unique luxury hotel in the adorable town of Furnas. It has its own thermal pools, a swimming pool, and an amazing restaurant, A Terra!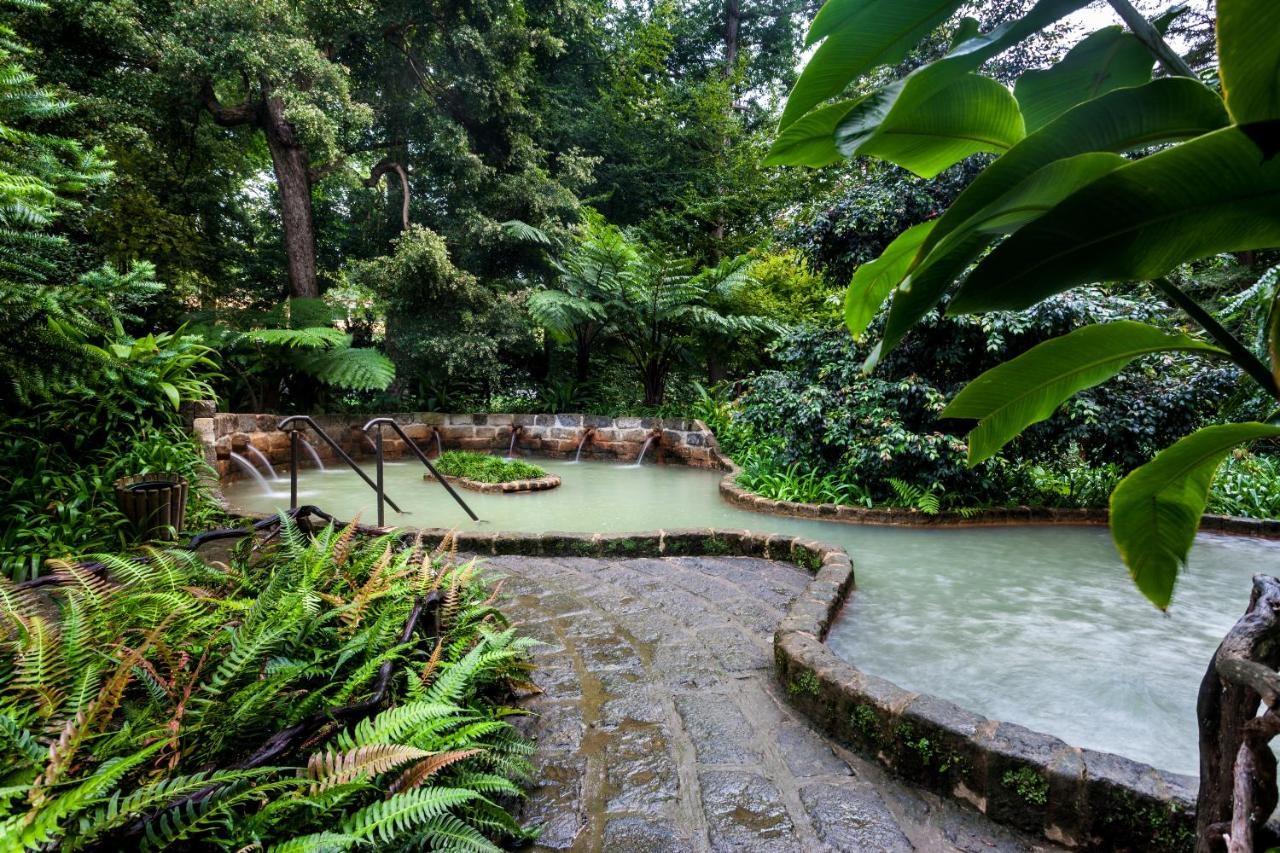 Located in the Terra Nostra Park, the beautiful botanical gardens, Terra Nostra Garden Hotel is a beautiful oasis with a great location. You'll also have full access to the natural hot springs and natural pools.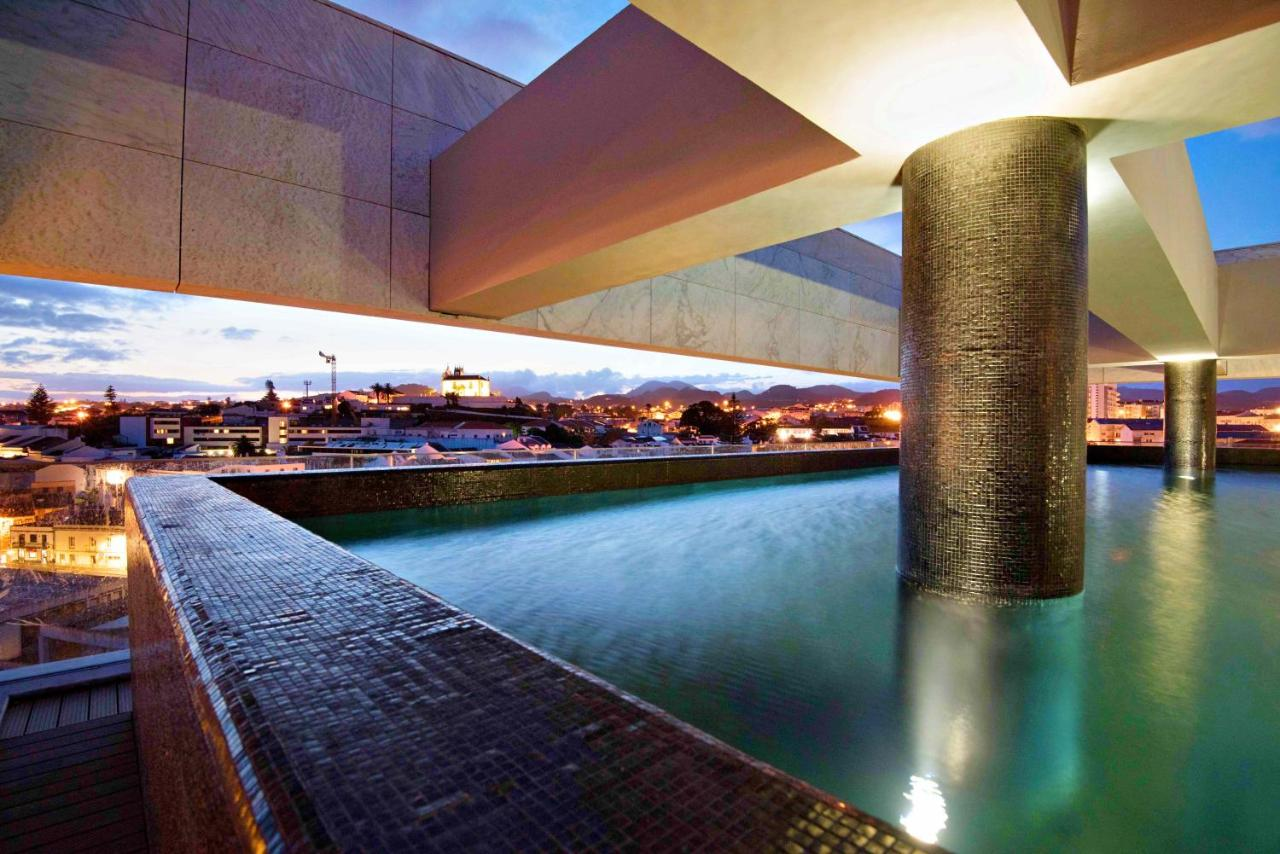 This luxury hotel, located in downtown Ponta Delgada, was beautiful. We had a huge corner suite with gorgeous views of the ocean.
This hotel is also in Ponta Delgada and is in a great location, walkable to great restaurants and anything you want to see downtown. Honestly, the Azor and this hotel are pretty close together and I preferred the Azor. So if you have to pick, I'd choose that.
Azores Packages
If you're looking to go to the Azores, but don't want the hassle of booking your airfare, accommodation, car rental, or tours, AND you want to save money, then Azores Getaways has some seriously amazing packages and deals! I honestly think they are the best bang for your buck. Their prices really can't be beaten for a package tour.
Their deals start as low as $499/person. That includes airfare, hotel, and car! Insane! And they often occasionally have sales on top of that, so keep an eye out! Click here for a list of the Azores Getaways itineraries and deals.
This Sao Miguel Island package looks amazing!
São Miguel Azores Weather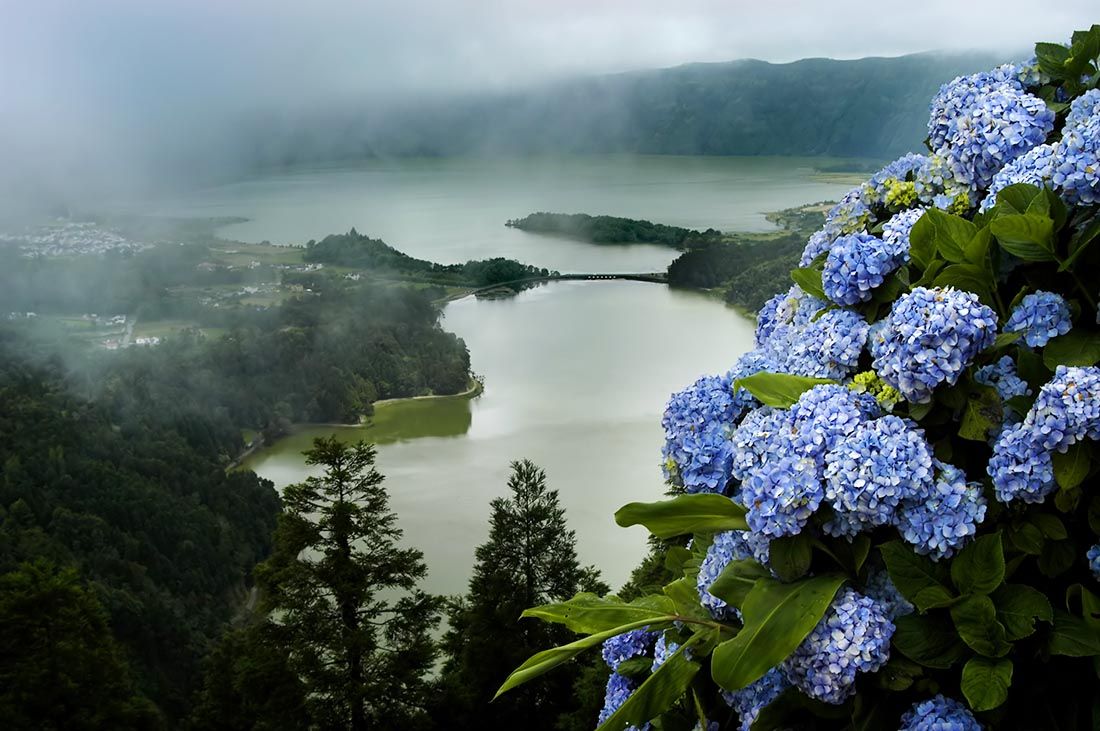 Let's talk about the weather in São Miguel, and the Azores in general. The Azores definitely has seasons, but they are much milder than you'll find in other parts of Europe.
How cold does it get in the Azores? Well, not that cold. Even in the dead of winter, the coldest it gets at night is in the low 50s (11-12 Celcius) and it's in the mid-60s (17/18 Celcius) during the day. The summer temperatures are even nicer at around low 60s (17/18 Celcius) at night and mid-70s (24/26 Celcius) during the day.
So with the weather only fluctuating about 20 degrees Fahrenheit throughout the year, it's a very mild climate. However, it does rain a lot! I mean look at these pictures! All that green, all those flowers, and all those lakes? How do you think they get like that? Rain! It rained almost every day we were in the Azores in July, but there was never a crazy downpour and the light sprinkle wasn't too cold. We found that it mostly rained in the afternoon, so it's best to get up early and prepare for some rain later in the day.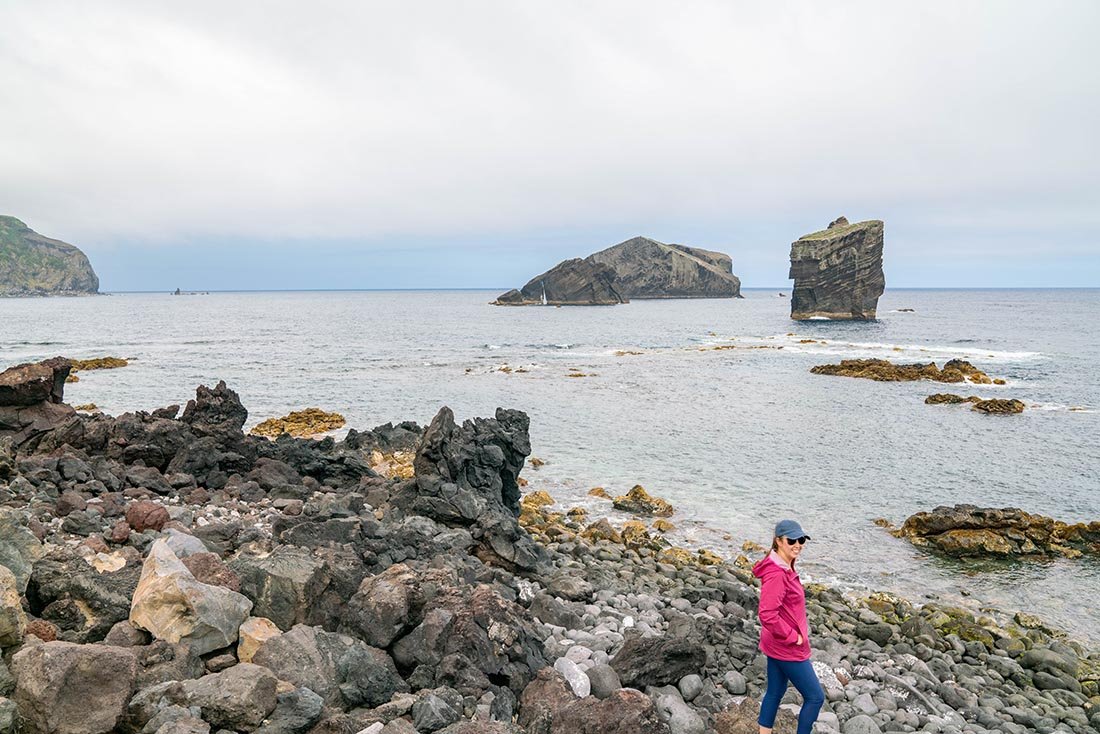 Best time to visit Azores
What is the best month to visit the Azores? This is a tough question to answer because I think the Azores would honestly be lovely year-round, but I think visiting São Miguel especially in the summer is quite magical because of the hydrangea bloom!
If you've seen any pictures of the Azores before, particularly São Miguel, you'll see massive hydrangea blooms everywhere! These gorgeous flowers, that are actually an invasive species brought over from Japan, cover the island during the summer months, turning it into a colorful island of blues, pinks, and purples. The blossoms differ in color due to the content of the soil.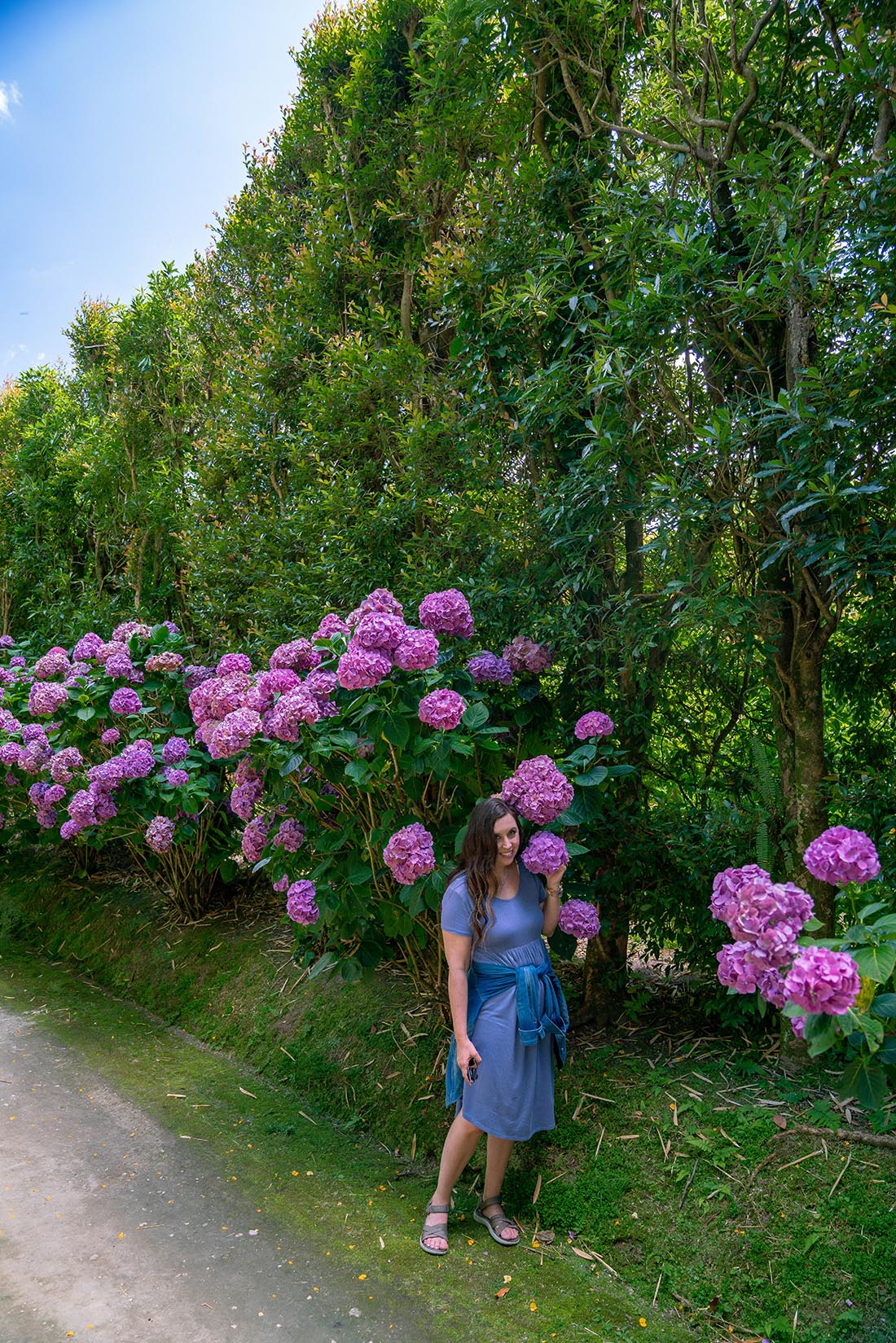 The hydrangeas bloom between June and September. This is also when the weather will be warmest. We were on São Miguel in the middle of July and it did not feel crowded or touristy at all. The tour companies all seemed happy to have us there and were grateful for the tourism.
That being said, they did say that tourism is really slow there in the winter. So if you are really crowd averse, or want to save some money, It might be a good idea to visit in the off-season.
São Miguel Food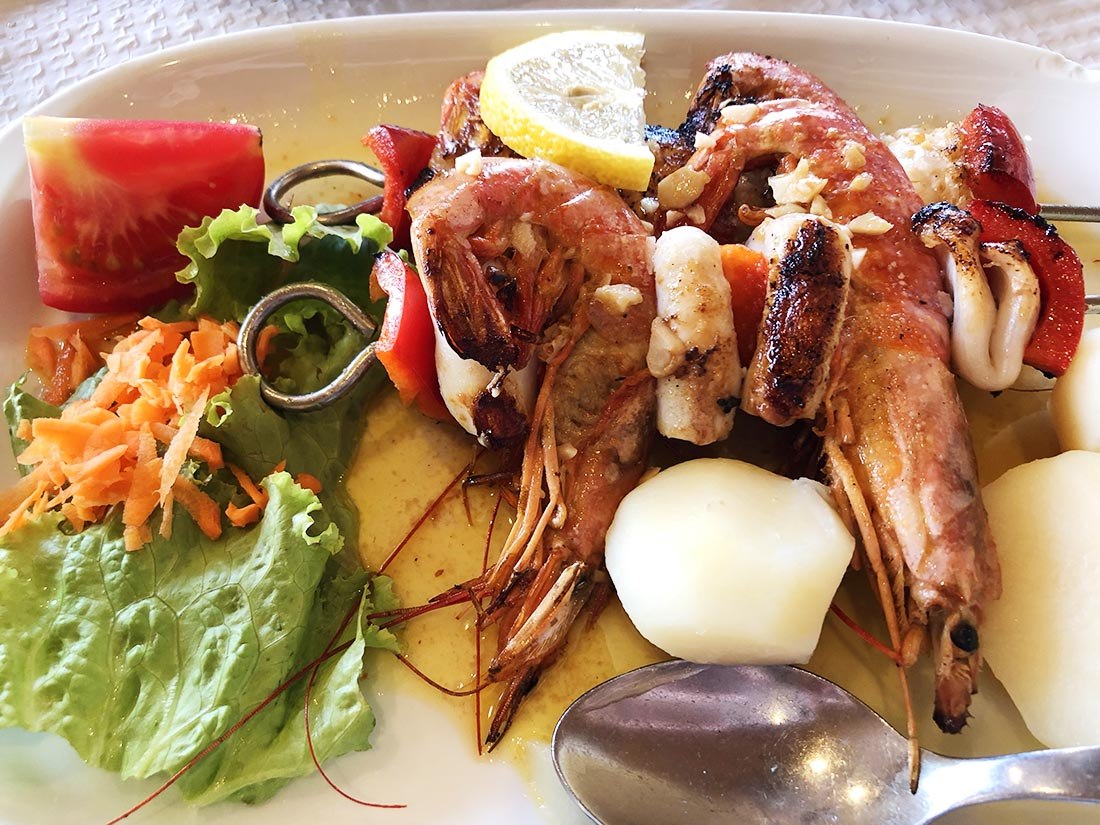 The food in the Azores totally blew me away. I had honestly never read or heard anything about Azoreean food so it was an amazing surprise. I've never seen a culture use fruits and vegetables in such a tasty way in almost every dish! You can read more about amazing food in my Azores Food Guide.
São Miguel Restaurants
The great thing about the food in the Azores is that it is super affordable! We ate out at nice restaurants every night for around $30 total! Be sure to order fresh grilled fish at least once! It was amazing.
The Best Restaurants in São Miguel Azores
We ate out every day in the Azores, with the exception of a few lunches where we just ate food from the market or a homemade sandwich with bolos & queijo, but we were on an anniversary vacation and staying in hotels, so I was NOT cooking! There were honestly not any restaurants in São Miguel that we didn't like, but these were the standouts for us:
À TERRA: This modern restaurant located in the Furnas Boutique Hotel combines a new era of cooking with the traditional flavors of the Azores. All of their meats and produce are sourced locally, and I promise everything is delicious! We ate here for all three meals while staying in the incredible attached hotel. I didn't want to leave!
Restaurante Lagoa Azul: Our tour guide took us to this restaurant near Lago Azul in Sete Cidades. It was a great place to sample tons of different Azorean cuisine from fish, beef, oxtail, and passion fruit cheesecake! It was all super yummy and affordable.
Tasquinha Vieira: This little hidden gem in Ponta Delgada, the main city of São Miguel, was a great surprise and celebration on the last night of our visit to the Azores! Locally sourced food meets gourmet cooking for a mouthwatering combination!
São Miguel Azores Map
This São Miguel Azores map will help you see where the main sites on the island are. Everything seems really spread out, but honestly, you won't have longer than a 1.5-hour drive from one end of the island to the other.
The Best Things to do in São Miguel Azores
There are so many amazing things to do in São Miguel Azores! For such a tiny island, you could honestly spend an entire week or more here and have action-packed days! There are many different guided tours that you can take, or you can rent a car and explore the island on your own. I'll tell you our favorite things we did on São Miguel.
Take a Tour of São Miguel
São Miguel island, Portugal is small and you can see most of it on the main roads, but there are some tiny farm roads that run through the center of the island that offer a beautiful insight into how much of the island runs and lives. If you want to access these roads you'll need to do it on an ATV or buggy tour.
I wouldn't recommend taking even a 4-wheel vehicle on these roads. They are too narrow, bumpy, and complicated. Your guide will know exactly where to take you. We took this 8-hour buggy tour and it was one of the best things we did on São Miguel!
Take a Whale Watching Tour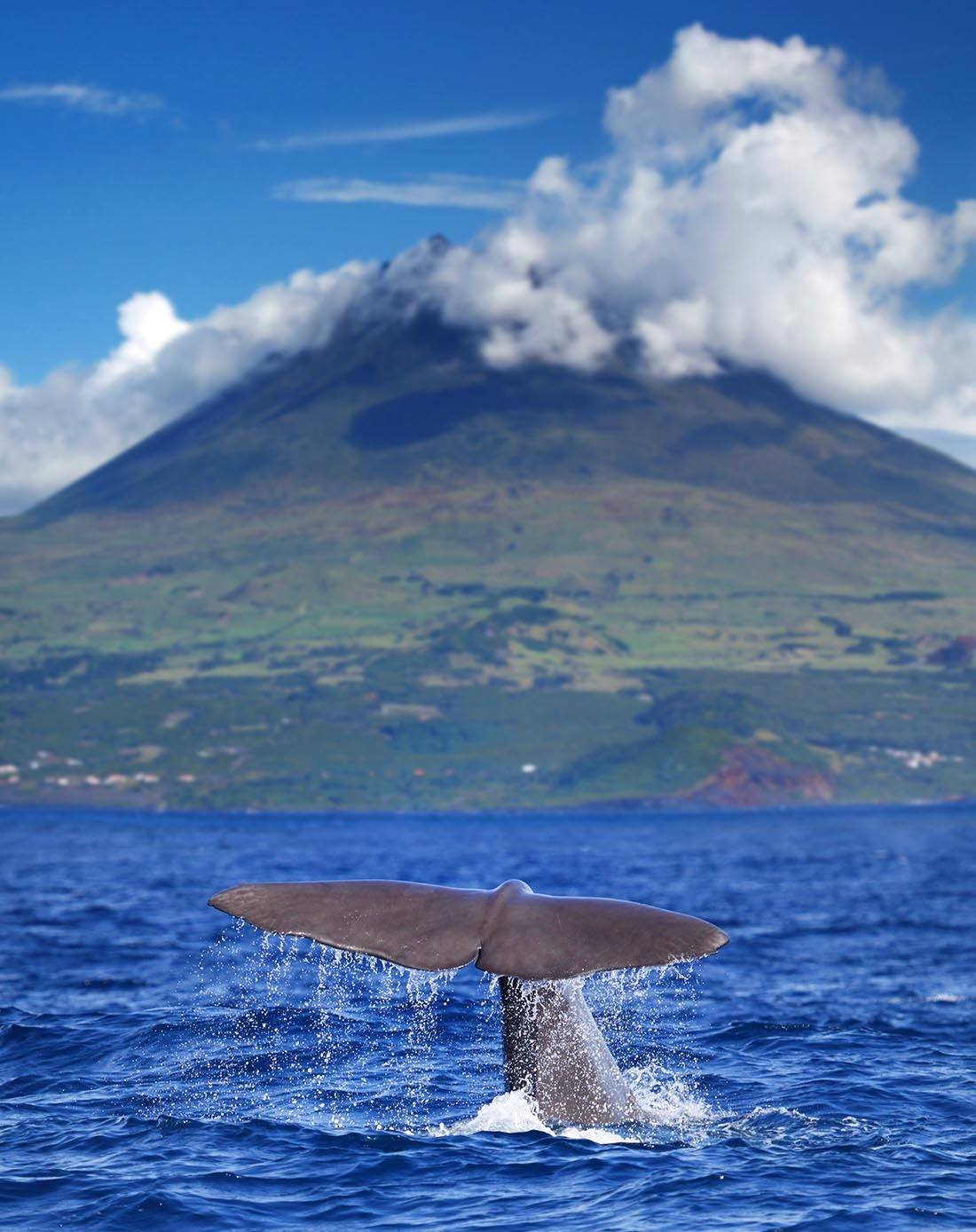 The Azores is famous for the whales that surround it! In fact, whaling used to be what sustained life on the islands a hundred years ago. The whaling industry has since ended, and a new world of whale tourism has entered the scene.
The Azores is one of the largest whale sanctuaries in the world with over 20 different species in the water! You're nearly guaranteed to see whales if you take a whale-watching tour in São Miguel. You'll also most likely see dolphins! There are many different whale-watching tours you can take. Most will leave from Ponta Delgada.
I recommend this 7-hour tour that will allow you to view whales and dolphins in the Azores while also snorkeling at the Vila Franca Islet! You can book the tour here.
Visit the town of Furnas São Miguel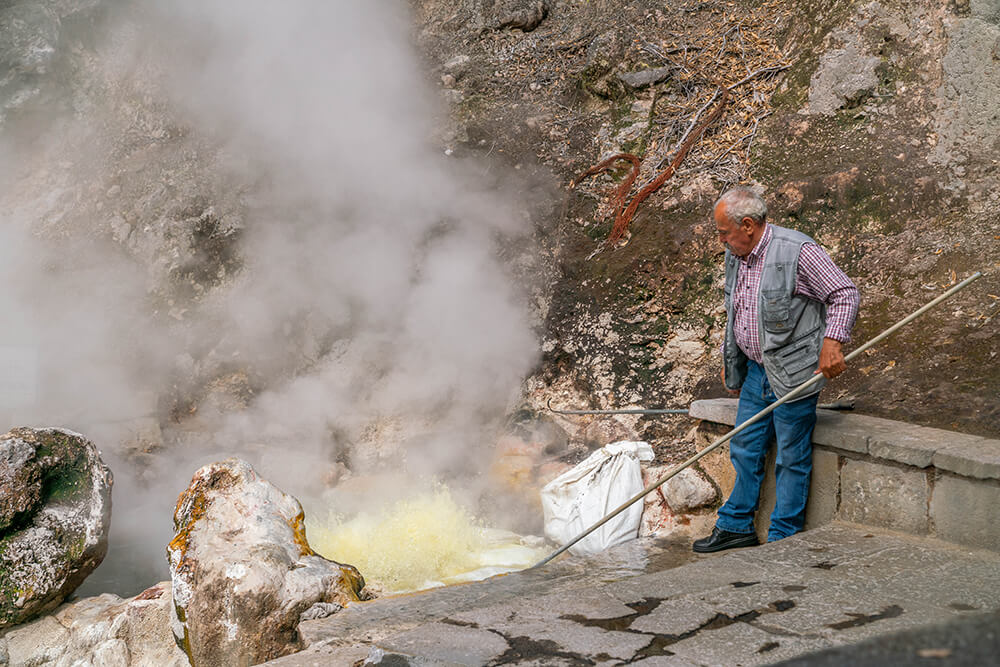 The town of Furnas on the east side of the island of São Miguel is not to be missed. The whole area honestly deserves aa entire article, there is so much to do! This was our first introduction to the islands and I wouldn't have it any other way. I recommend taking at least an entire day to explore this serene area. It's a quick 20-minute drive from Ponta Delgada, the main city of São Miguel. It's a great place to base yourself for exploring the island.
There are also some amazing hotels in Furnas that are great if you're looking for something special. We stayed at the Furnas Boutique Hotel, which has its own thermal hot spring pools and a beautiful spa as well as the amazing A Terra restaurant. I could live here and die happy! The rooms were small but beautiful, and the amenities and staff were all amazing.
Furnas is located in a valley that is actually a crater of a volcano! Seems like a good place to build a village right? The volcano erupted in 1630 and is now dormant, but the signs are still there almost 400 years later. The entire area is covered with steam holes and hot springs, making it a unique destination!
Go to the Beach
Since you're on an island, a trip to the beach is a must! There are several great family friendly beaches on Sao Miguel. These are the best beaches on the island of Sao Miguel:
Praia de Santa Barbara
Praia dos Mosteiros
Praia de Agua D'Alto
Praia do Fogo
Praia Caloura
Praia do Monhos
Praia Amora
Praia Populo
Ponta da Ferraria
Piscinas do Pesqueiro
See the Caldeiras
You will see signs for "caldeiras" all over the island. These are steam holes where sulfuric liquid bubbles up through the ground. This is what makes the hot springs warm all over the island. They do have a sulfuric smell, but you honestly get used to it.

Walk Around Lagoa das Furnas or Furnas Lake
If you go to the small town of Furnas between noon and 5 pm, you should be able to see locals and restaurants cooking corn or Cozido in the caldeiras. Cozido is a meat and vegetable stew that you can't miss while in Furnas. You can read more about Cozido and more amazing food in the Azores here.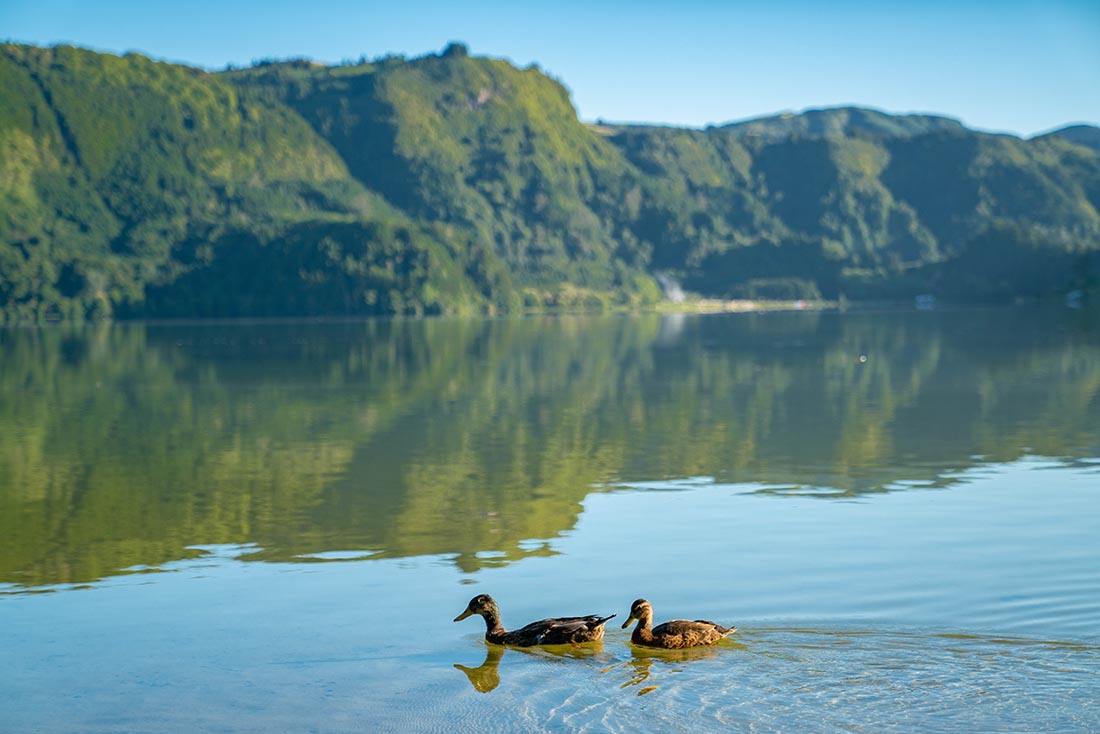 Lago das Furnas is one of the most beautiful areas on the island of São Miguel Island. It's serene and eerie at the same time, especially if you're there on a cloudy day. Furnas Lake is one of the three main lakes on São Miguel and one of the most easily accessible. It's light green color also makes it one of the most iconic lakes on the island. You can walk the perimeter of the lake and take in the views.
There are also some more incredible caldeiras on the right side of the lake. Here you can rent kayaks or paddle boats to explore the lake. Algae is what gives the lake its distinct green color, so it's not a great place for swimming.
Don't miss the gorgeous Nossa Senhora das Vitórias, a beautiful Neo-gothic church built by a nobleman who wanted to bury his wife along the shores of beautiful Lago das Furnas.
Visit the Little Church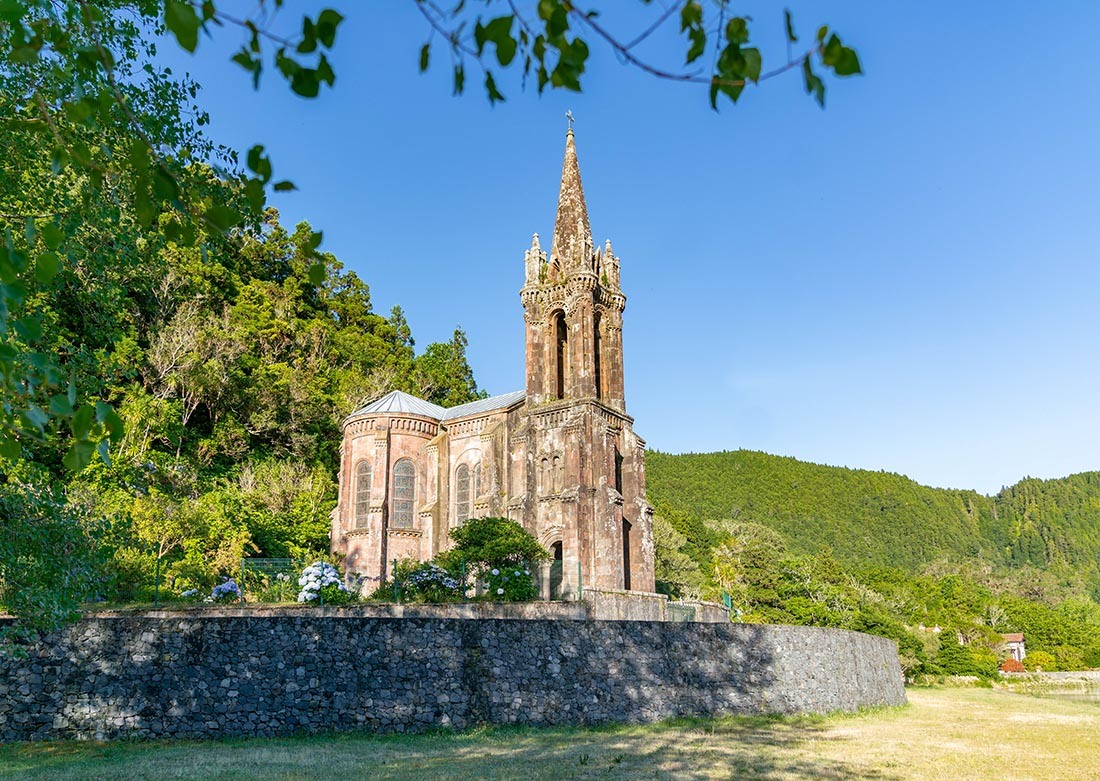 As you walk along Lago das Furnas, stop at the little church named Ermida Nossa Senhora das Vitorias, built by a gentleman farmer in the 1800s after his beloved wife died. Both he and his wife are buried inside the chapel.
Visit Terra Nostra Gardens
The idea of wandering through gardens didn't really initially appeal to me when we visited the island of São Miguel island. We are more hiking and adventure people, and less wandering around gardens people, but this place totally blew us away! In fact, Paul had to drag me out of there so we could see the rest of the island! I honestly could have spent all day in these vast gardens! There are acres to explore, so I highly recommend spending at least a few hours here.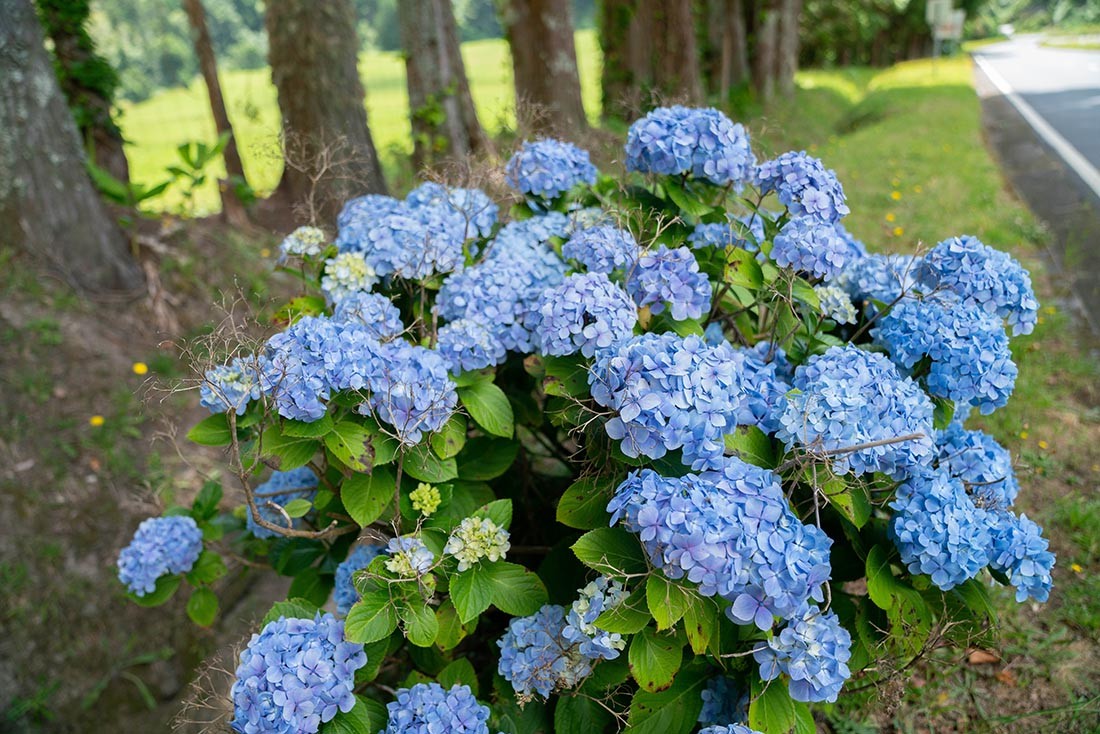 Not only can you explore the incredible grounds, but you can also swim in the iron-enriched hot springs! So bring a swimswuit! It's great on a hot or cold day. The springs are warm, but refreshing. Because of the iron in the water, I highly recommend bringing a dark-colored swimsuit that won't get stained. And because of the sulfur in the water, you should rinse it out as soon as possible to avoid bringing home the souvenir of a smelly suitcase with you!
It costs €8 to enter the gardens and swim, but if you want to enter for free, you can either stay at the Terre Nostra Hotel, or eat at the Restaurant. Both are pricey, but you really cannot beat the location!
Visit Lagoa do Fogo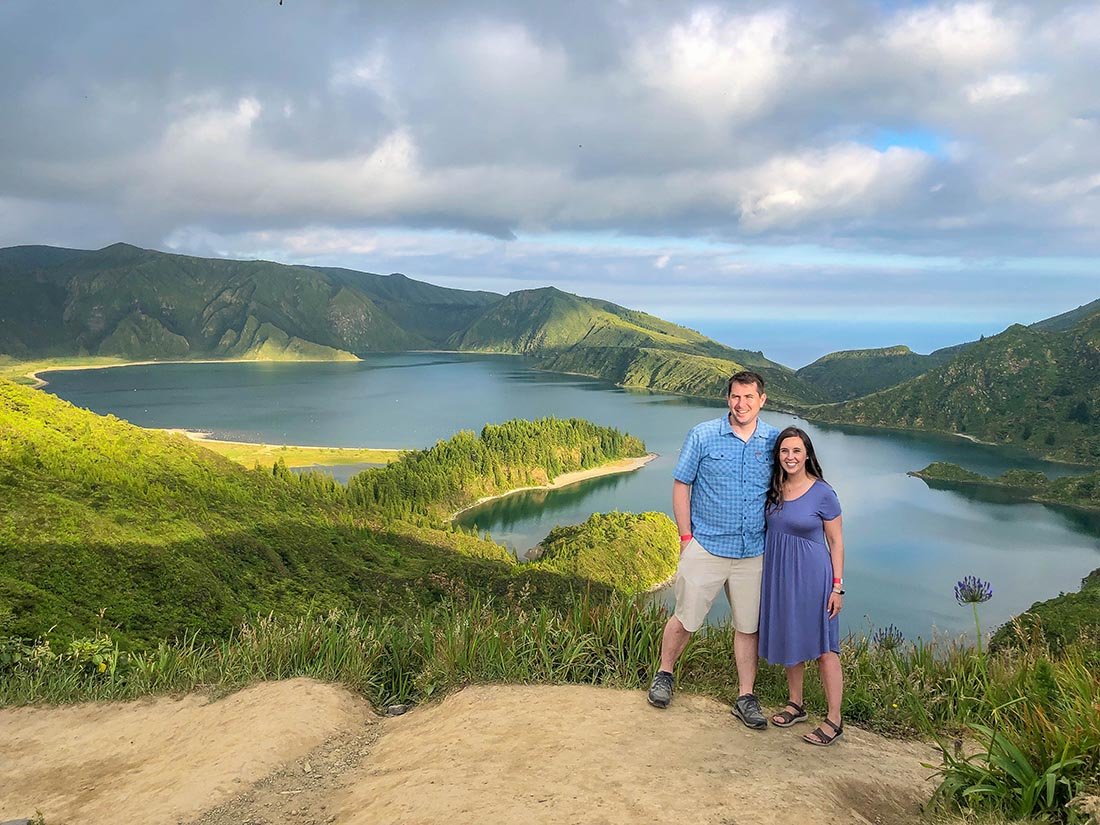 As amazing and remote as this lake looks in all the pictures, it's actually the easiest lake to get to on the island of São Miguel! You can pull off on the side of the road to snap a picture. There are absolutely no roads down to Lagoa do Fogo, making it one of the most untouched lakes on the island. You can hike down into the lake, but it is long and steep!
Hike Boca do Inferno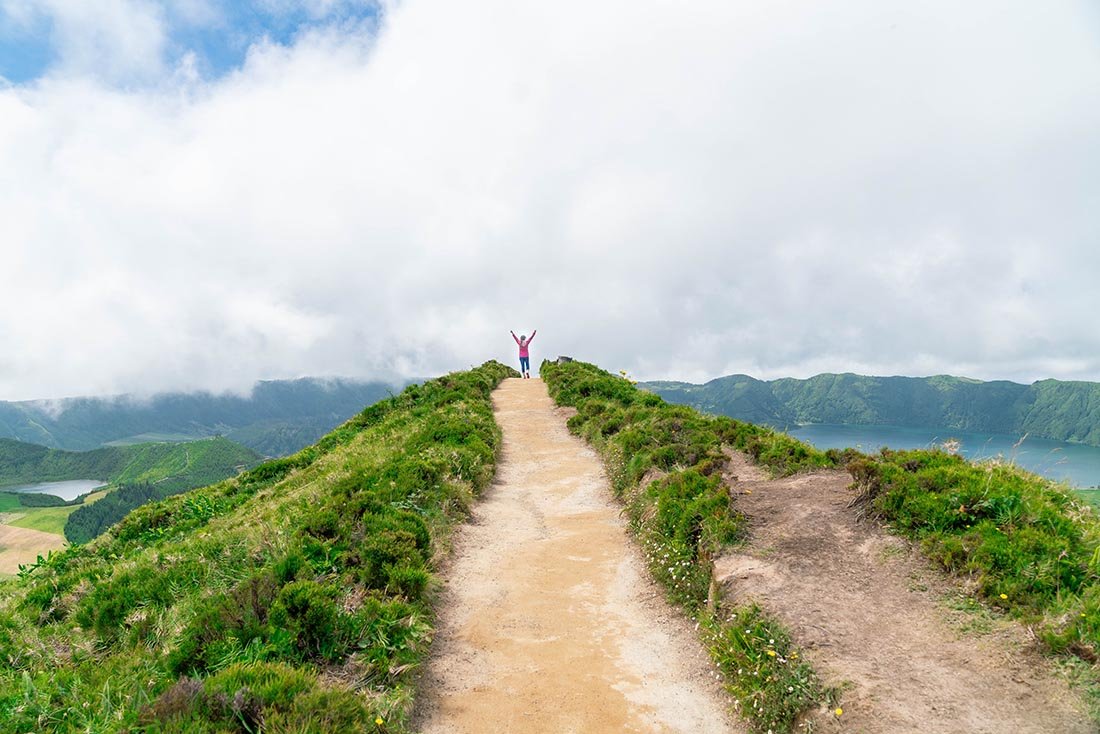 The island of Sao Miguel is covered in hiking trails, but this one was our favorite. Boca do Inferno means "the mouth of hell" in Portuguese! Sounds like a pretty tough hike right? Well, don't worry, this is an easy uphill hike/walk that will lead you to the most stunning and probably most famous view in all of São Miguel Island! From here you can see the seven blue and green lakes that make up the Sete Cidades. The view is out of this world, but it's a steep fall down, so if you're going with kids, just be careful.
Explore Ponta Delgada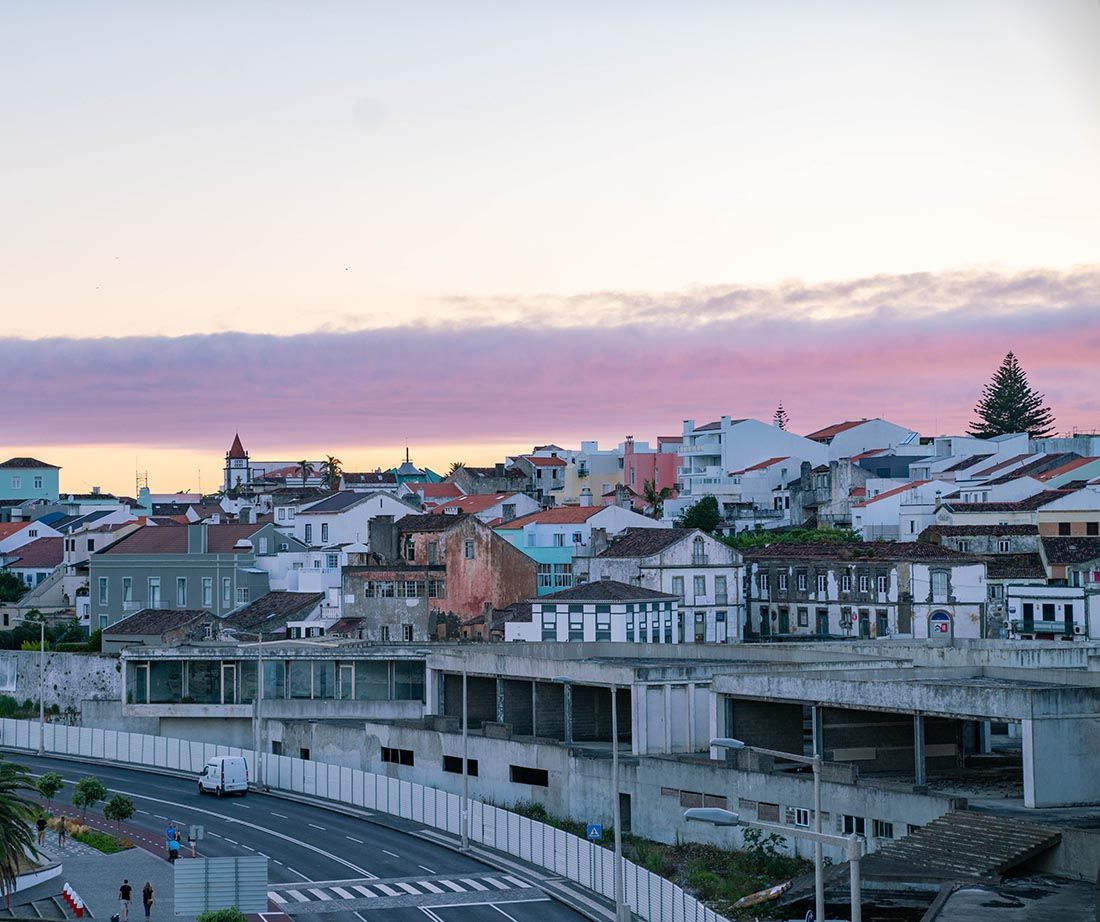 Ponta Delgada is the largest town in São Miguel and where the majority of Azoreans live. It's also the historical center of the island and where you'll find the most restaurants, hotels, and tour companies. Here are the main sites in Ponta Delgada:
Mercado da Graça: The local indoor market where you can shop for Azorean fruit like Pineapple, bananas, watermelon, and passion fruit!
Rei dos Queijos: Right next door to the Mercado is the most amazing cheese shop! Buy some Bolos (bread) and queijo (cheese).
Churches
Climb the Bell Tower for Amazing Views
Check out the Sidewalks
Visit the Arches
São Miguel Hot Springs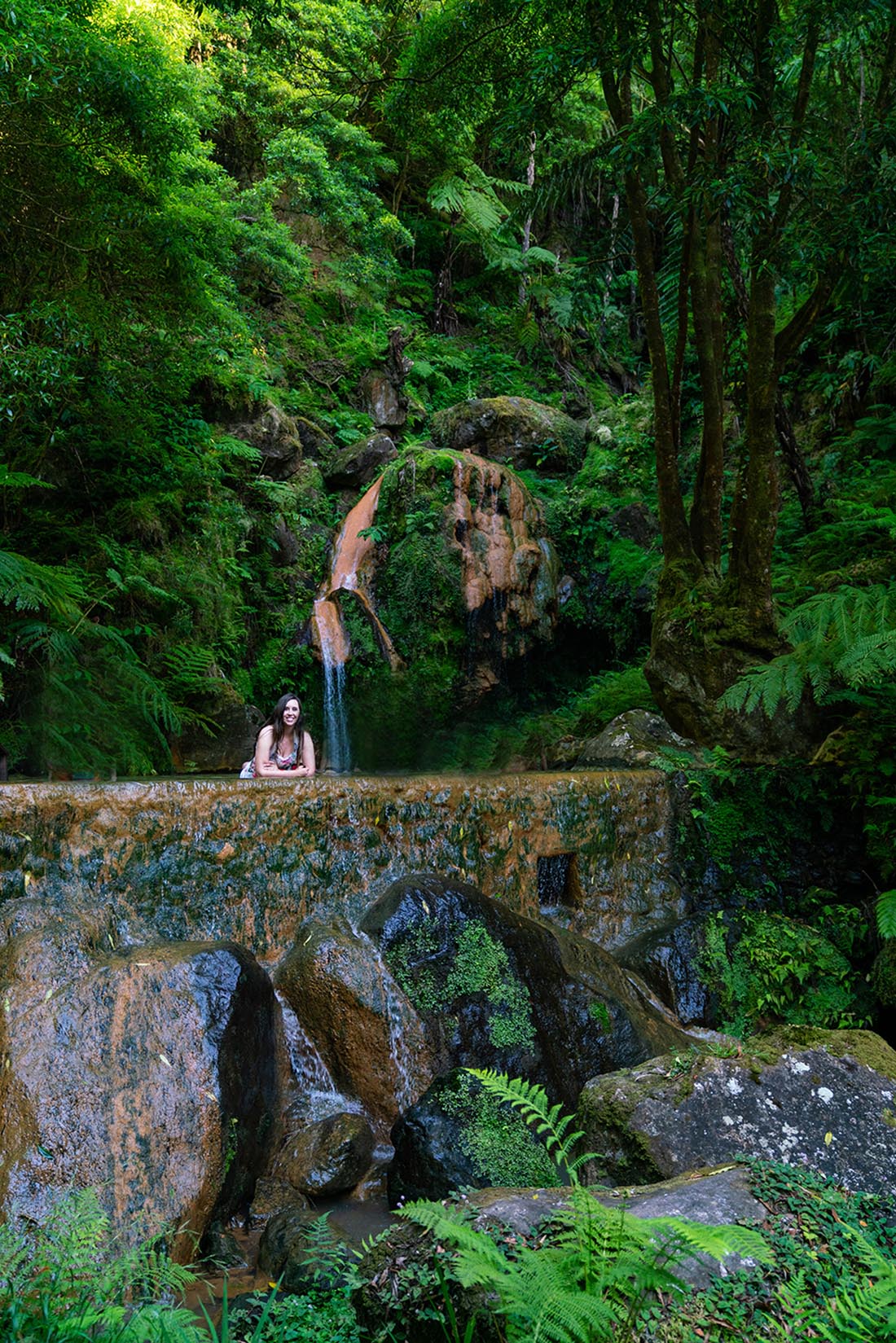 São Miguel island Azores is abundant with natural hot springs due to its volcanic activity. Visiting hot springs is one of the most popular things to do in São Miguel! Here are some things to know before going to the thermal hot springs in the Azores:
Don't wear a light-colored swimsuit. There is iron in most of the thermal water which will stain light suits brown or orange (ask me how I know)!
Pick a cloudy or rainy day to visit the hot springs. If you're going to get wet anyway, you might as well be warm!
Don't wear jewelry in the hot springs. The water can tarnish it.
Don't drink the water.
There are several hot springs on the island of São Miguel. These are the ones we visited:
Caldeira Velha: This is probably the most beautiful of all the thermal springs in São Miguel Azores. There's even a picturesque waterfall (pictured above). It does get busy, so I recommend going early if you can. You can rent lockers at this hot spring for a fee.
Cost: €8
Poca Dona Beija: These 5 thermal pools are also very popular, but super pretty! Get there early.
Cost: €6
Termas das Caldeiras: This hidden gem has 3 pools, 1 outdoor and 2 indoor. The public can use the outdoor pool, but to gain access to the indoor pools you'll have to book the spa!
Cost: €3 for outdoor pool
Ponta da Ferraria: This small cove on the western side of the island is surrounded by lava rock cliffs. The ocean water is heated by a geothermal natural spring beneath the waves. There is also a spa here!
Cost: Free
Terra Nostra: This gorgeous garden I've mentioned above has its own hot spring. This one is very brown/orange due to the iron content, so be especially careful with your lighter swimwear. You can rent towels at this hot spring for a fee. If you want free access to the hot springs and gardens you can eat lunch at the Terra Nostra or stay as a guest. Book here.
Cost: €8


Furnas Boutique Hotel: We stayed at this gorgeous hotel, which is also home to the A TERRA restaurant. The hot springs were amazing. They all have pools built around them with several different temperature options. They also have saunas and luxurious showers. If you want to access to the pools you'll have to stay at the hotel. Book here.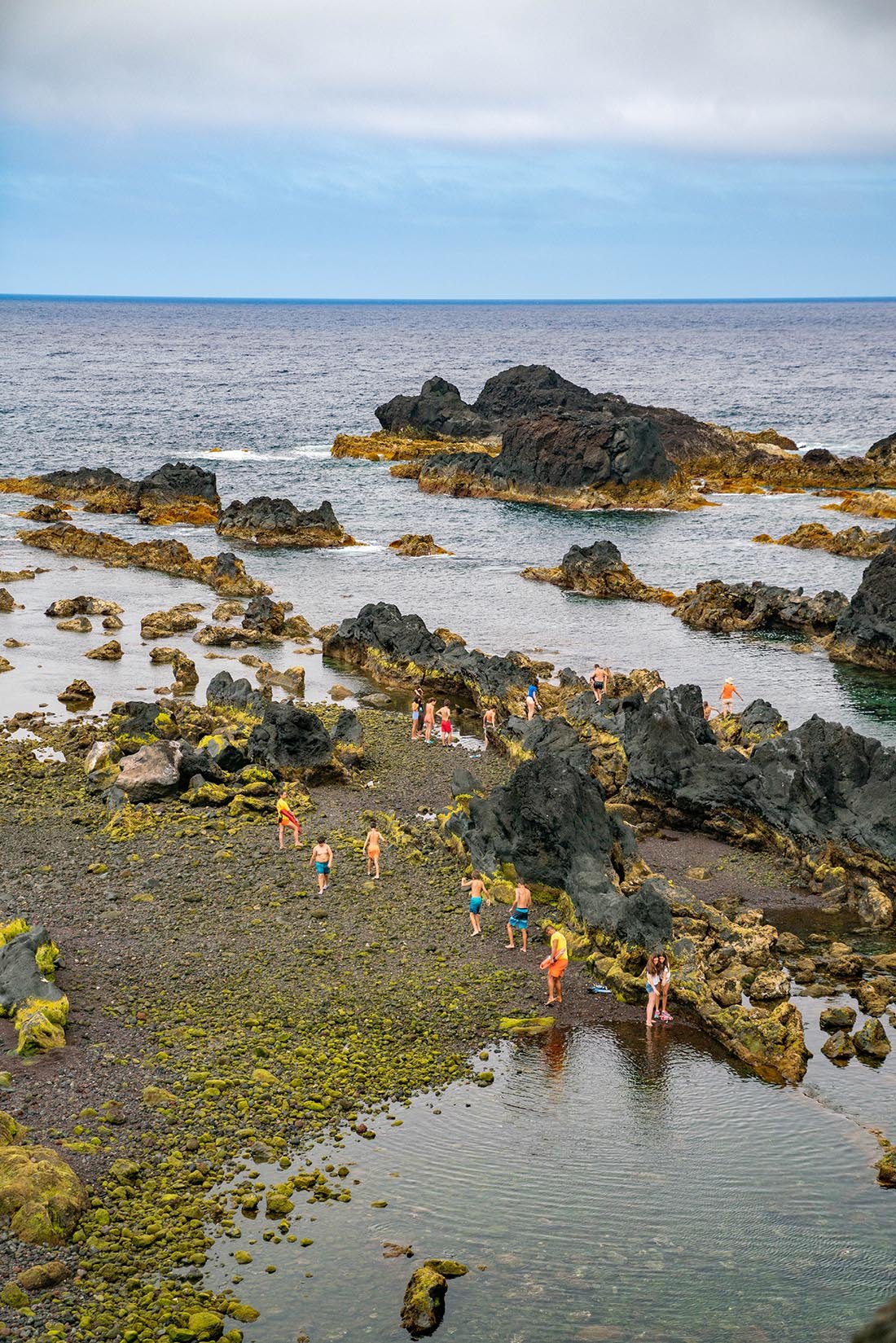 Sample Azores São Miguel Itinerary
You could spend as little as 3 days on the island of São Miguel or up to a month on this amazing island! Here's what you can do with on week in Sao Miguel:
Day 1: Arrive in Ponta Delgada and explore the town. Visit the Mercado da Gracia.
Day 2: Spend the day exploring the town of Furnas and watching locals cook Cozido.
Day 3: Explore the Terra Nostra Gardens
Day 4: Swim in the hot springs of São Miguel Island.
Day 5: Take an ATV tour of São Miguel Island.
Day 6: Take a Whale Watching Tour
Day 7: Take a day trip to another island in the Azores
I hope you have an amazing time on São Miguel island. It's one of the most beautiful places in the world and I promise you won't be disappointed! If you have any questions or need help planning, please get in touch! If you want to save this for later, please pin this post and be sure to check out my Azores board on Pinterest for other great ideas!
What is São Miguel Azores known for?
São Miguel, Azores is the largest and most famous island in the Azores archipelago of Portugal. It'São Miguel, Azores is the largest and most famous island in the Azores archipelago of Portugal. It is known for stunning views, mountains, and lakes. It is also known for its pineapple production.
Which is the prettiest island in the Azores?
That's really tough to answer. Each island in the Azores is beautiful in its own way and known for its different beautiful places. I think if you are judging solely off the beauty of the landscape, I would have to choose the island of Sao Miguel.
How many days do you need in São Miguel Azores?
I mean, are there ever enough days for a vacation? I think 3-5 days is a good amount of time to explore the entire island. If you visit Sao Miguel for a week, you could leave a few days for day trips to other islands.
How do I get to Sao Miguel Island?
Sao Miguel is the easiest island to get to in the Azores. The easiest way to get there from the US is to fly directly to Sao Miguel. There are direct flights from New York and Boston.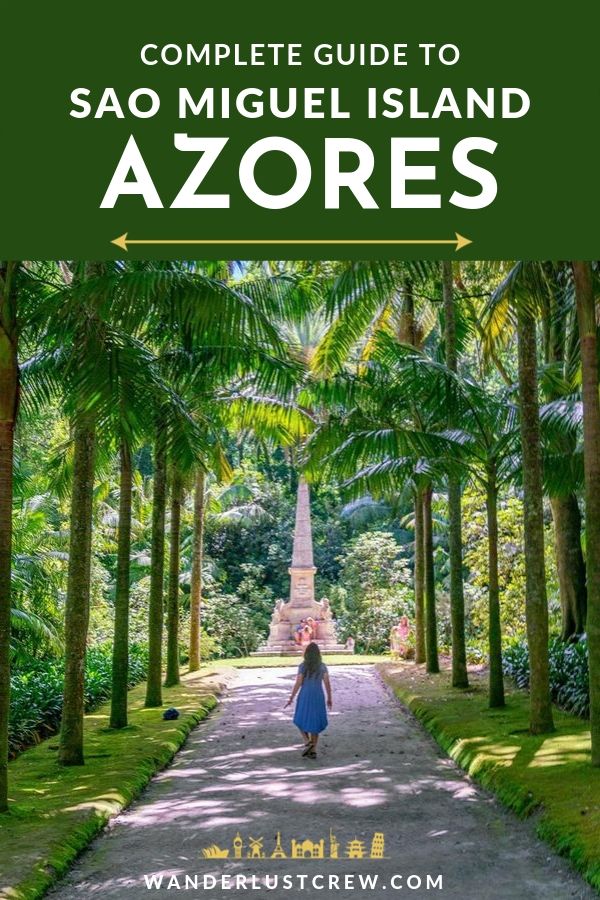 Practical Tips for Booking your Trip
Book Your Flights and Car
Find a budget airlines by using Skyscanner. This is my favorite way to search for flights because they crawl websites and airlines around the globe, so you always know you're getting the best deal. Learn more tips for finding the best flight deals here.

For cars, I like to use Rental Cars because they have good filters and its easy to search for multiple companies.
Book Your Accommodation
My preferred way to stay around the world is VRBO. I find it usually gives you a unique local experience in any destination. If you want to stay in a hotel, use Booking, as it consistently gives the cheapest rates for guesthouses and hotels. I use them both all the time.
Always Get Travel Insurance
Travel insurance protects you and your family against illness, injury, theft, and cancellations. It's peace of mind in case anything goes wrong. I never travel without it. I've been using World Nomads for the last few years and love how easy it is to use. I have also used Allianz. Compare rates to see which is best for the coverage you need.
Looking for ways to save money on travel?
Check out my resource page for the companies I use for traveling! I share everything I use to save me time and money.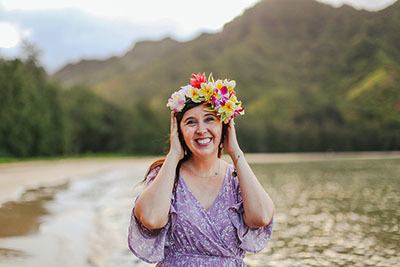 xo
Vanessa