Paris and London are some of the most amazing cities in the world. Follow this itinerary for an amazing trip!
10 Days in Paris and London Vacation Itinerary
When you're trying to decide between London vs Paris, it can be a tough choice! Both cities offer so much fun, food, history, culture, and class. And to be honest, you really can't go wrong! But the good thing is, you don't have to choose! You can take a London and Paris trip in just a few short days.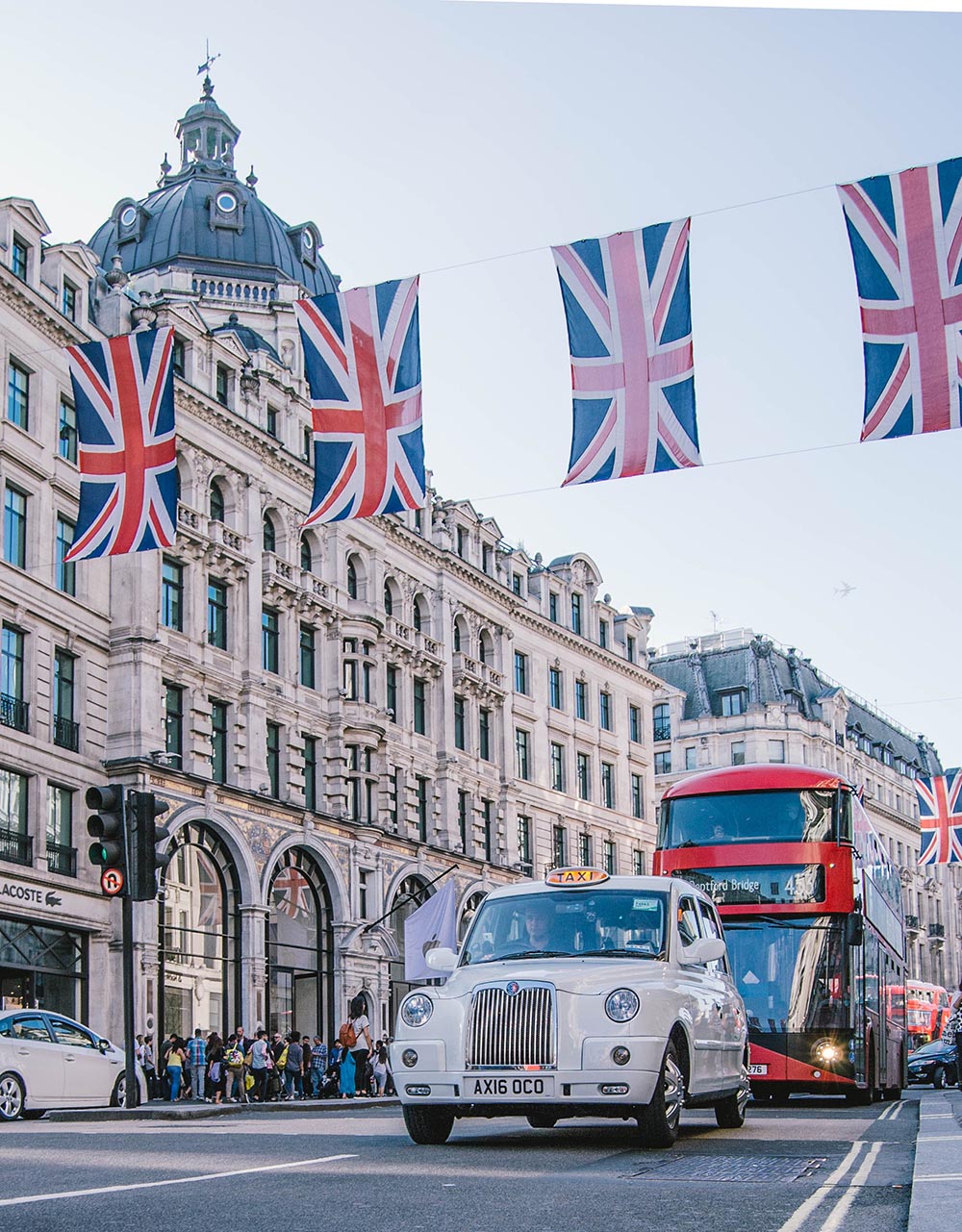 I've taken this Paris and London trip multiple times over the last few years. I've done it with my husband, as a girls trip, with my kids, and solo! London and Paris are two of my very favorite cities in the world so I just keep coming back to visit like they're my old friends.
It's not often that I return to places I've gone, but there is just something special about these two cities that contain so much history, both separately and together. They're both worth a visit, even if you only have a few days in each. You can even take a day trip to Paris from London or a day trip to London from Paris if you're really short on time.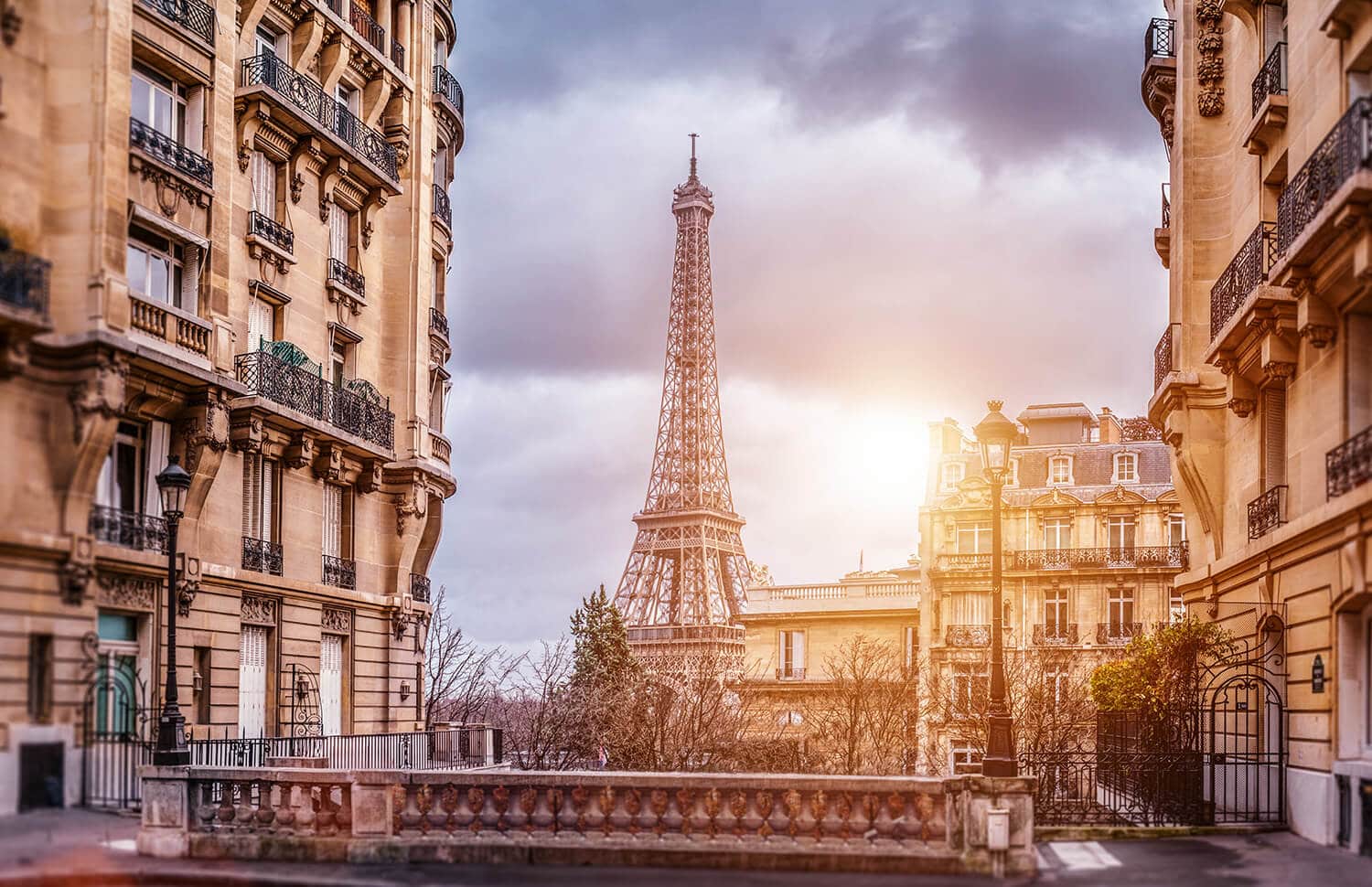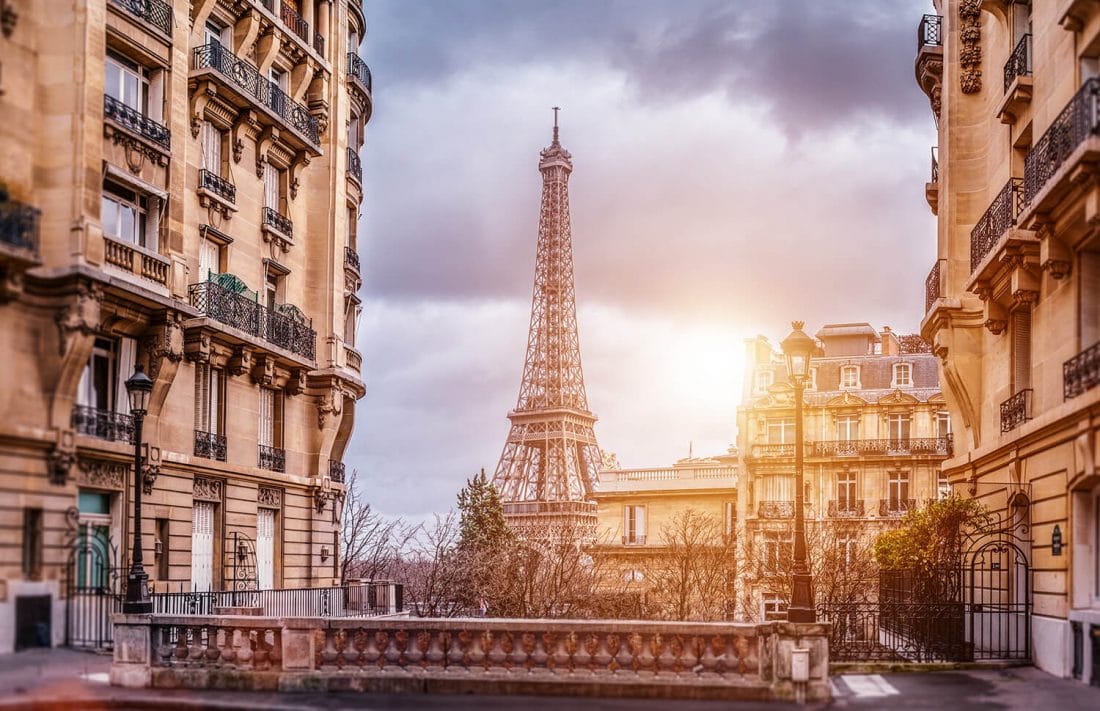 While London and Paris are doable in a day or so each, you could definitely spend years and years exploring them! Every time I visit it's like taking an entirely new trip.
This itinerary will give you a suggestion on how to layout your days. For more detailed information you can read my Paris guide and my detailed London Itinerary.
This post contains affiliate links
How Long Should I spend in London and Paris?
If you've got enough time, I think the ideal trip is 10 days in Paris and London. This will give you 5 days to explore each city without being in too much of a rush. Obviously, the longer you can spend in each place the better. I do think it's best to divide your time equally between cities. There's just so much to see and do in both of them!
Where should I start my trip?
You can start your trip to London and Paris in either city. Honestly, I have done it both ways and they have both been great. If you're more excited about one city, maybe save that for last! It's just a personal preference.
How do I get between London and Paris?
London and Paris are about 250 miles apart, but divided by the English Channel. You can get between cities by flying, driving your onto the Chunnel Train, taking a ferry, or by taking the train. By far, the fastest and most efficient method is the Eurostar train. The Eurostar goes under the English Channel through the Channel Tunnel, lovingly referred to as the "Chunnel."
Before Going on your London and Paris Vacation
There are a few things you should do before leaving for London and Paris.
1. Purchase a London Pass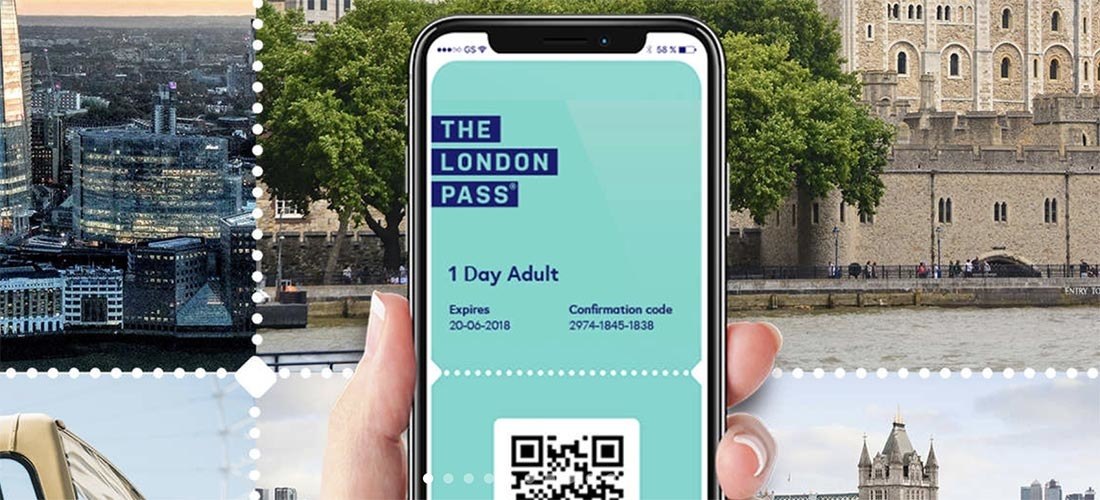 Before you go to London, you may want to consider purchasing the London Pass. This will save you tons of money! It includes entry to over 80 attractions, including:
• Tower of London
• Hop on Hop off Bus Tour
• Thames River Cruise
• Windsor Castle
• Westminster Abbey
• London Bridge Experience and London Tombs
• Tower Bridge Exhibition
• London Zoo
• Kensington Palace & The Orangery
• Hampton Court Palace
• ArcelorMittal Orbit
• Arsenal FC Stadium (Emirates Stadium)
• Apsley House
• Banqueting House
• Beefeater Gin Distillery Tour
• Benjamin Franklin House
• Best LDN Walks tour around Royal London
• Cartoon Museum
• Chelsea Cinema
• Chelsea FC Stadium Tour
• Chelsea Physic Garden
• Chislehurst Caves
• Churchill Museum & Cabinet War Rooms
• City Cruises
• The Courtauld Gallery
• Curzon Mayfair Cinema
• Curzon Soho Cinema
• Eltham Palace
• Estorick Collection of Modern Italian Art
• Eton College
• Fan Museum
• Foundling Museum
• Guards Museum
• Handel House Museum
• Household Cavalry Museum
• HMS Belfast
• Imperial War Museum London
• Jason's Canal Boat Trip
• Jewel Tower
• Kew Gardens
• KIA Oval
• London Bicycle Tour Company
• London Canal Museum
• London Motor Museum
• London Museum of Water and Steam
• London Legends Walk
• London Transport Museum
• London Wetland Centre
• Lord's Cricket Ground
• Monument
• Museum of Brands, Packaging, and Advertising
• Museum of London Docklands (with guidebook)
• Museum of Rugby
• National Gallery
• National Theatre Backstage Tours
• Old Operating Theatre Museum
• Pollocks Toy Museum
• Queen's Gallery
• Queen's Ice & Bowl
• Renoir Cinema
• Royal Albert Hall
• Royal Mews
• Royal Observatory Greenwich
• Shakespeare's Globe Theatre
• The British Museum (entry to one exhibition)
• The Postal Museum
• Tour & Exhibition
• Southwark Cathedral
• Tate Britain
• Tate Modern
• Wellington Arch
• Wembley Stadium Tours
• Wernher Collection at Ranger's House
• Wimbledon Lawn Tennis Museum
• Wimbledon Tour Experience
2. Purchase a Paris Pass
Just like the London Pass, the Paris Pass will allow you access to over 60 attractions and you'll also get a Paris Visite Travelcard that offers free, unlimited travel on the Paris metro, buses, and RER trains in zone 1-3. The Paris Pass includes entry to:
Hop On Hop Off Bus
The Louvre Museum
Arc de Triomphe
Palace of Versailles
Pantheon
Notre Dame Cathedral (closed now for reconstruction)
Rodin Museum
Picasso Museum
Paris Aquarium
Bateaux Parisian River Cruise
Centre Pompidou
Montmartre Walking Tour
Musee d'Orsay
Les Caves du Louvre Wine Tasting
Sainte-Chapelle
Grevin Wax Museum
Opera Garnier Guided Tour
The Paris Story Museum
Rex Studios
Petit Train de Montmartre
La Conciergerie
Paris Science Museum
Basilica Cathedral of Saint-Denis
Gustave Moreau Museum
Villa Savoye
Chateau de Compiegne
Palace of Malmaison
Maurice Denis Museum
and more…
3. Learn About London Transportation
London is an amazing city and it's a breeze to get around on public transport if you plan ahead and know how to use it. Be sure to read up about how to get around London before you leave.
4. Learn About Paris Transportation
Paris is another city with a decent public transportation system, but not nearly as efficient as London. The Paris Metro workers are known to go on strike, seemingly, once a year, so do think of backup options like UBER if you're not able to use the trains or buses. Honestly, Paris is a very walkable city and the Paris bike shares are a great option as well. This guide to getting around Paris will help.
And finally, on to our London and Paris itinerary…
Welcome to London!
Welcome to the first leg of your Paris and London vacation! You're going to fall in love with London! I can't wait to show you all of my favorite sites and eats in this enchanting city!
Day 1 – Arrive in London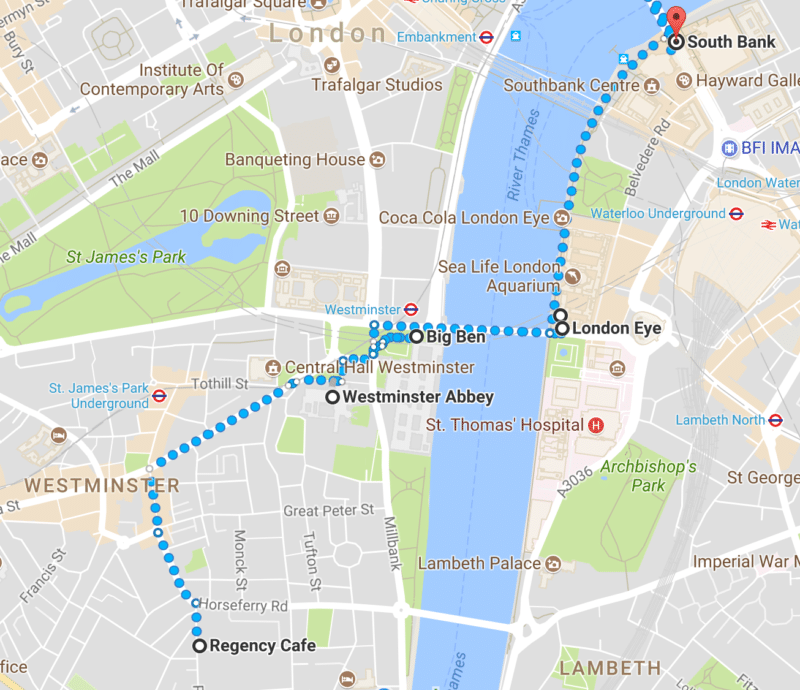 Welcome to London! You're probably arriving in the morning after a red-eye flight. You'll need about an hour to go through passport control and gather your luggage. Head into the city by taking the Heathrow Express, which will get you there in about 15 minutes. It's cheapest to book several months beforehand and you don't need to know your exact time.
1. Check into your hotel or Airbnb
You're probably exhausted so, if you can, go straight to your accommodations and drop your luggage and freshen up. It's going to be tempting to take a nap, but don't! You've got to beat that jetlag! If it's too early to check in to your place, use this luggage storage service that I love!
Day 1 of this London itinerary will show you around London's main sites so that you can be sure you see all the important things from the beginning! You may be tired and jet-lagged today, but it's important to push through!
2. Enjoy a Full English Breakfast at Regency Cafe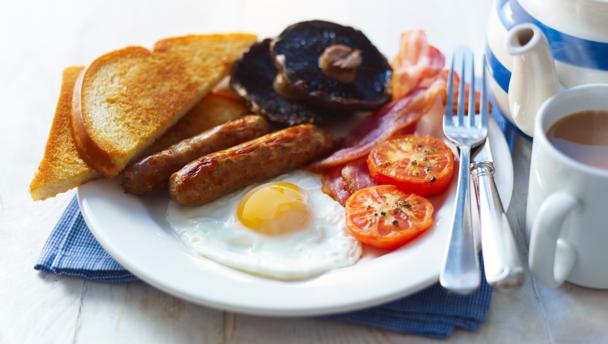 It's your first day in London, so if you have time, be sure to start it off right with a full English breakfast. What's that you may ask? Well, besides a walking heart attack, it's usually bacon, sausage, eggs, beans, tomatoes, mushrooms, and toast, and no one dishes out a great no-frills full English like the Regency Cafe.
3. Ride the HOHO Bus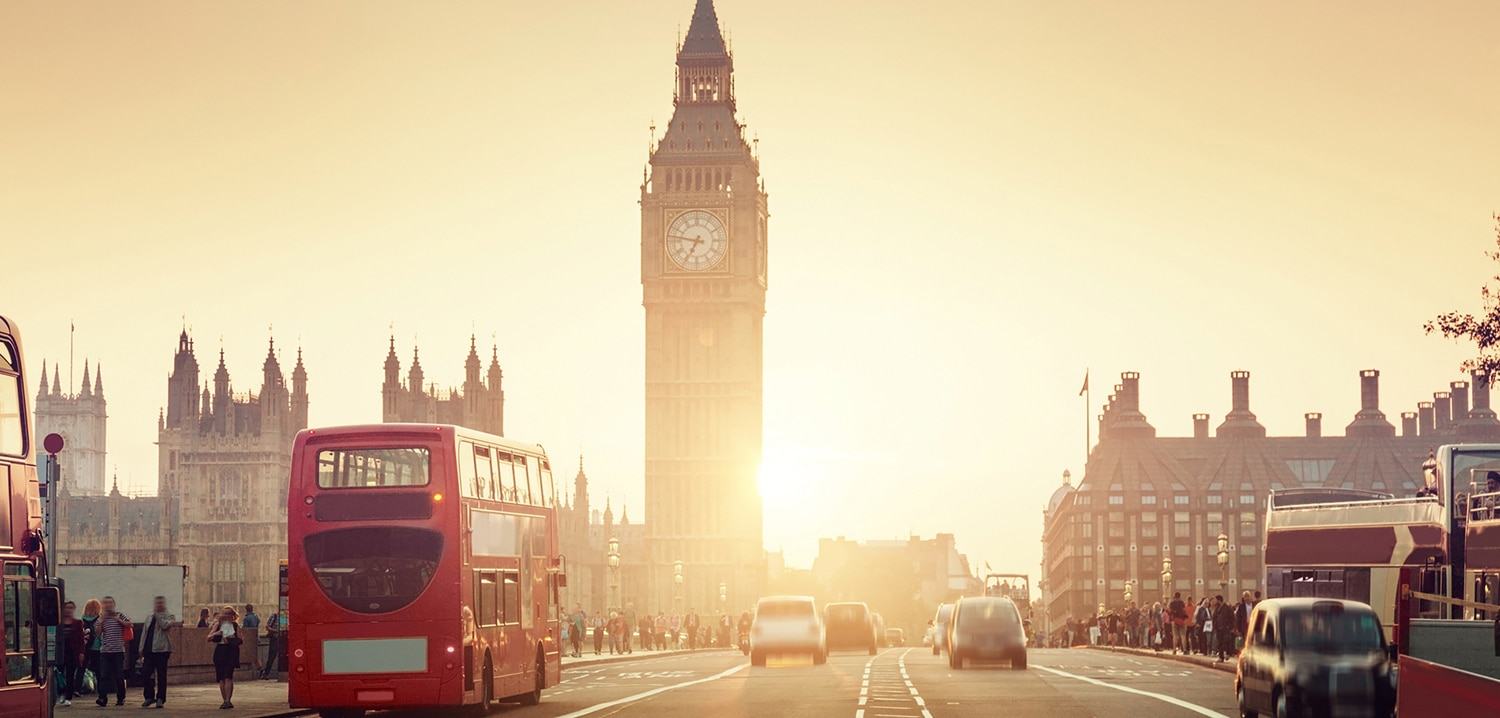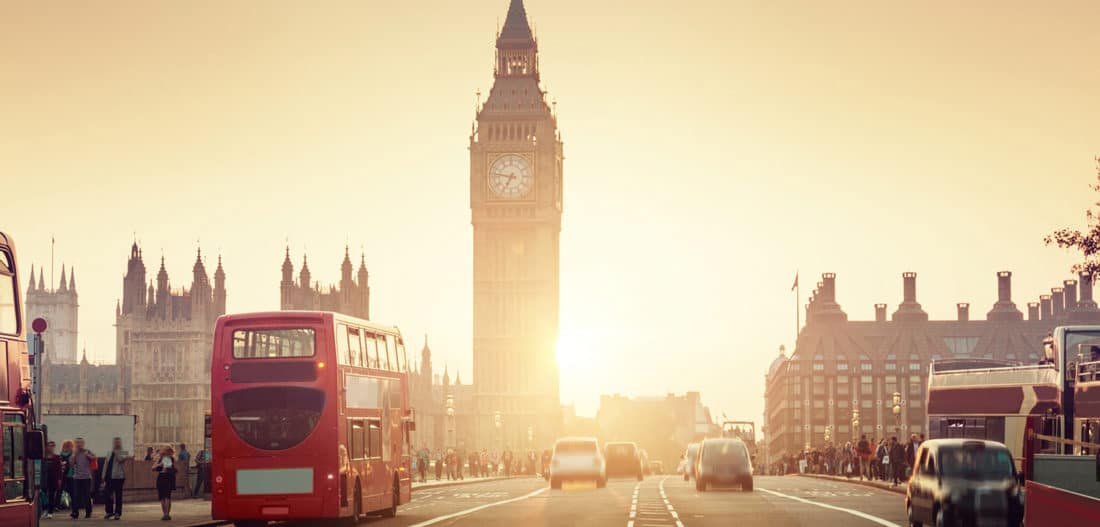 Once you've dropped your bags, hop on the HOHO Bus (Hop On Hop Off Bus). There are several Hop on Hop off Bus tours in London, but I like using this company.
I know this activity may seem a little cliche, but there's a reason I recommend doing this on your first day in London: While taking the tube and public transportation can be great, and London has one of the best public transit systems in the world, it can also be a little disorientating to walk underground and come back out in a completely different place in the city.
Taking the HOHO Bus on your first day in London allows you to get the lay of the land and to get an idea of how close or far things really are from each other. You'd be surprised at how walkable London can be. `
The bus tour offers several different routes, but I recommend staying on the red route which will lead you around all of London's most iconic sites.
You don't need to ride the bus for hours, but get off at stops on your list along the way.
4. Be Inspired at Westminster Abbey
Be sure to hit Westminster Abbey. If you are interested in British history, religion, or literature at all, you will love this! I recommend booking your ticket in advance.
5. Take a Picture with Big Ben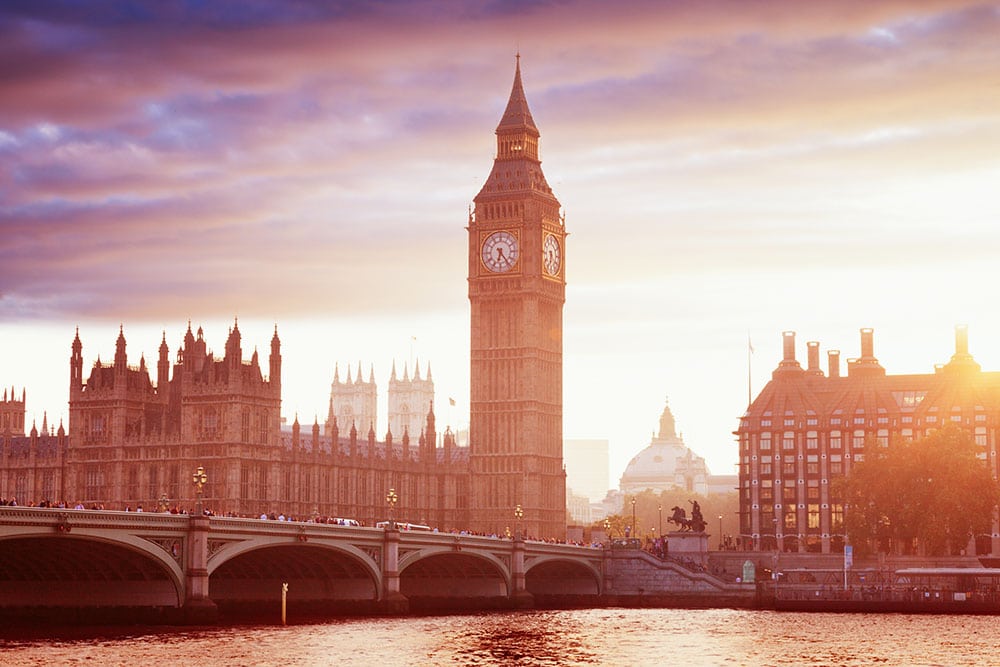 Walk around the corner just one block away. There's not a more iconic sight in London than Big Ben! "Big Ben" is actually the name of the bell inside the tower and the tower is called the Elizabeth Tower.
But everyone lovingly refers to this part of the houses of parliament as "Big Ben" and it's one of those iconic pieces of architecture that does not disappoint in real life. The best views are found on Westminster Bridge. Watch out for selfie sticks!
6. Take a Ride on The Coca Cola London Eye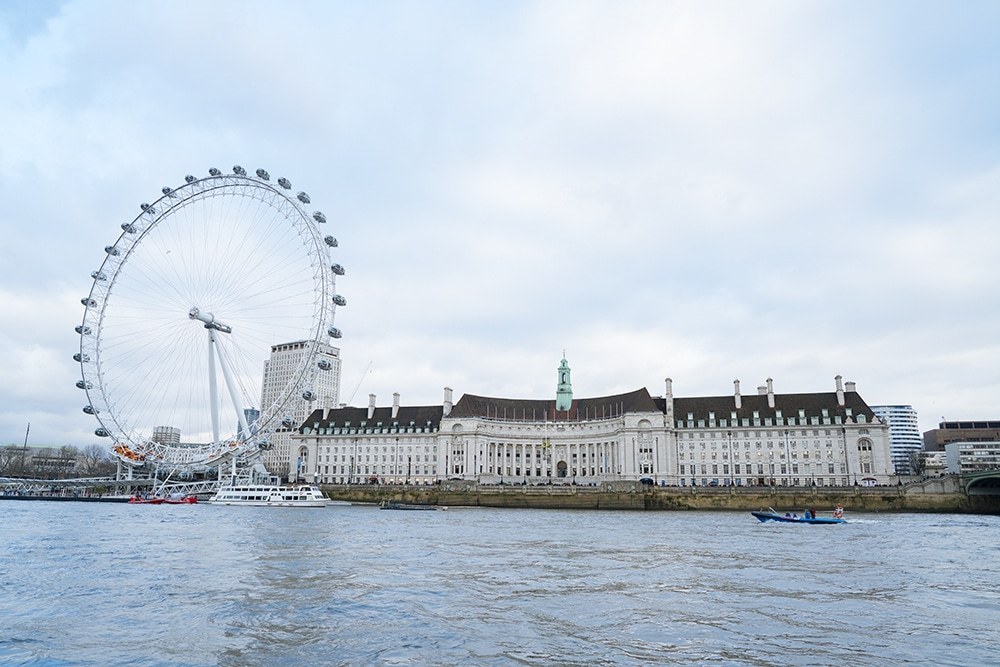 Time to walk across the Westminster Bridge to the London Eye. You'll get a fantastic view of the city from the top of this 443-foot tall Ferris wheel on London's Southbank. If you want to ride the London Eye, it's essential to book tickets in advance. The lines can get very long. The ride itself takes about 30 minutes for the entire revolution and you'll get the best views of London from the top.
7. Take Afternoon Tea at the Library Lounge
You've probably had a late breakfast, so a late lunch, or afternoon tea, might be just the ticket. Directly under the London Eye you'll find the Library Lounge in the beautiful Marriott County Hall, one of my favorite hotels in London! Enjoy a filling afternoon tea with fantastic views of the London Eye and Houses of Parliament.
8. Take and Evening Stroll down Southbank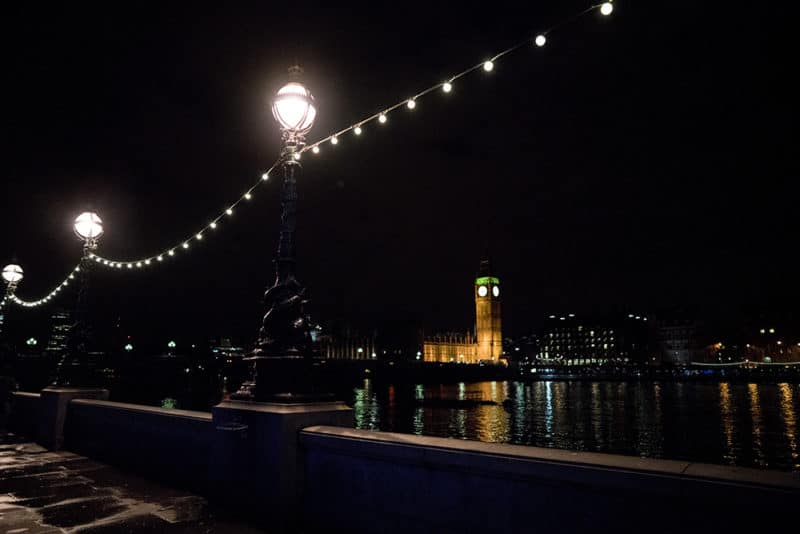 Southbank is a really fun and quirky area near the London Eye and along the Thames River with a roller rink called BUMP, a skate park (as seen on Sherlock), and a hot chocolate stand called Beltane & Pop (they offer "adult" hot chocolates too). You also get the dreamy view of the London Eye and Big Ben across Westminster Bridge all lit up at night!
Try and get to bed early tonight and ready to wake up early to another beautiful day in London!
Day 2 – Ancient London History
Now that you've seen the major sites in London, it's time to take in some of this city's rich and extremely long history! The City of London dates back to Roman times and it has a fascinating past full of many stories. There's never an end to the history you can learn in London, but these highlights will give you a taste today.
1. Grab Breakfast at Simply Tasty Cafe & Kitchen
It might be time for another full English breakfast, or try something new. This traditional shop serves breakfast all day, so don't worry if you get up late.
2. Turn Back Time at the Tower of London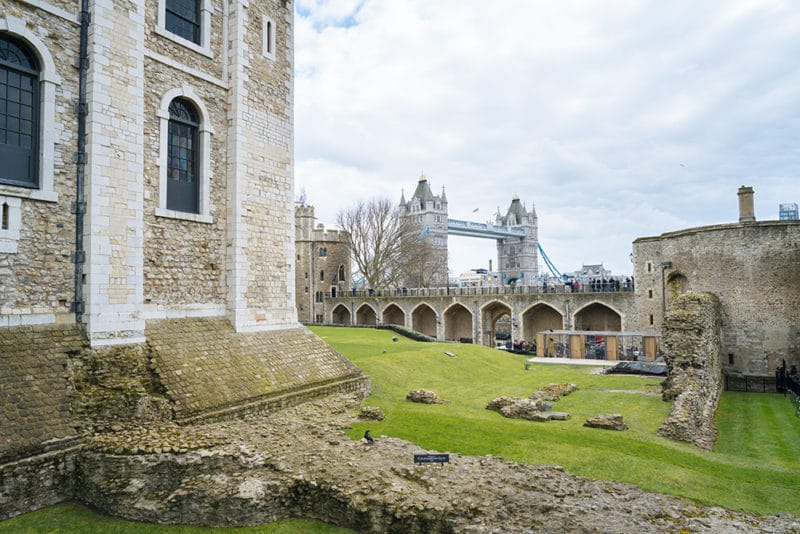 The Tower of London is not to be missed. See the crown jewels and hang out with the beefeaters! They're not just tour guides, but decorated veterans and all-around awesome people!
3. Walk Across Tower Bridge
This is one of the best views of Tower Bridge so be sure to get a picture when you're done at the tower. You can also go to the top of Tower Bridge, which is really amazing. There is a glass floor where you can look down at the River Thames. My kids love this!
4. Try all the Food at Borough Market
Cross over the river either on Tower Bridge or London Bridge next door and wander on over to Borough Market to grab some lunch! There are so many options here, you may have a hard time not trying them all! If you have time, take a market tour with a local and learn about all the amazing food in London!
If you're really into food, you can take a Private British Food Tour and explore all the food that London has to offer.
5. Embrace Your Inner Thespian at Shakespeare's Globe Theater
After filling up on goodies from Borough Market, waddle on over to Shakespeare's Globe Theater. You'll need to take a tour to see the inside of the Globe, or, even better, see a show if you're there from April-October.
If you are really into Shakespeare and want to learn more, you can take this 3-hour tour of Shakespeare's London.
6. Explore the Ancient St. Paul's Cathedral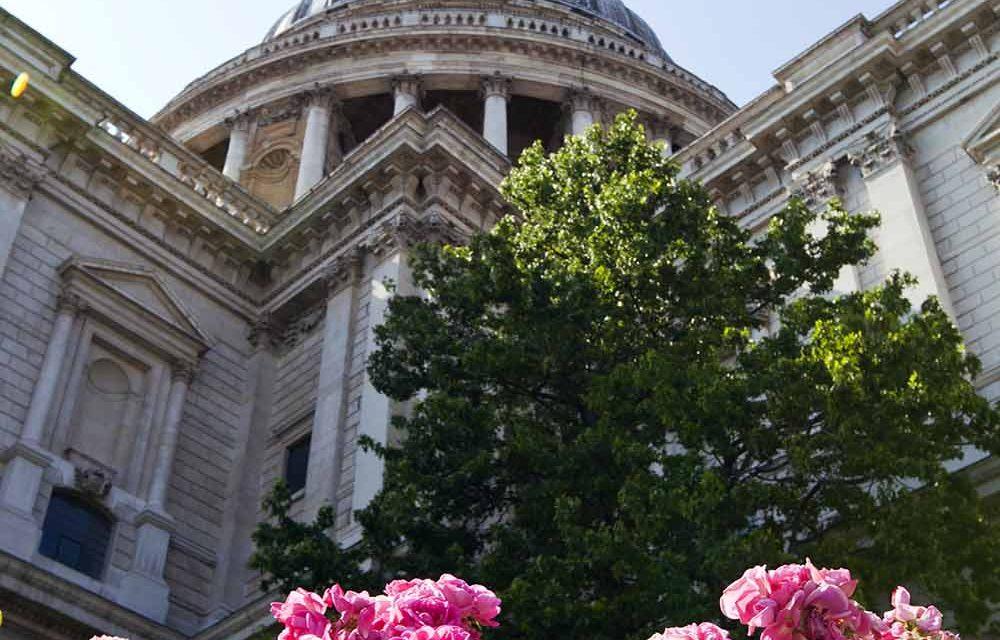 There has been a St. Paul's church at this site since 300 AD. The church has been burned and rebuilt 3 different times. The current St. Paul's was the tallest building in London for over 200 years. You can pay to go inside or just walk around the outside, either choice is impressive!
7. Dine at Rules
After a one-mile walk, treat yourself to a fine meal at London's oldest restaurant, Rule's, established in 1798 and frequented by the likes of Charles Dickens and Charlie Chaplin. Be sure to make a reservation well in advance.
BOOK HERE
Day 3: All About Harry Potter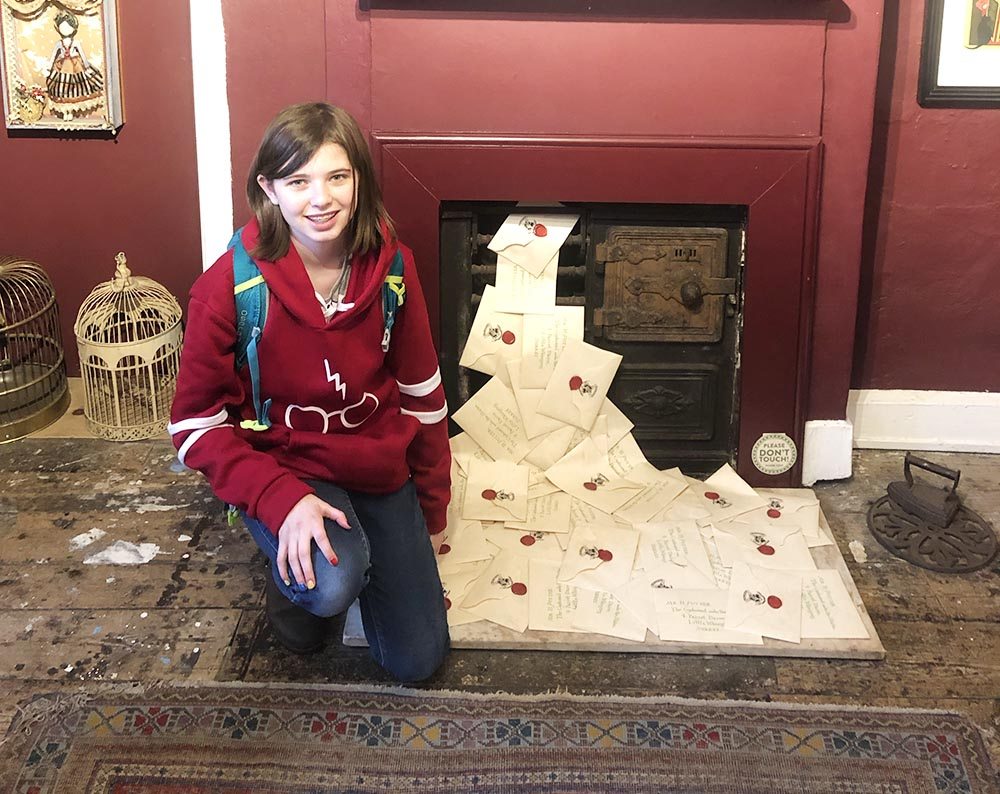 Day three of this London itinerary is ALL about Harry Potter!
If you're really into Harry Potter, you may want to add an extra Harry Potter day to your London itinerary. Definitely read my guide to Harry Potter London!
1. Harry Potter Breakfast, Afternoon Tea, or Magical Cocktails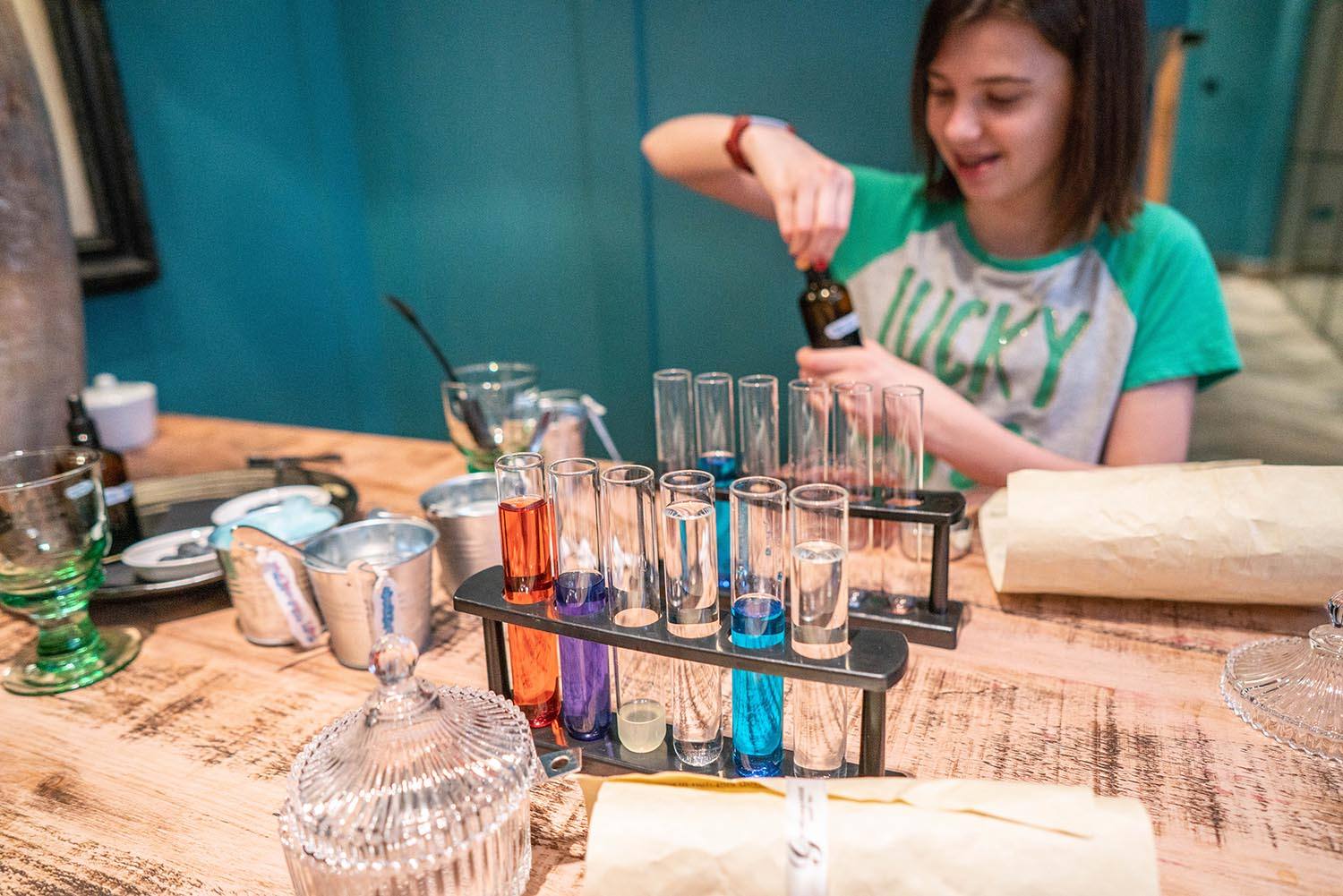 If you want to start the day off and really get in a magical mood, I recommend having breakfast at the Georgian House Hotel. If you don't have time for breakfast, they do a really fun and tasty Wizard Afternoon Tea and a magical Wizard cocktail experience later in the day! All of the Georgian House Hote experiences should be booked ahead of time. You can read more about our stay in the Wizard Chambers at this enchanting hotel.
2. Take a Harry Potter Walking Tour
A Harry Potter Walking tour is a MUST for any fan! You'll learn so much, not only about the books and the movies but also about the history and mystery of London! The guides are so fun and knowledgeable!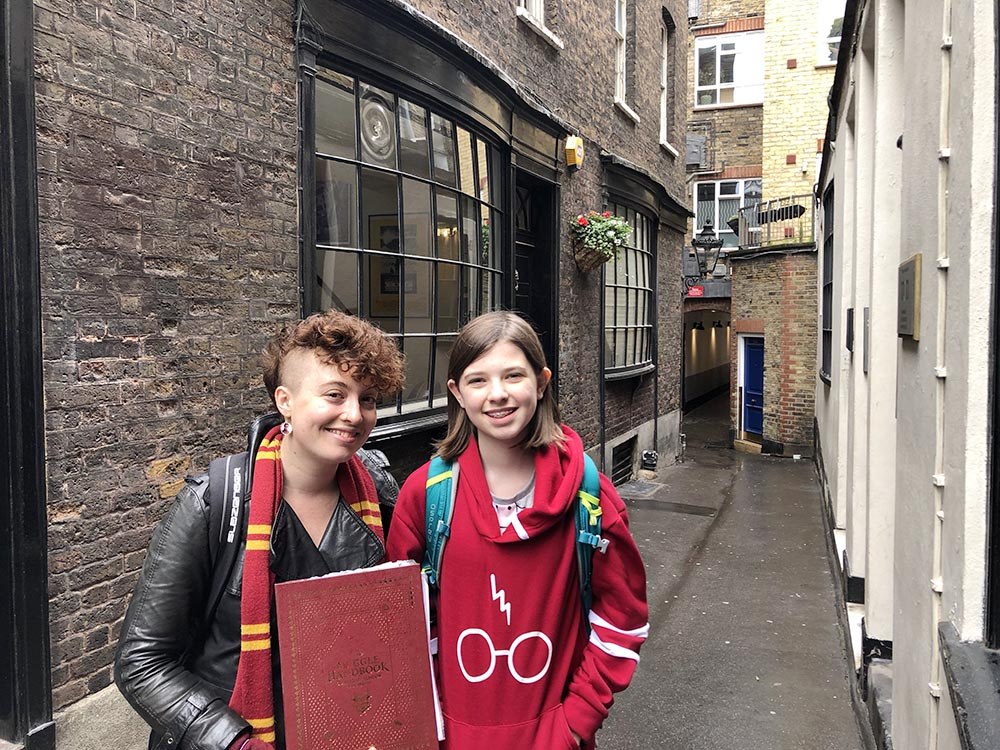 You can also do the Harry Potter walking tour on your own if you like. I recommend doing the tour as the guides know so much and it's a lot of fun, especially if you have kids. If you do go it alone, be sure to stop at these sites:
Westminster Tube (Closest tube to the Ministry of Magic as seen in The Order of the Phoenix)
Downing Street (Muggle Prime Minister's Office and location of communication between the Muggle PM and the wizarding world)
Horseguards Avenue (Ministry of Magic Staff Entrance as seen in Deathly Hallows Part 1)
Scotland Yard Place/Horse Guards Avenue (Ministry of Magic Visitors entrance as seen in the Order of the Phoenix and Deathly Hallows Part 1)
Trafalgar Square (Location of the final Harry Potter film premiere)
Cecil's Court (aka Diagon Alley)
Godwin's Court (aka Knockturn Alley)
The Palace Theatre (home to the 'The Cursed Child' – the 8th story in the Harry Potter franchise)
St. Paul's ( Geometrical Staircase as seen in the Prisoner of Azkaban)
Millennium Bridge (Rebuilt after the attack by the Death Eaters! (then a walk past Shakespeare's globe)
Leadenhall Market
The House of Mina Lima, the company that did all the graphic design work for the movies (think Daily Prophet, Harry's acceptance letter to Hogwarts, candy wrappers, etc)
3. End the day shopping at Platform 9 3/4
Finish your day off at King's Cross Station for Platform 9 3/4 and the Harry Potter Shop. If you want to take pictures pushing your trolley through Platform 9 3/4, I HIGHLY recommend buying the VIP photo pass, which will mean you can skip the long photo lines while also pre-paying for your photos. I think it's so much fun and totally worth a stop on your London itinerary.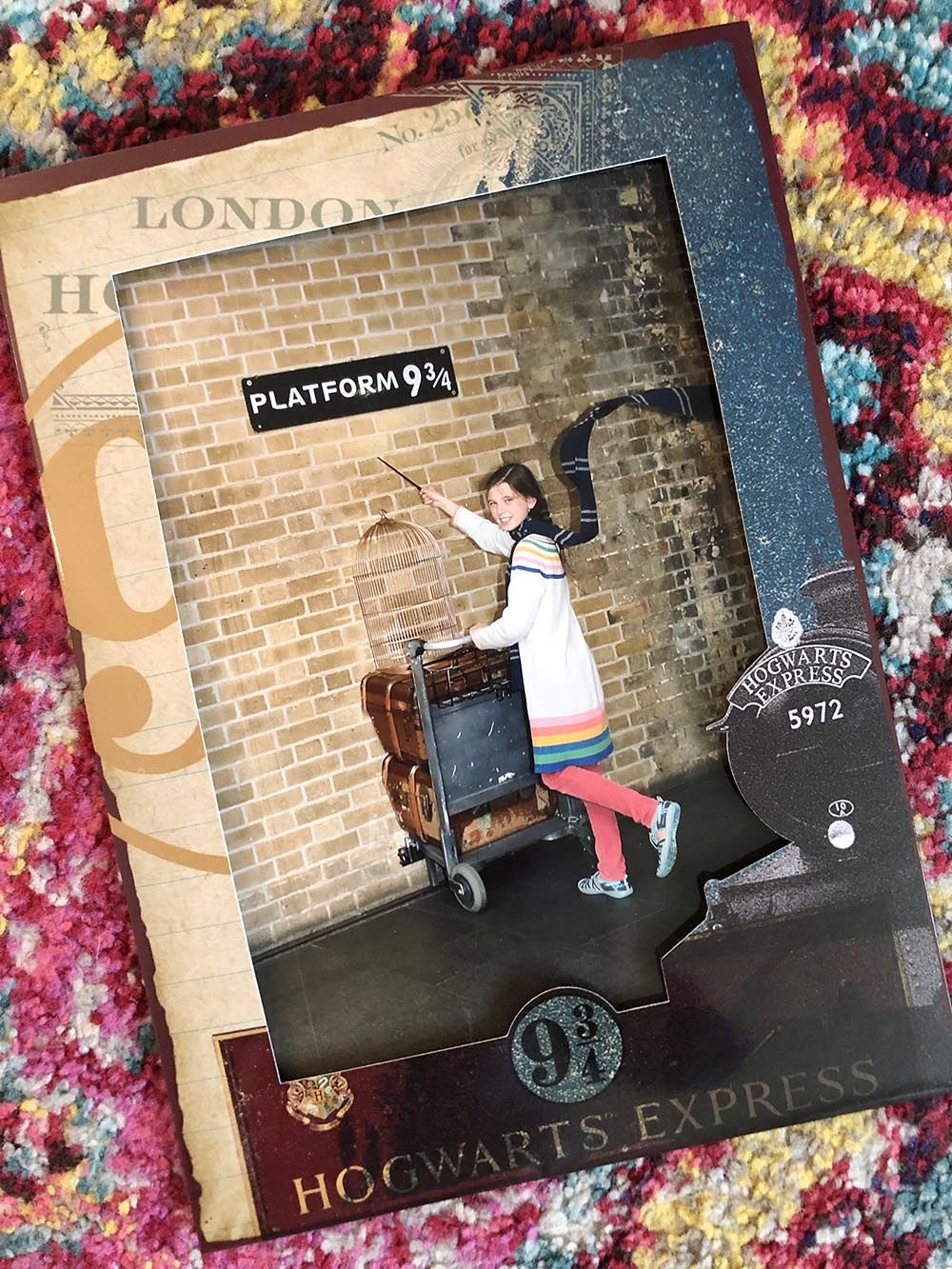 3. Warner Brothers Harry Potter Studios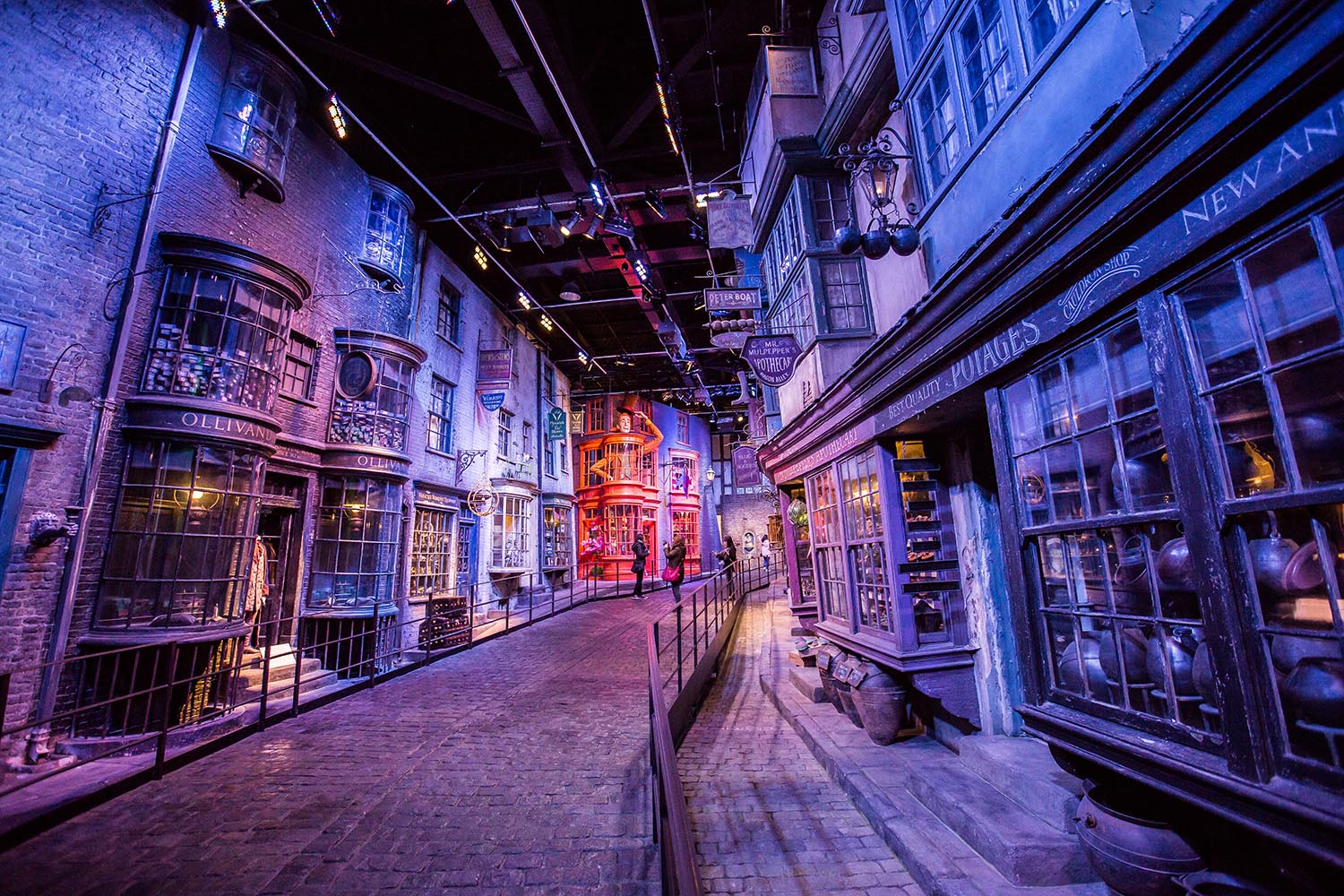 Alternatively, you can also take a visit just outside London to the Harry Potter Studios where you'll be treated to Butterbeer and be able to see some amazing things from the set of the movies! It's a special place for sure! Keep in mind that this is a half to full day experience, so you may need to pick and choose which activity takes priority.
4. Dinner at Cora Pearl
Head to Covent Garden to dine at this delicious and exclusive little restaurant. Advanced reservations will be required. Their menu is almost as small as the restaurant, but you know that anything you order will be delicious. Don't leave without having the milk and cookies. It's not what you'd expect!
4. Drinks at The Cauldron
Spend the evening making your own potions at The Cauldron. This fun cocktail-making experience is sure to end the day on a fun note! Make a reservation.
Day 4- Notting Hill
Notting Hill is a charming and iconic neighborhood in London that you've probably seen on many films like Paddington, Paddington 2, Bed knobs and Broomsticks, and, of course, Notting Hill. It's a bit of a jaunt outside the city center, but worth spending some time there. Try and hit the neighborhood on a Friday or Saturday if you're interested in shopping at Portobello Road.
1. Breakfast at Daylesford Organic
If you're looking for a healthy, organic breakfast, this place is fantastic!
SEE MENU HERE
2. Wander the Iconic Streets of Notting Hill
This affluent West London district will make you wish you could move into one of the adorable pastel terraced victorian houses and never leave. Wander the streets and take the perfect Instagram picture until you get hungry again. I recommend taking a fun photo tour that will show you all the most beautiful places in Notting Hill!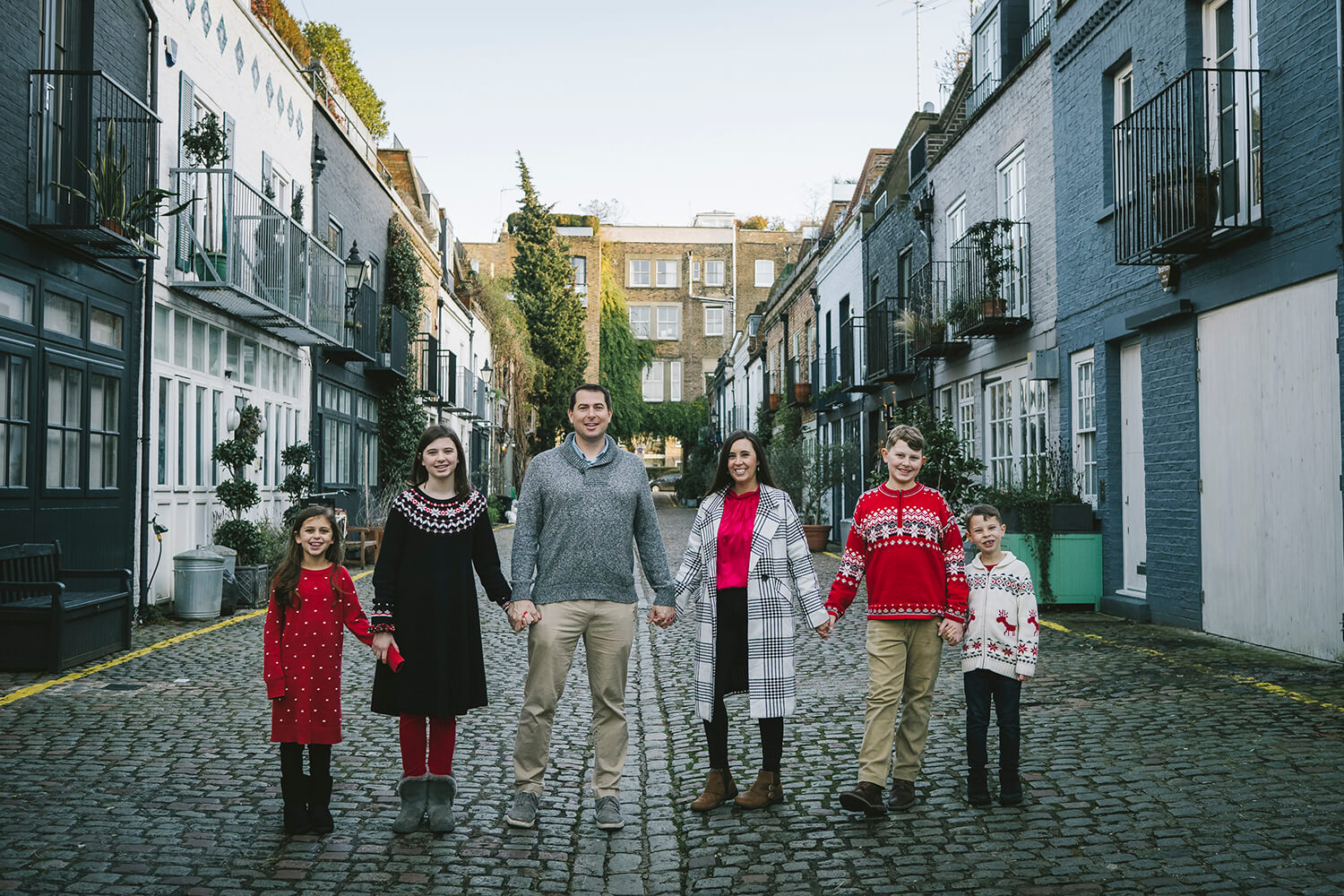 Notting Hill is also a great place for a photoshoot. We did our family Christmas pictures here last year with Flytographer. If you're traveling and need a great photographer, this is a fantastic way to go. Click here or use my code VANESSAHUNT for a big discount on your first shoot.
4. Dinner at a Local Pub or the Park
There are great pubs all over London. Grab a meat pie or some fish and chips and a pint. But if you're too full or you've bought too many goodies at Portobello Road, I recommend getting your steps in and taking a stroll to Hyde Park and having a picnic. If you have kids, the Princess Diana Memorial Playground is a great place to let the kids run around after a day of shopping. It's our favorite playground in the world, no joke!
Day 5- Palaces and Parks
Today is all about the palaces and parks of London, of which there are plenty! This will be a great day of history and nature combined.
1. Grab a Quick Breakfast at Pret A Manger
Start your day off at Pret A Manger, which you can find all over the city and offer juices, smoothies, sandwiches, and prepackaged healthy food.
2. Go back in Time at Kensington Palace
Immerse yourself in British history with this interactive Palace turned museum. You can try on Victoria era clothing and play a game of cards!
3. Eat at Wagamama for Lunch
This modern Japanese-inspired food will be a nice change to all the meat pies and fish and chips you'll be eating this week.
CHECK THE MENU HERE
4. Say Hello to the Queen at Buckingham Palace and Horseguards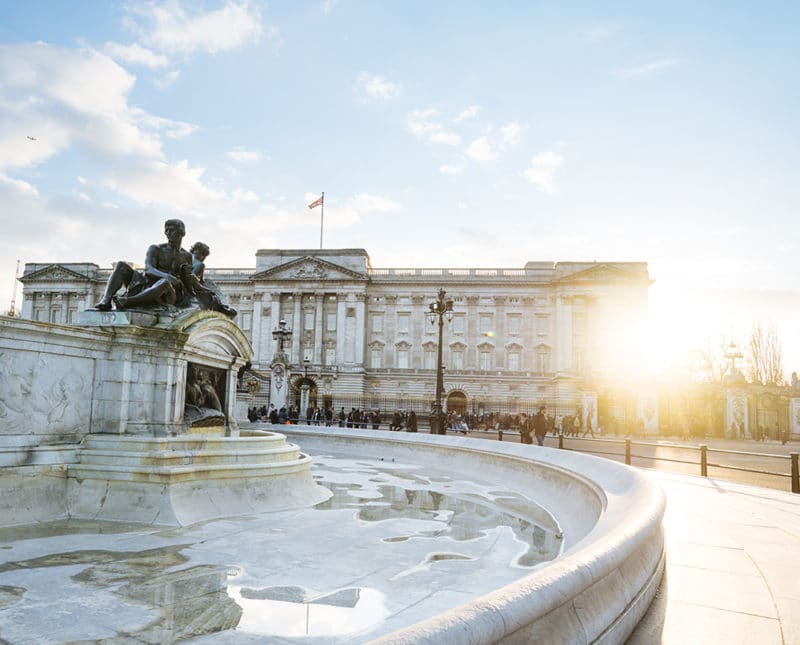 Walk off your delicious lunch to visit the queen at Buckingham Palace. If you time it right you can catch the changing of the guard. You can check the times here. If you're lucky enough to be in London during the months of August or September, you can tour the staterooms of the palace.
5. Wander the Victoria & Albert Museum
Walk down the road to the world's largest mueum of decorative arts and design. The best part? It's free! If that's not for you, try out the Natural History Museum or the Science Museum across the street.
6. Window Shop at Harrods
Take a little shopping break at this luxury department store. Be sure to head downstairs to the grocery section for snacks. If you go at Christmas time this place is an expensive wonderland.
7. Wander Through Hyde Park
Wander through Hyde Park and work up an appetite on your way to dinner on the other side of the park.
8. Dine at Cinnamon Bazaar for Great Indian Food
Indian food is a staple in London. End the day with a great meal at Cinnamon Bazaar for some beautiful and authentic Indian food that comes with a special dining experience.
Take the Eurostar from London to Paris
Taking the Eurostar from London to Paris takes about 2 hours 15 minutes. Be sure to book your tickets well in advance of your trip. The earlier you buy them, the cheaper they will be. And they do tend to sell out.
The Eurostar leaves from London St. Pancras station and you need to be there about an hour before your train leaves. You are leaving the UK and going to the EU, so you will need to go through passport control before boarding. So have your Eurostar Ticket and Passport available.
Once you go through passport control, you will wait in the boarding area, where there are shops and restaurants, until your track number is called, then everyone will file onto the train and find their assigned seats.
Welcome to Paris!
Congratulations! You've made it to Paris, the City of Light! You're in for a real treat as you explore all this amazing destination has to offer. Get your walking shoes and your appetite ready to go!
A note about breakfast in Paris. I have yet to have a sit down breakfast in Paris. There are patisseries on every corner where you can go for a pain au chocolat et cafe (chocolate croissant and coffee). So I recommend stopping in the one closest to your hotel and maybe even trying a new patisserie every morning. You honestly cannot beat a fresh baked croissant on a Parisian morning!
Day 1- Arrive on the Eurostar & See the Sites
You'll arrive at the Paris Gare du Nord train station. Get ready to hit the ground running! Check into your hotel or vacation rental, or if it's too early, you can store your bags. We use this great site to find luggage storage options all over the world. You can use my code: WANDERLUSTCREW for a special discount.
1. Catch a Bird's Eye View from the Eiffel Tower
Start your visit to Paris off right with the most iconic site in the city, the Eiffel Tower! Originally built for the World's Fair and despised by Parisians, this iron structure, over a thousand feet tall, is worth a visit to the top! You must book tickets to enter the tower, and to go to the top is an extra charge. I highly recommend booking these tickets in advance that provide you with both a guide who can skip the line and also take you to the summit.
2. Take a Paris Dinner Cruise
You've had a long travel day. Take a few hours to relax on the water, enjoy a delicious dinner, and take in the views of Paris as you float down the Seine on this 3-course dinner cruise.
If you want to combine your Eiffel Tower tour ticket and your Dinner Cruise ticket, you can look into booking a combo tour to save some money.
Day 2- Walk Paris
1. Take a Paris Walking Tour
Spend your second day in Paris exploring all the city has to offer. You can follow my Paris Walking Guide or take a guided walking tour with Take Walks. Some sites you won't want to miss in Paris are:
Notre Dame de Paris
Montmartre
Sacre Coeur
Centre Pompidou
Le Marais
Il de la Cite
Pantheon
Luxembourg Gardens
Saint-Germain-des-Prés
Pont Neuf
Tuileries Gardens
The Trocadero
2. Have the Best Dinner of your Life!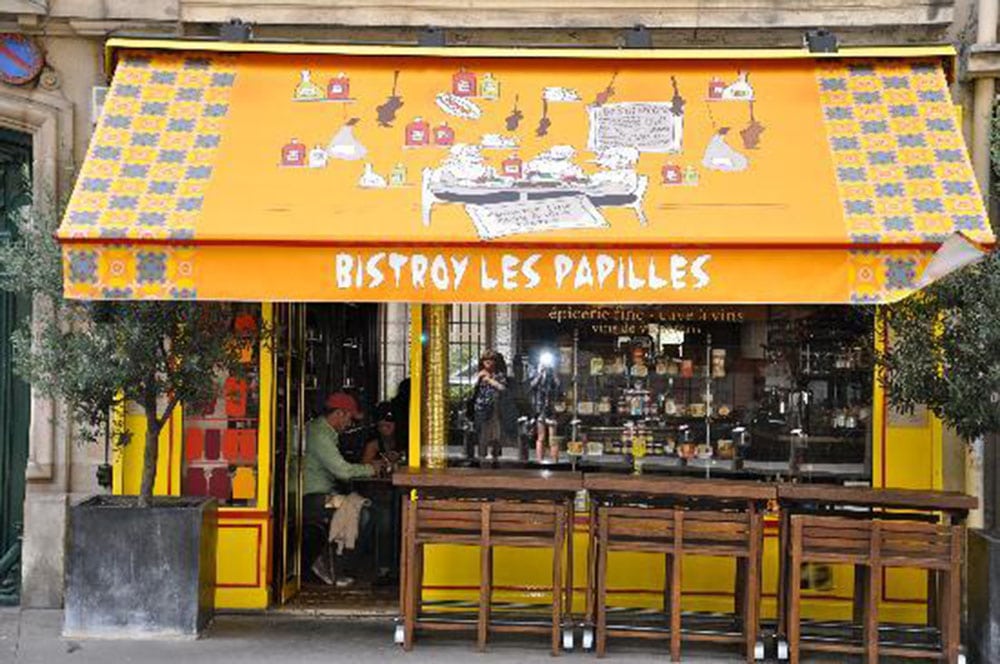 After a long day of walking around Paris, you'll be ready for a good meal! While there are many incredible restaurants and bistros in Paris, absolute favorite restaurant is Les Papilles. I've sent hundreds of people to this tiny place, and have not heard from one disappointed person.
At Les Papilles, you show up and get what you get. It's a fixed menu every night, but you will never be disappointed. They use high-quality ingredients and cook them to perfection. It's a large, several course, meal. So come hungry! Be sure to make your reservations ASAP!
Day 3- Explore Paris Museums
1. Visit Paris Museums
There's one thing you'll never have a shortage of in Paris, and that's art museums! You may not have time to visit them all, but be sure to hit at least one or two during your stay. Here are some of my favorite art museums in Paris:
The Louvre
Musée d'Orsay
Musée du Luxembourg
Centre Pompidou
Petit Palais
Musée Rodin
Musée de l'Orangerie
If you purchase a Paris Pass, many of these museums will be covered. If you're only interested in using the passes for museums, it will be cheaper to purchase the Paris Museum Pass instead.
2. Have the Tastiest Crepes Ever
Dine on delicious crepes for lunch at Breizh Café Montorgeuil. This is a delicious and popular place, so be sure to make reservations.
Day 4- Take a Day Trip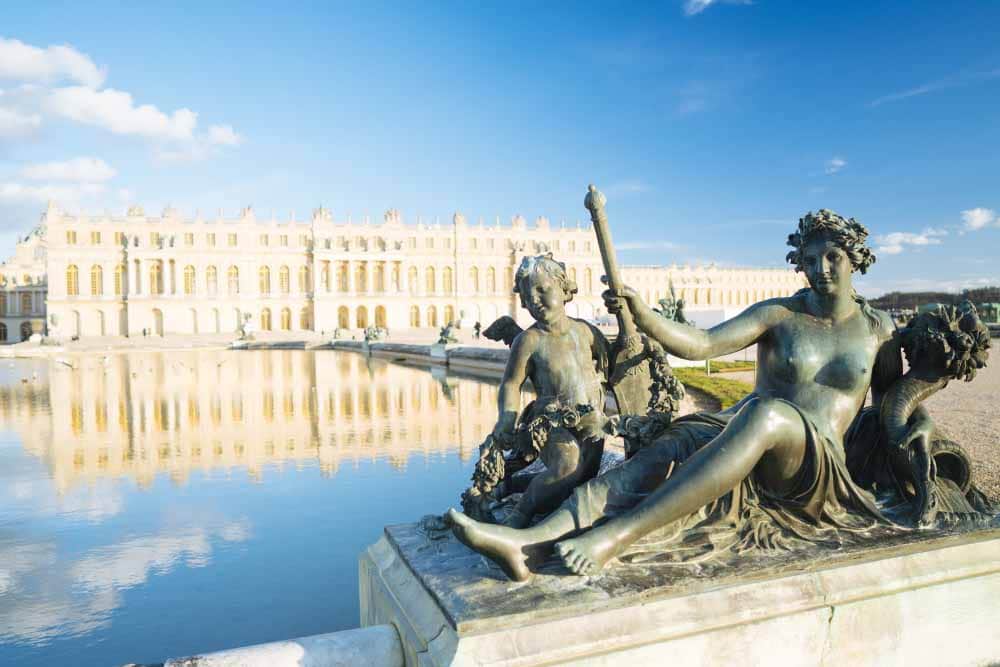 The great thing about Paris is that there are so many great sites just a day trip away. Here are a few options:
The Palace of Versailles
Disneyland Paris
Mont-Saint-Michel
Giverny
The Loire Valley
Normandy
Day 5- Arc de Triomphe & Catacombs
1. Climb the steps for a great view or Paris on top of the Arc de Triomphe
As much as I enjoy the view from the Eiffel Tower, I think the best view of Paris is from the Arc de Triomphe. It allows you to have a view of Paris that actually includes the tower.
The arc also has a fascinating history and is older than the Eiffel Tower. It's very interesting to learn it all. Be sure to get to the Arc through the underground tunnels and don't even try to cross the street. It's one of the busiest roundabouts in the world!
2. Take a Paris Food Tour or a Cooking Class
You don't want to leave this city, which is so famous for its culinary perfection, without taking either a food tour or a cooking class. This food tour will take you through the streets of Paris on an edible adventure. Your guide will share the Parisian passion for French history and gastronomy. Try wine, cheese, beef stew, crêpes, oysters, and cider.
If you really want to dive into the food culture of Paris and try your hand at creating your own masterpiece, take this cooking class which will teach you how to cook like a true Parisian chef.
If you're more interested in learning to bake bread the French way, this hands-on bread-making class is great too.
There are seriously so many great cooking classes and food tours to take in Paris. I've done so many, I've lost track, and they have all been unique and fantastic! Just check reviews before you book and come hungry!
3. Explore the Paris Catacombs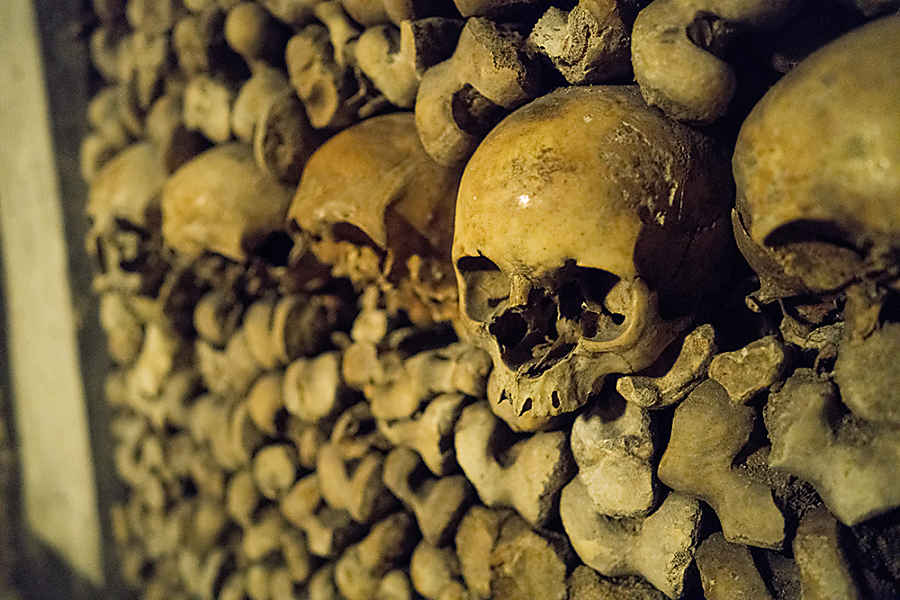 This is a Paris activity I prefer doing at night or else in the heat of the day depending on what time of year you go to Paris. I usually don't want to waste daylight hours, but if it's really hot it's a great chance to go underground and get cool.
People have mixed feelings about the Paris Catacombs. Some say it is disrespectful to the dead, some say that it is a unique experience. Whatever your take on this, I think it's worth a visit. Referred to as "the world's largest grave," the Paris Catacombs hold the remains of over 6 million people!
They were created to solve two major problems that Paris faced in the late 1700s: Cave-ins from the mines underneath Paris and overflowing cemeteries! For two years the bones were carried from the cemeteries down into the tunnels to reinforce the walls of the mines.
Many of the bones have been laid in patterns making this macabre art museum worth a visit, at least for history's sake! But this activity is not for the squeamish, you have been warned! From the Catacombs website: The Catacombs are open for limited days and hours so be sure to check before visiting.
The End of Your London Paris Trip
And this concludes your trip to London and Paris. You can either plan to fly home from Paris, or you can take the Eurostar back up to London if you have a roundtrip flight booked. I hope you have a wonderful time in two of my very favorite cities! If you have any questions, don't hesitate to reach out at [email protected] Bon Voyage!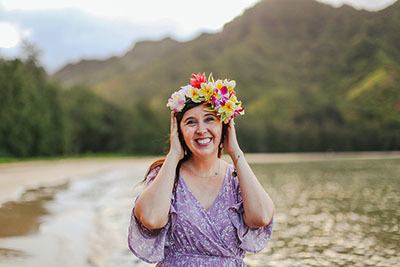 xo
Vanessa