Maui is one of our favorite Hawaiian islands. We spent several years living in Hawaii and loved island-hopping around the islands. Maui is our kids' favorite island. There's so much to do, from great snorkeling, amazing hikes, and a killer food scene.
This post contains affiliate links.
Although it's a small island, deciding what to do in Maui can be challenging. There are so many options, and you'll most likely only be on the island for a week or so. If only we could all stay longer, right?
While there are hundreds of activities to choose from in Maui, I know you've probably only got a few days or weeks, so I've compiled our family's personal favorite things to do in Maui to help you narrow down your choices. These were mostly picked by my kids, who have been to Maui at just about every age up to 15. So hopefully they will cover a wide range of interests.
Planning Your Maui Vacation
If you're feeling overwhelmed about planning your vacation to Maui, I highly recommend using this guide to help you plan out your days. It includes insider tips and day by day itineraries.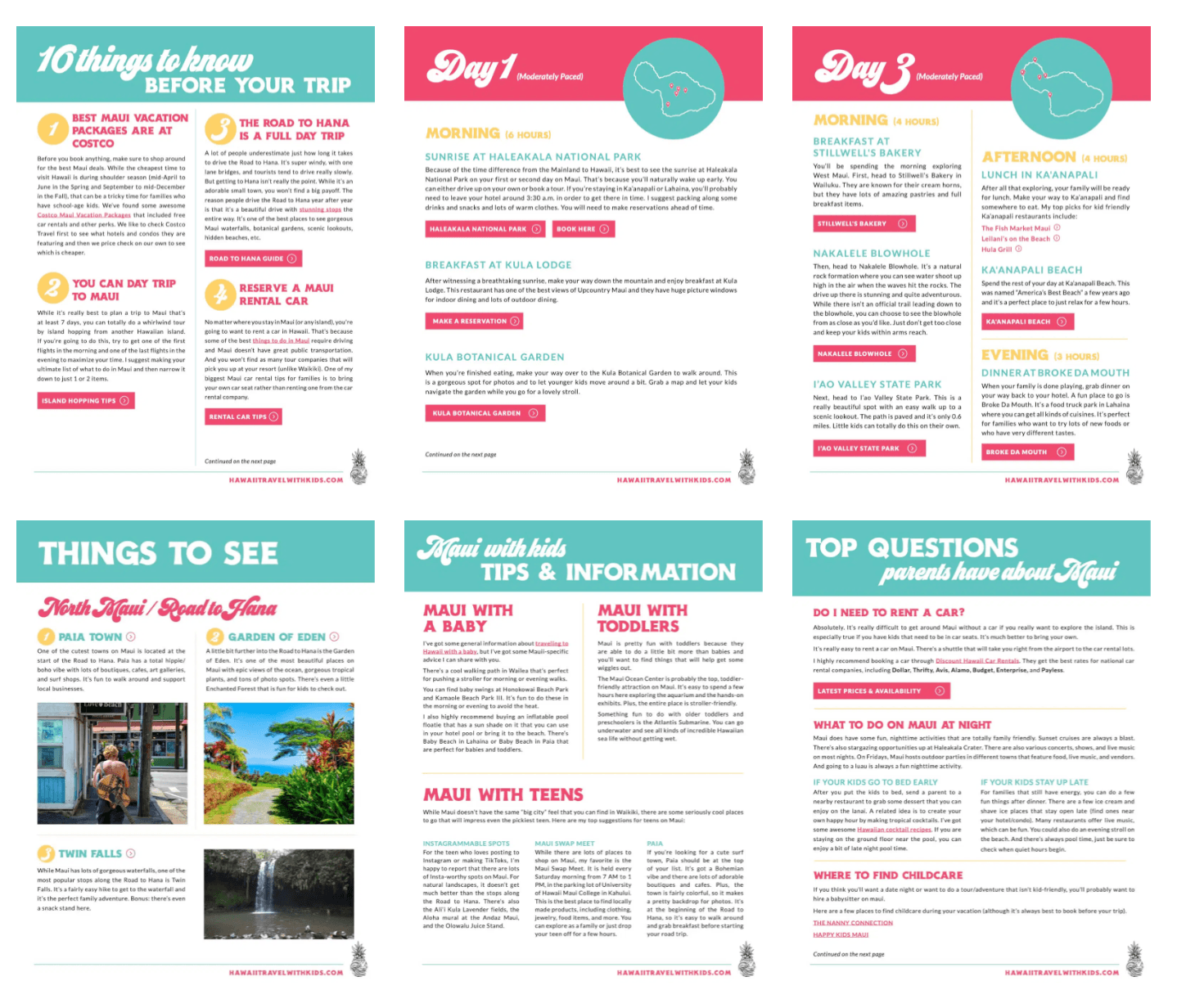 Book a Photoshoot
We always love to book a photoshoot when we're traveling. As a mom, it's tough to get in the photos since I'm always behind the camera. We love using Flytographer to capture our memories. You can get $25 off your shoot by booking with this link or using code WANDERLUST.
1. Drive the Road to Hāna
You can't go to Maui without driving the Road to Hana. Although I see many people skipping this incredible experience, and it makes me sad. If visitors do choose to drive the road to Hana, they normally do it all in a day. If you have the time, I highly recommend taking your time and staying one night in Hana. There are not a lot of places to stay, so be sure you book early if you choose to do that.
There are so many great stops along the Road to Hana. I'd list them all here, but honestly, the best experience is using the Shaka Guide app. It uses GPS to track you and tells you stories and where to stop. You can play it on your way to Hana and on your way back. It even plays Hawaiian music in between. The app costs $15, but it's well worth the money.
Visiting Hana is a bit like seeing what Maui might have looked like 50 years ago. It has a laid-back and undeveloped vibe that welcomes you like one of the family.
2. Check Out Old Lahaina
The town of Lahaina is an old fishing village that was once the royal capital of Hawaii, until it was replaced by Honolulu on Oahu. It's got a cool vibe and some great restaurants. Be sure to check out Hawaii's largest banyan tree, which covers nearly 2 acres!
Grab a plate from Paia Fish Market for dinner, a shave ice from Ululani's, and head over to the harbor to watch the sun set.
3. Take a Snorkel Tour
Hawaii is prime snorkeling territory, and Maui has some of the best waters for seeing incredible marine life. There is some great snorkeling available off the shores of Maui, but if you want a real show under the sea, take a snorkel tour, where you can see pristine coral and nearly untouched, clear water. This is our favorite tour, and you'll be able to see Molokini Crater and Turtle Town in one trip. We loved this tour with Pac Whale Foundation.
4. Watch the Sun do its thing at Haleakalā
One of the most popular activities in Maui, Haleakala National Park is a breathtaking world above the clouds. There's not any shade, so beware if you decide to do any hikes there.
The real draw of Haleakalā, and one of the best things to do in Maui, is watching either the sunrise or sunset above the clouds. It's truly stunning. If you plan on doing either one, I recommend leaving 2-3 hours before sunrise or sunset to make sure you don't miss it. It's a good long drive up the mountain. Also be prepared for cold! The elevation is high and it is not warm, dress accordingly.
If you want to do sunrise, you need to make reservations and can do so here. The entrance fee for Haleakalā is $30.
5. Visit the Maui Ocean Center
While most of these activities are all outdoors and in the water, some days in Maui you may just want a dry-day. Visiting the Maui Ocean Center is a good change of pace. It is not a massive aquarium, but will allow you to see a lot of marine life that you have possibly snorkeled with already, or that you'll soon snorkel with, including Hawaiian Green Sea Turtles. The Maui Ocean Center has a great 3D Whale watching Experience that we all loved. It's quite impressive. Right now you need to book timed tickets online here
6. Take a Day Trip to Lanai
Ok so this is not exactly Maui, but it's really the only island that you can easily visit Lanai from, as Lanai is part of Maui county and you can take a ferry to the island for the day. The island is beautiful and very different from Maui, with enough to keep you busy for a whole day.
7. Watch the water fly at Nakalele Blowhole
This blowhole can be a little finicky and may not be blowing when you visit if the tide is low, but the north side of the island is beautiful and even more untouched than the road to Hana, so it's definitely worth the drive up there, especially if you're staying in West Maui, it's only about a 30 minute drive up.
8. Attend a Luau
If you're wondering what to do in Maui that will provide a great cultural experience, attending a Luau is a must! You get to try lots of great Hawaiian food and see traditional Hawaiian dancers. Here are some of our favorite Maui luaus:
9. Visit Molokini
This crescent-shaped, partially submerged volcanic crater is one of the top things to do in Maui, but you'll need to charter a boat or take a tour to see it. It's one of the top scuba and snorkeling destinations in Hawaii, so don't miss this if you want to see lots of wildlife, including sharks, fish, and sea birds. It's usually calm snorkeling due to the protection from the circular shape of the crater. We took this tour to see Molokini and loved it!
10. Iao Valley State Park
This sacred valley is not far from the Airport and is a real gem of Maui. It was once used as a burial group for the Royalty and was the site for a massive battle between the inhabitants of Maui and an army from the Big Island, the battle of Kepaniwai in 1790.
You can take a short hike (more of a walk really) up a staircase to view the Iao Needle, which is the second wettest spot in Hawaii, and a sacred symbol. Be sure to take the trail down to the stream. You may see locals taking a dip, as it's customary for them to wash off evil spirits in this sacred stream. You must pay to park and to enter the park, but it's worth it.
11. Take a Hike
Maui is known for its natural beauty, some of which is only accessible by hiking. We love to have a mix of active time and relaxing beach time when we go to Hawaii, so we love that Maui has a large offering when it comes to hiking. Here are some of our favorite hikes in Maui:
Twin Falls/Rope Swing Hike
Kapalua Coastal Trail
Pipiwai Trail
Waihou Spring Trail
Waianapanapa Coastal Trail
Hosmer Grove Trail
Kualoa Point Trail
Waikamoi Ridge Trail
Waihee Ridge Trail
Wailea Beach
Sliding Sands Trail at Haleakala
12. Go to the Beach
This one is totally obvious, but you'll definitely be going to the beach while you're in Maui. You can find many black sand beach in Maui. Some of our favorite Maui beaches are:
Baby Beach
Kapalua Bay
Napili Bay
Kamaole Beaches
Makena Beach
Kahekili Beach
Kaanapali Beach
13. Try all the Shave Ice
It's Hawaii, so of course you'll find lots of shave ice on the island, but our favorite is Ululani's Shave Ice. Luckily, there are several around the island, so you're bound to be near one. They are located in Lahaina, Kihei, and Paia.
14. Try Malasadas
Malasadas! Kind of like a donut, except way better! Brought over to Hawaii by the Portuguese, malasadas are fried sweet dough that is usually filled with cream or jam. They come in all sorts of flavors with different sugar coating options available. Eat them right when they're fresh, that's how they're best. We like the ones at Home Maid bakery. They're a small and unassuming shop, but fresh and delicious. There's also a trailer in Lahaina that's usually at the 76 station that we like as well. They have way more flavor options than Home Maid, but I don't think their dough is as tasty and fluffy. You'll have to try them both and decide for yourself!
15. Take a Farm Tour
Maui has a plethora of farmland, especially upcountry, and it's a great opportunity to find quality homegrown produce and other products. And to really enhance your experience, take a farm tour. There are several great options in Maui, and it's so much fun to really learn where your food comes from!
Read here to discover 10 Hidden Gems in Maui
Bonus!
Get the Maui with Kids Guide + 7-Day Maui Itinerary
I know it gets overwhelming to think about planning a vacation with kids. That's why I've got your back! This Maui with Kids Guide + 7-Day Maui Itinerary is perfect for busy parents who want to have a hassle-free family vacation.
I've included all the best spots and activities to do, as well as tips on how to keep the kids entertained and have a smooth trip. With this guide in hand, you'll be able to explore Maui with your little ones and not spend more on vacation than you have to.
Click this box below to get your Maui with Kids Guide + 7-Day Maui Itinerary and start planning the perfect family trip today!
I hope this was a helpful list to get you started on planning your trip to Maui. Whatever you choose to do, you're guaranteed to have a great time relaxing on the beach! And if that's all you do, that's not the end of the world!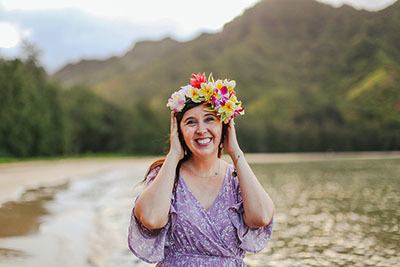 xo
Vanessa
Things to do in Maui FAQ
What is one thing not to miss on Maui?
Islands and beaches are the top attractions of Maui, but there is so much more that makes this Hawaiian island an unforgettable vacation destination. Other must-visit attractions include the Makena Beach State Park, Baldwin Beach Park, and the West Maui Mountains.
What is Maui Hawaii famous for?
Just like other parts of Hawaii, Maui is known for its coastal beauty and stunning landscapes, offering plenty of opportunities for hiking, snorkeling, surfing, kayaking, and other outdoor activities.
What is the best month to go to Maui?
Between April to early October are the best months to visit Maui. During this time, you'll find generally mild weather and clear skies – perfect for enjoying all that Maui has to offer.
Which part of Maui is best to stay?
Hana is one of the best parts of Maui to stay, as it offers some incredible lodging options and plenty of natural attractions.