If you're looking for the best road trips in the USA, look no further! These great road trips will have you driving for the rest of your life.
This post was written in partnership and paid for by Hum by Verizon. All opinions are my own.
The 25 Best Road Trips in the USA
There's probably nothing more American than packing up your car and hitting the open road with family or friends, some good snacks, and great tunes… and for good reason. With more than 3.7 million square miles to discover and 4,071,000 miles of road, the United States has so many hidden gems accessible by car.
Although I've got about 194 countries on my bucket list right now, I'm grateful to live in the great US of A and think it's one of the most amazing countries to explore from the road. There are so many fun road trips that you can take all over the country!
If you're planning to take a road trip this year, I've compiled the best American road trip routes in the country. These are 25 of the best road trips in the USA that everyone should take in their lifetime. We've been lucky enough to drive almost every inch of this country and there is some beautiful land to see out there.
Before you leave on any road trip, be sure your car is road trip ready. If you're traveling the US by car, it's important to know how to prepare.

Prepare Your Car for the Best Road Trips in the USA
The Best USA Road Trip Safety Tips
Before heading out on your USA road trip, be sure your car has been serviced, and everything is working properly. When you road trip around the US, anything could go wrong! It's best to be prepared.
Use Hum by Verizon to Prepare for Road Trip Vacations
I've talked about my love of Hum by Verizon before, but it's because I love my HumX and think anyone taking a road trip should have one!
Hum by Verizon is campaigning to make the days between Memorial Day and Labor Day the "100 Safer Days of Summer." During these 100 Days, you can find helpful tips for safer driving on their Facebook page.
According to a study from Hum by Verizon and Wakefield Research that surveyed 1,000 U.S. adult drivers ages 20 and older, 80% of participants think that drivers are more likely to speed during the summer months. The survey also found that 61% of millennial drivers struggle to focus while driving during the summer, and one in five drivers have received at least one speeding ticket within the past five years.
Hum by Verizon wants to change that, by helping us practice important road safety with "100 Safer Days of Summer."
With so many great summer road trip destinations around the country, and so many more Americans traveling these days, safety has never been more important! The best summer trips are safe summer trips!
We use HumX in our car. HumX is a little device that is easily installed in your car and takes the guesswork out of driving by using connected car technology. It allows you to have quick access to emergency services and loved ones while on a road trip, or any time on the road.
If you have an accident or emergency, HumX can send assistance to help you get back on the road.
Hum X car also runs diagnostics on your vehicle to make sure that things are running smoothly so you can take these cool road trips worry-free.
I love that HumX helps you keep track of general maintenance like oil changes and tire rotation, and you can set up alerts to remind you when it's time for service.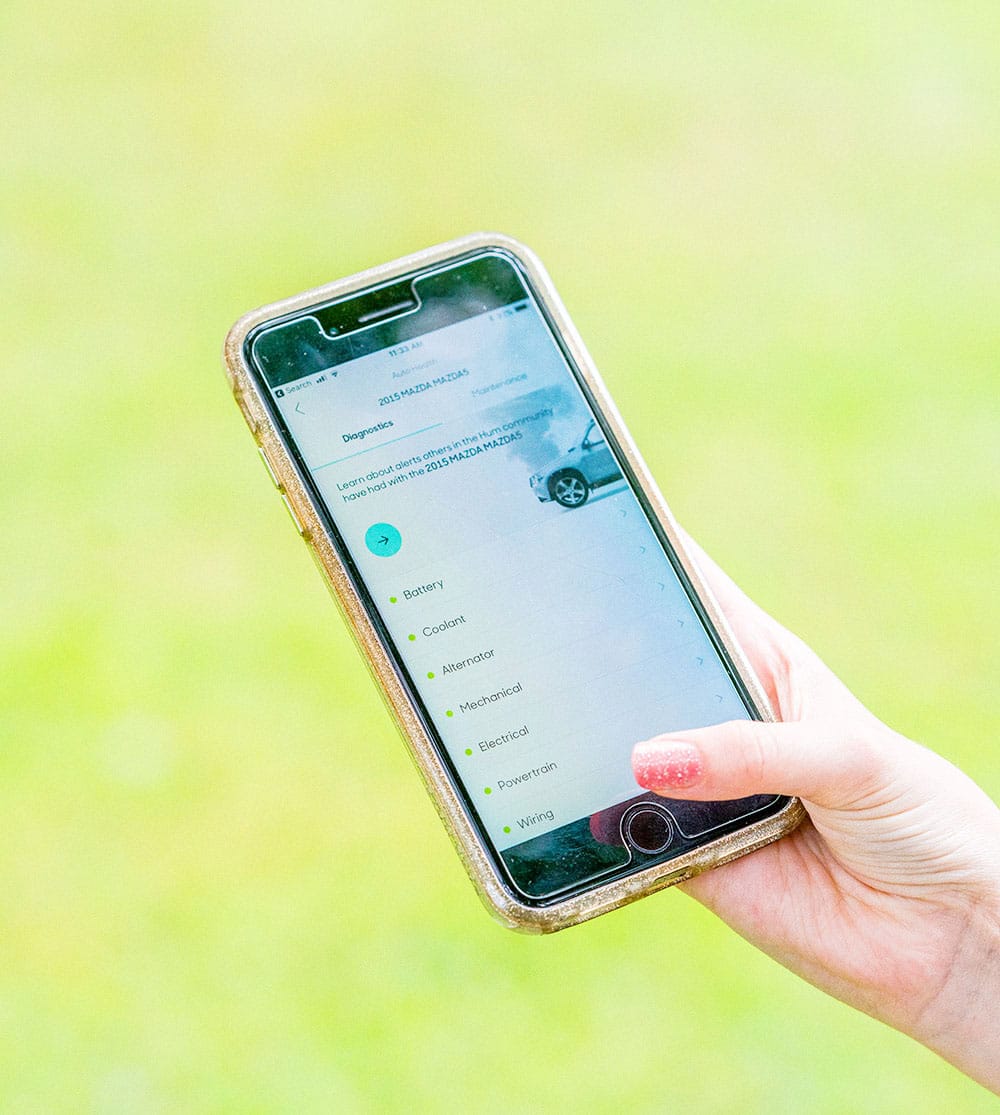 All the Hum by Verizon services can be accessed on your smartphone from the Hum App which you can find in the App Store or Google Play. HumX also comes with a Bluetooth speaker that clips to your visor. This will give you access to roadside assistance with the touch of a button and can also be used as a speaker for your phone and be connected to your contacts.
I'm also really excited to have this service when my kids start driving, which is only in 3 more years (HELP)! It provides a safety score, boundary alerts, and records speed, so you can monitor your teen's driving.
You can also track your fuel and mileage using HumX, which is great if you're taking road trips that are for work and need to track mileage for expenses or tax purposes.
Get Ready for the Best Road Trips in the USA
To prepare for your American road trip of choice, be sure to follow these tips that I've shared in How to Plan a Road Trip. If you don't know what to do on a road trip, these tips will help you prepare and also help you have the best time! Learn a lot and have fun along the way while you road trip USA style!
25 Best Road Trips in the USA

1. Pacific Coast Highway
● Begin: San Francisco, California
● End: San Diego, California
● Distance: 655 miles
● Drive Time: 12 Hours
California is one of the best places to road trip in the USA! Its size and diversity provide so many options and the Pacific Coast Highway is just one. This iconic highway along the California coast covers 655 miles of awe-inspiring views of the Pacific Ocean, stretching from San Francisco to San Diego. See classic sites like the Golden Gate Bridge and Bixby Creek Bridge along the way. The Pacific Coast Highway is one of the best summer road trips in the world!
Read more about our detailed West Coast Road Trip.

2. Park Loop Acadia National Park
● Begin: Hulls Cove Visitor Center, Acadia National Park, Maine
● End: Hulls Cove Visitor Center, Acadia National Park, Maine
● Distance: 27 miles
● Drive Time: 2 hours
This is one of the best east coast road trips I've ever taken. This is a quick road trip but packed full of stunning views as you drive along the Park Loop in Acadia National Park. Forests, mountains, and rocky shores greet you on your drive along with plenty of wildlife. Be sure to spend some time in beautiful Bar Harbor, Maine, the town where you can base your Acadia trip from. All good road trips include some amazing scenery, and this one is no exception!
If you're looking for a great guide to the park, check out this Acadia National Park Guide.

3. Washington-Oregon Coast
● Start: San Juan Islands
● End: Brookings, Oregon
● Distance: 600 miles
● Drive Time: 15 hours
The Pacific Northwest is one of the best places to go on a road trip due to its geographical diversity and stunning scenery. One of the most dramatic coastlines in the world, the Pacific Northwest offers rocky beaches, turbulent waters, thick forests, and great food. Begin in the San Juan Islands off the coast of Washington and continue down to the southern tip of Oregon for one of the best road trips in the USA.

4. Great River Road
● Starting point: Minnesota
● Ending point: Louisiana
● Distance: 3,000 miles
● Drive Time: 20 hours
Follow along the mighty Mississippi River from its beginning in Minnesota, all the way down to the Gulf of Mexico in Louisiana. This route is called the Great River Road and it cuts 3,000 miles down the center of our great nation, passing through 10 states, where you'll see St. Louis, Memphis, New Orleans, and everything in between. This United States road trip is one of my all-time favorites as it explores some lesser-known destinations in the "fly over" states!

5. Big Island Loop Road
● Starting point: Kailua-Kona, Hawaii
● Ending point: Mauna Kea, Hawaii
● Distance: 300 miles
● Drive Time: 7 hours
The Island Loop Road of the Big Island of Hawaii offers scenic views of beaches, mountains, lava fields, active volcanos, black sand beaches, and heated swimming pools. This may be the most diversity in landscape you'll ever see in one day.

6. Musical Road USA Trip
● Begin: Nashville, Tennessee
● End: New Orleans, Louisiana
● Distance: 600 miles
● Drive Time: 9 hours
If you're a music fan, then Route 61 (also known as the Blues Highway) will be a perfect road trip for you, giving you the chance to hear live music, visit Graceland, the home of Elvis Presley, and see famous recording studios. Finish in New Orleans, where you'll hear live jazz on the streets nightly!
If you want to continue on farther, you can do this amazing gulf coast road trip!

7. Northern National Parks Road Trip
● Begin: Jackson, Wyoming
● End: Yellowstone National Park, Wyoming
● Distance: 70 miles
● Drive Time: 1.5 hours
National Parks make for the best road trip destinations. Explore both Grand Teton National Park and Yellowstone National Park with this road trip full of stunning mountainous scenery! It's the perfect summer road trip.

8. Southwest National Parks Road Trip
● Begin: Grand Canyon National Park (North Rim), Arizona
● End: Moab, Utah (one of the most amazing things to do in Utah!)
● Distance: 600 miles
● Drive Time: 11 hours
This nature-packed road trip will allow you to see five stunning Utah national parks including the Grand Canyon, Zions', Bryce Canyon, Canyonlands, and Arches. This is a great Utah road trip itinerary if you're interested in exploring even more of this beautiful state.

9. Hana Highway Road Trip
● Begin: Kahului, Hawaii
● End: Hana, Hawaii
● Distance: 52 miles
● Drive Time: 2.5 hours
This is possibly the most popular road trip in all of the Hawaiian Islands. The 60-mile Road to Hana takes you along the eastern coast of Maui where you will be sandwiched by beautiful ocean views and jungles filled with waterfalls. The Hana highway will wind you around approximately 600 curves, crossing 59 bridges, but the ride is worth it!

10. New York City to Finger Lakes
● Begin: New York, New York
● End: Corning, New York
● Distance: 250 miles
● Drive Time: 4.5 hours
I love this New York road trip! After enjoying the busy city life, escape into the Fingerlakes region of upper state New York. Enjoy culture, scenery, great food and wineries along the way. New York City with kids is so much fun, but it's great to mix it with a more relaxing and nature-filled vacation.

11. Williamsburg, VA to Charlottesville, VA to Washington D.C.
Begin: Williamsburg, Virginia
End: Washington, D.C
Distance: 240 miles
Drive Time: 4.5 hours
Brush up on your colonial history and visit the homes of some of our founding fathers while reliving the past. Begin your journey in southern Virginia where you can visit Colonial Williamsburg and Jamestown Settlement, where you'll witness historical reenactments and join in on living history.
Next, head to Charlottesville and visit the homes of former presidents Thomas Jefferson (Monticello) and James Monroe (Highland). Head to Mount Vernon, just outside Washington DC to visit George Washington's home (Mount Vernon) and finish off your trip in our nation's capital. The distance from Williamsburg VA to Washington DC isn't much, but the history that can be found on the side of the road is amazing!
You can also do this trip in reverse. It's one of the best road trips from DC I've ever taken.
12. Miami to the Overseas Highway to Key West, FL: 160 miles from Miami
Begin: Miami, Florida
End: Key West, Florida
Distance: 170 miles
Drive Time: 3.5 hours
Take the 150-mile drive on Route 1, also known as the Overseas Highway, from Miami to the Florida Keys, crossing 42 bridges. These sandy islands are full of history, sun, and relaxation. This southern USA Florida road trip is sure to be one of the most sun-filled, fun-filled drives ever!
13. The Grand Canyon to Las Vegas
Begin: Grand Canyon National Park
End: Las Vegas, Nevada
Distance: 250 miles
Drive Time: 4.5 hours
Start out with nature, and end in Sin City. This desert drive will take you through the majestic Grand Canyon, with a stop in St. George, Utah and end with some fun in Las Vegas.
Check out this awesome Utah road trip.
14. Black Hills of South Dakota
Begin: Deadwood, South Dakota
End: Hot Springs, South Dakota
Distance: 100 miles
Drive Time: 2.5 hours
The Black Hills of South Dakota offer more than just Mount Rushmore. Drive along the Badlands Scenic Byway, making stops at Custer State Park, Wind Cave National Park and the infamous Wall Drug. National parks are some of the places to stop on a road trip. Stunning sunsets and sunrises in the Badlands will take your breath away. Keep an eye out for bison on the road. Check out this South Dakota road trip planner for more information.
15. Maine Lobster Trail
Begin: Milbridge, Maine
End: Eastport, Maine
Distance: 125 miles
Drive Time: 6 hours
Explore the southeastern corner of Maine, also known as "Downeast Maine" as you drive along the Lobster Trail on Coastal Route 1. This colorful and delicious journey will take you through beautiful coastlines and forests while providing tasty and adventurous stops where you can find lobster and all kinds of local seafood. Try your hand at some local activities like clam digging or goat milking. There are so many more incredible east coast road trips.
16. Blue Ridge Parkway
Begin: Shenandoah National Park
End: Asheville, North Carolina
Distance: 469 miles
Drive Time: 6 hours
The Blue Ridge Parkway is one of the most popular road trips in the US. Connecting Shenandoah National Park in Virginia to the Great Smoky Mountains National Park in North Carolina, this 469-mile stretch of scenic road is the most visited road controlled by the U.S. National Parks system. Stops along the way include Skyline Drive (particularly beautiful in the fall), Luray Caverns, Natural Bridge, and Asheville.
17. Grand Teton National Park to Glacier National Park
Begin: Grand Teton National Park, Wyoming
End: Glacier National Park, Montana
Distance: 500 miles
Drive Time: 9 hours
Explore two national parks in one road trip by driving from Grand Teton National Park to Glacier National Park. The drive along the way will provide some of the most diverse landscapes in the U.S.

18. Outer Banks Scenic Byway
Begin: Carova, North Carolina
End: Ocracoke, North Carolina
Distance: 138 miles
Drive Time: 5 hours
North Carolina's Route 12, otherwise known as the Outer Banks Scenic Byway spans 21 coastal villages and 138 miles of paved road and 25 ferry-traveling miles along the coast of North Carolina. Dotted with lighthouses, museums, houses and hotels, the Outer Banks is a great beach road trip.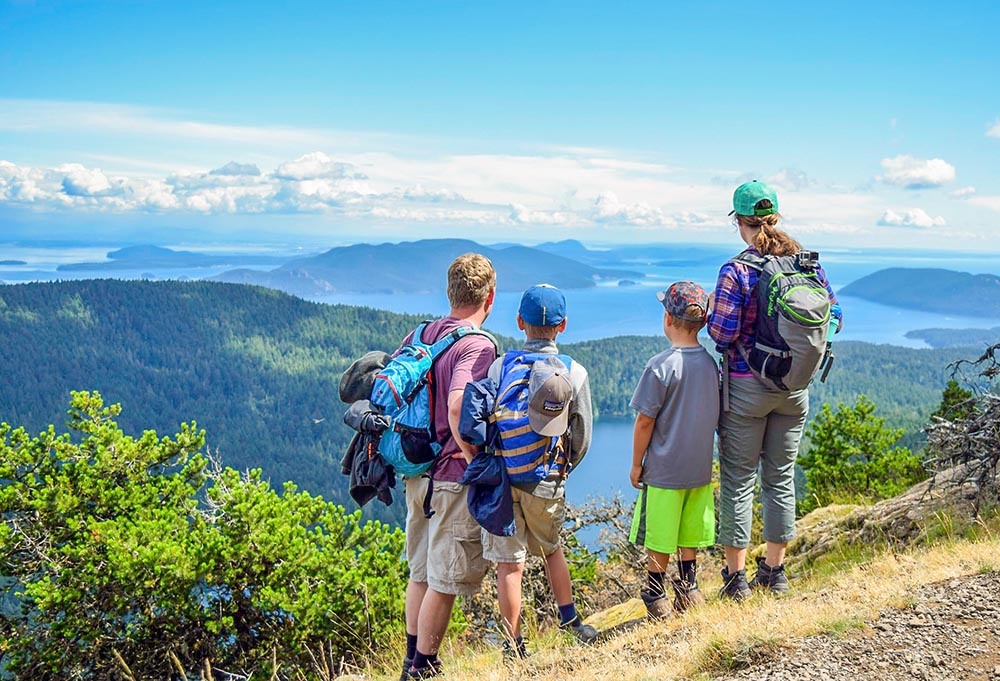 19. Olympic Peninsula
Begin: Seattle, Washington
End: Seattle, Washington
Distance: 300 miles
Drive Time: 10 hours
Explore Washington's Olympic Peninsula on this scenic road trip which takes you through the Olympic National Park and Forest and the lush Hoh Rainforest. There are great spots along the way for hiking, camping, and wildlife spotting.
20. Route 66
Begin: Santa Monica Pier, California
End: Chicago, Illinois
Distance: 2,500 miles
Drive Time: Several days
Follow in the path of your grandparents by taking a quintessential cross-country road trip along one of the original highways in the U.S., Route 66. This road is not traveled very often now that the Interstate Highway system is established, but you can still visit many old towns that once thrived in the middle of the last century along The Mother Road. Route 66 crosses 8 states and dozens of historic sites along the way. It's the ultimate US road trip, but with so many good road trip places around the country, this classic can be overlooked for bigger cities and National Parks. Don't skip Route 66!

21. Alaska Highway
Begin: Dawson Creek, British Columbia, Canada
End: Anchorage, Alaska
Distance: 2,500 miles
Drive Time: 27 hours
Stretching nearly 1,500 miles between Dawson Creek, British Columbia, Canada and ending in Anchorage, Alaska, the historic Alaska Highway (also known as the ALCAN) is not for the faint of heart. Though most of the road is paved, many sections are constantly under construction and parts of the road are only gravel.
It's a road that should only be attempted in the best of weather, usually during the summer months, but the views and wildlife along the way are worth the adventure. An Alaska highway road trip should be well planned out in advance, with stops and accommodations mapped out at least six months in advance! But it is worth the planning. Alaska is one of the most amazing places to take a road trip! Learn more about planning a trip to Alaska.

22. Ultimate Florida Road Trip
Begin: St. Augustine, Florida
End: Destin, Florida
Distance: 1,400 miles
Drive Time: 24 hours
See the majority of Florida by circling the entire state, starting in St. Augustine(America's oldest town) then bring out your inner-child in Orlando, eat your way through Miami, and relax on the beach in Clearwater, then explore the panhandle in Destin. This route is long, but the stops and scenery are breathtaking. Learn more about the best things to do in Destin, Florida.
23. The Great American Road Trip – Cross Country on the I-90
Begin: Boston, Massachusetts
End: Seattle, Washington
Distance: 3,000 miles
Drive Time: 45 hours
This is the best cross country road trip! We've done this road trip across America many times out of necessity. It's more exciting to do it when it's just for fun. The I-90 spans 3,000 miles across the entire country from Boston to Seattle or vice versa, running along the northern part of the U.S. This route makes some incredible stops like Niagara Falls, Chicago, Mount Rushmore, the Badlands, and Yellowstone. This is one of the best American road trips you will ever take! A US cross country road trip can seem a little daunting. Just make sure you give yourself plenty of time and map out your stops ahead of time, breaking up the long drive.

24. Anchorage to Seward
Begin: Anchorage, Alaska
End: Seward, Alaska
Distance: 125 miles
Drive Time: 2.5 hours
This quick 125-mile drive along the Seward Highway takes you from Anchorage to Seward. While small, this strikingly beautiful route offers incredible stops like seeing the Bore Tide at the Turnagain Arm, glacier hiking, berry picking, fishing, rafting, kayaking and more. Once in Seward you can finish off your trip with a fishing excursion or a wildlife cruise in the Kenai Fjords National Park where you'll sail among whales, puffins, seals and more.

25. Canada to Mexico
Begin: Vancouver, British Columbia, Canada
End: Tijuana, Mexico
Distance: 2,300 miles
Drive Time: 24 hours
Hit three countries in one epic road trip by starting in British Columbia, Canada and using this itinerary all the way down to the border of U.S. and Mexico into Tijuana.
Whatever road trip you choose this summer, be sure to prepare your car for an epic road trip and install a HumX in your vehicle to take the worry out of your journey and to get you on the road!
src="https://wanderlustcrew.com/wp-content/uploads/2018/08/Best-Road-Trips-USA-PIN1.jpg" alt="These are the best road trips in the USA. These 25 road trips are some of the most famous and unique trips you'll ever take. #Vacation #Roadtrip #USA" width="1000″ height="1628″ data-pin-description="These are the best road trips in the USA. These 25 road trips are some of the most famous and unique trips you'll ever take. #Vacation #Roadtrip #USA">