This weekend we visited a little town just outside of Bordeaux called Parentis. We stayed on a beautiful cabin on Lac de Parentis with the most amazing sunsets! The scenery was unreal! The best part was that we have so many hotels.com points that we stayed the whole weekend for 30 Euros! If you're not familiar with the hotels.com rewards system, it's really simple. Every 10 nights you book a hotel through hotels.com you receive one free night at the average price of the rooms you booked. They are simple to redeem. We were able to stay in the Swiss Alps for a weekend, Austria for a weekend and this lake for the weekend for nearly free! Staying in Airbnb's is usually a cheaper long term option. We try to book 1 month at a time and usually receive a 10-50% discount for doing so. We've never paid more for a month in an Airbnb than we did for our rent in Washington D.C or Hawaii. Traveling full-time through Airbnb is so feasible. We are never staying in 5 star accommodations, and sometimes we don't have a dryer or an oven, or a bath tub, but we always have enough beds and enough space to stay sane! If you want to try Airbnb you can get a $20 coupon here the first time you book.
But for weekend trips or trips in between moves, a hotel is generally easier for us. I have been really impressed with the availability of family friendly hotels across Europe. We almost never stayed in hotels in the U.S., unless it was a Marriott Residence, because they could never accommodate our family of 6. But there seem to be plenty of options for families here, including 2-3 bedroom hotel suites, hotels with kids' clubs, playgrounds and free stuffed animals given at arrival. And they have all been extremely affordable! I came to Europe with this preconceived notion that it wasn't very child-centric. But we have had great experiences so far across the continent. And as we prepare for our move to England, there seems to be a plethora of activities and sites just for children there as well.


The best part about traveling during the off season is that we tend to get our rooms upgraded. We booked an affordable 2 bedroom suite at the lake to fit our crew of 6, but they upgraded us to a 3 bedroom cabin with a lake view and a playground within stone's throw! It was fantastic!
Our family is a bit odd and we love seeing sites that are a bit off the beaten path. Instead of spending our entire time in downtown Bordeaux (which is also awesome), we chose to hit up Europe's biggest sandbox: the Dune du Pyla (Pilat in English). At 110 meters high and almost 3 kilometers long, it is the largest sand dune in all of Europe. It was a great opportunity to have a little geography lesson.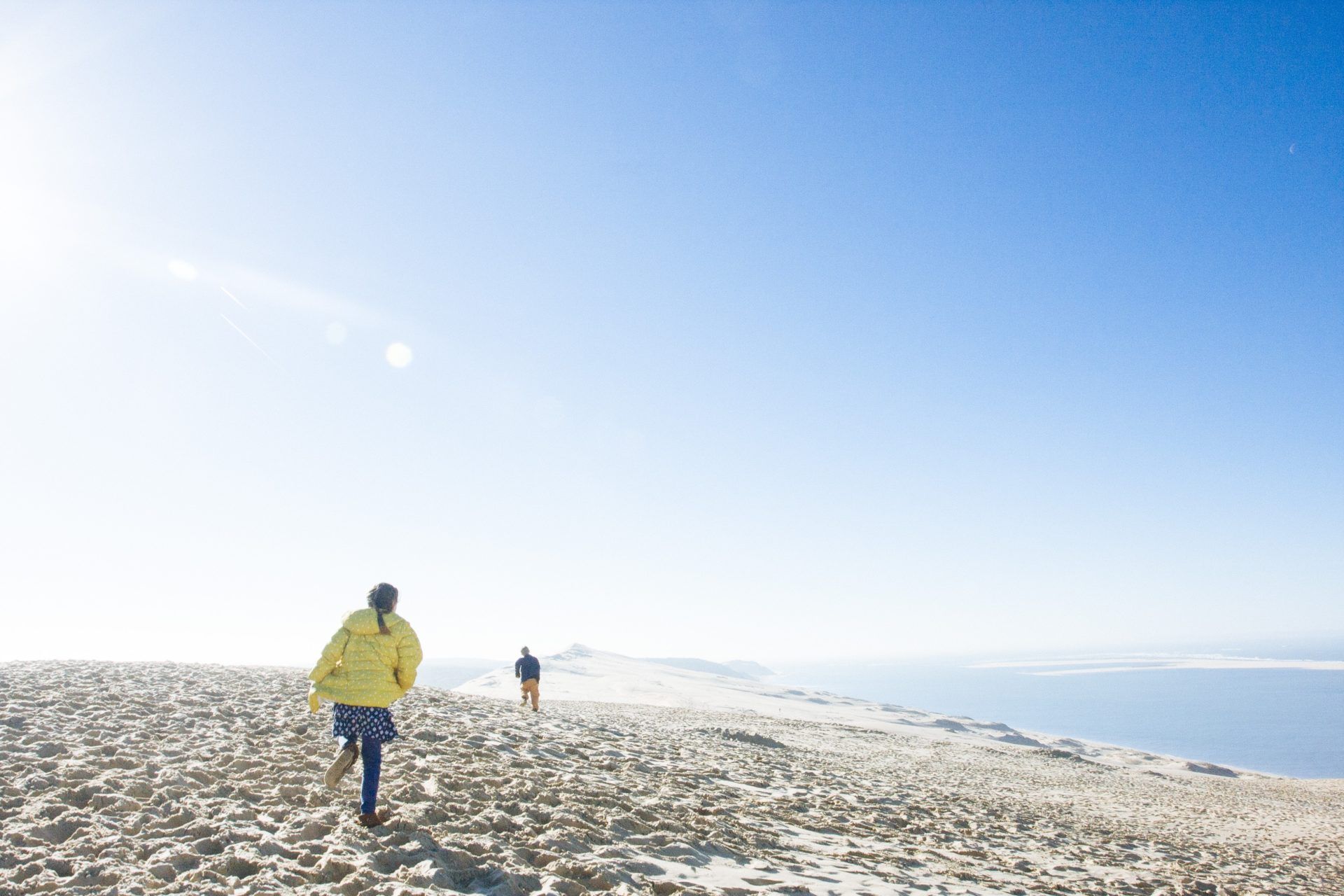 It is quite the hike up the hill, especially while carrying little ones on your shoulders! The view from the top is worth the hike though. We spent about an hour at the top of the dune wandering around and playing in the sand. The best part was running down the dune at the end! The big kids had enough energy to hike up twice and run down! 2 days later, I still have sand in my shoes!
The dune is about an hour outside of Bordeaux and worth a visit. The dune is free to enter, but parking is paid. Bring your sand toys! The kids will want to play for hours!
If you would like to follow along with us day by day you can follow @wanderlust.crew on Instagram or on Facebook or sign up for our newsletter! We would love to hear from you!