This post is sponsored by Trademore. I was paid for this post.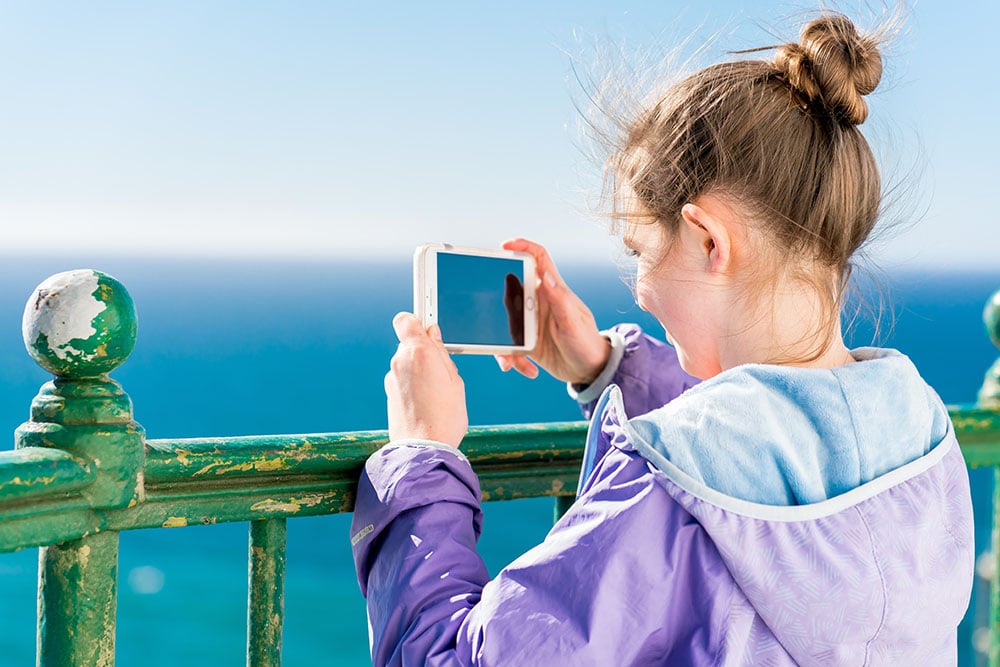 Why Use Technology for Kids When Traveling?
When we were getting ready to spend several months in Europe this year, we encountered a problem that we've never really had to deal with before. Our tween, Abbi (11) didn't want to go. She wanted to stay home so she could be with her friends. I realize she's hitting that (sad) age where friends start becoming more important and influential in her life than her parents.
I'm not quite ready to let her go, but I realize the importance of friends and peers at this age and the necessity of staying in touch while we travel. We decided to buy Abbi a phone of her own so that she could text and talk to her friends and family that we were leaving behind, and also so she could take pictures and journal about her experiences while traveling the world.
It can be scary and expensive jumping into the world of technology for kids, so I thought I would share some tips that we've learned along the way to help you and your children balance technology while traveling.
Finding Affordable Technology for Kids
We knew when we got Abbi a phone that we didn't want to spend a ton of money on a kid's cell phone. After all, children and technology, plus traveling, plus a tight budget, are not really a great recipe for keeping your tech safe and affordable! She has an older, pre-owned iPhone 7, that still has a great camera, battery life and functions perfectly fine for her needs.
Don't Spend a Fortune on Technology for Kids
You can buy pre-owned cell phones for kids on Trademore. Buying a kid's cell phone on Trademore is a cost-effective way to test the technology waters and introduce kids to a device and the responsibilities that come with owning their own phone.
Trademore offers a wide variety of devices at great prices, including iphones and androids. All of Trademore's devices are tested for reliability and functionality, and sent quickly with 2-day shipping.
Not only can you buy your child a pre-owned phone on Trademore, but you can also sell your own devices.
Teach Kids Responsible Technology Use and Keep Them Safe
Once Abbi had her new phone, my next concern was about keeping her safe and teaching her responsible technology habits that would hopefully carry through to adulthood.
The news and personal stories of technology addiction amongst kids and teens is just scary, not to mention all the scary things that can happen, like cyberbullying, pornography, and the risk of online predators. It's a scary world out there, even, or maybe especially, online!
Be sure your kids know the dangers of technology and help them to respond appropriately. Setting up a program that will limit your child's time and access to their smartphones may be useful.
We have put a parental control and monitoring app on all of our technology for kids and this takes the pressure off of us for restricting their screen time.
Travel Apps for Kids
With so much travel tech out there, it's hard to narrow down the best travel apps for kids. We have some tried and true favorites that we couldn't live without.
Journaling Apps
There are several journaling apps that we have used and honestly like them all. There are many journaling apps for younger kids and older kids that allow them to draw, write, add photos and express themselves while journaling to remember their lives and travels.
Educational Apps
There are so many great educational apps for kids that are fantastic for traveling, covering all topics from geography, games, e-readers, language learning, stop-motion, history, math, spelling, and genealogy.
Overall, having a phone for our kids while traveling has been a great experience. I'm grateful for the connection and education that it has provided the kids.
Be sure to check out Trademore for affordable phones for kids and please reach out if you have any questions about technology and kids.
My blog may contain links to other websites. I am not responsible for the privacy policies of those other websites. When you click on a link, your information may be collected by those websites so I encourage you to read their privacy policies.
These affiliate links are not associated with Trademore.
Pin this for later!