This is the perfect London itinerary for a week in London. See all the main sites and a few unique ones as well.

The Perfect One Week in London Itinerary
This post contains affiliate links.
I've spent a lot of time in London over the last few years, and countless hours organizing itineraries to London for friends and families who visit. London is one of those places that you could live your whole life in and still not behold all its wonders. The best things to do in London England are not simply the main sites, but the hidden gems as well.
I've tried my best to create this itinerary for one week in London for the first time visitor that will cover a broad range of interests while seeing the most iconic sites in London along with some lesser-known, more quirky sites. I've also included some of my favorite spots to eat. This itinerary for one week in London should allow you to walk everywhere you go, depending on where you are staying. You can arrange these however you want.
Where to Stay in London
If you're planning your stay for a week in London and you want to minimize your traveling time, it's important to stay in a good location. We have a few favorite places that we have stayed in, but it really depends on your group size and interests.
We stayed in this beautiful house in London over Christmas and it was perfect for our family.
Here is a list of some amazing and affordable apartment rentals in London
Need More London Inspiration?
If you're looking for more information on London, don't miss my other great articles about my favorite city!
London Travel Guide
London Transportation Guide: How to Get Around London
115 Amazing things to do in London
A Guide to London with Kids
Harry Potter London Vacation
Paddington's Guide to London
The Best Day Trips from London
Christmas in London
Before You Go To London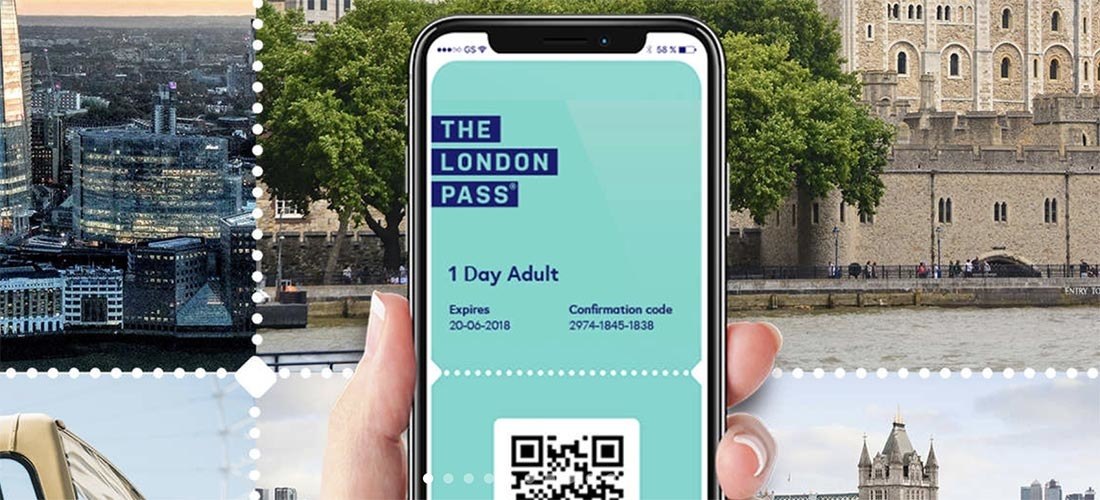 Before you go to London, you'll want to purchase the London Pass. This will save you tons of money! It includes entry to over 80 attractions, including:
• Tower of London
• Hop on Hop off Bus Tour
• Thames River Cruise
• Windsor Castle
• Westminster Abbey
• London Bridge Experience and London Tombs
• Tower Bridge Exhibition
• London Zoo
• Kensington Palace & The Orangery
• Hampton Court Palace
• ArcelorMittal Orbit
• Arsenal FC Stadium (Emirates Stadium)
• Apsley House
• Banqueting House
• Beefeater Gin Distillery Tour
• Benjamin Franklin House
• Best LDN Walks tour around Royal London
• Cartoon Museum
• Chelsea Cinema
• Chelsea FC Stadium Tour
• Chelsea Physic Garden
• Chislehurst Caves
• Churchill Museum & Cabinet War Rooms
• City Cruises
• The Courtauld Gallery
• Curzon Mayfair Cinema
• Curzon Soho Cinema
• Eltham Palace
• Estorick Collection of Modern Italian Art
• Eton College
• Fan Museum
• Foundling Museum
• Guards Museum
• Handel House Museum
• Household Cavalry Museum
• HMS Belfast
• Imperial War Museum London
• Jason's Canal Boat Trip
• Jewel Tower
• Kew Gardens
• KIA Oval
• London Bicycle Tour Company
• London Canal Museum
• London Motor Museum
• London Museum of Water and Steam
• London Legends Walk
• London Transport Museum
• London Wetland Centre
• Lord's Cricket Ground
• Monument
• Museum of Brands, Packaging, and Advertising
• Museum of London Docklands (with guidebook)
• Museum of Rugby
• National Gallery
• National Theatre Backstage Tours
• Old Operating Theatre Museum
• Pollocks Toy Museum
• Queen's Gallery
• Queen's Ice & Bowl
• Renoir Cinema
• Royal Albert Hall
• Royal Mews
• Royal Observatory Greenwich
• Shakespeare's Globe Theatre
• The British Museum (entry to one exhibition)
• The Postal Museum
• Tour & Exhibition
• Southwark Cathedral
• Tate Britain
• Tate Modern
• Wellington Arch
• Wembley Stadium Tours
• Wernher Collection at Ranger's House
• Wimbledon Lawn Tennis Museum
• Wimbledon Tour Experience
Easy London Itinerary
If you're looking for an easy, stress-free way to plan your trip to London, this itinerary is a must! It walks you through what to do each day and provides interactive maps and detailed information along with tour and accommodation recommendations. This guide has helped thousands of people plan trips to London with ease.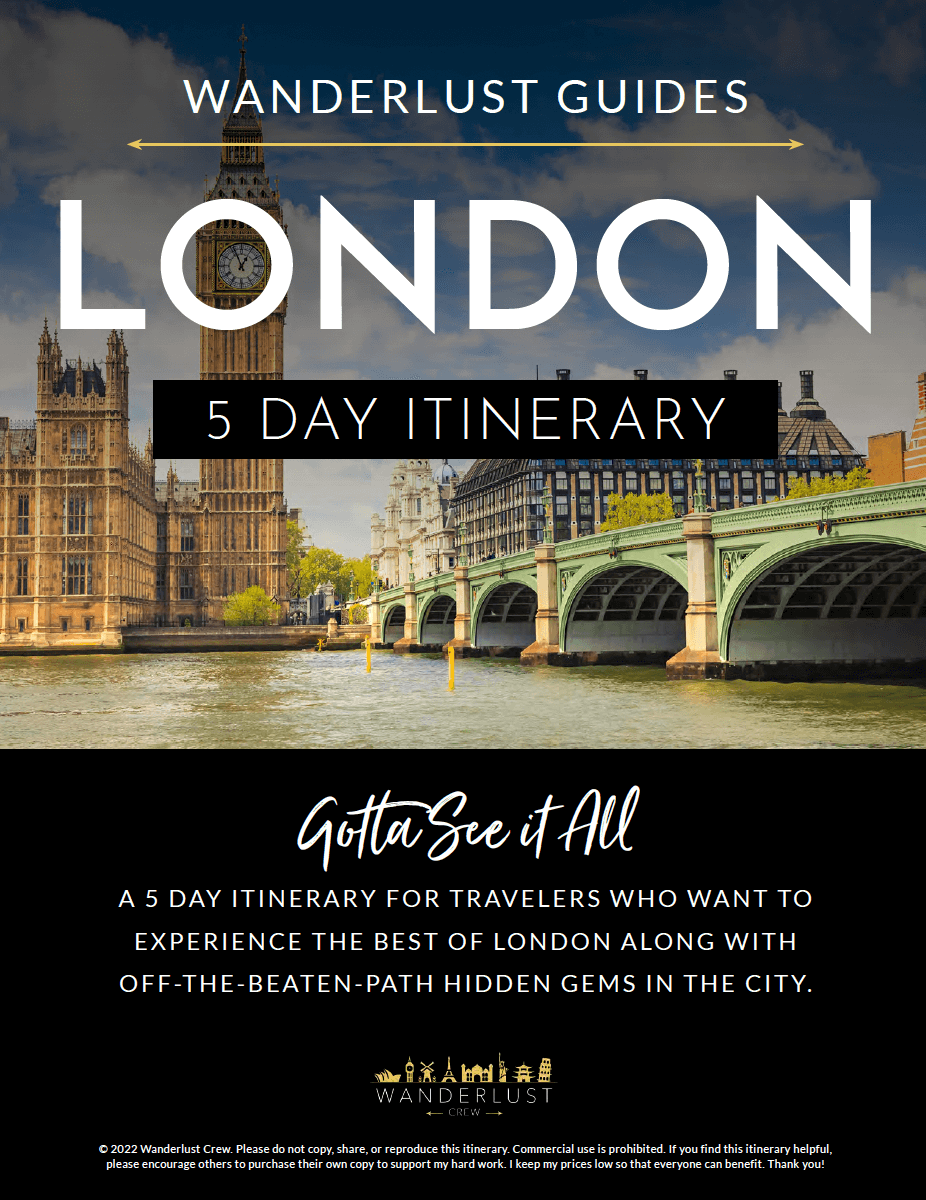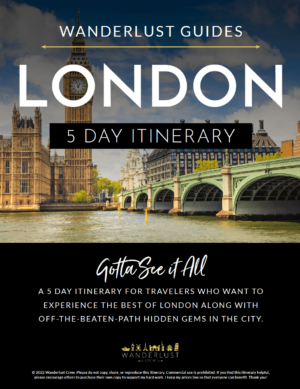 Interactive London Itinerary Map
I've created this interactive map for you to use. There are 7 layers or "routes," with every day being a separate layer. You can open this up on your phone into Google Maps.
Day 1: London's Main Sights
Day 1 of this London itinerary will show you around London's main sites so that you can be sure you see all the important things from the beginning! You may be tired and jet-lagged today, but it's important to push through! If you sadly, only have one day in London, I recommend starting with this day's itinerary and then fitting in as much as you can from day 2.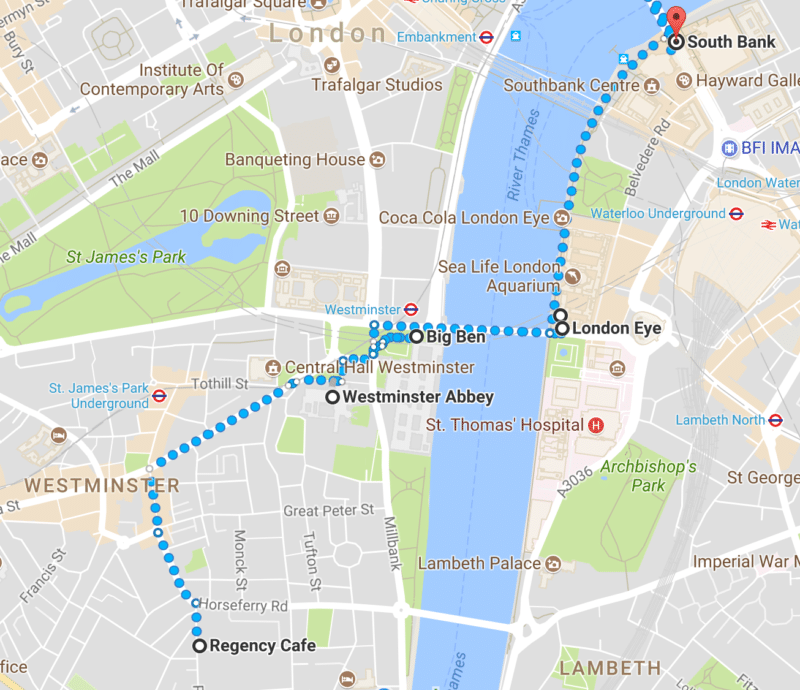 1. Full English Breakfast at Regency Cafe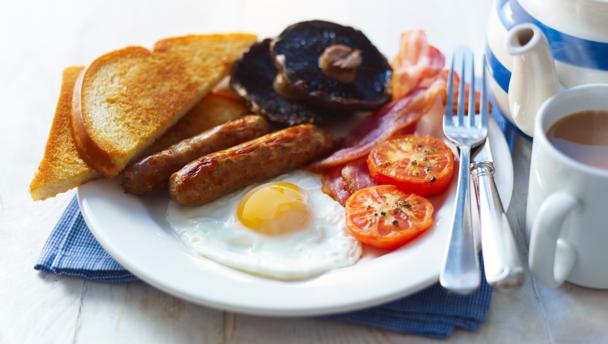 It's your first day in London, be sure to start it off right with a full English breakfast. What's that you may ask? Well, besides a walking heart attack, it's usually bacon, sausage, eggs, beans, tomatoes, mushroom and toast, and no one dishes out a great no-frills full English like the Regency Cafe.
2. Westminster ABBEY
After you've gorged yourself, you'll have a half-mile to walk to Westminster Abbey. So much history is found here. If you are interested in British history or literature at all, you will love this!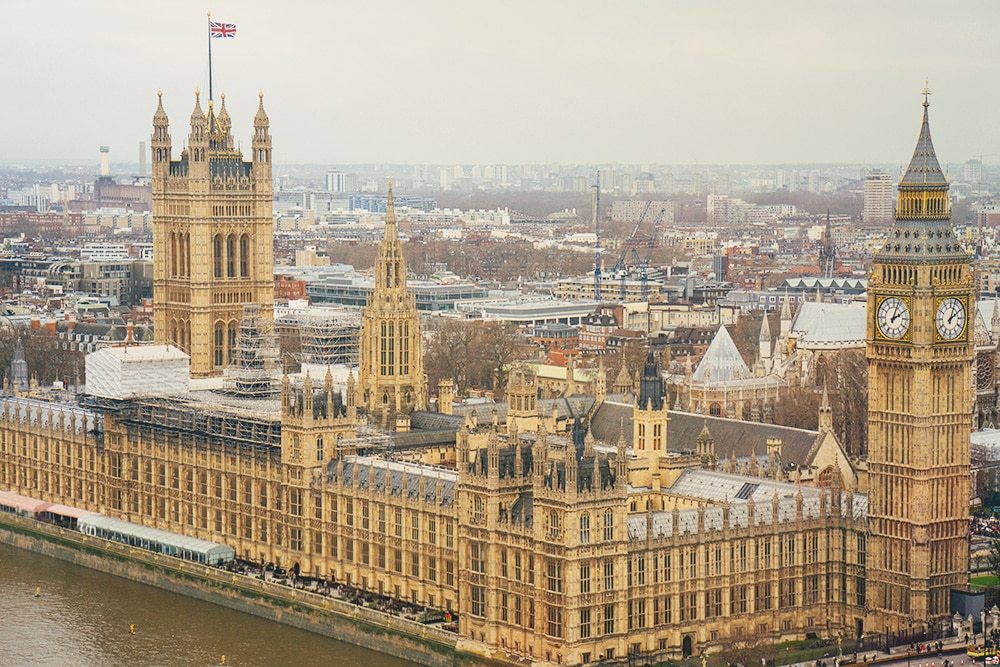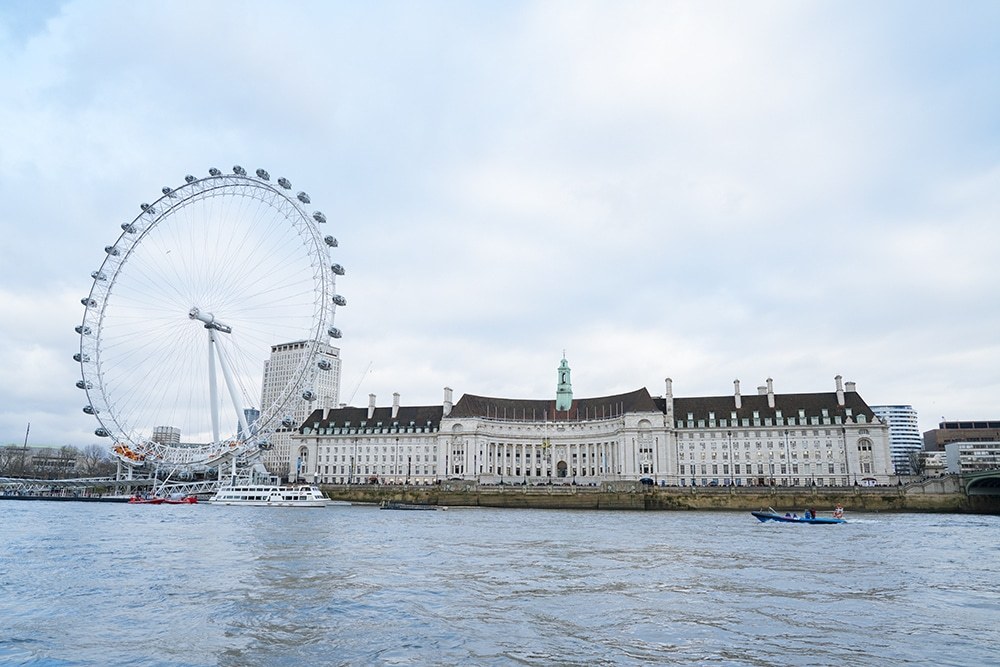 3. Big Ben
Walk around the corner just one block away. There's not a more iconic sight in London than Big Ben! "Big Ben" is actually the name of the bell inside the tower and the tower is called the Elizabeth Tower. But everyone lovingly refers to this part of the houses of parliament as "Big Ben" and it's one of those iconic pieces of architecture that does not disappoint in real life. The best views are found on Westminster Bridge. Watch out for selfie sticks!

NOTE: Poor Ben is covered in scaffolding for the next 2 years! It's expected that renovations will be finished in 2021, making this a 5 year project!

4. London Eye
Time to walk across the Westminster Bridge to the London Eye. You'll get a fantastic view of the city from the top of this 443-foot tall Ferris wheel on London's Southbank.

BOOK TICKETS HERE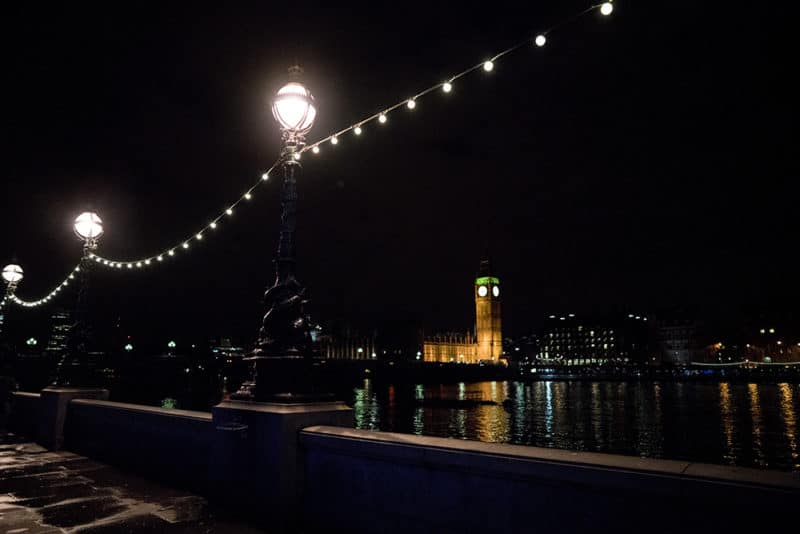 5. Afternoon Tea at the Library Lounge
Just behind the London Eye you'll find the Library Lounge in the beautiful Marriott County Hall. Enjoy a filling afternoon tea with fantastic views of the London Eye and Houses of Parliament.
6. South Bank
Southbank is a fun area near the London Eye along the Thames with a roller rink called BUMP, a skate park (seen on Sherlock) and a hot chocolate stand called Beltane & Pop (they "adult" hot chocolates too). You also get the lovely view of the London Eye and Big Ben across Westminster Bridge all lit up at night!
If you'd like the help of a local seeing the main sites of London, consider booking a tour with a true Londoner!
---

Day 2: More Main Sights & a Show
1. Juice & Public
After indulging on your Full English Breakfast yesterday, it might be time for something a bit healthier. Try a smoothie or juice at Juice & Public.
2. Leicester Square
Then head over the short distance to Leicester (pronounced Lester) Square, where you'll find tons of movie theaters, awesome street performers, the cheap theater tickets booth (stop here for tonight's tickets), the M&M Store and more!
3. Trafalgar Square
Head on over to Trafalgar Square and hang out with the pigeons in Trafalgar Square and don't miss the world's smallest police station!

4. The Wolsely
Stop into the Wolsely for a fancy lunch at this iconic restaurant.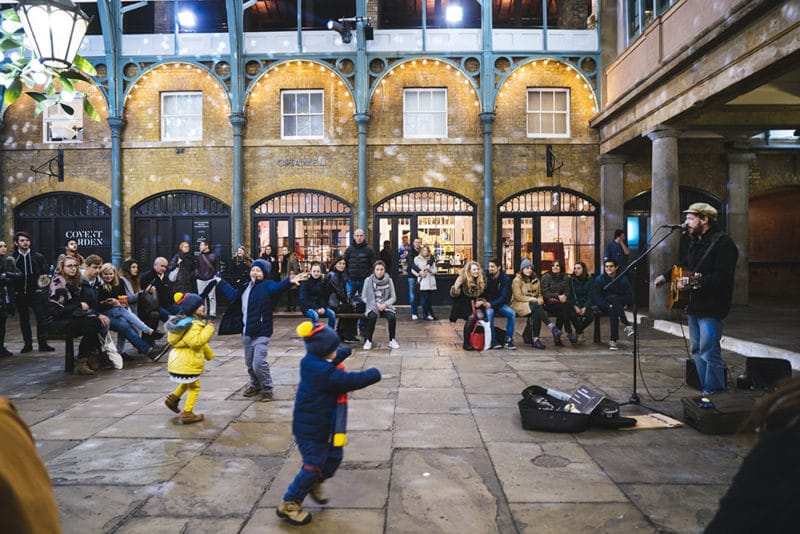 5. Buckingham Palace and Horseguards
Walk off your delicious lunch to visit the queen at Buckingham Palace. If you time it right you can catch the changing of the guard. You can check the times here. If you're lucky enough to be in London during the months of August or September, you can tour the staterooms of the palace.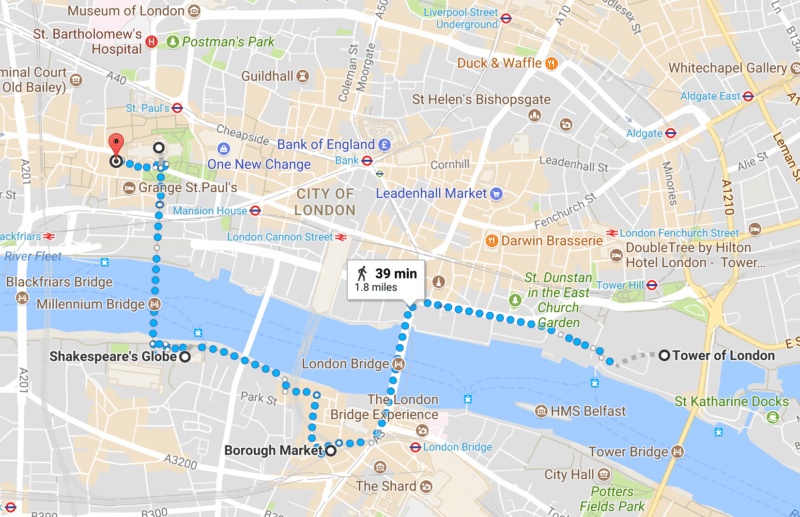 6. 10 Downing Street
Ever wonder the exact address of the Prime Minister? Walk by his front door here.
7. Covent Garden Dinner
Walk to Covent Garden to take in the performers and ambiance. There are plenty of restaurants to choose from here. Hang out here until it's time for your show.

8. Catch a Show
Most of the theaters will be around this area. Be sure to get your cheap tickets in the morning at Leicester Square.
SEE WHAT'S PLAYING HERE
---
Day 3: Palaces, Parks, Museums
1. Pret A Manger
Start your day off at Pret A Manger, which you can find all over the city and offer juices, smoothies, sandwiches, and prepackaged healthy food.

2. Kensington Palace
Immerse yourself in British history with this interactive Palace turned museum. You can try on Victoria era clothing and play a game of cards!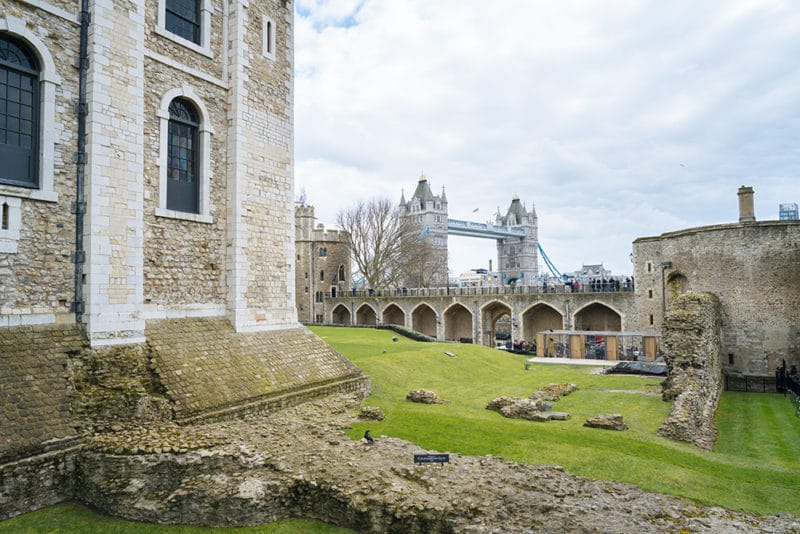 3. Eat at Wagamama for Lunch
This modern Japanese inspired food will be a nice change to all the meat pies and fish and chips you'll be eating this week.
CHECK THE MENU HERE
4. Victoria & Albert Museum
Walk down the road to the world's largest mueum of decorative arts and design. The best part? It's free! If that's not for you, try out the Natural History Museum or the Science Museum across the street.
5. Harrods
Take a little shopping break at this luxury department store. Be sure to head downstairs to the grocery section for snacks. If you go at Christmas time this place is an expensive wonderland.

6. Wander Through Hyde Park
Wander through Hyde Park and work up an appetite on your way to dinner on the other side of the park.

7. Dishoom Indian Food
Indian food is a staple in London. Hit Dishoom London for some beautiful and authentic Indian food!
If you have time, take this Hidden London Tour with my friend Fabian. Learn interesting history of this amazing city.
---
Day 4: Ancient History
It might be time for another full English breakfast, or try something new. This traditional shop serves breakfast all day, so don't worry if you get up late.

2. Tower of London
The Tower of London is not to be missed. See the crown jewels and hang out with the beefeaters! They're not just tour guides, but decorated veterans and all-around awesome people!
3. Tower Bridge
This is one of the best views of Tower Bridge so be sure to get a picture when you're done at the tower. You can also go to the top of Tower Bridge, which is really amazing. There is a glass floor where you can look down at the River Thames. My kids love this!
4. Lunch Borough Market
Cross the river either on Tower Bridge or London Bridge next door and wander on over to Borough Market to grab some lunch! There are so many options here, you may have a hard time not trying them all! If you have time, take a market tour with a local and learn about all the amazing food in London!
BOOK TOUR HERE
5. Shakespeare's Globe Theater
After filling up on tasties from Borough Market, waddle on over to Shakespeare's Globe Theater. You'll need to take a tour to see the inside of the Globe, or, even better, see a show if you're there from April-October.

6. St Paul's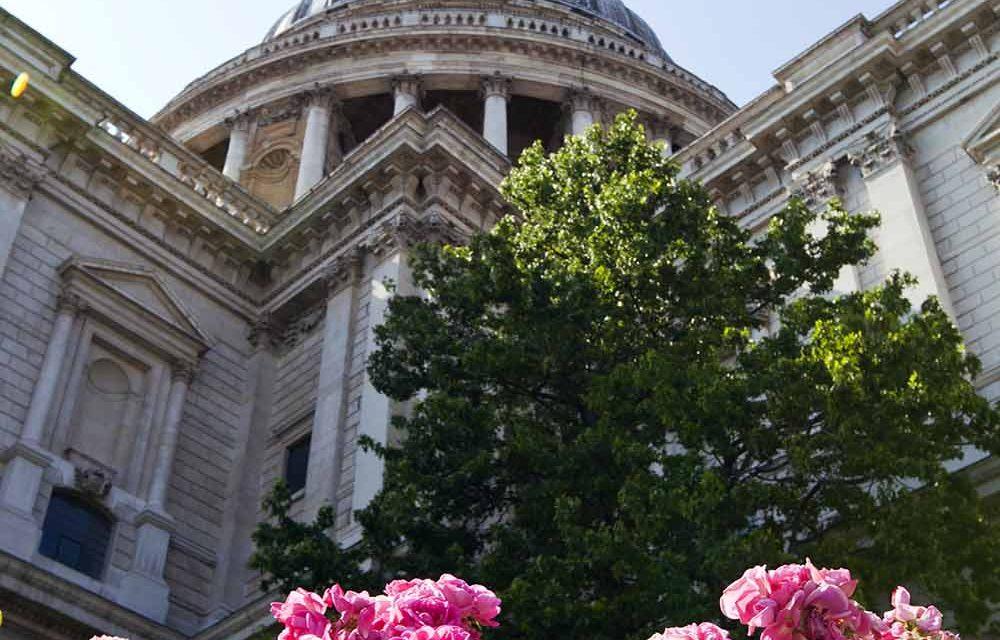 There has been a St. Paul's church at this site since 300 AD. The church has been burned and rebuilt 3 different times. The current St. Paul's was the tallest building in London for over 200 years. You can pay to go inside or just walk around the outside, either choice is impressive!
7. Rules
After a one mile walk, treat yourself to a fine meal at London's oldest restaurant, Rule's, established in 1798 and frequented by the likes of Charles Dickens and Charlie Chaplin. Be sure to make a reservation well in advance.
BOOK HERE

---
Day 5: Notting Hill
1. Daylesford Organic
If you're looking for a healthy, organic breakfast, this place is fantastic!
SEE MENU HERE
2. Notting Hill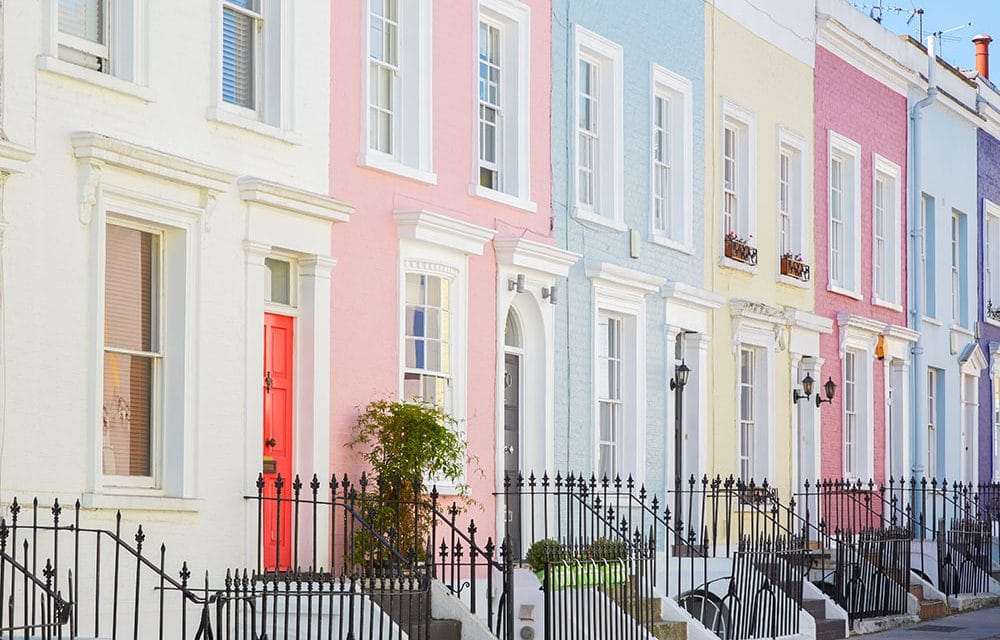 This affluent West London district will make you wish you could move into one of the adorable pastel terraced victorian houses and never leave. Wander the streets and take the perfect Instagram picture until you get hungry again. I recommend taking a fun photo tour that will show you all the most beautiful places in Notting Hill!

2. Portabello Road
Be sure to hit Portabello Road on the right day. Saturdays are the biggest (and also busiest) day, but you will find the most vendors. Find the schedule below. This should take you enough time that you can eat lunch and dinner here, or just eat all day long! See the schedule here. I recommend taking a food tour of Portabello Market! There is so much amazing international food that it's hard to know where to start!
Day 6: Harry Potter
Day 6 of this London itinerary is ALL about Harry Potter! If you're not a Potterhead, feel free to skip this day, but you'll honestly still enjoy the tour even if you're not. The guides discuss a lot of the connections between London and Harry Potter, but you'll also get a lot of interesting history and information.
If you're really into Harry Potter, you may want to add an extra HP day to your London itinerary. Definitely read my guide to Harry Potter London!
Today is ALL about Harry Potter! If you're not a fan, you can skip this day, but you'll still be seeing some awesome sights. Alternately, you can book a Harry Potter walking tour here.
Westminster Tube (Closest tube to the Ministry of Magic as seen in The Order of the Phoenix)

Downing Street (Muggle Prime Minister's Office and location of communication between the Muggle PM and the wizarding world)

Horseguards Avenue (Ministry of Magic Staff Entrance as seen in Deathly Hallows Part 1)

Scotland Yard Place/Horse Guards Avenue (Ministry of Magic Visitors entrance as seen in the Order of the Phoenix and Deathly Hallows Part 1)

Trafalgar Square (Location of the final Harry Potter film premiere)

Cecil's Court (aka Diagon Alley)

Godwin's Court (aka Knockturn Alley)

The Palace Theatre (home to the 'The Cursed Child' – the 8th story in the Harry Potter franchise)

St. Paul's ( Geometrical Staircase as seen in the Prisoner of Azkaban)

Millennium Bridge (Rebuilt after the attack by the Death Eaters! (then a walk past Shakespeare's globe)

Leadenhall Market

Finish your day off at King's Cross Station for Platform 9 3/4 and the Harry Potter Shop. I you want to take pictures pushing your trolley through Platform 9 3/4, I HIGHLY recommend buying the VIP photopass, which will mean you can skip the long photo lines while also pre-paying for your photos. I think it's so much fun and totally worth a stop on your London itinerary.
Warner Brothers Harry Potter Studios
Alternatively, you can also take a visit just outside London to the Harry Potter Studios where you'll be treated to Butterbeer and be able to see some amazing things from the set of the movies! It's a special place for sure!
BOOK TICKETS HERE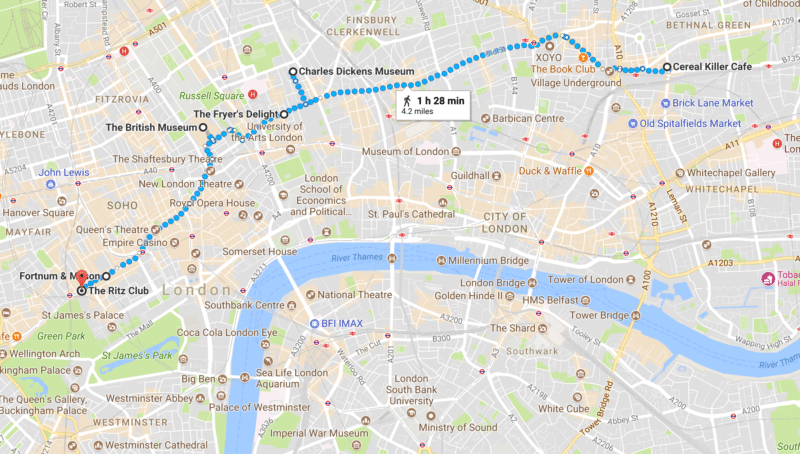 ---
Day 7: Shopping & High Tea

1. Biegel Bake or Cereal Killer Cafe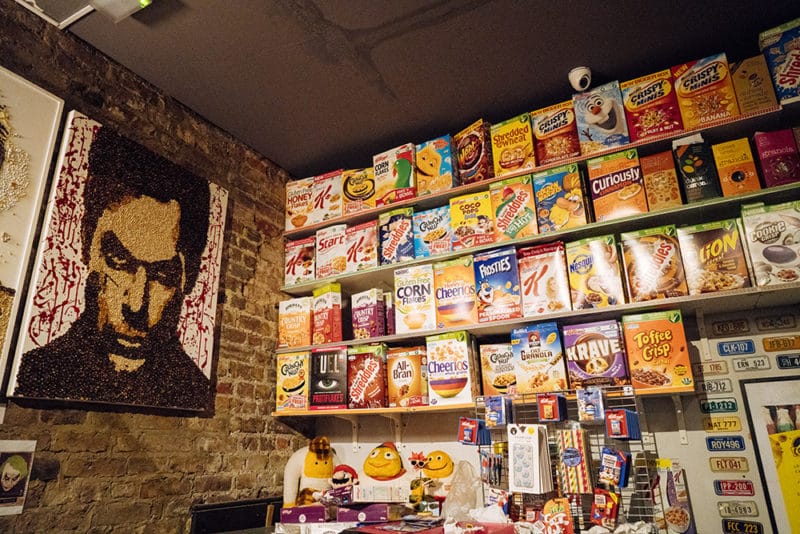 Start your day off in Brick Lane. Once associated with slums and the scene of the crime for the Jack the Ripper murders, Brick Lane is now an edgy and artistic area. Start your day off with breakfast from either Biegel Bake (most amazing bagels ever) or if you've got a sweet tooth, head to Cereal Killer Cafe and have your pick from hundreds of cereals from around the world in any kind of combination you like. Or have both, I won't judge!
2. Explore Brick Lane
After you've gorged yourself on bagels and cereal, wander around Brick Lane and do some shopping. You never know what you'll find. Be sure to stop in at Dark Sugars, for some seriously amazing and different chocolate!
3. Dickens Museum and/or British Museum
It's up to you if you'd like to do both or just one. Both of these museums are fantastic. If you're a major Dickens fan, go to the Dickens Museum. It's small and will only take you about an hour.
4. Fryer's Delight
This is a no frills chippy, but the fish is good and the chips are crisp!
5. Piccadilly Circus
The Times Square of London, Picadilly Circus is the crossroads of London.
6. Tea at the Ritz
If you want to finish off your trip to London with a bang, book yourself an afternoon tea at the Ritz London, where you'll be treated like royalty! Make reservations ASAP as they book out quickly! Plan on this for dinner, because those little delicious sandwiches are endless!
BOOK HERE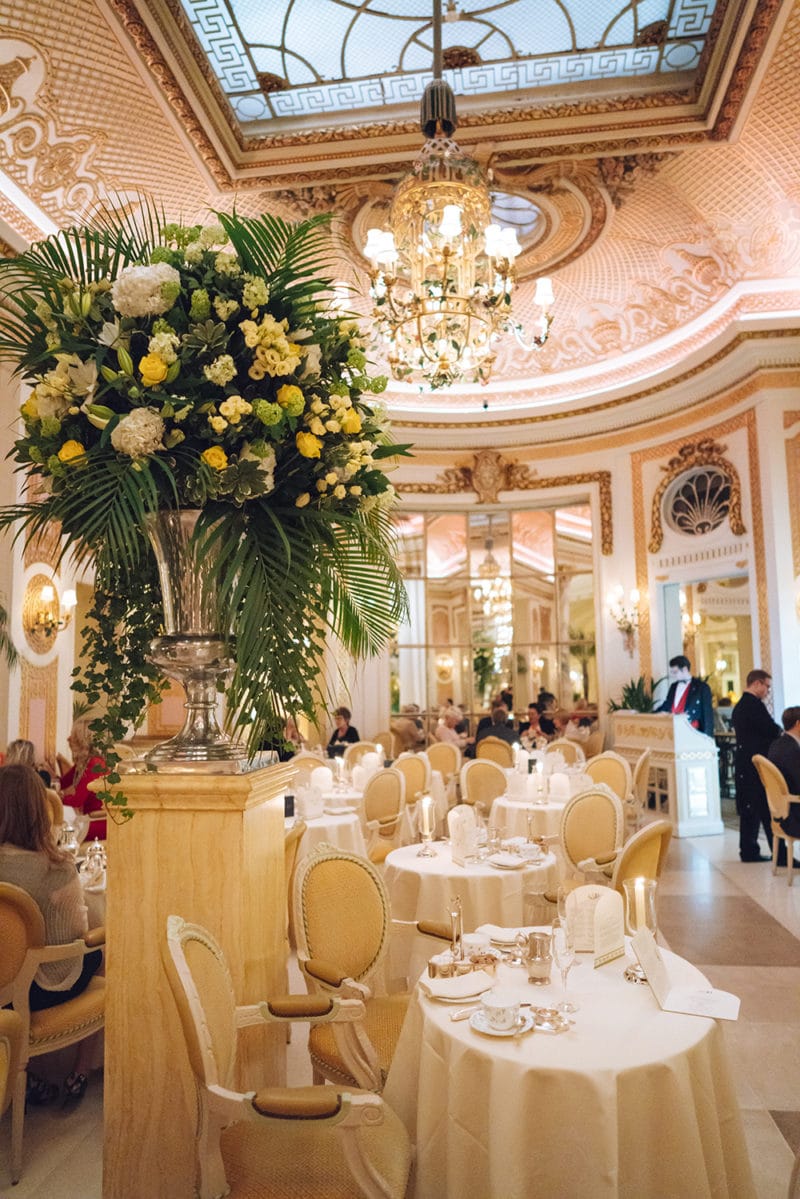 I hope this is the perfect London itinerary for you and that you fall in love with this city as much as I have! What else would you add to this to make it perfect? Email me at [email protected] and let me know!
Be sure to follow my London Pinterest Board for more ideas!