What to do with kids in NYC!
If you're looking for the best things to do in NYC with kids, look no further! After visiting this city 20+ times, I've compiled my favorites here for you!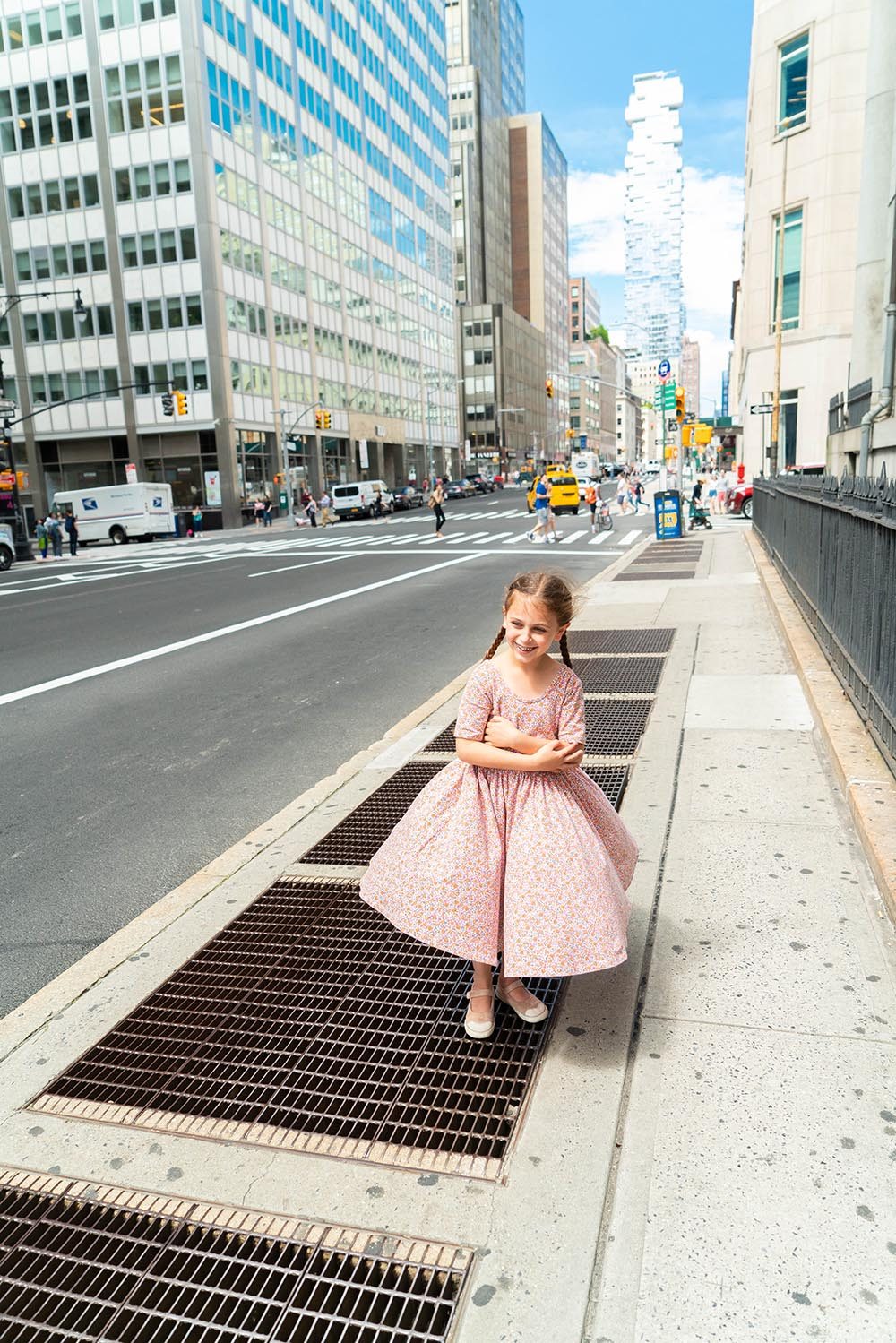 The Best Things to do in NYC with Kids
New York City! The most visited city in the USA, home to Broadway, Central Park, Times Square, the Statue of Liberty, and so many famous landmarks. There's a lot to tackle in the city and it can feel a bit daunting being in NYC with kids.
Besides the fact that NYC is the most populous city in the United States, and was its first capital, containing centuries of fascinating history from millions of immigrants, there are countless reasons to visit New York City with your family.
From food to fun, to culture and crazy, New York City is a wonderland for the senses and children will love taking it all in! And even though it's a massive metropolitan city full of businesses and tourists, it's actually quite a kid-friendly city with so many fun and educational opportunities.
But there are some basics you'll need to know if you're planning a visit to New York with kids.
One Week NYC Kids Itinerary
If you're looking for a detailed, step-by-step itinerary that includes recommendations on tours, attractions, restaurants, hidden gems, and iconic places in the city, this 7-day New York City Kids itinerary is perfect for an open-and-go guide.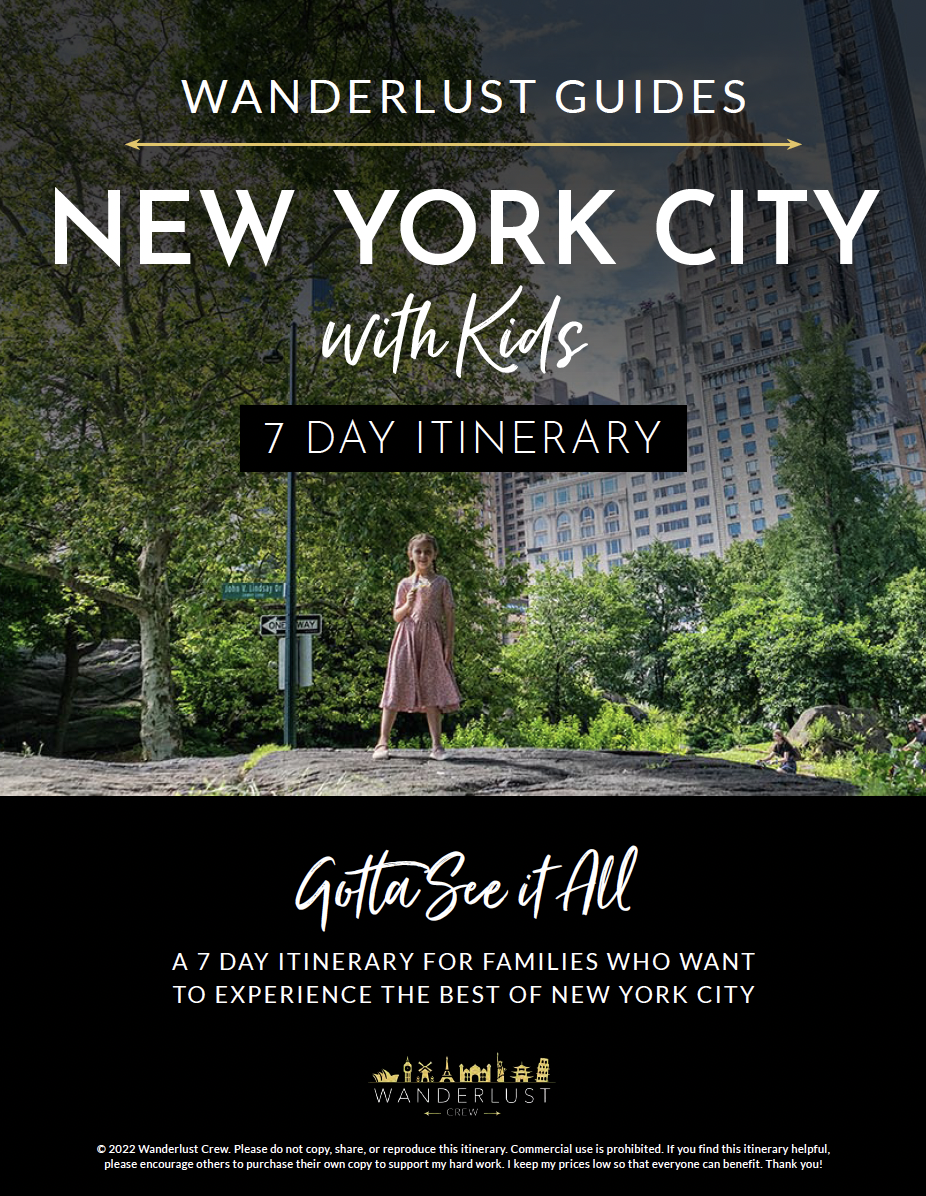 Thinking about visiting NYC with kids at Christmas? Read this!
Check out this video of our amazing weekend with Marriott in NYC!
How to Get to New York City
The answer to this will depend largely on where you're coming from.
Fly
Most visitors to NYC will be flying in. New York City is serviced by three major international airports: JFK, LaGuardia, and Newark. You can almost always find great deals to New York. If you're new to deal finding and want to learn how to find cheap flights anywhere, be sure to read my comprehensive guide to flying for cheap or free, which you can find here.
You can access the city from each of these airports in about an hour via public transportation.
Train
If you live on the East Coast and within train distance to New York City (Washington DC, Boston, Philadelphia, etc) then taking the Amtrak into the city is probably the easiest way to arrive. The trains take you into the heart of the city center at Penn Station. We chose to take the train from our home in Washington DC.
Drive
You can also drive into New York City, but beware parking is expensive and scarce, and traffic entering Manhattan can be brutal. It may be worth considering parking in New Jersey and taking the train in.
Bus
There are buses into NYC that leave from several major cities for as low as $25! This is a really cheap option and the buses are pretty comfortable. It takes around a little longer than if you drove yourself but might be more relaxing than driving in the traffic and you also don't have to worry about parking. Megabus usually has the best options and prices. You can see their routes and prices here.
Where to Go in New York City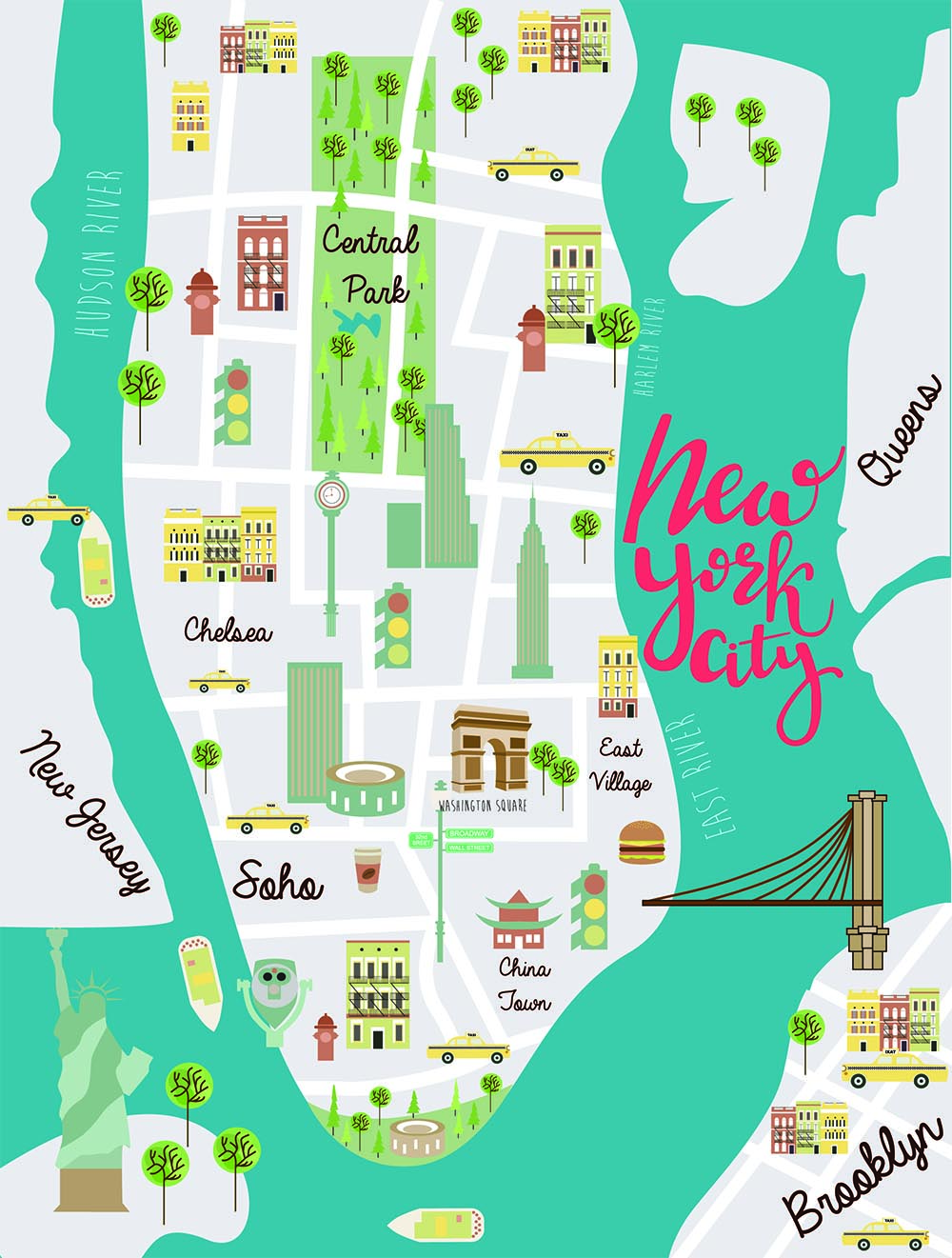 In a city with a population of more than 8 million over 305 square miles, it can be hard to decide where to go and what to do in NYC with kids. New York City is comprised of 5 boroughs, each a little city in itself: Manhattan, Brooklyn, Queens, The Bronx, and Staten Island.
When most people talk about visiting "New York City", they usually mean Manhattan, an island surrounded by the East, Hudson and Harlem Rivers. Manhattan, locally referred to as "the city" is the financial and historical center of New York City and the most densely populated borough, containing the majority of the major landmarks such as Time Square, the 9/11 Memorial and Museum, The Empire State Building, Rockefeller Center, Broadway and of course the Statue of Liberty.
The most popular places to visit in New York will all be in Manhattan. So iff you're visiting New York City to see the major sites, staying in Manhattan will be the most practical choice. Just to make matters a little more confusing, there are about 60 districts or neighborhoods inside the island of Manhattan! Don't worry, thanks to the Big Apple's fantastic public transportation system, you will be able to see everything within a quick and easy subway journey!
The Best Places to Stay in New York City
There are about a million places to stay in New York City, but you'll want to be sure to choose the best spot for you and your family. We love staying near Times Square as it's very central between uptown, downtown, and midtown. You're just a quick New York subway ride away from all the amazing things to do in Manhattan.
Here is what our family thinks are the best places to stay in New York City:
The SoHotel: The Oldest hotel in NYC. It's housed some pretty famous people you may have heard of like General George Washington all the way to The Spice Girls. This hotel is located farther south in Manhattan, in (surprise) SoHo, so I usually like to split our trips in half and spend half the time in The SoHotel and the other half at…
The Algonquin Hotel: Read more below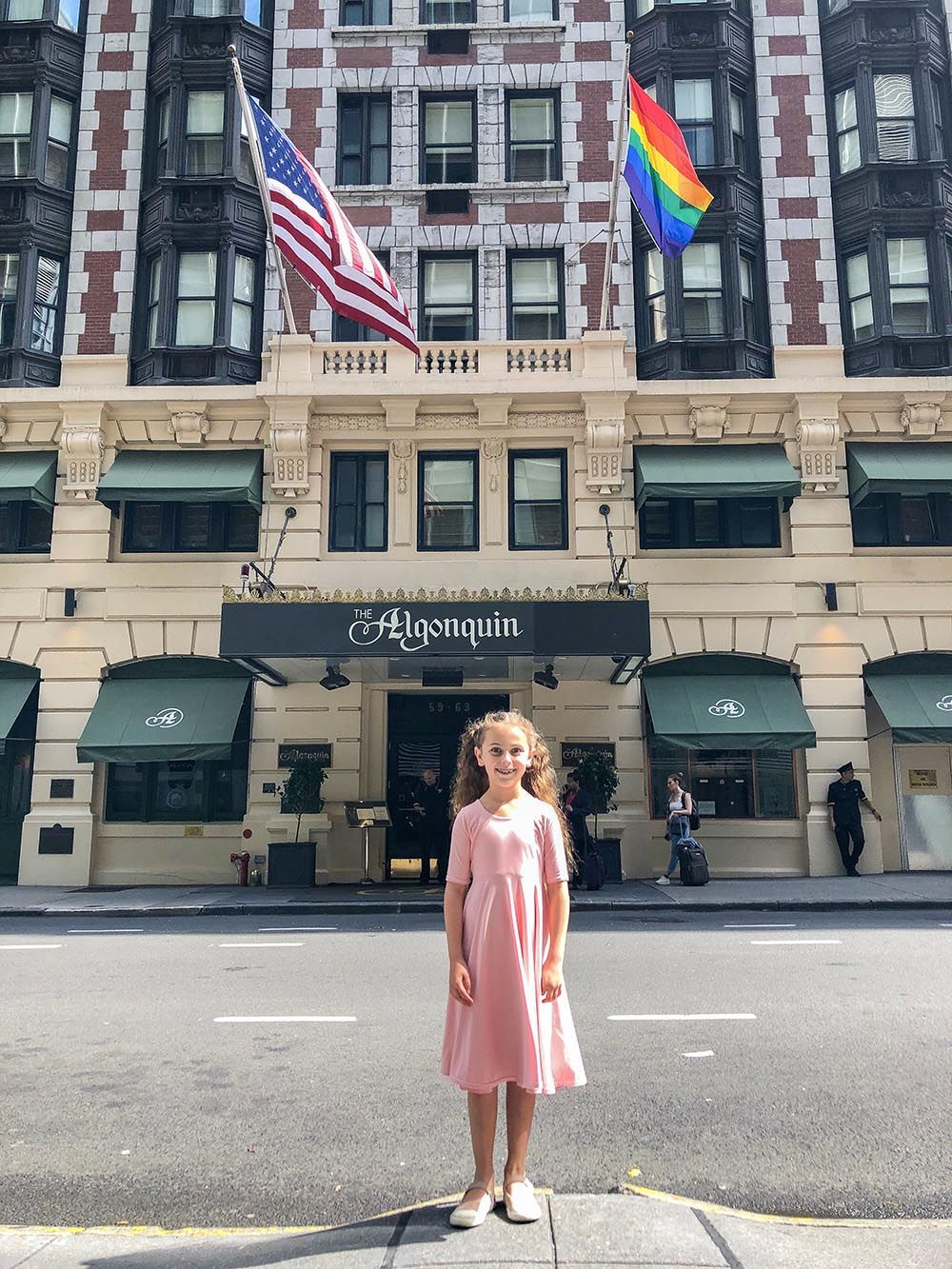 We love staying at The Algonquin Hotel, which is one of the oldest hotels in New York City with an incredible literary history. I think it's one of the best hotels in New York City if you love staying somewhere with old charm and character.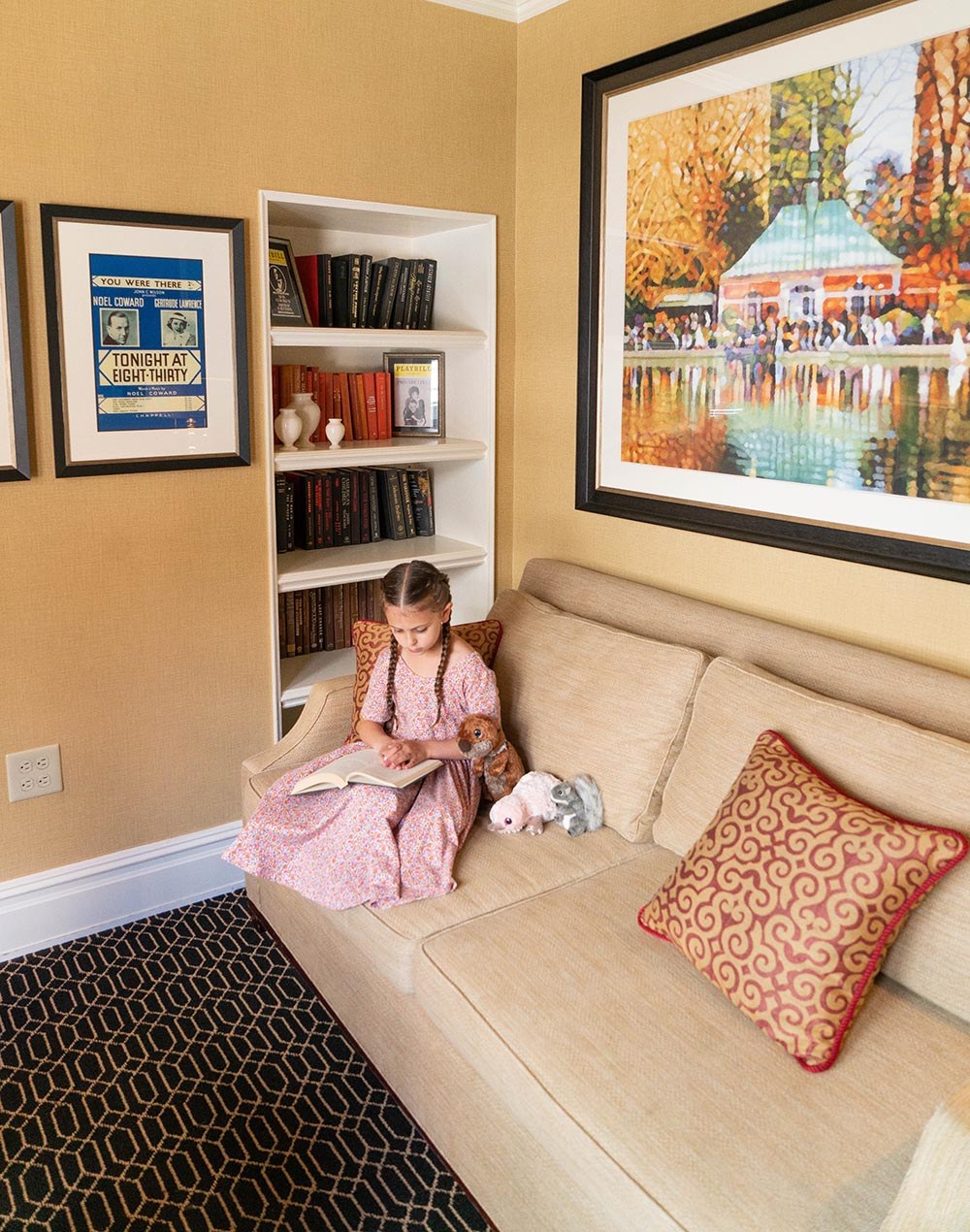 The hotel even comes with its own cat, Hamlet, who is the 13th Algonquin Cat! He hangs out in the lobby greeting guests and is the sweetest cat ever and even has his own Instagram account! My daughter spent about an hour just giving him love. He must be the most spoiled kitty in all of New York City.
The Algonquin Hotel has beautiful rooms that have been fully renovated, but I love how they left some of the beautiful antique touches alone. The dark wood lobby feels like walking into a hotel straight out of the Great Gatsby! Be sure to check out the old Mail Chutes in the hallways and the iron rail staircases throughout the building. It's absolutely beautiful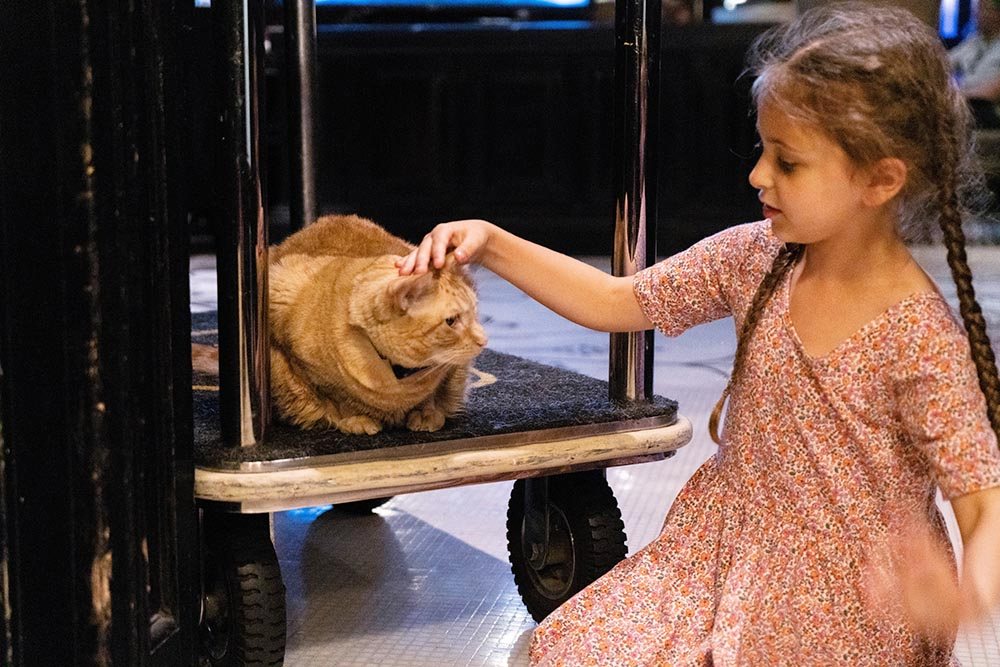 The Algonquin is a Marriott Autograph Hotel and we love staying with Marriott in New York City because they offer some of the most convenient hotels in the city, making it easy to access all the attractions, which is vital with kids. We love being able to go back to our hotel for an afternoon rest. Marriott has over 50 hotels across 18 brands in New York City, so you're bound to find the perfect hotel for you and your family!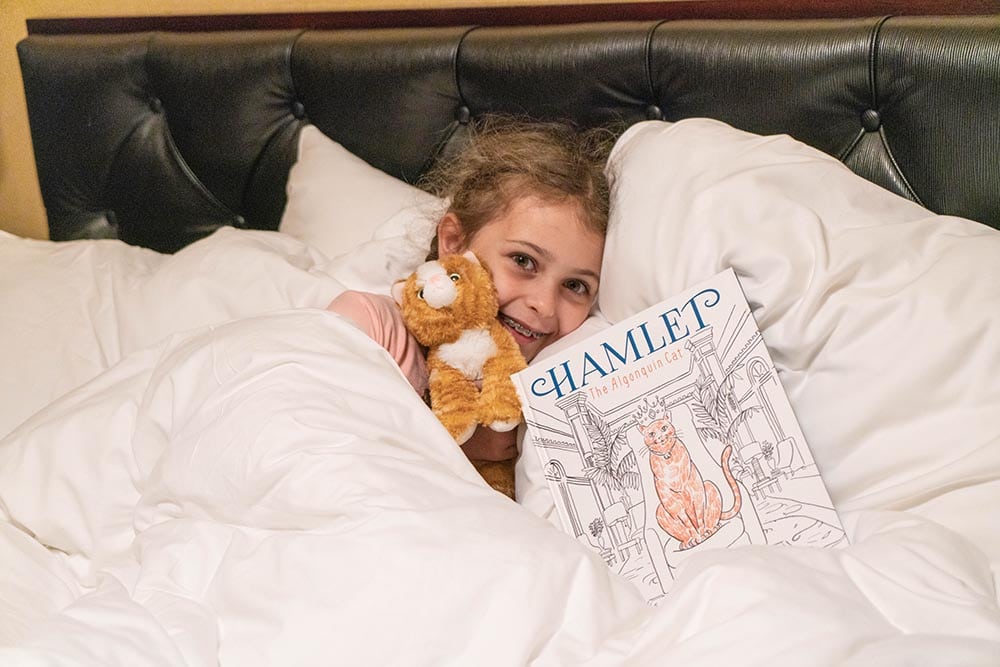 And if you're a Marriott Bonvoy member you can also receive amazing perks like free WiFi, mobile check-in, and the lowest rates. Members can also get extra discounts when booking direct on Marriott.com, saving 2% on weekdays and 5% on weekends. We've been platinum members for years and love using our points and all the awesome perks!
How Long Should I Spend in New York City?
New York City is a place that could take several lifetimes to explore. No matter the length of your stay, try not to stress out about seeing it all, because it will never happen! I have been to NYC maybe 20 times in my life, and every time I go it's like a completely different city! I've done the same things very few times.
NYC is a great place for a weekend trip. Many locals like to leave the city for the weekend making it a good time to go. We were there for the weekend on our last trip and on Sunday the city felt nearly empty, which is like a miracle in the summer! Due to the ease and affordability of getting to New York, It's a place you an visit over and over again.
A weekend trip is also a good idea if you're going to NYC with kids. If you're not from one, big cities can be really overwhelming for kids and after a few days they may just be "done."
You can learn more about a weekend trip with Marriott to NYC here.
How to Get Around New York City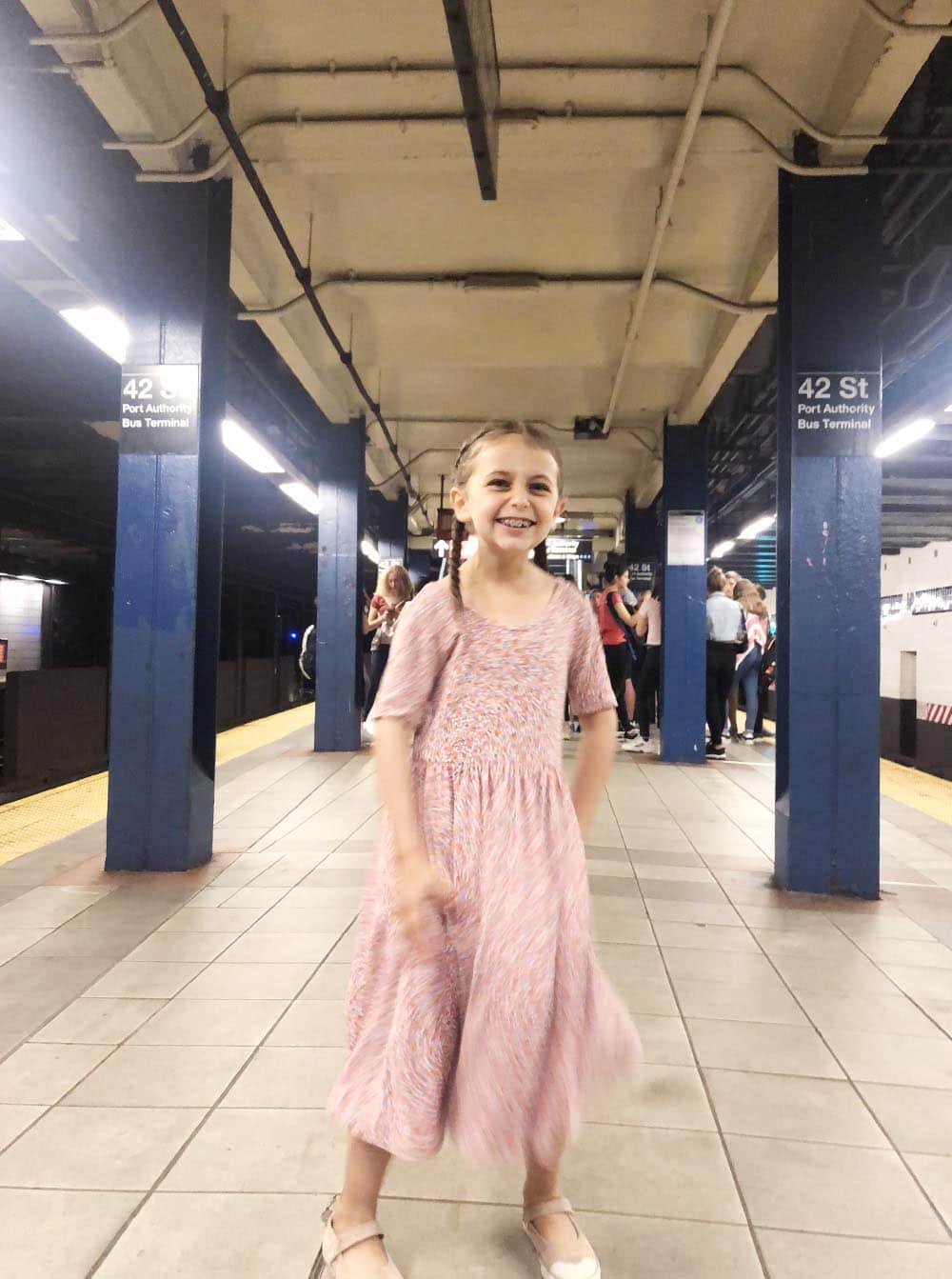 Getting around New York City is easier than it may seem. You will not need a car in the city as there is ample public transportation, from the iconic yellow taxis, UBER, buses, and subways, to zip you around the city. Here are some tips to help you get around:
Buy or download a really good map, including subway routes.
Learn how to hail a taxi from a local: If the roof light is on, wave your hand out in the street with huge up and down gestures! If you're unsure, just watch the locals or ask them to hail one for you. Tell your driver where to go either by landmark or cross streets.
Buy subway cards at a station. 3 children under 12 years old ride free with each adult. You can also use these on the bus system.
Figure out your route ahead of time. There's nothing more stressful than standing in the middle of a busy New York City sidewalk staring at your map and trying to figure out what you're doing!
Apple Maps and Google Maps both do a great job of giving you the best route and including step by step
Public transportation is a must do in NYC, so don't be afraid of it!
Tips for Visiting New York with Kids
Kids 12 and under ride the New York Subway for free
Talk about public transportation safety with your kids
Carve out time to spend in nature each day
Have the kids memorize your phone number, write it somewhere on their bodies, get a phone number bracelet made, use phone number tattoos, or use a kids GPS tracking watch.
Decide on food beforehand and make reservations if possible.
Subways often have lots of stairs and limited access to elevators. Avoid using strollers if possible or bring a small stroller or baby carrier.
Map of the Best Things to do in NYC with Kids
This interactive map will help you navigate the amazing things to do in New York City with kids. Feel free to save this map and use it during your trip.
NYC With Kids Discount Card
If you know what you want to do in New York City, it's definitely worth it to buy the Go City Pass for New York. This pass allows you to select how many attractions you want to purchase on the card and offers up to a 40% discount. The pass also offers free audio guides at certain museums and discounts at certain gift shops.
You have 60 days from your first attraction visit to use the card, so you're not pigeonholed into doing all the things in 2 days like some passes. After reading over this guide, make a list of the things you know you want to do, and purchase enough attractions for that. It will make sense when you are purchasing the pass.
The Best Things to do in NYC with Kids
What to do in New York with kids you ask? With so many things to do in Manhattan alone, it can be hard to narrow down what to do in NYC. Don't try to do it all. Even if you're there for 2 weeks, you'll never see it all! It's best to pick a few things that appeal to you and take it easy. Especially if you're visiting NYC with kids. The city can be very overstimulating, so try to pace yourself, at least for their sake. These are a few of my favorite things to do in NYC. What to do with kids in NYC:
Take Some New York City Tours
How do you see the most densely populated and one of the oldest cities in the US on your own without a little help? Hire a local guide to help you navigate the city for a day and learn some amazing facts and practical advice. There are plenty of great tours in NYC, but these are some ones that we like:
9/11 Tour with First Responder
Catch the Best Views of NYC
You can't visit New York City without getting a little higher and seeing this stunning city from the sky! It really helps you visualize just how big it really is! There are many ways to catch a bird's eye view, but these are some of the best.
Top of the Rock at Rockefeller Center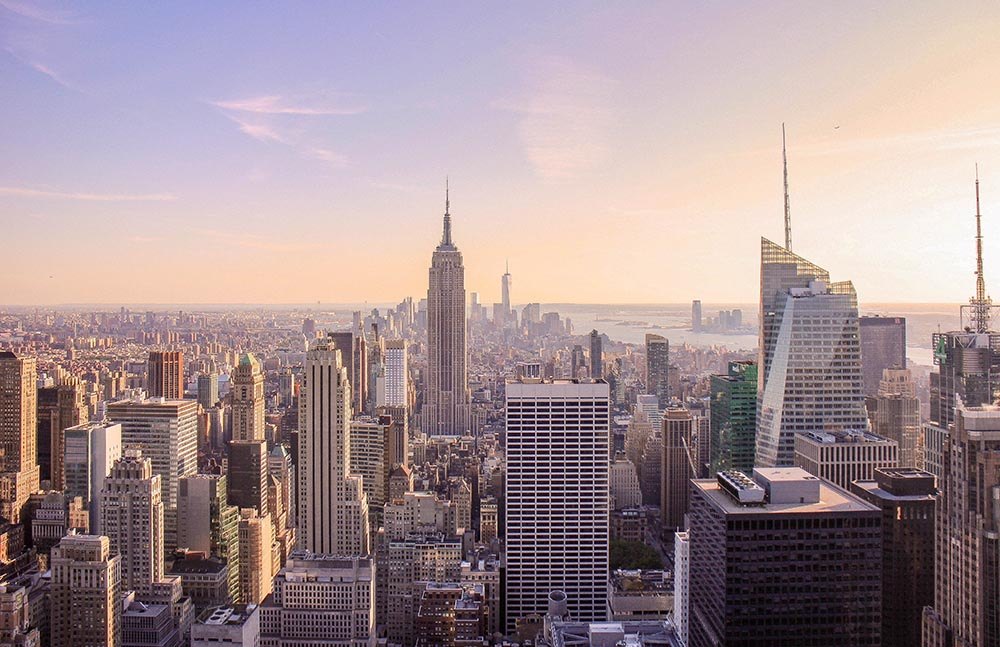 Head to the top of the Rock for amazing views of the city! While going to the top of the Empire State Building is great, the BEST view is from the top of the Rock! You'll be able to see that classic NYC skyline that actually has the Empire State Building IN it! You'll also be able to get a great shot through the glass vs. the chain link from the Empire.
Rockefeller Center is also a really fun building to visit as so many great shows are filmed there. Lines can get long so I highly recommend purchasing skip the line ticket which you can find here.
If you're in New York City at Christmas you can also go Ice Skating here!
Empire State Building
This 102-story skyscraper has been a New York City landmark since it's completion in 1931 when it became the world's tallest building and remained so for 40 years. It's well worth riding up to the top and taking in the view of the city! It's one of the most classic places to go in New York. You should definitely book your tickets in advance. You can do that here.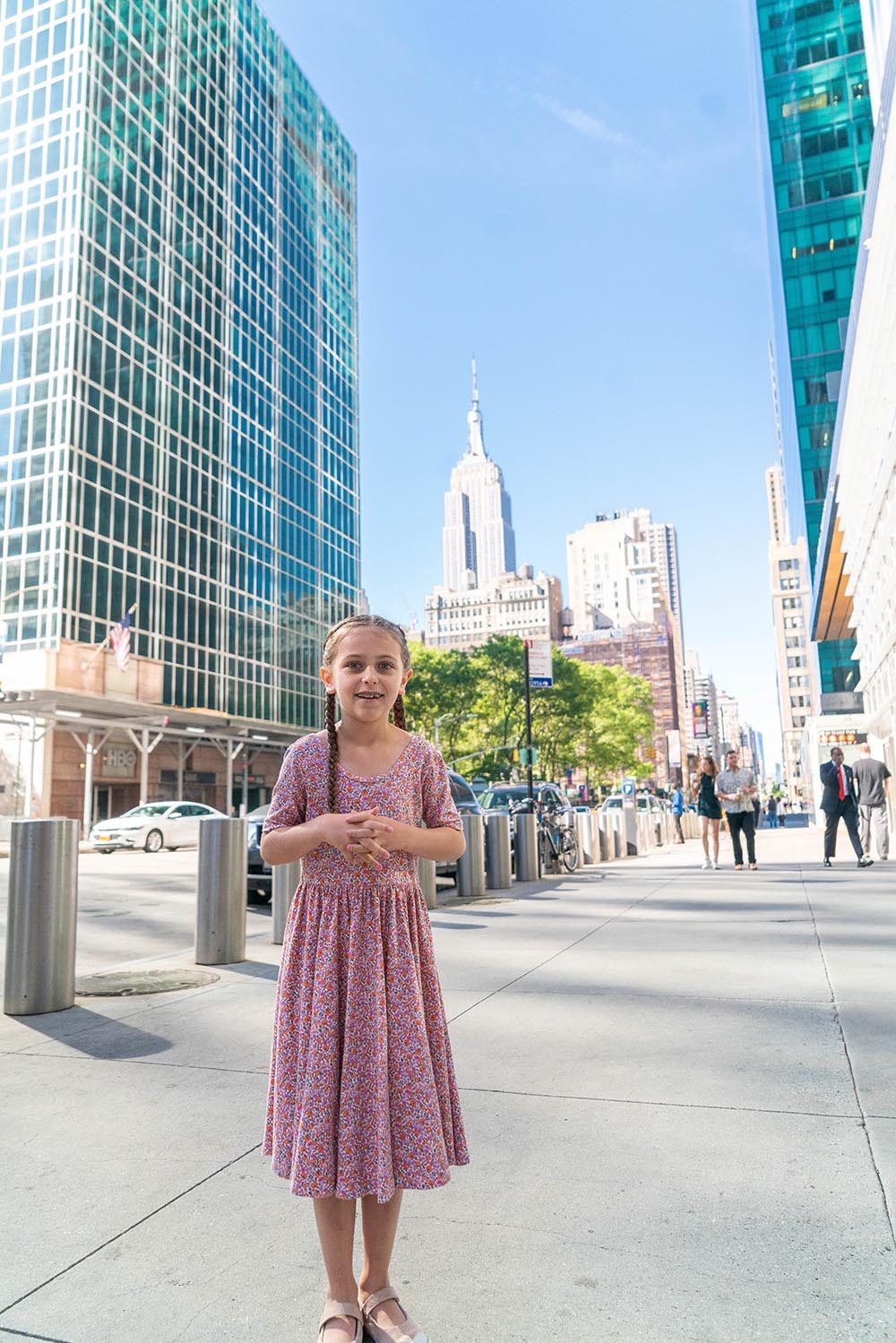 Be sure to check this website which will give you an estimate of how long the wait will be to go to the top. You can also buy skip the line tickets which will save you hours! You can book those here.
One World Trade Center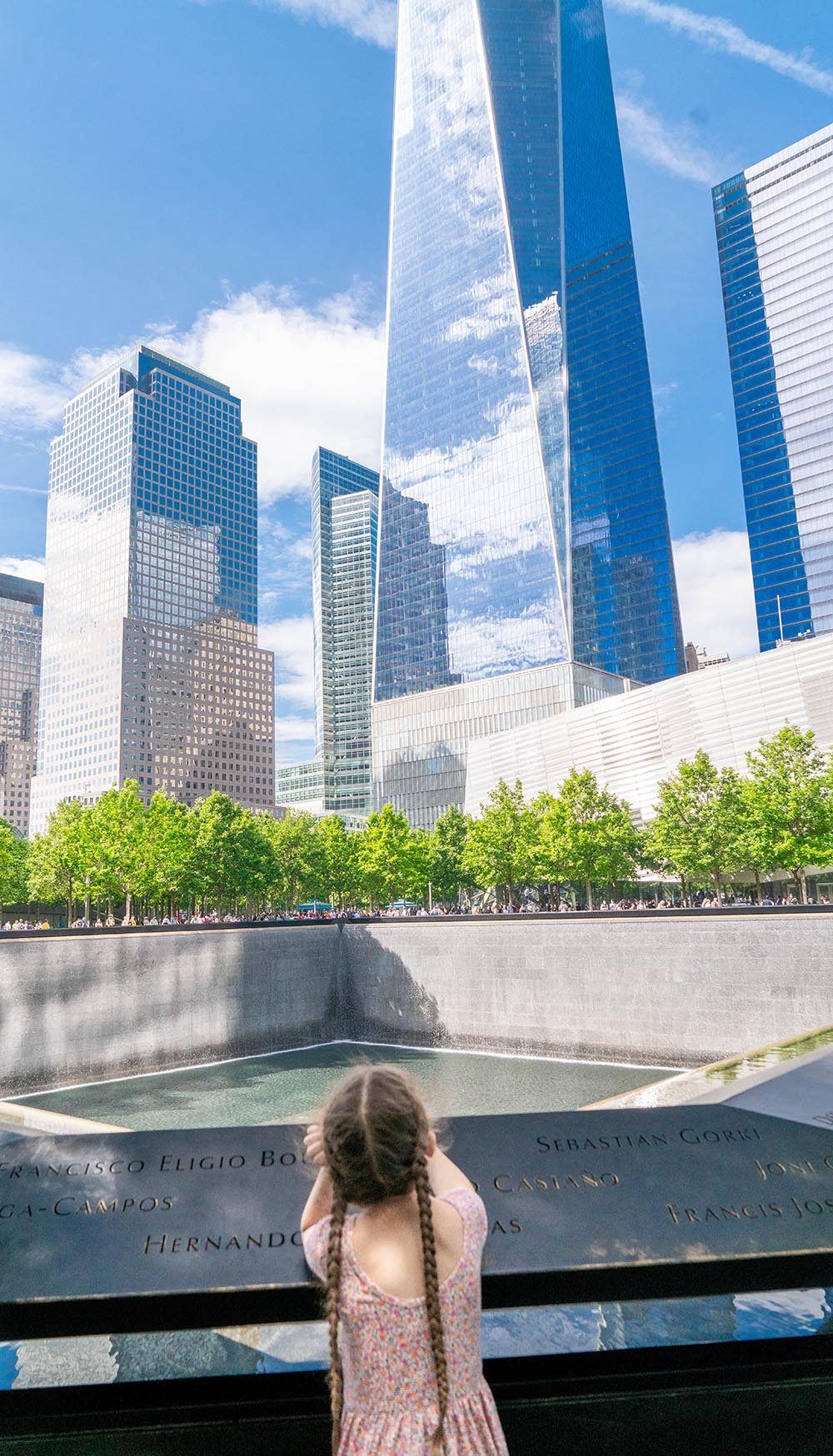 Also known as Freedom Tower, this is the main building of the rebuilt World Trade Center that was destroyed during the 9/11 attacks. It is the tallest building in the western hemisphere and the 6th tallest building in the world. You can take a ride up to the 100th, 101st and 102nd floors of the tower to the One World Observatory and spot landmarks from the top. It's a great way to get your bearings about the city before exploring further. You can book your tickets to the observatory here.
The Vessel
The Vessel is a new amazing structure that will blow your mind and make you a little dizzy. It's totally free, but you need to get tickets in advance as it is timed and books out quickly. The views are amazing and it's one of the coolest things to see in NYC!
RiseNY
On RiseNY, you can embark on a journey through the pop culture evolution of New York, starting with an immersive film, continuing through 7 museum-style galleries, and ending with a soaring bird's-eye view of the city. This is a really fun and interactive way for kids to learn about New York City.
The Highline
In the heart of the city, what was once an overhead freight railroad has been transformed into an elevated green space. Look for special activities just for children.
Visit the Best Museums for Kids NYC
There are a surprising amount of kid friendly museums in NYC! Museums can be a good option on days when you have inclement weather and need to be indoors. These are some of our favorite museums for kids in NYC:
The Met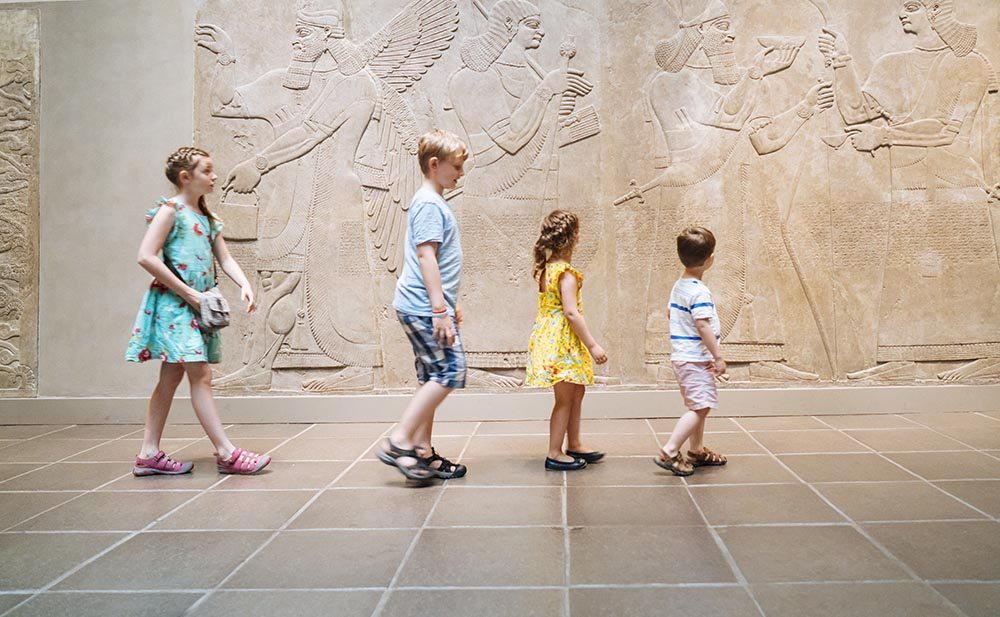 This is one of the best museums in NYC and in the world! The Metropolitan Museum of Art also fondly referred to as "the Met" is the largest art museum in the United States and well worth a visit. Even kids will find something interesting here! You can move from tombs of ancient Egypt to thought-provoking modern art in a matter of minutes or days, depending on your pace. Ticket prices are "suggested price," so pay what you can or book tickets in advance here.
Children's Museum of Manhattan
The Children's Museum of Manhattan or CMOM is a fantastic place for children, especially younger ones, to learn and play. It's one of the most fun things to do in New York with kids and a great option for a rainy day, the CMOM is open every day of the week at reasonable prices.
American Museum of Natural History
If you have a Night at the Museum fan in your family, you'll want to make a stop at the American Natural History Museum and say hello to the mummies, whales, butterflies, and of course, dinosaurs. Tickets to the Natural History Museum can be purchased in advance if you want to avoid the long lines, but the entrance fee is just a "suggested donation" so just pay what you're able and don't feel obligated to pay the full price if you can't. If you don't want to wait in line, you can book tickets here.
New York Transit Museum
Inside an old subway station, the New York Transit Museum tells the inspiring story of the New York Subway system from start to finish. Kids will love touring old subway cars!
Guggenheim
This iconic building, designed by Frank Lloyd Wright houses some of the most famous impressionist, post-impressionist, and modern art in the world. Kids will love the cylindrical ramp that you can walk up to the ceiling!
National September 11 Memorial & Museum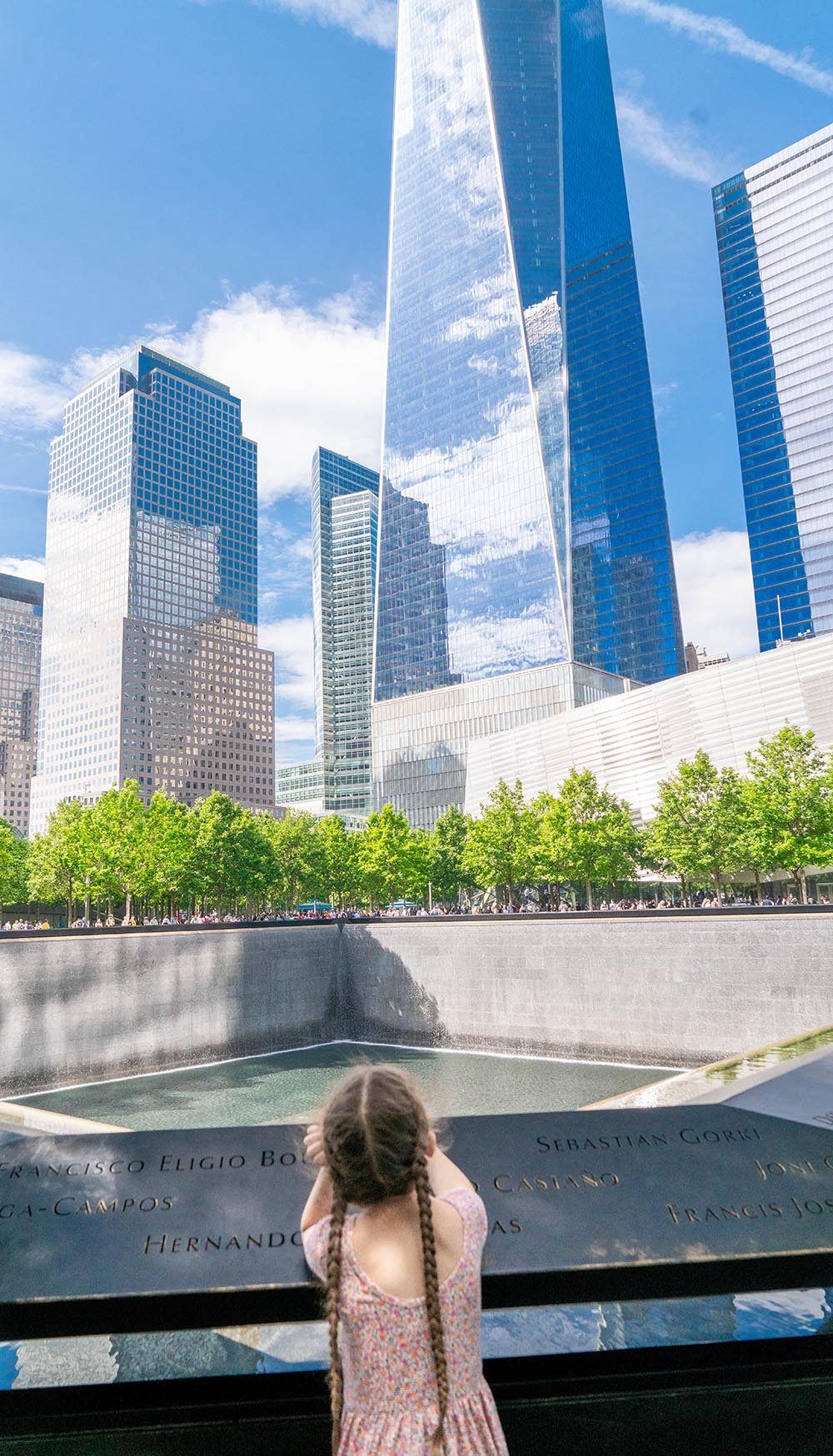 While of heavy subject matter, the memorial and museum are a good history lesson for children and will help 9/11 seem more real. Keep in mind that this is a place of quiet and reflection. I personally think kids should be maybe 13+ to go to the museum. However, the memorial is appropriate for any age. Museum tickets do sell out quickly so I recommend buying your tickets in advance. You can purchase tickets here.
If you want to try something really interesting, you can book a tour with an actual first responder from 9/11 and hear first account stories of what it was like.

Lower East Side Tenement Museum
This museum requires a tour and is only for children 8 years and older, but is worth a visit for the history lesson in store. This five-story brick tenement building was home to an estimated 7,000 people, from over 20 nations, between 1863 and 1935 and is a testament to the fact that our nation and New York City, in particular, was built on immigration and the working class. Buy tickets online in advance for a timed tour. There are several tour types to choose from. You must book your tickets to the Tenement Museum in advance as the tours do sell out quickly. You can book your tickets here.
The Color Factory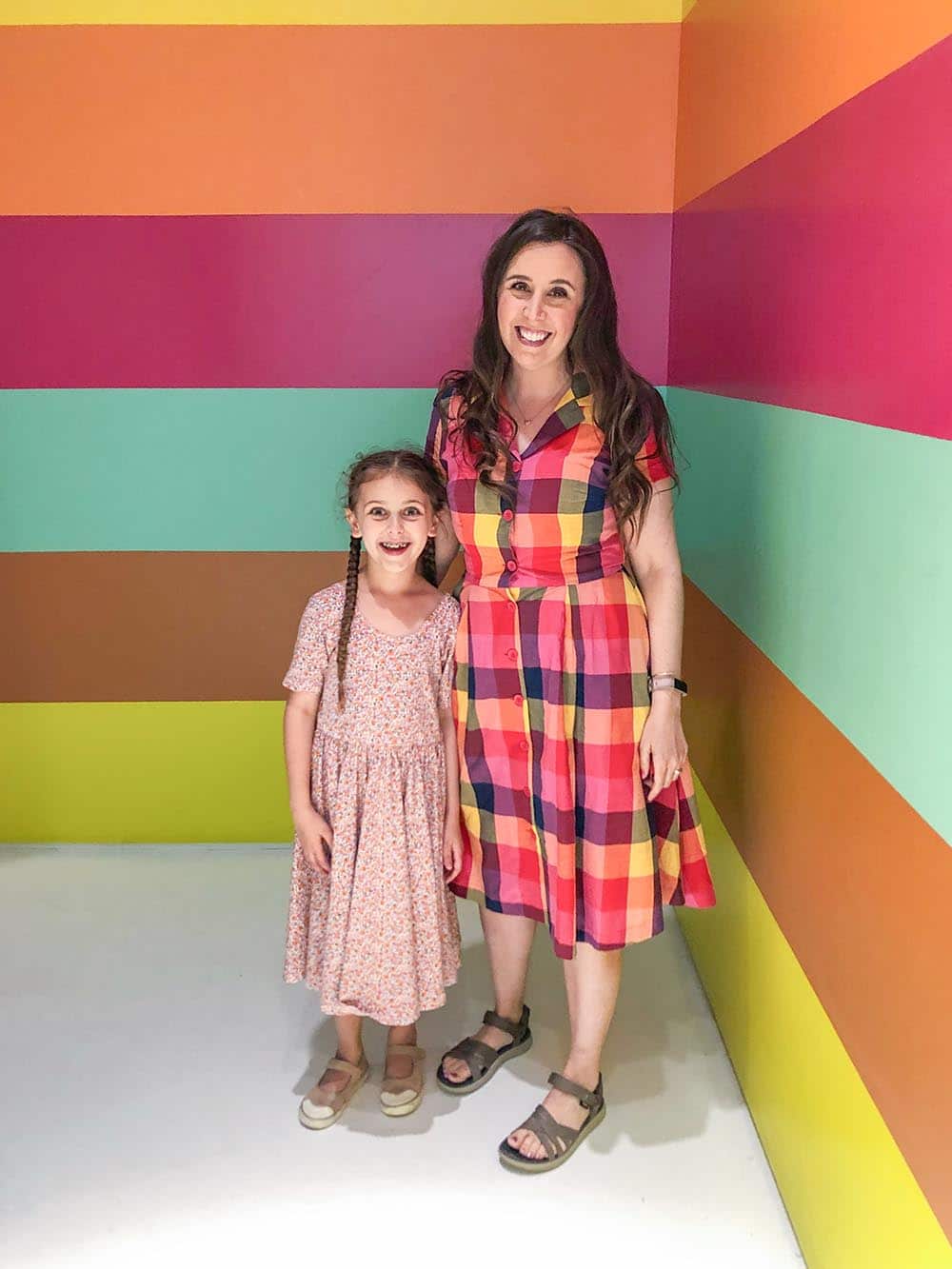 The Color Factory is an amazing new art "museum" that mixes the use of color, art, fun, and sugar into several hours you'll never forget. This innovative experience was first started in San Francisco and just opened to NYC a few months ago.
I wasn't sure what to expect, but we ended up playing here for 3 hours! You walk through each colorful interactive exhibit, experiencing immersive art all while being served colorful treats along the way. And at the end you're greeted by a giant blue sea of balls where you can unleash your inner child and your kids can play to their hearts' content!
The great thing about The Color Factory is that you can leave your cameras at the coat check and let the museum's camera's do the work for you. At the beginning of your experience, you are given a card with a QR code which you scan at each station to get your picture taken. Your photos are then sent to you at the end of your tour. It's so nice to be hands-free!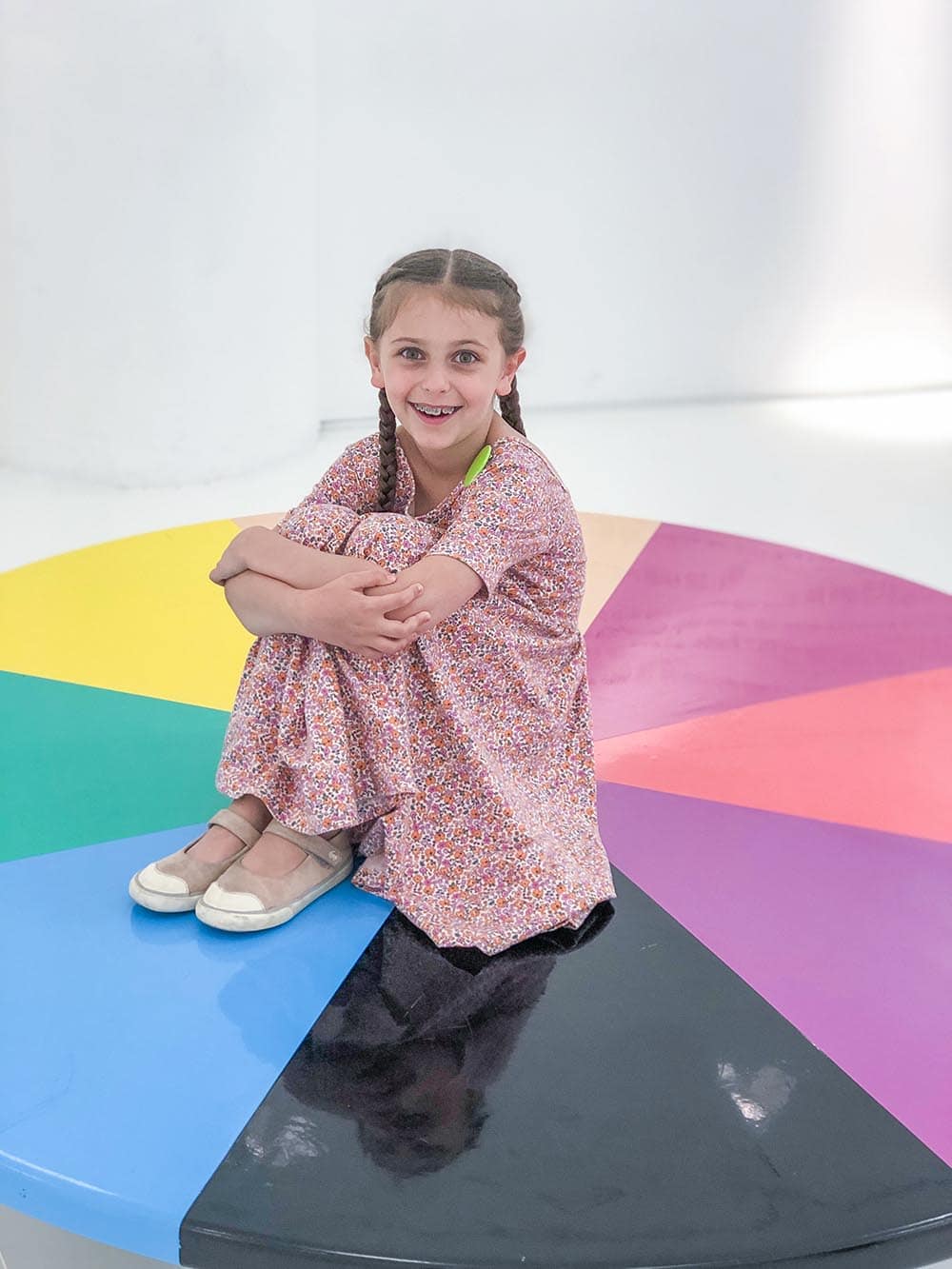 Treats you receive during your visit to the Color Factory include mochi, macarons, gummy candy, raspberry soda, and gelato! So yummy!
If you're looking for things to do in Manhattan on a rainy, snowy, or too hot day, this is also a great option, as it's all indoors with heating and AC.
Visits to the Color Factory are timed. You can spend as long as you want there, but you can only enter at certain times, so be sure to book your tickets in advance.
Museum of Illusions
This is a fun little museum where you can learn about the way your brain works and ways to trick it! It's a great place for some silly photo ops. My kids loved it. It's a lot smaller than I thought it would be, but packs a punch. If you go Tuesday or Wednesday from 6-10:00 pm you can see Magician Dennis Kim perform Close Up Magic. Book Tickets Here.
Spend Time in Central Park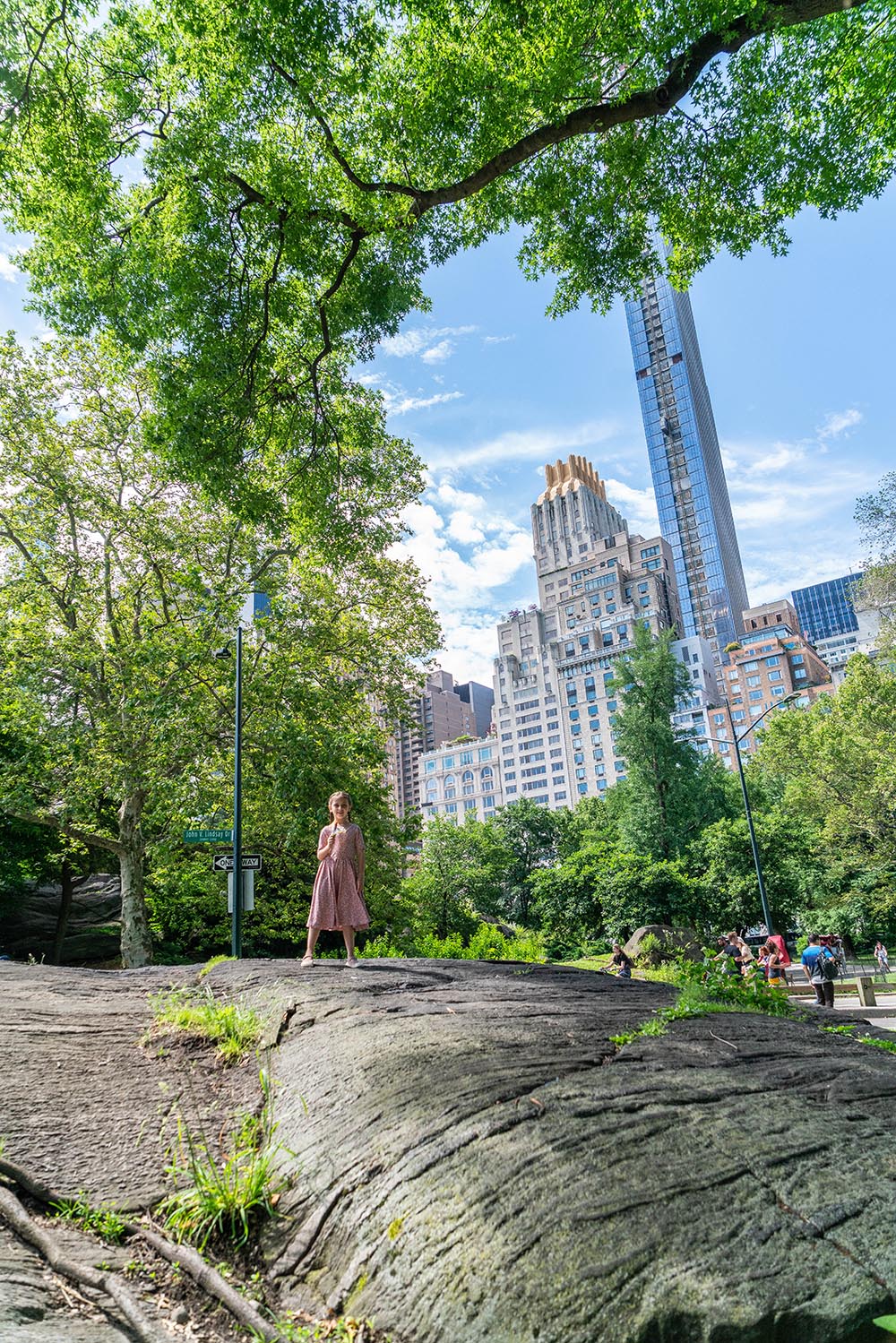 Visiting Central Park is one of the top things to do in NYC. If you're sick of museums and the bustle of the city, escape right into the middle of Manhattan! No trip to New York City is complete without a walk in Central Park! As the most visited urban park in the United States and at a size of over 800 acres in the middle of the city, Central Park is a place worth spending some time in.
You can visit the zoo, play at the playground, ride the carousel, have fun at Victoria Park, rent a boat, check out the turtles in the pond, relax in sheep meadow, visit Strawberry Fields where you can see the "Imagine" mosaic and tribute to John Lennon, ice skate in the winter, climb to Belvedere Castle, ride a bike, hop on a Pedi-cab, take a carriage ride, eat a popsicle, or just sit and people watch!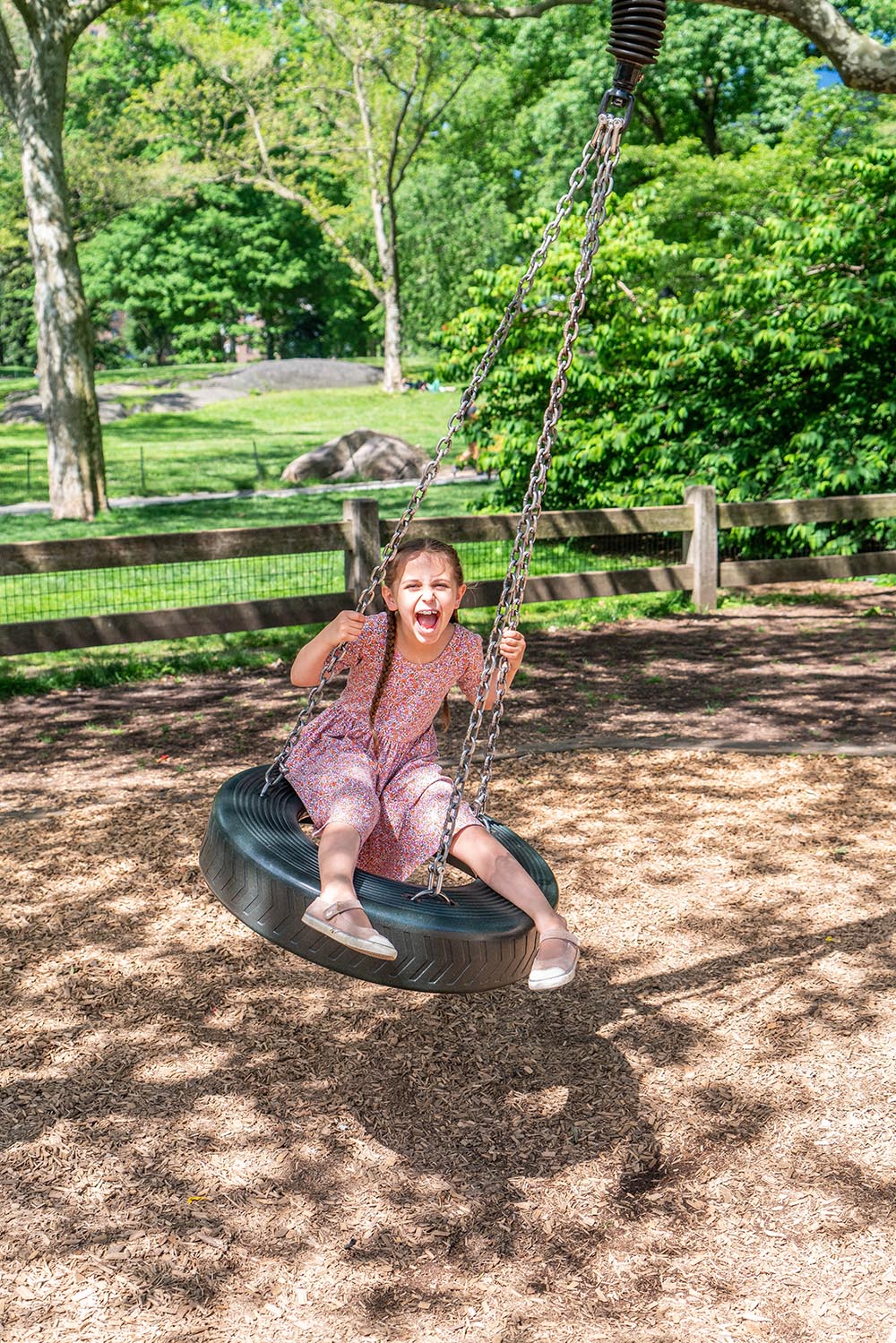 If everyone in your crew can ride bikes, I highly recommend renting bikes in Central Park! It is huge and this is a fantastic way to be able to see much of the park without tiring out little legs. The bikes do rent out quickly, especially during peak season, so I recommend getting to the rental places early, or you can reserve your bike here.
I always try to incorporate at least an hour or two into each day when we visit NYC with kids. It's amazing how much a little bit of nature can help to reset overstimulated kids!
My kids love trying out all the playgrounds, renting bikes in Central Park, or visiting the Central Park Zoo.
Washington Square Park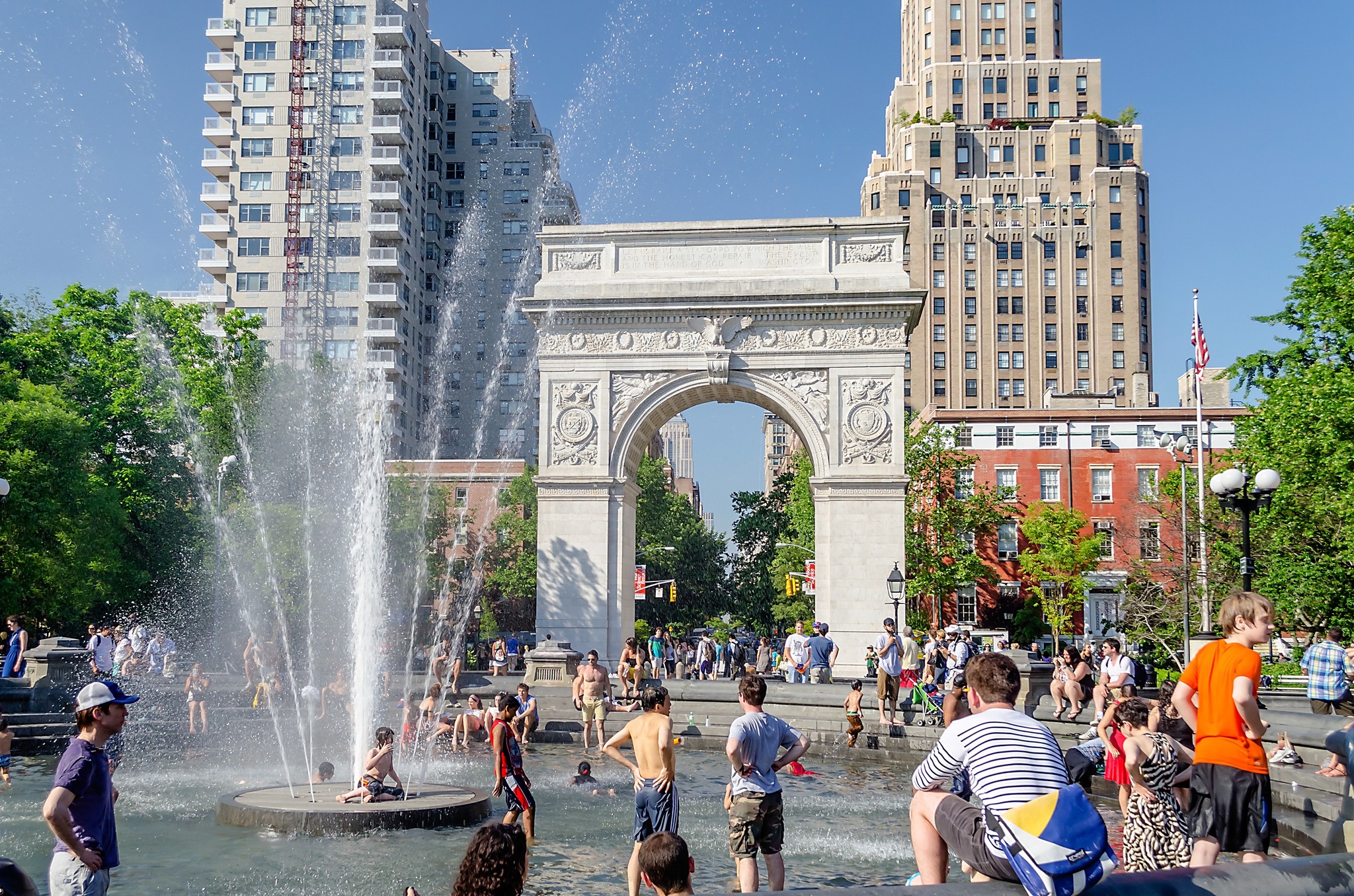 If you're ready for another greenspace break, head to Washington Square Park. This is one of the most iconic parks in New York City. If you're visiting during the summer, let the kids run through the Play Fountain, or you can pick up a game in the chess plaza. This is always a hub of activity.
Shop & Play at Bryant Park
Bryant Park is a great place to take your kids and is central to most attractions in Manhattan. The park has a lot of activities for kids to enjoy, like a playground, a carousel, and a water fountain. There's also a variety of food options, so you can grab a bite to eat while you're there. Bryant Park is also a great place to people watch and take in the sights and sounds of the city. In the winter Bryant Park offers free outdoor movies and in the winter there's a great ice skating rink and Christmas market. If you're looking for things to do in NYC with kids, Bryant Park should definitely be on your list!
Play at Domino Park in Brooklyn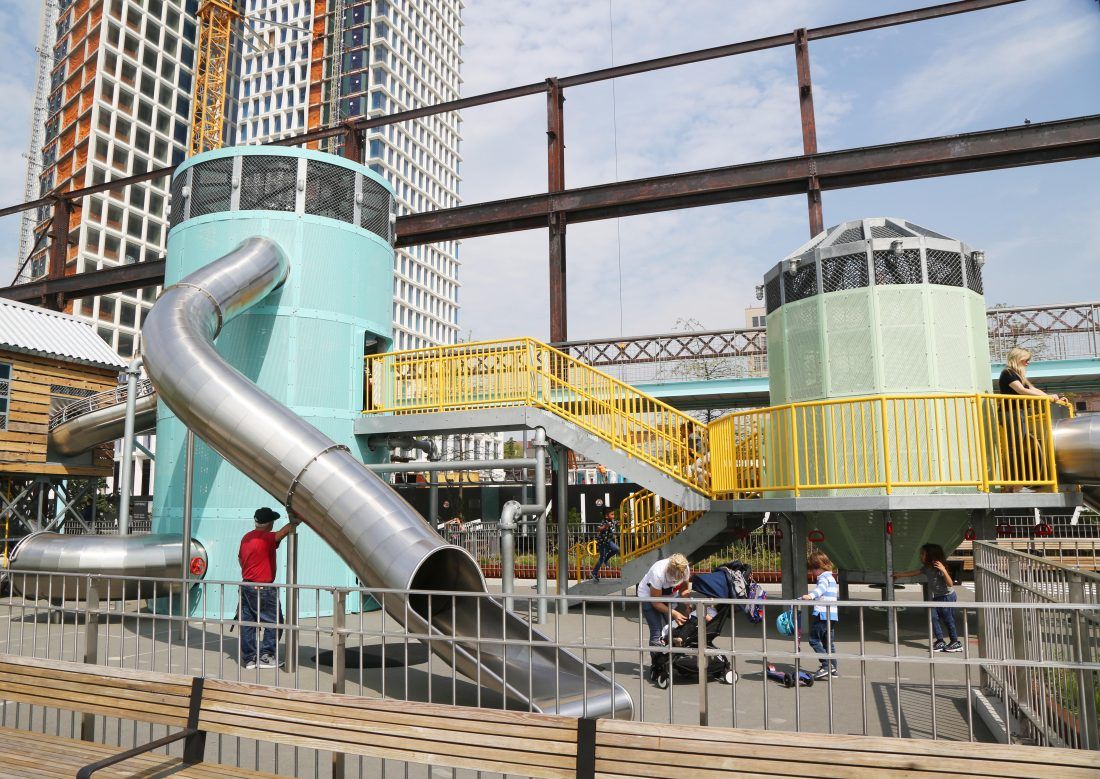 We love playing at Domino Park in Brooklyn. It's next to the old Domino Sugar factory and they've kept the same old factory feel with the playground. There are all sorts of amazing things to do in Brooklyn, but that will have to wait for another post!
Little Island
Little Island is a gorgeous new public park, located in Hudson River Park on a manmade island, where visitors can experience nature and art in a unique urban oasis. The park features a lush, seasonal, landscape with rolling hills, winding pathways, and great views. You can even see the Statue of Liberty on a clear day. You can also find activities for kids including music, dance, theater, poetry, comedy and arts workshops.
FAO Schwartz NYC
If you've got kids who love toys, a visit to FAO Schwartz is a must! It's one of the most fun things to do in NYC for kids and adults! This massive toy store will entertain them for hours. Be sure to say hi to the toy soldiers out front and play the big floor piano from the movie BIG! I also love the tiny dollhouse display!
Walk Across the Brooklyn Bridge
Connecting the boroughs of Manhattan and Brooklyn stands one of the oldest bridges in the United States, the Brooklyn Bridge, a New York City icon that has been designated as a National Historic Landmark. You can safely walk across the bridge into Brooklyn on the pedestrian walkway. Just watch out for bikes. I recommend getting there early in the morning if you can before it gets too crowded with selfie-taking walkers. Don't skip the Brooklyn Bridge as it's one of the most iconic things to see in New York City.
Play at Brooklyn Bridge Park
After crossing the Brooklyn Bridge, head over to Brooklyn Bridge Park where the kids can run freely and you can all ride Jane's Carousel, a vintage carousel that was purchased for this park. It's a beautiful piece of art that is also fun!
Take a Classic DUMBO Shot
Don't worry this picture won't include you hanging out with any flying elephants. DUMBO stands for "Down Under the Manhattan Bridge Overpass" and it's one of the most iconic NYC photo ops! You can find this shot on Washington Street at the intersection of Water Street in Brooklyn.
Grand Central Terminal
The great hub of transportation for the city, Grand Central is a sight to behold. Bustling with commuters and tourists day and night, you can wander around the beautiful architecture and people watch. If there's anywhere that can make you feel small, it's this place. It's one of the most historical and iconic places to visit in New York City.
New York Public Library
The second largest library in the US, second only to the Library of Congress, the New York Public Library, or NYPL, is a beautiful respite from the heat or cold of New York City. Here, you can browse the 53 million items contained in its walls, stop by Amy's Bread Cafe for a snack and see the original stuffed animals that inspired A.A. Milne's Whinnie the Pooh.
Also, anyone can get a New York Public Library card! So why not!?
Times Square
Even though the kids will probably be exhausted by the time the sun goes down, New York City at night is something everyone should see once. It's not called the city that never sleeps for no reason!
Times Square is a great choice if you're looking for the best things to do in NYC at night. It's one of those places that you just have to see to believe! At the junction of Broadway and 7th Avenue lies a stretch of the city brightly lit with ads, the largest of the named the "jumbotron."
Note: It can be a bit of a sensory overload if you have sensitive children. Also beware of the "naked cowboy" and other nudity in the square!
Statue of Liberty & Ellis Island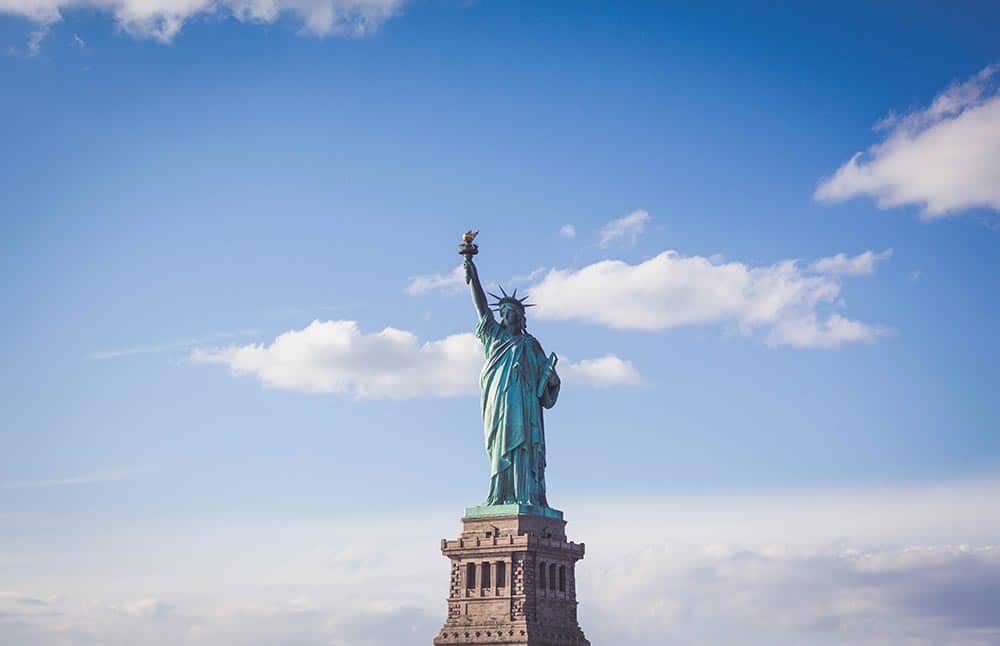 The green copper statue of Libertas, the Roman goddess was a gift from France to the United States that stands at the entrance to New York as a symbol of immigration, acceptance and freedom. Buy a timed ticket in advance to take a boat ride to Liberty Island and go inside or walk around the island.
Next door, Ellis Island was the gateway to the United States for more than 12 million immigrants and the busiest immigration inspection station for 60 years. You can take a boat from Manhattan and tour the Museum of Immigration.
I highly recommend booking this in advance. As early as you possibly can, especially if you're planning to visit NYC during the summer or other peak times as it does sell out quickly. You can book tickets to the Statue of Liberty here.
If you want to visit both the statue of Liberty AND Ellis Island, which I definitely think you should do if you have the time, then you need to book your tickets here.
If you have at least 4 hours, I highly recommend taking a guided tour of the Statue of Liberty and Ellis Island. You and the kids will get so much more out of it with a guide explaining the history and stories behind these famous islands. You can book a guided tour of both islands for a great price here.
Staten Island Ferry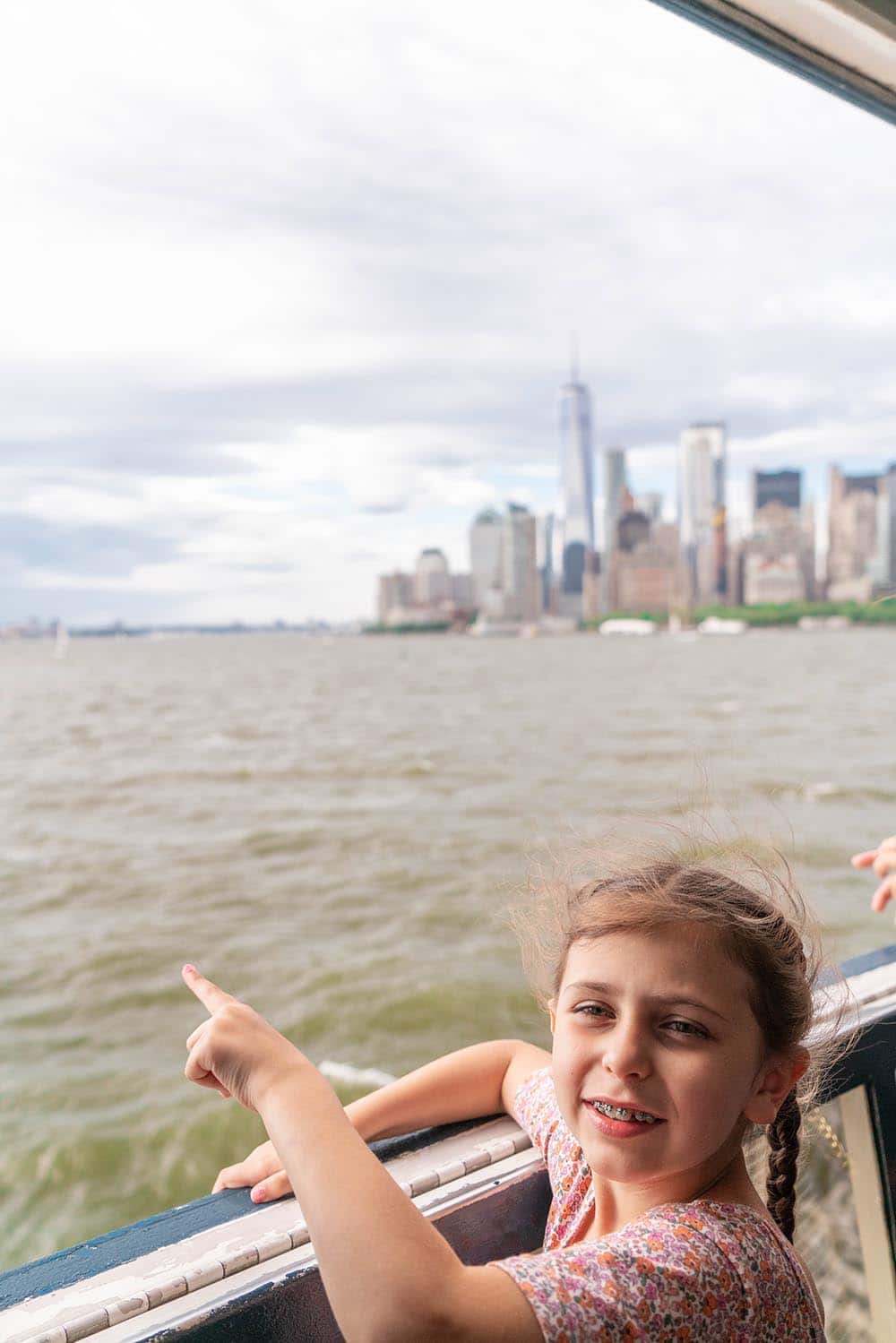 If you don't have time to visit either island, you can take the free Staten Island Ferry, which will take you right by the Statue of Liberty without having to get off! Note that you will not be able to go to Liberty Island.
The ferry rides past the statue and onto Staten Island. The ferry ride is about 10 minutes long. You're welcome to explore Staten Island, but most people get off the ferry and get right back on the next boat back to Manhattan. You'll want to be sure you're on the Statue of Liberty side of the ferry, so when you board the boat, stay to the right!
Whatever you choose to do, don't skip the Statue of Liberty. It' a must see in NYC!
See a Show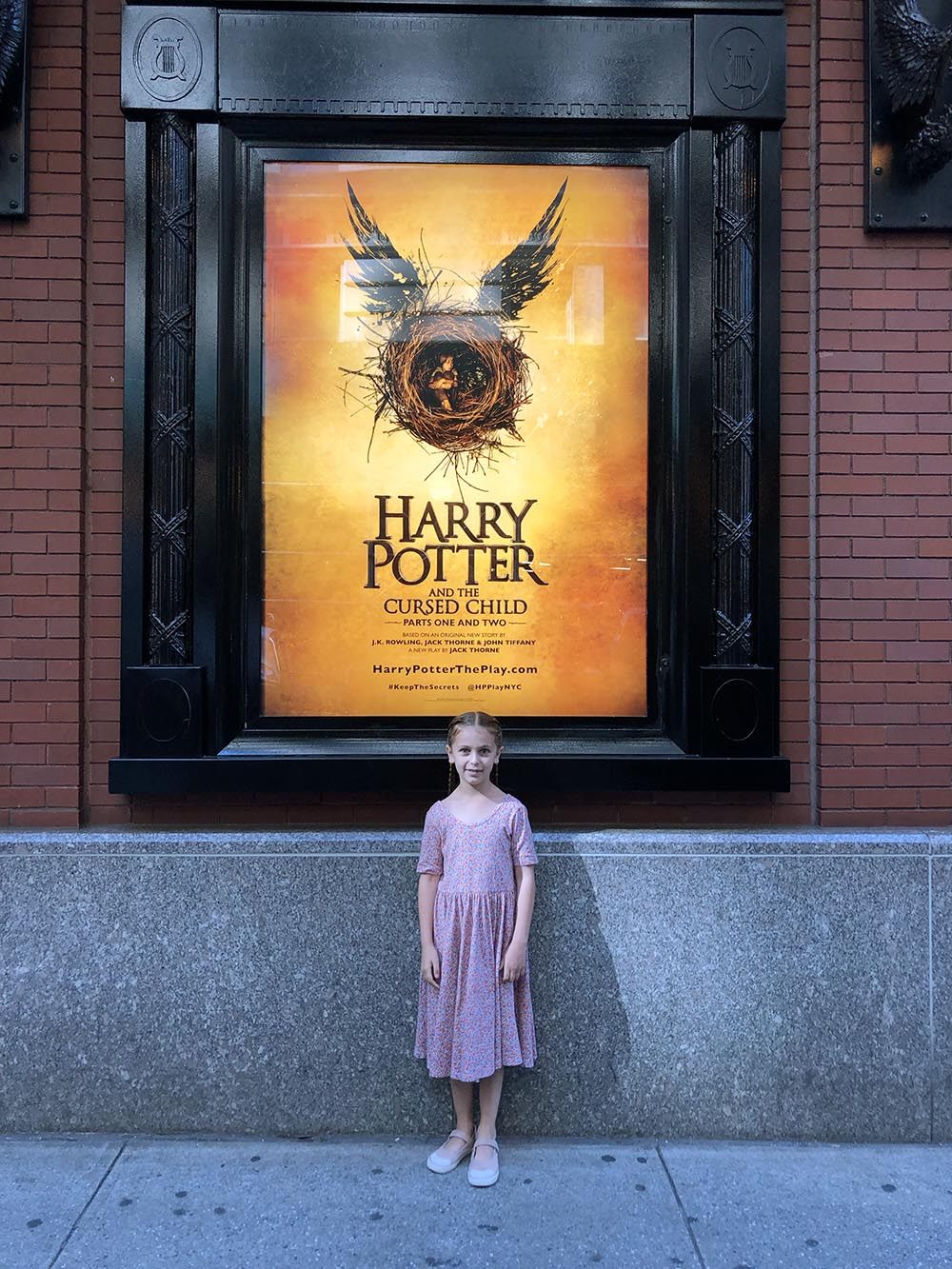 In the theater district along Broadway in Midtown lie 41 professional theaters showing a wide range of shows and offering plenty of options for families. I've listed some of my favorite shows below. The only one I haven't seen is Hamilton, but I've yet to hear a bad review! Someday I'll get there!
Aladdin
Wicked
The Lion King
Dear Evan Hansen (teens)
Hamilton
Harry Potter and the Cursed Child
Hadestown
MJ the Musical
The Play that Goes Wrong
Gazillion Bubble Show
The Museum of Ice Cream
If you're into ice cream and you like interactive and photogenic spaces, the Museum of Ice Cream is a really fun one! It's similar to The Color Factory but is more ice cream themed. There are four ice cream stations where you can get a choice of vegan or regular ice creams. They are all tasty, but nothing to write home about. What you really come for is the fun though. My kids particularly liked the fun room with swings and a ping pong table. There's also a swimming pool filled with giant sprinkles that you can "swim" in.
Sloomoo Institute
If your kids love all things SLIME, then they will love the Sloomoo Institute. It's all about slime and sensory activities. You can try out different slimes, walk through a slime pit, and even create your very own custom slime to take home as a souvenir. And of course, they have tons of slimes to choose from in the gift shop. Pro tip: use the bathroom downstairs to check out the slime kitchen where they make all the slimes!
Harry Potter Store
If you've got any potterheads in the family, definitely stop by Harry Potter New York . If you're seeing The Cursed Child, you can go before the play and grab some swag! It will likely be cheaper than buying show shirts. This store houses the largest collection of Harry Potter and Fantastic Beasts products in the world.
What to Eat in New York City
New York City is a melting pot not only of people but also of food. There are approximately 200 languages spoken in New York, and you can sample regional cuisine from around the world such as France, Italy, Cuba, Korea, Africa, Lebanon, Iran, and India. There are also countless trendy restaurants and cafes on nearly every corner for you to explore. Here are some kid-friendly restaurants in NYC:
Alice's Teacup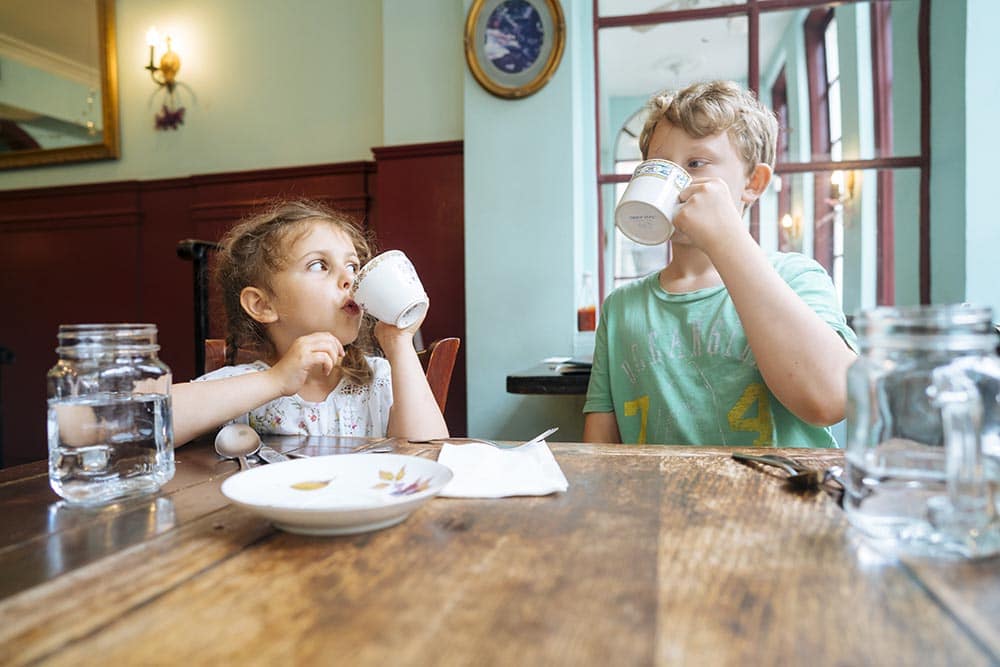 A kid's favorite, this Alice in Wonderland themed restaurant offers all day service of tea, breakfast, brunch, lunch, and dinner. They also offer a surprisingly good burger! Kids will be sprinkled with fairy dust when they come in and treated to the tea party of their dreams
Brooklyn Farmacy and Soda Fountain
Kids can sit up at the counter and watch soda jerks whip up delicious old fashioned sodas!
Dylan's Candy Bar
Ok so this isn't exactly a restaurant, but it still should not be missed. Inspired by Roald Dahl's Willy Wonka and the Chocolate Factory, Dylan's Candy Bar is the largest unique candy store in the world. Stocked with 7,000 candies from around the world, this is sure to be a crowd pleaser for kids and grown-ups!
Pizza
Pizza is a staple in New York City. There are so many disputes about who makes the best slice, so I'll let you decide for yourself, but I prefer Grimaldi's just across the Brooklyn Bridge. Be prepared to wait in line, but I promise it's worth it.
Eataly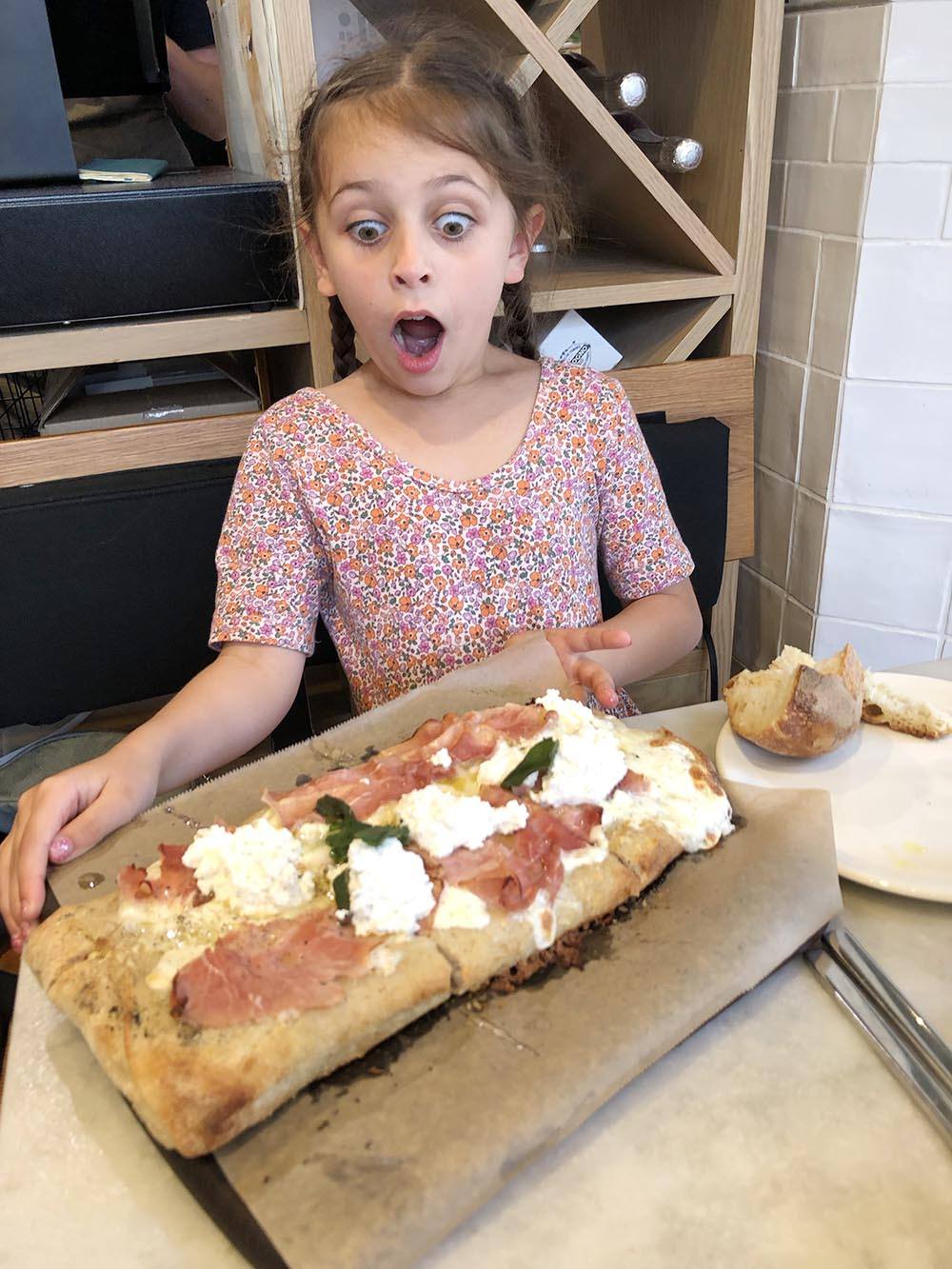 If you haven't had your fill of Italian food after all that pizza, head to Eataly! It's a big market full of everything Italian. You can sit down at the restaurant or do what I prefer, buy a slice of focaccia pizza, then head straight to the gelato counter!
Ellens Stardust Diner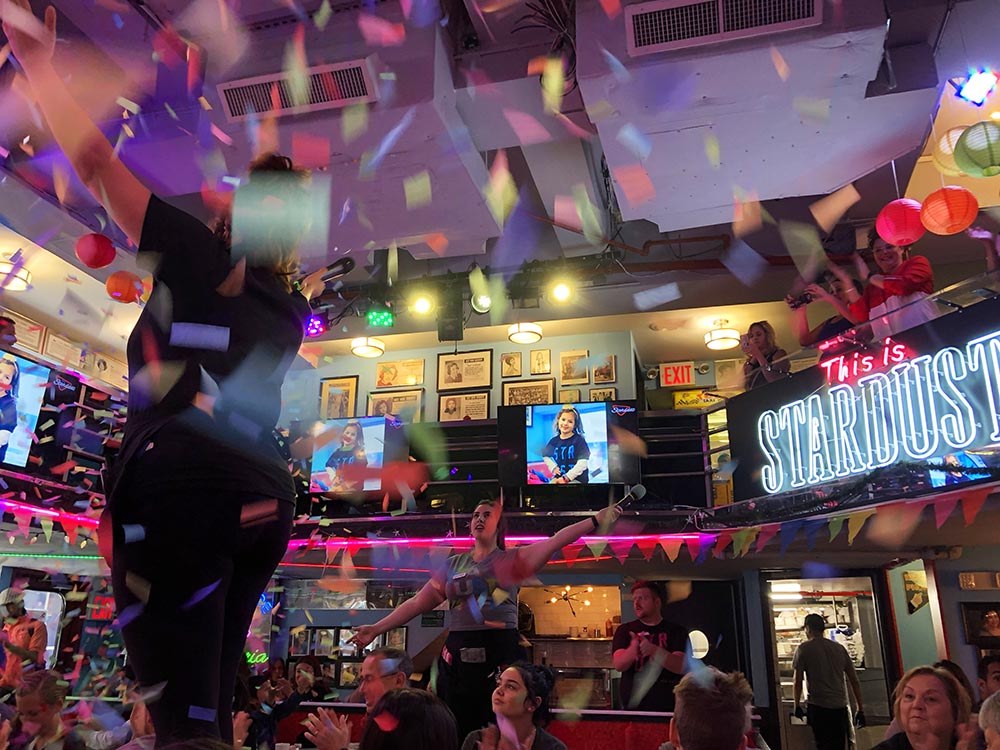 If you're into music or don't have time to catch a Broadway show, head to Ellen's Stardust Diner for a truly unique dining experience. The waiters at Ellen's are all aspiring Broadway singers and will put on an amazing show while they serve you delicious diner quality food! Be prepared with cash (there's an ATM there) to put into the bucket. This money is used only for voice and dance lessons for the waiters. The talent is absolutely incredible, and the diner lost 20 staff to Broadway shows last year!
Levain Bakery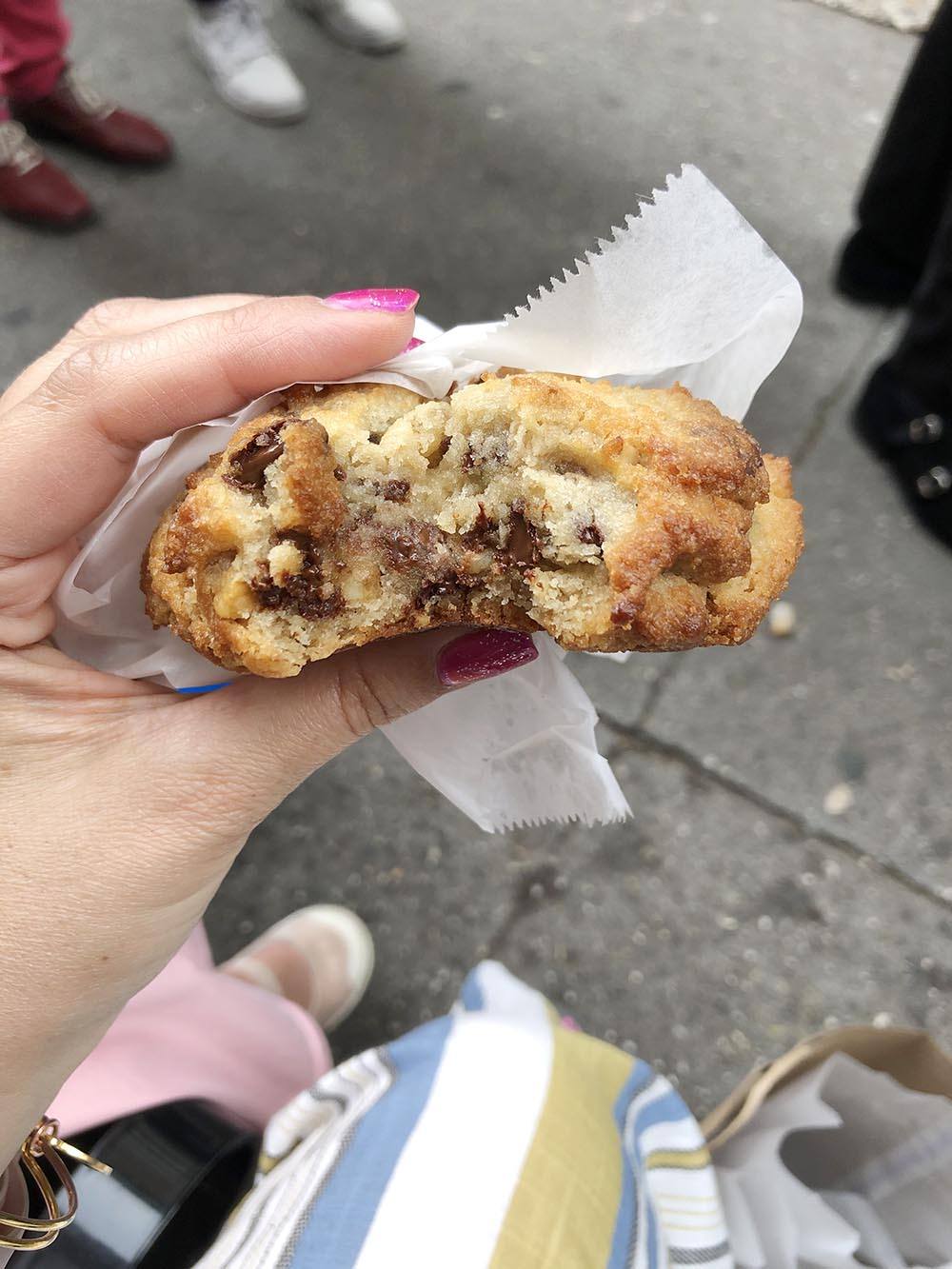 If you're into really good cookies, then you must go to Levain Bakery. I'm partial to the chocolate chip walnut cookies with a big glass of whole milk, but honestly anything here is so good! There are two locations on the upper west side and there will probably be a line for both, but I promise you it's worth the wait! Cookies are $4, but huge, so consider having the kids split, but maybe get a whole one for yourself. You've earned it!
Shake Shack
We now seem to have Shake Shacks all over the country, but it's a fun place if you're craving a burger and some delish frozen custard. I'm a California girl, so I'll always be loyal to my In-n-Out. I'll just leave that here for now and let you decide.
Black Tap
Holy Cow! If you want amazing burgers and OVER the top milkshakes, head to Black Tap and get the crazy shake!
Smorgasburg
If you want to try a variety of amazing food go to Smorgasburg. It's a pop-up food market that happens all over New York City. You can usually find it in Brooklyn on the weekends. This is a great option if you have a big group with different tastes. There's sure to be something for everyone!
Chelsea Market
Chelsea Market is another great place to go for a variety of food. It's also a great place to shop. I got my favorite necklace and my glasses there years ago actually! I'm wearing both as I type! I love No. 1 Taco shop and the cute gelato stand. Gelato for life!
Street Food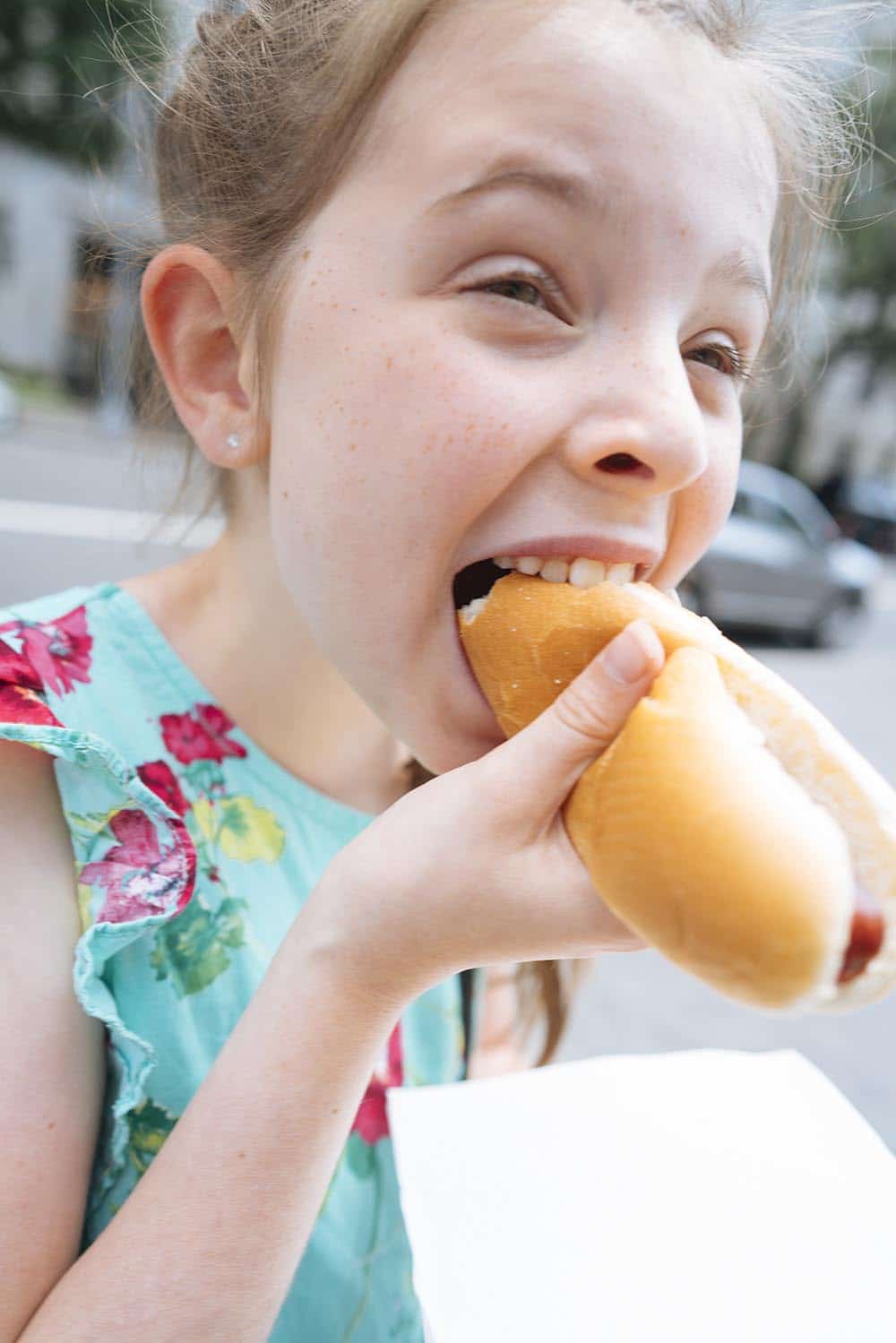 This wouldn't be an article about New York City if I didn't tell you to eat street food. Don't leave New York City without grabbing a hot dog or Falafel from a street cart! There are also some great smoothie and juice trucks around the city! Cheaper, healthier, and tastier than Jamba Juice if you ask me!
Phew! As you can see, New York City has something for everyone, and the whole family will love taking it all in! Be sure you have a few things you really want to see planned in advance, but leave time to just wander the streets of this amazing city. That's part of the charm! If you need any help planning your trip to New York City with kids, please get in touch! You can find me on Facebook, Instagram, or Email.
I'd love it if you pinned this article to share it with others and save it for later!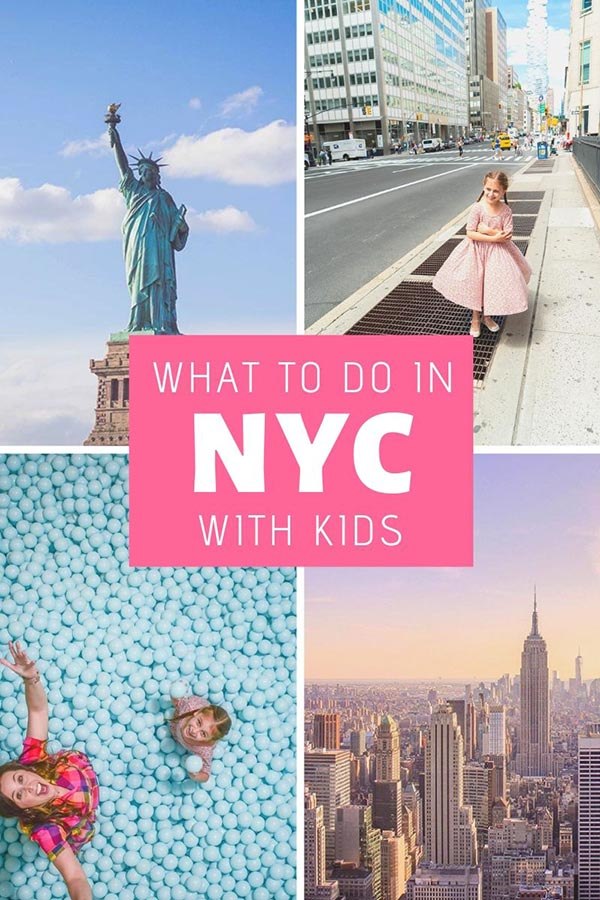 Practical Tips for Booking your Trip
Book Your Flights and Car
Find a budget airlines by using Skyscanner. This is my favorite way to search for flights because they crawl websites and airlines around the globe, so you always know you're getting the best deal. Learn more tips for finding the best flight deals here.

For cars, I like to use Rental Cars because they have good filters and its easy to search for multiple companies.
Book Your Accommodation
My preferred way to stay around the world is VRBO. I find it usually gives you a unique local experience in any destination. If you want to stay in a hotel, use Booking, as it consistently gives the cheapest rates for guesthouses and hotels. I use them both all the time.
Always Get Travel Insurance
Travel insurance protects you and your family against illness, injury, theft, and cancellations. It's peace of mind in case anything goes wrong. I never travel without it. I've been using World Nomads for the last few years and love how easy it is to use. I have also used Allianz. Compare rates to see which is best for the coverage you need.
Looking for ways to save money on travel?
Check out my resource page for the companies I use for traveling! I share everything I use to save me time and money.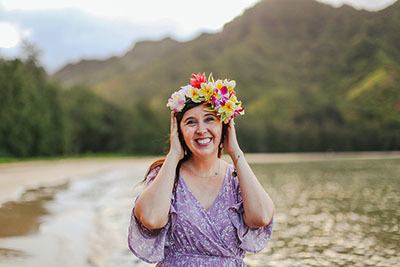 xo
Vanessa